It's time to add an unconventional twist to your seasonal decor! Beautify your simple mason jars with these gorgeous decorative colored tapes for your Easter egg mason jars. Nothing screams more Easter than this mason jar craft!
I don't know if I believe it but y'all Easter is fast approaching! I came up with a fun way to use washi tape to make stickers and thought I would use the technique on some Easter mason jars. This is a part of my compensated design team work with DecoArt however all projects and opinions are my own.
Mason jars are outright my favorite home decor DIY tool to use and for this one, it's not a deviation. The thing that makes me love these jars, even more, is that it's accessible at home. Almost everyone I know has a spare jar hiding below the sink that's just begging to be used.
Coming up with an Easter decor at such short notice is nerve-wracking. Especially if you're a mom who doesn't have the time to carefully spend loads of hours prepping for decors at home.
I'm so happy to be sharing with you this inexpensive decor idea that anyone can make during their free time. Making this Easter craft is a quick and fun weekend or afternoon DIY project that doesn't allow you to waste 24 hours of your time.
So if you have some extra supplies at home, this mason jar decor idea will save you some stress and a lot of money this Easter!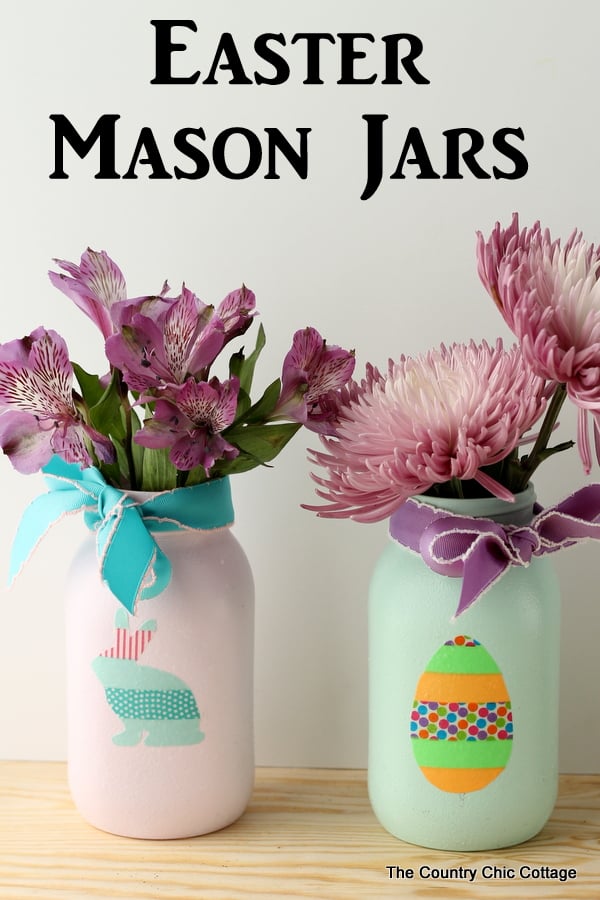 How to Make Easter Mason Jars with Washi Tape
If you're a mason jar crafts lover like me, this one will be a blast for you! With a few overlays of spray or acrylic paint and some twine and faux flowers along with your favorite colored decorative tape, you're ready for the forthcoming holiday!
Spring brings evocative colors everywhere around us and it's stimulating me to make an even more breathtaking easter mason jar idea for our home decor. And don't worry! This is not messy nor does it take too long to craft.
These mason jar crafts love to be shown off and with good reason! They just look so adorable and stunning that each home NEEDS something like this along with their easter basket.
With that being said, here's how you can make these!
Start with a couple of Ball Art Smooth Jars. Paint mason jars with the Americana Chalky Finishcolor of your choice using spray paint or a paintbrush. For this craft, here's the color that we chose so we can stick to the spring/Easter theme.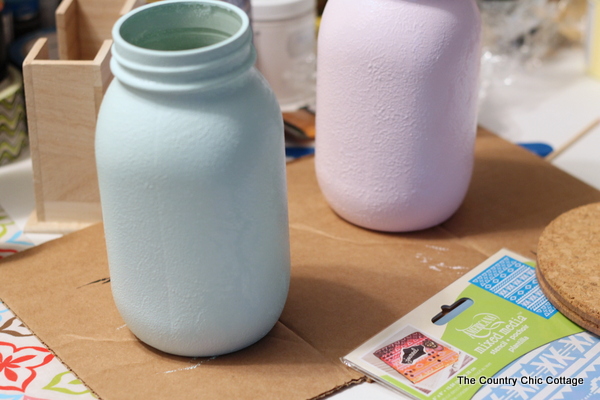 While those dry, make your washi tape stickers. I have a brief video below with the steps. I also have the steps written out below if you need them.
Start with freezer paper and washi tape. Draw or trace a shape onto the freezer paper with a pencil. Apply the tapes in stripes across the shape. Be sure the strips overlap slightly.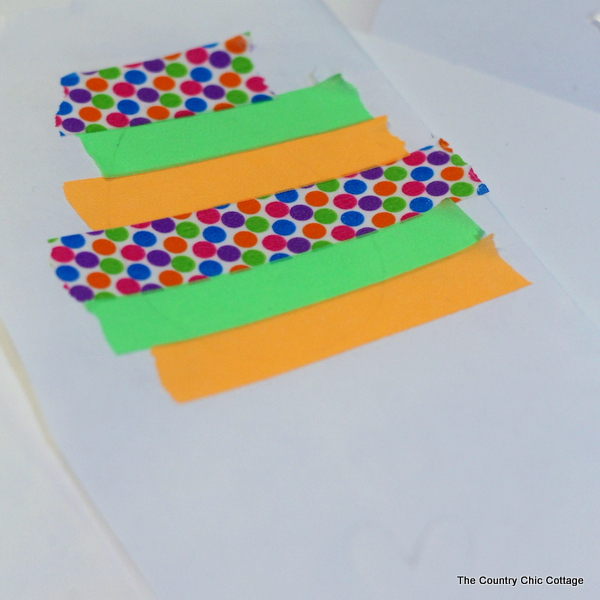 Apply decoupage medium to the entire thing and allow to dry completely.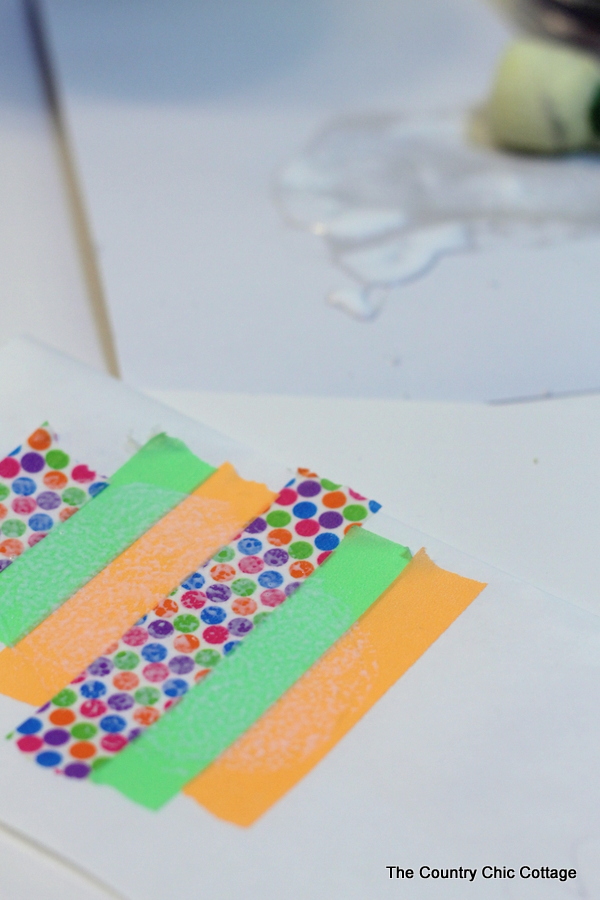 Cut out the washi tape shape and remove it from the freezer paper carefully. As you can see in the video, mine came off in two pieces. That is fine! Just align them on the mason jar surface.
Once your washi tape sticker is in place, go over your entire jar with decoupage medium and allow it to dry. Just look at how cute this already looks? I'm getting impatient to see the finished results!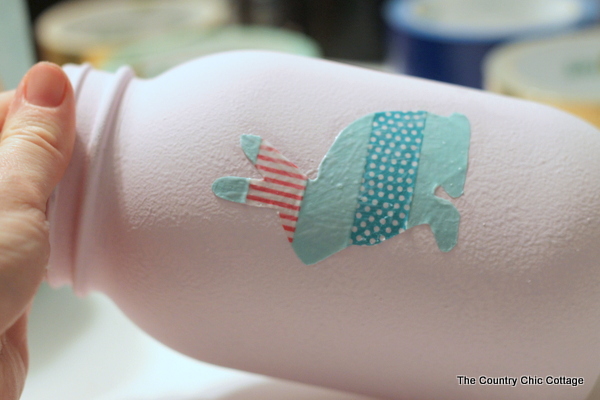 Your washi tape sticker jars are ready for Easter. I tied on a ribbon bow to both of my jars and added some flowers for a fun centerpiece.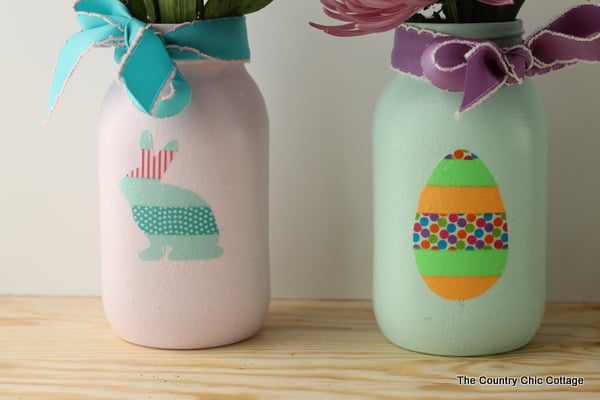 This same method can be used for any shape from washi tape. What will you create with this method? My Easter mason jars or something entirely different? I can't wait to see it!
If you enjoyed or found this easy DIY craft helpful, let me know in the comments!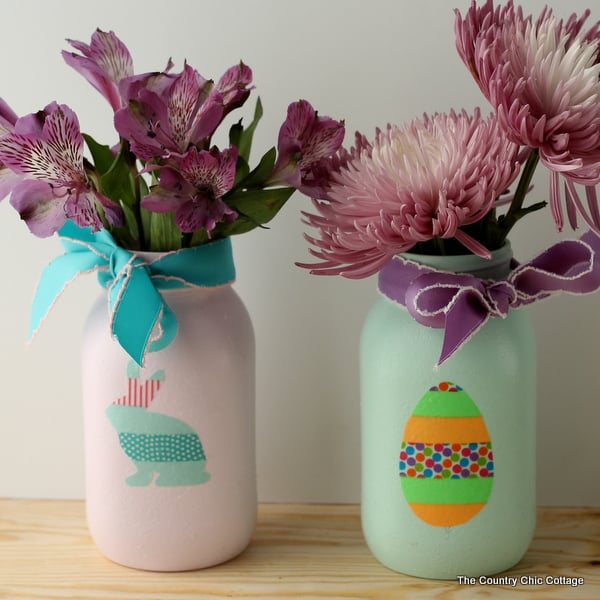 A Year of Jar Crafts
Sign up for our email list to get a FREE book with an entire year of jar crafts! 12 months, 12 crafts, tons of fun!