Home Depot was awesome enough to let me shop for a present for hubby a few weeks back. I ended up getting the entire present….gift wrap included…. from The Home Depot. How you say? Let me show you some gift wrap for men using ….what else??….. duct tape! Duct tape can fix anything y'all — even a pretty bow!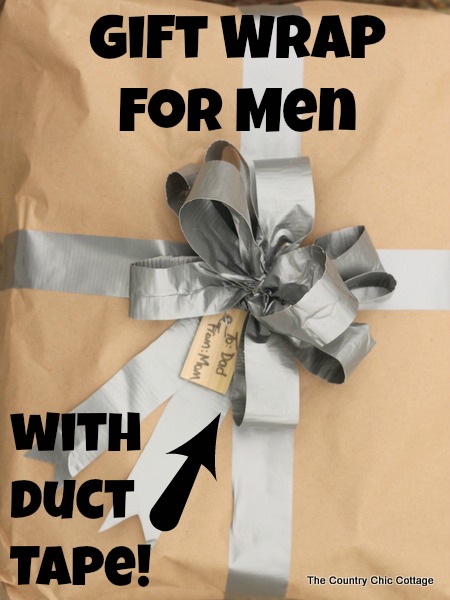 I headed to my local Home Depot with my shopping list in hand. There is an awesome gifts area set up in the front of the store. This is men gift heaven right here y'all. Alright some of us girls love tools too right? So head here for gifts for guys and girls that love tools.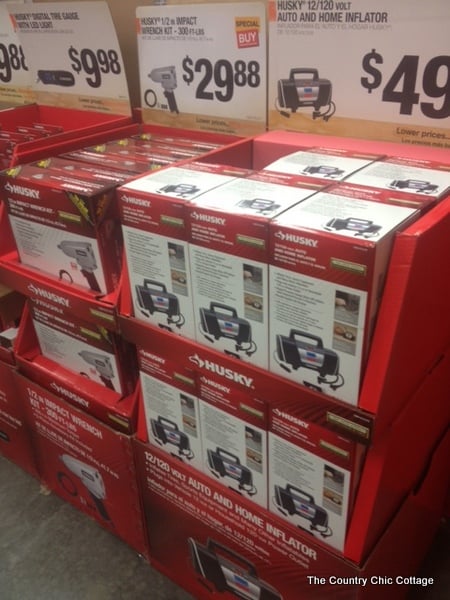 The absolute best most amazing part?? My Home Depot had these "try it before you buy it" stations set up. Heaven on earth. Angels sang. I swear. I love this concept. Especially since I have been wanting a Dremel forever. Guess what I bought? You know. For a gift. For hubby. **grin**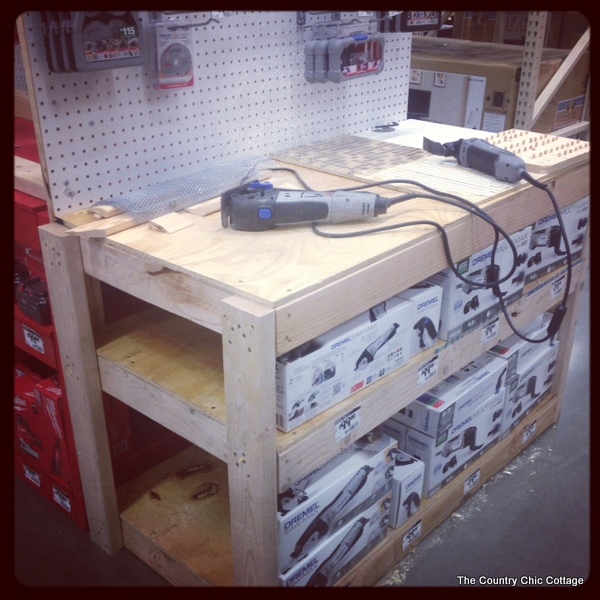 My cart was loaded up with presents for hubby. I ended up getting the following:
Milwaukee M12 12-Volt Lithium-Ion Cordless Hackzall Reciprocating Saw 2 Battery Kit — this was the one on my list but I ended up with the same version without the extra battery. The helpful guy at my local Home Depot showed me how to work my Home Depot app and this is actually an online exclusive and was not available in my store.

Husky 12-Volt/120-Volt Home and Auto Inflator — plans are to add this to our family vehicle. We have been saying we should get one of these for emergency situations so I think this will make a great gift.

Dremel 200 Series 2 Speed Rotary Tool with 15 Assorted Accessories — here is that Dremel I told y'all about above. I can't wait til hubby opens this one. You know so he can play with it….or so I can give it a go. **wink**

Husky 14 in. Rolling Tool Tote — these tool totes are PERFECT to fit all of your tool gifts in for wrapping. I will show you more below.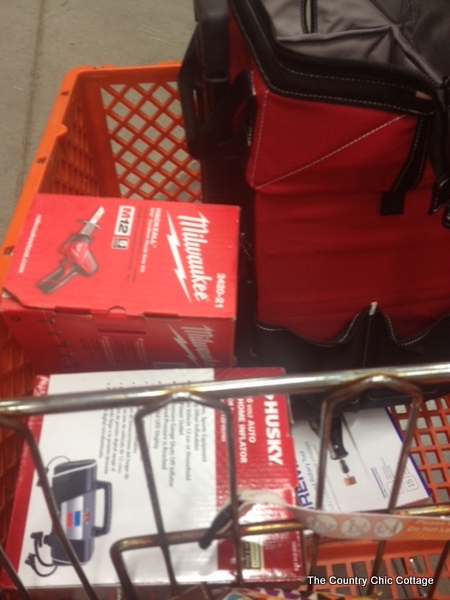 But I was not done shopping at The Home Depot. I added a few more things to my cart. Remember I said everything to wrap your gift as well. This plain brown paper is in the paint section of your Home Depot and makes the BEST wrapping paper. I also grabbed some silver duct tape and a piece of wood trim to make a gift tag.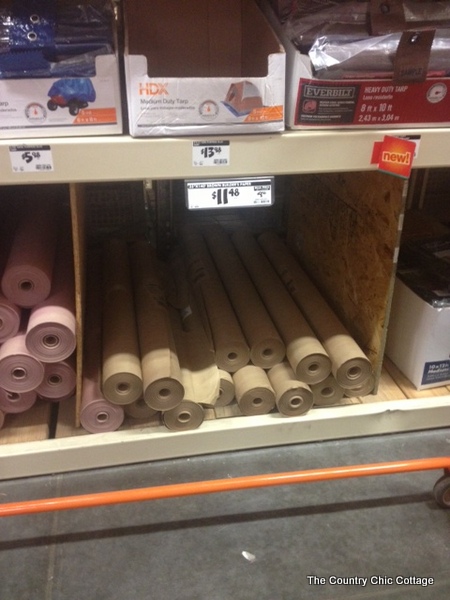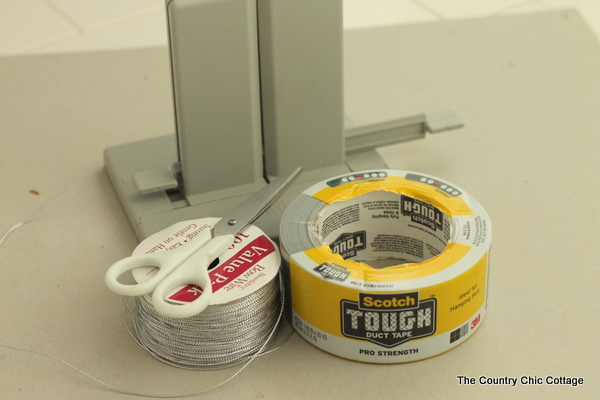 I used about an 8 – 10 foot length of duct tape. I then added another length of duct tape over the first so that the sticky sides are together. Get as close to even as you can but you will probably be left with sticky sides as shown below.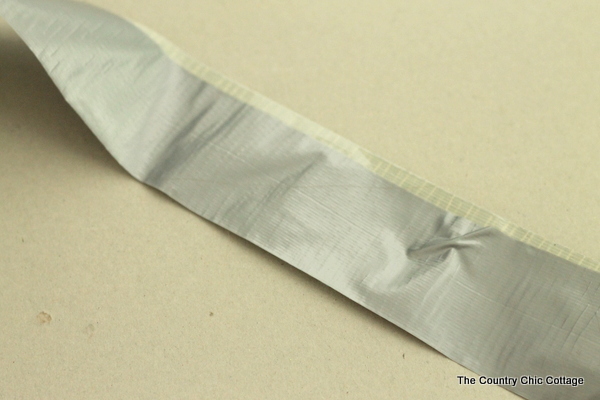 Use your scissors to go down both sides of the long duct tape piece and cut away those sticky edges. You are basically left with silver two sided ribbon.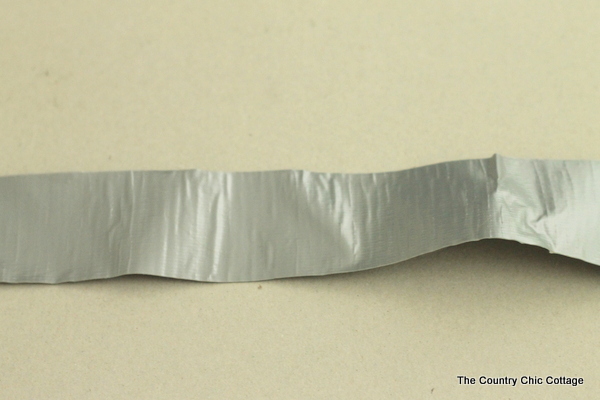 I then use the Bowdabra to make a big full bow. Again if you don't have a Bowdabra, just fold the duct tape over and over again then use a piece of wire to secure together in the center.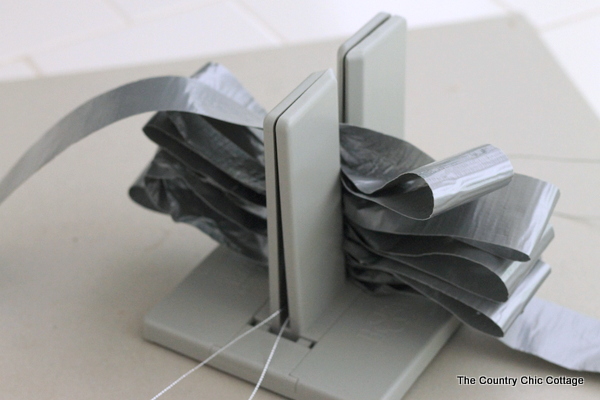 Just fluff your bow until it looks good and you have a perfect addition to a gift for dad or any guy.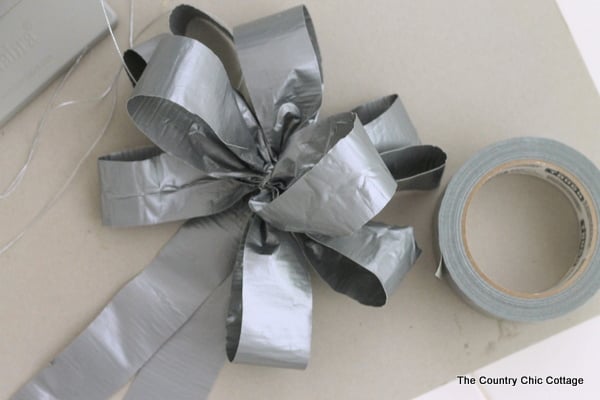 Now lets start wrapping. Like I said the tool tote is perfect for adding in your tools. All three of my purchases fit neatly inside.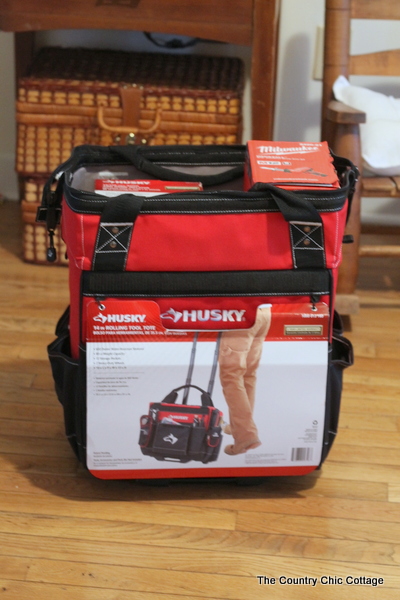 I then wrapped the tote with tools inside in the brown paper.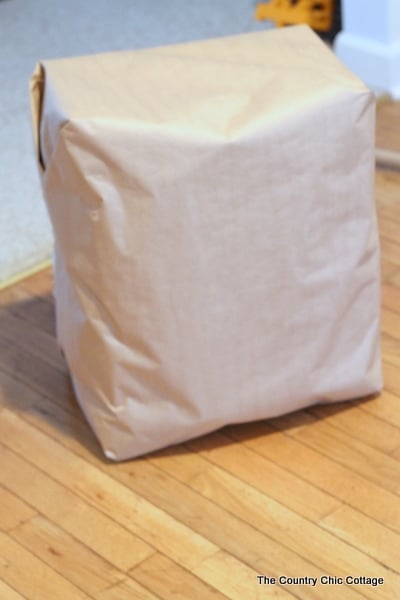 Now we are going to need a manly gift tag to go on our gift as well. I just cut off a piece of molding, drilled a hole, and wrote the name with a sharpie. You could get really fancy with these DIY wood gift tags and add stain, paint, stamps, or any number of decorations. I went the plain route.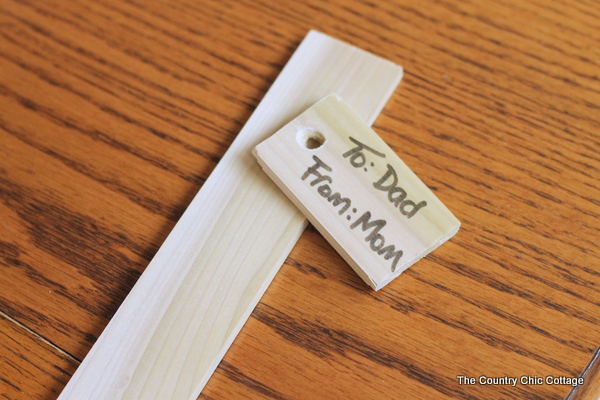 Add duct tape around your package, tape on your bow, and tie on your gift tag. You have a present that is completely from The Home Depot and pretty (in a masculine way) to boot!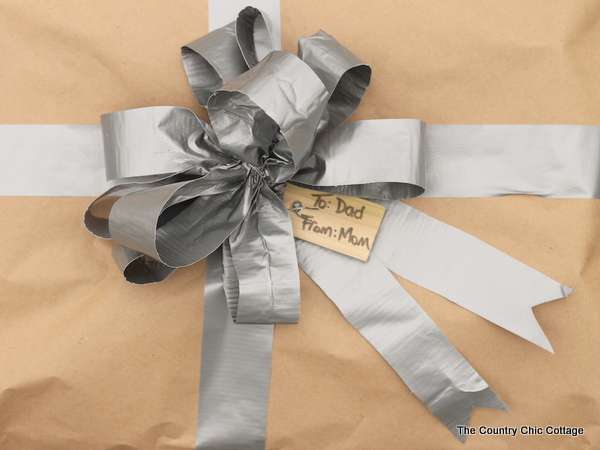 What do y'all think? Would you make bows out of duct tape? What other supplies that are found at The Home Depot would make good gift wrap for men? I thought maybe a big galvanized tub or bucket for a great tool gift basket as well. But I already had that tool tote!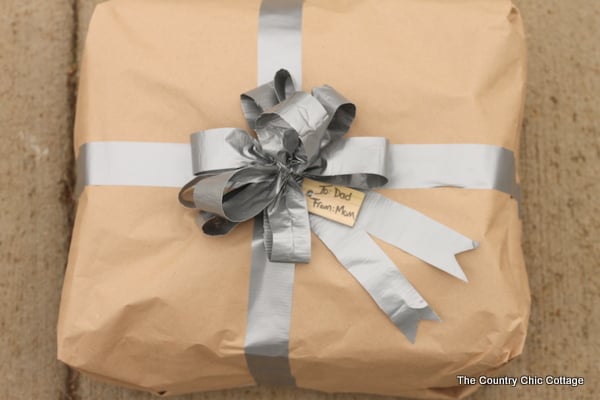 I acknowledge that The Home Depot is partnering with me to participate in this
holiday gift giving project

. As a part of the project, I am receiving compensation in the form of cash and gift cards, for the purpose of promoting the holiday gift giving project and The Home Depot. All expressed opinions and experiences are my own words. My post complies with the Word Of Mouth Marketing Association (WOMMA) Ethics Code and applicable Federal Trade Commission guidelines.