Are you looking for new ways to decorate your gifts? Try making DIY macrame decorations! Learning how to decorate a wrapped gift with macrame offers the ability to add fun, personalized decorations to all your wrapped gifts.
When it comes to gift wrapping, you can take it in many different directions, depending on the look you want to achieve. You can try mason jar gift wrap, make a gift box, or you can even print out your own gift wrap? And did you know that you can use duct tape if your gift wrapping endeavors? It's true!
But today, I have a new method of gift wrapping for you to try: DIY macrame gift wrap decorations that take your hand-wrapped gifts from good to "wow!"
If you find yourself drawn to rustic decor or boho vibes, I recommend jumping on the macrame train! I was pretty slow to jump onto it, myself. But I tried today's macrame project, and now I'm hooked.
DIY macrame gift wrap may be the very easiest way to jump on the macrame train. Or, at least it was for me. I wanted to try my hand at the craft, but I knew that jumping into a huge project could very well end in disaster.
So, here is my way of giving macrame knots a try…. a little bit at a time! Just use these DIY macrame knots to decorate your packages, and you have easy macrame gift wrap. Awesome right?
Note: If you have an interest in macrame, paracord, or string art, be sure to check out my DIY String Art Kids Craft Idea, Nautical Decor Using Rope, and DIY Beach Decor Using Rope.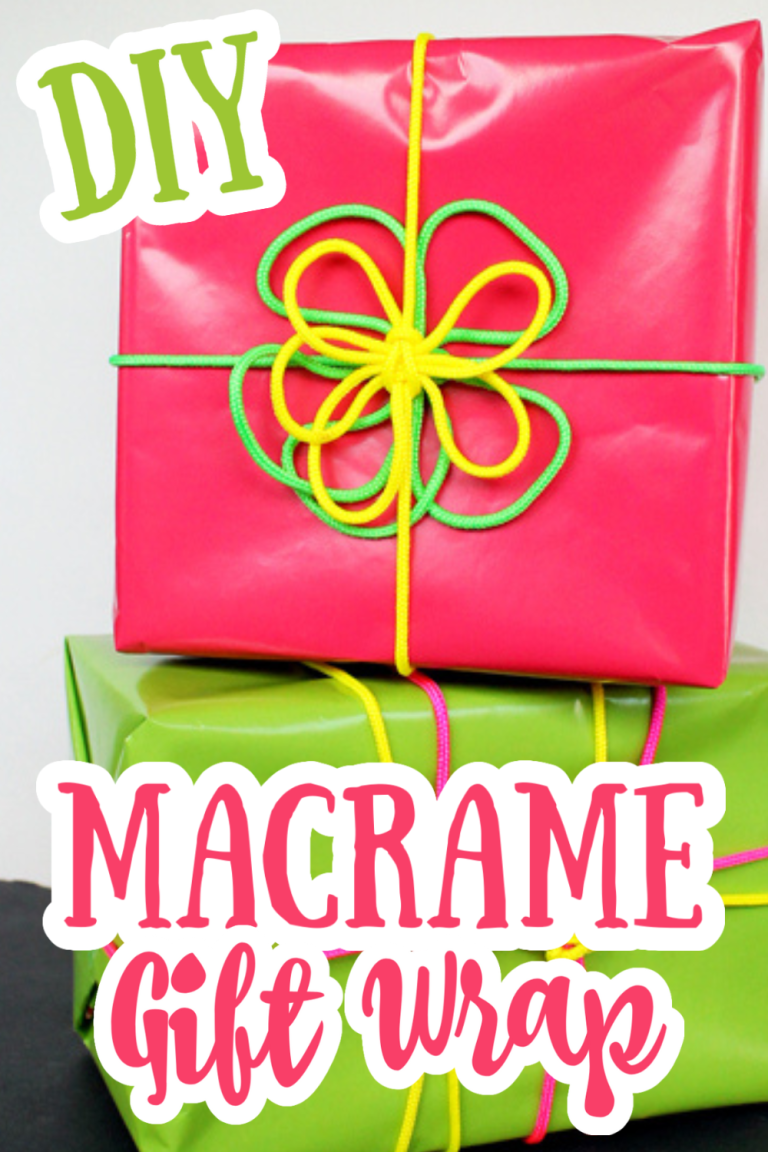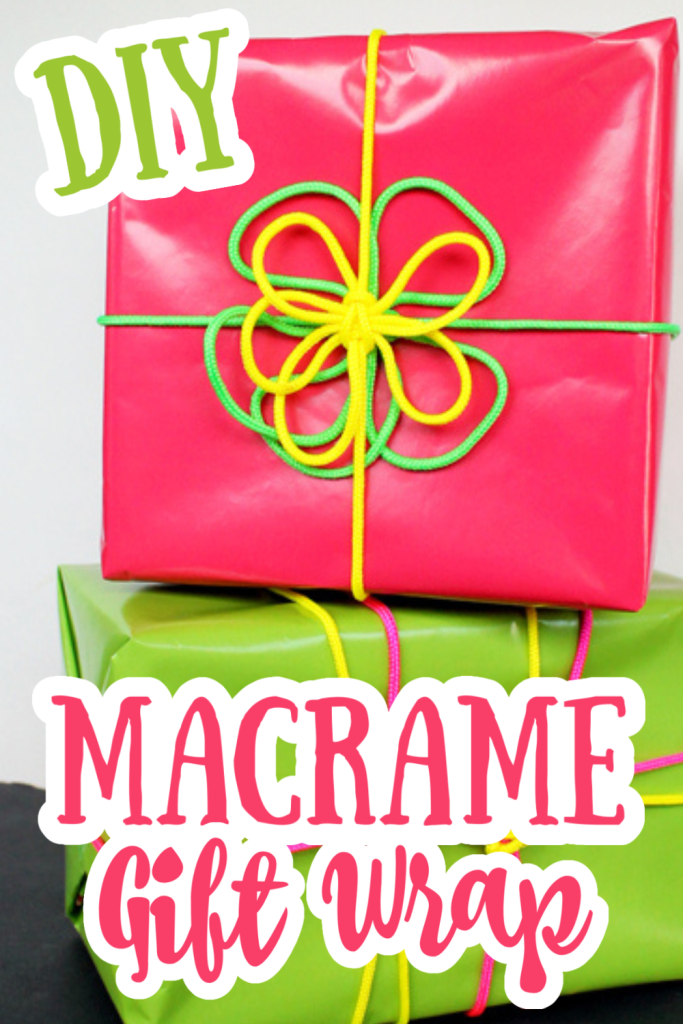 How To Decorate A Wrapped Gift With DIY Macrame Knots
For this particular post, I won't go through the entire process of creating DIY macrame decorations. Instead, I'll point you to the places I used to learn them!
Supplies Needed
I used paracord in a variety of colors for my version, but you could also try macrame cord instead.
DIY Macrame Decorations Process
Next, I had to actually LEARN some basic knots. I found a few different places that teach macrame knots and techniques for learning macrame. I walked through a few of the basic tutorials until I built up enough confidence to tackle something picture-worthy.
Flower DIY Macrame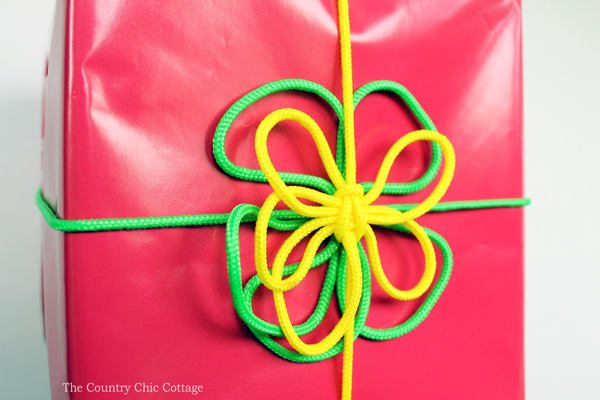 For this gift, I wanted to create a flower design, so I watched this tutorial from Share The Knot.
If you make the Fleur de Lis and pull on the loops, you can make a pretty convincing five-petal flower. I used this technique for the DIY macrame gift wrap on the box you see above.
I simply made two of those flowers layered on top of one another.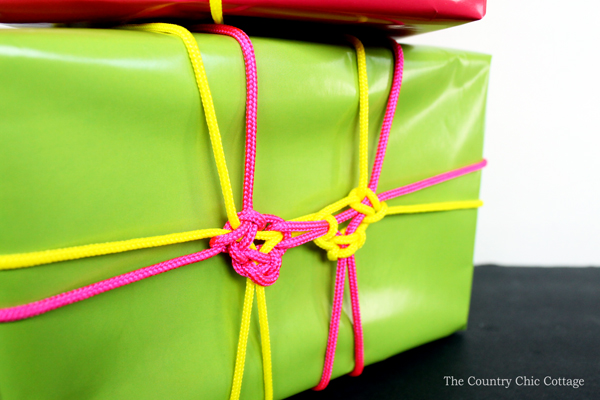 Macrame Alternating Square Knots
You can also try using alternating square knots like those pictured above. I learned how to make alternating square knots thanks to this tutorial from TJ Knots.
To finish them off, you can then tie the loose ends of the cords on the back of your package and trim the ends.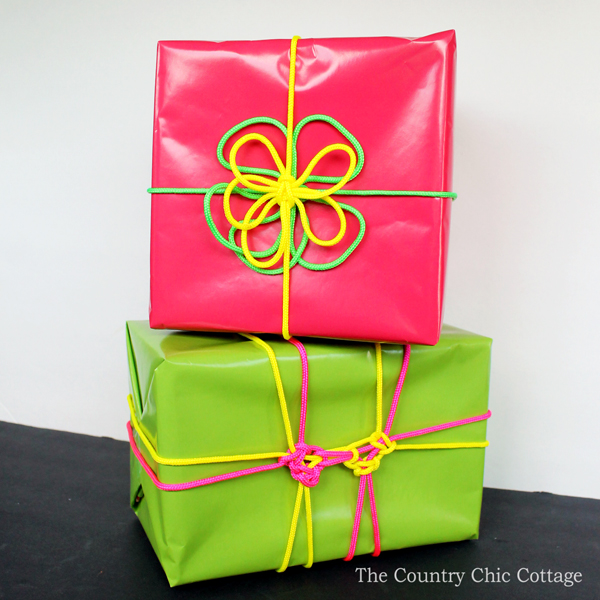 More Macrame Knots To Try
Although I only did these two different knots, there are many others that you can use (or modify) to create gorgeous DIY macrame gift decorations. Check out this tutorial from Jotopie to learn them!
In addition, a few sites that you might find helpful include:
FAQs
Here are a couple of questions that I see readers ask about making this DIY macrame gift wrap project. Please check to see if I've already answered it below if you have a question. Don't see it? Leave it for me in the comments!
What is the most common macrame knot?
From what I've seen, I think Half Knots and Square Knots are the most commonly used macrame techniques, and they can face left or right, so the alternating square knots I did face alternate directions!
Note: The half knot is just half of a square knot.
But, even though those are the most common knots, that doesn't mean you can't do something else or modify knots to create your own design (like I did with the Fleur de Lis!).
What's the difference between macrame cord and rope?
Even though both rope and macrame cord are made of cotton, they're very different from each other. Rope is rough and rugged. It's meant to be strong and look rustic and often has pulled strings coming out to give it a slightly disheveled appearance.
Macrame cord, on the other hand, is smooth and uniform-looking. It's soft to the touch, so it's gentle on the hands. It's designed to tie into knots easily without having to deal with any uneven imperfections.
Macrame is definitely an art form, and there is a learning curve to mastering it. But, if you are itching to learn some of the techniques, you can definitely come away with some DIY macrame gift wrap in a single afternoon.
Then just spend a few more days perfecting your techniques and adding to your skill level. Before long, you might even have a gorgeous DIY macrame wall-hanging in your home!
More Crafting Inspiration
If you're searching for more fun and unique crafts, check out these ideas!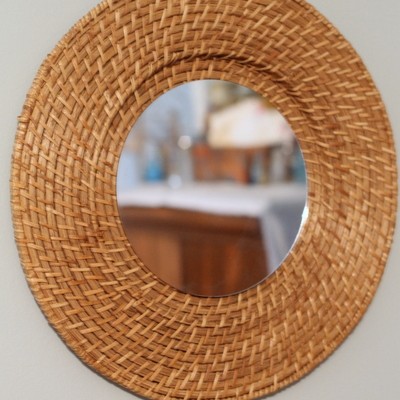 Quick and Easy Woven Mirror Knock Off in 15 Minutes or Less
Make this beautiful woven mirrow with thrift store finds.
READ MORE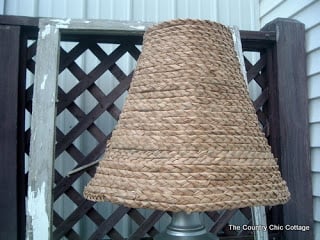 Ballard Designs Knock Off – Seagrass Lamp Shade
Add texture to any lampshade with this easy knock-off.
READ MORE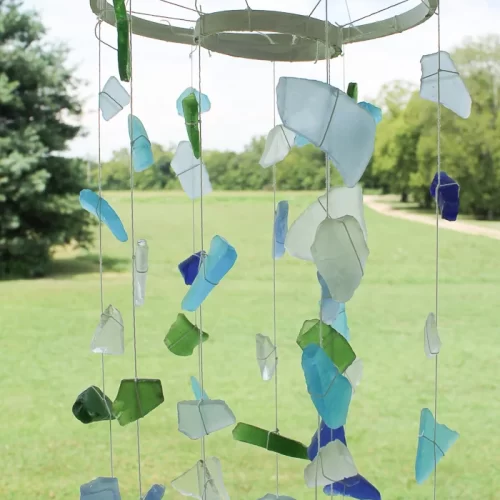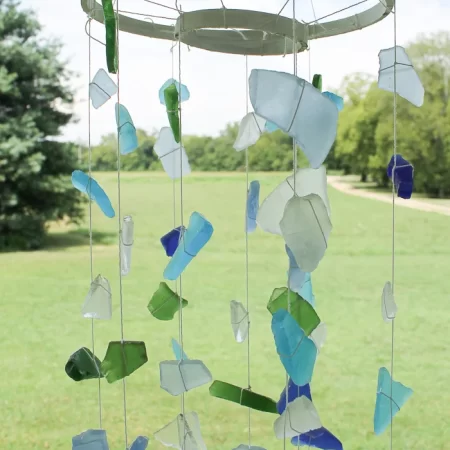 Sea Glass Wind Chimes
The perfect sea glass craft for your sea glass collection.
READ MORE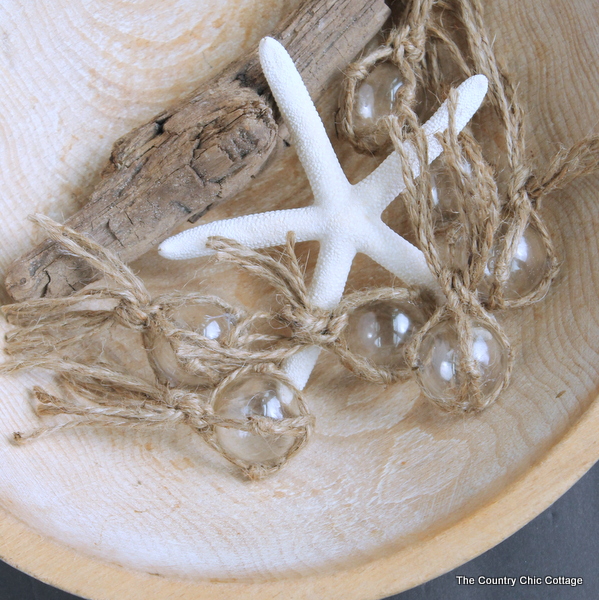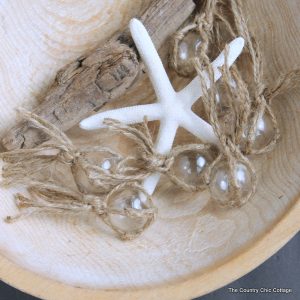 Glass Buoy Vase Filler Knock Off
Make this nautical Pottery Barn knock-off in minutes.
READ MORE