If you have been around here anytime at all, you know that I have been working on my upstairs bathroom. The next step is finding a bathroom cabinet. Boy that sounds like an easy task right? Well it was a challenge to find exactly the right piece of furniture for the space. But I have done it! Thanks to Sauder — my bathroom has a cabinet.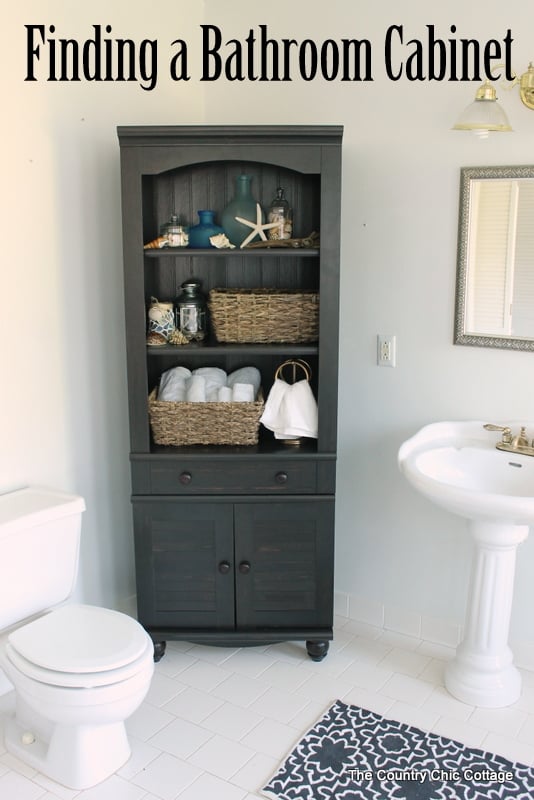 Lets start at the beginning and why this was so hard. I literally cleaned EVERYTHING out of this room. I had a dresser in that area but it never quite felt right and I needed it in my craft room. So I was left with this…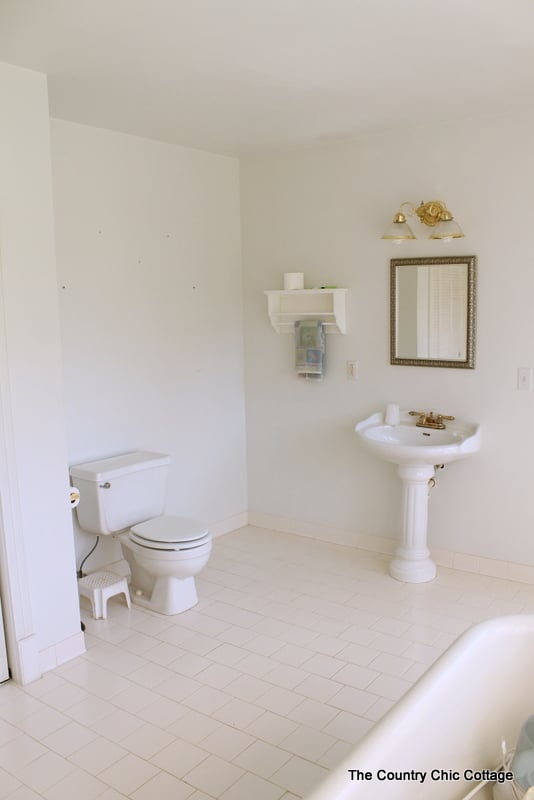 This room is HUGE and it has no vanity or any sort of storage besides a closet. I took that over for my organized craft closet so I really, really needed a functional piece that had some concealed storage. With the dimensions and size of the room it really needed to be a large statement piece. I searched high and low at thrift stores, furniture stores, and online. I finally settled on this amazing library with doors in a dark finish from Sauder. The closest retailer however that carried this was 46 miles away. With no time to spare, I pulled the trigger and ordered from the Sauder.com website. The process was super easy and within a few days a BIG box was delivered to my home.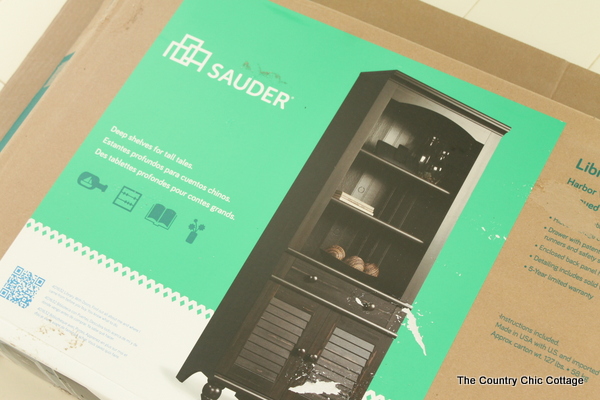 Now for the fun part. The some assembly required part. I was nervous. Was this going to be like other experiences where the directions were unclear? Was I going to be able to assemble this array of pieces into furniture?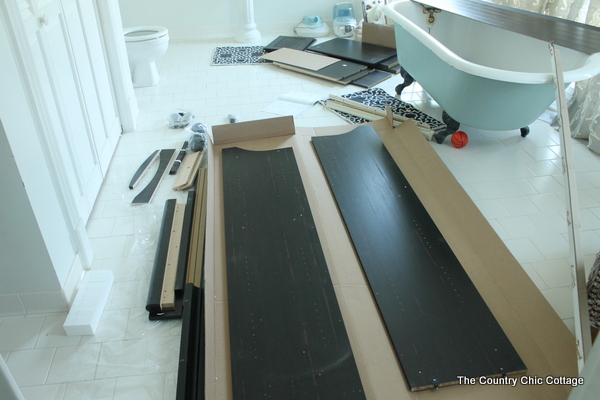 I braved the instruction book alone with no help what so ever. And it was easy y'all. Easy. There were even great pictures and helpful hints along the way. Righty tighty lefty loosey anyone? The book even gave me instructions to take a break at one point and get a drink. That is my kind of instruction manual!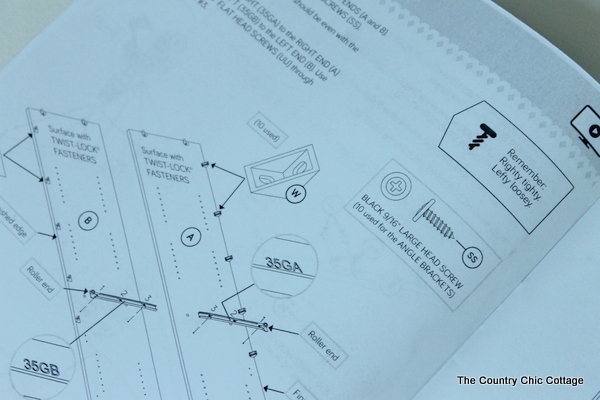 Bottom line — one evening + no hubby + no kids = one finished amazing cabinet and one happy lady. Yep I totally did this myself! However I do want to mention that Sauder has award winning customer service that will help you along the way if you have any issues at all. I was lucky enough to have an amazing instruction manual that took me from before to after easily.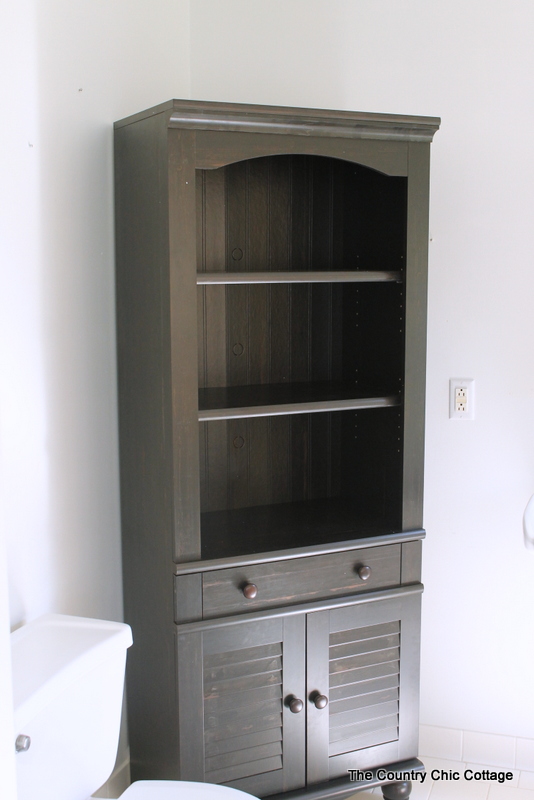 Now for the fun parts! I get to style and arrange til my heart's content.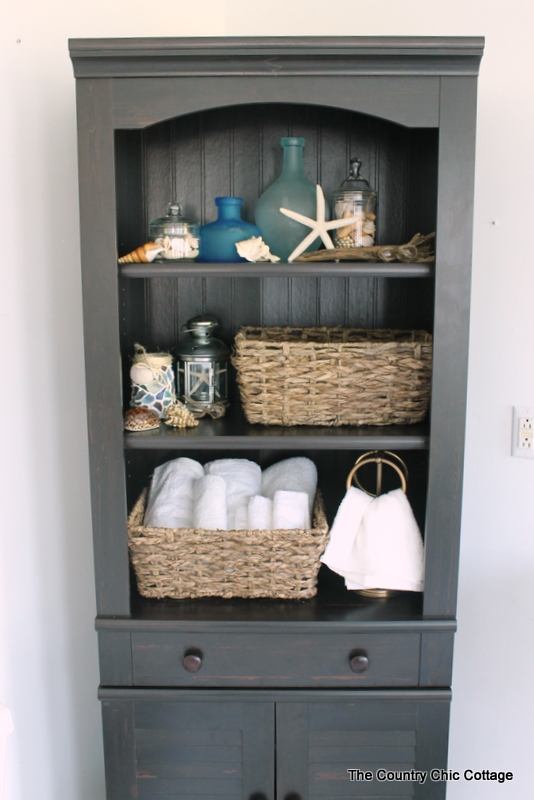 Y'all stay tuned to see how this cabinet ends up. Plus I hope to have a full reveal on the bathroom up for you next week. (Must get finished.) Til then I hope you enjoyed this story on finding a bathroom cabinet. I know I enjoyed shopping for it! Thanks to Sauder for providing me with the furniture and sponsoring this post. For more projects from this room, check out painting a claw foot tub, a wicker makeover, and sewing your own curtains.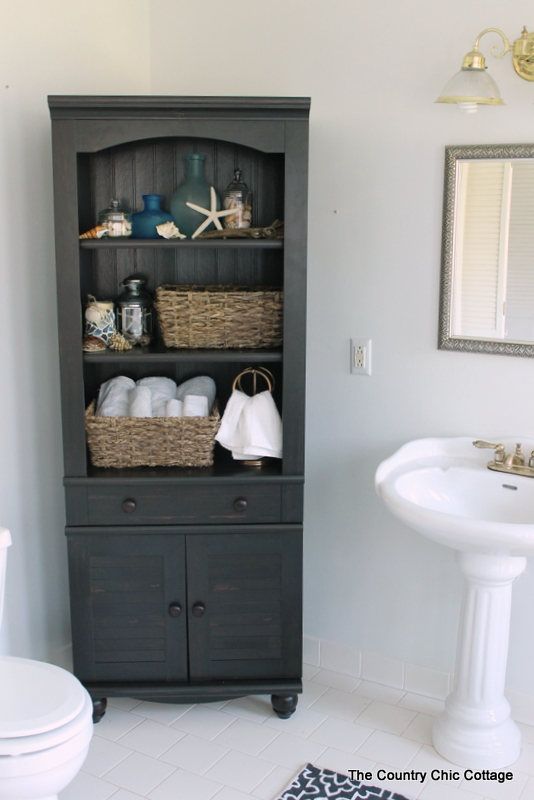 This is a sponsored conversation written by me on behalf of Sauder. The opinions and text are all mine.