Do you have a big football fan at your house? Surprise them with these fun and easy football cupcakes. Keep reading to learn how to use your Cricut machine to create cupcake toppers.
You can see my whole sports party here.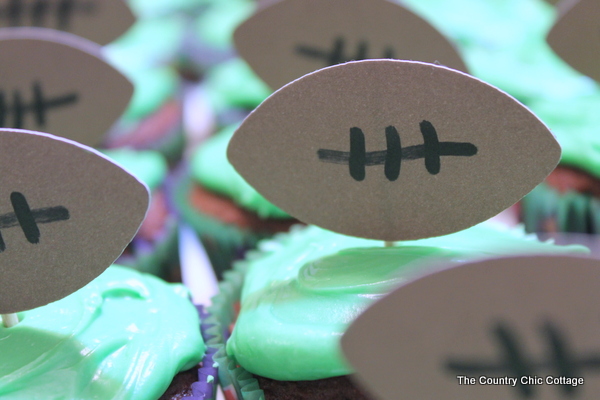 This project was originally posted in 2012 and has been updated in 2022 to include more info.
How to Make Football Cupcakes
I made these football cupcakes for my son to take to his class at school. Because I needed them for his whole class I needed quite a few. I wanted them to be fun but easy too.
Use your favorite cupcake recipe or an easy box mix and make the cupcakes as per the directions making sure to not overfill the cupcake liner.
Frost cupcakes with green frosting. Use store-bought frosting or homemade frosting, whichever you prefer.
Supplies Needed for Football Cupcakes
Cupcake Liners
Cupcake Recipe or Box Cake Mix
Green Store Bought Frosting or Homemade Frosting and Green Food Coloring
Football Cupcake Topper
Cupcake toppers are so easy to create and can be made to match any party theme. My football cupcake toppers can be made in minutes which makes them perfect for your next party.
Here's another post all about creating cupcake toppers with your Cricut machine.
Supplies needed for Cupcake Toppers
Cardstock – Brown (& White – optional)
Adhesive
Sharpie (optional)
Toothpicks
Assembling Football Cupcake Toppers
To make the football toppers I used my Cricut to cut all the football shapes out of brown cardstock. There are a variety of football images included in the Cricut Access Subscription.
To keep these toppers really simple I used a black sharpie to draw the football markings. If you want to step them up just a little use your Cricut machine to cut out the markings from white cardstock and use adhesive to put them in place. You could also use small scraps of white adhesive vinyl if you wanted.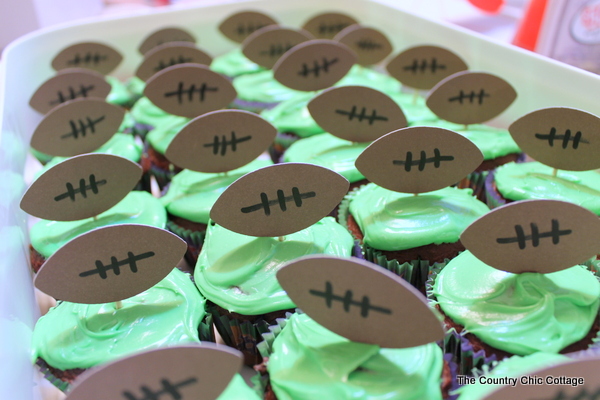 To finish the cupcakes you can do them in two different ways. You can either use a clear adhesive and tape the toothpick to the back or you can use two finished footballs and sandwich the toothpick between them using hot glue or another adhesive of your choice.
Using two footballs makes the cupcake topper look good from both sides without the adhesive showing.
Finishing Football Cupcakes
To finish off the cupcakes stick the football topper into the frosted cupcake. Try not to have the frosting touch the cardstock, it can leave oil type marks on the cardstock.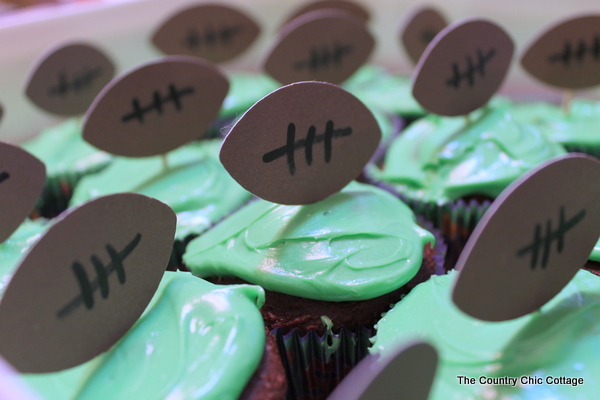 And now we have completed football cupcakes. This project is for a football cupcake topper but you can use this same process for any cardstock cupcake topper.
Think about your next party theme and I bet you can find something that would be fun to use as a cupcake topper.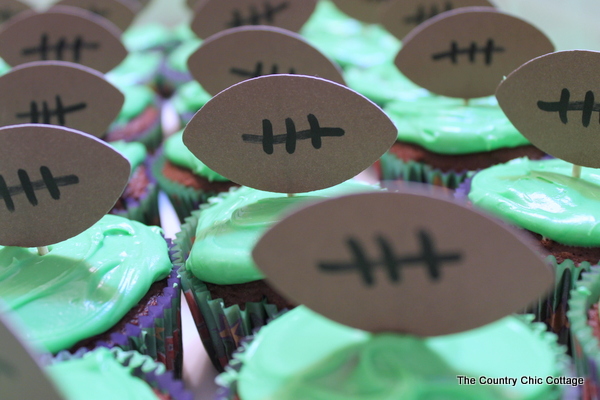 Final Thoughts on Football Cupcake Toppers
This cupcake topper was so easy to make and really made my son's classroom party more fun. He really loves all sports and these were really fun for him to take to his class.
If you're having a football or sports party check out my football cake post here.
Silhouette Tips and Tricks
Sign up for our email list and we will deliver weekly inspiration with tips and tricks for your machine right to your inbox!