If there's one thing kids love to play with, it's slime. Believe it or not, slime is very easy to make yourself! Learn how to make Halloween slime in a handy storage jar. These are perfect party favors for your next party.
The fall and Halloween season (which are kind of wrapped into one big season these days) is ideal for crafting. We're heading into the holidays and the fall colors just seem to scream "get crafting!"
I thought it would be fun to share a Halloween slime recipe with you today. Slime – especially orange slime – is always a hit with kids! Similar to playdough, slime will keep kids occupied for hours. And it's easy and very affordable to make!
As most parents know, the downside to slime is that it can get pretty messy. This craft solves that problem. Not only is it a slime recipe, but you can add this recipe to a jar and decorate it to look like a pumpkin. Fun craft with built-in (cute) storage!
If you love Halloween crafts and recipes, be sure to check out my DIY Halloween Paper Bags, Frankenstein Halloween Bags, and Monster Cookie Kit + 18 Halloween Printables!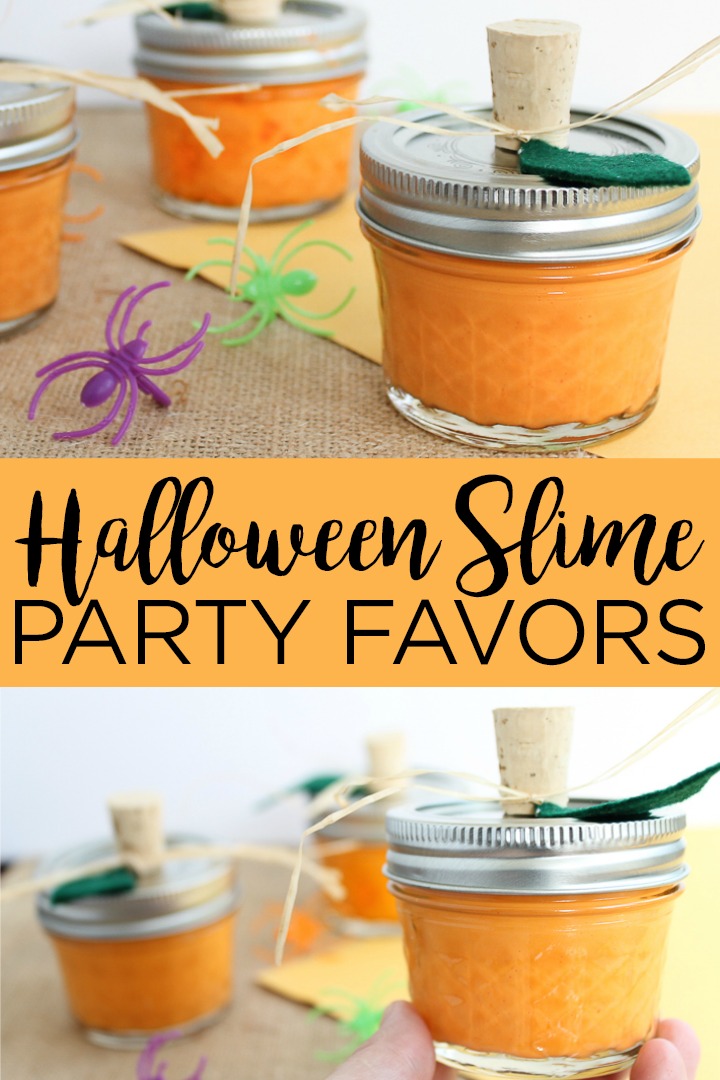 How To Make Halloween Slime Party Favors
This project will give you ready-made Halloween party favors all within a few minutes. Or you can let the kids mix up this slime recipe at your Halloween party for a fun activity. They can, of course, make it different colors and even personalize it by adding glitter or other additions (see note below).
Supplies Needed
Here's a complete list of what you'll need to gather together for this project. Some links may be affiliate links which means you do not pay anymore but I may receive a small commission to put towards this site.
School glue
Orange food coloring
Baking soda
Saline solution
Green felt
Wine cork
Bowl
Spoon
Mini mason jar (see note below)
Hot glue gun and glue sticks
Note: Please check out the handy printable recipe card below for all the details on how to make this project!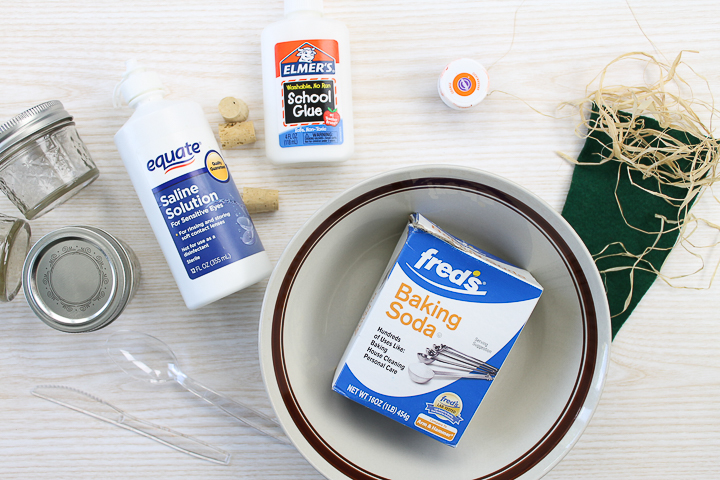 How To Make Halloween Slime
First, you will need to mix up the slime or have the kids do it. Just follow this easy Halloween slime recipe:
Add entire bottle of school glue to a bowl.
Mix in 1 1/2 tsp baking soda.
Add food coloring until you reach the desired tint for your Halloween slime.
Then mix in 3/4 tsp saline solution. Stir well. The slime will start to pull together into a ball.
Knead the slime with your hands. If it is still sticky, you can add about 1/4 tsp more saline solution.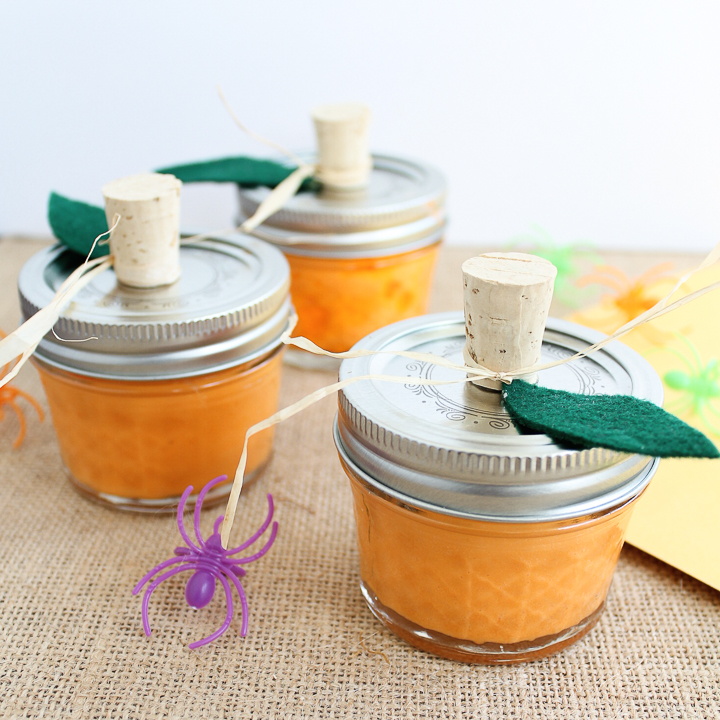 Orange Halloween Slime Video Tutorial
Perhaps you want to see how to make this slime with a video? We made one for you to follow. Just play the super short video below!
Can't watch the video or missed some of the steps? Just keep reading for instructions on how to turn your Halloween slime into fun party favors.
How To Put The Halloween Slime Party Favors Together
Now that you have a batch of slime, it's time to use it to make cute favors for your Halloween party. One batch of this slime fits perfectly into a mini mason jar. Drop it in then decorate it however you want it to look.
Want to make yours look like a cute pumpkin? Here's how I decorated mine:
Cut a leaf shape from felt.
Hot glue both the leaf shape and the cork to the mason jar lid.
Then tie raffia around your cork.
Use scissors to trim to length.
Now you can give your pumpkin party favors away to your guests!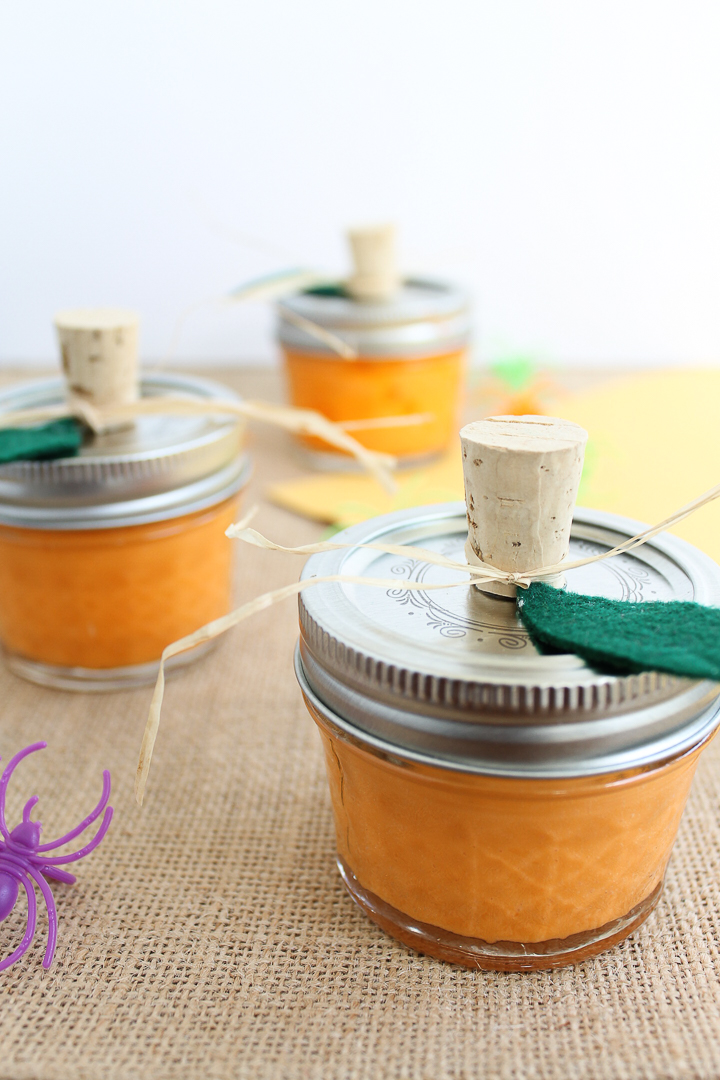 Are these little pumpkin jars of Halloween slime adorable? So, will you be making a batch this year?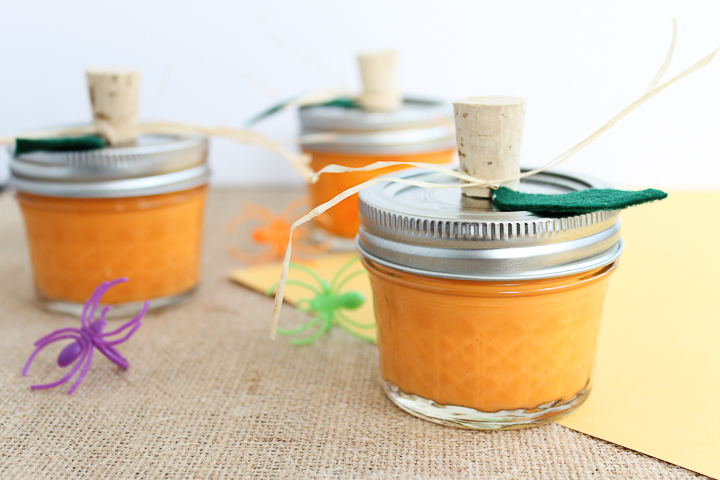 Your kids will no doubt love it! You? Maybe not quite as much! But they're over the top love for it will make it all worth it.
My tip is to keep all slime-making and slime-related activities outdoors or on a table covered in plastic wrap. 😂 That way you don't have to worry about the slime getting in your carpet, on your furniture, etc.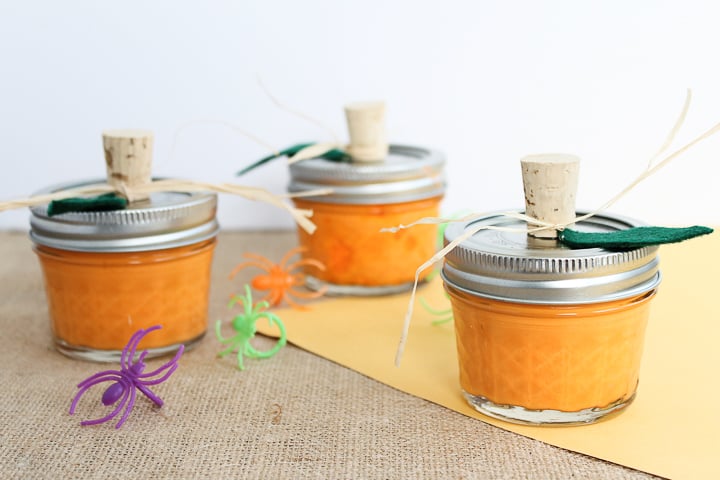 FAQ
Still having trouble making your slime or turning it into favors? Here are a few questions we get about this tutorial. If you have a question but don't see it down below, please leave it in the comments so I can answer it for you.
My slime is super sticky and sticking to my hands. What do I do?
Add a few more drops of saline solution to your hands then knead it. Keep repeating that process until you are able to handle the slime without feeling stickiness.
How much slime does one recipe make?
You will find that one batch makes just enough slime to create one party favor (or fill one small jar). Multiply as necessary.
What size jar should I use?
We are using the 4 oz mason jars. You can find a wide variety at Amazon.
My slime recipe keeps failing. What am I doing wrong?
The most common mistake we see is using the wrong saline solution. You want one for contact lens wears that contains boric acid. It is this acid that creates the chemical reaction you need to turn these ingredients into slime.
What can I add to slime to make it even more fun?
Have you ever tried adding little trinkets to your slime? In addition to adding colorful glitter, you can add small trinkets such as confetti, beads, mini action figures, bugs, mini plastic Halloween shapes, buttons, and more!
Safety note: If you're making this for small children who might put the slime (or the objects) in their mouths, please don't add small objects other than glitter because they're a choking hazard.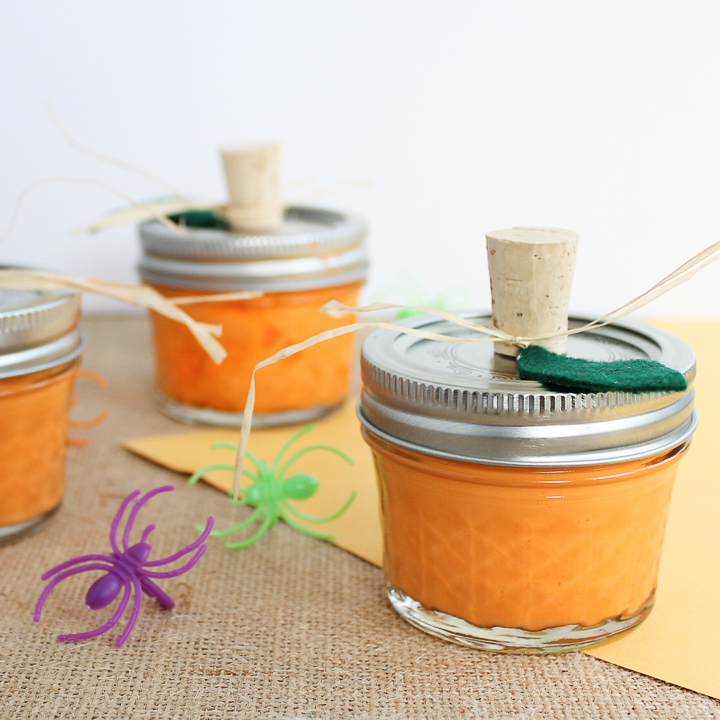 Go ahead…break out your supplies and make a batch of Halloween slime today! You are sure to love the results and the kids will as well!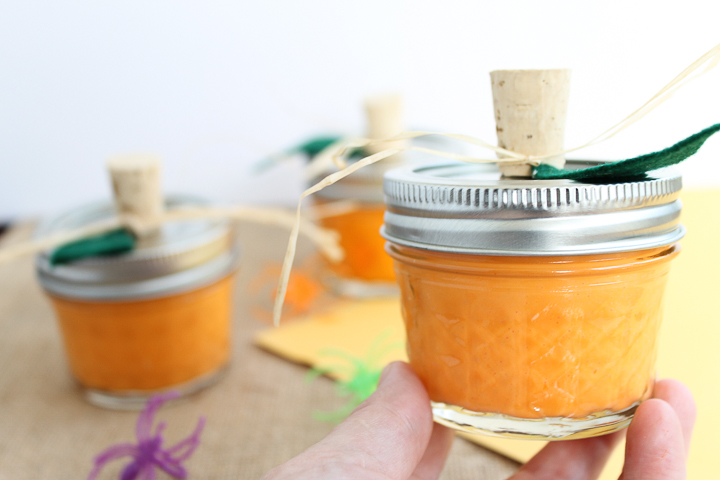 More Halloween Inspiration
Love this Halloween slime recipe and want more ideas? Try the fun links below!
Want to print this recipe for slime? Use the card below!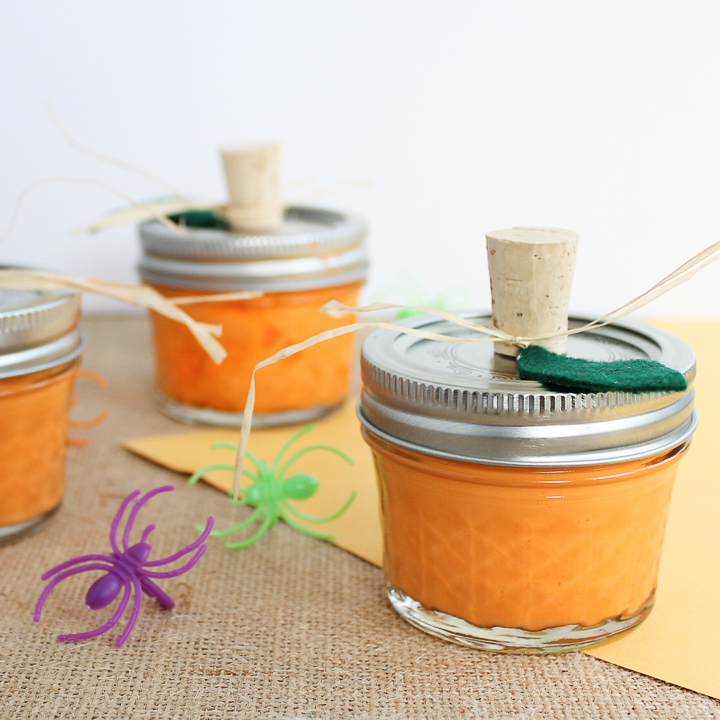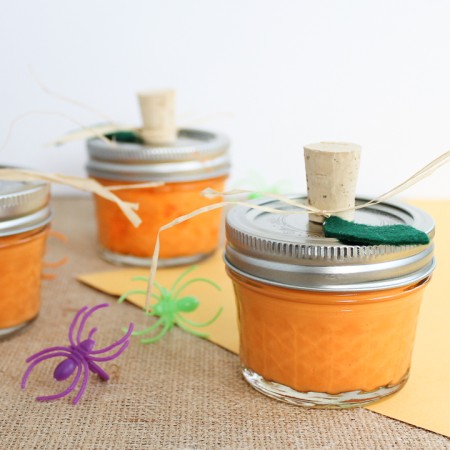 Halloween Slime Recipe in a Jar
Make this Halloween slime and give out as favors at your fall parties!
Supplies
4

fl oz of school glue

Orange food coloring

1 1/2

tsp

baking soda

3/4

tsp

saline solution

Green felt

Wine cork

Raffia

Mini mason jar

4 oz size
Instructions
Add entire bottle of school glue to a bowl.

Mix in 1 1/2 tsp baking soda.

Add food coloring until you get the color you want.

Then mix in 3/4 tsp saline solution. The slime should start to pull away from the edges of the bowl and form a ball.

Use your hands to knead the slime. If it's still feeling sticky, you can add about 1/4 tsp more saline solution and need until it no longer feels sticky.

Cut the felt into a leaf shape.

Use hot glue to attach the leaf shape and the cork to the mason jar lid.

Decorate by adding a piece of raffia around your cork and trim with scissors.
Tried this project?
tag us to show off your work!