If you're looking for easy-to-follow hanging herb garden diy ideas, you came to the right place.
When you're cooking, fresh herbs can really take your dishes to the next level. But fresh herbs are expensive and regularly buying them will make a dent on your food budget.
A sure way to save yourself more than a few bucks is to have your own hanging herb garden. There's no need to purchase a hanging herb garden in IKEA, because you can easily make one yourself!
Add a hanging herb garden to your home this summer. This inexpensive project is perfect for any space, big or small. So, if you think you don't have room for an indoor herb garden, think again! Pick up a few supplies and make your own outdoor hanging herb garden this summer.
You will love getting fresh herbs right off of your fence or back patio.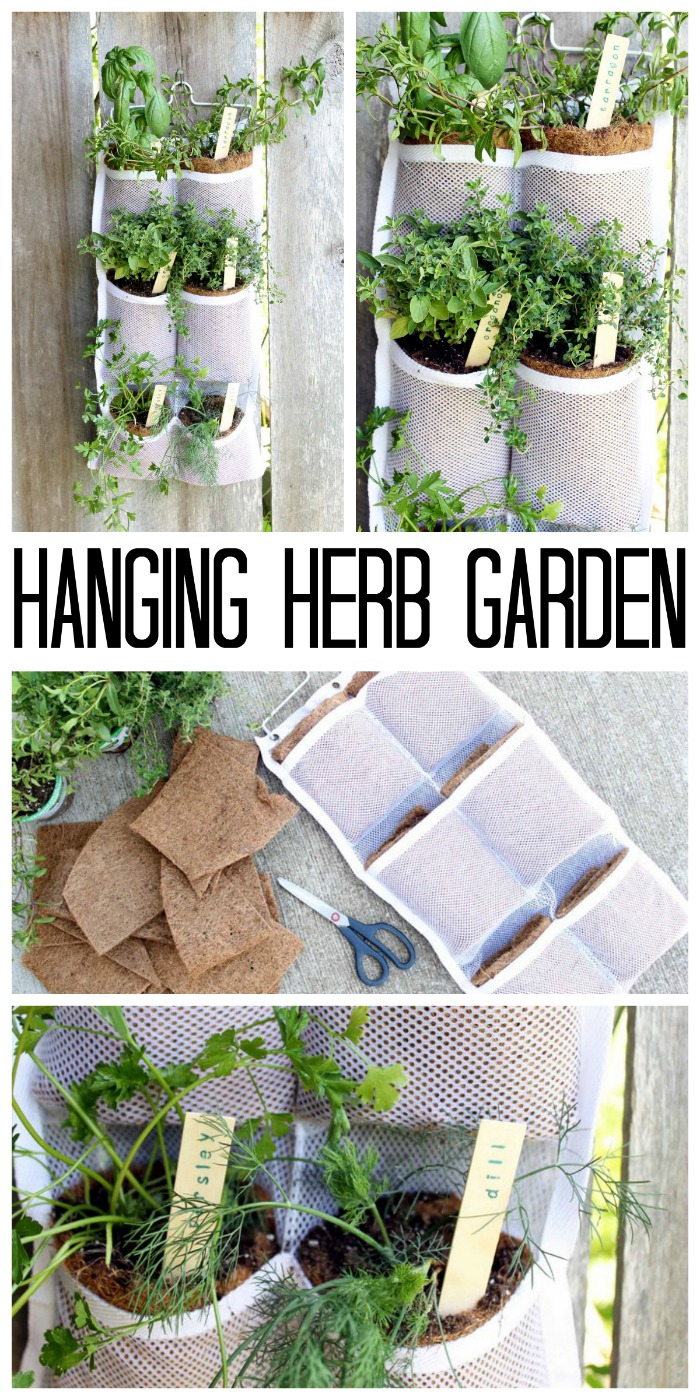 Supplies needed to make a hanging herb garden:
To create your outdoor herb garden, you only need a handful of items. We've broken them down below.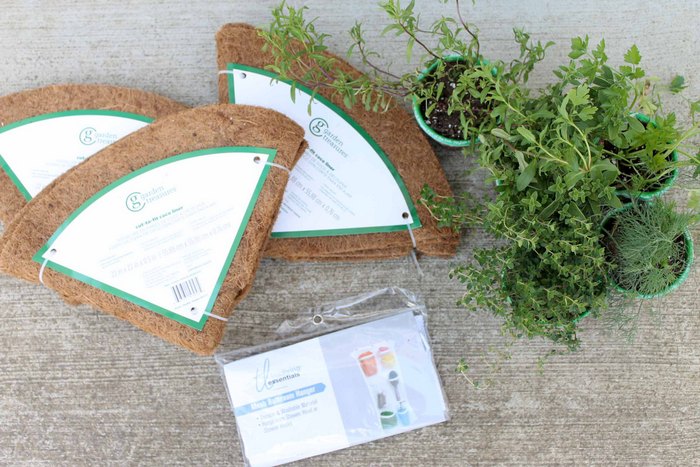 Instructions:
Start off by cutting your coco liner to fit your mesh pockets. This will help to keep in the soil and moisture once you add your plants. You can use regular scissors as the coco liners cut fairly easily.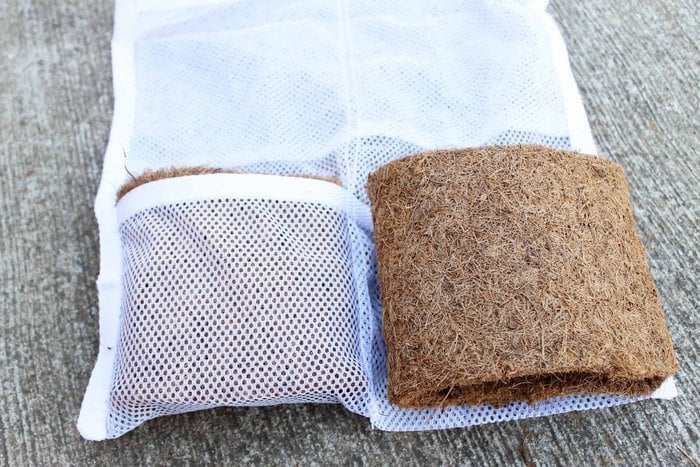 Stuff the coco liners in the mesh pockets and continue until all of your mesh pockets are perfectly lined.
Note that the mesh organizer that we used did not have uniform pocket sizes. This may be true on your organizer as well so be sure to cut the coco liners to fit each individual pocket.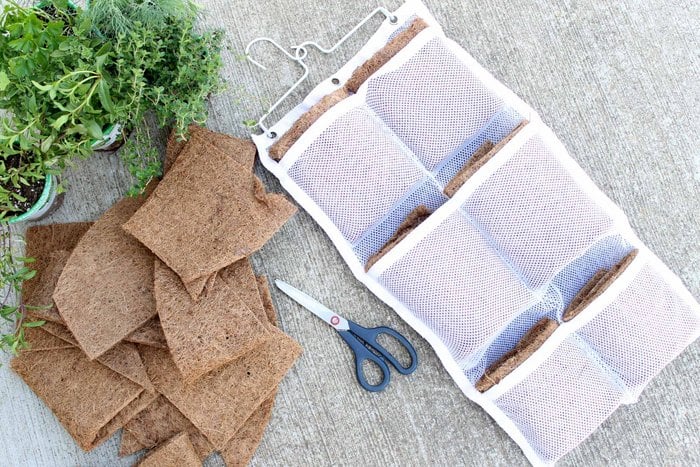 Once you've had all the slots filled up, you can now hang the vertical organizer wherever it is going to stay.
When choosing a place, you must consider a spot that will provide adequate sunlight for growing herbs. A fence or a back patio works great for this project. It also helps to pick a place that is super convenient and easily accessible for you, so you can easily get to it and snip a few herbs while you're cooking in the kitchen.
Now you're one step closer to achieving an awesome vertical herb garden.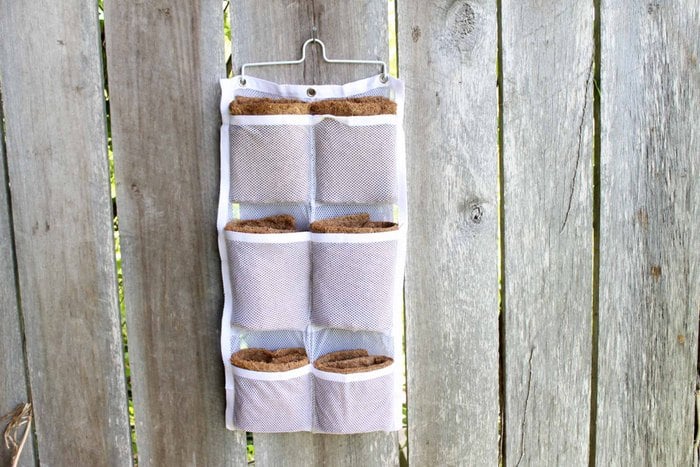 When you have finally hung your diy hanging herb garden, you can finally add in the soil and herb plants.
Feel free to add the herbs that you love and commonly use in your cooking. There really are no rules when it comes to this part. Some of my favorites include tarragon, basil, oregano, parsley, dill, and thyme.
I could really go on and on about having a hanging herb garden on my fence right in my backyard. There are simply too many benefits not to love it!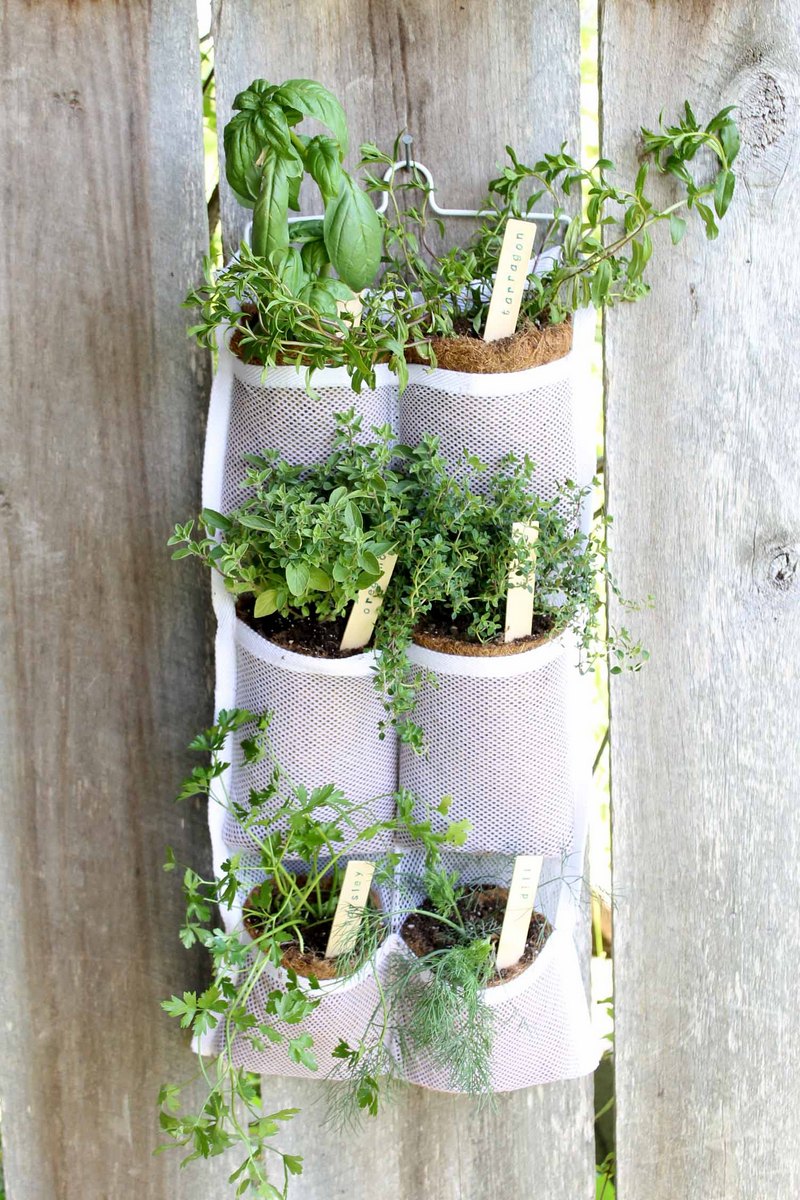 Quick tip: To hold in even more moisture, you can add a layer of plastic bag on top of the coco liner just before adding in the soil and herb plants. Doing this will trap the water even longer, allowing you to extend the time in between watering.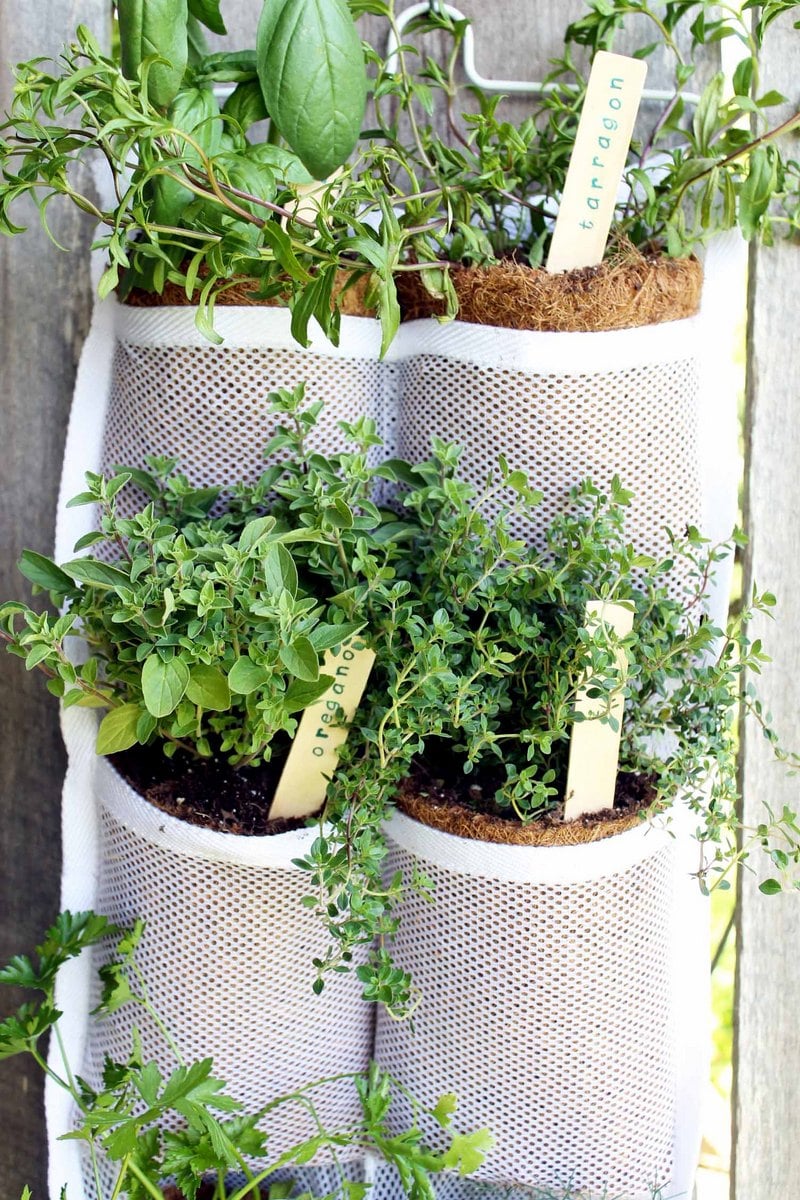 Another way to make your outdoor hanging herb garden more organized and aesthetically pleasing, is by making and using herb markers for your hanging herb garden.
Here I used some letter stamps and permanent ink to stamp the names of herbs on some craft sticks. I cut the tips off of the sticks to make them square as well. These make great and inexpensive plant markers for any herb garden really.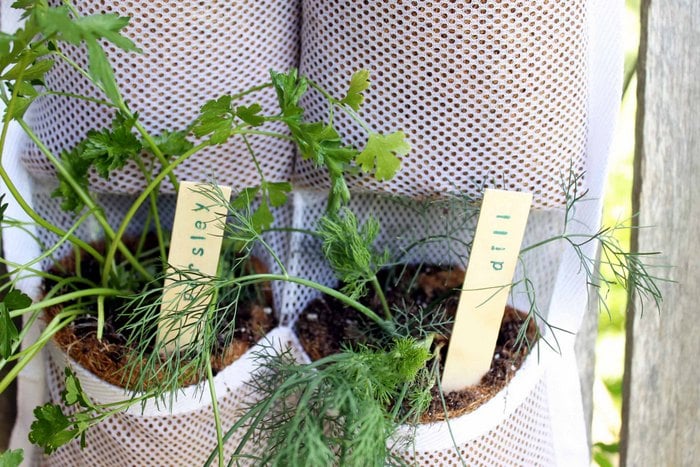 Once all of your herbs and labels are in place, all that is left is to step back and look at your wall hanging herb garden outdoor!
You can enjoy this project year long as the herbs grow and you harvest them to serve in all of your fresh summer dishes. What herbs are you growing this summer? I love being able to step out of my back door and harvest all the herbs I need for a light summer meal.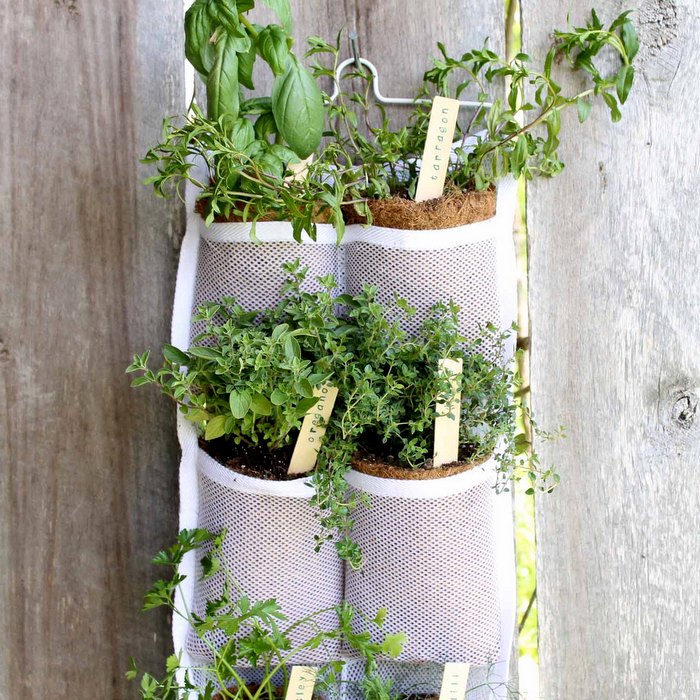 Benefits of having your own outdoor hanging herb garden:
As I mentioned above, there are many benefits to having your own hanging herb garden. Here are some of the best reasons why you should start this project as soon as possible:
Fresh Herbs within Your Reach:
Having a hanging herb garden on your fence or backyard means you have access to fresh herbs, anytime you need it. Hang this one just outside your kitchen then you can just take a few steps and snip the fresh herbs you need for the dish you're cooking.
Tastier Meals:
Never underestimate the power of adding fresh herbs to your meals. Say goodbye to "boring" chicken dinners and level up your dishes by adding fresh herbs to your recipes.
Even just chopping up some parsley or mint and using them as garnish to top off your dishes and make your meal presentation better can have a significant effect on your food's taste.
More Vitamins and Minerals:
Herbs like parsley are packed with essential vitamins like A, C, and K. But the true power of fresh herbs lies in their wealth of plant compounds with anti-inflammatory effects and potent antioxidants.
Budget-Friendly:
Fresh herbs are generally way more expensive than dried herbs. And as most of us know, the former is much preferred when cooking. However, fresh herbs are usually fairly expensive in the grocery store. Plus you might only need a small amount for your dish. Grow your own to save money and freeze any extras for use later.
Stress Reliever:
Gardening in general has been proven to be a relaxing activity that soothes the mind and body. Having an outdoor hanging garden makes it easier for you to visit it when you're stressed out and take a whiff of their relaxing aroma.
What are you waiting for? Start your own DIY hanging herb garden and reap these amazing benefits.
Love this hanging herb garden and want more ideas? Try the links below!