Coasters are understated but super helpful home accessories. But you don't have to go out and buy your own, you can make your own with these 25 DIY coaster crafts.
Grab the supplies and make one or more of these projects for your own home. Now I know we are a family that needs a set of coasters in every room, so I'll surely craft a few of these on my own. I love to add resin over the top for extra protection but there are tons of options below!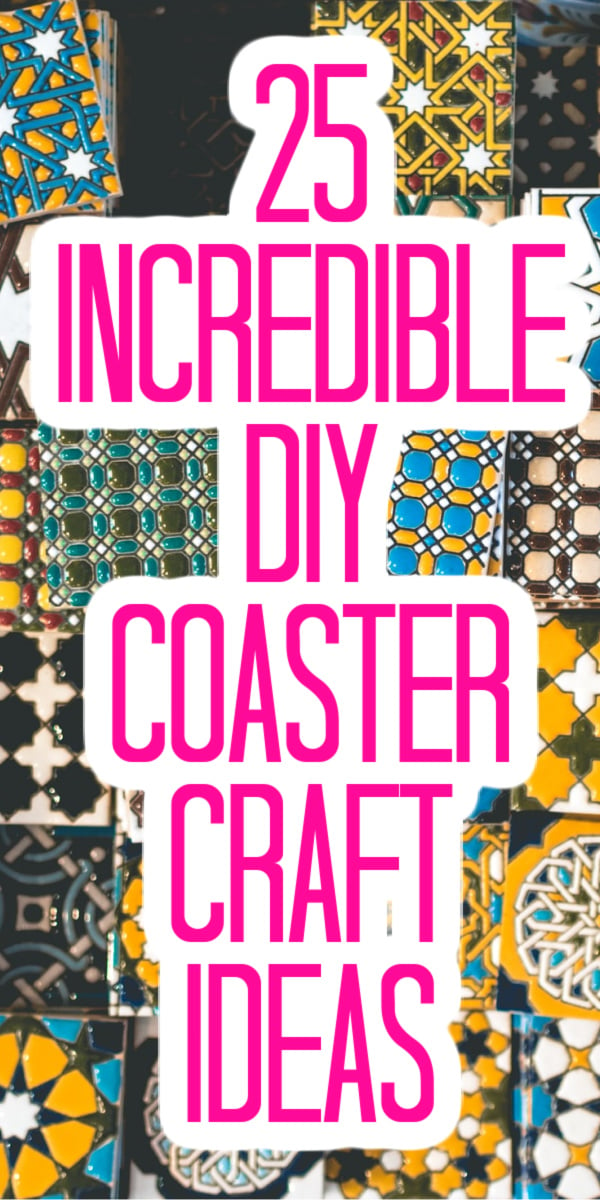 25 Quick DIY Coaster Crafts
Which of these fun coaster crafts will you try first? Be sure to let us know how they turn out!
Coasters may be small, but they do a good job in protecting your furniture, especially if it's made of wood. If you're visiting someone else's home, be respectful and use coasters. You can also gift them with any one of these craft coasters to help them protect surfaces in their homes.
Why Do You Need to Use Coasters?
A coaster is essential to protect your furniture from unsightly water rings and marks that form due to condensation on a glass, cup, bottle, or mug.
Your cold drink can leave a puddle underneath which can damage your surface. Meanwhile, the bottom of certain cups or glasses could leave small scratches or nicks in the table. This becomes a bigger problem if you're moving your drink around a lot on the surface.
Keeping all that in mind, it just makes sense to put a coaster down before you set down your drink. You'll keep the furniture free from blemishes and get chic home décor all in one go. Hitting two birds with one stone! What are you waiting for? Start on one of these DIY coaster crafts today.
What is the Best Type of Coaster?
We often don't give a lot of thought to the coasters we buy, as long as it looks good, of course. But still, it's worth knowing which material works best. After all, you want something that gives you the most value for your money!
Your choice in coaster is a matter of preference, but generally speaking, the most effective ones will be made from:
Pulpboard
These are mainly for restaurant and bar use. High-quality pulp boards are extremely durable and highly absorbent.
Cork
Naturally absorbent, cork coasters insulate against heat transfer and collect droplets of water from the outside of your glass.
Neoprene
Made from the same material as wetsuits for diving, neoprene make a great absorbent material for coasters. They not only absorb liquid from your drink they also dry fast leaving you with no condensation or drips that spill over onto your coffee table.
Silicone
Silicone drink coasters are popular because they don't stick to your drink, aren't easily broken, and can be rinsed off for a quick clean.
Sandstone
Sandstone is a naturally absorbent material, thanks to thousands of tiny pores that allow the stone to take in liquid — which will later evaporate.
The best coasters are made from any material that will absorb moisture. I also prefer those that will not adhere to the bottom of the glass when you pick it up to take a drink. Any of the above five material options are winners, but that isn't to say the other materials will not work.
I say make all of the coaster crafts and then decide which you prefer! Then you will have a material and can craft with it over and over again.