Learn how to make wood burned coasters yourself at home, plus grab some other amazing wood burning ideas for a while new type of rustic craft project you can make!
Wood burning ideas are some of my favorite crafts. They're simple, rustic, and beautiful!
Today, we are going to talk about how to make DIY wood burned coasters, but you can use this same wood burning technique to create a wide variety of easy wood burning ideas like these Rustic Burlap Napkin Rings.
Although it might sound a little scary, it's actually super simple to do. Never fear! We have all of the details below.
There's just something about wood burning and coasters…don't these two things sound like they are meant to go together? Even with this one technique, the number of design possibilities is limited only by your imagination.
Everyone needs coasters, and they're super fun to make in TONS of different ways! If you like making coasters, try our Resin Coasters, DIY Map Coasters, DIY Photo Coasters, or Infusible Ink Ceramic Coasters.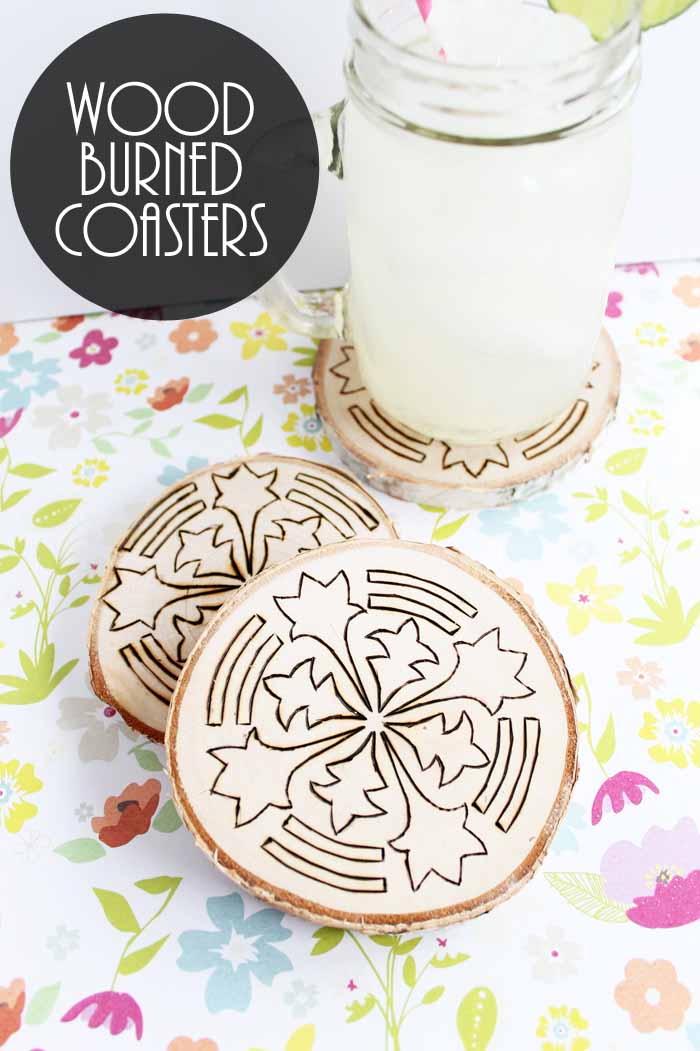 Supplies Needed For Wood Burned Coasters
You would use a very similar list of supplies for all your wood burning ideas and project, except your wood might not always be coasters. 😉
Plaid Wood Burning Set
Wood Coasters
FolkArt Tile Stencil
Sealer
Pencil
DIY Wood Coasters: Video Demonstration
Sometimes it's easier to learn to do something by watching someone rather than reading a list of instructions. I thought this project was perfect for a video because it would be quicker to show you how easy it is to burn wood.
So, here is a video below of me actually doing the wood burning.
Now you may want some more information on the wood burning set itself and what comes with it. I did a Facebook live explaining all of it plus I burn one coaster live on air. So, you can literally see how easy it is LIVE! This one is a bit longer but if you like that level of detail, it has it all!
Instructions On How To Make Wood Burned Coasters
Can't watch the video? Here are some brief instructions, and you'll be amazed at how short they are!
Trace a stencil onto your wood coaster with a pencil.
Heat your wood burning tool then start going over those pencil lines with your tool.
Trace all of the lines to burn them into the surface of the coaster.
Seal afterward for protection and your coasters are ready to go!
See how easy wood burning ideas can be? What will you make with this technique? The great thing is that there are NO rules when it comes to the designs you can make.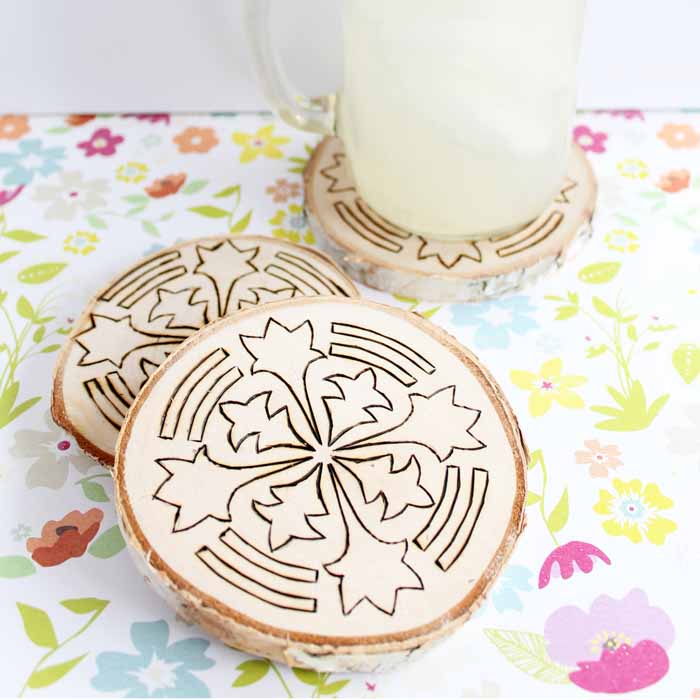 More Wood Burning Ideas And Projects
I am personally in love with these coasters but this tool makes me dream all about different wood burning ideas. Here are a few ideas I had:
Planks
Plaques
Decorative spoons
Fridge magnets
Wood blocks
Wood keychains
Greeting cards
Cutting board
Wood serving tray
Wooden recipe box
Custom wall art
and more!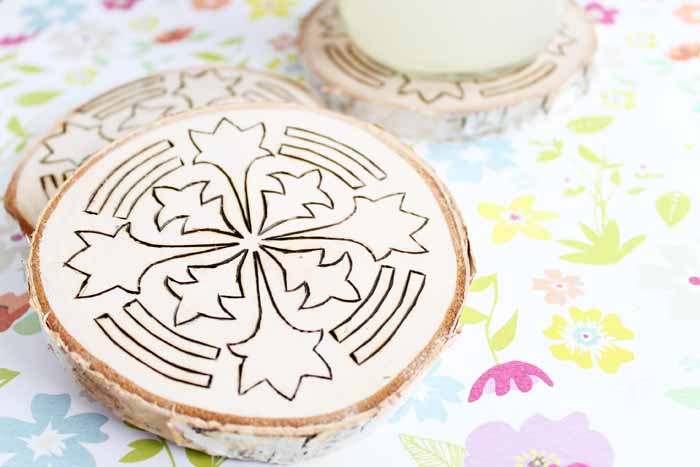 Want More Wood Burning Project Ideas? Try These!
Remember how I said that the same wood-burning techniques could be used for a bunch of different projects? Here are some beautiful wood burning ideas you can create very easily.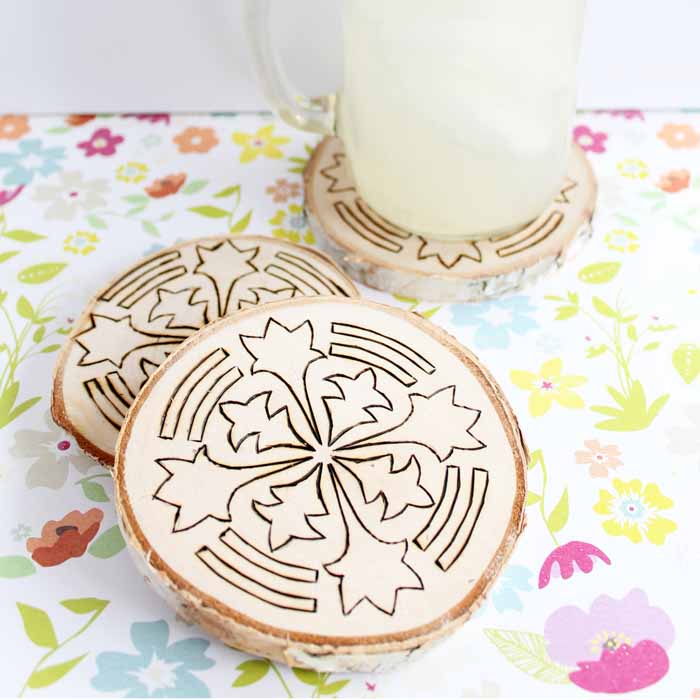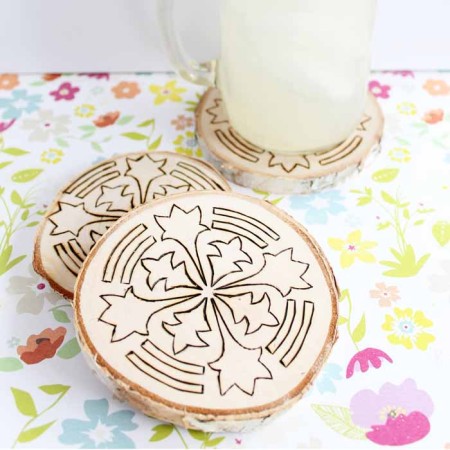 Wood Burned Coasters
Wood burned coasters require just a few supplies and can be made in just minutes for a rustic, beautiful finished product!
Supplies
Plaid Wood Burning Set

Wood coasters

Pencil

FolkArt Tile Stencil

Sealer
Instructions
Use a pencil to trace a stencil design on your wooden coasters.

Heat up your wood burning tool then slowly trace over those pencil lines.

You may need to go over the lines one more time to make sure they look the way you want them to.

Use the sealer to seal your wood, and the coasters are complete.
Tried this project?
tag us to show off your work!