Today we're going to talk about layering iron-on vinyl and the basics of application. From one color to two colors to three with the option to add additional layers if you would like. Layering heat transfer vinyl is much easier than you think. Let's take a look at the application of one color for the basics and work our way up to three colors in a layered design. Need to review the basics of HTV? Try this post!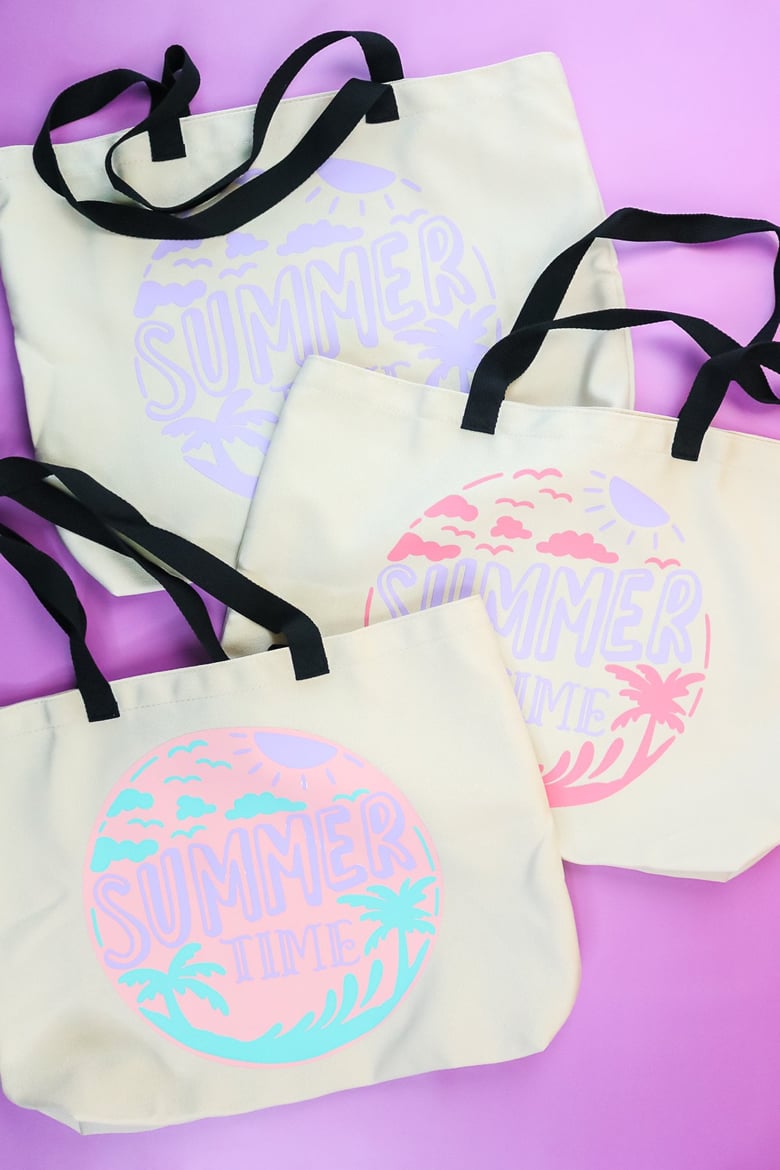 Layering Iron-On Vinyl
Want to see all of the steps in an easy-to-follow video? Just click play below and see how I made three tote bags using iron-on vinyl.
Can't watch the video or missed some of the steps? Just follow along below for all of the details
Supplies used: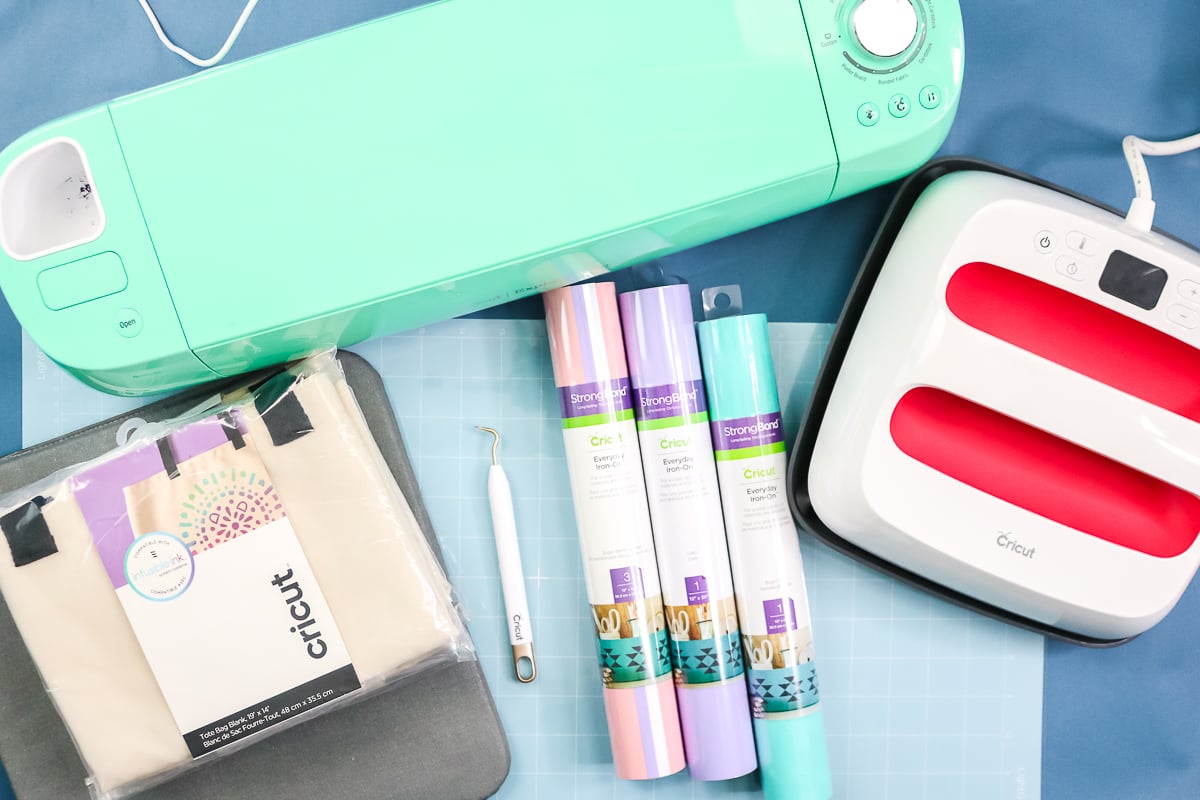 Iron-on Vs. HTV
Cricut iron-on and heat transfer vinyl are two names for the exact same thing. Cricut calls their brand of heat transfer vinyl iron-on, but you might pick up heat transfer vinyl from other places and it goes by the name HTV. This tutorial applies to both types as it is the same thing.
Single Layer Iron-on Application
For the first bag, we're just going to do one layer of HTV just to get down the basics. Let's look at designing and applying a single layer of iron-on to a surface.
Making Your Design
NOTE: I am going to make my designs larger than the EasyPress I am using so I can cover what to do in that case.
I typed in "summer time" under images and found this image to use. You can pick any image you like for your project. I found a summer time image in this case that only uses one color so I went with that. If your image uses multiple colors, change all the layers to one color to make a single color design. You will need to resize your image to work on your surface. Pull the arrow or type a specific size into the box.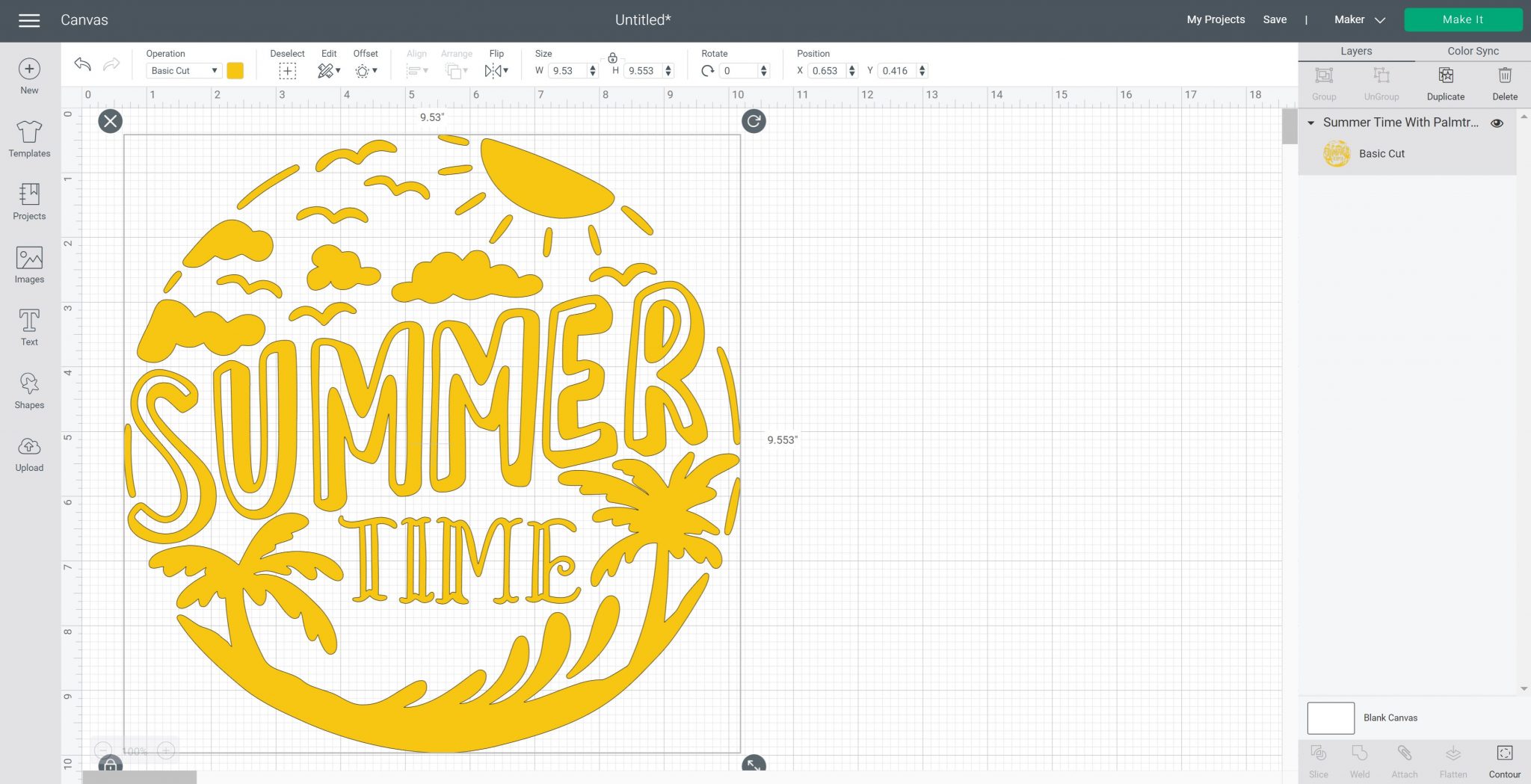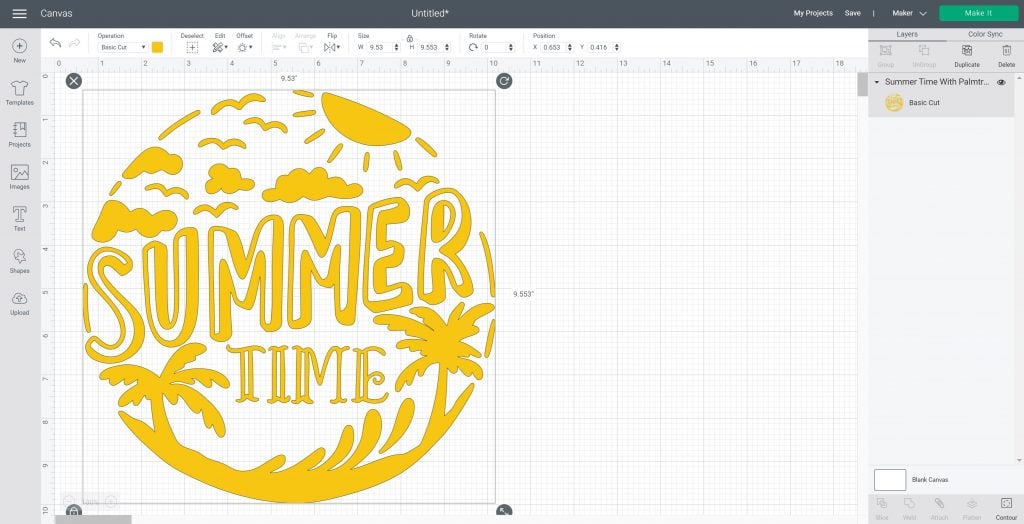 Click make it and be sure to mirror your cut. Then continue and pick your material (which should be iron-on unless you are using a special variety.) We can then continue to cut our image.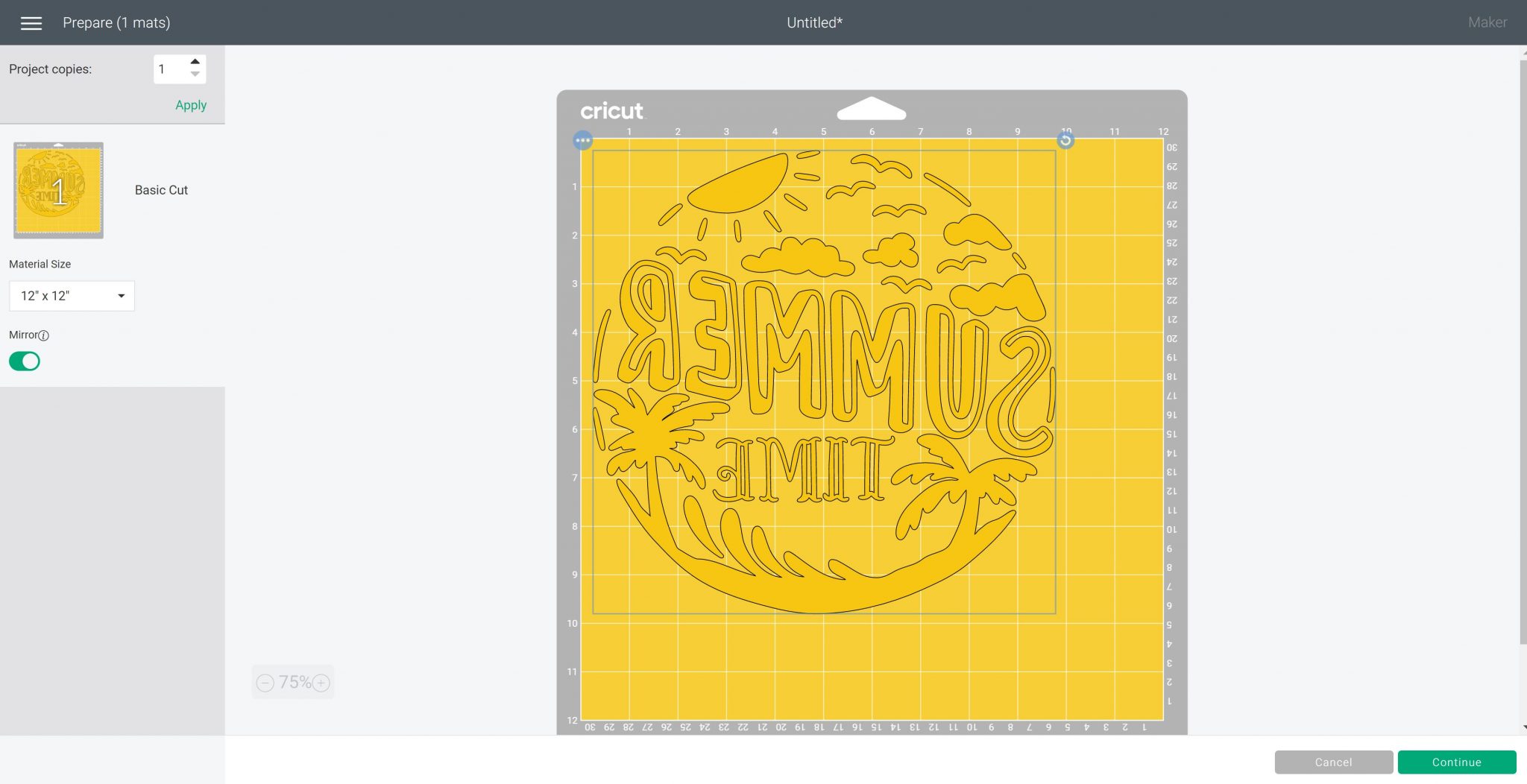 Cutting Your Design
Let's start with how to apply your iron-on to the mat. How do you know which side to apply to the mat? Iron-on is always shiny side down on the mat and that's why you mirror your design. Put the material on the mat and smooth it down well.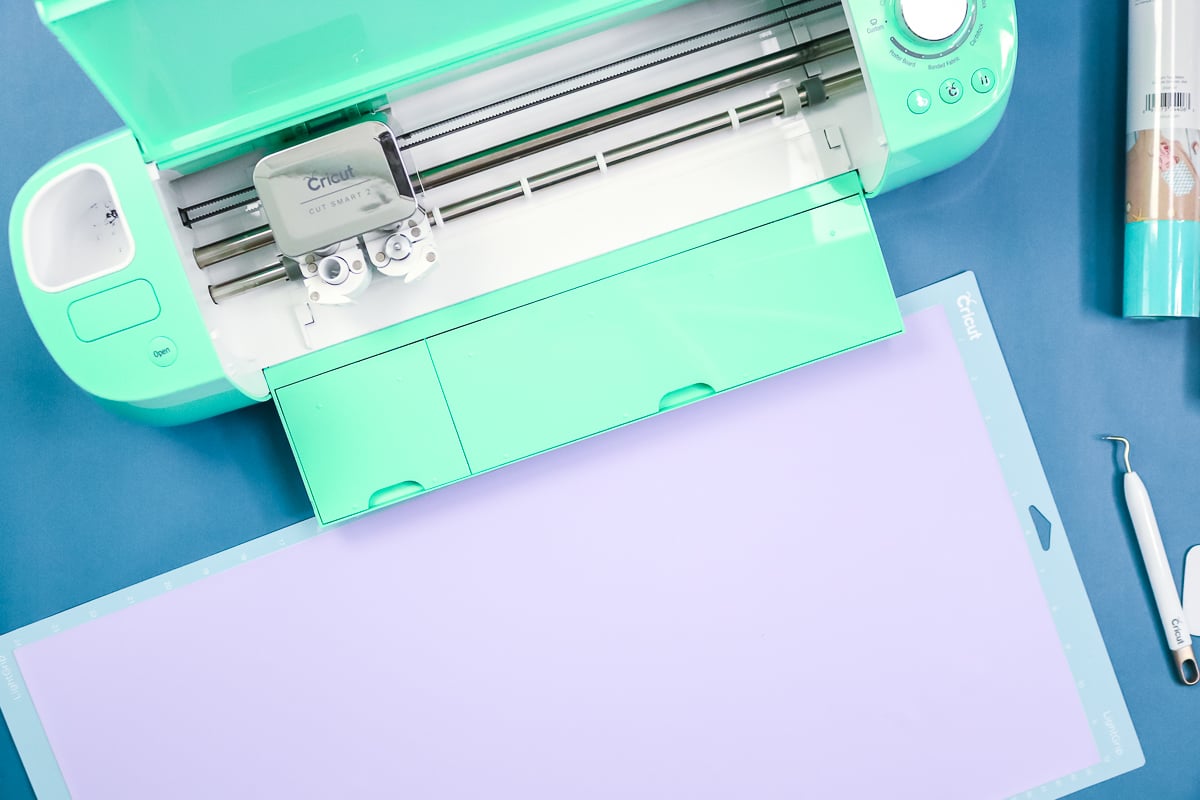 Iron-on uses the fine point blade which comes with every Cricut machine. Once you have your design set in Design Space, insert your mat by pushing slightly so it's up against the rollers. At the same time as you're pushing, press the arrow button to load your mat Then press the go button to start cutting.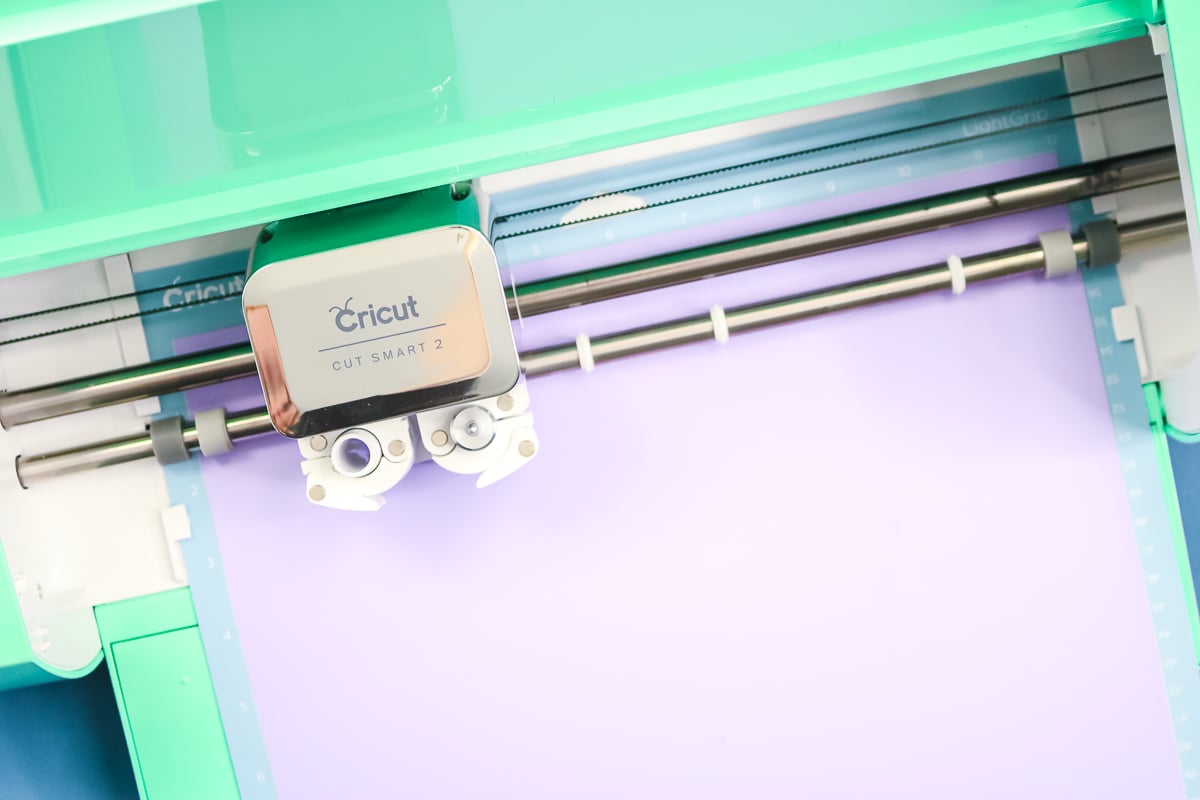 Once your machine is done cutting, the arrow will start flashing again. You just press it to unload your mat.
Weeding Iron-on Vinyl
With your cut design shiny side down, start picking it up in the corner with a weeding tool then pull away the excess around the outside. Continue to use your weeding tools to pick up any other areas like the centers of letters. You want to remove anything you don't want to put on your tote bag.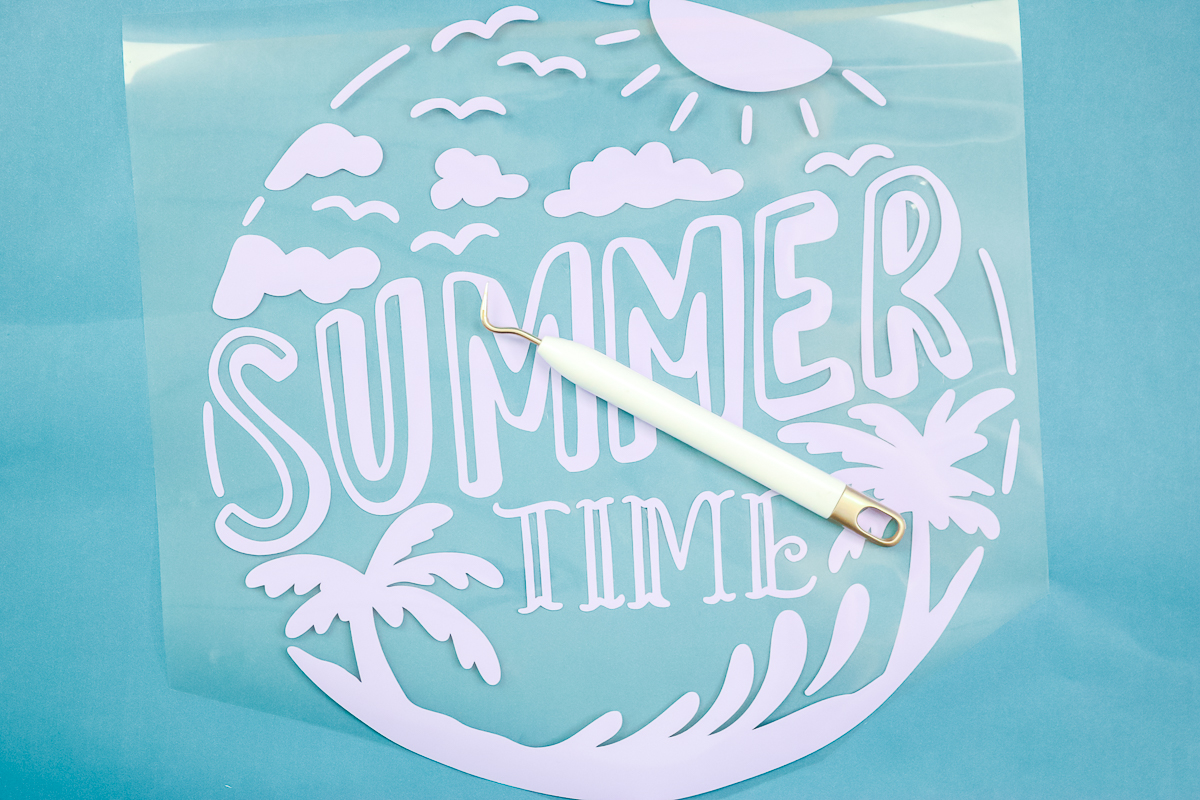 Applying HTV
What I like to do on a tote is put the Easy Press mat inside my tote. I do have another larger Easy Press mat under my tote bag to protect my work surface. For the bottom one, you could definitely just use a folded-up towel. Heat your Easy Press to the time and temperature in the Cricut Heat Guide. If you are using a different brand of HTV, be sure to look at the time and temperature they recommend.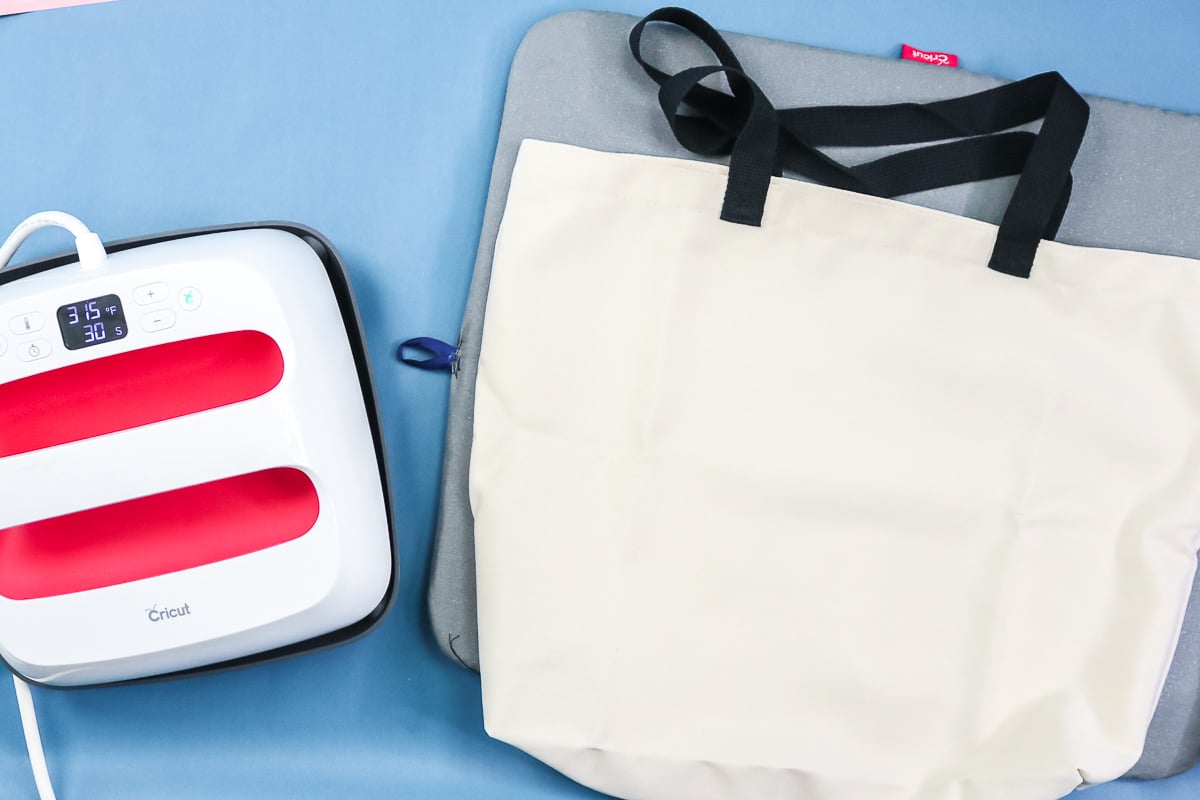 First, prepress your surface to get out any wrinkles and moisture. You only need to do this for a few seconds. Then you will want to locate your design on your tote and make sure the mat is completely under your design. Because this is polyester, you might want to protect the fabric. You can lay a piece of parchment paper over the top or I have a Teflon sheet that I'm going to use. Press for the time that is in the heat guide. If your design is larger than your EasyPress, just press and move the EasyPress and repeat for the full amount of time. Continue until you have covered the entire design.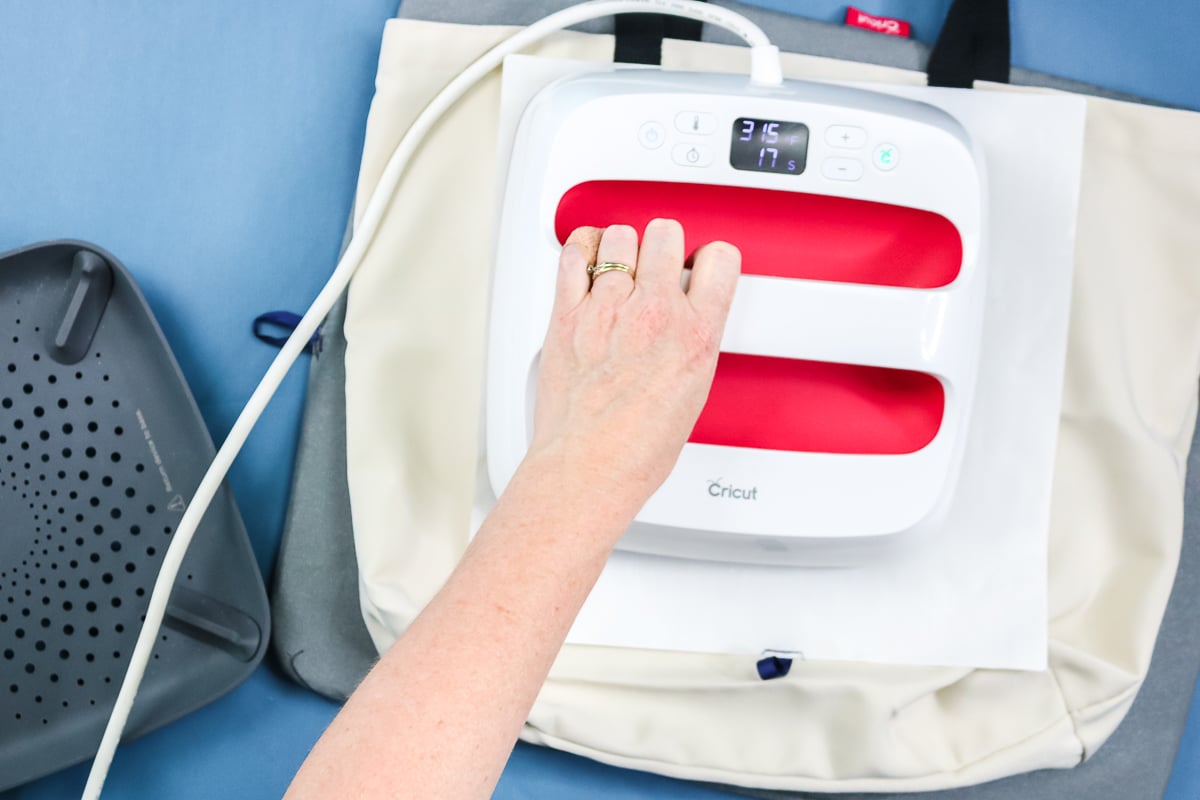 The Cricut brand of iron-on does recommend that you flip over and press from the back. Once you complete the front, remove the mat from the inside, flip, and repeat the pressing from the back. Cricut iron-on is cool peel. You want to let your project cool completely before I removing the protective sheet.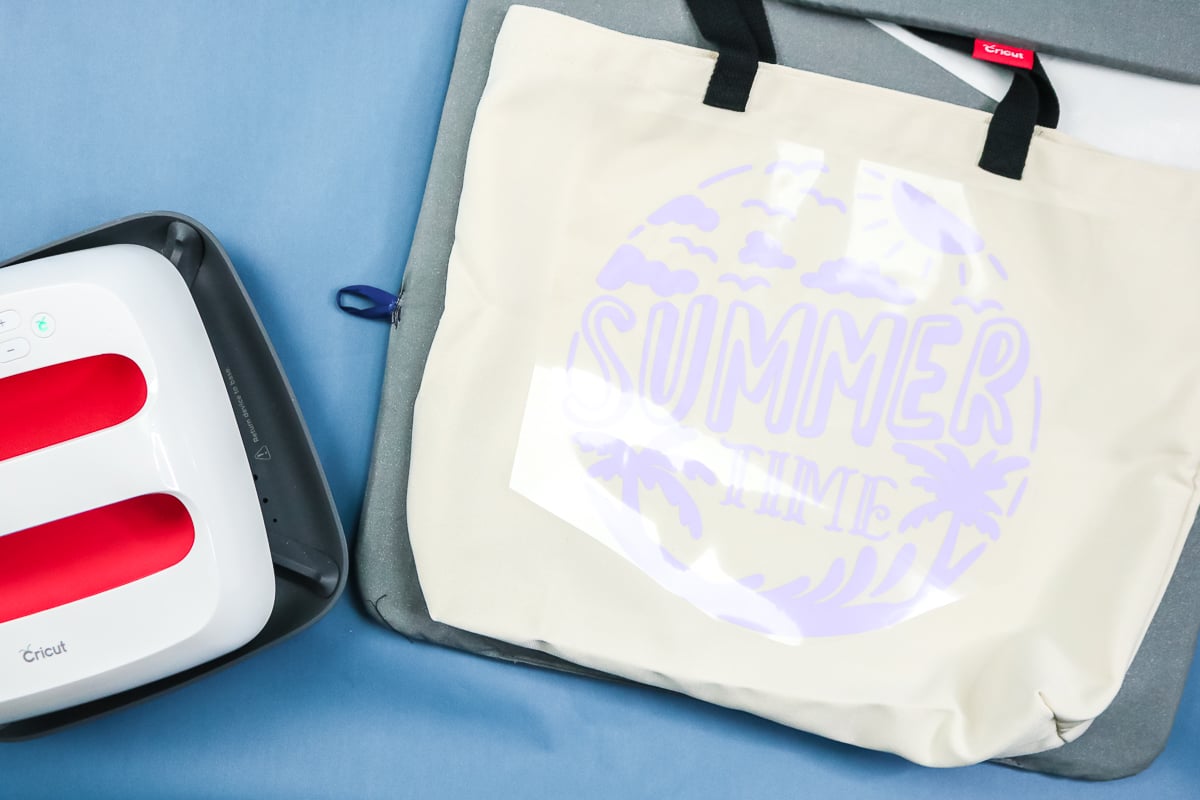 Once it is cool, start peeling this back at an angle. Watch to make sure that the iron-on is staying on your tote bag. If it's not, you can replace the liner and repeat the pressing process. Once your carrier sheet has been removed, your tote bag is complete!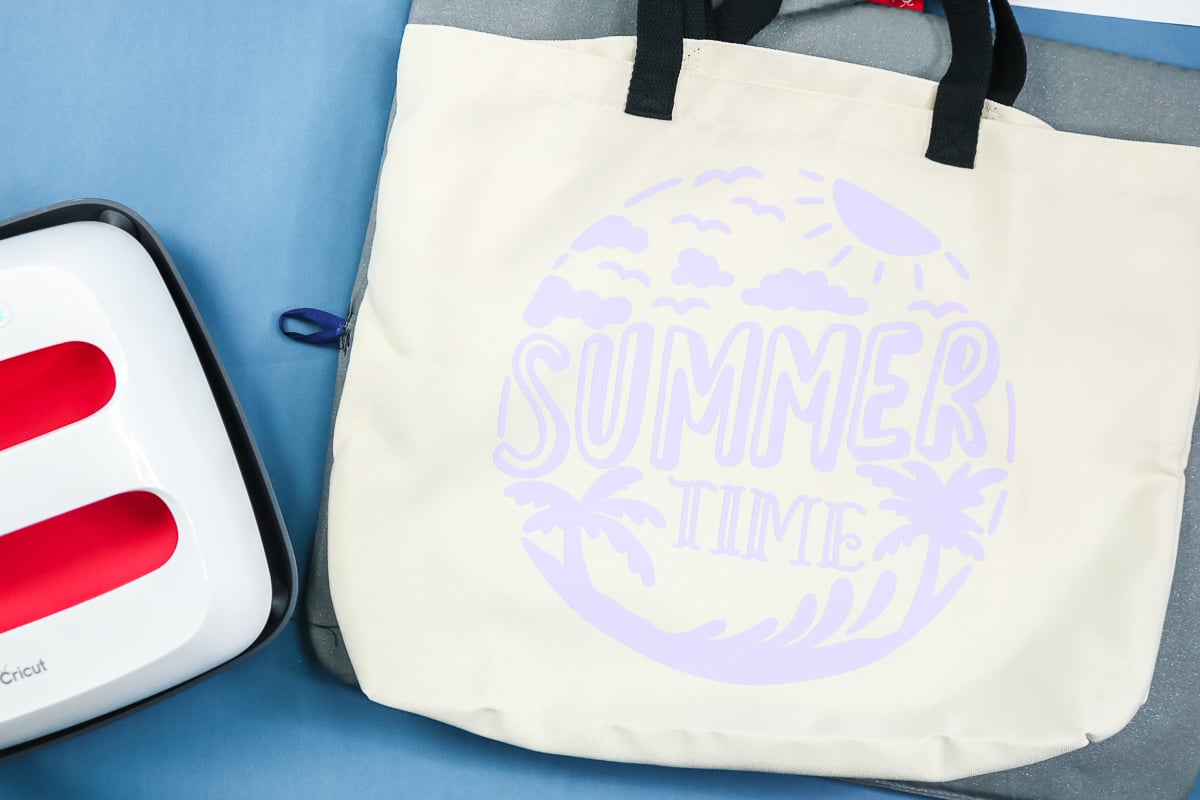 Two-Color HTV on a Tote Bag
Now that we've tackled one color, let's tackle two. So the next bag we're going to make has two colors applied to it. I am actually going to show you a technique of doing this where both colors can be pressed at one time. Layering iron-on vinyl can be done with just one press with this technique.
Making Your Design
The process is similar to above but this time you will want to choose a design with two colors. I used the same basic summer time image but a version that had several colors.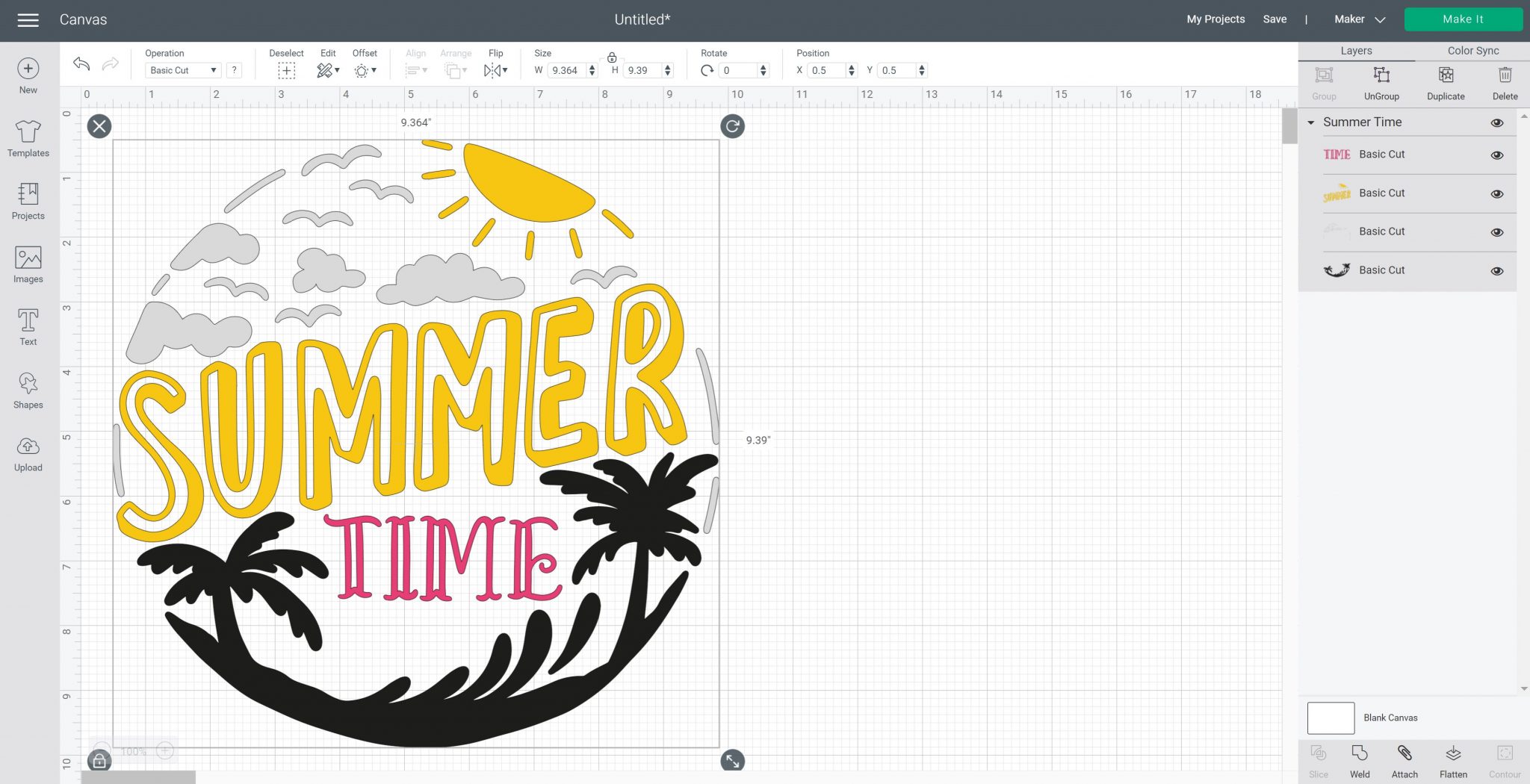 But how do you make it two colors instead of four? Pick each of the elements you want to change and pick an alternate color. You will want to make sure to pick all of a single color and click attach so these elements stay in place once you click make it. NOTE: You may have to ungroup the items before attaching them.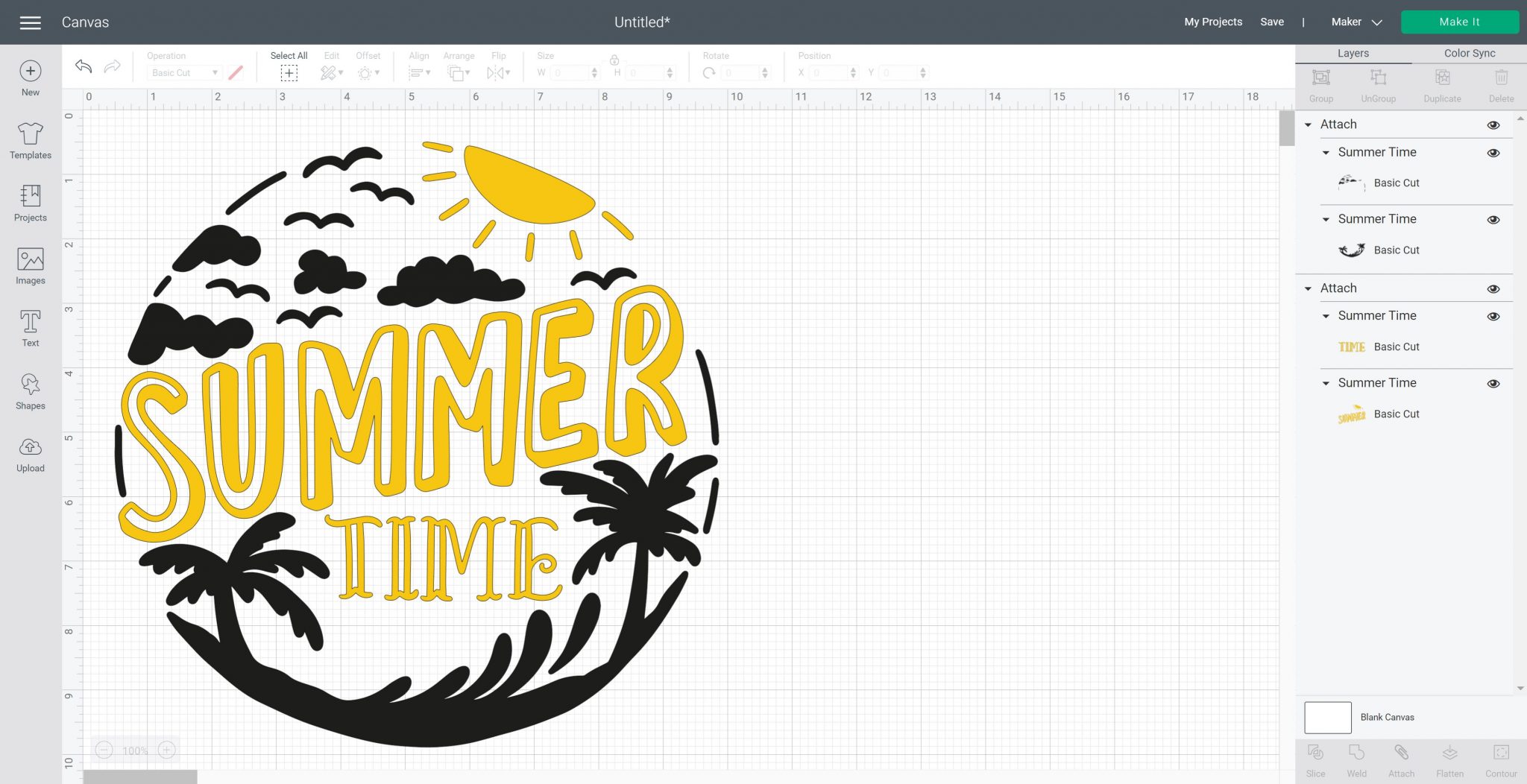 Click make it and be sure to mirror your cut on both mats. Then continue and pick your material (which should be iron-on unless you are using a special variety.) We can then continue to cut our image.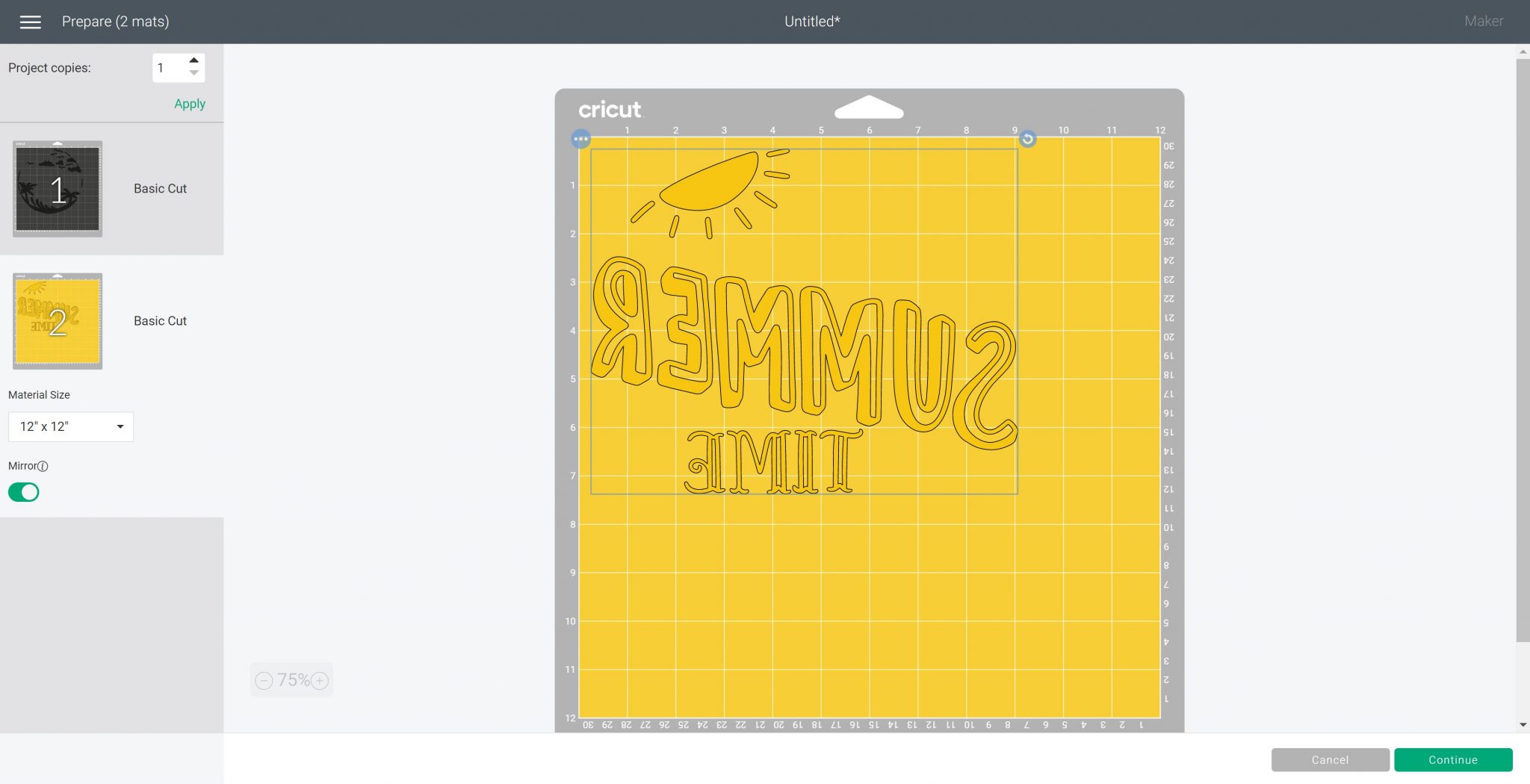 Cutting and Weeding Your Design
Use the same method as above for your cuts but this time you will cut two different colors of HTV to complete your design. You will also want to weed both pieces in the same manner before continuing.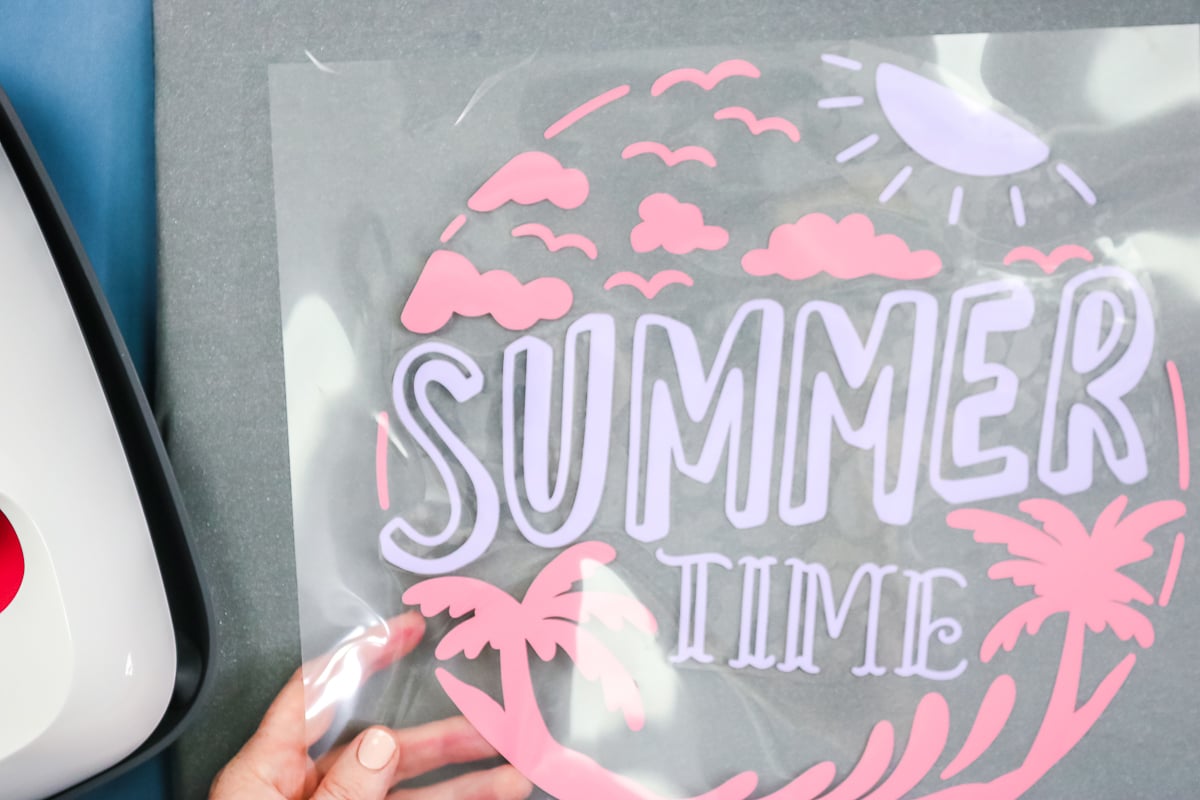 Applying Two Colors of HTV
The trick with this method is to have the same iron-on brand and type for both of your colors. Then you can apply them at the same time as long as the design doesn't overlap in any area. If you have two different brands or types, look them both up and set your Easy Press to the one that is the hottest or the longest time.
You will need to make sure that the carrier sheet for the lower color doesn't touch HTV that is on the carrier sheet of your color that will be on top at any point. To do that, trim the carrier sheet of the first color close in all areas to the cut design.
This may take some trial and error. I like to trim then put it on the other color and make sure I have trimmed enough. You can continue this for as long as it takes to get the two where they do not overlap. I would be careful to keep them as one piece so everything stays where it is supposed to be. On this one, for example, I had to cut a hole where one of the birds are in order to keep the carrier sheet connected to all of the pieces.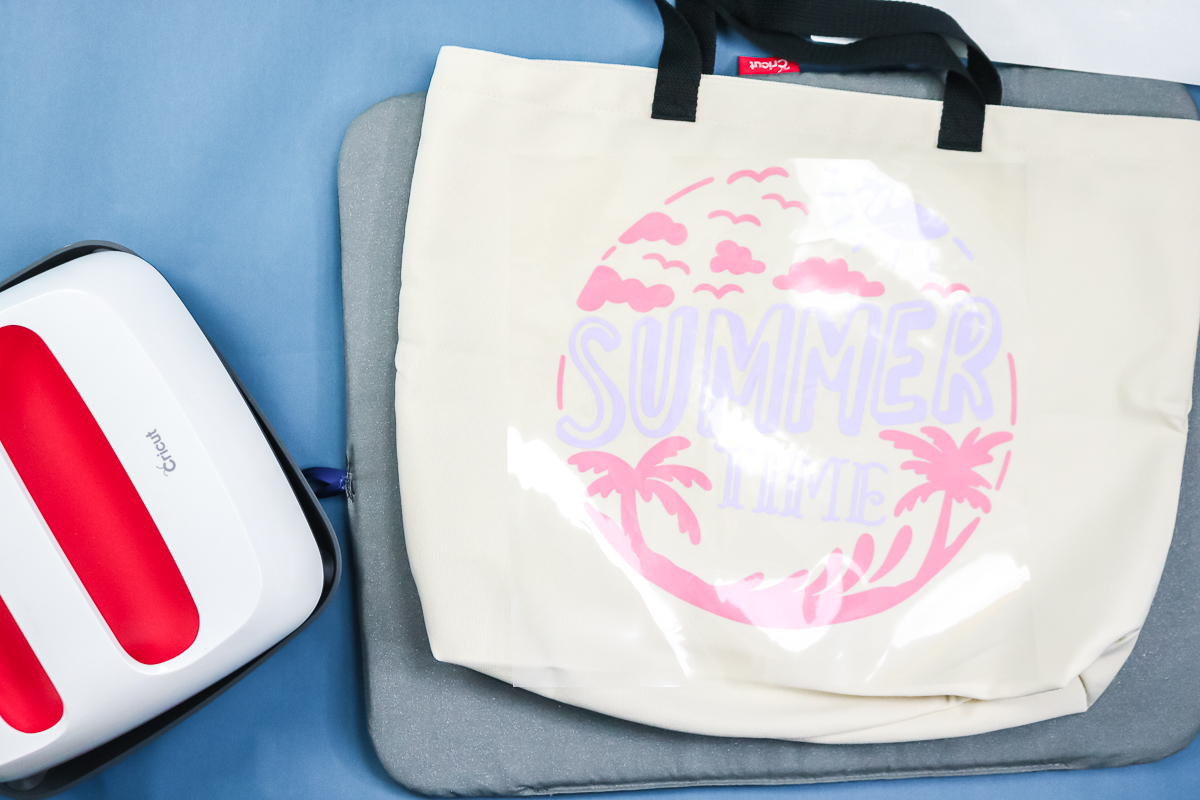 Once you have the carrier sheets trimmed, it is the same procedure for pressing to the tote bag. Once again, I have my Easy Press mat inside my tote bag and then another Easy Press mat underneath. Prepess the bag then locate the design. Cover with the teflon sheet and press.
Use the right time and temperature and press from the back if needed. Then, for this HTV, I allowed everything to cool completely before removing the carrier sheet. Now there are two carrier sheets. They may both peel back together or you could have to remove one and then the other. Once removed, this tote bag is done!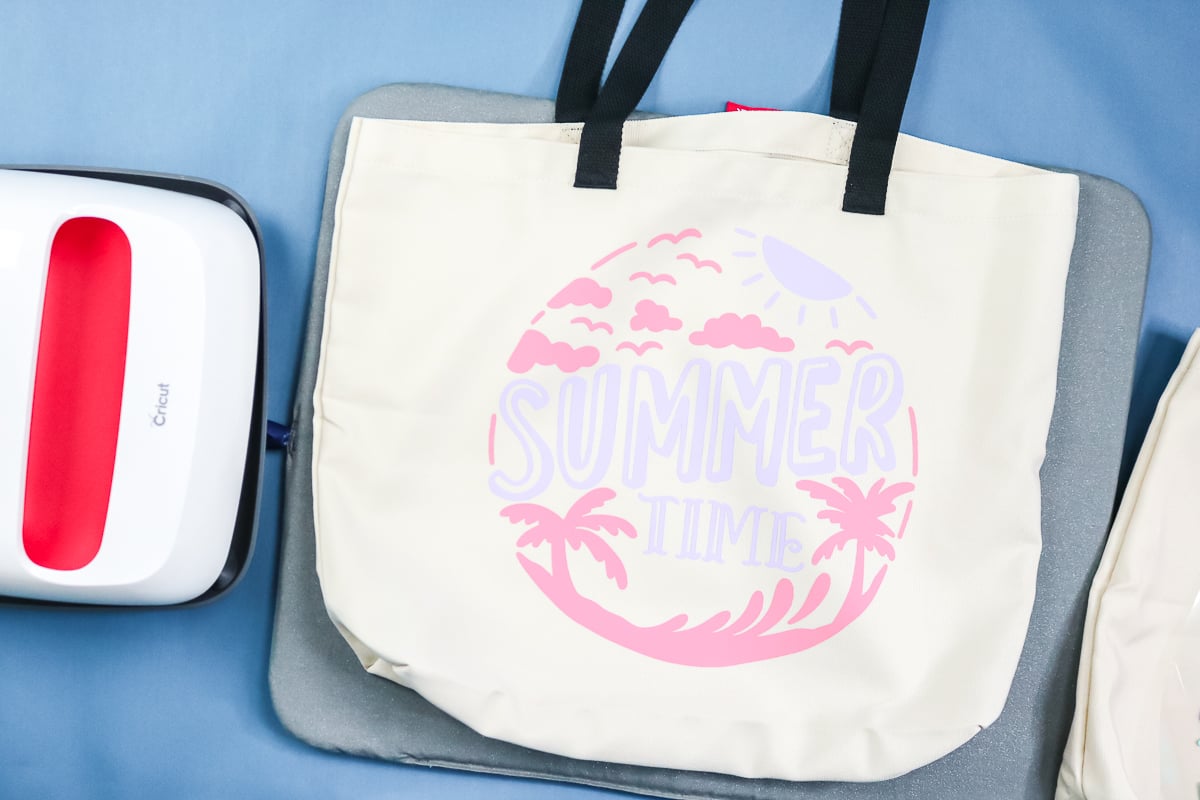 Layering Iron-On Vinyl with Three Colors
Finally, you might be wondering how to layer Cricut iron-on. Can you do layers? Can you put one layer on top of one another? Let's dive in and make a bag with iron-on that's been layered one layer on top of another.
Making Your Design
We are going to use the two-color design above and add one more color to it. Add a circle into Design Space and change it to a color. Click arrange and send to back. Then size to fit behind the first design. You can arrange these however you would like and make the circle as big or small as you want.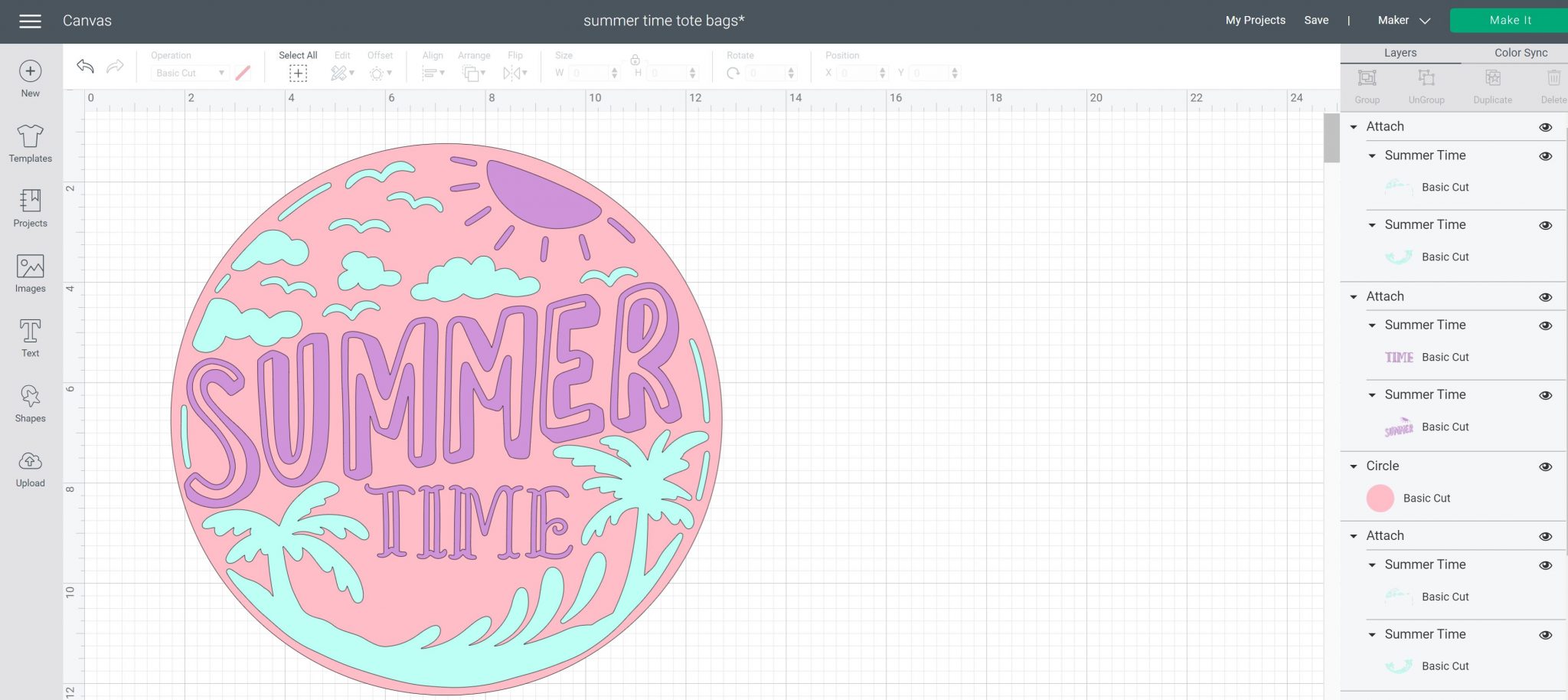 Cutting and Weeding Your Heat Transfer Vinyl
Once you have your design ready, click make it and cut your iron-on as before. As always, don't forget to mirror! This time you will cut three colors. Then weed away all of the excess on all three designs for your next tote bag.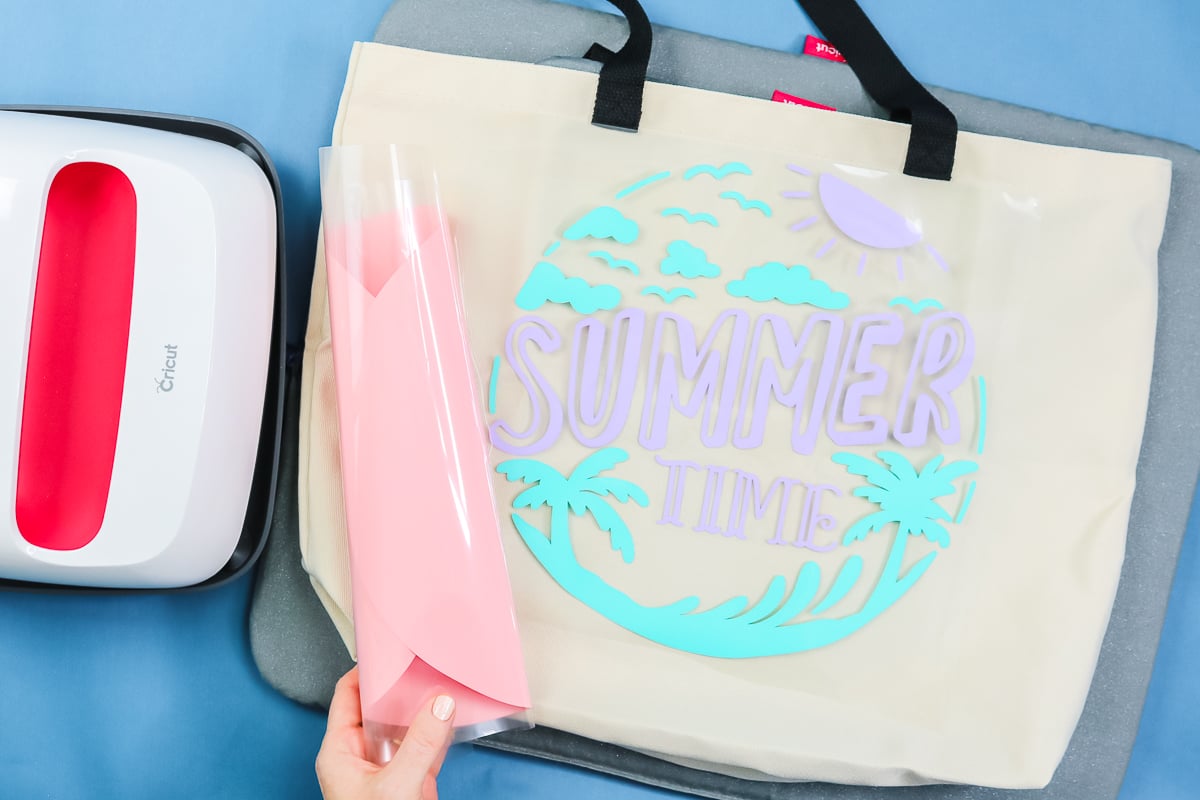 Applying Three Layers of HTV
For the top two layers, I once again trimmed the carrier sheets so that I could press those two layers at once. However, we will need to get the circle onto our bag first then layer those on top. You will want to preheat the surface. I'm using everyday iron-on for all three layers. You can use other types and layer them on top of one another. Your bottom layer doesn't need to be like glitter, foil, or other specialty types of HTV. Things like glitter would need to be your top layer for proper adhesion.
Since the circle is the bottom layer, it will get pressed twice. For the first press, you will want to do a short press. Pressing for about half the time will usually get it stuck down enough to remove the carrier sheet. You want to do this because the iron-on and your surface can actually shrink when you heat it. You want to minimize that when layering iron-on vinyl. So for this first layer, put it in location and press it for about 15 seconds.
That also means you are not going to press from the back. Allow it to cool as normal then remove the carrier sheet. This layer needs to be adhered enough to stick but remember it will get pressed again.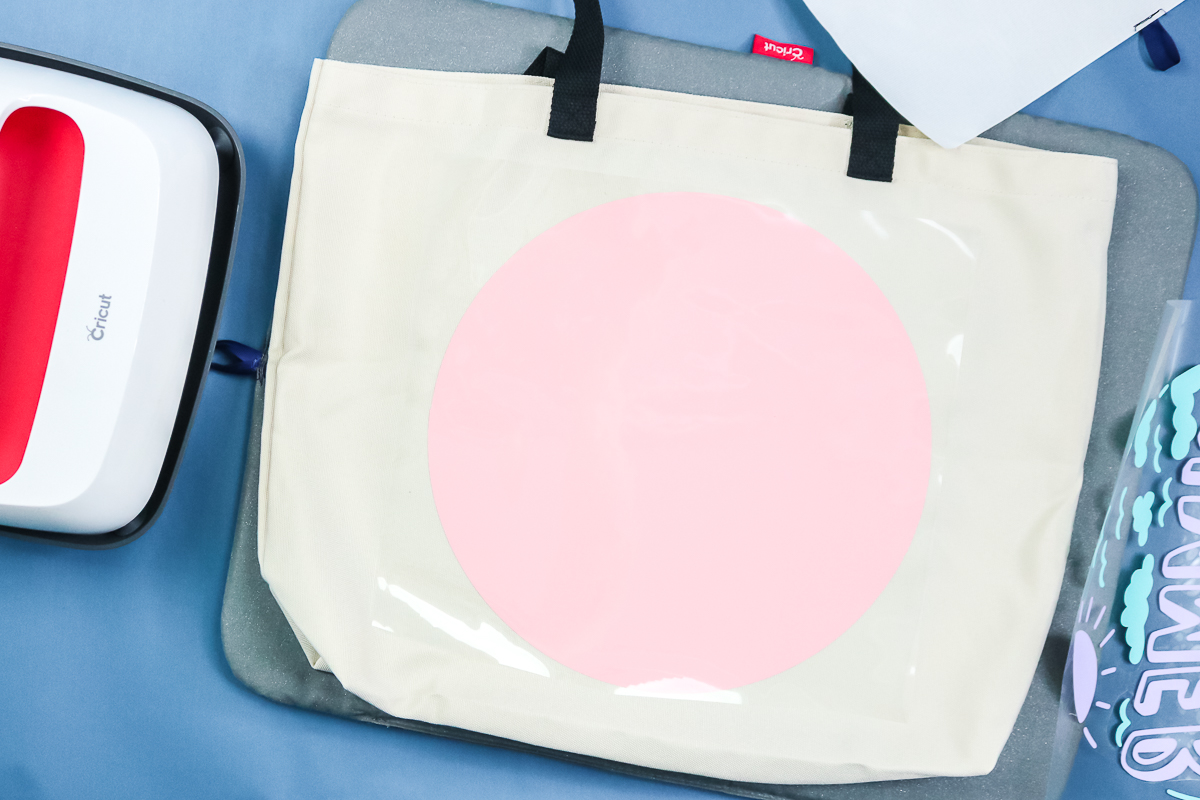 Then locate the next design right on top of the first. I have the top two layers together just like I did on the previous tote where the carrier sheets don't overlap so I can press them at one time. Add your protective sheet to the top then press for the full time. If you don't have a protective sheet, be sure to that all of your HTV from the first layer is covered by the carrier sheet when pressing the layers on top. This time you will want to press from the back as well.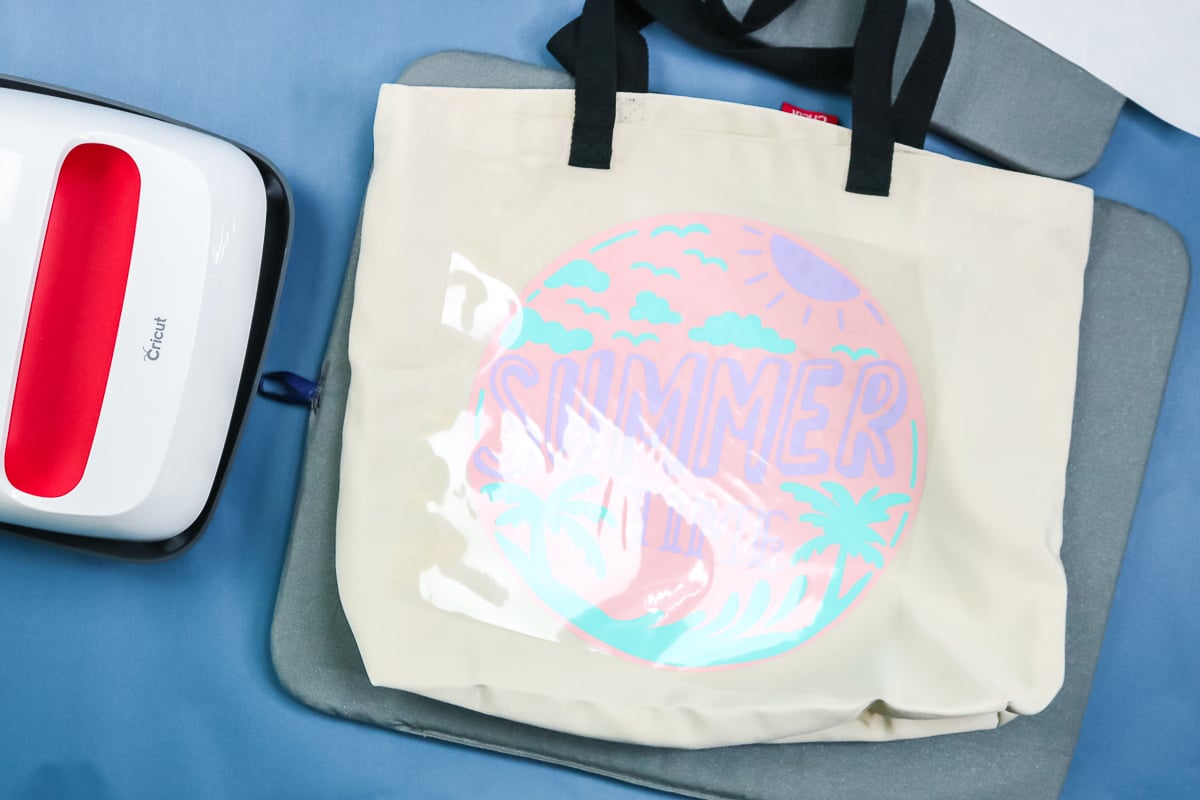 Once everything's cool, you can start peeling back the carrier sheet. Once again, they both may come up at once or you can peel separately.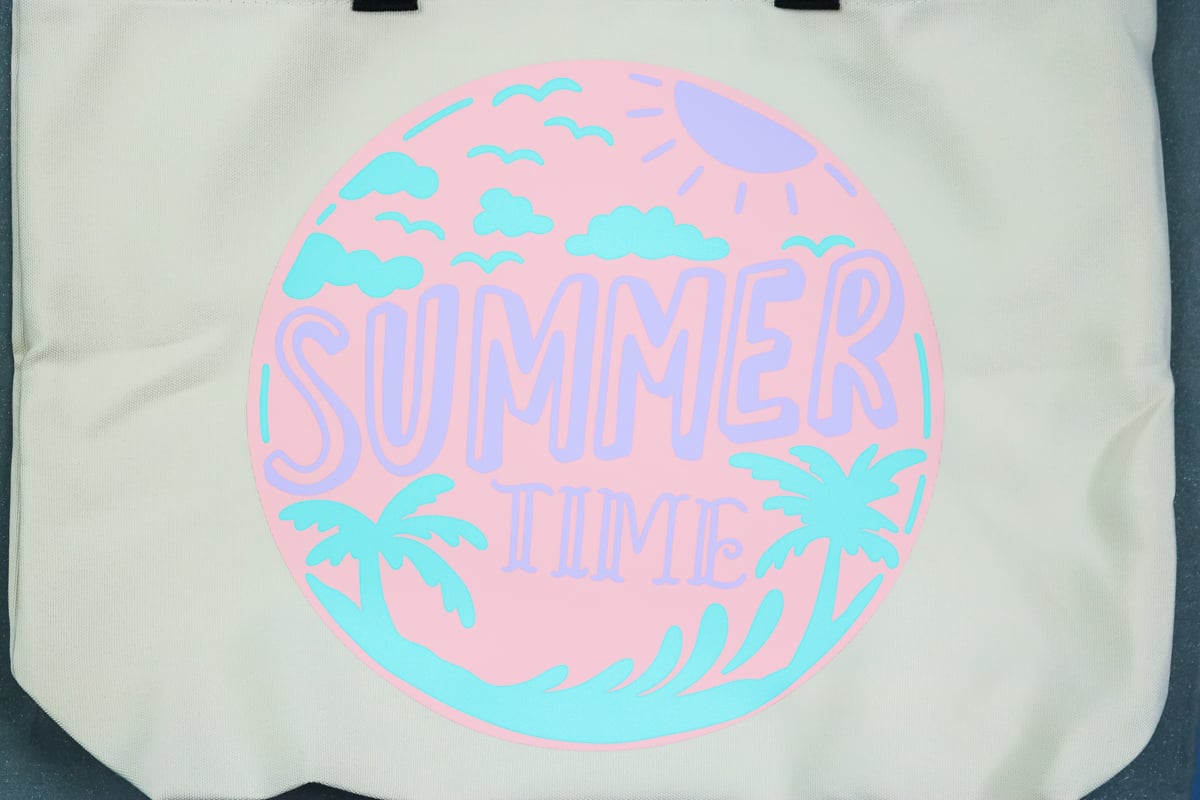 Layering HTV Tips and Tricks
I thought I would leave you with a few other tips and tricks. These are things that you may run into when layering iron-on vinyl.
The carrier sheet from a top layer may leave a mark on a bottom layer. If it does, put your Teflon sheet or parchment paper over the top after removing all carrier sheeets. Then press for about 10 seconds in each area and it should lift those little press marks out.
When pressing a tote bag with handles or even a onesie with seams, you don't want to get your Easy Press on those as it can raise it up. That means you'll have less heat in those areas. Be sure your heat press or EasyPress is all the way down on your surface with each press.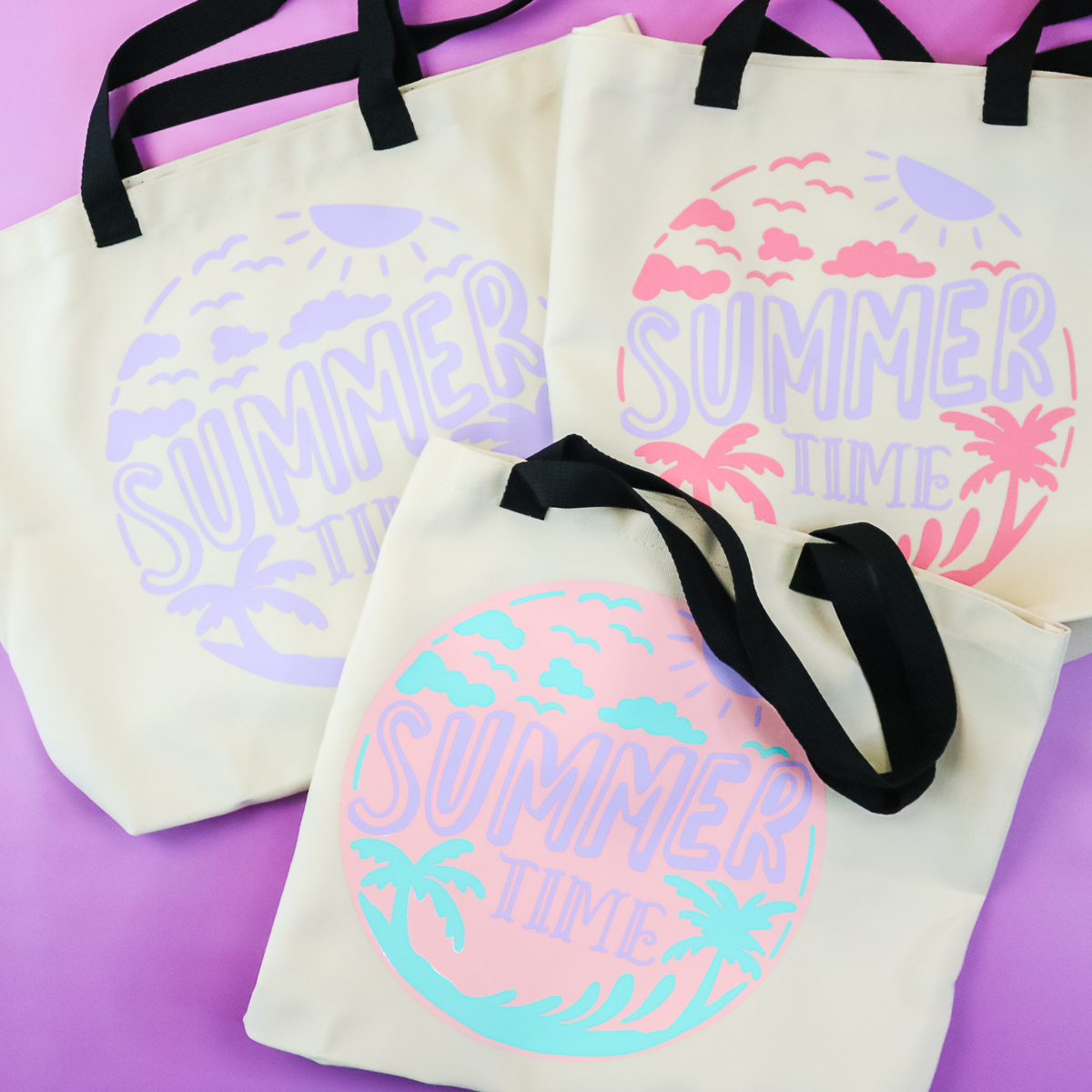 So there you have layering HTV on a tote bag. Now you have three ways to use Cricut iron-on to make a tote bag or any other project that you would like to make.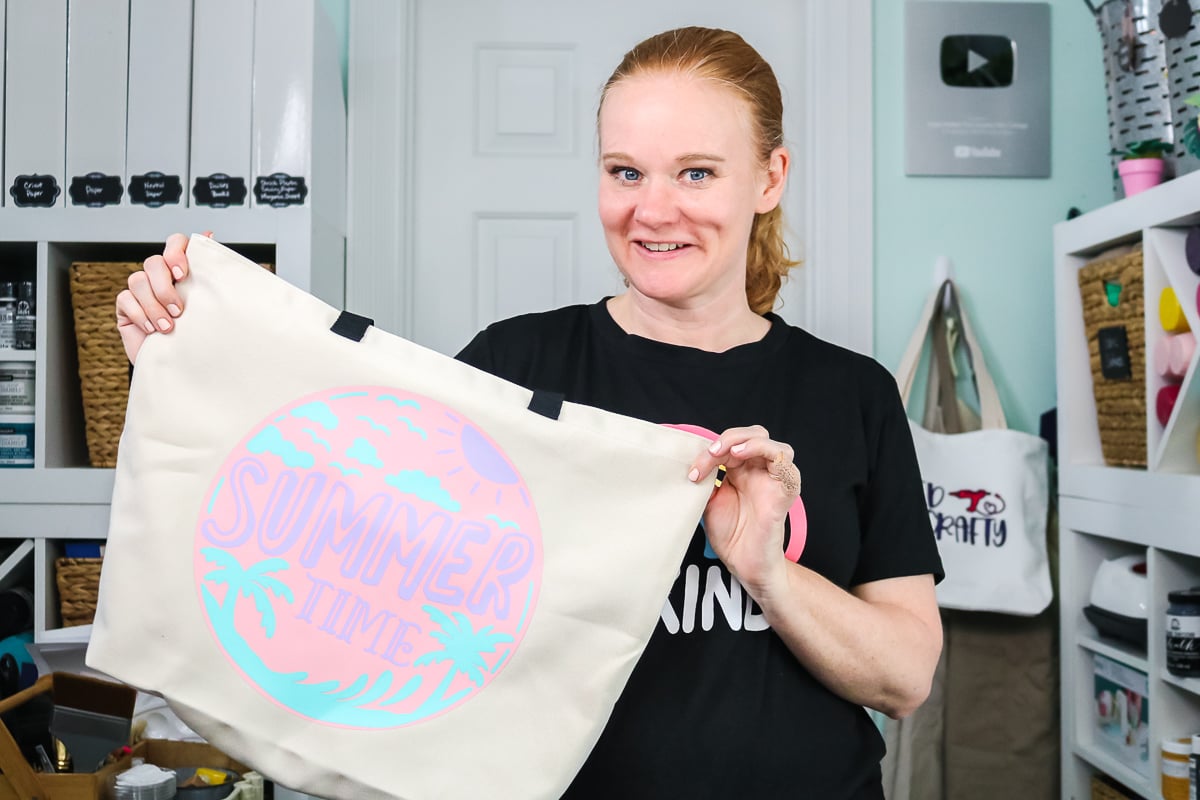 Whether you are wanting to start out simple with one layer or whether you have a design and you think, boy that would look great with two or more colors, I hope this helps you understand how to make that project for the first time and be successful in making it.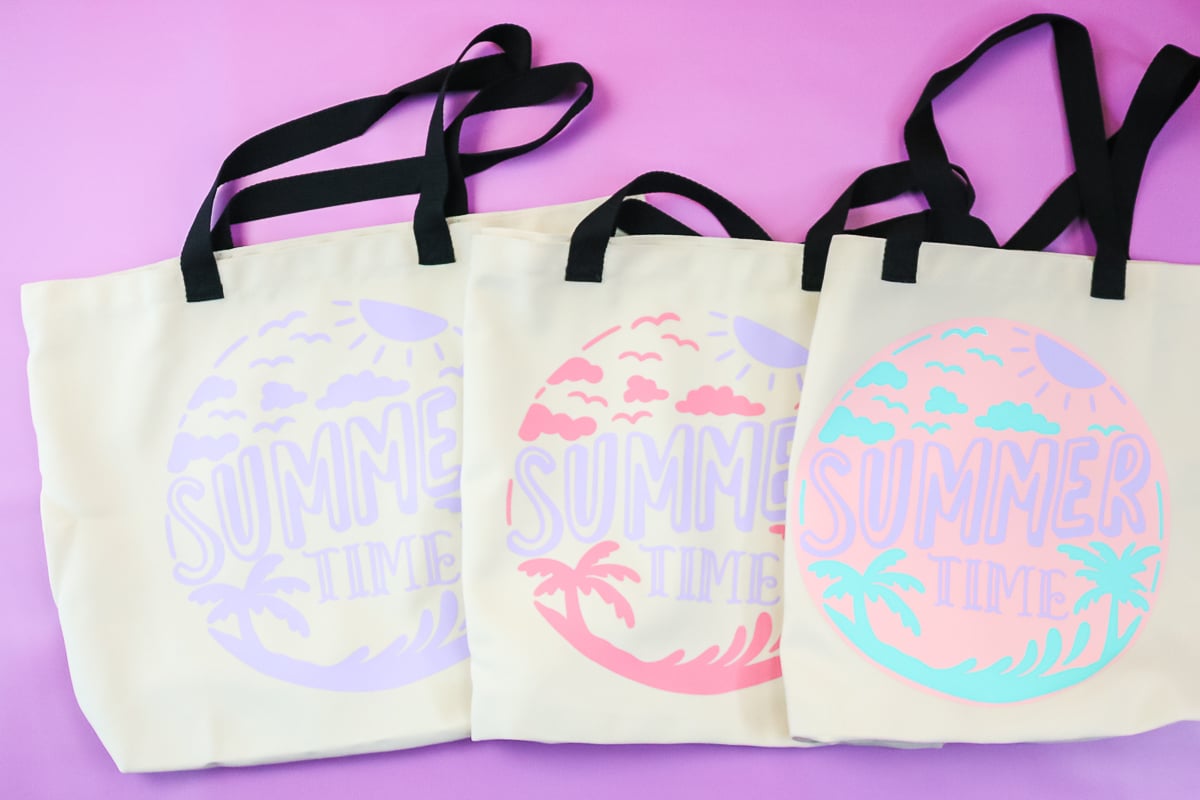 Layering iron-on vinyl is probably easier than you think it is and you can make some amazing projects with the techniques in this post!