I get asked how to use heat transfer vinyl or iron-on vinyl probably more than any other question. It is not hard! I swear! Today I thought I would share the basics of this material with you as a reference guide to using this material. This is everything you need to know about using HTV on your craft projects. Need something to press your heat transfer vinyl? See more about the EasyPress here.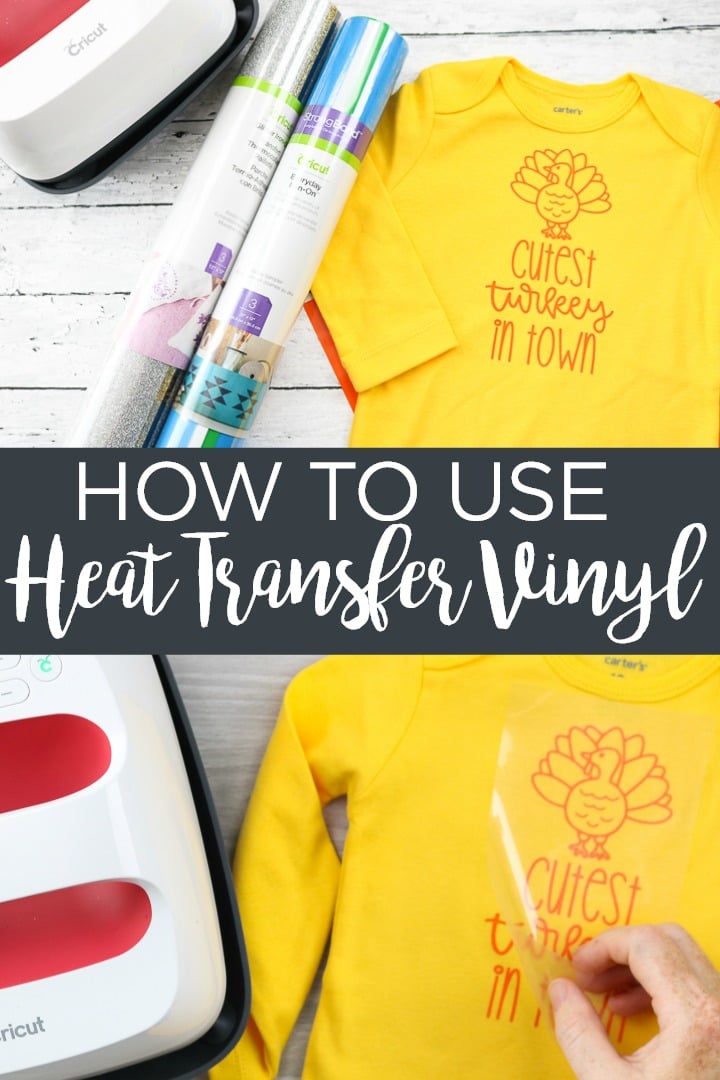 Some links below may be affiliate links which means that you do not pay anymore, however, a small commission will go to this site.
How to Use Iron-on Vinyl: Iron-on Basics Video
Do you want to see all of this information in an easy to follow video? You can watch that below!
Can't watch the video or missed some of the steps? Just follow along below as we have even more information for you!
Heat Transfer Vinyl Versus Iron-on
So far I have referred to this product as heat transfer vinyl and iron-on. Which is right? The answer is that they both are! Heat transfer vinyl (or HTV) is the same thing as iron-on vinyl. Both use heat to activate an adhesive on the back of vinyl to make it stick to shirts, hats, and so much more. Are you confused about how this product works? Keep reading our tutorial on how to use heat transfer vinyl as it is easy and you are going to love using this product.
Types of Heat Transfer Vinyl
There are several types of heat transfer vinyl. A few of those are:
Plain (in a rainbow of colors)
Metallic
Foil
Patterns
Mosaic
Holographic
And so much more!
Which type and brand you choose are completely up to you. I would say, however, that every single one of these is different as far as the time and temperature for pressing. Be sure to follow all directions completely when working with any iron-on product.
Which is my favorite? I get asked this all of the time! I like both the Cricut Iron-on as well as the Color Chimp Luxe HTV. You really can't go wrong with either version. There are a ton of other brands on the market and I encourage you to try a few different types to see which you love. I feel that it is more of a personal preference as they all work well.
How to Put Iron-on on the Mat
First, you will need to add your material to your cutting mat. I prefer the blue mat for my Cricut machine. Note that some heat transfer vinyl is the same color on both sides while other versions are white on the back. You want to find the shiny side as that is the side that has the liner.
Place the shiny side down on your mat. This means that the good side is down. The adhesive side will be up. It is also worth mentioning that heat transfer vinyl is not sticky to the touch. The adhesive is heat activated so you will not feel anything on the surface.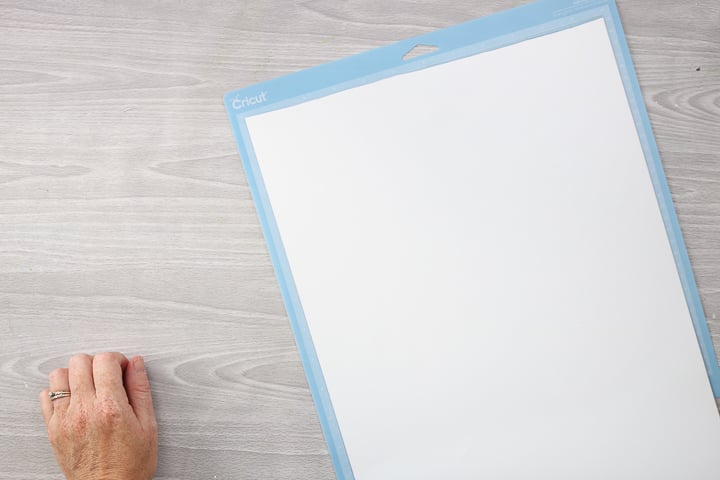 Mirroring Your Design
So, with our material face down on the mat, how do we cut it correctly? The answer is the mirror function! Click mirror right in Cricut Design Space before cutting to flip your design. Want to see where this button is on my computer? Just watch the video above to see how mirroring works. You ALWAYS need to mirror your design when cutting iron-on. See more about mirroring in our post here.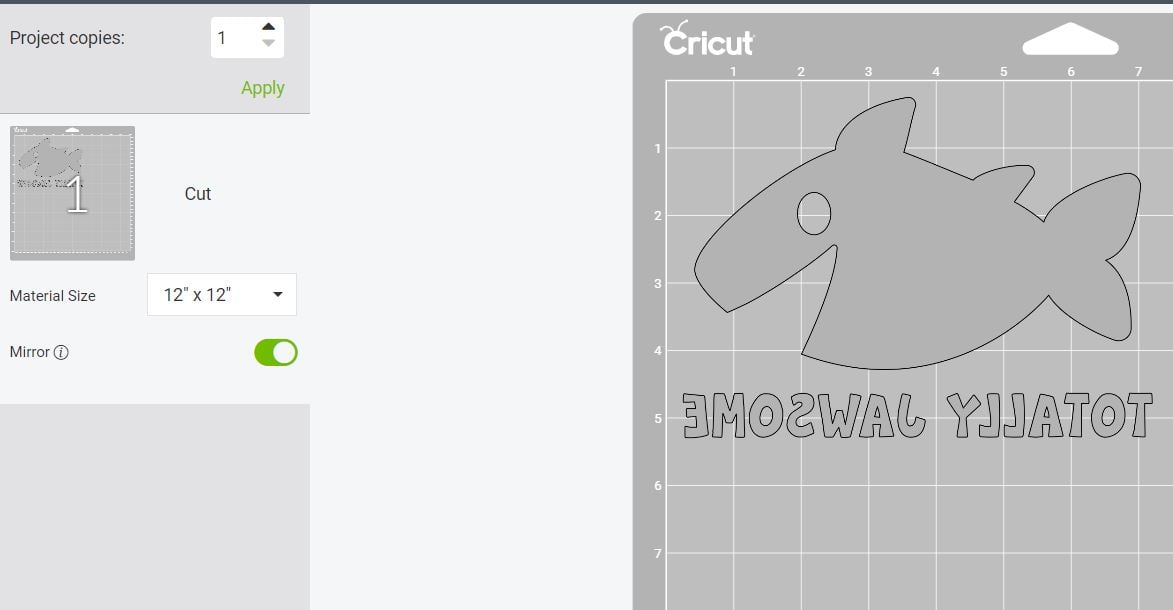 How to Cut Heat Transfer Vinyl on a Cricut
Now you have your material on your mat and your design mirrored, it is time to cut! You can use any of the Cricut machines with heat transfer vinyl. You will use the fine point blade that comes with all machines. On the Explore series, you can set your dial to iron-on for cutting or on custom and pick from the list in Cricut Design Space. For the Maker, you will pick from the list automatically. Just pick the type of heat transfer vinyl you are using and follow the prompts to cut your mat.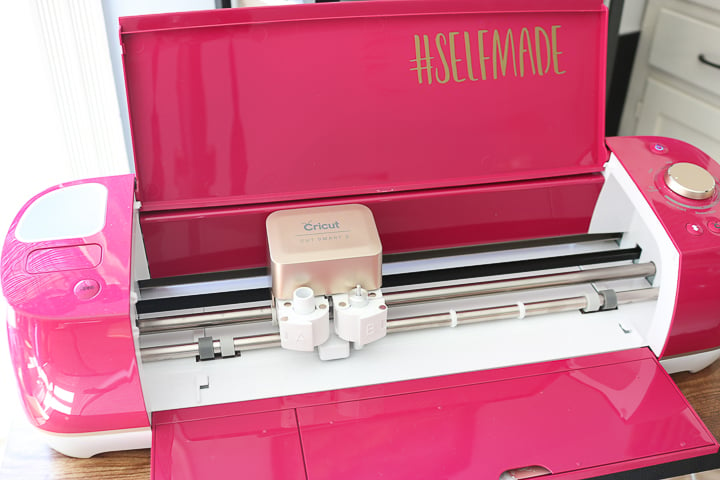 How to Use Heat Transfer Vinyl
Now that your design is cut, are you ready to learn how to use heat transfer vinyl for your projects? Don't be intimidated! Once you learn how to use this medium, you will be putting it on just about everything.
How to Weed Iron-on Vinyl
First, you will need to weed away all of the excess from around your design. For this task, there are a wide variety of hooks and tweezers available. You will just need to find your favorite tools and work with those as there is no right or wrong here. You can find a weeding kit here to get you started.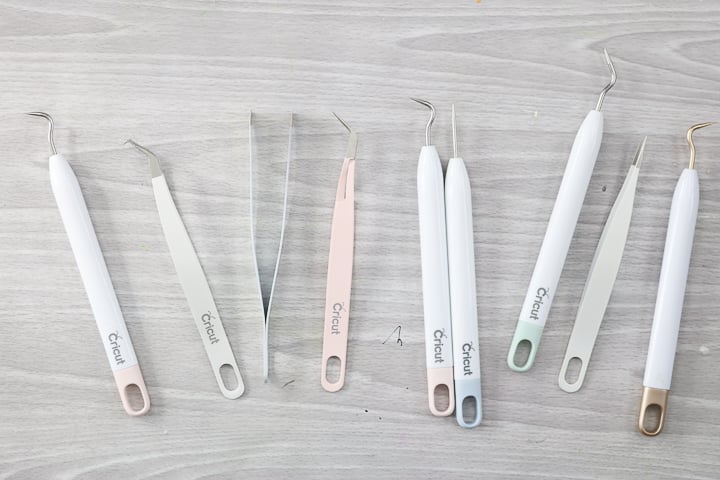 Start by trimming the iron-on vinyl around your design. You can save the remainder of the sheet for another project. Trim with either a trimmer or just scissors.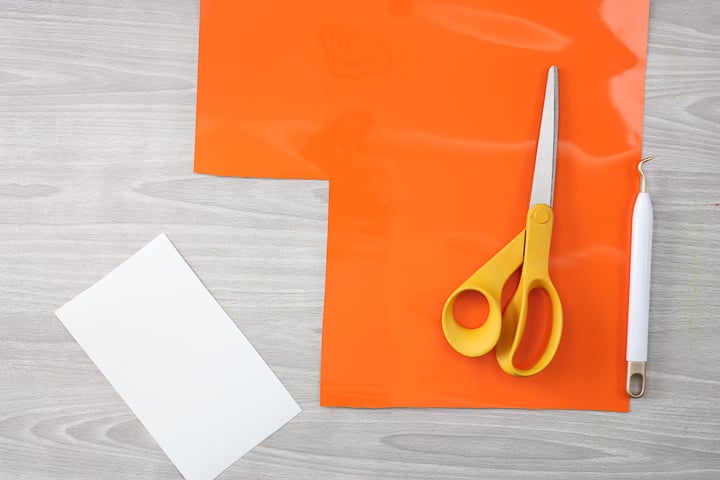 Then use your weeding tools to get rid of anything that is not part of your design. This includes everything around the outer edge as well as things like the centers of letters. Discard everything you weed away.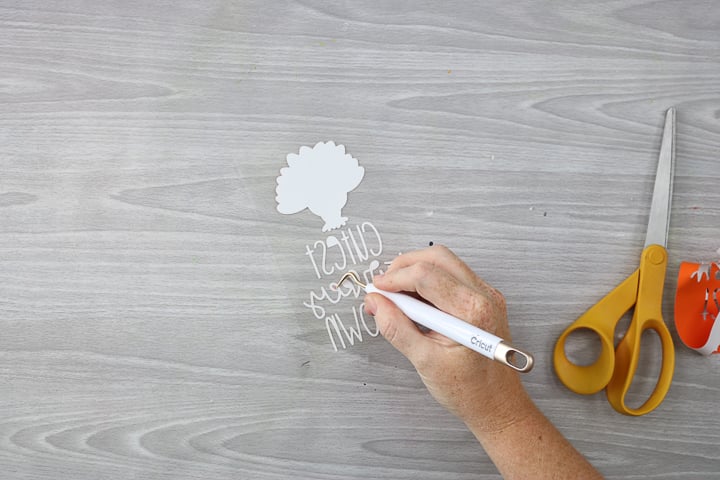 How to Press Heat Transfer Vinyl
Now we have a design that is ready to press. I am going to add this one to a shirt. You will want to look up the time and temperature for the brand of HTV that you are using. Either set your EasyPress or adjust your iron and allow it to heat up.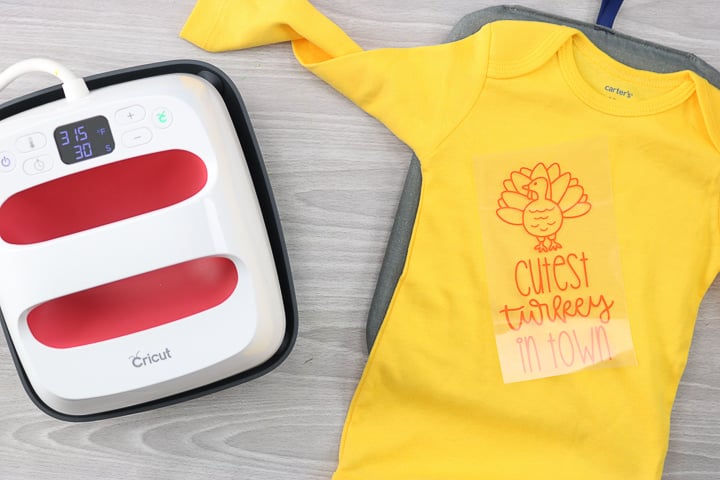 A few tips and tricks for success:
Press on a folded up towel or EasyPress mat.
Preheat your shirt. This will remove any wrinkles and moisture from your fabric before pressing. About 10 seconds is long enough.
Be sure to locate and straighten your design before pressing.
Follow all instructions including the amount of pressure and whether your material can be peeled warm or needs to cool.
Press from the front and back if your instructions ask for it.
The instructions will vary depending on the type and brand of heat transfer vinyl you use but also for the material. So, the pressing time for cotton will vary from polyester. Be sure to look it up for each project so you get it right!
Most materials will call for your shirts to be pre-washed. This is critical in some cases as the shirts have a coating when in the store.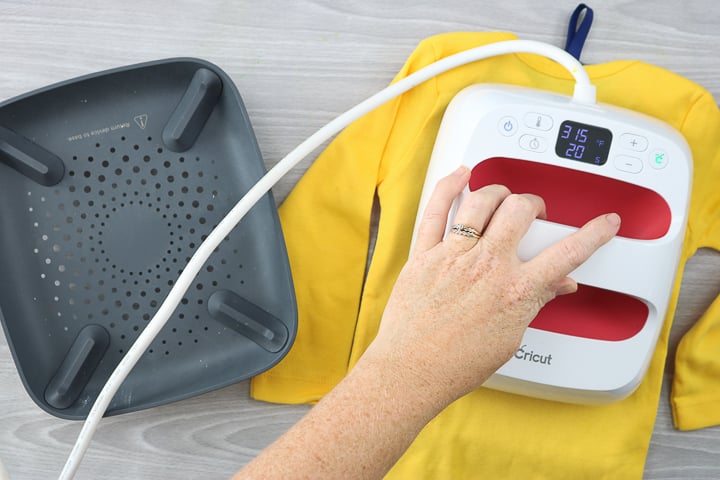 I pressed mine with light pressure for the recommended time and temperature. I also pressed from the back as per the instructions. The product I used is a warm peel, but I always let it cool just a few seconds. You don't want to burn your fingers! Then just start peeling back that liner material. If the iron-on does not look stuck, return the liner and press again!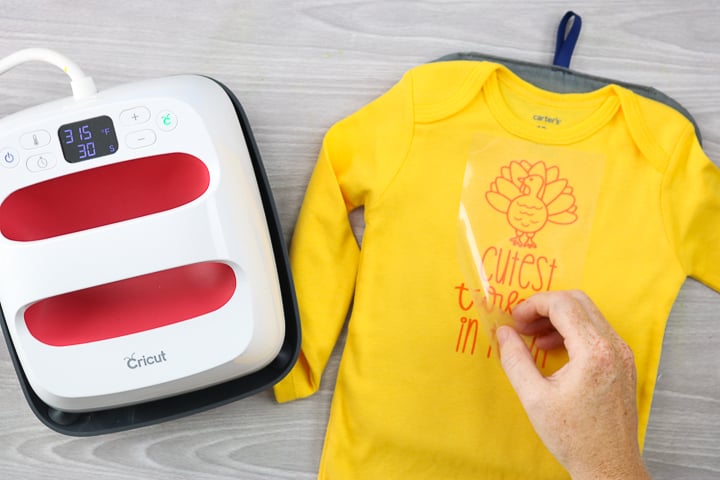 Once the liner is peeled, your shirt is complete! You have just learned how to use heat transfer vinyl and have a cute shirt to show for it. I told you it was easy to use!
Cricut EasyPress versus Iron
The great debate! Which one should you use? When learning how to use iron-on vinyl, which is the best option? I have a full comparison post here that will help you weigh your options.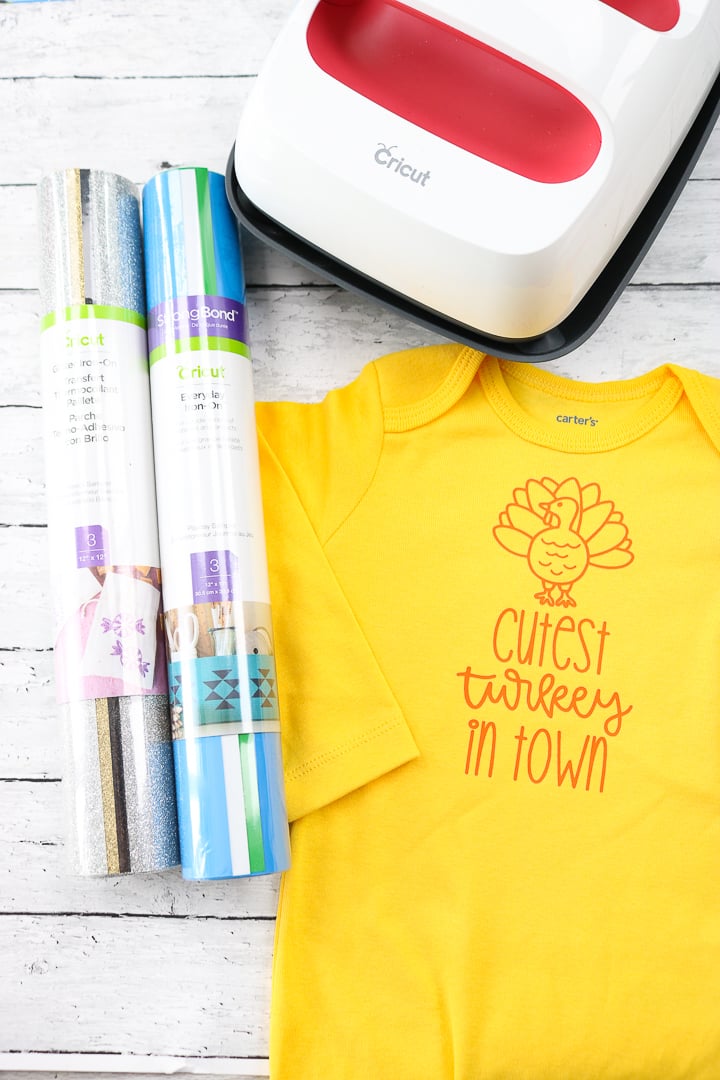 How to Care for Your Shirts
You will want to check on the packaging for the material you are using for any care instructions. Sometimes you need to line dry or turn inside out when washing. You want your creation to last a long time so be sure to make note of these instructions before laundering.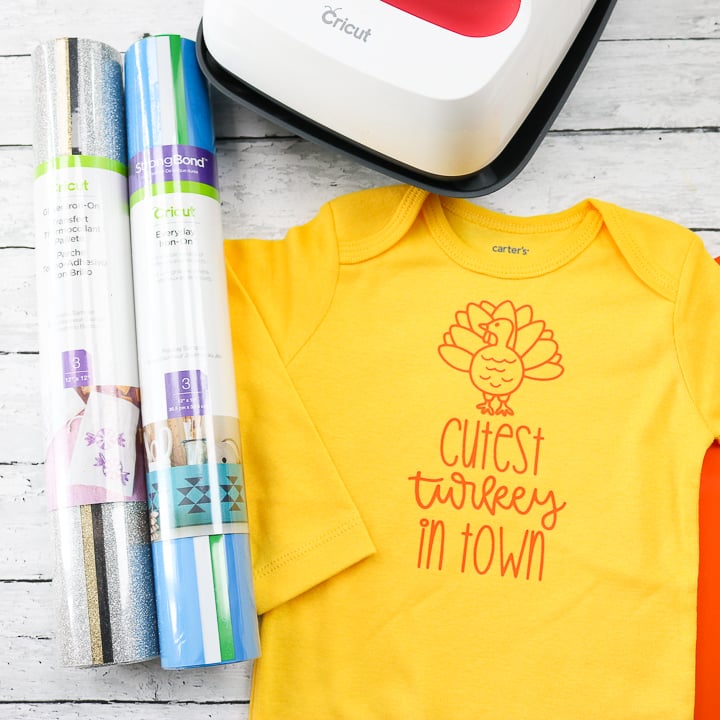 More Ideas for Heat Transfer Vinyl
So, now that you know how to use heat transfer vinyl, do you want to take your projects even further? We have a ton of ideas that you need to try!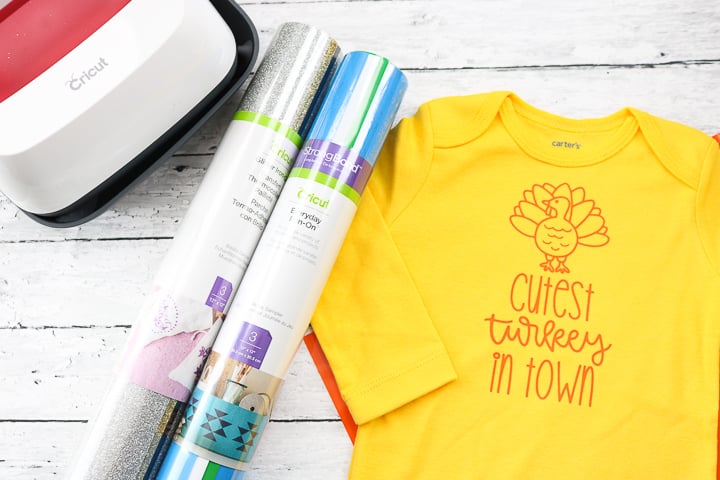 So, now that you know how to use heat transfer vinyl, what will you make? Be sure to join our Facebook group and share your creations!
New to Cricut?
Sign up for our email list here to download the Beginner's Guide to Cricut Design Space for FREE today!
Sign up to get the guide emailed to you!