This mason jar organizer is the perfect way to keep all those tiny odds and ends neat and organized. I particularly love this idea for keeping my hardware in order—it's been a game changer for my garage!
Do you have trouble organizing the screws, nails, bolts, and more that seem to take over your life? My mason jar hardware organizer will fix that for you! Use this handy organizer in the garage or anywhere in your home to control the clutter and keep everything nice, neat, and labeled.
I am using labels from Online Labels and they have sponsored this post. All opinions and projects are my own however.
Functional Organization
I am always drawn to those pretty organizing magazines and books. Everything looks so lovely and perfect, but I often wonder how well those ideas translate to real life where there are kids and pets all over the place!
Because I live very much in a busy home during this season of my life, I can't afford to put time or energy into organizing systems that just look nice. I need things to be ultra functional!
And on those rare occasions where something can be both functional and pretty? I'm sold. This is one of those unicorn projects, thankfully! You'll be amazed at just how useful this attractive mason jar organizer is.
How to Make This Hardware Organizer
Making this project couldn't be any easier! Honestly, the hardest part is sorting out all the hardware to put in the jars. My best advice? Turn on a Hallmark movie in the background for a little festivity, and start sorting!
What You Need for This Project:
You'll need just a few simple items for this mason jar organizer:
Vintage Soda Crate – if you are anything like me, you may have grabbed one or two of these at a flea market, only to have them languishing in your garage. Well, no further! Bring these beauties back to life for this project. If you don't have a vintage crate on hand, you could also buy something like this new one, and finish it however you'd like.
Mason Jars – these 4-Ounce jelly jars are the perfect size for this project. Plus, I love how the quilted glass looks—it just adds a little extra something. These are the only size jar that I found to work properly with the crates, so I can't vouch for any other size!
OL350 labels – optional but highly recommended! I got the label paper from Online Labels, and I think it's a game-changer for this project. I personally love the brown kraft for this project as it keeps the rustic look. You can however choose from the wide variety of colors offered at Online Labels.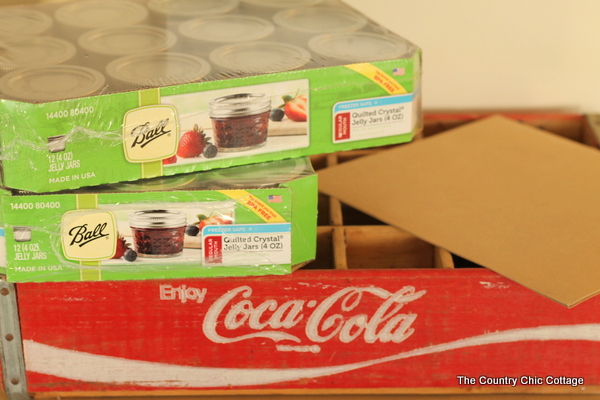 How to Make the Mason Jar Organizer Step by Step
Once you have your supplies, the fun begins! Here's how to put this project together step by step.
1. Sort the Hardware
Sort your hardware into the jars. This is the only part of this project that takes a while. But it is worth it! Imagine no longer having to dig through a large mess to find a screw the proper size!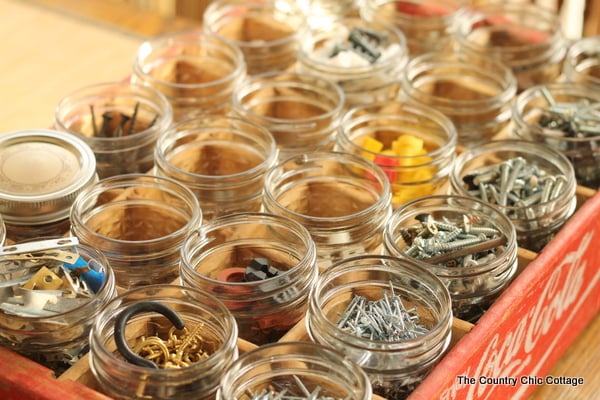 Print the Labels
Next, print the contents of each jar onto the labels from Online Labels. On the OL350 page, just click blank templates, choose one to work with, type the labels, and print. You can see more about designing your own labels including screenshots of how to do it by clicking here.
Of course, if you have lovely handwriting, you could get the same label paper and then simply handwrite the type of hardware on each. However, I wasn't going to risk someone not being able to read my letters!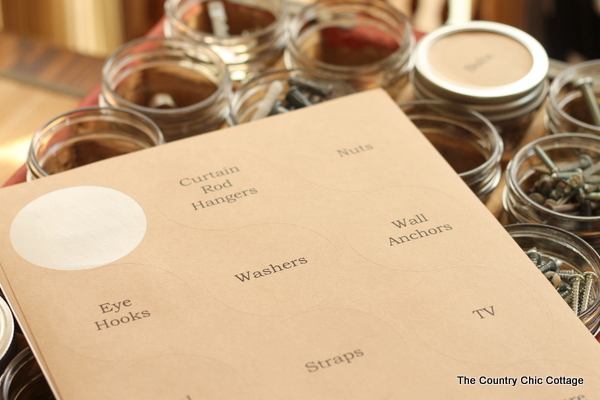 Add Labels to Jars
The labels fit a standard size mason jar lid perfectly. Just peel and stick to the lid portion of the jar. Screw the band and lid to the tops of each jar.
You now have an organized hardware area!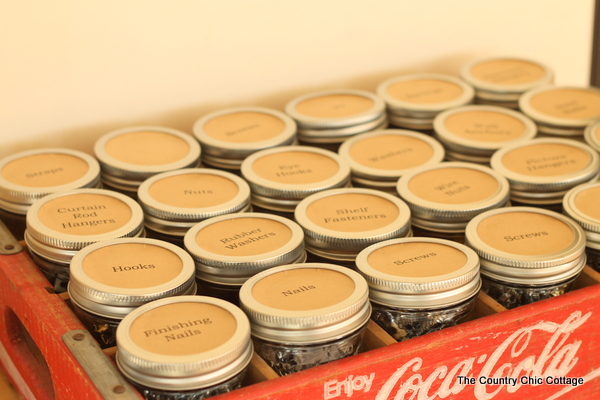 I love the rustic of the Coke crate and mason jars in this adorable and functional hardware organizer. I am not going to hide this one in the garage y'all. Stay tuned next week and I will show you the full room pictures of where this one ended up.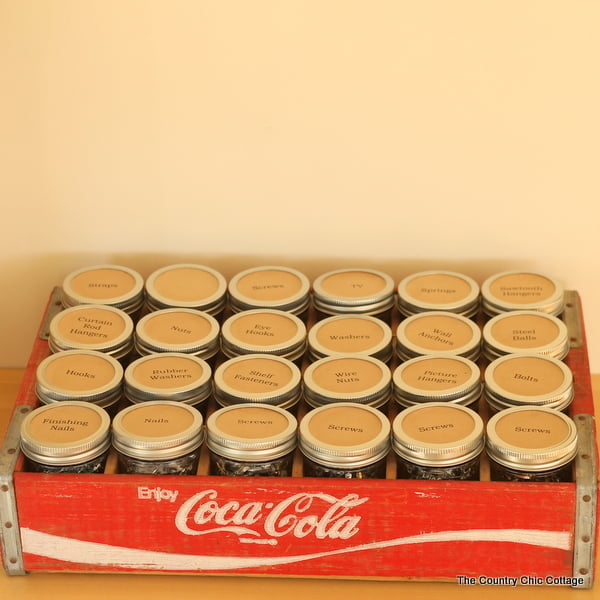 Declutter Your Home in 31 Days!
Clear the clutter and organize your home with our daily emails! Every day for a month we will send you a prompt to declutter! Sign up for our email list below to get started.