A good makeup organizer is hard to come by. We have an idea for you today that will only take minutes to pull together and will keep you organized in the bathroom or any small space! Grab some mason jars or canning jars and get started on this fun project right now. You will have a makeup organizer in minutes and be ready to clean out that bathroom drawer into some cute and functional storage.

To make this make up organizer you will need:
Some links may be affiliate links.
Mason jars (I love these smooth sided ones I found at the Dollar Tree)
Rice
Instructions:
Download the file to your computer and use your Cricut software to trace the images provided. You can see how to do that here. Resize to fit your jars and then cut the file from the black vinyl. Remove the excess surrounding the images as well as any bits in the middle as shown below.
Use transfer paper or just carefully lift off the vinyl and apply it to clean glass jars. One tip is to use rubbing alcohol to clean the jars before applying anything to them. Press down well on all edges of the vinyl to make sure everything is on there!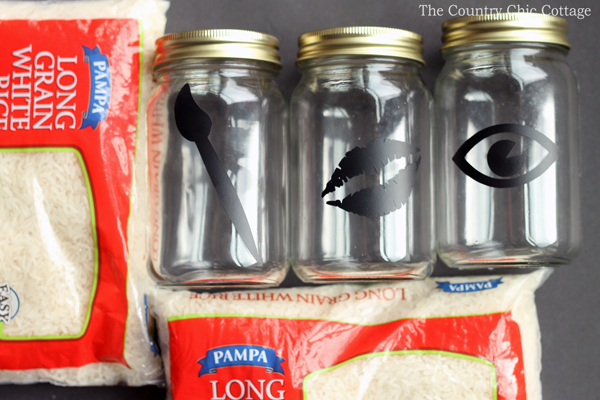 Fill the jars with rice almost to the necks. The rice will rise some once you add in your make up. Your make up organizer is now complete and just needs a few pieces of makeup and some brushes!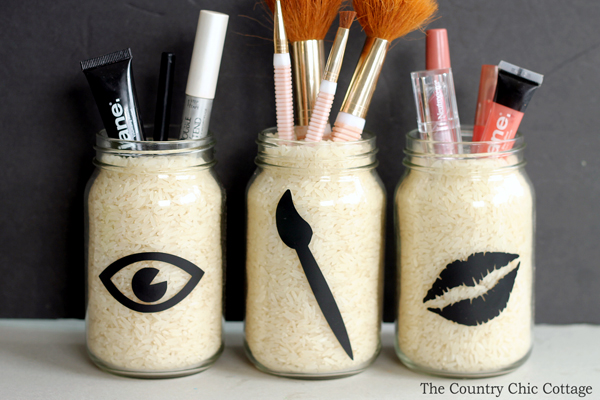 You can set this make up organizer on your bathroom cabinet to add to your bathroom items to have everything within easy reach and ready for you to use each day. Don't like the idea of using rice?
Try some small white beads, cotton balls, or clear glass marbles. Either one would serve the same purpose and be equally as pretty! The rice is obviously the budget friendly choice for this make up organizer however!
Extra storage is essential in any space and this make up organizer is perfect for small bathrooms or storage spaces where you want them to look clean but still trendy.
You can put it in your medicine cabinet, inside your drawer organizers, or any vertical space where the space is too small.
This is also suitable for organizing your hair tools like your hair dyer, just get a bigger jar and you're good to go!
I hope these bathroom organization ideas will help you style your living area while making it look stylish and less cluttered.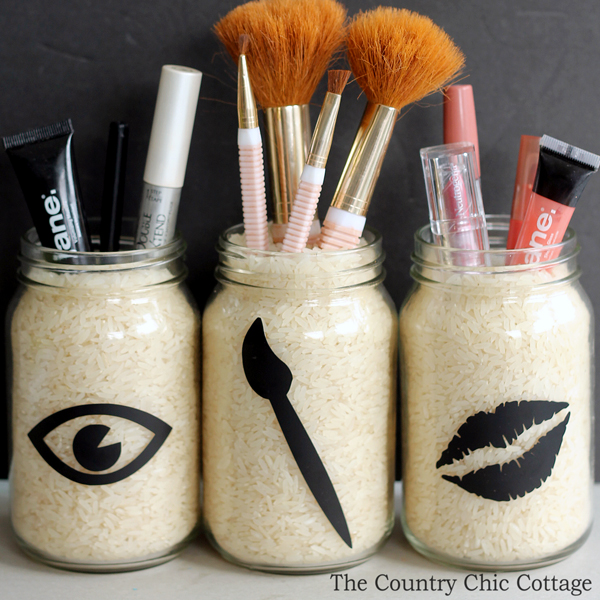 Love this make up organizer and want more ideas? Try the links below!
Declutter Your Home in 31 Days!
Clear the clutter and organize your home with our daily emails! Every day for a month we will send you a prompt to declutter! Sign up for our email list below to get started.