Nutella fried pies might just be your new favorite dessert. I don't post many recipes here but, for some reason, this idea popped into my head. I just had to experiment and, when it turned out awesome, I just had to tell y'all about it. Fried pies are mostly a Southern thing but y'all will love em! Plus these are so super simple to make which is even better. So, are you ready to feast on some Nutella fried pies?
This one was first published on July 12, 2012 but I thought y'all might enjoy them once again!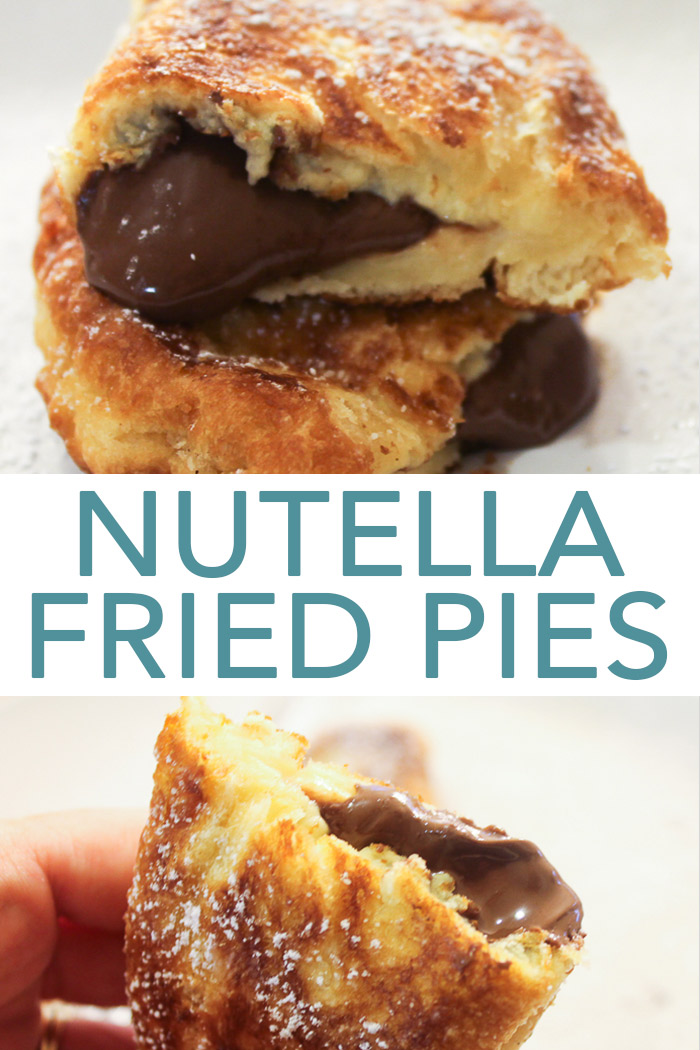 Ingredients needed to make Nutella fried pies:
Grands Flaky Layer biscuits
Nutella
Your favorite cooking oil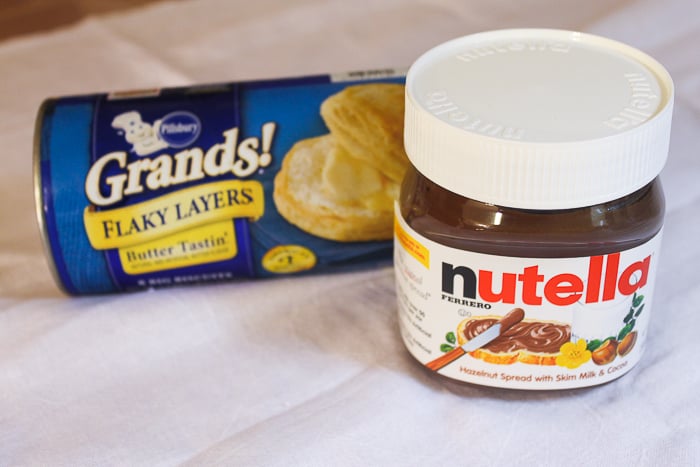 How to make Nutella fried pies:
Remove the biscuits from the can then roll out the dough of each biscuit until it is very flat.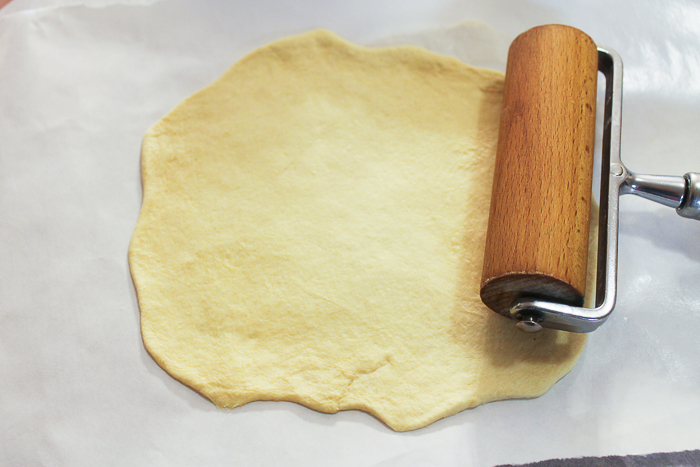 Place about a tablespoon of Nutella on one side of your flattened dough.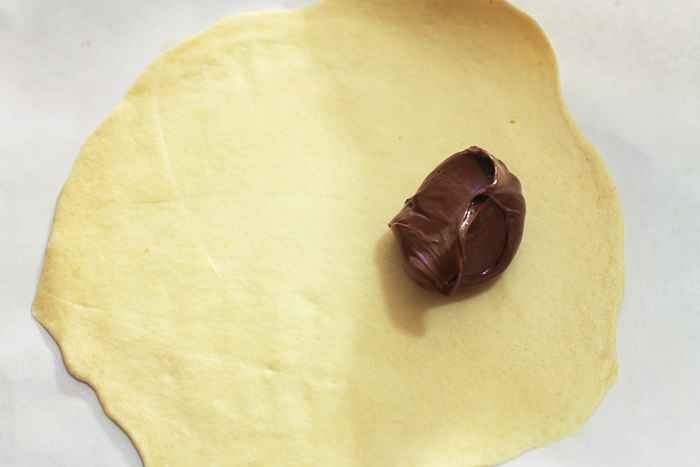 Spread out the Nutella over about half of the biscuit. It should look something like the image below. Be sure to leave an edge all the way around as you will need it to close your fried pie.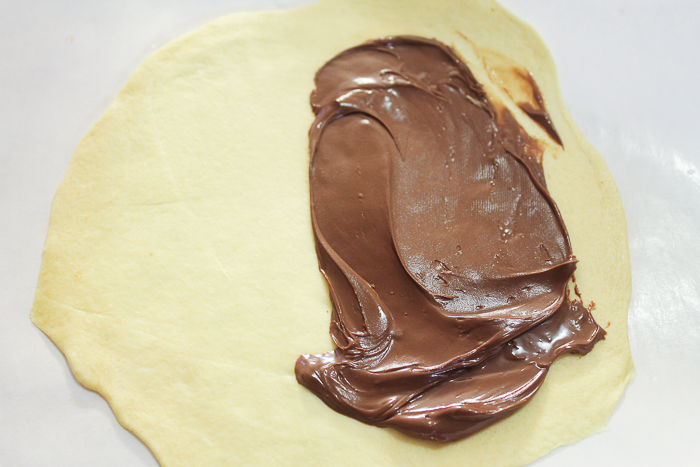 Fold the biscuit dough over itself and begin to pinch closed around the edges.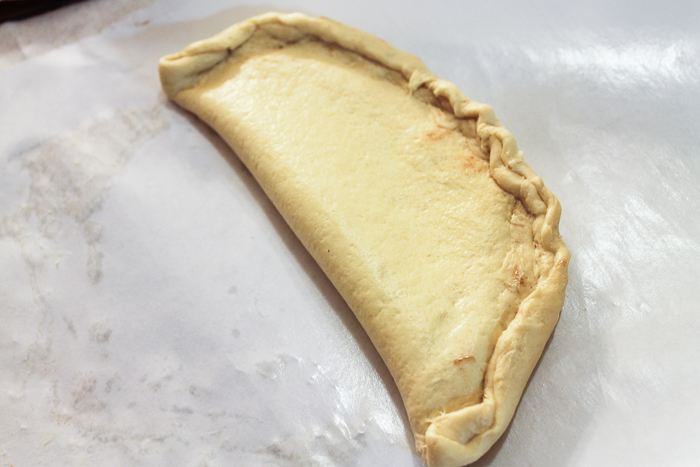 Seal all around the edge with a fork as shown below.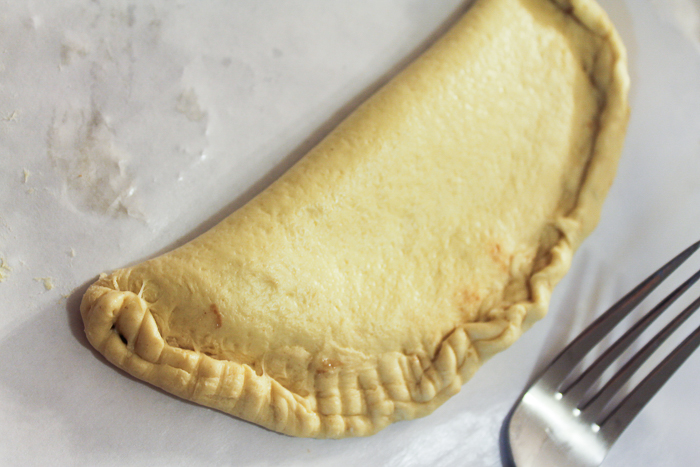 Heat a skillet over medium-high heat with your favorite oil inside. Then put the pie in the skillet once it is hot.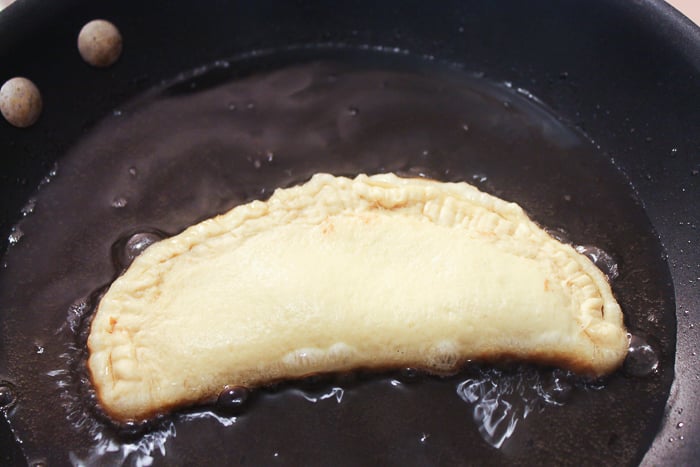 Turn it over when it is getting golden brown. This takes a few minutes total so don't leave your fried pies while they are cooking.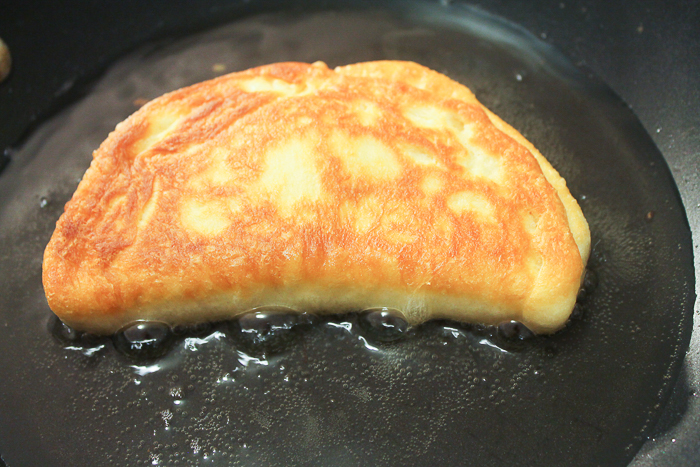 When both sides are gorgeous, put on some paper towels to drain.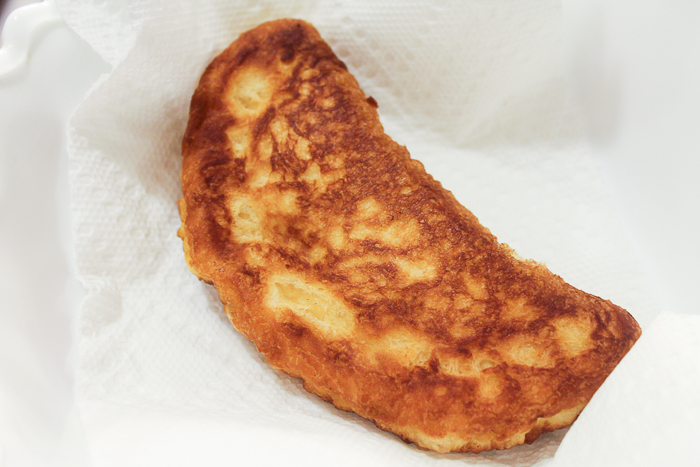 Place your Nutella fried pies on a plate and dust with some powdered sugar if you want it to look fancy. Otherwise, just inhale the fried pie while standing over the paper towels from the above picture. Not that I would have done that or anything.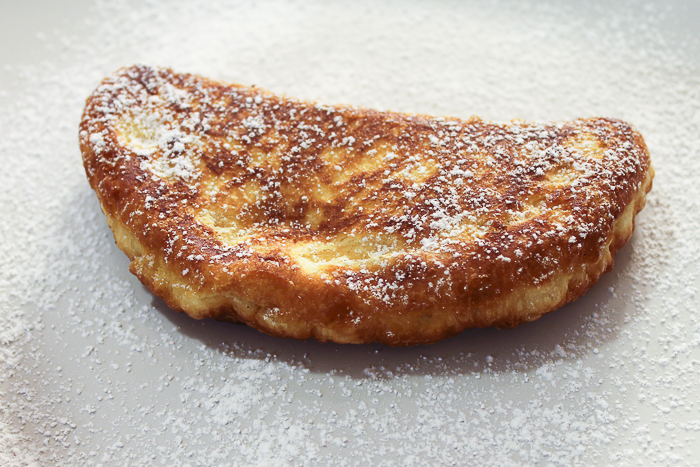 I broke one open just for y'all. That way you can see what you are missing.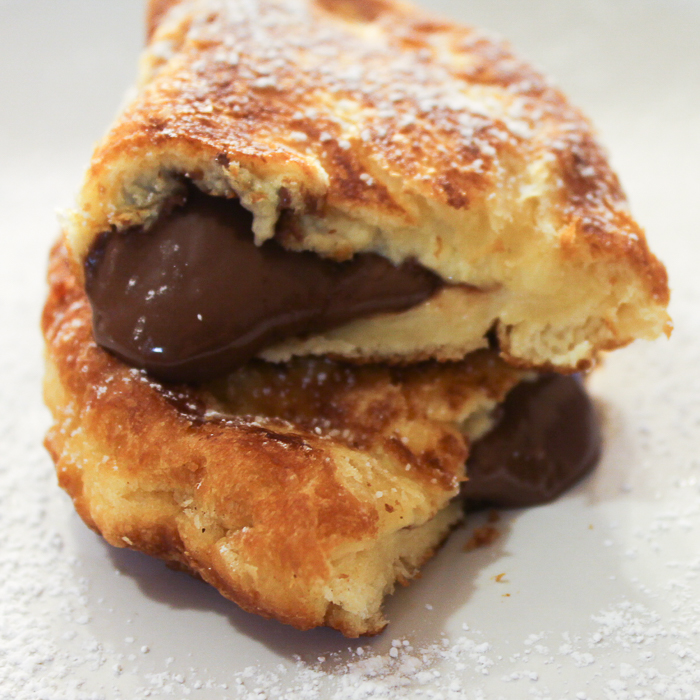 You can dive right in with your fork and enjoy that delicious Nutella taste oozing from a warm fried pie. I am telling you that it just doesn't get much better than this.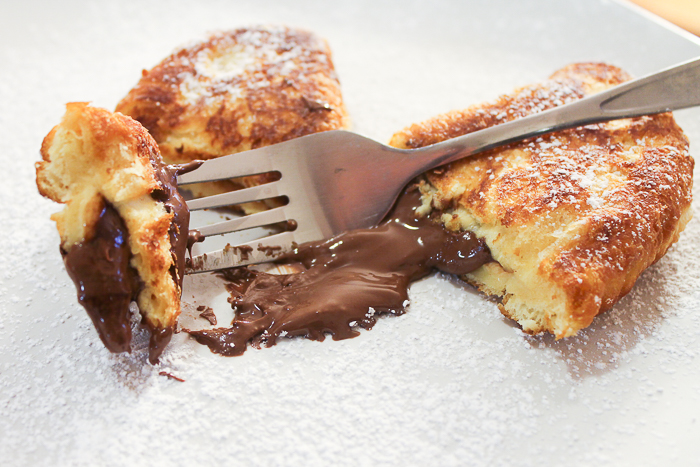 You can even eat them with your hands just like fried pies were meant to be eaten. These Nutella fried pies are the perfect quick and easy dessert for any night of the week.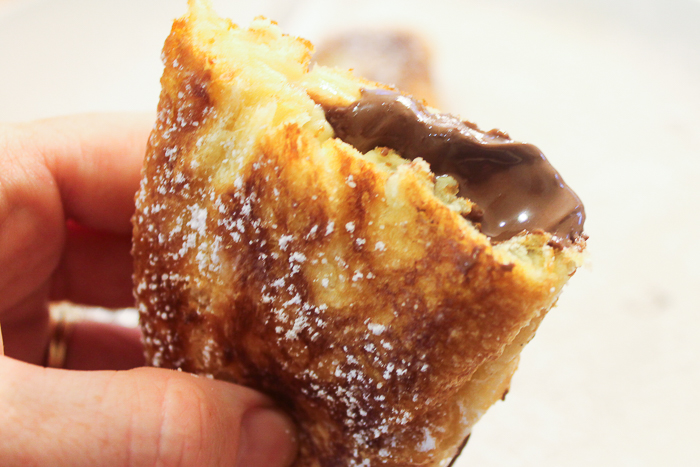 I look at cooking like crafting with food and Nutella is my favorite crafting medium. Nutella is new to me as I only found out about it a year or so ago. I know…I have been missing out for my entire life! Don't worry though. I have plans to try it as many ways as possible to make up for lost time.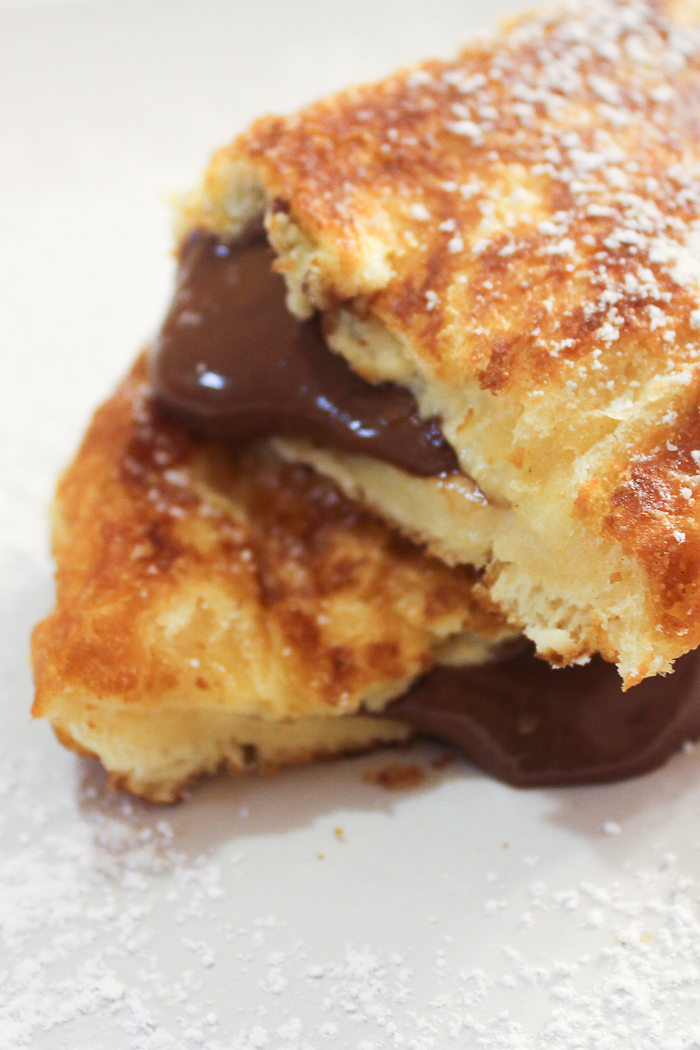 Okay, that picture makes me want to make these Nutella fried pies all over again just so I can have another bite.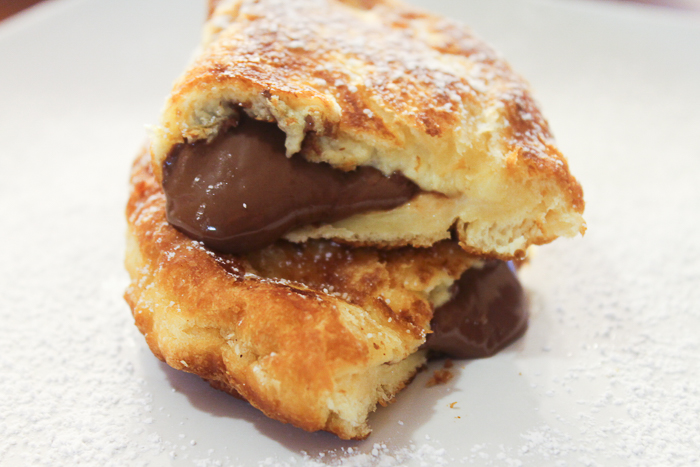 I even made y'all a super simple graphic below. In fact, there is no recipe really even needed for these. Just follow along with the pictures!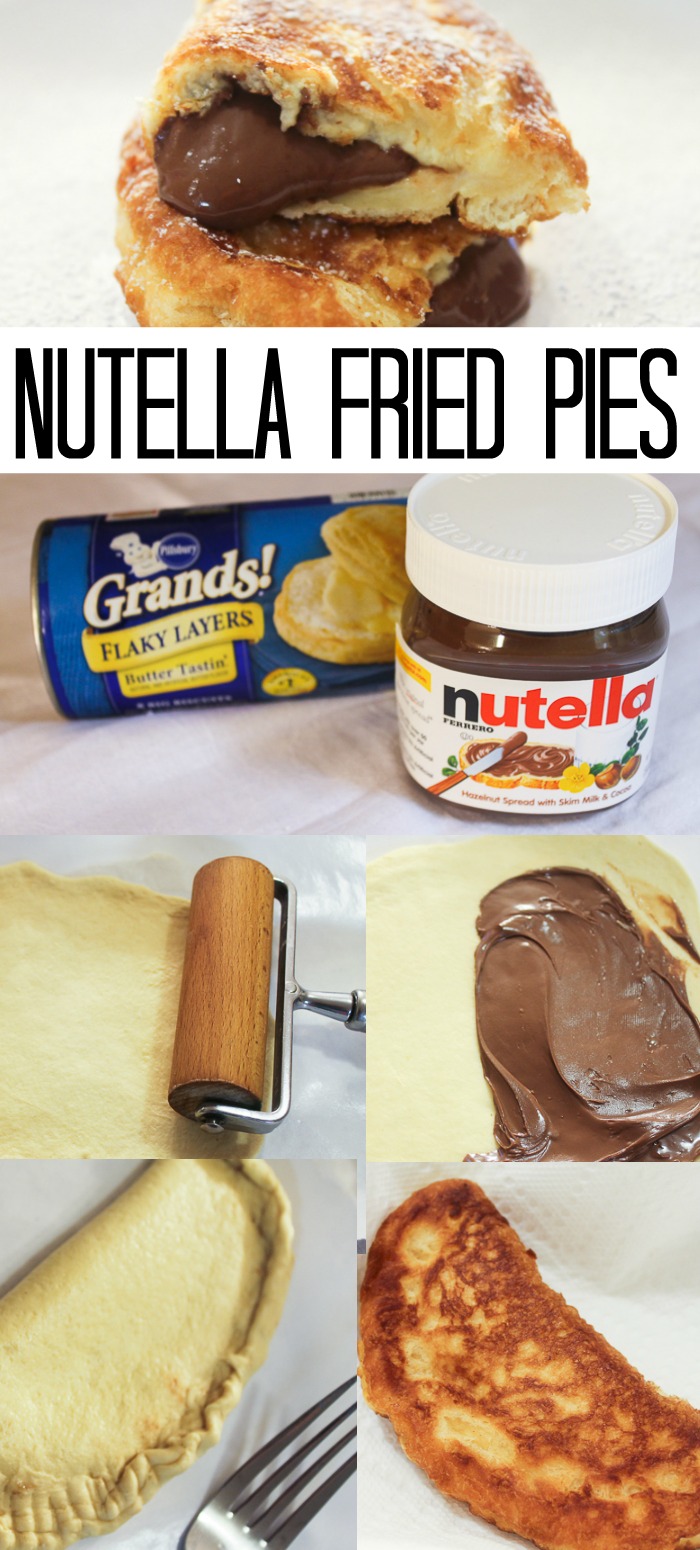 So, who just put flaky layer biscuits on their shopping list?
Need to print this recipe? Try the recipe card below!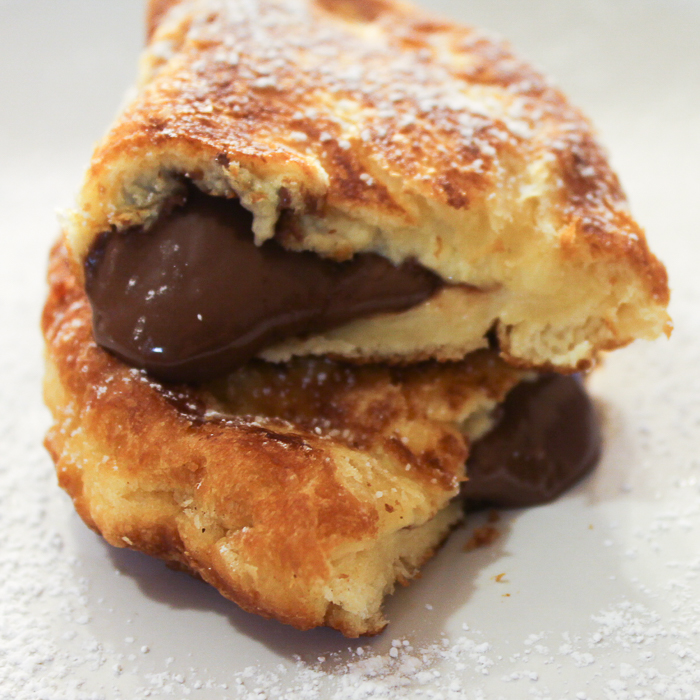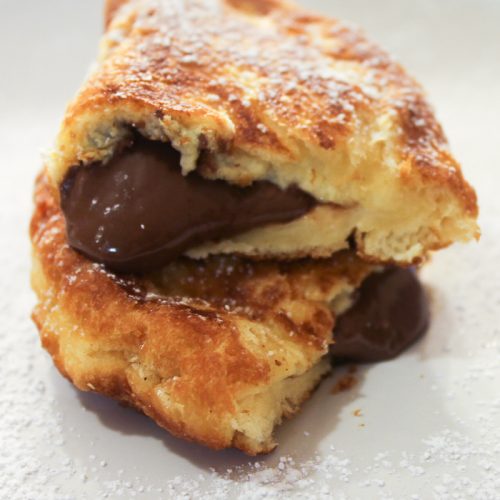 Ingredients
Grands Flaky Layer Biscuits

Nutella.
Instructions
Roll out your biscuit dough until it is very flat.

Place about a tablespoon of Nutella on one side.

Spread out the Nutella.

Fold over the biscuit dough.

Seal all around with a fork.

Pop it in a skillet that is HOT -- about medium high heat.

Turn it over when it is getting golden brown.

Put it on some paper towels to drain.

Place it on a plate and dust with some powdered sugar.
Tried this project?
tag us to show off your work!
Love this recipe for Nutella fried pies and want more ideas? Try the links below!
Looking for easy recipe ideas?
Struggling with supper and what to make? Do you wish you had a way to make meals faster? The dump recipes system allows you to make 10 meals in just one hour or less, rescuing your dinnertime and saving you time and money.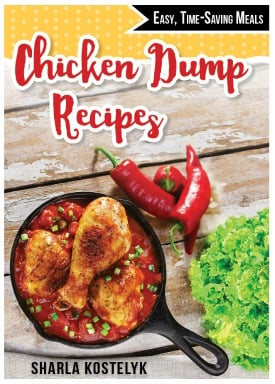 Want to try it for yourself? I have the perfect cookbook for you. Chicken Dump Recipes includes 5 plans, each with printable shopping lists and printable labels. Most of the 25 recipes included can go from the freezer to the crockpot, saving you even more time. All the recipes include gluten-free instructions as well.
What are you waiting for? Give the dump recipes system a try in your home and make meal time a bit easier!