This is Amy from Mod Podge Rocks, so pleased to be here today! I have been blogging for almost four years at MPR, and I am (as you can guess) addicted to crafts and DIY. I love creating, but I also love writing. I co-own Decor Hacks with Heather Mann, and I contribute to Babble.com's The New Home Ec. Not to mention that I have a new book coming out this June called Mod Podge Rocks. You could say I keep busy.
I hope you enjoy my painted towels. I made it with bright colors and paint because that's what I like, but you can customize it to fit your decor. Here's how I made it!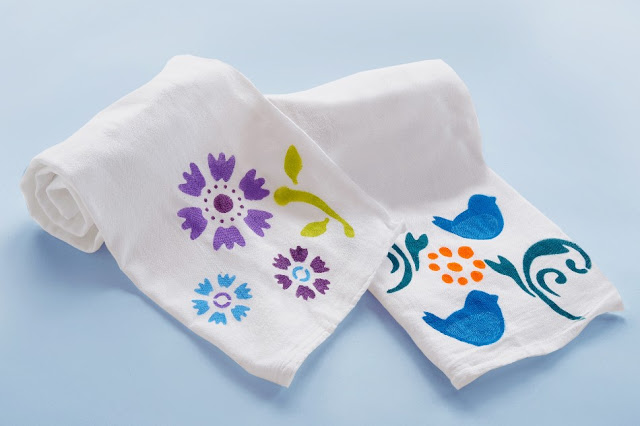 I'm so excited for spring! I was sprucing up my apartment the other day and realized that I needed some additional spring-like decorations. Something pretty and fun just to liven up the place. I decided to jazz up some white towels using paper stencils and fabric paint. The great thing? You can also give these as gifts – and you won't believe how easy they are to make.
First you'll need to gather these supplies:
Flower Towel – Red Violet, Lavender, Coastal Blue, Yellow Citron
Bird Towel – Azure Blue, Teal, Pure Orange, Coastal Blue
Flower Towel – 6.75" x 8" Houndstooth
Bird Towel – 6.75" x 8" Vase Silhouette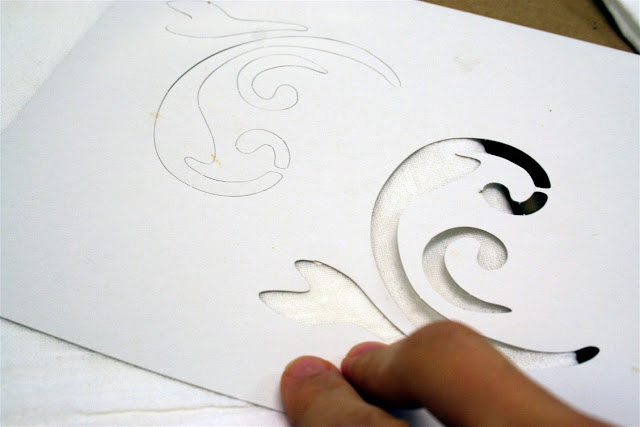 Wash and iron your towels. Fold them so that the side is showing that you want to paint on. Tear a sheet of wax paper off and place between the layers of towel – then your paint won't seep through as your are completing your project.
Think about your design and even sketch it out on another piece of paper. Punch out the paper from your first stencil and lay it down on the surface.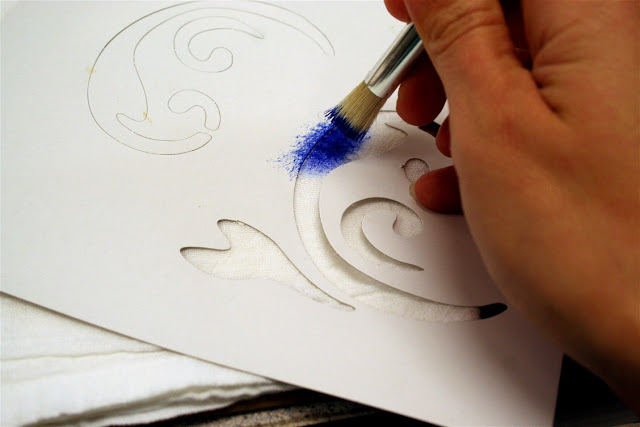 You have two options – you can hold the stencil down with your hand or secure it with tape. My preference was to just hold the stencil down since the paper didn't slip on my surface. If you have a more slippery surface, you should definitely use tape.
Start painting. Stenciling works a lot differently from regular painting. With stenciling, you will "dry brush." This means to dip your stencil brush in paint and then remove most of it by tapping it onto your plate or paper towel. Once you are ready, dry brush a light layer onto your fabric surface. Keep repeating until your shape is filled in. DO NOT put too much paint onto the brush or it will seep under your stencil design and ruin your project.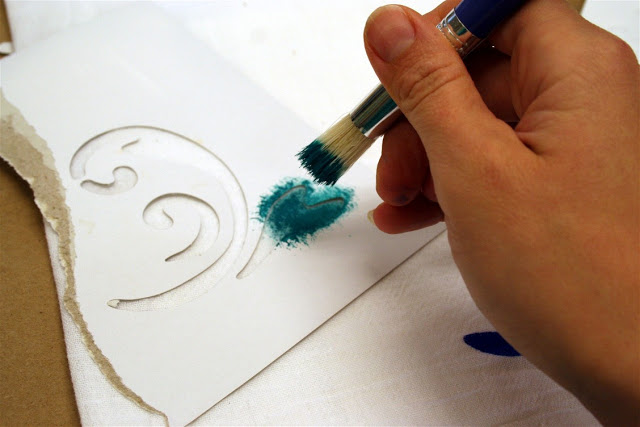 Move to the other side of the project. Paper stencils are nice because you can cut the elements apart (or if you are a slob like me, tear). Repeat the dry brush process.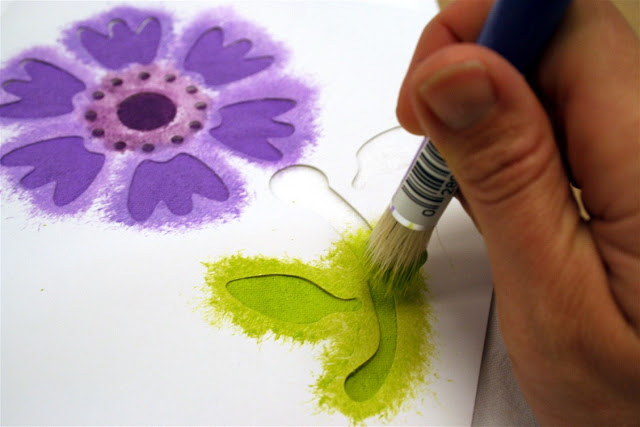 If you are completing different parts of the same design element like I did above, you'll want to wait until the first part you paint dries. That means paint the top of the flower (petals and center) first, and wait 15 – 20 for it to dry. Then go back and lay the stencil back over and paint the stem and leaves.
Keep going until your towels are completely painted with your stencil design, then allow to dry. Follow the finishing instructions listed on the bottle. Save your paper stencils by wiping them off and putting them back into the bag for later. They are completely reusable!