Have you ever wondered how to make a stencil with a Cricut? Well, we are here to show you how the Cricut Maker and Cricut Explore Air 2 can cut stencils. Actually, there are a few different ways you can make stencils with your Cricut machine. You can cut vinyl and use as a stencil, cut stencil film for a reusable stencil, or even just cut paper and use on your project. We have ideas for all three methods below so be sure to keep reading!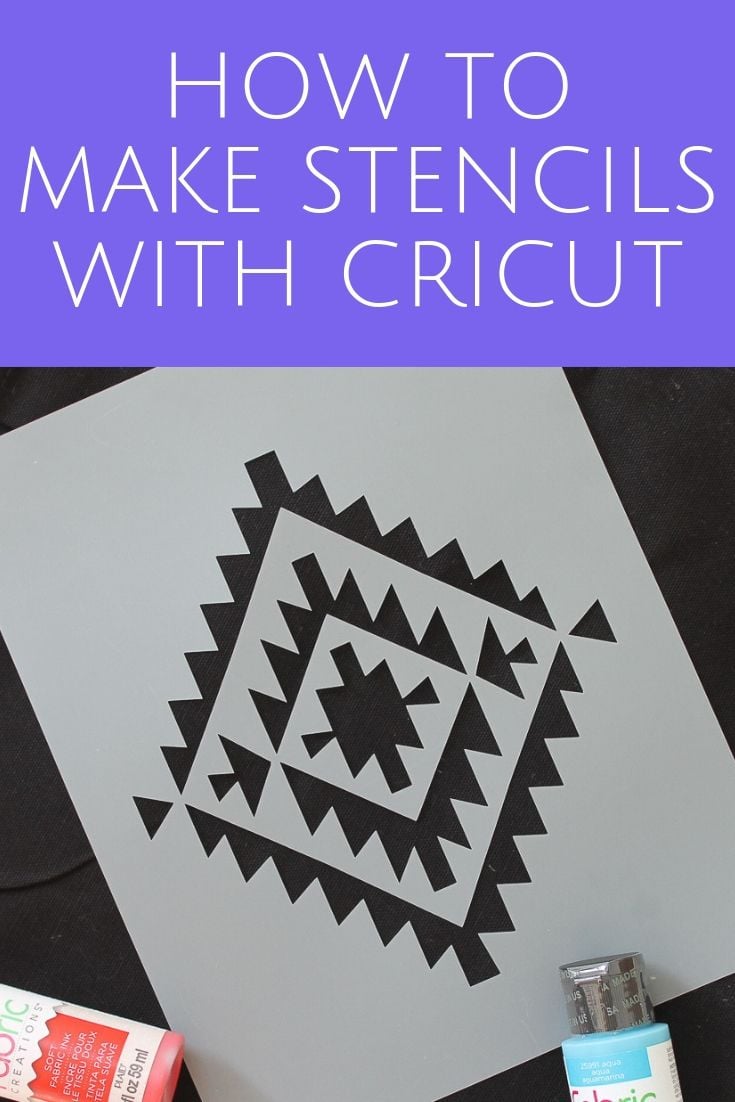 Remember that links below may be affiliate links which means that you do not pay anymore, however, a small commission will go to this site.
Making Stencils on a Cricut Video
I thought it might be easier to share this information on a video so I have that for you below. You can either watch the video or keep reading for the information.
The links referenced in the video will all be included below as well.
Cutting Stencil Vinyl
How to make a stencil with a Cricut? Cricut actually makes a special stencil vinyl that you can purchase for your projects. I am going to be honest here. Most of the time I just use leftover pieces of removable vinyl when stenciling. This is also a good use for rolls that maybe you purchased and then didn't like the color. The color does not matter as you will be stenciling and then throwing away. Want to see some cases where I used vinyl as a stencil? Try the links below!
Making Reusable Stencils on the Cricut
Now, stencils made with vinyl would be one-time use only and you would need to throw them away. What if you want to make reusable stencils with your Cricut? You can cut this stencil film with your Cricut as well. This makes stencils just like you would buy in the store. You can see a video of me cutting this product here along with some cutting instructions. You can also use stencil adhesive spray on the back of these to make them sticky.
You will want to be mindful of your design when using stencil film. Remember to either use a stencil font or add in "tabs" to hold things like the centers of letters in place. You may want to cut a test stencil from copy paper to make sure you have all of your design correct before cutting from the film.
Other Stencil Options
You can actually make stencils on your Cricut a few other ways. One is to just cut regular cardstock. These are definitely not as user-friendly as vinyl or stencil film would be, but they can get the job done. Here are some projects where I used this method:
Freezer paper also makes a great stencil option if you are working with fabric. You can cut it on your Cricut machine and apply it with an iron. It will stick to your fabric temporarily and peel off once your project is complete. You can see a few projects made with this method below:
How to make a stencil with a Cricut? Well, we have given you quite a few options! Perhaps one or more of them will work for your projects. Be sure to tell us which is your favorite method for making stencils in the comment section below as well!
Love this information on how to make a stencil with a Cricut and want more? Try the links below!
New to Cricut?
Sign up for our email list here to download the Beginner's Guide to Cricut Design Space for FREE today!
Sign up to get the guide emailed to you!