Kick-off your organizing with our pantry organization labels. These labels are perfect for your kitchen organizing efforts in the new year. Have you ever wanted to store your dry goods in mason jars but you don't want to lose the directions that are on the package? We have solved that problem for you! These labels look great in a pantry but you can set them right on your counter if you wish! Yep, they are that cute!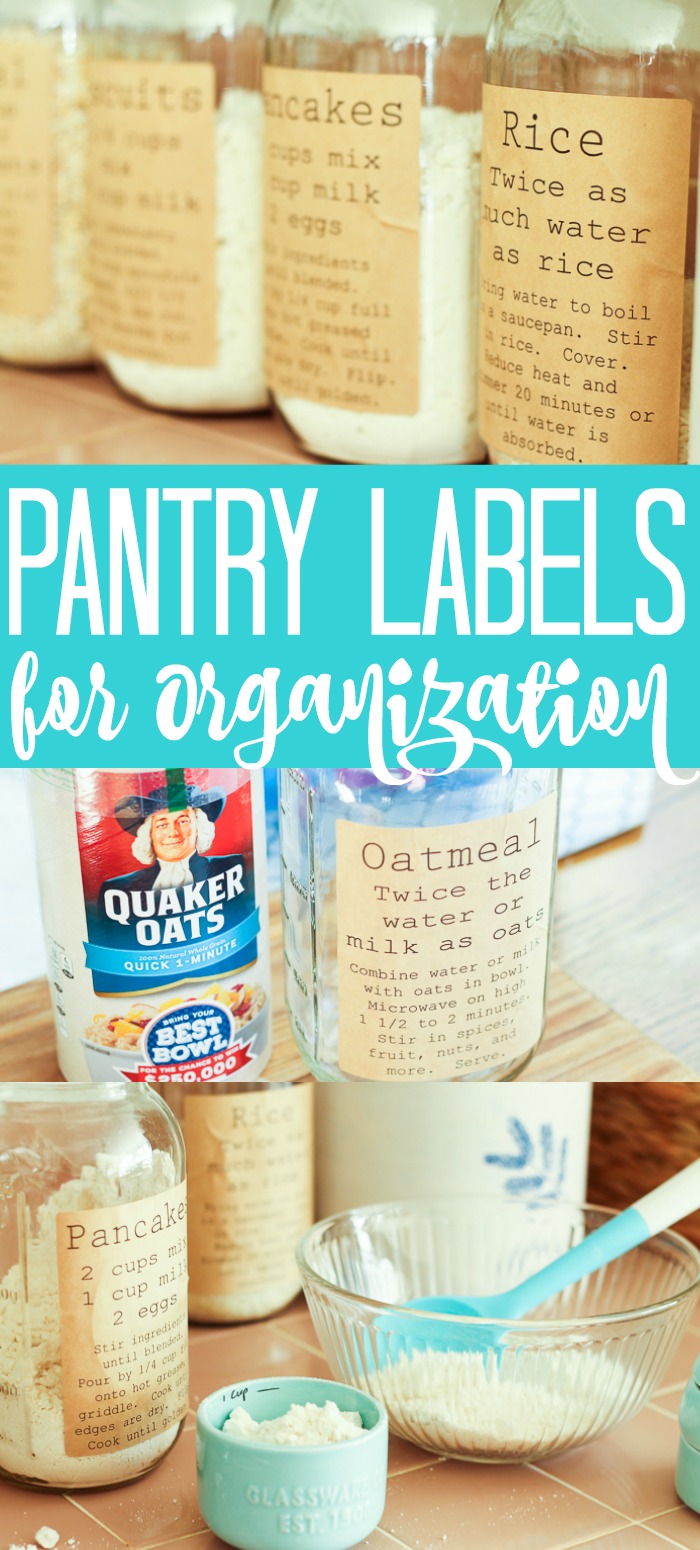 Type of Labels to Use
First, you will need to order some labels for this project. I used a 4″ x 5″ kraft paper label. I found the version I used on Online Labels here but you can find similar ones on Amazon here. However, any 4×5 label will work so you can change up the colors if you would like.
Free Printable Pantry Labels
I have the original four labels that I made for pancakes, biscuits, rice, and oatmeal. I have also had SEVERAL requests for more labels. So I made y'all a file you can edit to make whatever labels you would like. You may have to have the font Courier New on your computer to print these. Once you download the file below, you can click where the writing is to edit! So, sign up for our newsletter below and the label files will be sent as a zip to your computer. You will need to unzip the file to print and use the labels. Happy organizing!
Please remember that these labels are for personal use only. If you have issues with your download, please contact thecountrychiccottage@yahoo.com and I will try to help.
Using Your Free Pantry Labels
Once you download your free pantry organization labels above, just use your printer to print onto the label stickers.
We have printable pantry labels for the following:
Pancakes – used for store baking mix such as Bisquick or your own homemade mix
Biscuits – again you can use store-bought or homemade mix
Rice – directions are for white rice
Oatmeal – directions are for the quick 1 minute oats
Customizable labels that you can change with whatever text you need!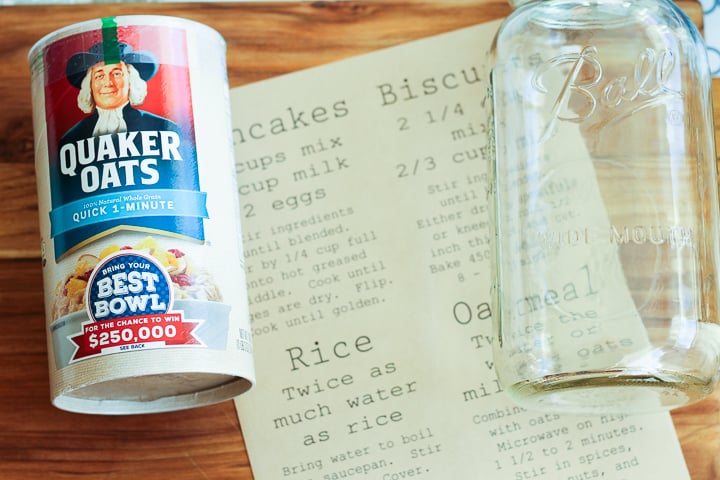 I used the half gallon mason jars for my storage. I love these jars! They are big enough to handle your pantry ingredients and will look great in your kitchen. Just peel and stick the label to the outside of the jar. The jar is actually embossed on all sides but I just put the label over one side.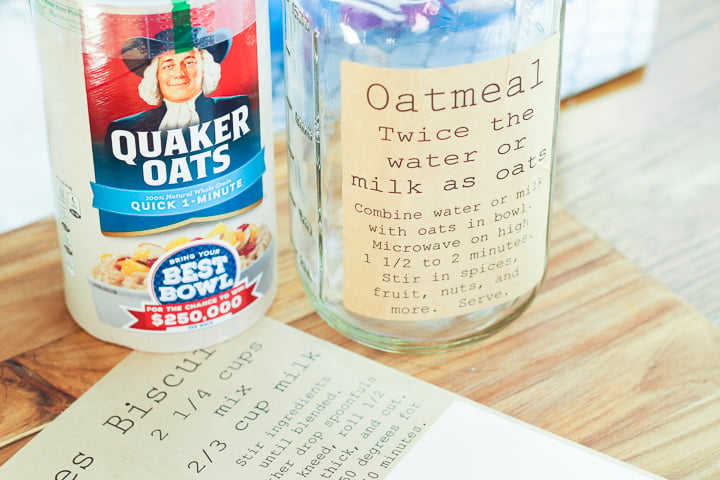 Now fill your pantry with gorgeous mason jars filled with your dry goods. I am actually using mine on top of the counter as they were just too pretty to put into storage.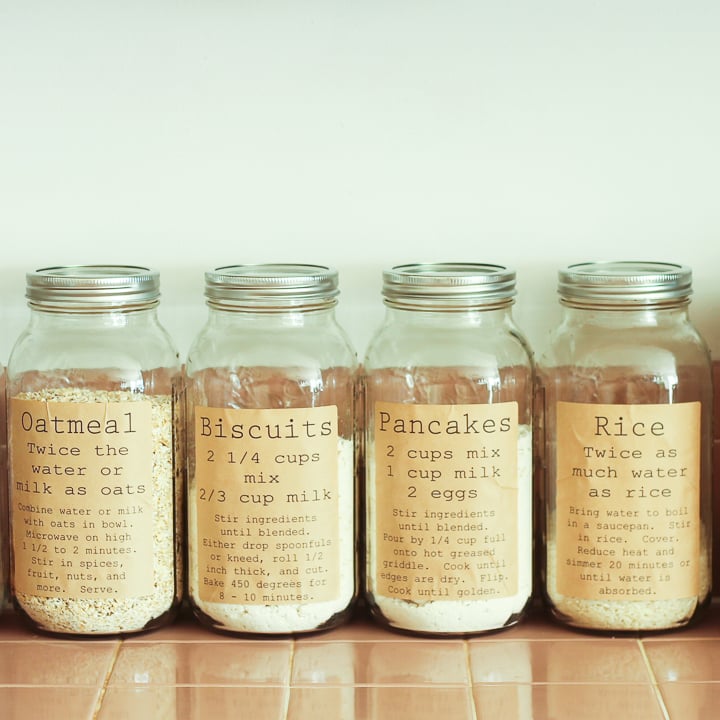 I am so glad I went with the brown kraft paper when printing my pantry organization labels. It fits in just perfectly in my country kitchen.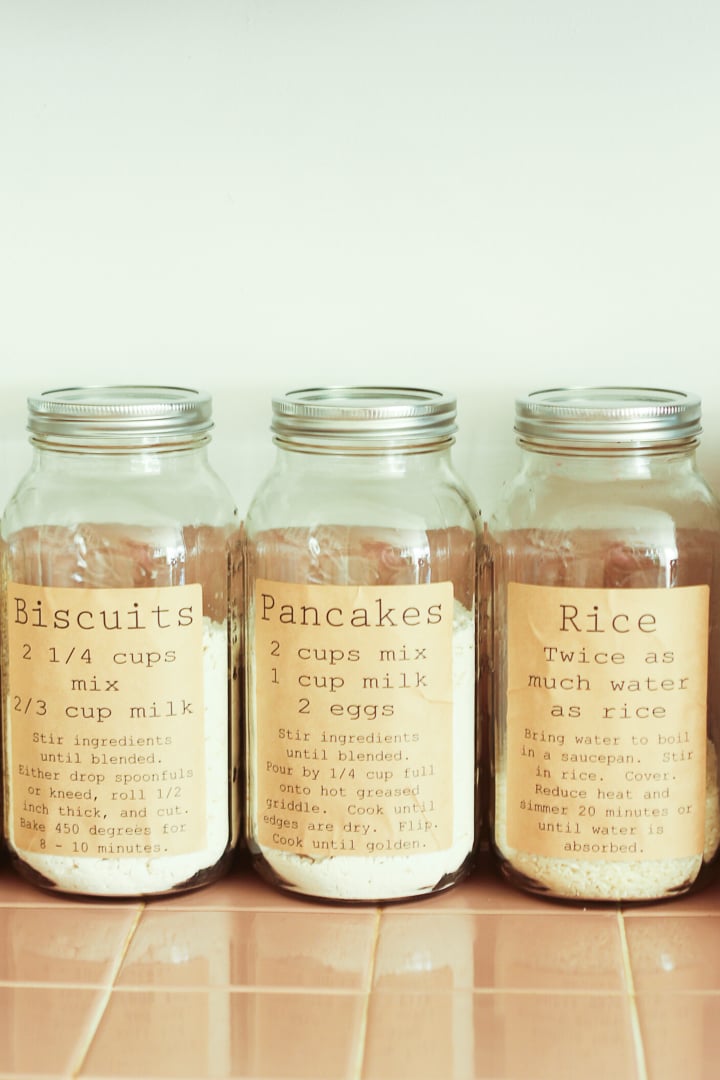 My teenager was super excited about the directions being so simple and clear on the front. That is when it dawned on me that these are also perfect for beginning cooks. When you are ready to whip up a batch of pancakes, just pull out your jar and mix it!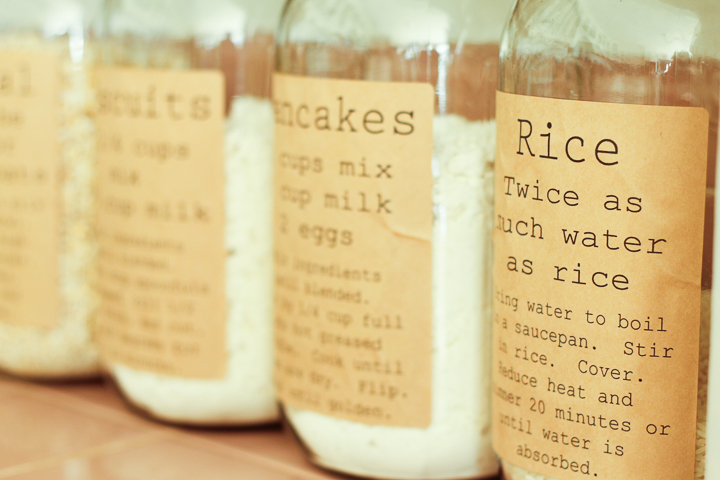 I just had to use my mason jar measuring cups for this as well….you all knew that right? Such a simple idea and perfect for those of us that are trying to get organized in the new year.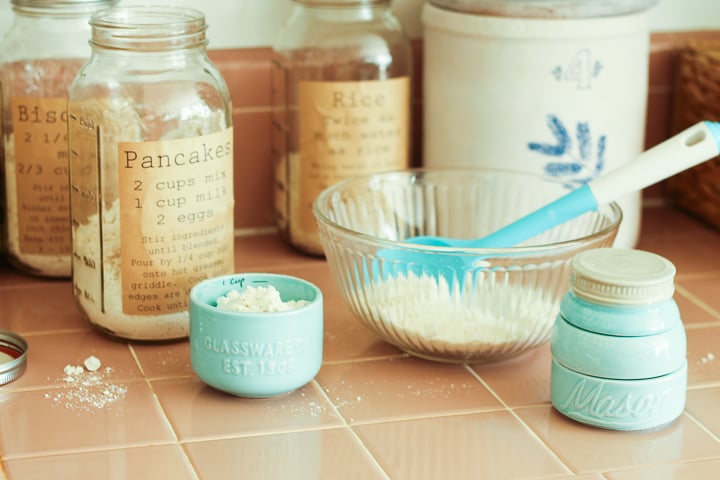 You will love these pantry labels!
Print your own pantry organization labels today and your counter or pantry can look a little like the below image. Want to see more of what I have on my counter? Be sure to click here to make our chalkboard label cookie jar or click here to make a Pottery Barn knock-off crock.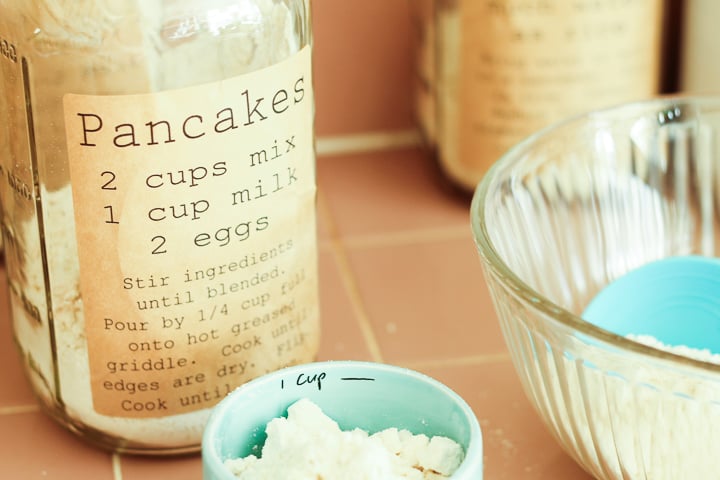 Love these free printable organization labels and want more ideas? Try the links below!
So, grab these pantry organization labels and start getting organized in the new year!
Declutter Your Home in 31 Days!
Clear the clutter and organize your home with our daily emails! Every day for a month we will send you a prompt to declutter! Sign up for our email list below to get started.