Today is the day! I am giving you a tour of our farm kitchen. I have been working in this area for months to give it a face lift. We kept the cabinets but changed up the counters and back splash. I also gave the cabinets a fresh coat of paint. It has been a labor of love and I can't wait to show you the results! You can click here to see where we started. You can also find the sources for items used at the bottom of this post.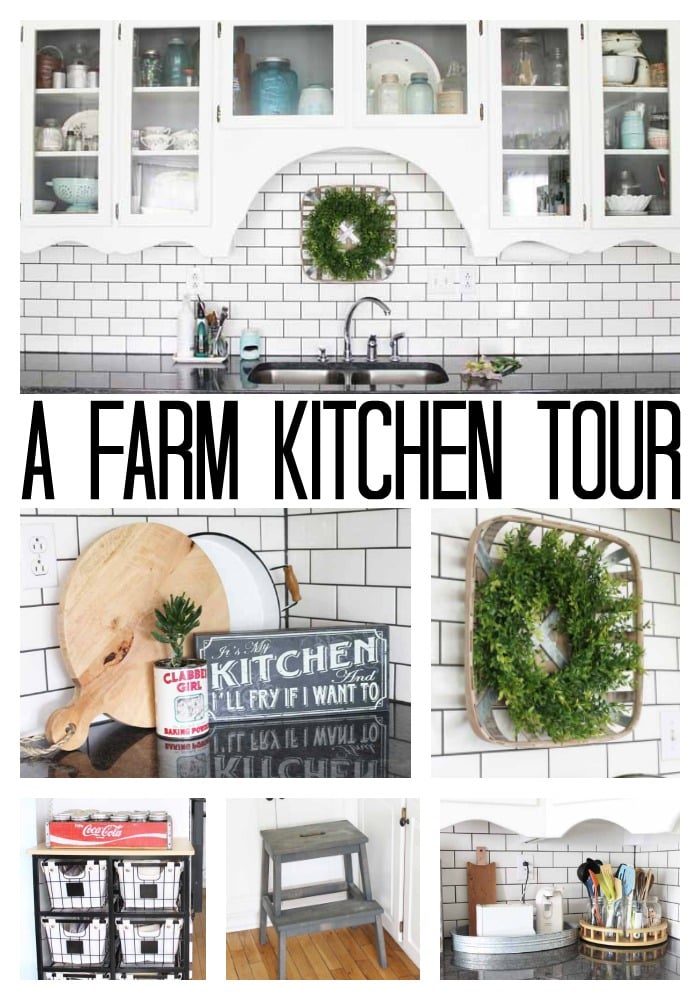 I started by spending some time thinking about the look I wanted to go for in this space. I settled on a high contrast look with shades of grey with stark white. Of course, granite counters and white subway tile were at the top of my list.
Farmhouse Kitchen Reveal
Creating Country Chic Cabinets
We removed the counters a few months back and had a company come and put in new ones. I slowly painted the cabinets as there are a ton of them! You can see my tips for painting cabinets here. Yes I even painted the cabinet hardware.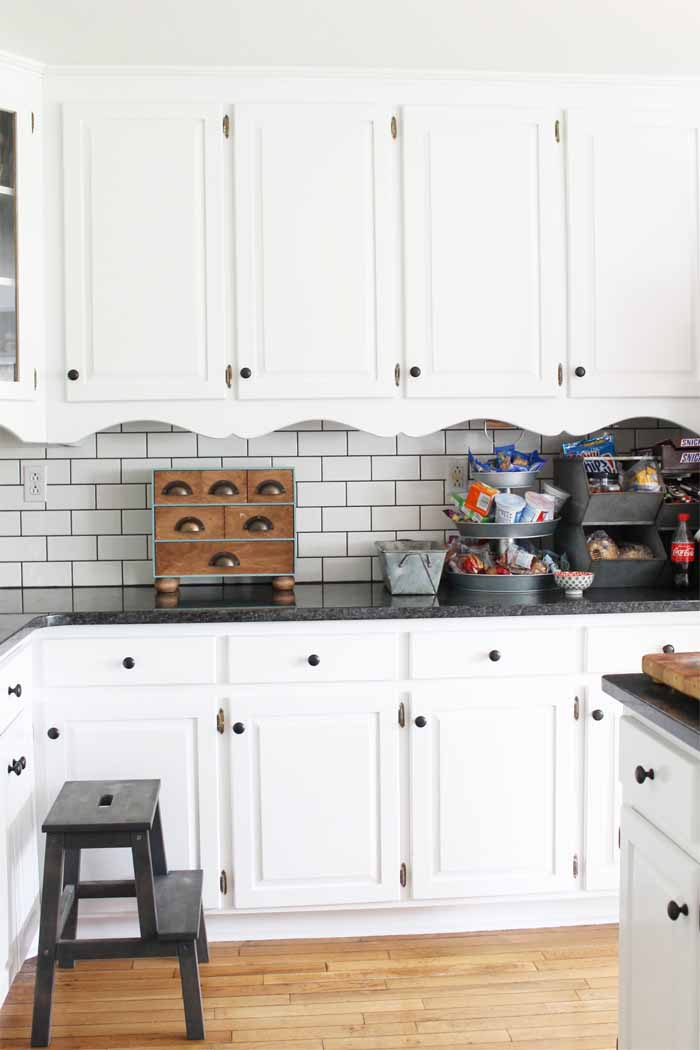 The back of the glass cabinets got a dark gray paint instead of the stark white of the cabinets themselves. I was all about the contrast in this farm kitchen.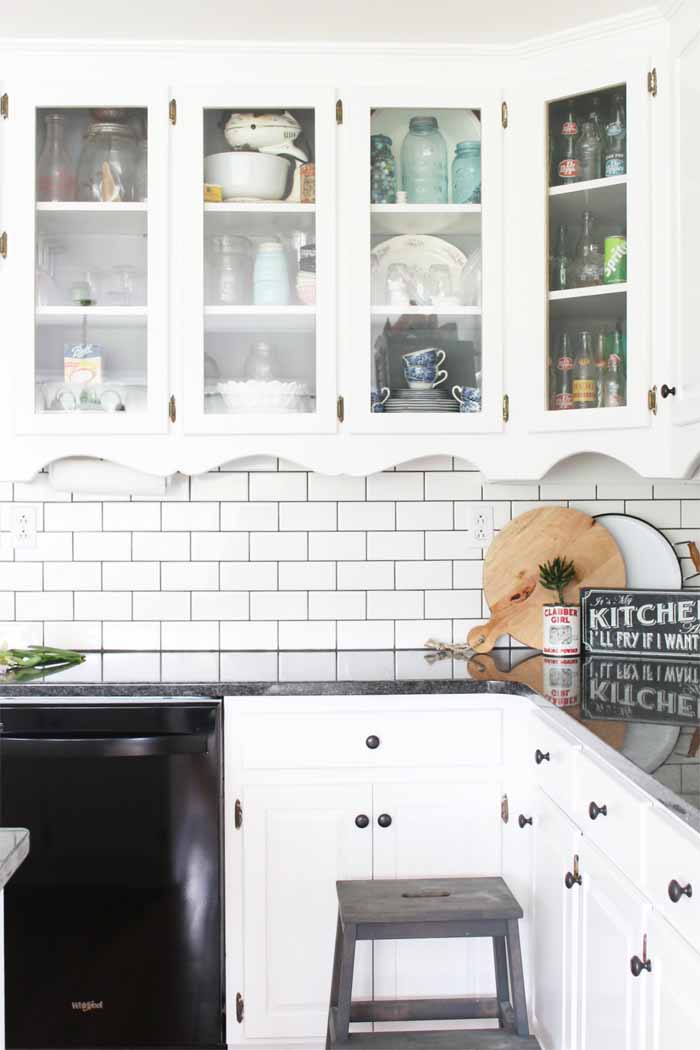 I love filling my glass front cabinets with all sorts of antiques. And yes mason jars are definitely in the mix! I love that gorgeous blue of a vintage jar.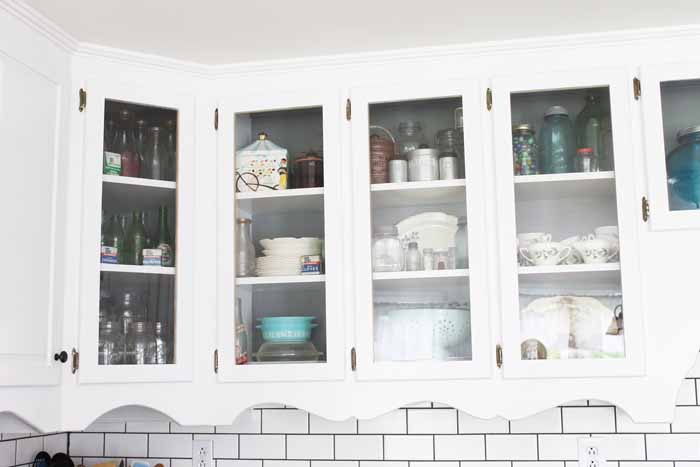 My kitchen sink is actually on an interior wall so no window above it. It is surrounded by those gorgeous cabinets, however. I really love my cabinets so painting them instead of replacing was an easy choice.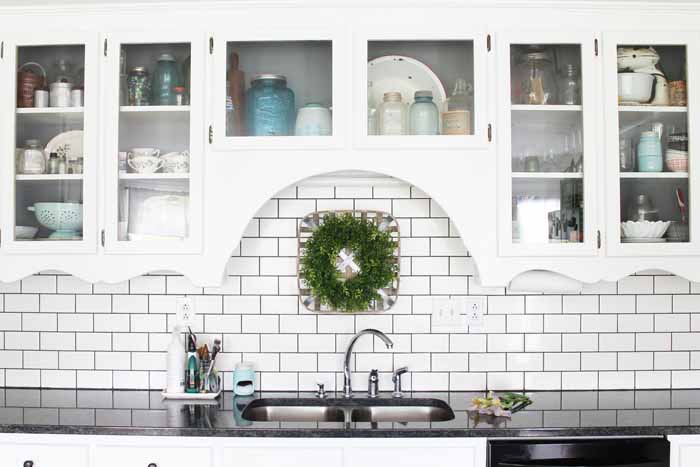 The best choice I made in all of this was the addition of an under mount sink. I would highly recommend them!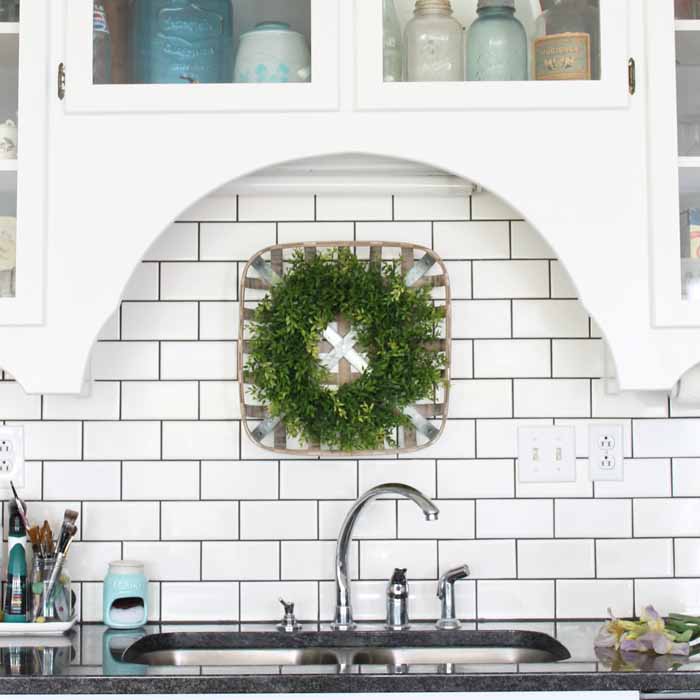 I did want to add a little decor above the sink but frankly that subway tile back splash was a labor of love. I laid every single one of those tiles and didn't want to add any holes. So, a lightweight tobacco basket and green wreath worked perfectly. They are lightweight enough that I could just use a Command hook.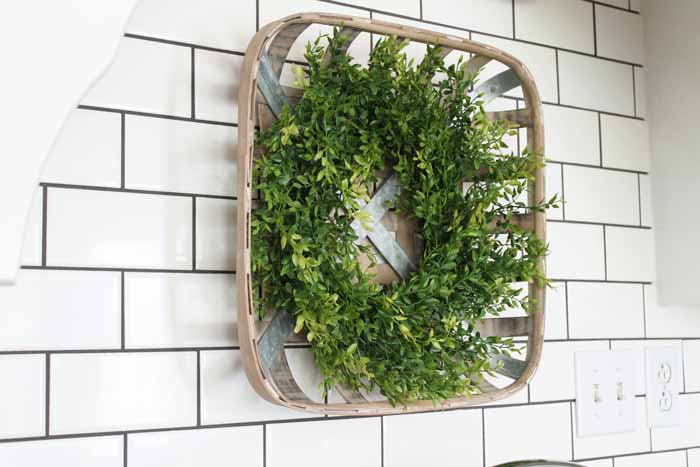 Country Chic Backsplash
Let's talk a bit about that subway tile back splash. I wanted something timeless and the dark grout was totally the right choice in this case.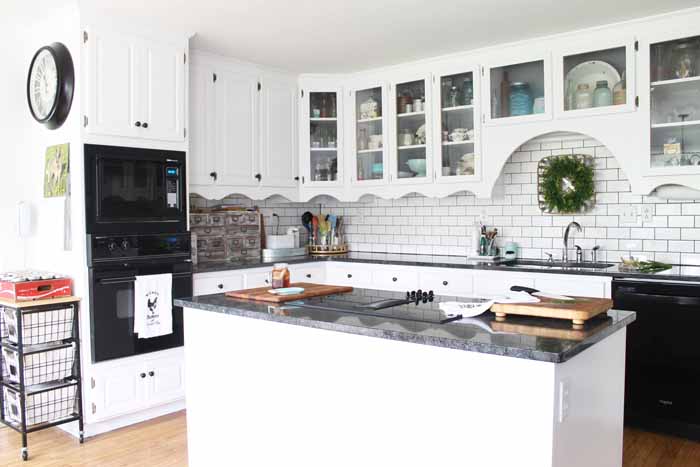 It was actually super easy to learn how to do it myself and I ended up enjoying the process. It went much quicker than painting all of those cabinets!
Farmhouse Kitchen Decor
It really wouldn't be a farm kitchen without a cute tea towel hanging from the oven handle. You can actually see how to make these by clicking here.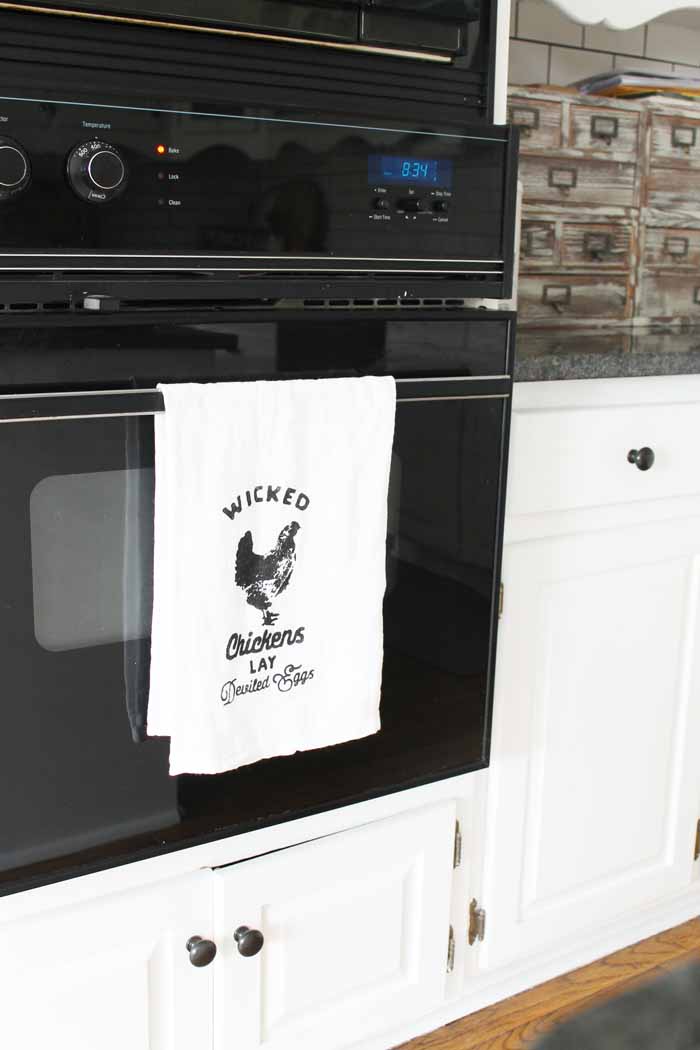 Yes the counters needed just a few decor pieces to keep in interesting.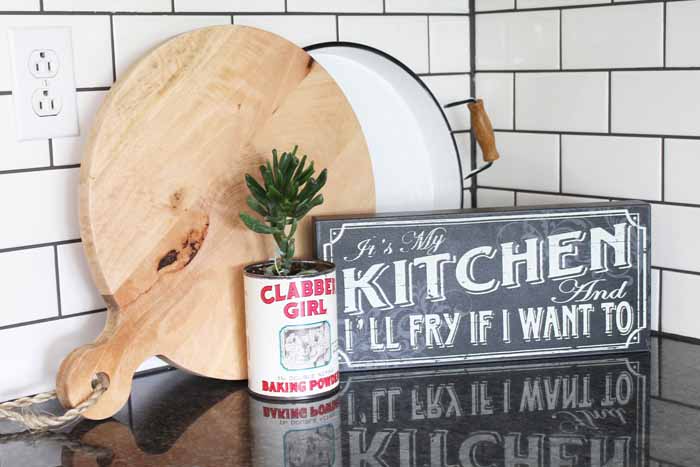 I even stained an IKEA stool gray! Rustic gray stain may be my new favorite thing.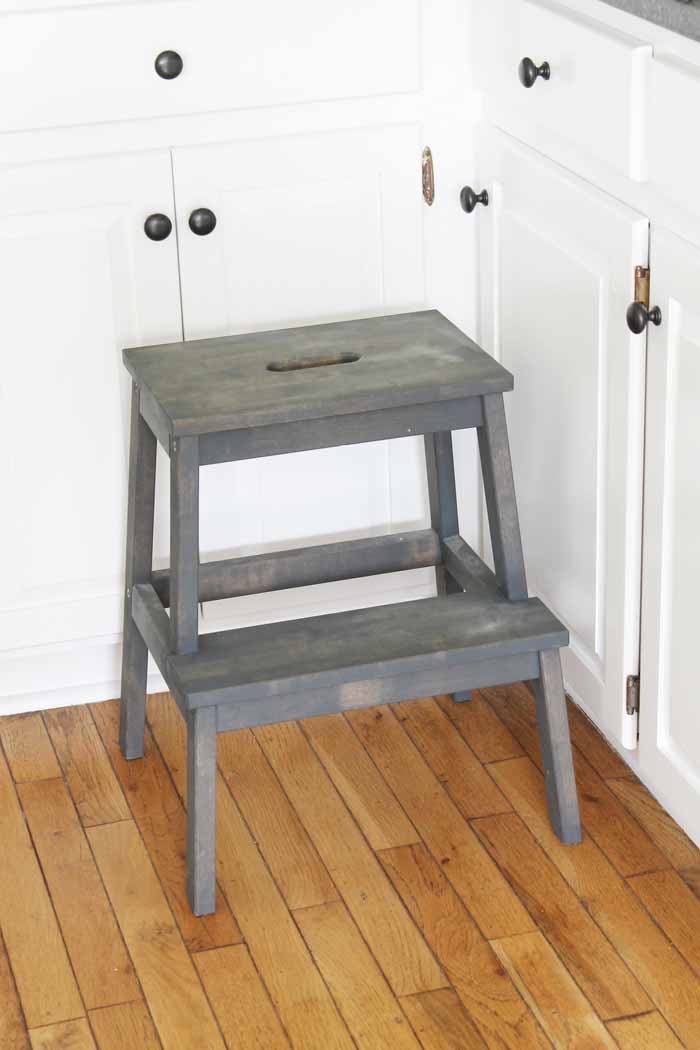 Organizing Countertops in a Farmhouse Kitchen
A few paper organizers help to keep everything straight on the other side of the kitchen.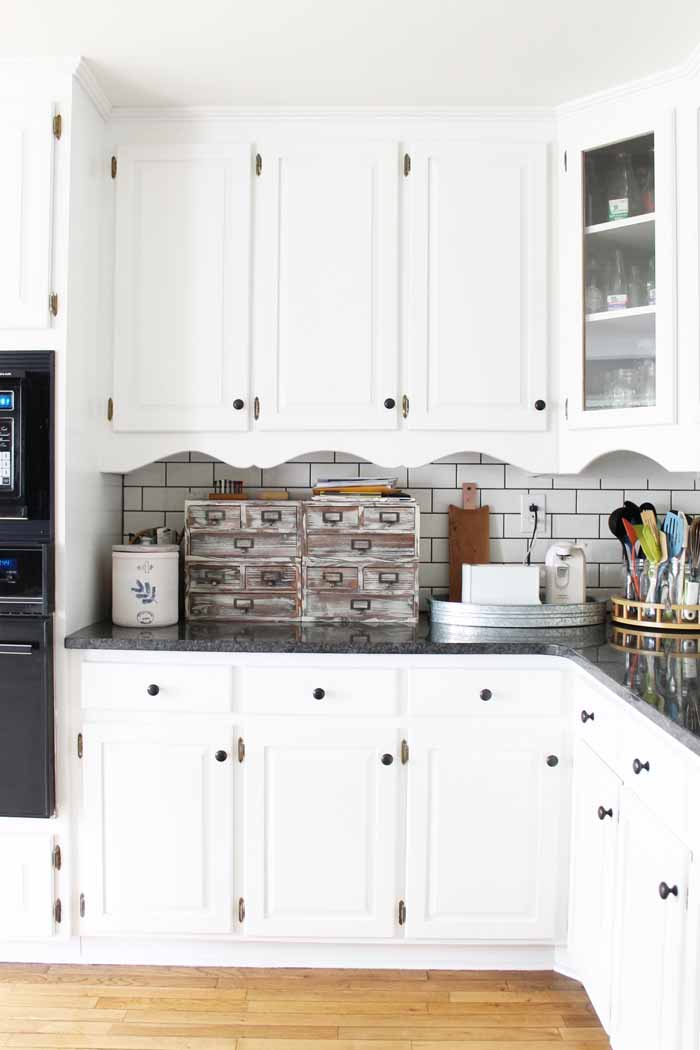 You can find the instructions for this IKEA organizer here. I love the rustic touch and how it turned out!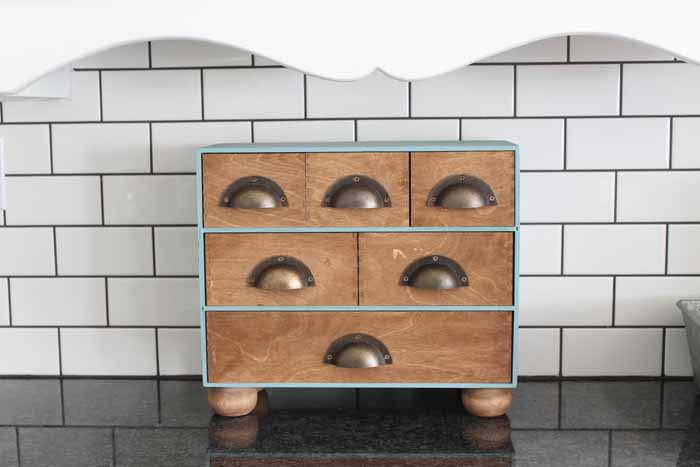 I used a lazy susan as well as a huge galvanized tray to corral items in this corner.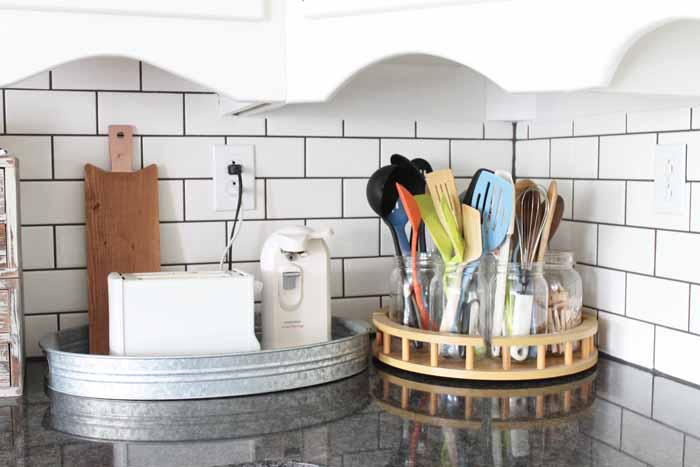 I am a craft blogger so there is always a mason jar of paint brushes by the sink. I corralled it along with a few cleaners on a Rae Dunn plate. And yes you do see a mini blue mason jar holder for the kitchen scrubber! You can find sources for all items in this kitchen at the bottom of this post so don't miss those!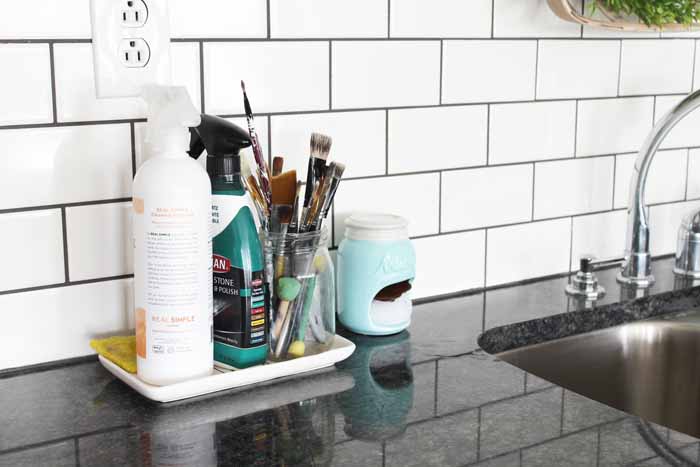 Farmhouse Kitchen Island
In the center of the kitchen is our large island.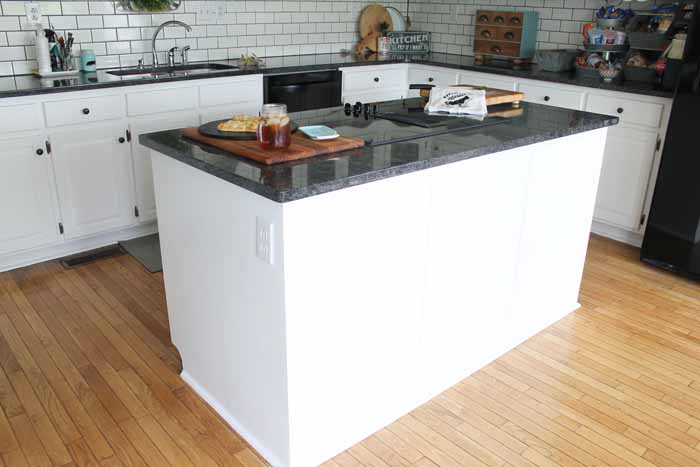 That is where you will find the cook top which was replaced during this remodel as well.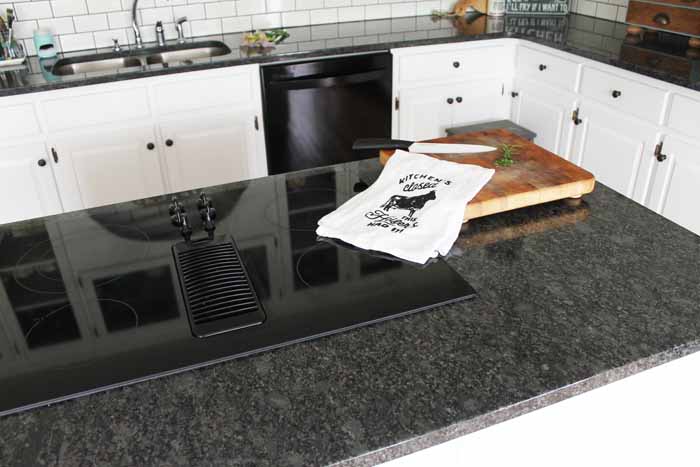 The other side of the kitchen is full of windows as well as a table. Just in case you wonder where all of the natural light is coming from!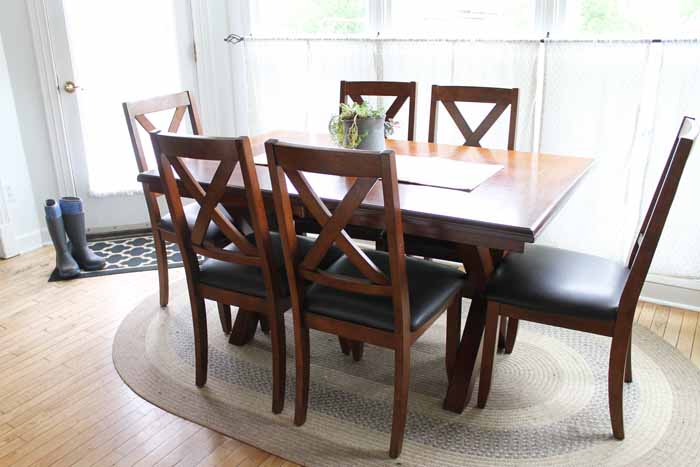 I hope you enjoyed this tour of our farm kitchen! You can find the sources for most of the items used below.
Farmhouse Kitchen Sources
Stacking Galvanized Bins (no longer available)
Kitchen Fry Sign from Hobby Lobby
White Metal Tray from Old Time Pottery
Square Tobacco Wreath from Hobby Lobby
Wreath from Hobby Lobby
Better Homes and Gardens 6-Drawer Wire Cart