Okay. I love Halloween. I love decorating for Halloween. I love creeping out the neighbors. I am that girl. If you are too, you will want to follow along as I create some paper lantern hanging ghosts below and show you how to hang them. Hanging them should be easy right? It is now! This post is brought to you by 3M Command products new outdoor product line and let me tell you I am thrilled. I can now dress up my outdoor areas as must as I want then take it down at the end of the season without damaging any surfaces.
To make your own paper lantern hanging ghosts you will need:
Paper lanterns (I used green, orange, and black)
Vinyl or contact paper
Glue
Clothes hangers
Scrap fabric, faux spider webs, cheese cloth, black freaky fabric, etc
Fishing line
Command outdoor hooks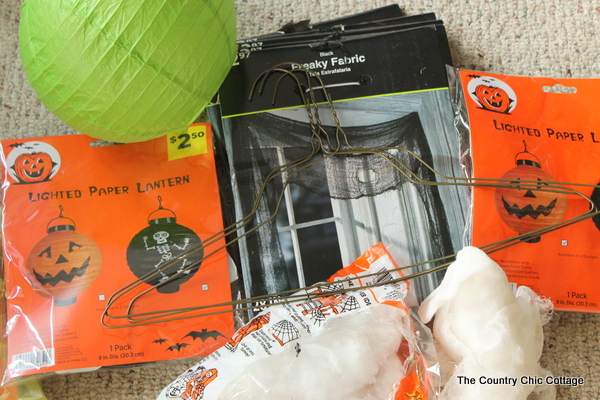 The orange lantern already had a pumpkin face on it but the green and black lantern needed some work. I used vinyl but you can use anything that is waterproof. You will have to glue the faces on the lanterns as the vinyl adhesive will not work outdoors. Cut your face shapes with scissors and glue to lanterns. Allow to dry completely before continuing.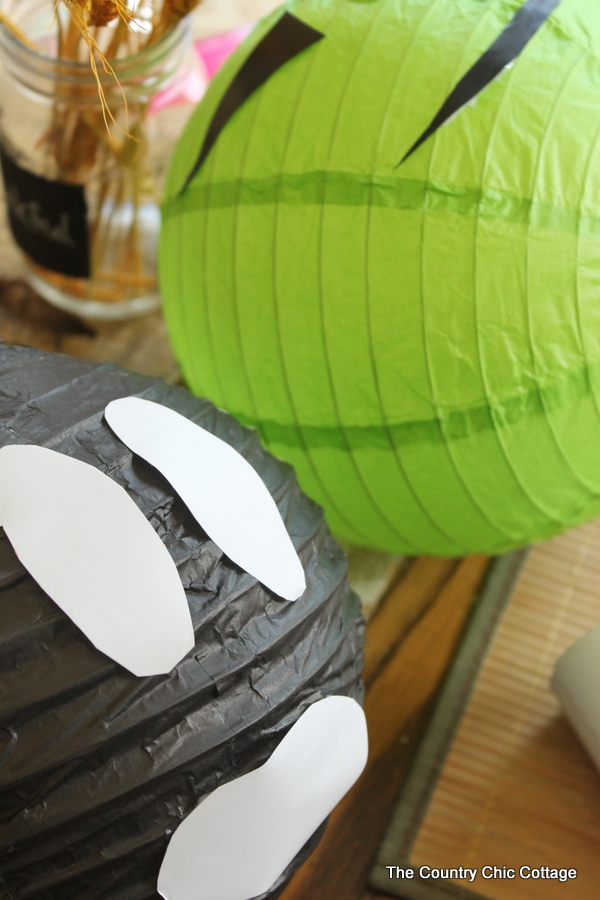 While those are drying, read all of the instructions on your Command products. You need to put these on the surfaces at least an hour before you are going to use them. So grab the proper hooks based on your location (windows or not?) and item weight. Note that Command Outdoor adhesive strips are water and UV-resistant and designed to withstand all weather conditions such as rain, snow and extreme temperatures. They are damage-free and easy to use over and over again with refill strips so you can take them down after Halloween/Fall and re-use them for end-of-year outdoor decor.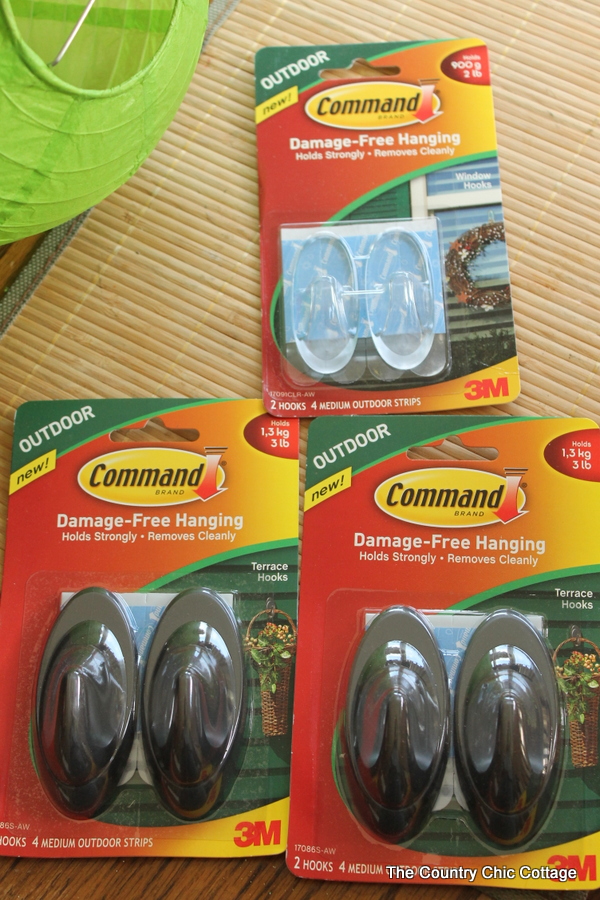 To make the paper lantern hanging ghosts, begin by adding the hanger to the inside of the paper lantern so the lantern sits on top of the hanger. Secure with fishing line. Wrap the hanger in scrap fabric and fray as needed to create a spooky effect. You can wrap on faux spider web, cheese cloth, freaky fabric, or anything else you have on hand. I just tied everything on but you can use glue if you wish.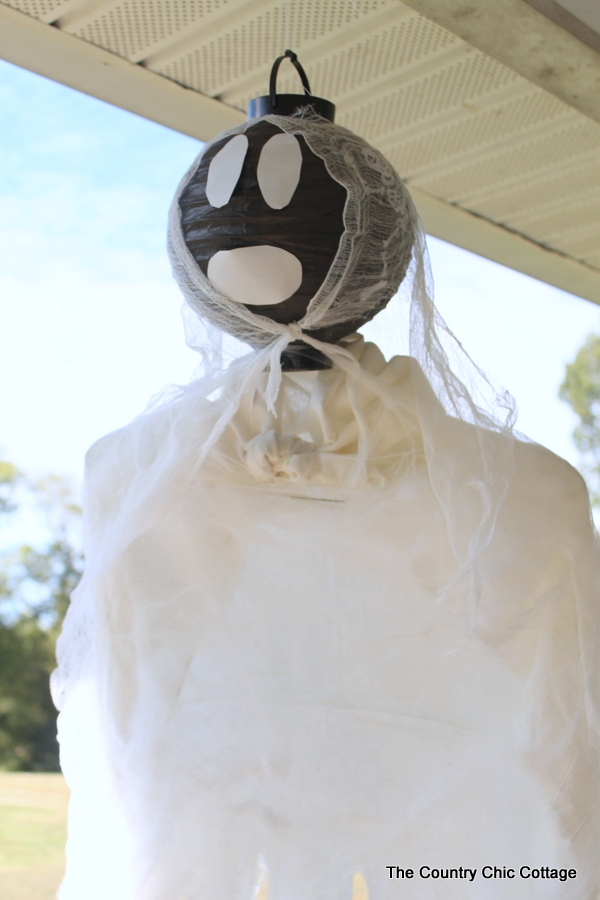 Take your ghostly creations outdoors and hang up on your outdoor Command hooks already in place. Just tie with another piece of fishing line to get the length and position correct if needed. Why yes that one is right on my vinyl siding! It stuck like a charm and made a perfect place to hang my jack-o-lantern friend.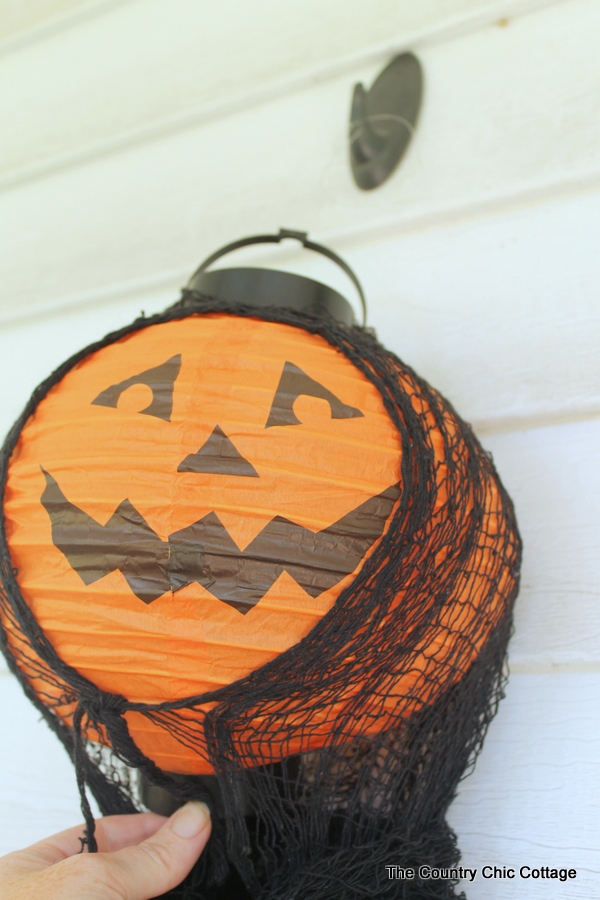 I also used some of the Command outdoor window hooks to spookify our side lights with some additional freaky fabric. I was using some suction cup hooks that I found in a drawer before and they kept falling off. I have had zero issues since switching to the Command version.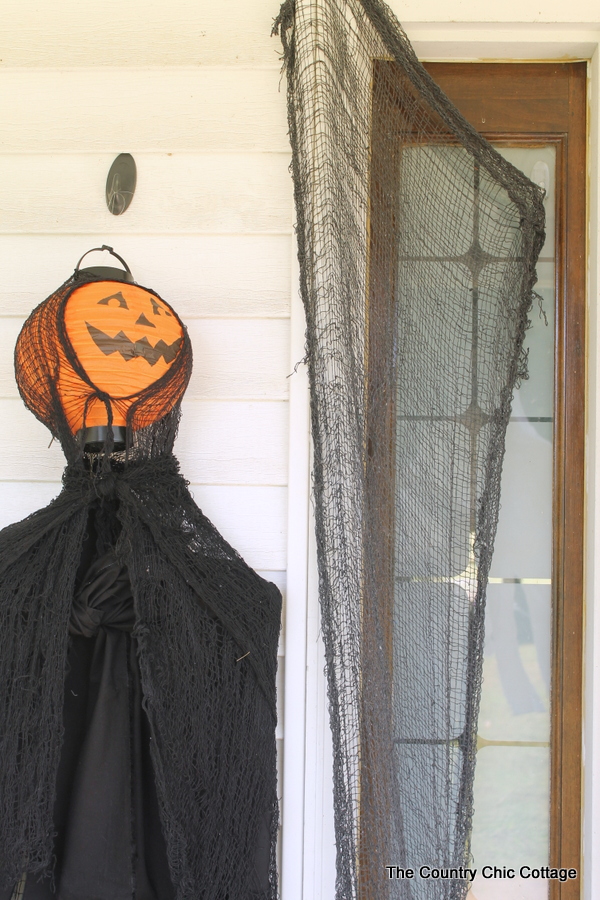 The witch version of my paper lantern hanging ghosts also received a small hat. I just cut a hole in the top of the hat to string through the fishing line for hanging.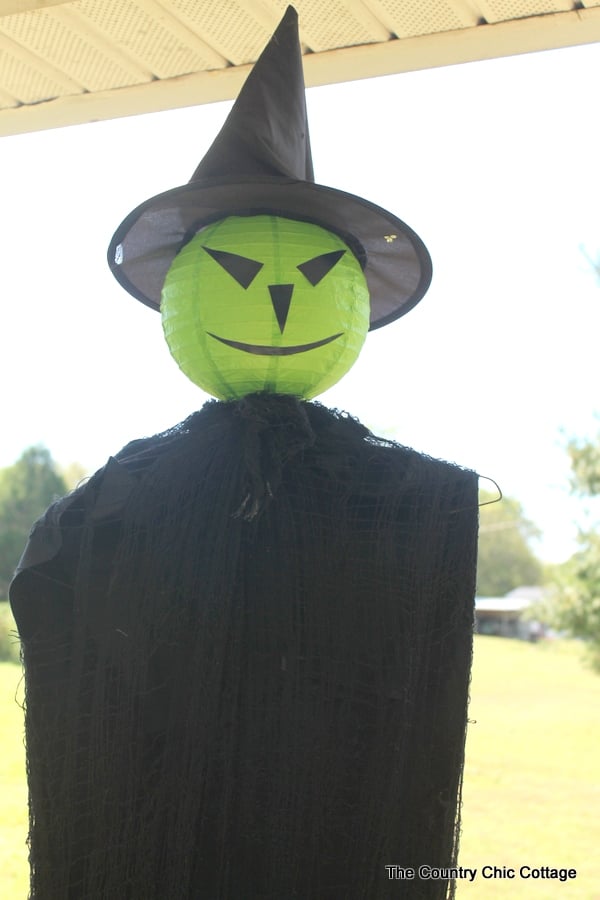 These are a great addition to my outdoor Halloween decor I posted a few weeks back. I must say it has been so windy here the past few days and these Command outdoor hooks have hung on beautifully! I thought I might be wasting my time as the wind was really whipping when I hung these and snapped these pictures. But my ghosts are still hanging from their hooks and frightening the neighbors. Mission accomplished. Be sure to check out the full line of 3M Command Outdoor products. This post is sponsored however all opinions and projects are my own.