Did you know that you can make paper plants with your Cricut machine? I am actually going to use my Cricut to make paper plants 5 different ways then I have a bonus felt plant for you as well. I can't leave felt off of this post as it is a great way to make plants as well! So, grab your Cricut machine and add some green to your home. You can now have plants even if you don't have a green thumb at all. These are also perfect for any garden party you are hosting this spring either as a centerpiece or to give away as party favors! You can even add my giant paper flowers to the mix.
This post is sponsored by Cricut, however, all projects and opinions are my own.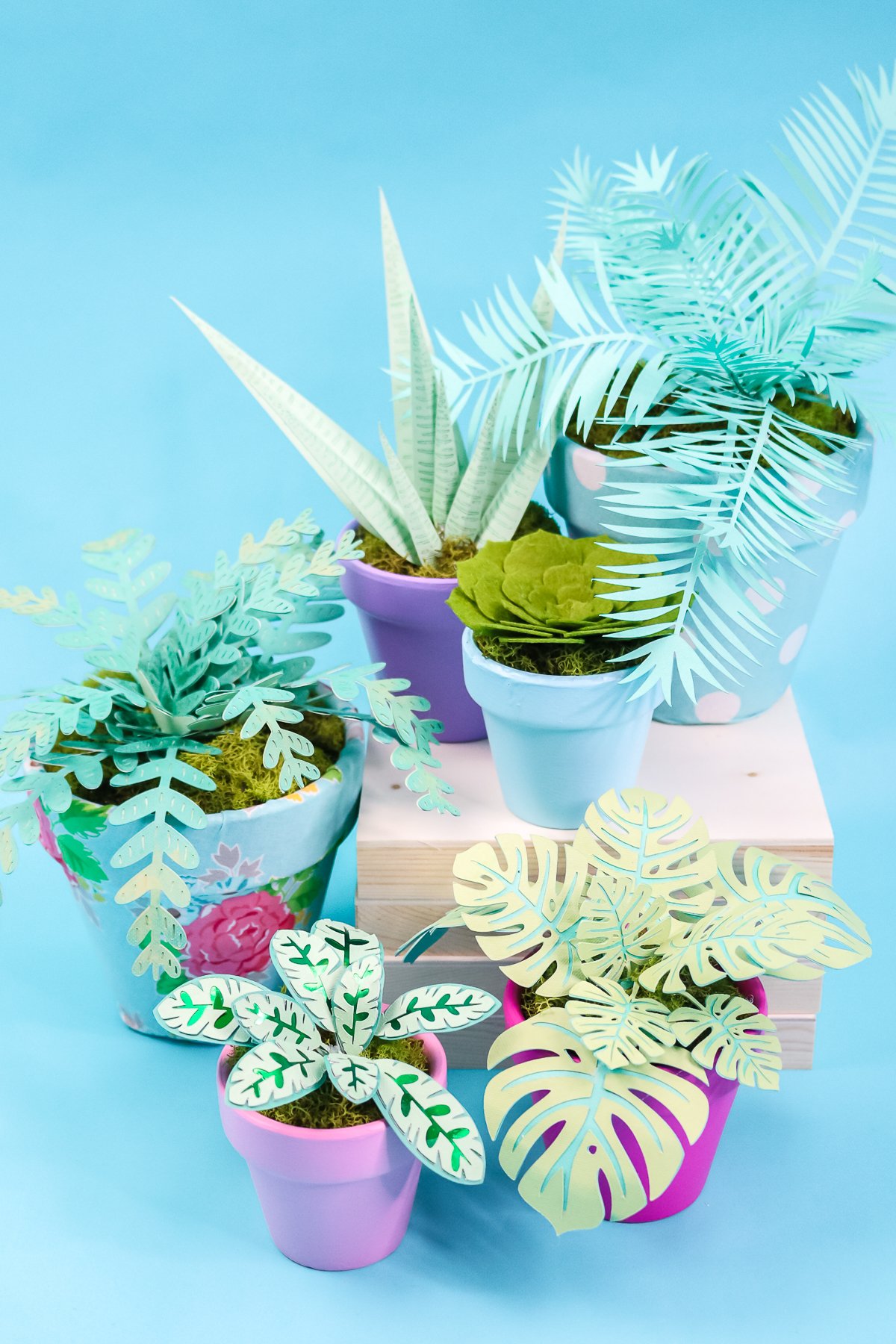 Paper Plants
For this post, I will be making several plants. These include aloe, palm, fern, monstera, lily, and succulent. For each of these, I will be showing you how to use your Cricut for designing and cutting the pieces. Then I will walk you through the assembly of each plant. Each of these teaches a different technique that you can then apply to other plants that you may want to make. These can be made with any Cricut machine, however, some techniques may limit your machine choice and we will talk about that below.
Supplies needed:
I am listing all of the supplies I used below but remember that not all supplies will be used to make all of the plants. Choose the supplies based on the plant you will be making.
Cricut machine (The Cricut Explore will make everything shown here but I will discuss options for using other machines below.)
Paper (I am using 4 shades of green cardstock plus green foil poster board.)
Felt (The Cricut felt cuts best and is the perfect weight for this project.)
Hot glue gun and hot glue
Glue with precision tip for paper (I like the Bearly Art glue but any that you love will work here.)
Styrofoam
Serrated Knife
Paint for clay
Fabric
Hot glue fingertips
Brayer
Cricut cut file (click here to access the file for the plants)
How to Make Plants from Paper Video Tutorial
Are you ready to watch me make these paper plants? I actually have the entire process on video. You can watch me design the plants in Design Space, cut the pieces, and assemble each one. Just click the play button below!
Can't watch the video or missed some of the steps? You can also follow along below as I walk you through making the plants.
Designing Faux Plants in Cricut Design Space
The first thing you will want to do is to click here to access my project. This will give you a starting point for the six plants that I made. You can delete any of these that you don't want to make just by clicking the plant and clicking the X. You will also want to change any colors if the ones I used do not work for you. Don't love the plants I have chosen? Click on images and search the Cricut library for even more options. Then size everything to fit your pots and click make it.
NOTE: The aloe plant is set to use the foil tool. If you don't have this tool or if you have the Joy machine, you can click the foil lines and change to draw lines instead. You can then use a pen in the color of your choice to get a similar look.
Rearranging Mats
After you click "make it", you may notice that some of your mats need to be rearranged. I am using the foil tool and I want to make sure that all of my foil leaves are together on the mat, for instance. You can click on the items right on the mat and move them around. You can also combine items from different mats if you would like. Just click the three dots that come up when you have an item chosen and click on the option to move to a different mat. In this case, I moved everything around so that I was only using one sheet of paper and my foiled leaves were in the upper left and lower right hand corners. If you want to watch the steps for moving items around, be sure to click play on the video above.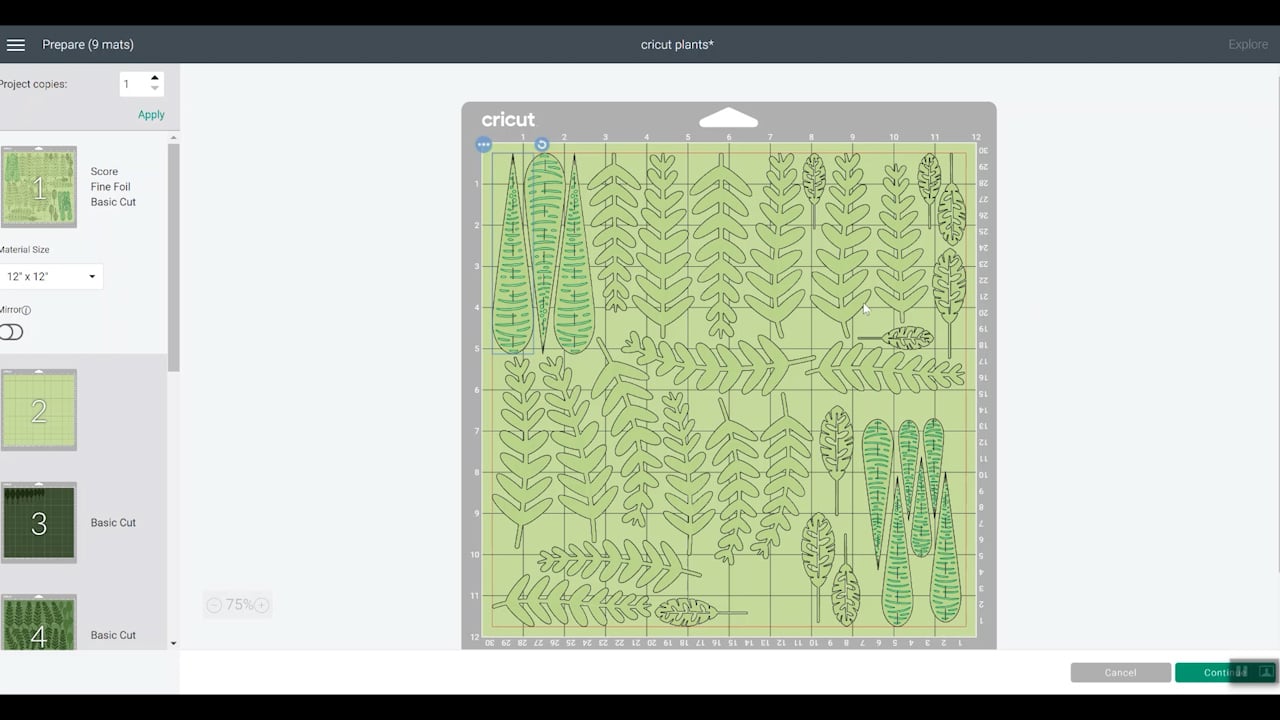 Cutting Paper Plants on a Cricut Explore Air 2
Once you are happy with your mat arrangement, it is time to cut your pieces using your machine. You can use any Cricut machine to cut the paper plants, but I am using my Cricut Explore Air 2. The first mat had some score lines, so I added in my scoring stylus first as prompted in Cricut Design Space.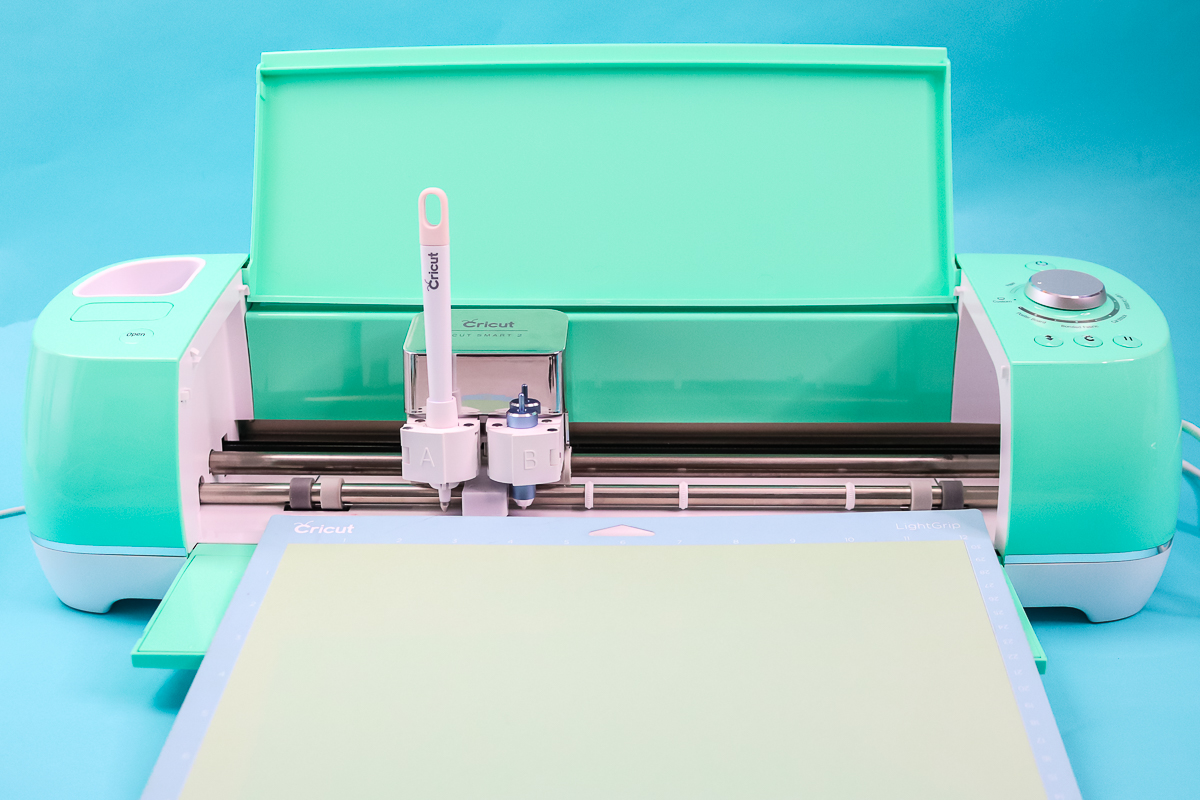 Once the scoring was complete, the machine ejected the mat almost all of the way and moved the carriage all the way to the right. This was to give me room to add foil sheets to those corners.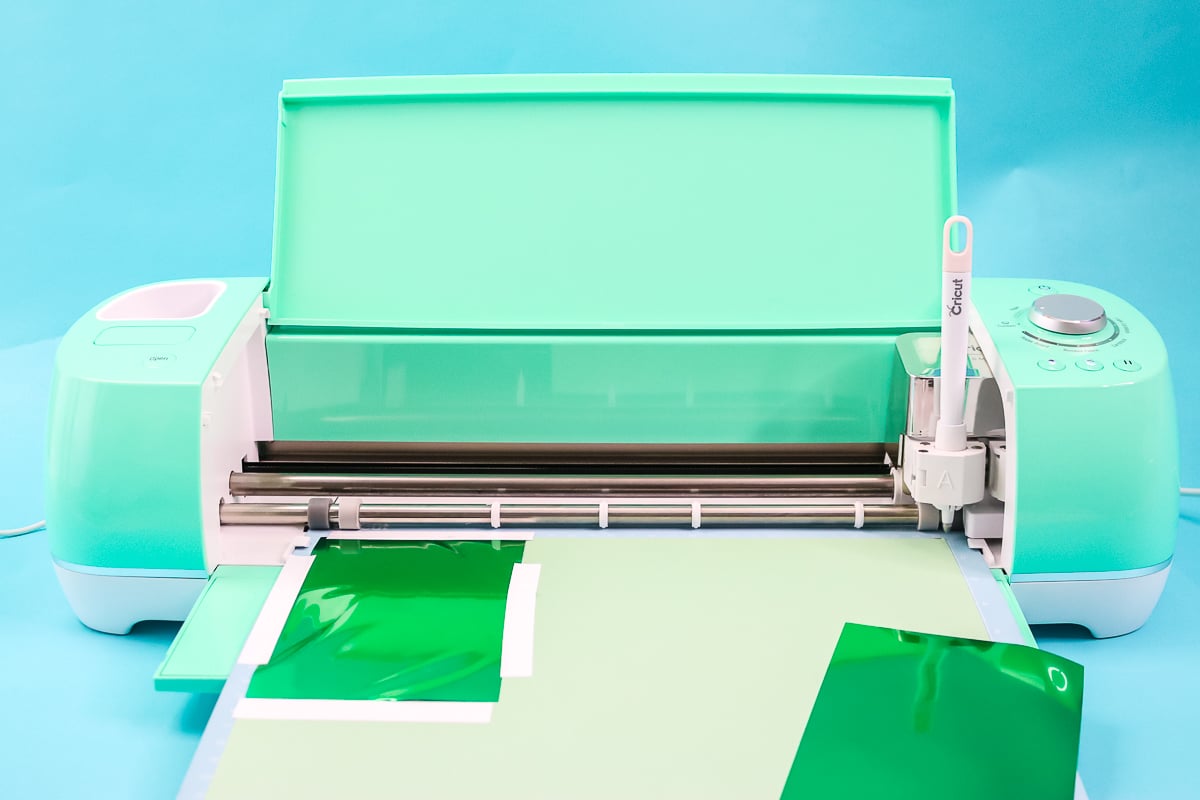 You will want to tape down all four sides of your foil sheet and pull it tight. You will also want to make sure your foil tool is installed in clamp B before pressing the C button once again to add the foil lines.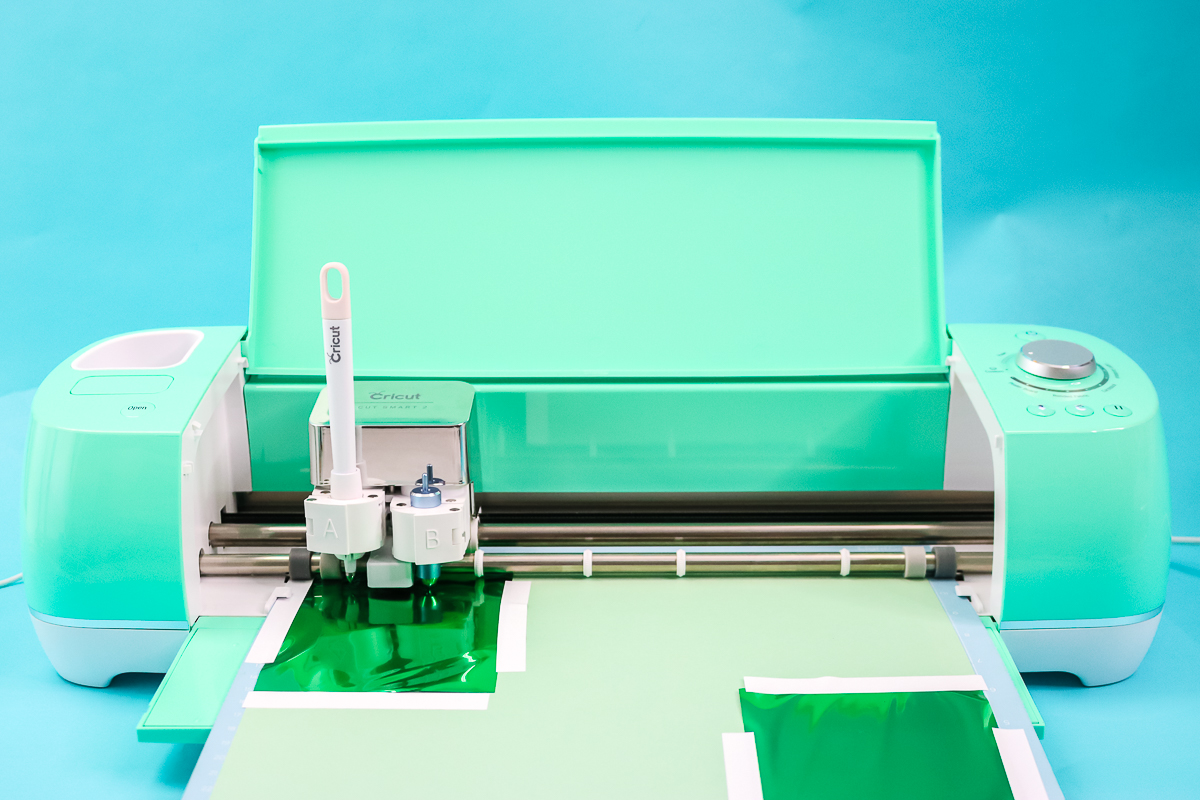 Once the foil lines have been completed, the machine will eject the mat almost all the way again and Design Space will prompt you to remove the foil sheets. You will also change the foil tool at this point and add in your fine point blade.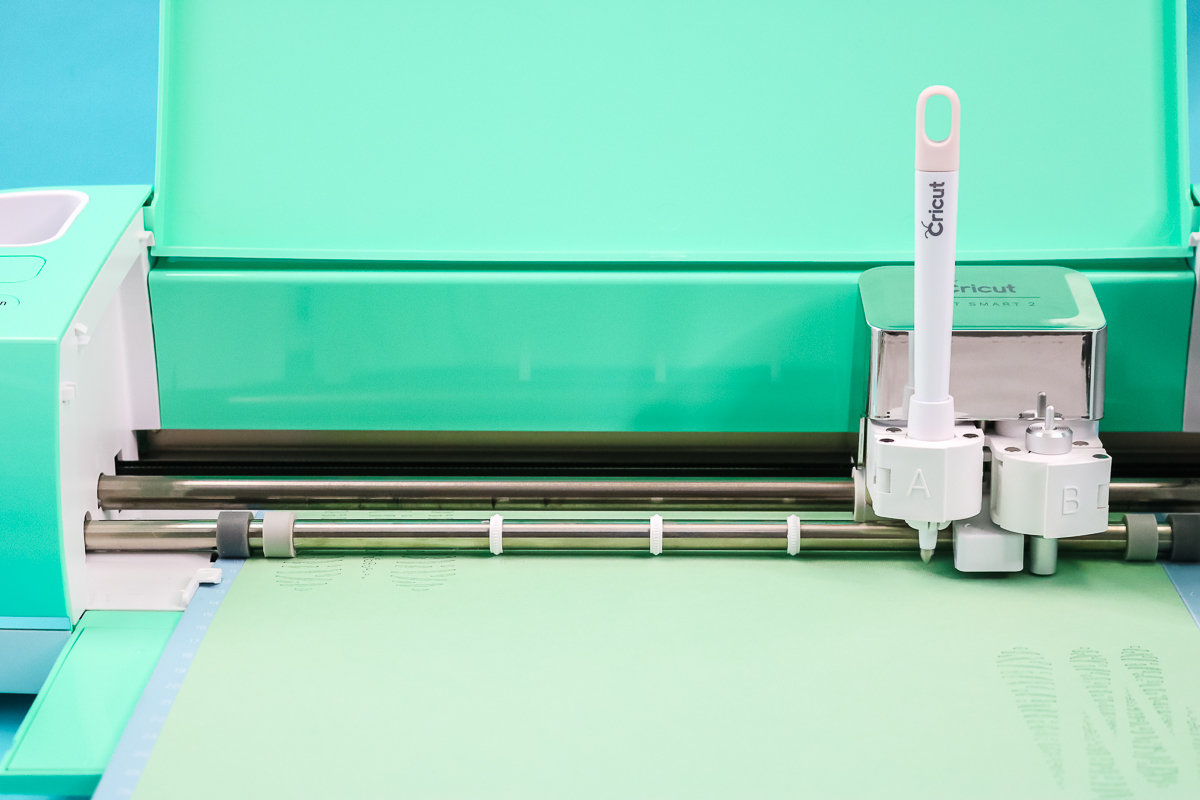 From there, the machine will cut all of your leaf shapes. I only had one sheet with the foil lines so the rest of the paper sheets were a bit more simple as I just needed the fine point blade in my machine. I prefer the medium cardstock setting for all Cricut cardstock and I changed to the foil poster board setting when cutting that mat. Remove all of the pieces from your mat once cut and sort into piles for each plant.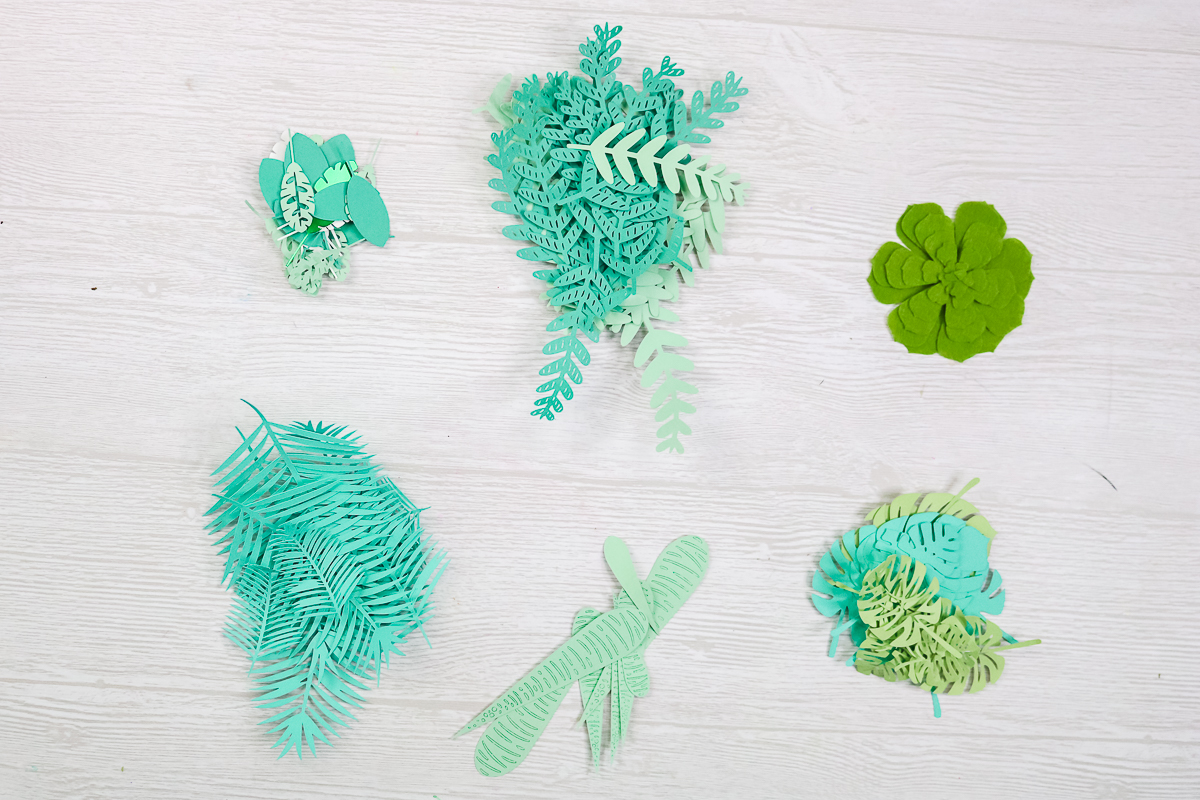 Notes for Cricut Joy and Maker Users
For the Cricut Joy, you will want to change the foil lines out for pen lines. You would also want to remove the score lines. Otherwise, you should be fine cutting all of the paper plants. The Joy may have trouble cutting the felt, however.
For the Maker, the machine will work in a similar way to the Explore above. You can choose to use the scoring wheel instead of the scoring stylus. Either will work in this case.
Cutting Cricut Felt
For the succulent, I chose to use felt. You can also make this same plant with paper instead. The Cricut Felt will cut with either the Explore or the Maker. I have used both machines. I ended up cutting this one with my Maker as some of the details were really small. If you only have the Explore, I would recommend either making the project larger or deleting some of the smaller pieces before cutting.
A tip when cutting felt is to use an old mat of any color. I have this purple mat that has really seen better days and was already really dirty. That is actually perfect! The felt will usually get all over the mat so I would rather have a well-worn mat than a new one in this case. Just be sure to use a brayer to get the material down on the mat well.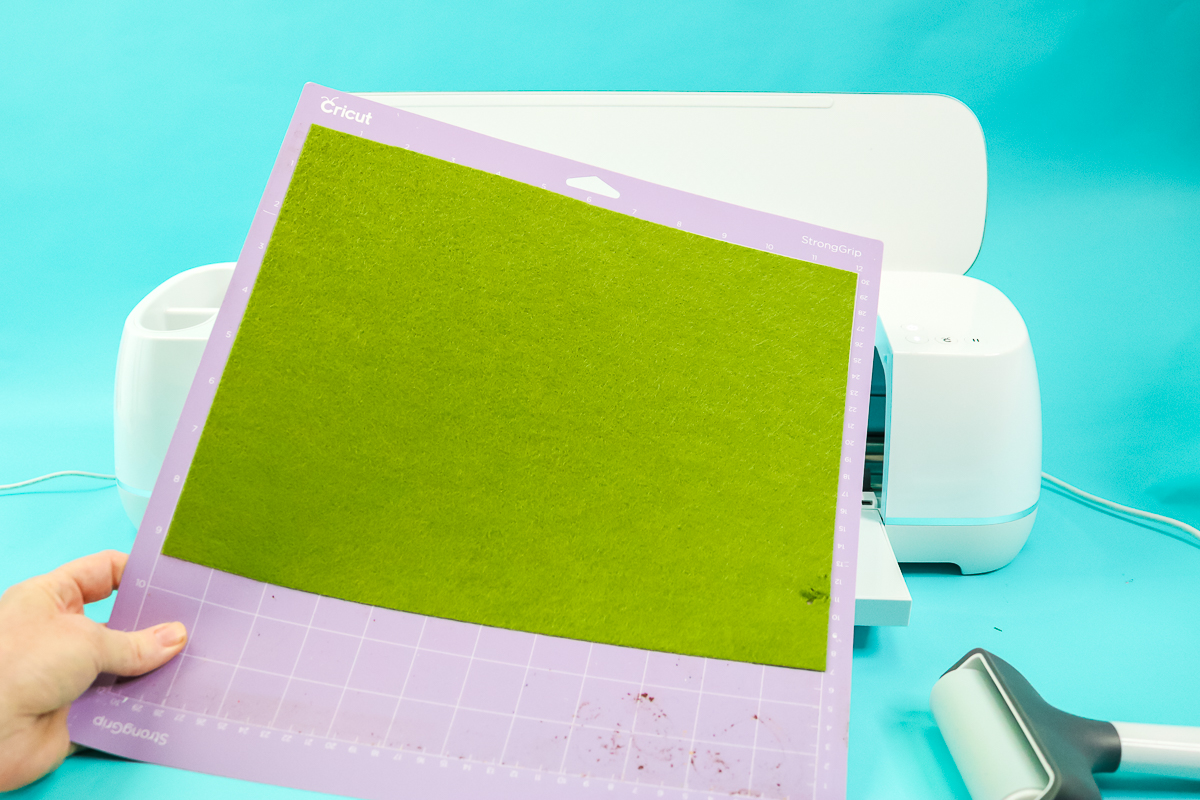 I used the Cricut felt setting and my rotary blade for these cuts.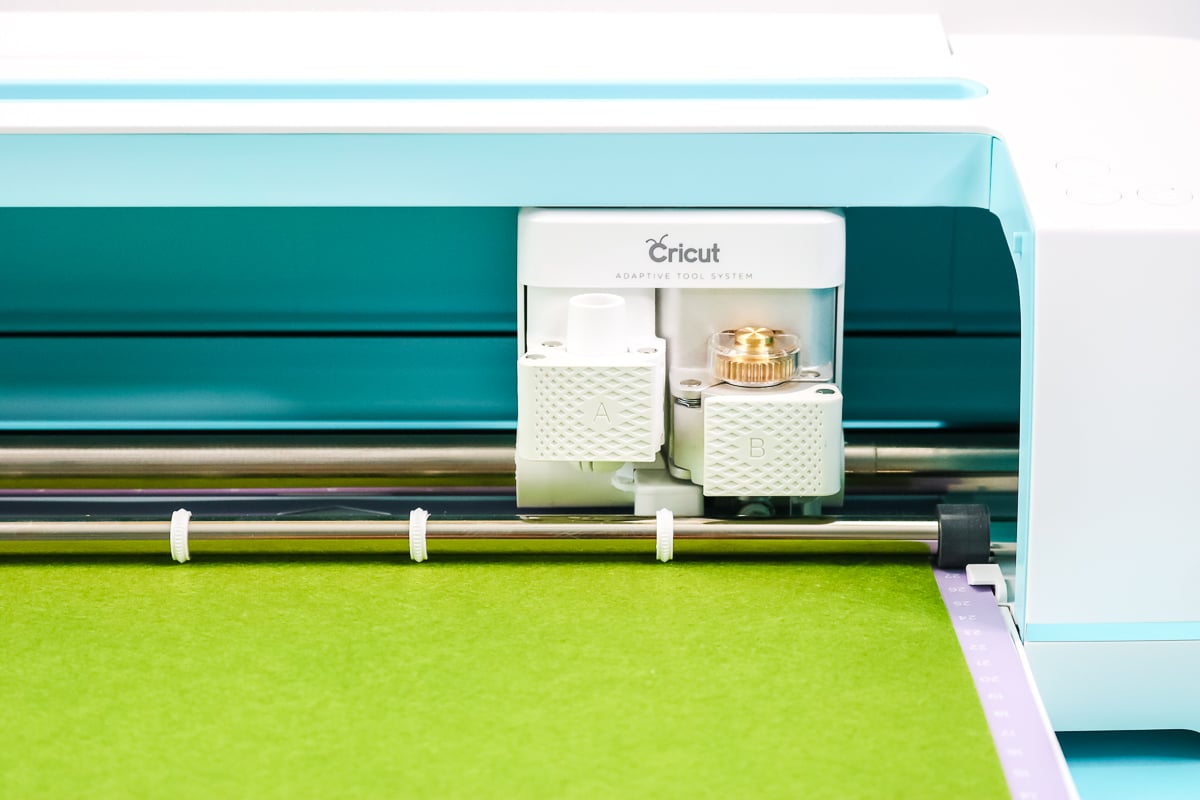 The just remove the excess around the outside and carefully remove the pieces from the mat.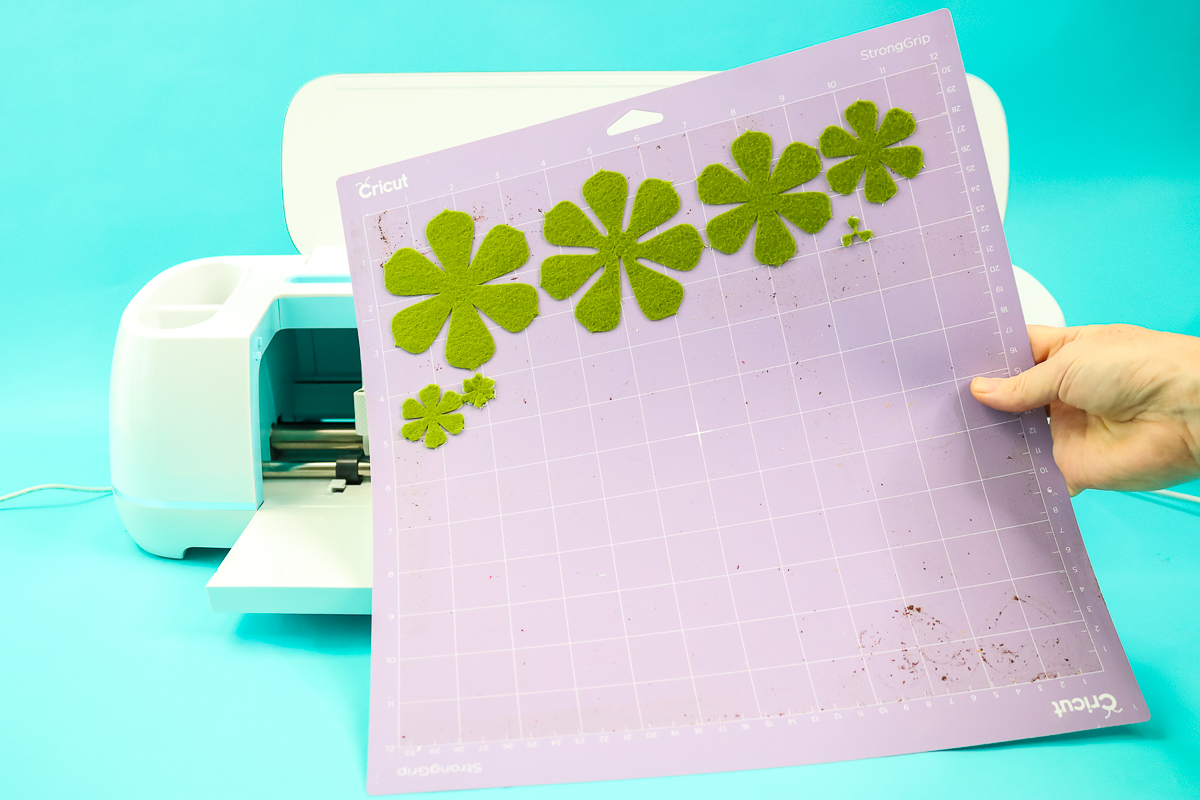 Preparing Your Pots
Now we have all of our pieces cut, we need something to put them in. Below I am covering how I decorated my pots as well as what you will need for the inside to hold your plant up.
Pot Decoration Ideas
I actually decorated my pots a few different ways. First, you can use Mod Podge Ultra to cover your pots with fabric. You can get a full set of instructions for doing that here. Second, you can paint your pots with any paint that is good for clay. These pots took two coats of paint and I also painted a little of the inside so that the finished project looks complete. Allow everything to dry before continuing with assembly.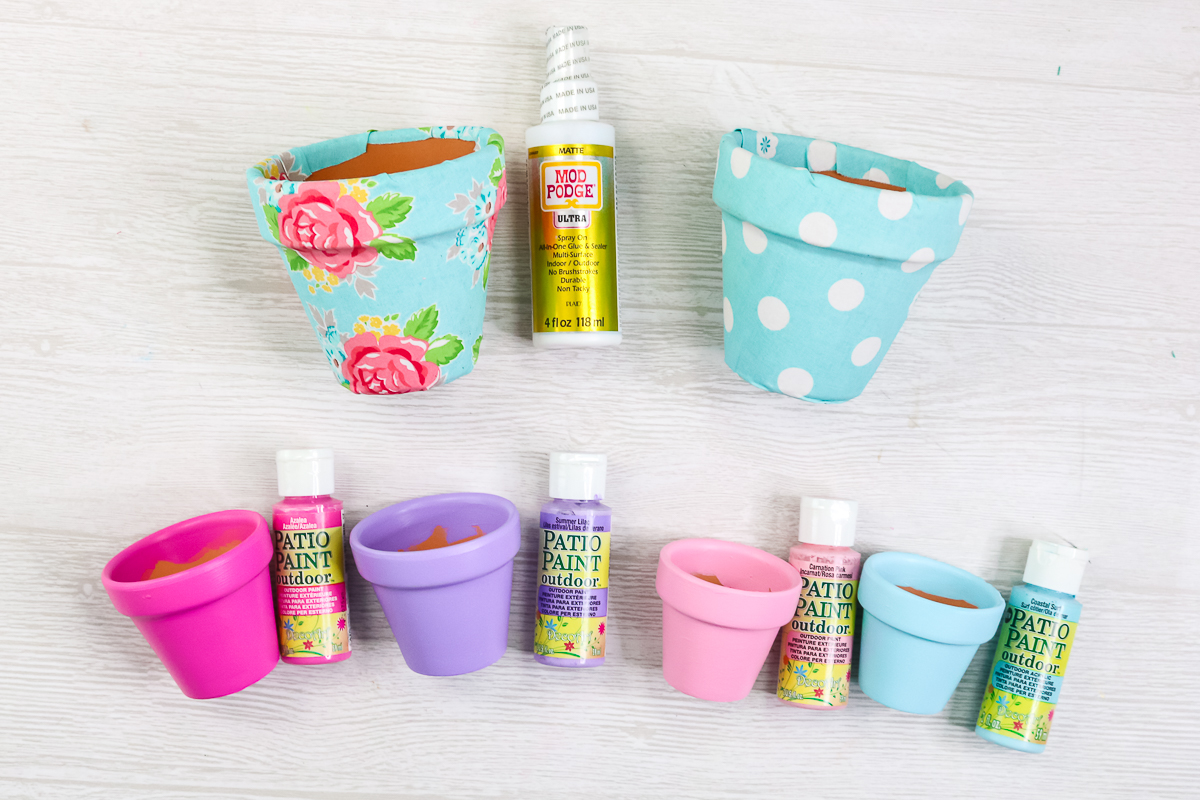 What to Add Inside Pots
Once your pots are dry, you will want to fill the insides so you have something to glue your paper plants to. I like using styrofoam. You can add in balls as I have done here or even small discs. Any shape that fits inside the pot is fine.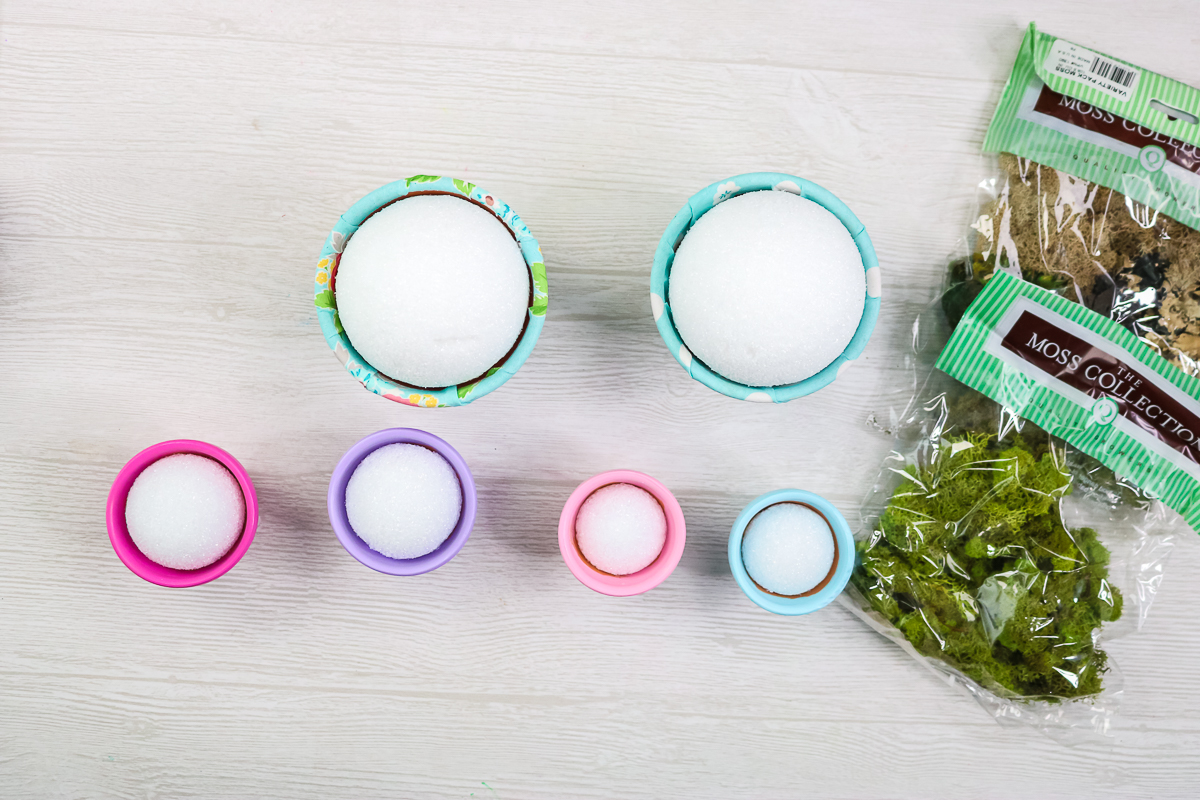 You do want it to sit slightly below the lip of the pot. If your foam is too tall, you can cut it with a serrated knife. Remember this does not have to be perfect as it will be covered up. Cut your foam and press inside of each of the pots.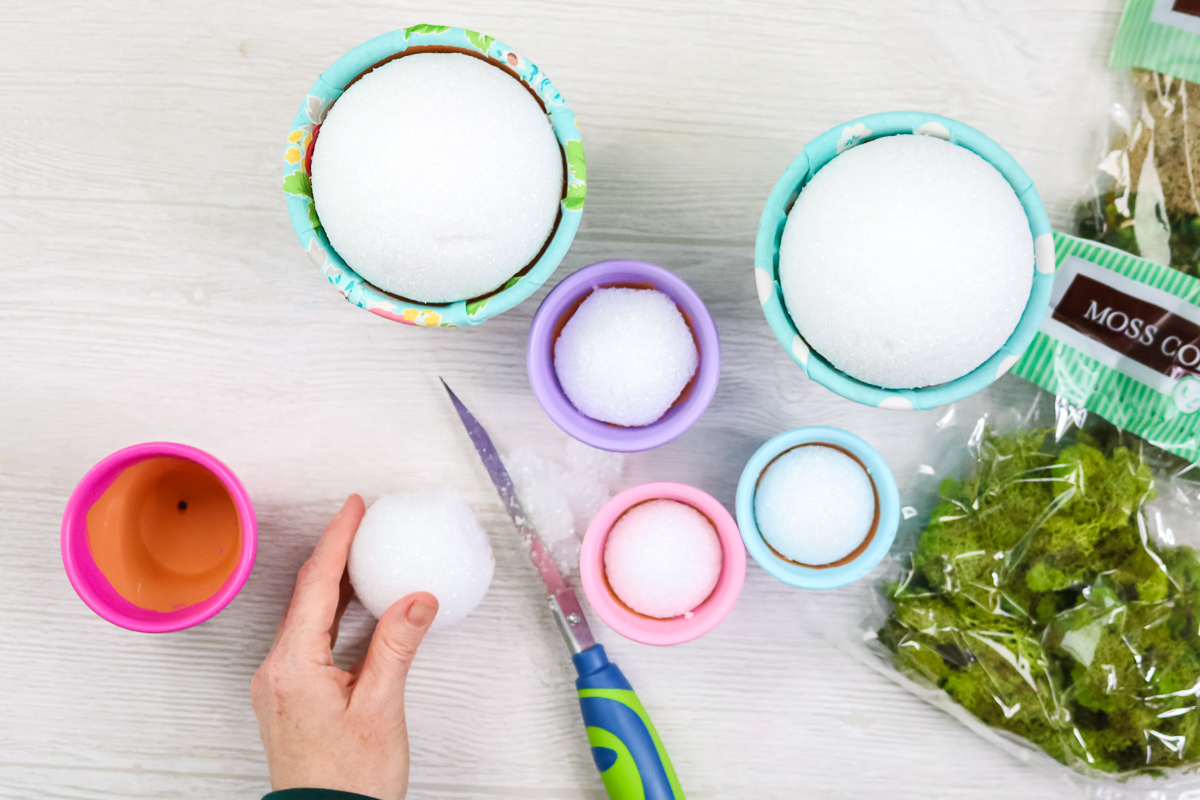 Then you will want to cover that foam with a layer of moss. I don't even glue this down. Just spread the moss evenly over the top in a thin layer.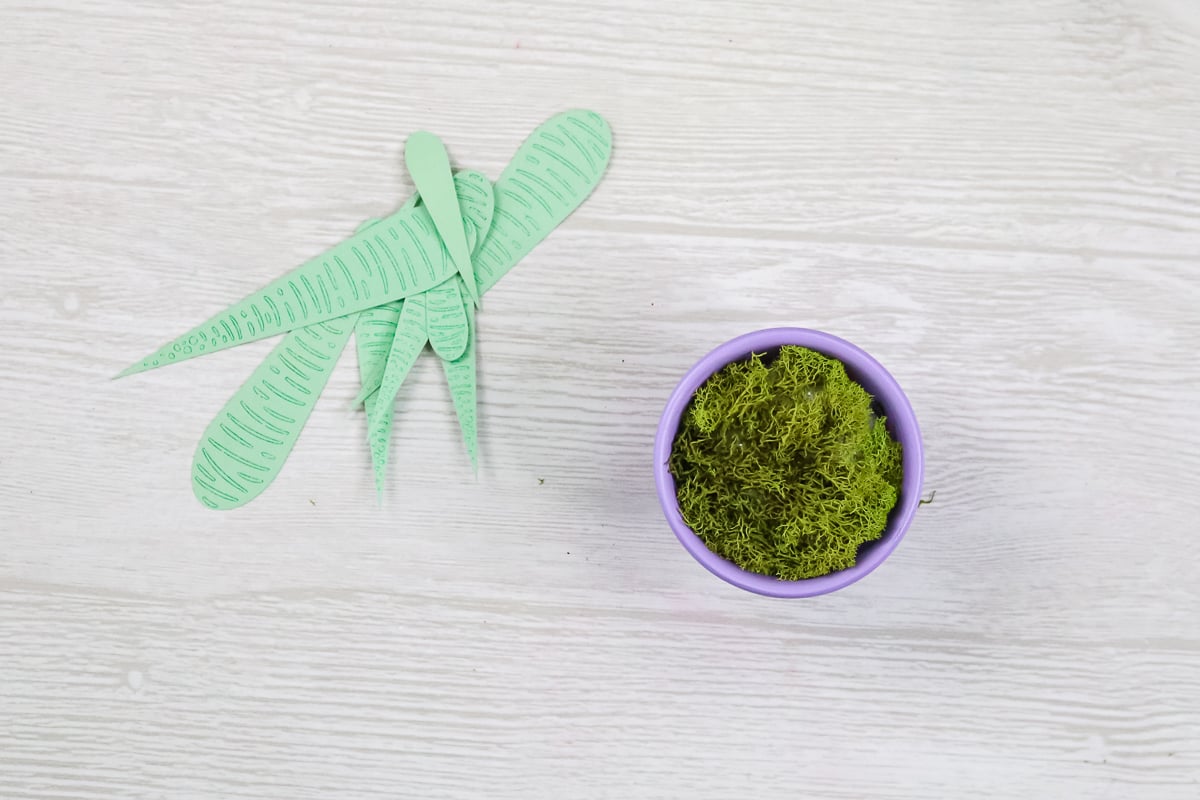 Assembling Plants Using a Single Layer of Paper
Now we are finally ready to make some plants! Start simple with a single layer of paper. Just one sheet of paper can make something amazing.
Aloe Plant
Fold these leaves along the score line slightly. You are looking for a slightly bent leaf that looks real.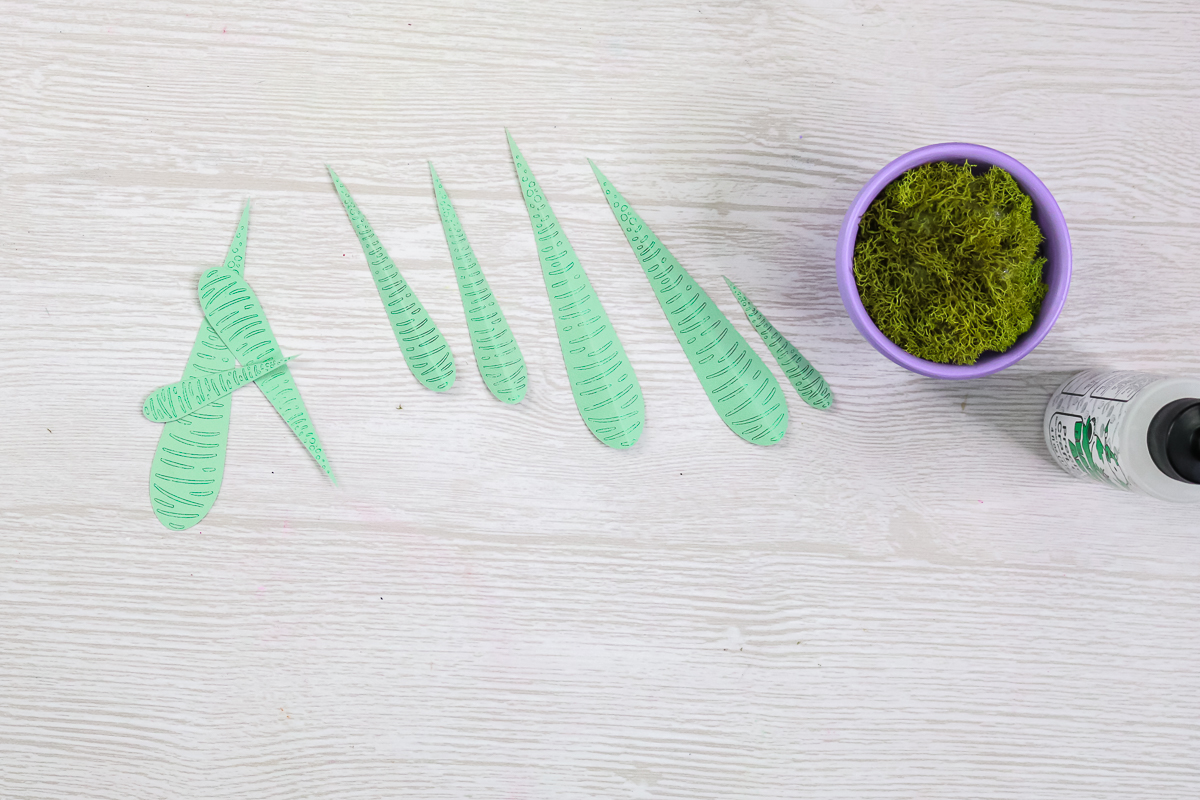 Then add hot glue to the bottom of each leaf and hold it onto the styrofoam until the glue cools.
Repeat until all of your leaves are in your pot and you are happy with the look. That is it! One plant down!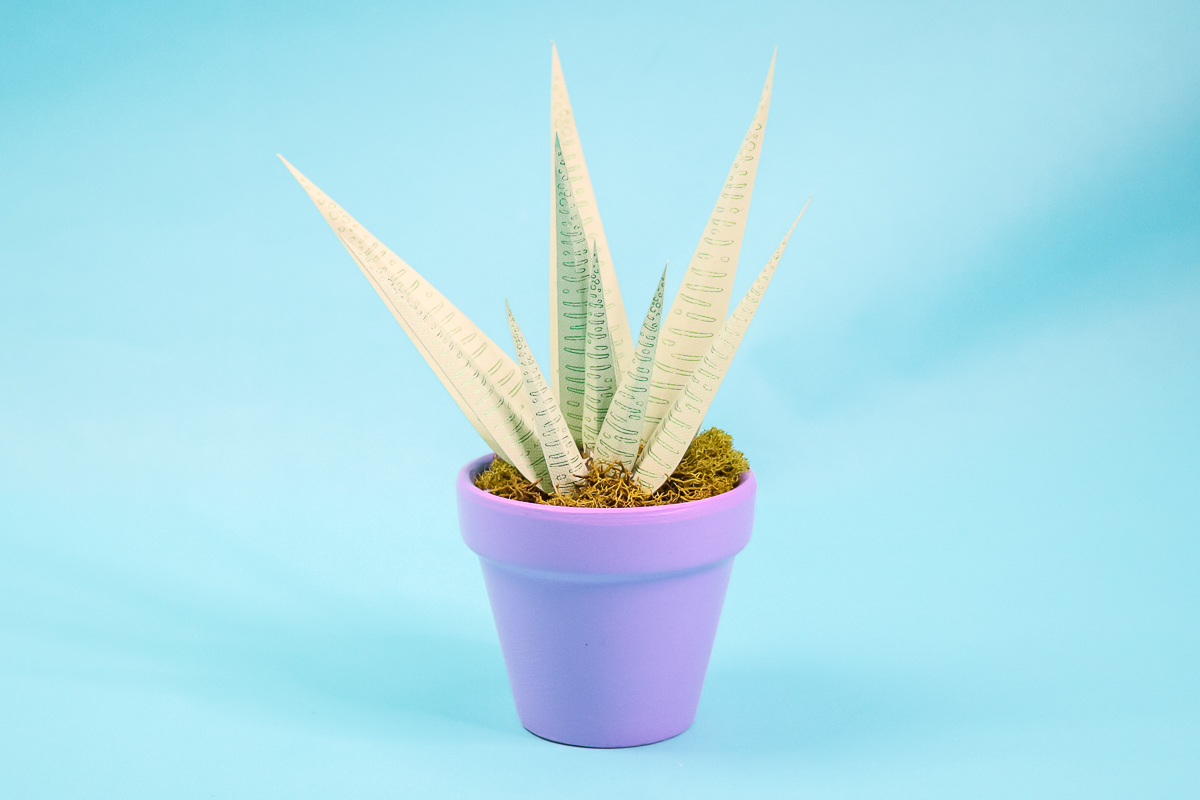 Palm Plant
For this one, the single layer of paper makes the leaves really floppy. We are going to fix that with a bit of floral wire. Cut the floral wire so that it goes about halfway up each leaf and leave some length to insert into your styrofoam. I like to leave enough length to double up the end for easier insertion.
Then add hot glue to your leaf and put the floral wire on top of the glue. Hold into place for a few seconds using a hot glue fingertip.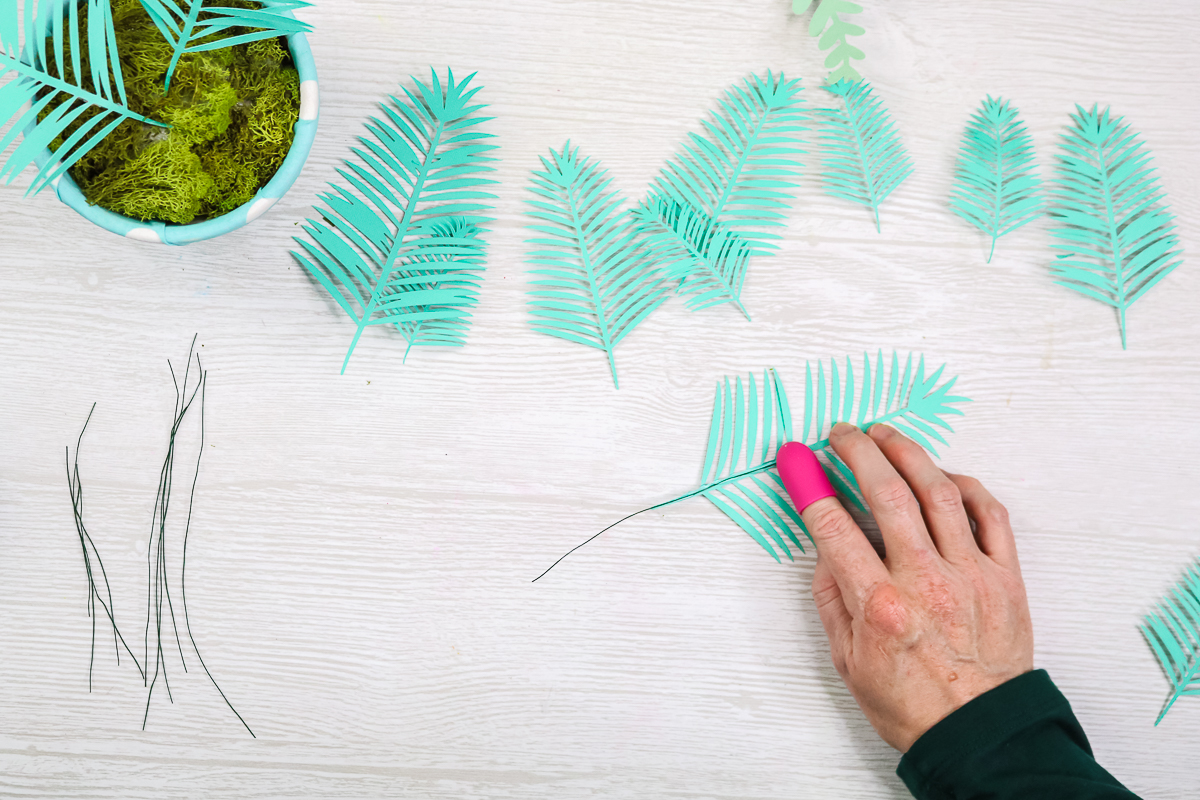 Then fold over the end of the wire.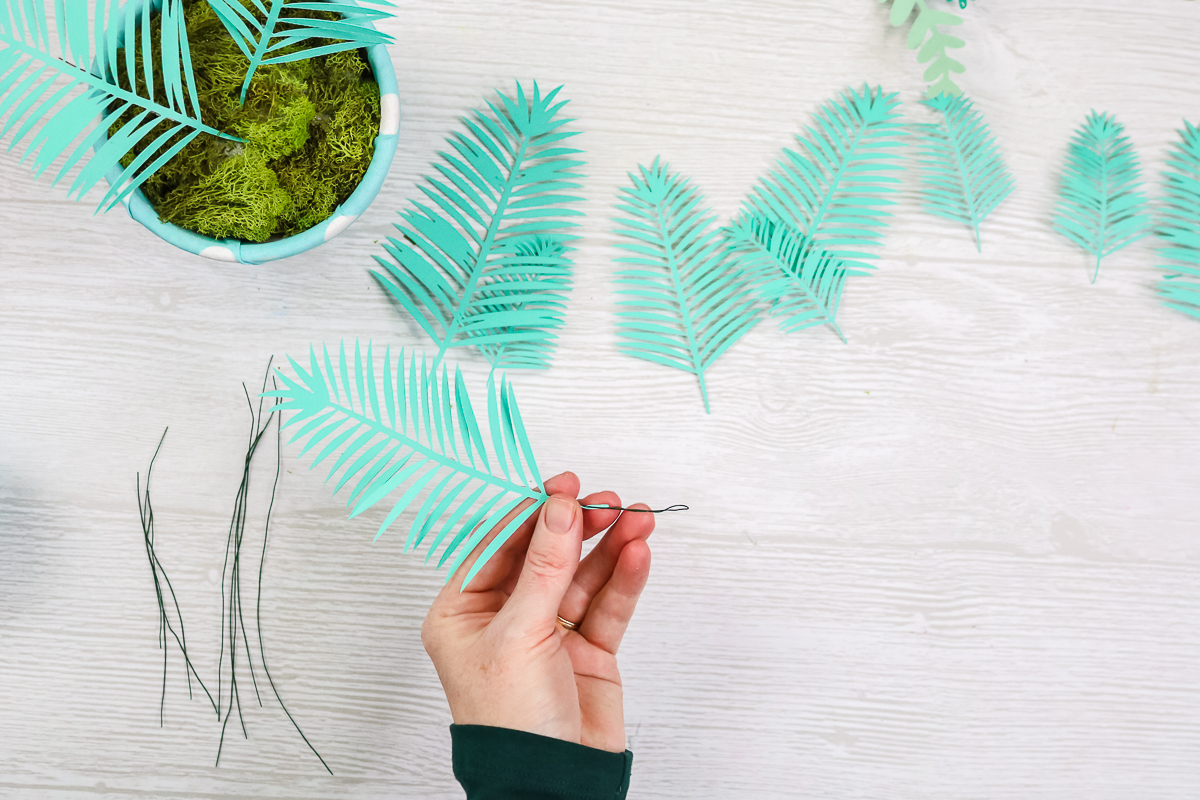 Start inserting them into the foam and use the wire to shape each of the leaves.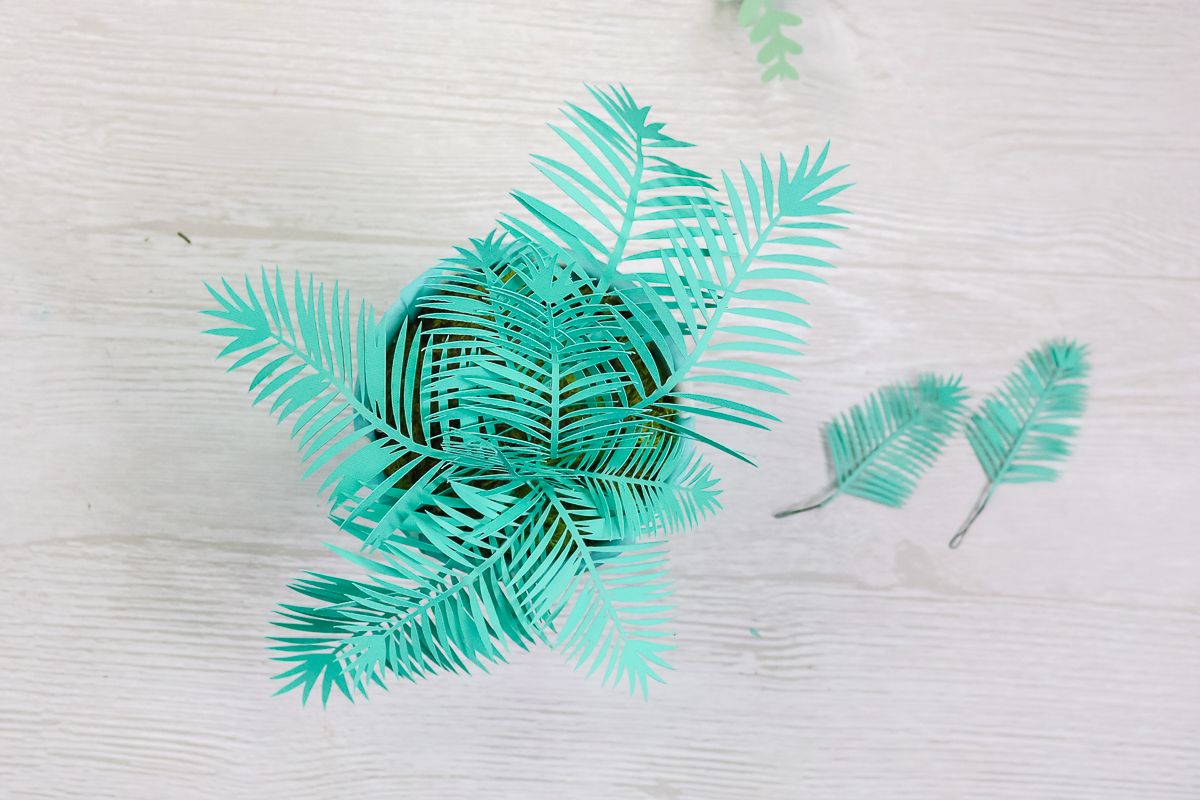 Once done, you can fluff the plant if needed or add more moss to your base. This one is so simple yet so gorgeous!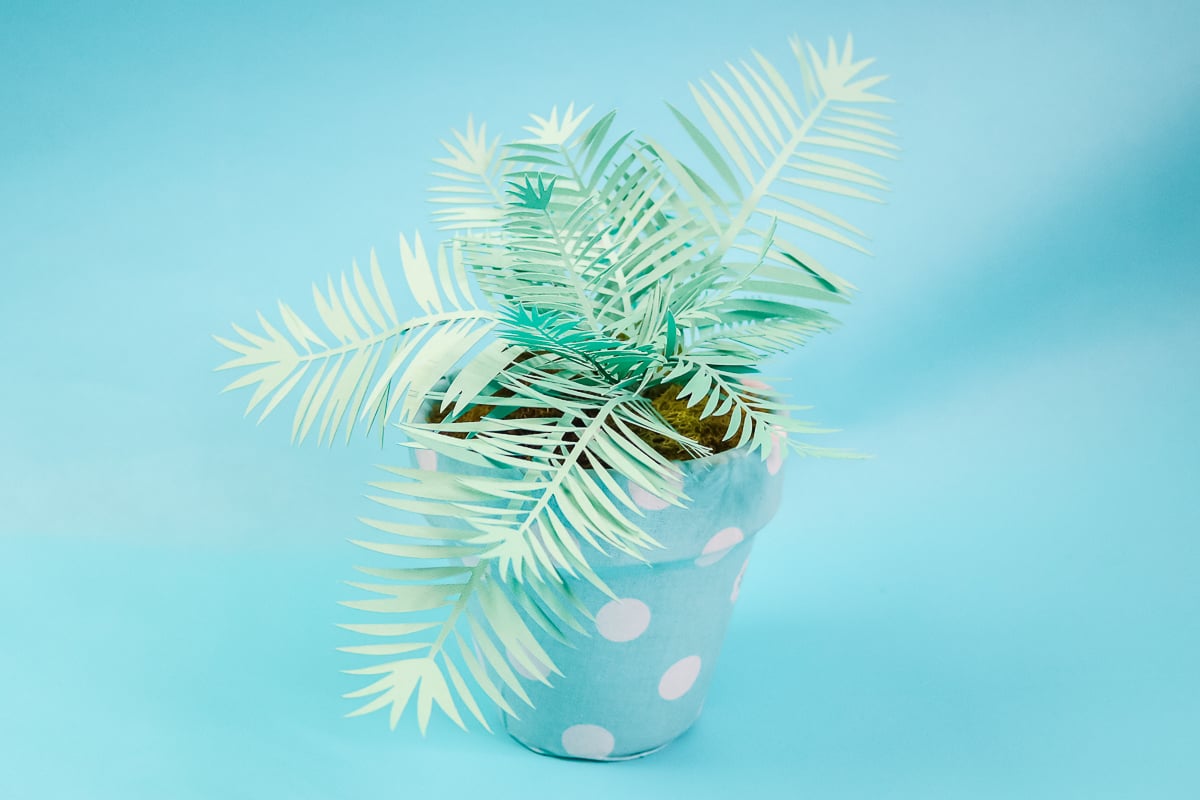 Assembling Plants Using Two Layers of Paper
Now lets go a little more complicated and use two layers of paper to assemble our plants. I like to use a good quality paper glue to assemble the leaves first. Just line them up by size and shape. Then add glue to one of the pieces and press the two together. Repeat for all of your leaves and allow to dry then follow along below for how to assemble each one!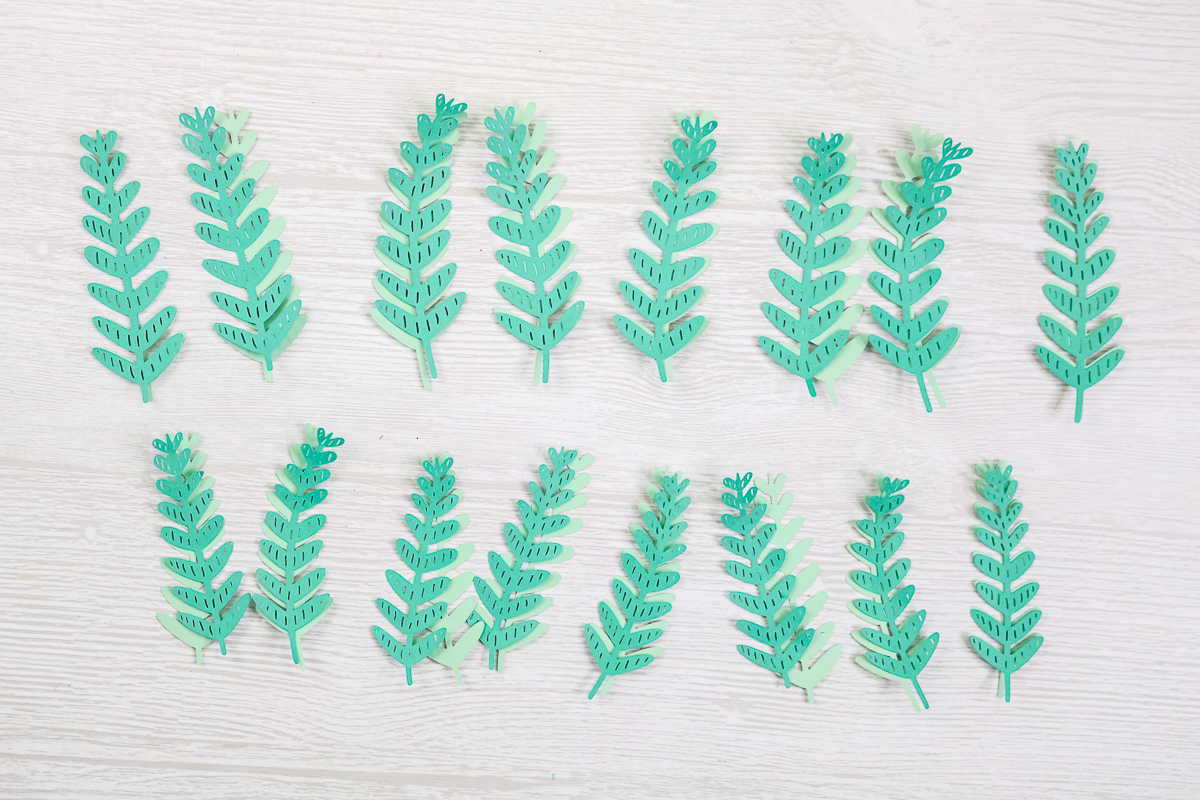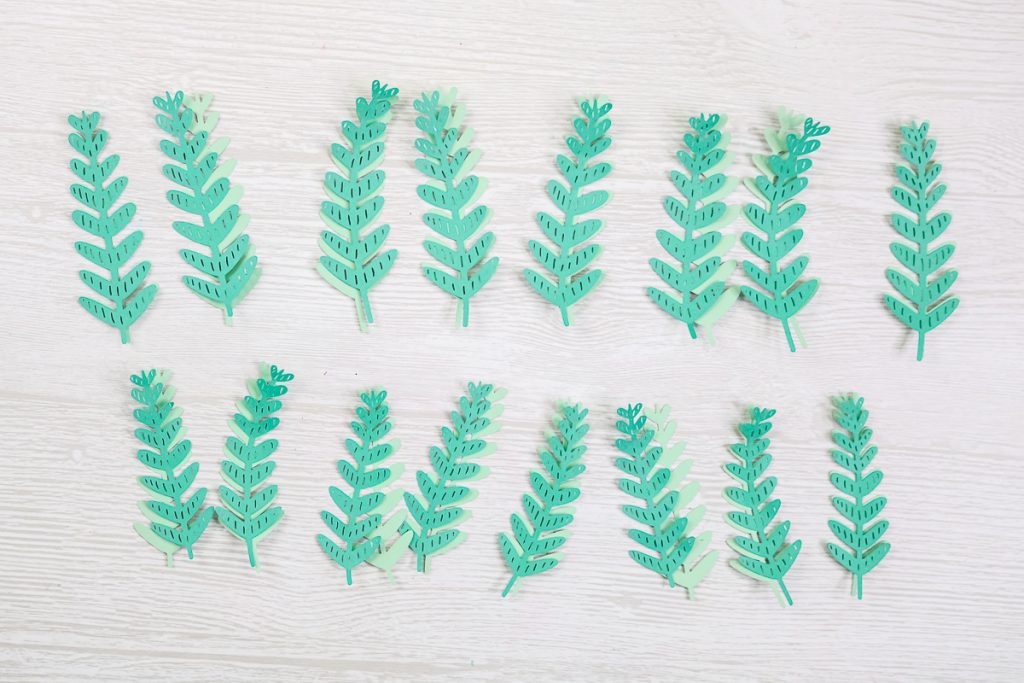 Monstera Plant
Once your leaves are dry, it is easy to put these plants together. With two layers of paper, these will easily stand up on their own. So, all you have to do is slightly bend each leaf to shape it then glue the ends onto your styrofoam.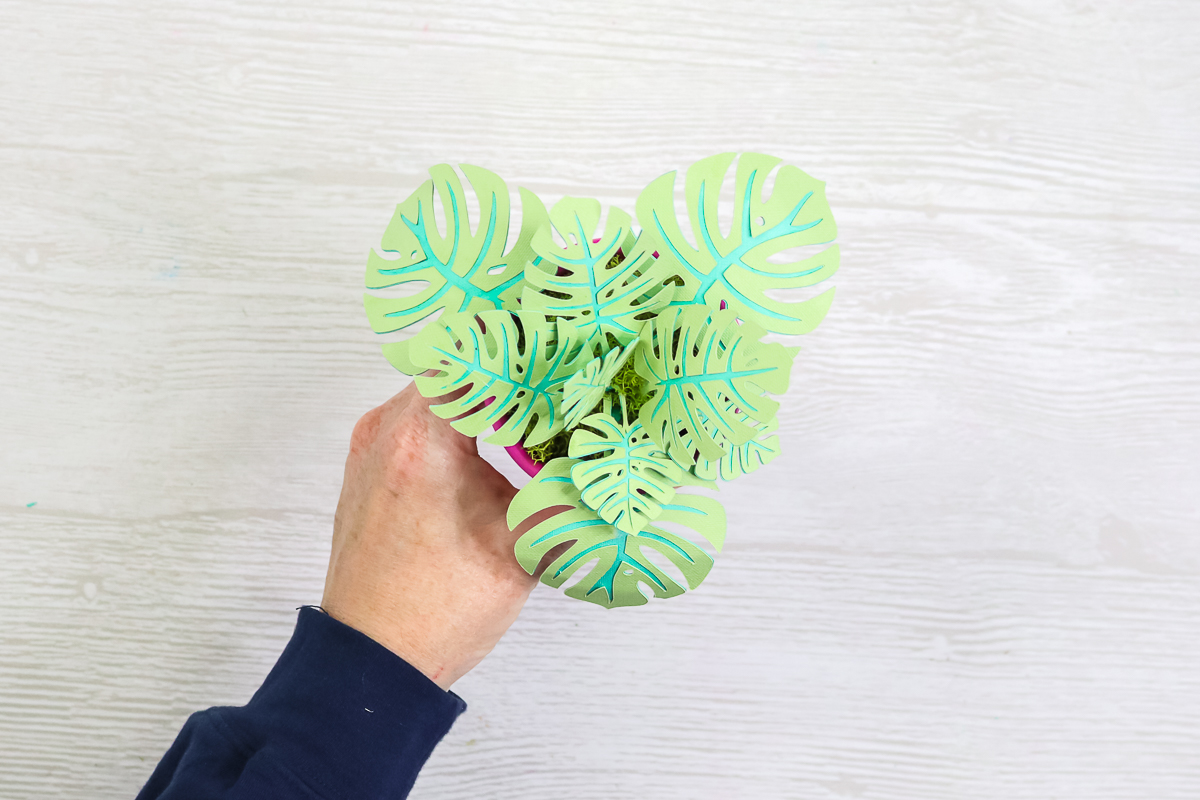 I do like to bend the end of each of the leaves to give myself enough area for the hot glue. Otherwise, just arrange your leaves and enjoy your new plant!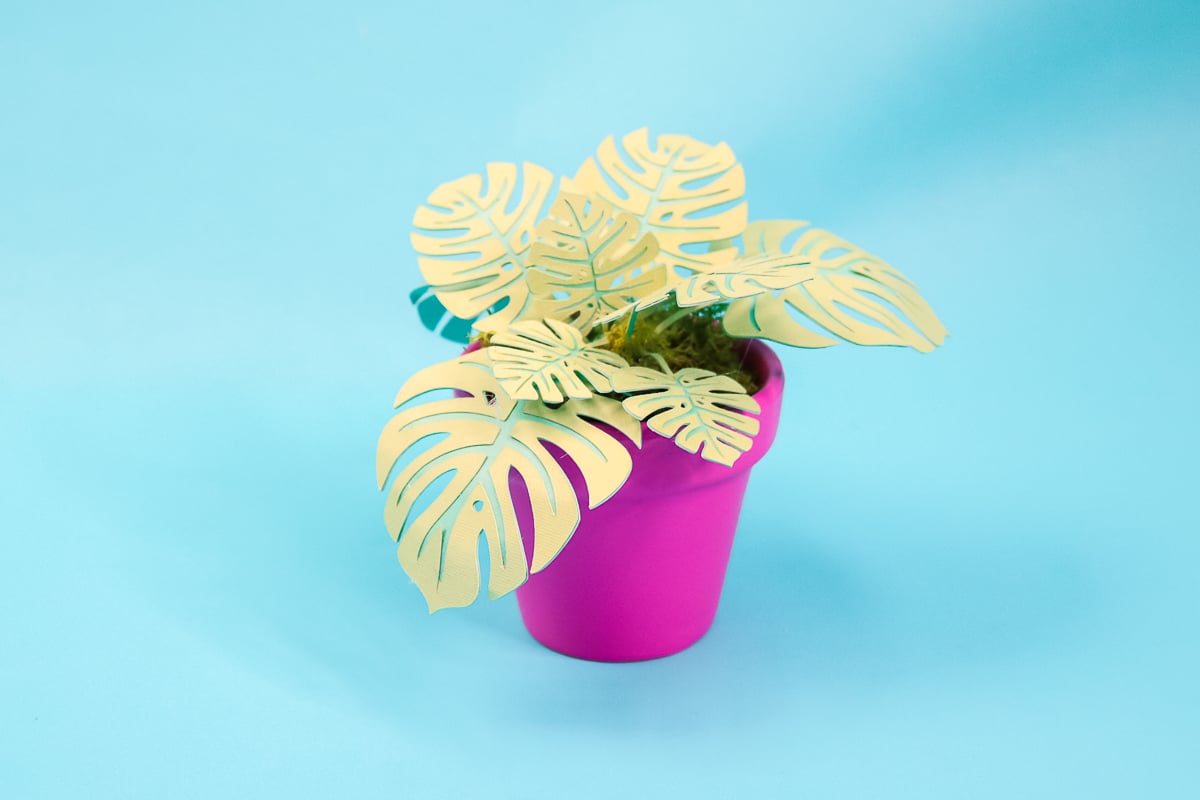 Adding Paint Accents to Paper Plants
Want to add a little something to any of the plants that we are making? You can do that with a little bit of paint! Just use a lighter or darker green and a small paintbrush to add accents and highlights.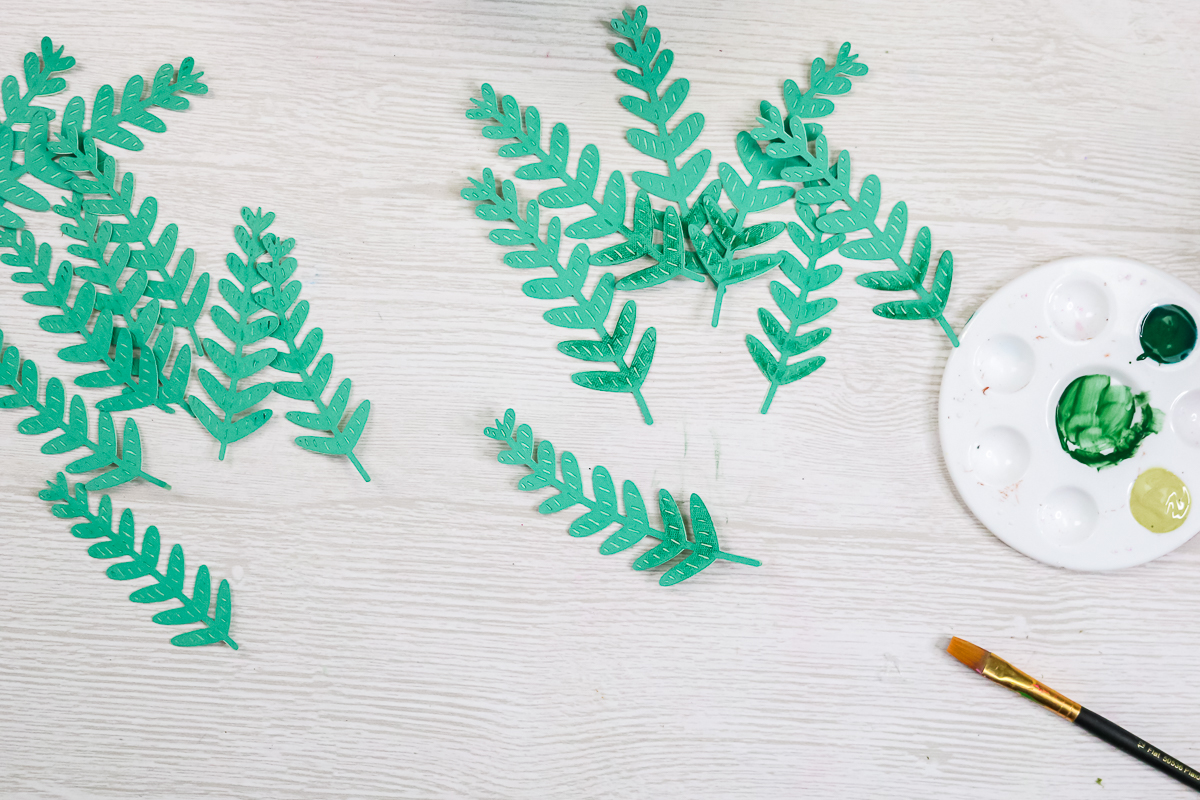 I recommend getting just a minimal amount of paint on the brush and dry brushing the paint onto the leaves. You can wipe away excess with a rag if needed. These should dry really fast as you are just barely adding a little color.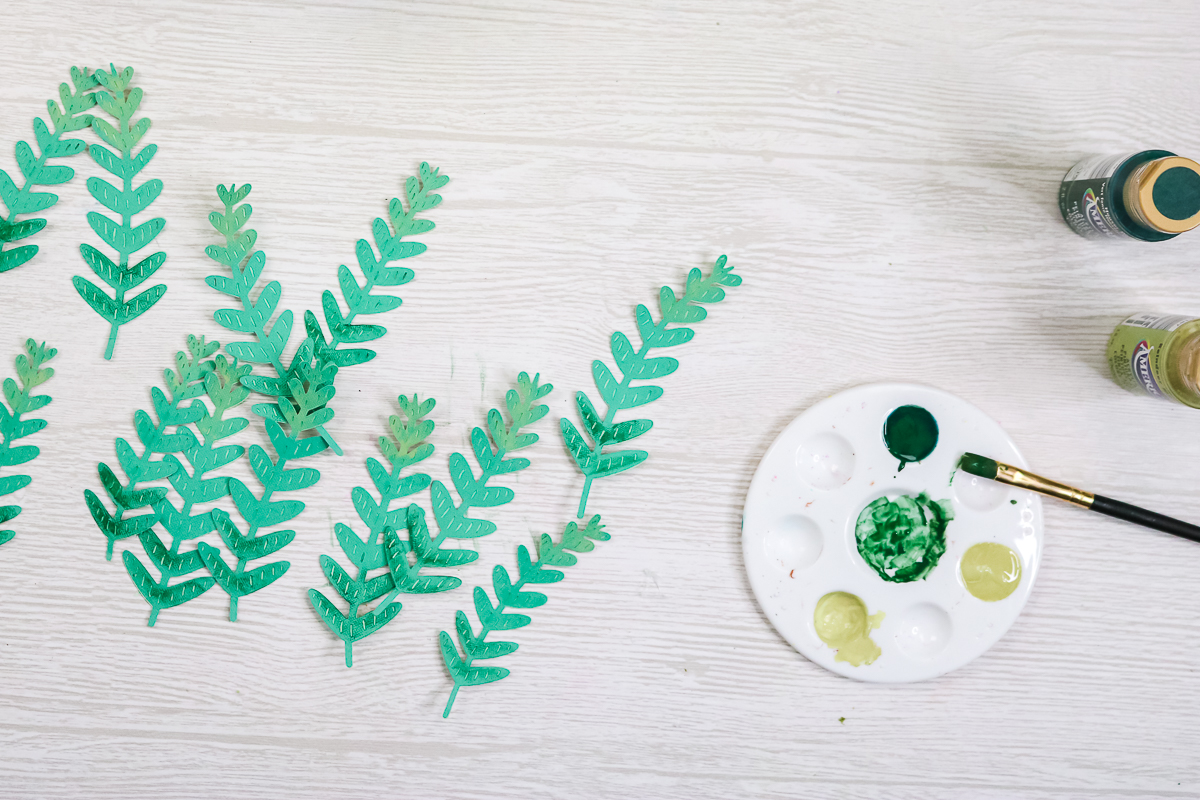 Fern Plant
Once you have your fern leaves, it is time to assemble your plant. Just like before, these have two layers so they will stand up on their own. Add hot glue to the stem of each and place on the foam then shape the leaf by bending slightly. Again, you can bend the stem a bit to have an area for the glue.
Repeat for all of your leaves then step back to admire the paper plants you have made so far!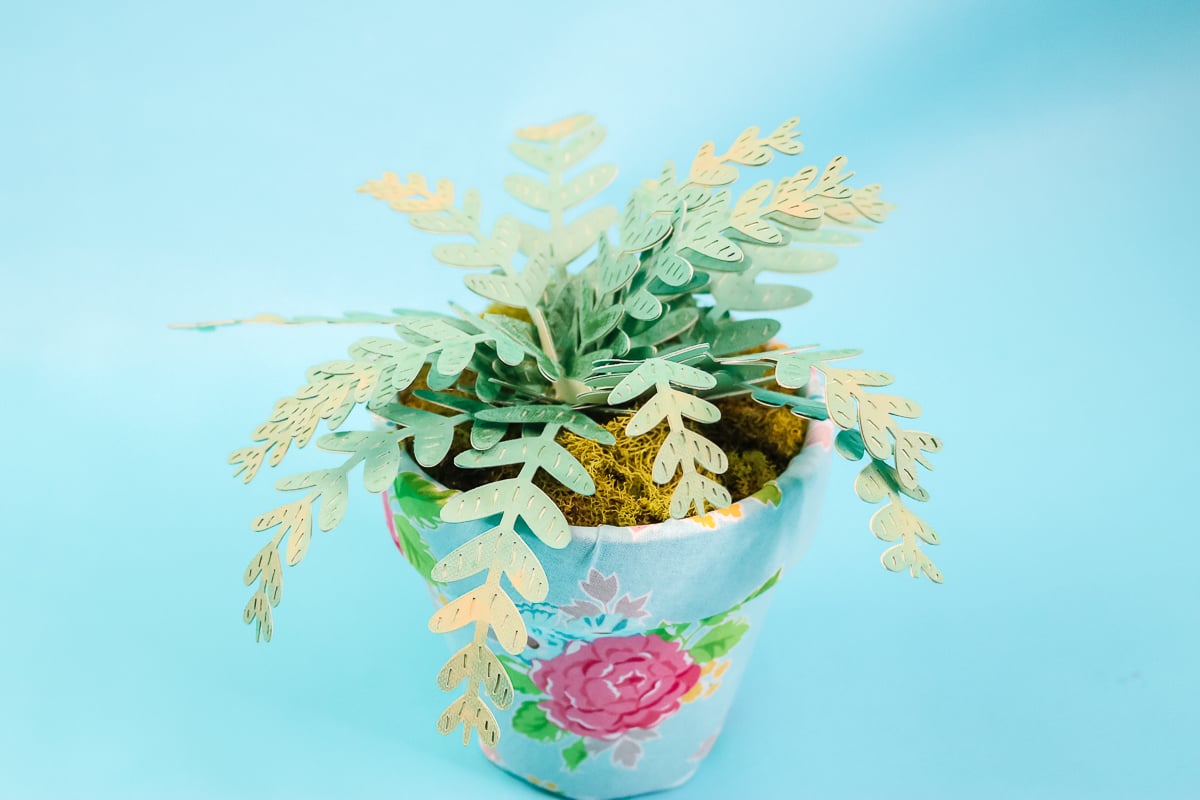 Assembling Plants Using Three Layers of Paper
Let's go a little further and use three layers of paper to create a really cool effect. On this one, I am going to use the foil poster board so it gives that same foil effect but you can make this one with any Cricut machine.
Lily Plant
Start with your leaves and glue them together with your paper glue. On leaves like this with a ton of holes, I like to apply the glue to the back of the paper then put that onto the layer below it. Assemble each leaf and allow it to dry.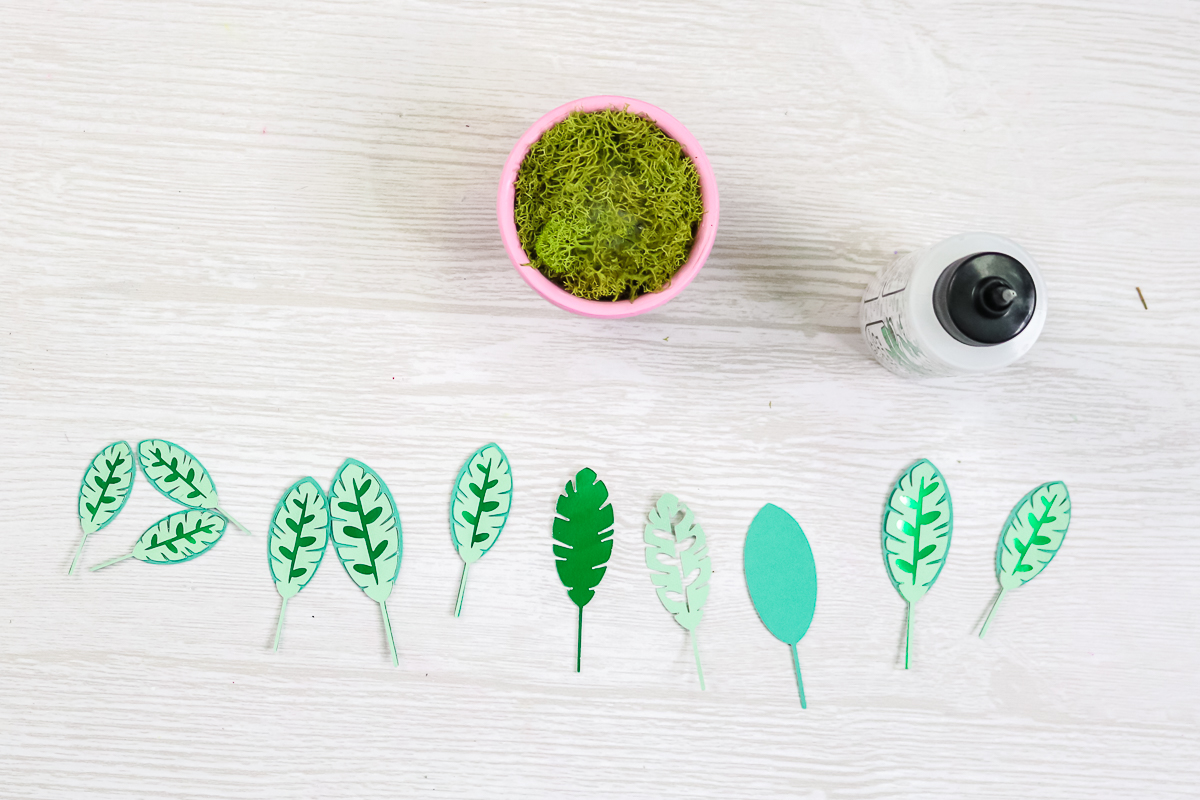 You can then assemble the plant in the same manner as we did the others above. Fold over the stem, add a bit of hot glue, and stick each leaf into place on the styrofoam.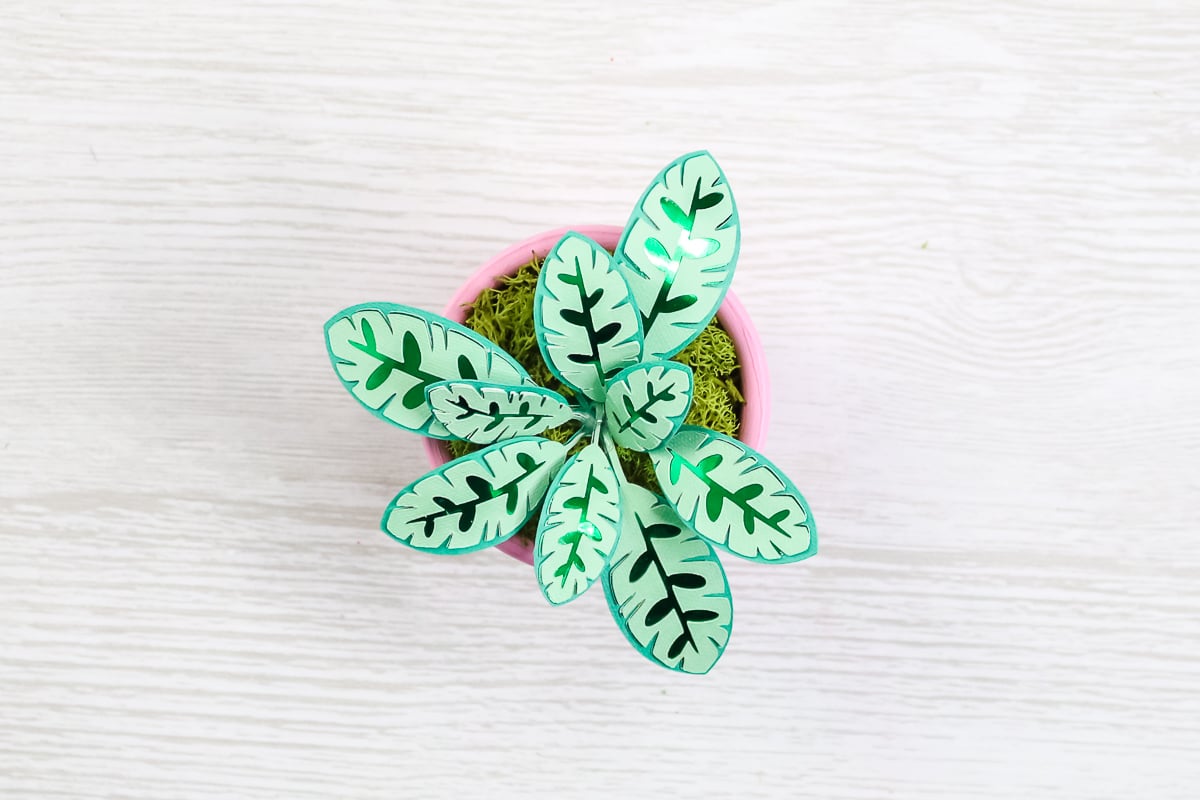 This is one of my favorites as I love that foil accent peeking through on each leaf!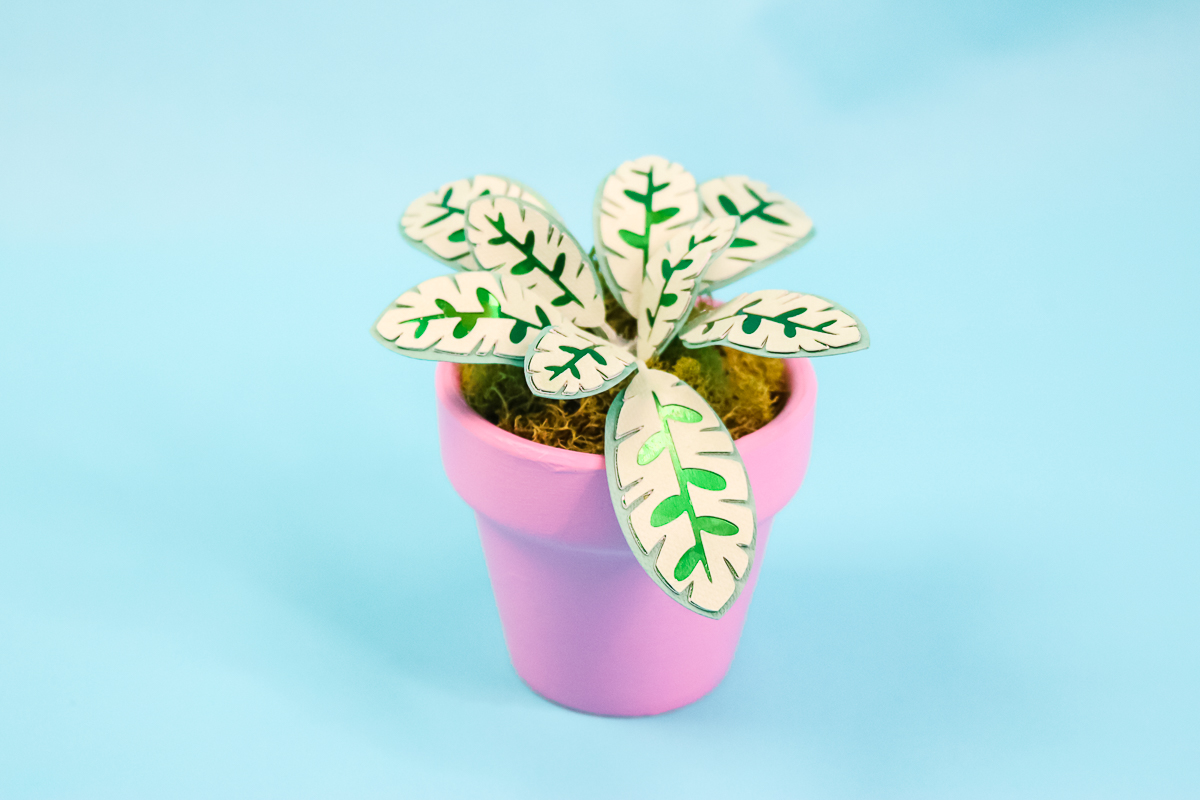 Assembling Plants Made from Felt
I just had to make one of these Cricut plant ideas with felt. I love felt for crafting and it makes amazing succulent plants. You can, however, use paper for this same plant.
Succulent Plant
Lay out your leaves in order from largest to smallest. I will note here that my smallest leaf didn't do very well when cutting so I actually did not use it. You could still glue it into place if you wanted even if it is in pieces.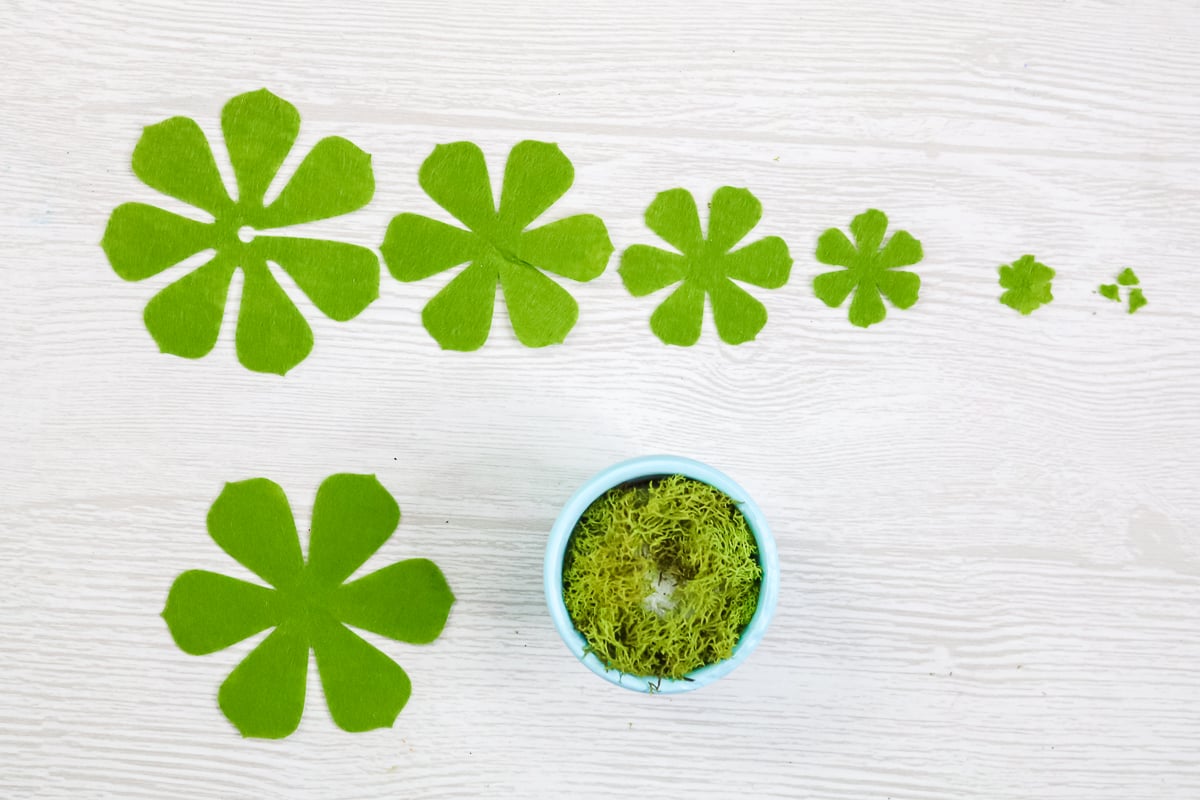 Start in the center with a large dollop of hot glue. Hold your first leaf into place in the center and push down. This will bring the edges up making a cup shape. Hold until the glue cools. The second cut has a cutout. Place the leaves on either side of the cutout on top of each other a glue. Then place onto the succulent in the same manner as the first section. Repeat with each section adding each and pressing down as your glue cools. Be sure to alternate the location of your leaves so that each one is in between the gaps of the one below it. Once you get your last layer into place, you should have something that looks like a cute succulent plant!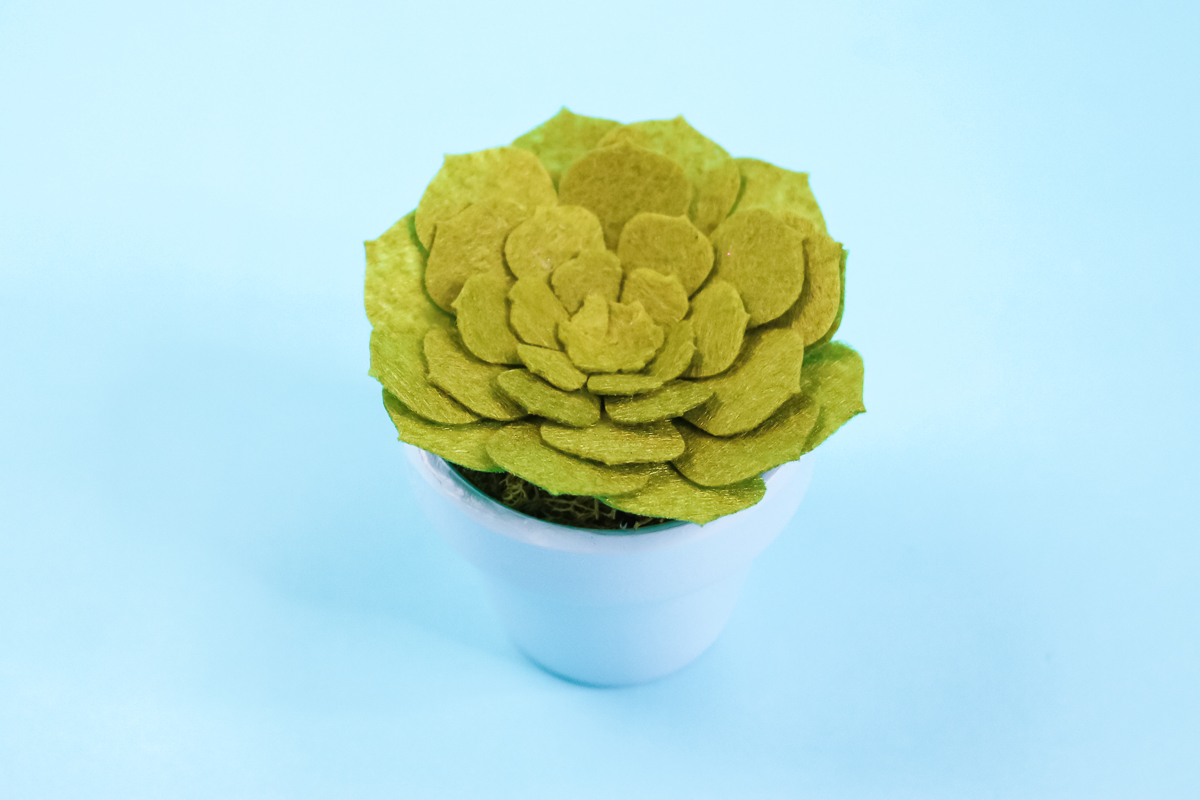 Paper Plants FAQ
I know that you may have questions about making plants with your Cricut. I am answering a few common questions below but you can also ask any further questions in the comment section below.
Can I make other types of plants?
Of course! There are tons of options right in Cricut Design Space. Pick images and try searching for leaves.
How large (or small) can I make my plants?
You can make them as large or small as you would like! Be sure to keep in mind the size of your paper. However, if you can source the colors you like in 12×24 paper, those will be some really big plants!
What type of paper is best?
I love the Cricut cardstock for these paper plants. It worked great and was the perfect weight.
What other plants can I make from felt?
You can really make most plants from felt. I am not sure if the palm would work well with the skinny leaves. Also, for any plant where you want to bend the leaves, you would need to add a wire as the felt would not bend like paper.
What other materials are good for making plants?
I like making plants from crepe paper, leather, glitter paper, and even wood in some cases. HTV and vinyl are also great for adding accents to paper crafts and would work great here.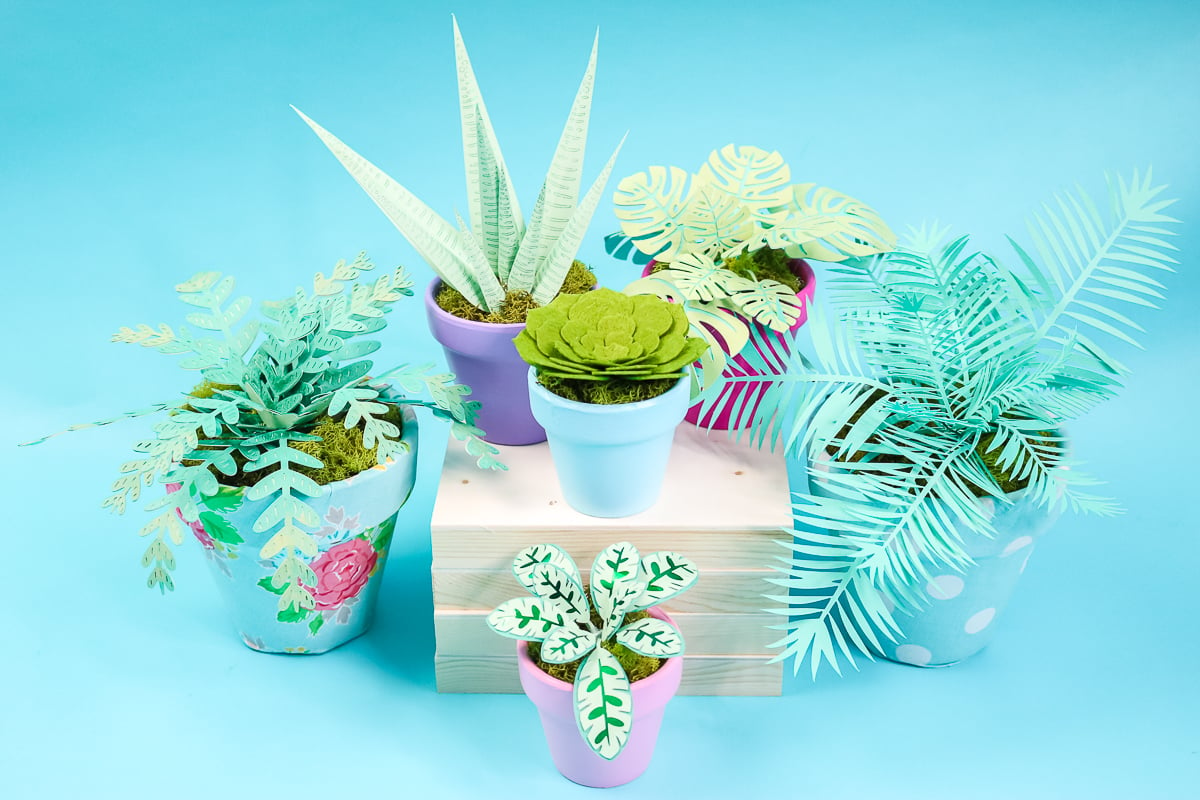 So, which of these paper plants is your favorite? Are you going to add this craft to your must make list? If you were not planning on hosting a garden party this spring, you might want to reconsider. These are literally the perfect decoration for a cute party with a garden theme. Plus the smaller plants would make great party favors.
Even if you lack a green thumb, you can still have some cute plants around your home using your Cricut and a little imagination. So, make some paper plants today. I know you will love how they turn out!