Today we are going to look at the Cricut Joy versus Cricut Explore. We will take a look at the similarities as well as the differences between these two Cricut machines. We will also discuss which one you should purchase if you are looking to buy your first Cricut machine. Should you get the Cricut Joy? Should you buy the Cricut Explore Air 2? We will answer this and so much more below. If you prefer a video comparison I've included that below as well.
Looking to compare the Cricut Explore with the Cricut Maker? You can find our comparison of those two machines here.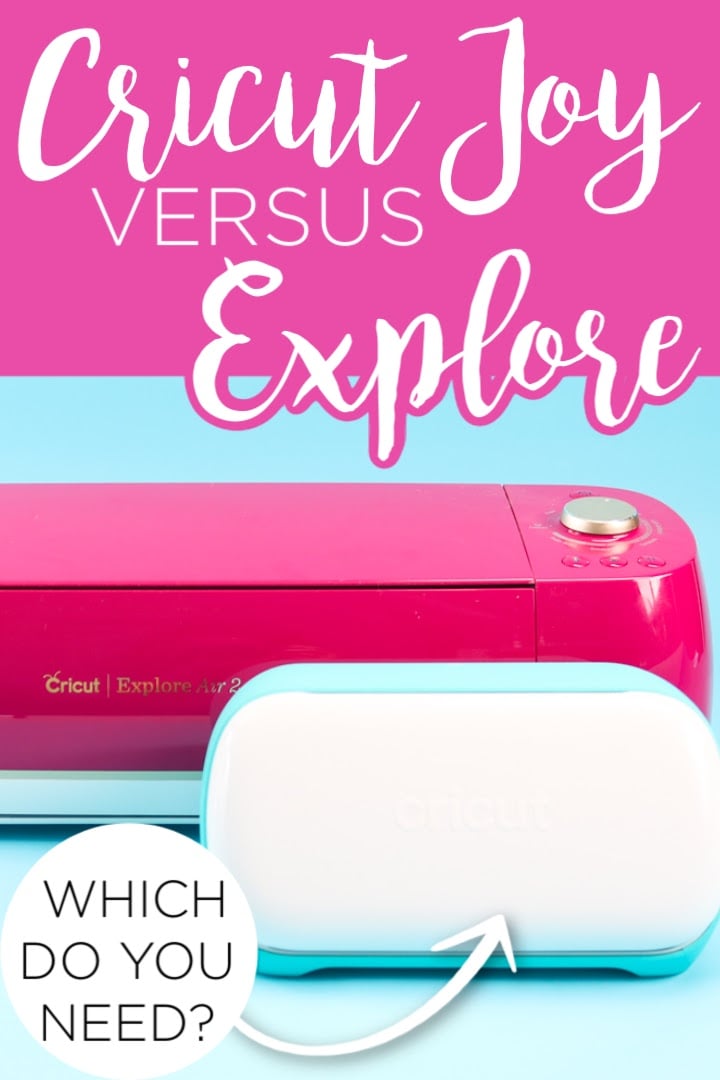 Cricut Joy Versus Cricut Explore Video
Want to see the full comparison in video form instead of reading? You can watch my YouTube video below.
Can't watch the video or want more information? Just keep reading!
Cricut Joy and Cricut Explore Air 2 Comparison
We will cover both the differences and similarities of the Joy and Explore Air 2 below. I have broken this post down into sections. You can read the entire thing or skip to different parts using the Table of Contents below.
Table of Contents
The Outside of the Machines
As you can see below there is a big difference between the size of the Cricut Joy and the size of the Cricut Explore Air 2. The Cricut Joy measures approximately 8 1/4 x 4 x1/4 x 5 3/4. The Cricut Explore series measures approximately 21 1/2 x 5 3/4 x 6 1/4.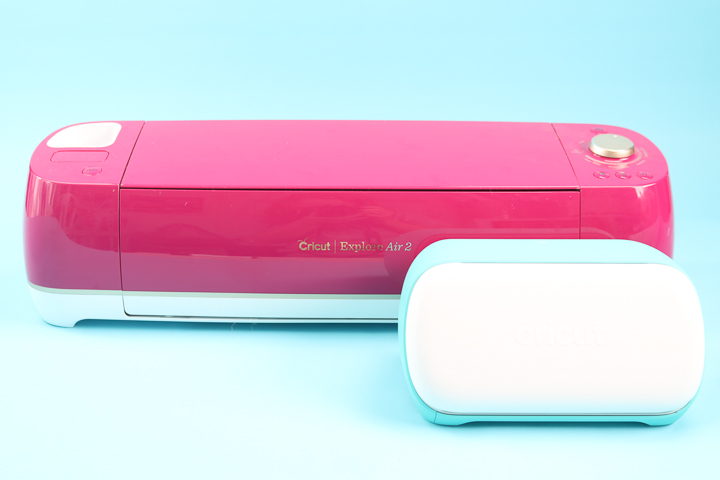 So, you can see that there is a huge size difference between the two. If space is a concern in your home, The Cricut Joy may be the machine for you. But keep reading to see the differences between what the two machines can do before you decide.
Buttons for Operation
Let's look at the buttons that are on the machines. You will see on the Cricut Explore series there are a series of buttons as well as a dial. The buttons include one for unloading and loading the mat, another for starting the cut, and a third for pausing the cut. There's also an on-off button for turning the machine on and off.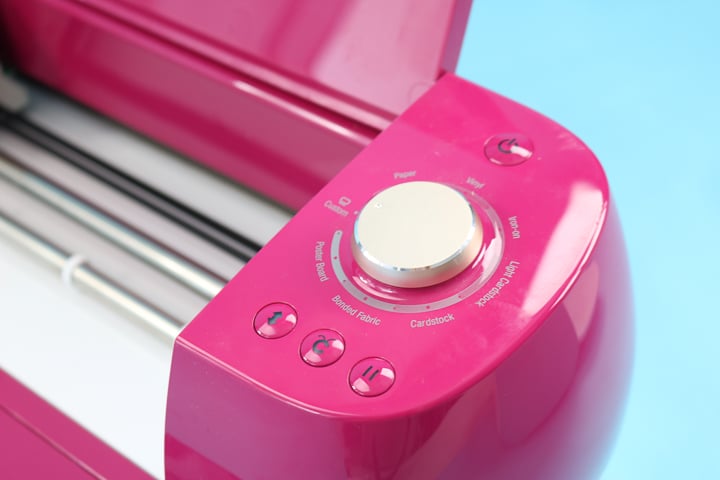 The dial on the Cricut Explore series is there to set your material type. You can choose from a variety of types like paper, vinyl, poster board, etc. There is also a custom setting where you can pick your material right in Cricut Design Space
In contrast, the Cricut Joy has no buttons anywhere on the machine. There is a power light at the top that will illuminate when it's plugged in. When the machine is plugged in, it is turned on. This light will start to flash whenever the machine is hooked up to Cricut Design Space.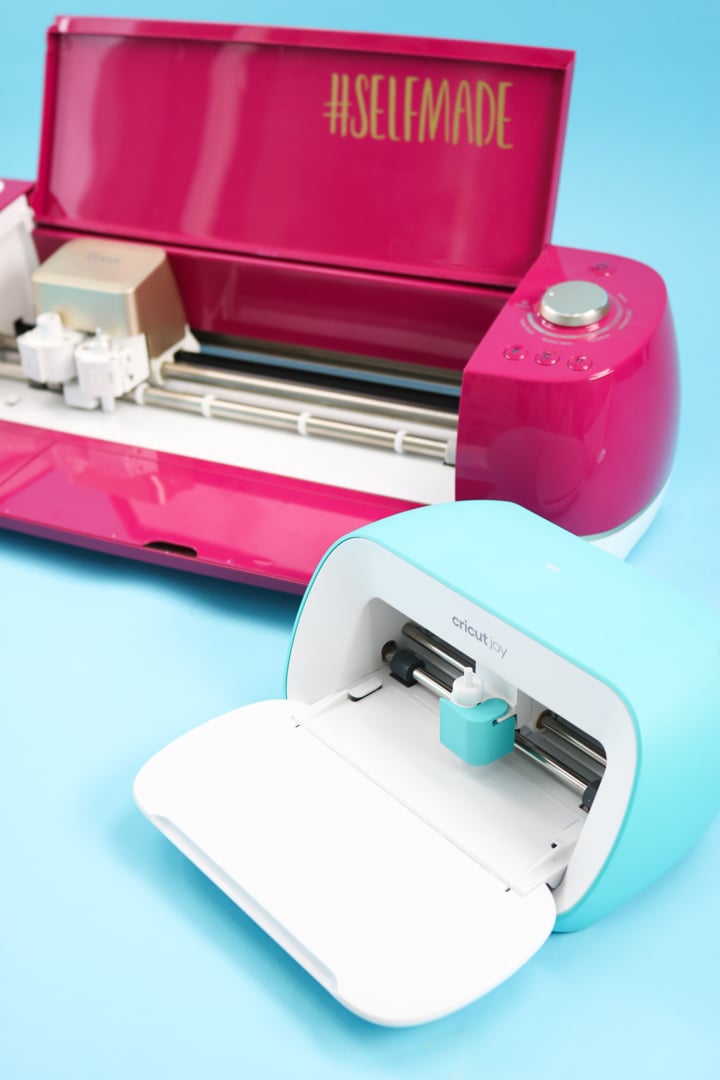 So if there are no buttons, how do you unload and load the materials and start the cut with the Cricut Joy? You do all that right in Cricut Design Space. You will click buttons for both starting the cut and unloading your mat. For loading your material, the machine actually has sensors. Once it's ready, just put the material into the machine and it will feed in automatically.
Power and Bluetooth
Both machines do have a power port in the back where you plug in your power cord. The power cords for both the machines are different, however.
When it comes to Bluetooth, you can use this function with both machines. However, with the Cricut Explore series, there is also a port in the back to hook up a USB cable and wire it directly to your computer. This is not present on the Cricut Joy. With Joy, you have to use the Bluetooth connection at all times with your computer tablet or mobile device.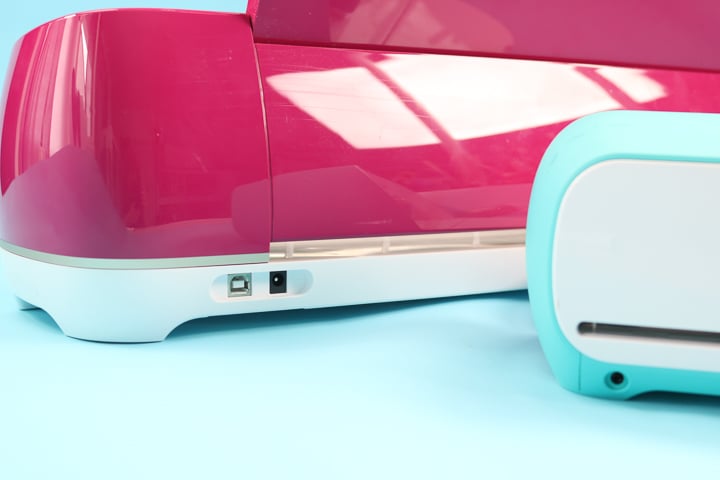 While this may seem daunting, you can get a Bluetooth adapter for any computer for just a few dollars on Amazon. This should solve any issues you have with a computer that does not have a Bluetooth connection.
Blades for Both Machines
The blades for the Cricut Explore and the blade for the Cricut Joy are completely different. Both the housing and the blades themselves have differences. You can see both the housing as well as the blades in the image below.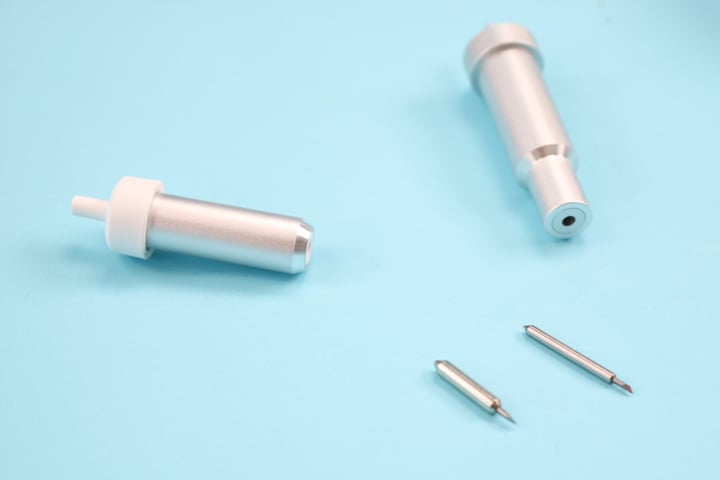 The housing for the Cricut Joy is much smaller than the housing for the Cricut Explore Air 2. You'll also see that the blade itself is different. The Cricut Joy blade is slightly shorter as well as a larger diameter. So the blades are not interchangeable.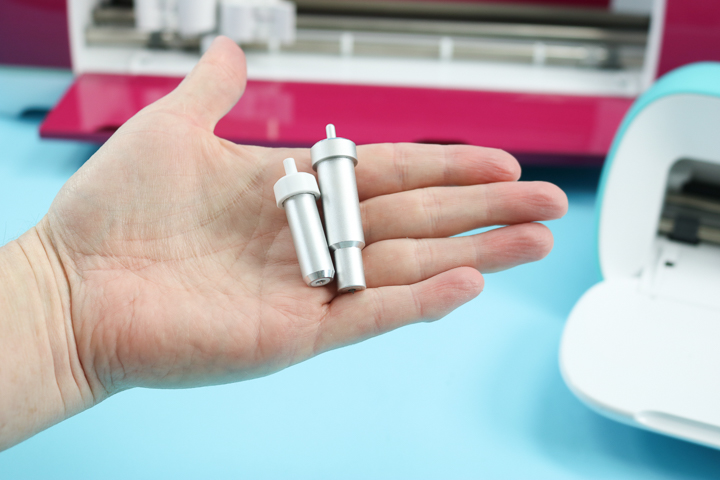 Also, the Cricut Joy can only use the fine point blade. The Cricut Explore series comes with a fine point blade but you can also buy a deep point blade. The Cricut Explore series will also accept a bonded fabric blade. This is actually the same as the fine point blade but it is in a pink housing. This is so that you can tell them apart and keep a separate blade for cutting only bonded fabric. You can see more about blade differences in our video here.
Did you know the top front corners of your Cricut Joy are magnetic? When you take your blade housing out of your Joy machine you can touch it to the right or left corner and it will stick there. This is a great way to keep track of your blade when you're swapping between your blade and pens.
We will cover the cutting of various materials below. There you will see the differences in what the two machines can cut. Since the Cricut Joy does not have a deep cut blade, the Cricut Explore can cut more materials.
Cutting Mats for Both Machines
We can't have a post discussing Cricut Joy versus Cricut Explore without discussing the mats or lack thereof. The Cricut Joy mats come in two sizes. These are 4 1/2 x 6 1/2 and 4 1/2 x 12. The Cricket Explore mats come in two sizes as well. These are 12 x 12 and 12 x 24. So, first of all, you can see a large difference in the sizes.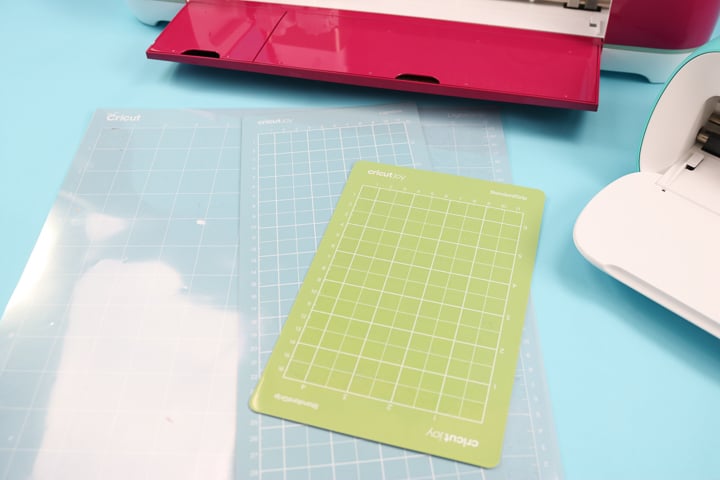 The mats for the Cricut Joy include the light grip and standard grip. The Explore mats, however, come in fabric grip, light grip, standard grip, and strong grip. You really shouldn't need a fabric grip or strong grip mat for the Cricut Joy. So although this is a difference it really should not matter with the use of your machine. You can also get a card mat for the Cricut Joy and we will talk about that further below.
The biggest difference between the two machines is that the Cricut Joy can cut matless materials. This means that I can cut up to 20 feet of the smart materials from Cricut. This means that you are not as limited in length as you are with the Cricut Explore series. You can see more about how to make matless cuts here. You are, however, limited with width. The width of the cut of the Cricut Joy is only 4 1/2 inches for matless or 4.1 inches for cutting with a mat. The width restrictions for the Cricut Explore series is 11 1/2 inches.
So, you may want to start thinking about the size of the projects you will be making. This will help you determine which machine is right for you as the size of the projects you want to make will be very important.
Cricut Pens for Both Machines
Although both of the machines will accept pens, there are differences between the two. First of all, the pens for the two machines are different sizes. You'll need specific Cricut Joy pens for the Joy. The Cricut Explore series takes the regular Cricut pens that have been around for some time. You can see some of the differences in the pens themselves in the image below.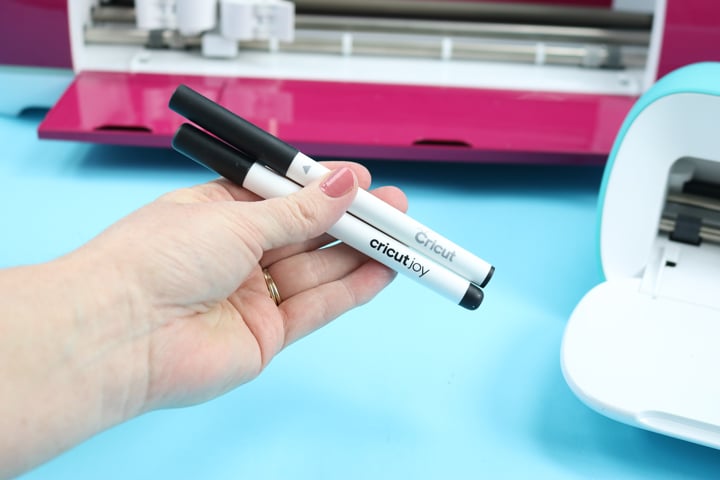 There are also differences when you take the caps off of the pens. As you may be able to tell, the Joy pens will not work and Explore and Explore pens will not work in the Joy.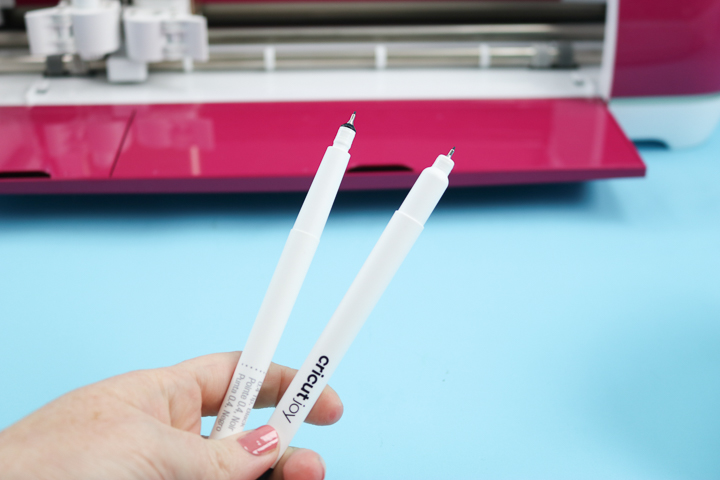 The other difference is that Cricut Joy only has one clamp holder.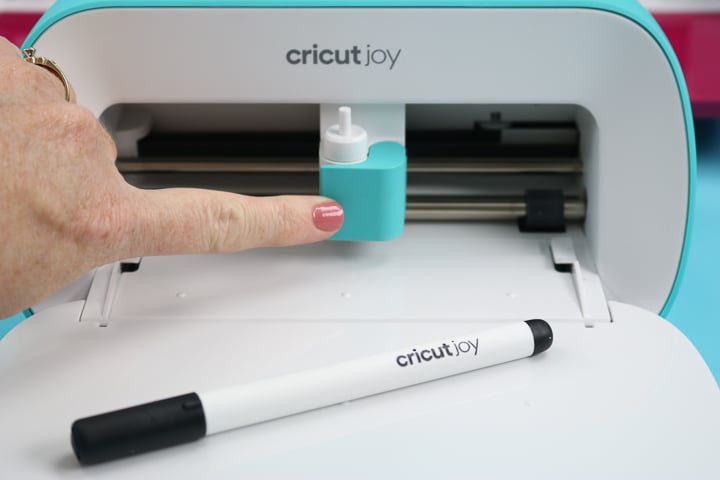 The Cricut Explore, however, has two clamp holders. This means that you can have a blade and a pen in the Explore series at the same time.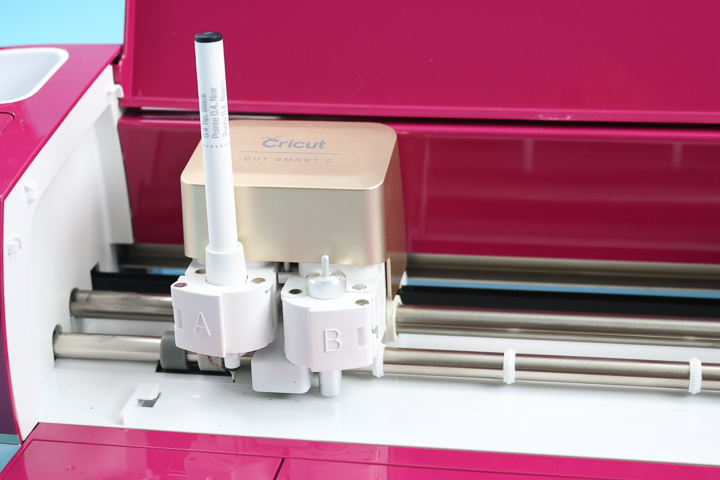 So, what does this difference mean when you are debating Cricut Joy versus Cricut Explore? It means that with the Cricut Joy when you are writing and cutting, the machine will stop and ask you to change from the pen to the blade or the blade to the pen.
When you're cutting with the Cricut Explore, however, the machine will write and cut without asking you to change the tool. This means that the cut can be faster with the Explore in some cases.
Another difference to note with the pens is that with the Joy you don't need to press down to load your pen like you do with Explore machines. The clamp holders are different so you just place the Joy pen into the holder and then close it. Do not press down until you hear a click like you would with an Explore or Maker machine.
Cricut Design Space
Both of these machines use Cricut Design Space in a similar manner. You can get our beginners guide here to help you get started. You can use this software to design projects, upload images, and so much more. This is available for both your computer, tablet, and mobile device. You can get it for iOS or Android.
There is a Cricut Joy app for iOS users. The Cricut Joy app makes using your Cricut Joy even easier if you're just starting out. Learn all about the app and how to use it in my video here.
I will also note here that design space now has an offline option so you don't have to have Wi-Fi to operate either machine but you will need it to download projects and images. You can see more about that functionality here.
Cutting with Both Machines
We can't have a Cricut Joy versus Cricut Explore comparison without actually cutting with the machines. I am walking through a cut with both machines so you can see the differences.
Cutting with the Cricut Joy
Pull up your design in Cricut Design Space.
Click make it.
Pick your material from the list.
Then the machine is ready and you can start feeding your material. It will automatically sense your material and start feeding it into the machine. The first thing it will do is measure to make sure that you have enough material.
Now you can click go right in design space to begin your cut. NOTE: you can pause your cut at any time right in design space.
The machine will cut your design and when it's done design space will prompt you to unload your material.
Click unload or you can click try again to do another pass over the material.
Once you unload your material, your cut is complete and you are ready to craft.
Cutting with the Cricut Explore series
Pull up your design in Cricut Desing Space.
Click make it.
You can then either choose your material on the dial or change the dial to custom and pick the material in design space.
Then your machine is ready to cut. You will load the mat by clicking the flashing arrow that is on the machine.
Then start the cut by clicking the flashing C that is on the machine. You can always pause the cut at any time by clicking the pause button on the machine.
Once the cut is done, you can go over with another pass by clicking the C again or you can unload the mat by clicking the arrow button once again.
Once you unload the mat, the cut is complete and you are ready to craft.
Materials
When comparing the Cricut Joy versus Cricut Explore, you have to understand the materials that work with both. I have cut many materials and am going to run through a few below. You will find those that both will cut as well as ones that you can only cut with one machine or the other.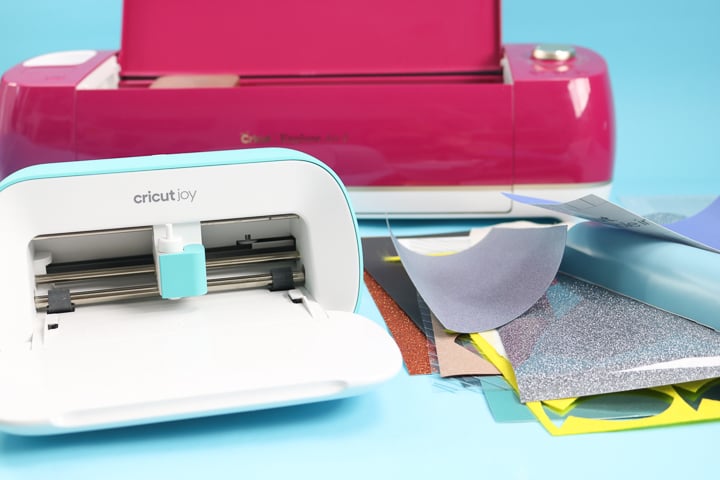 Materials that both machines can cut
First, let's talk about the similarities between the two machines by discussing what materials they can both cut. Here's a list of materials that I have cut with both machines and they have cut perfectly.
Vinyl of all types
Iron-on of all types
Infusible Ink sheets (also note that Infusible Ink markers are available for both machines)
Cardstock of all types (including glitter and 110 lb cardstock)
Posterboard
Flat cardboard
Vellum
Stencil film
Bonded fabric
Metal (40 gauge copper)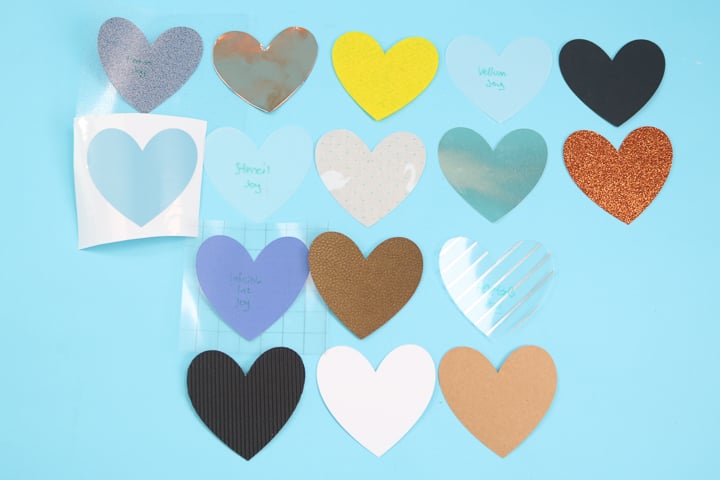 There are actually over 50 materials that the Cricut Joy can cut. Most of these can also be cut by the Cricut Explore. I've tried a few as listed above. These even include some that Cricut said the Joy will NOT cut. But I am all about trying new things! Here is a look at a few of the materials that I cut on the Cricut Joy.
The image below shows glitter iron-on, regular vinyl, and Infusible Ink sheets. These all cut amazingly well as I expected.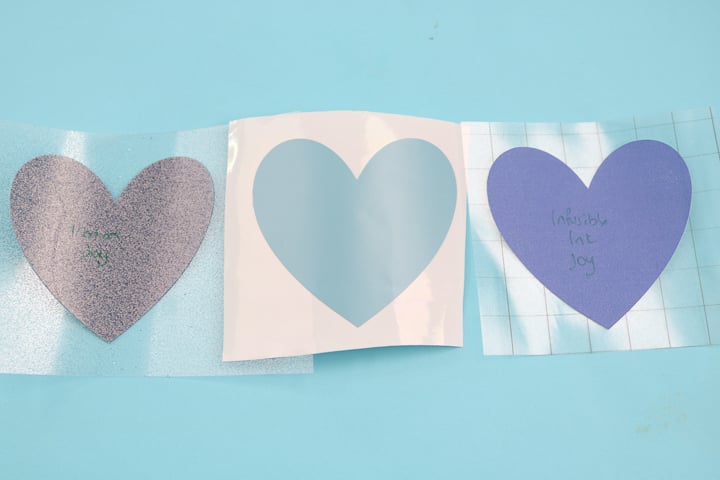 The image below shoes regular card stock, glitter card stock, Kraft board, foil poster board, and 110 lb card stock. I stopped at 110 lb but it cut great! The Kraft board is from Cricut and may even be a little thicker than the 110 lb.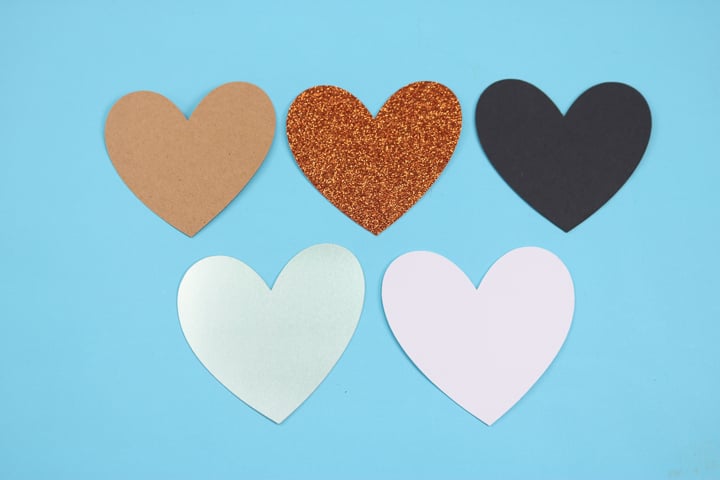 Then I wanted to cut some weirder materials as well. I started with foil acetate, stencil film, and vellum. Then all cut great! The stencil film and vellum I just used a light cardstock setting with one pass.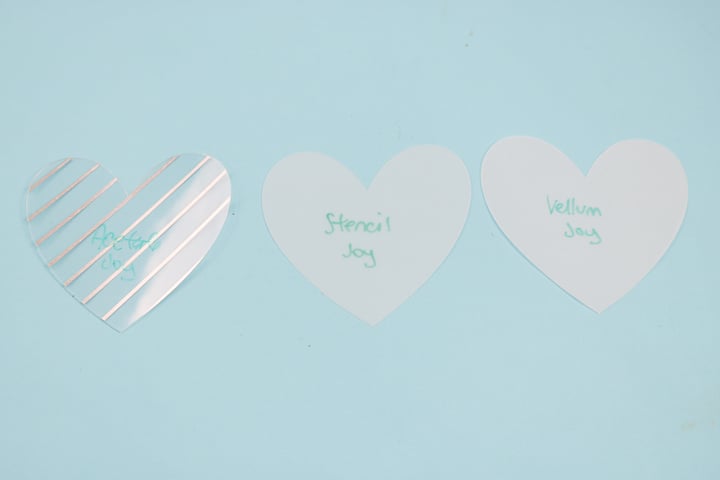 But I couldn't stop there! Below you will see corrugated paper, faux leather, bonded fabric, 40 gauge copper, and Cricut felt. YES! The Cricut Joy cut all of these. That is one powerful machine!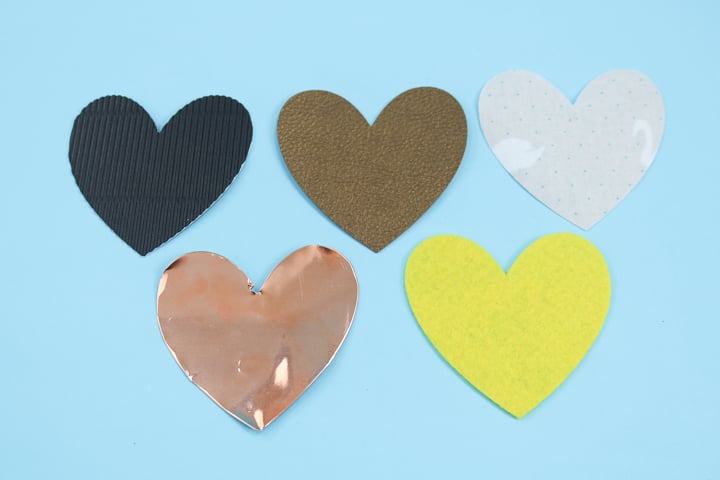 What if my material isn't listed for Cricut Joy?
Please note that if a material is not in Cricut Design Space for the Cricut Joy but I want to try and cut it, I follow one of two methods. You can pick the glitter card stock setting that does two passes. You can also try picking the medium card stock setting and pressing the try again button at the end for another pass if needed. This is a great way to experiment with new materials.
I am convinced that anything that can be cut with the fine point blade on the Cricut Explore Air 2 can be cut on the Cricut Joy. Frankly, doing all of these experiments really showed me that Joy is a powerful machine that can cut an amazing array of materials. However, there are materials that it cannot cut. Let's take a look at the differences.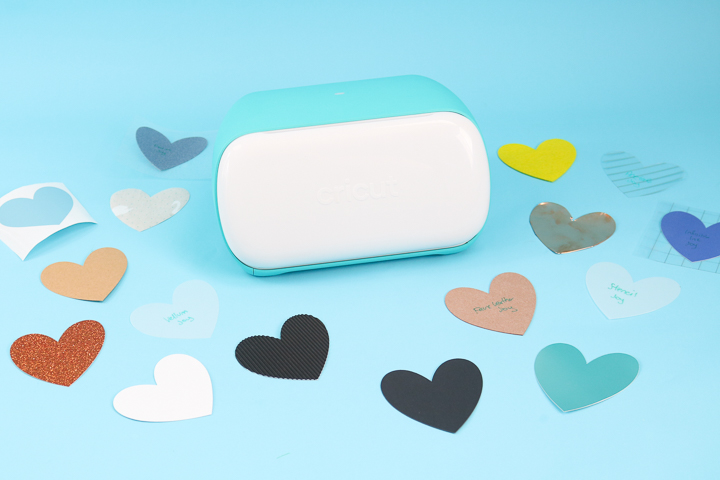 Foil Transfer Tool
Cricut has released the Foil Transfer Tool for both Explore and Joy machines. This is a great addition to both machines. You can learn more about the Foil Transfer Tool for Cricut Joy here and for Explore machines here.
Materials that only the Cricut Explore can cut
Any material that requires the deep point blade can only be cut with the Cricut Explore series. The Cricut Joy has no other blades besides the fine point blade. A few of these materials include genuine leather, craft foam, cork, magnetic sheet, and other thicker materials. Therefore, when comparing the Cricut Joy versus Cricut Explore, you have to know that the Joy will not cut these thicker materials as these can only be cut using the deep point blade.
So, to cut any of these, you will either need to purchase the Explore or the Cricut Maker. I have another comparison post comparing need those two machines and you can see that here. That will help you decide which to purchase if the Joy is not for you.
Materials that only the Cricut Joy can cut
With the Cricut Joy, smart materials were also released that can be cut without a mat. Smart vinyl, smart iron-on, and smart labels are all available for the Joy. This means that you can cut up to 20 feet of material at one time. These materials can only be used in Joy unless you cut them into pieces to fit a mat on the other machines. You can see more about cutting without a mat here.
I do know that there are hacks out there to cut matless with the Explore series. However, you still can only cut up to 24 inches long. This means that Joy is able to make longer cuts. However, there is a difference in width. The Cricut Joy can cut up to 4 1/2 inches matless or up to 4.1 inches with a mat. The Explore series can cut up to 11 1/2 inches wide. So when looking at which machine is right for you, you will need to look at the size of the projects you are doing. Would the smaller width be okay if you can get the longer cuts? Or do you need the wider width for the project you're planning? Cricut recently released Maker 3 and Explore 3 machine that can both cut Smart Materials matless. Learn all about those machines here and here.
Card Mat
The card mat was also released when the Cricut Joy was released. As of this writing, the card mat is only available for the Cricut Joy. The card mat allows you to cut cards that have already been cut and folded without damaging the back when cutting. You can see more about using the card mat to create cards here.
Smart Label
I mentioned the smart label material above. This is label material that can be written on with the pens and then cut. This writeable label material is made from vinyl but the pens will not smear on them when written because of a special coating. This material is only as wide as the Joy, however, it does come in long lengths. If you want to cut over 24 inches, of course, you can only cut it with the Joy. You could, however, trim this material to 12 or 24 inches and use it with your Explore on the mat. I will note that it only comes in the 4 1/2 inch width. However, the material itself could technically be used on either machine.
Functions only available on the Cricut Explore
The Explore has a few options that you will not be able to use with the Joy. These are important when looking at the Cricut Joy versus Cricut Explore. The functions are scoring, SnapMat, and print then cut.
First, to score you can add a scoring stylus to the Explore series in the pen holder. This means that you can cut and score at the same time. The current scoring stylus will not fit in the Joy and, currently, there is no stylus available. This means that you cannot score with the Cricut Joy.
SnapMat is not currently available for use with Cricut Joy projects. SnapMat allows you to take a photo of your mat and materials before cutting which is great for using up scraps. Learn more about SnapMat here.
The Explore also has a print then cut function. You can actually see more about that function here. It allows you to print on your printer then cut those designs (even intricate designs!) with your Cricut Explore. Because it doesn't have the sensor Cricut Joy is not able to perform any print then cut.
Reasons to buy the Cricut Joy
There are a variety of reasons you would choose the Cricut Joy over the Explore. Here are a few of those:
Traveling or crafting on the go: The Joy is the only machine I would recommend for those that want to take their machine with them to various events and traveling. You can get a tote here that will allow you to carry the machine anywhere. It is actually no bigger than a regular purse so it is super convenient for traveling.
Making long cuts: The Joy is the only machine that allows you to make those super long cut for a variety of projects. So, if you are planning lots of large projects then Joy is definitely for you.
The card mat: If you love making cards and are intrigued by the card mat, you will need the Cricut Joy for use with that. I am planning on some experiments on how to do the same thing on an Explore or Maker so stay tuned!
Ease-of-use: If you are intimidated by a Cricut machine or always thought that you wouldn't be able to run one, the Cricut Joy is definitely for you. It is the simplest and easiest Cricut machine they've ever made. Anyone (and I do mean anyone) can use the Joy. You can always try Joy first and upgrade to a larger machine later if you find you need it.
Simple materials: If you really only plan on cutting say vinyl or iron-on and your projects would fit within the dimensions of the Joy, this machine is definitely for you. It's perfect for those that just want to cut simple materials and cuts that are not too large.
Are you ready to buy? Click here to get the Joy!
Reasons to buy the Cricut Explore
Maybe the Joy is not for you. Is the Cricut Explore the machine you need?
More materials: If you want to up your game with a variety of materials then the Cricut Explore is the machine for you. You might even want to consider the Cricut Maker to step it up even further.
Larger cuts: If you need those wider cuts or a 12 x 24 cutting area is perfect for the projects you have planned, then the Cricut Explore series is definitely one you should consider.
Scoring: Love to add scoring lines in your projects? Then the Explore is the only one of the two that you will be able to use for your crafts.
Print then cut: Want to use that print then cut function to make planner stickers? Then you will definitely want the Explore series or the Cricut Maker. They are the only ones that can handle the print then cut that you will need to make creations like these.
SnapMat: Do you have a lot of random sized scrap materials to use up? SnapMat makes using those scrap materials quick and easy and is not available for the Joy machine.
Are you ready to buy? Click here to buy the Explore!
So, now that you have read our Cricut Joy versus Cricut Explore comparison, which machine do you want to add to your home?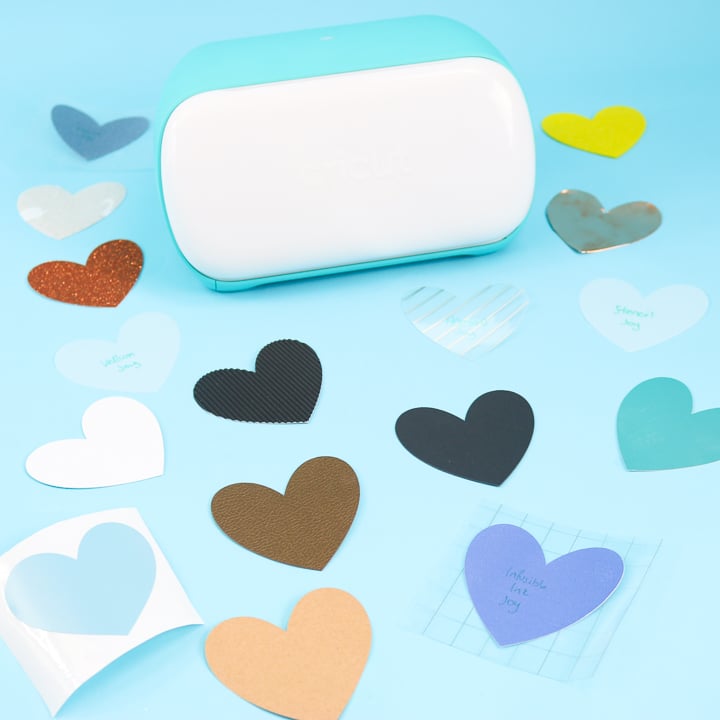 You really can't go wrong with either of these machines. If you have any more questions, please feel free to ask those in the comment section below!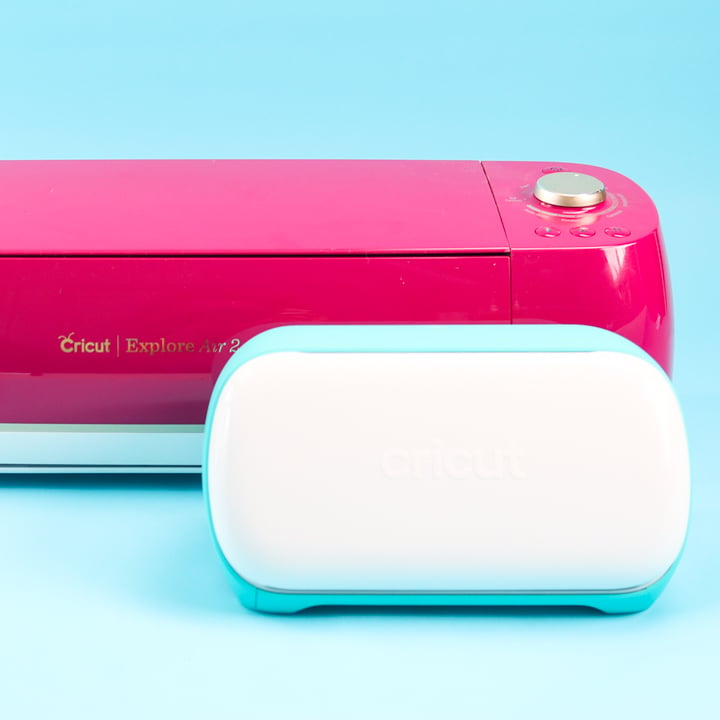 New to Cricut?
Sign up for our email list to download the Beginner's Guide to Cricut Design Space for FREE today!
Sign up to get the guide emailed to you!