Throwing a patriotic party this summer? Be sure to make my patriotic mason jar centerpiece to light up your night. This centerpiece is a unique and fun way to light up your party tables. Forget candles! Go red, white, and blue by adding mason jars and lights.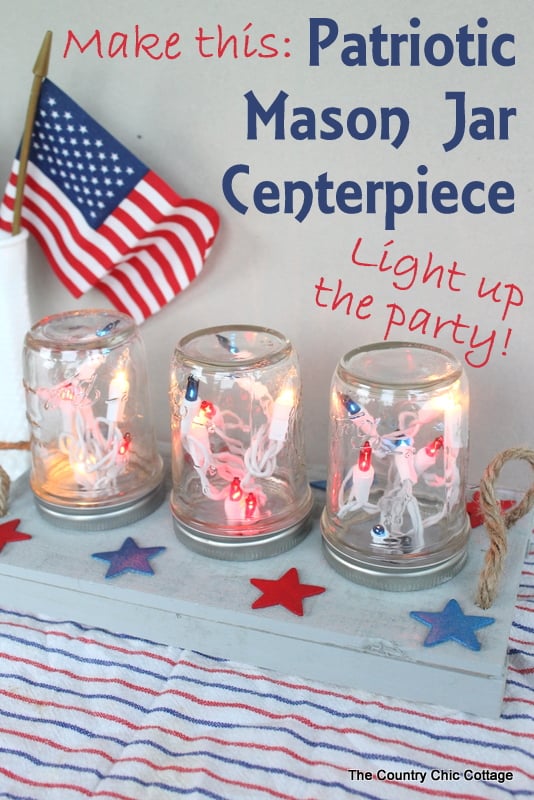 This project is actually sponsored by Krylon and the mystery box challenge. What is a mystery box? Well a box shows up at my house a few times a year filled to the brim with random craft supplies and Krylon paint. It is my job to make those random supplies into something fun within the theme that is given to me. I must use four of the six items I am sent. Although this post is sponsored by Krylon, all projects and opinions are my own.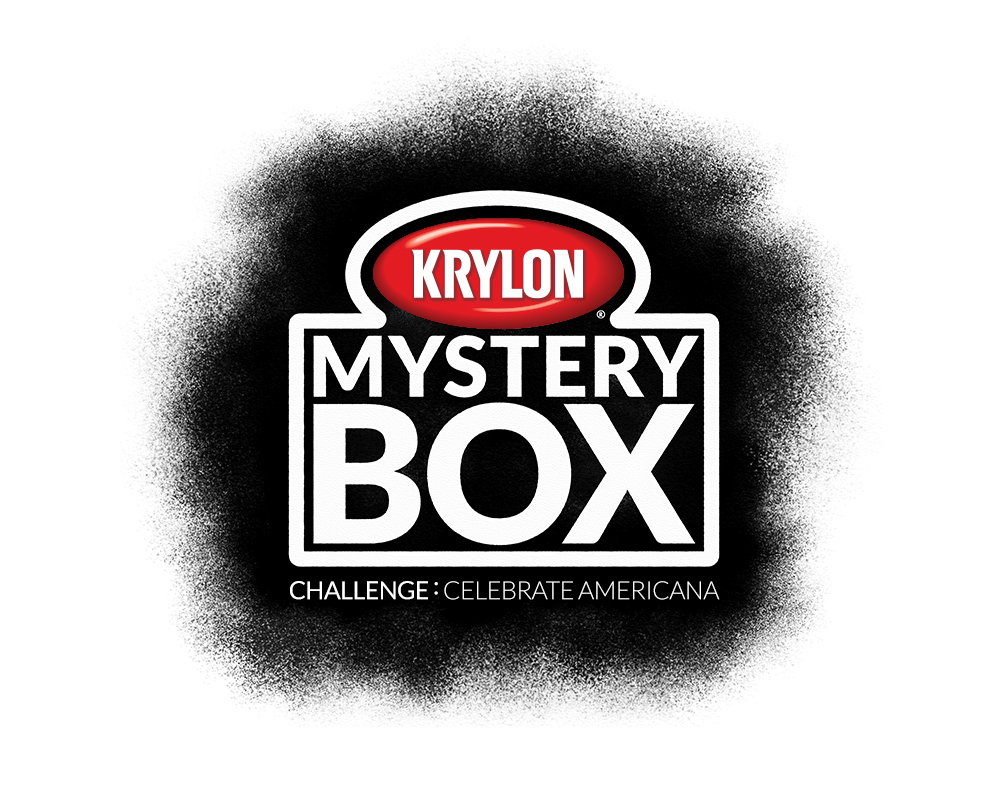 I sat down with a movie and opened my box to let the creative juices flow. What would you make with the random assortment of craft supplies pictured below? Yep you guessed it — the project needs to be patriotic themed as well. The mason jars in the box spoke to me so they were number one on my list of items to use for this project. I tried them in different combinations with the rest of the items in the box until I came up with a plan.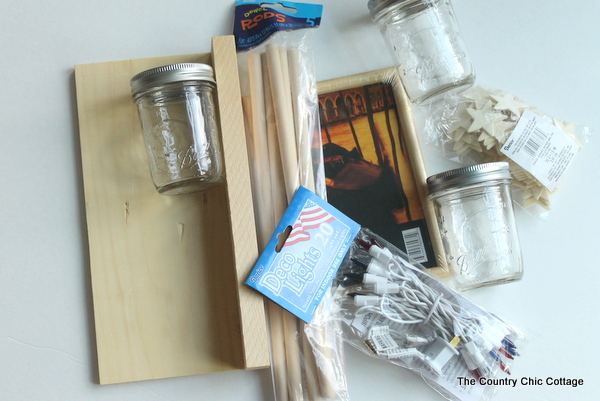 If you would like to make your own patriotic mason jar centerpiece you will need:
I started with the table top sign. It had this wood piece running down just one side. I knew that it needed to be more "tray" like for my project to work. I measured and marked halfway through the leg.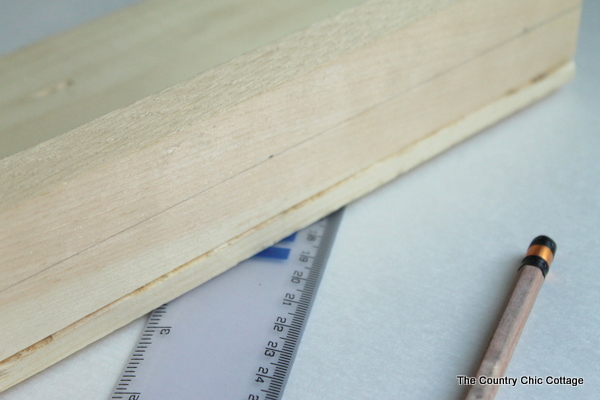 I then ran that leg through the table saw and I had TWO legs that were equal height.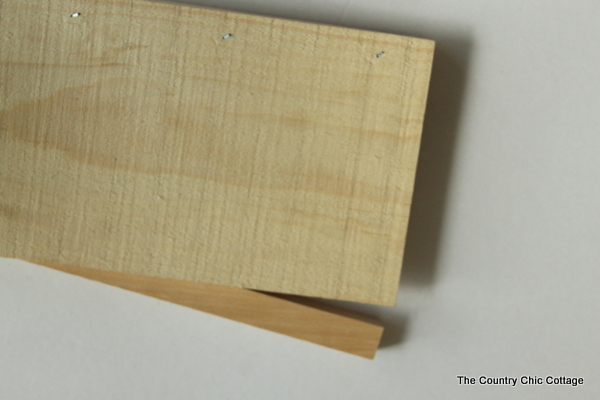 I used a hammer and nails to add that leg to the opposite side and all of a sudden I had a tray to work with. Now what?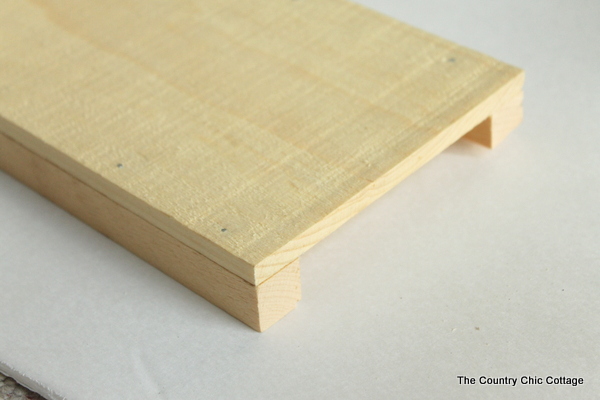 Playing around with my new creation and the mason jars, I realized I would have room for all three jars and some handles on both sides. I measured and marked for handle holes on both ends.
I drilled holes for the rope or twine handles on both ends of my "tray".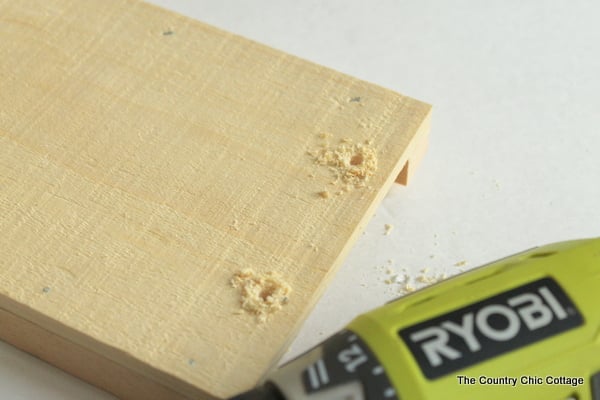 I then laid out the bands on the jars until I thought they were evenly spaced and centered. I marked the approximate center of each one with a pencil.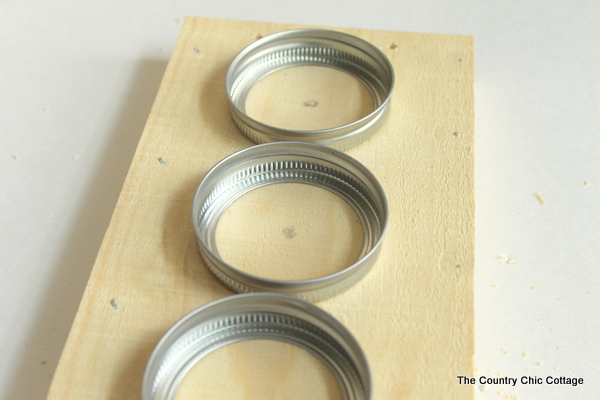 I used a large drill bit and a sanding tool to make large holes on each mark. Yes I messed one up but no one will ever see I promise! (Okay well y'all know but if you mess one or more up don't worry about it.)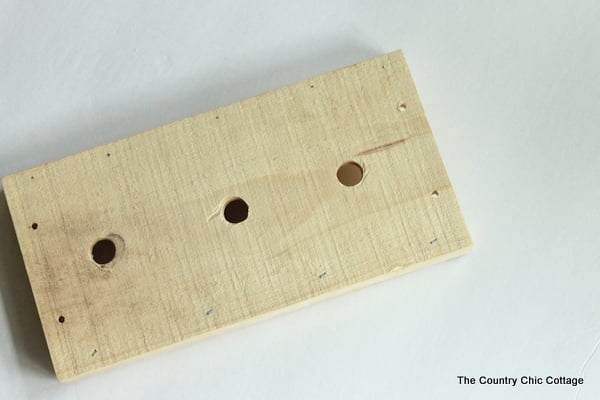 Paint the entire tray with Krylon ColorMaster in Pewter Gray. Allow to dry completely then add the twine handles by knotting the twine on the bottom of the tray.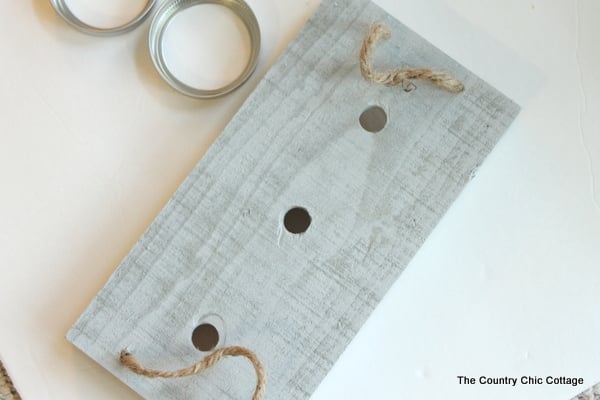 Use the Krazy Glue to attach the bands of the mason jar lids around each hole. We are NOT going to use the inner portion of the lid on this project.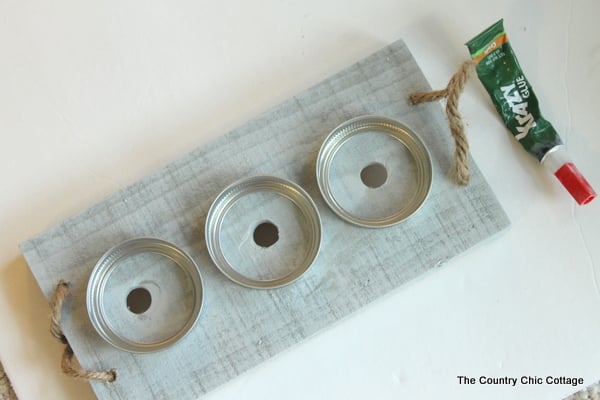 While your gray paint is drying above, you can also get your stars painted really quickly. Grab the Krylon ColorMaster in cherry red and the Shimmer Metallic in blue for this task.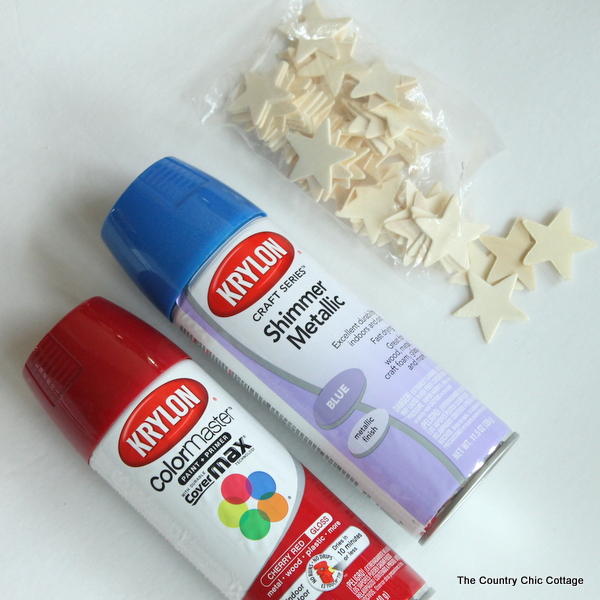 Spray paint a few stars in each color. After they are completely dry, add to your tray around the edges again with the Krazy Glue.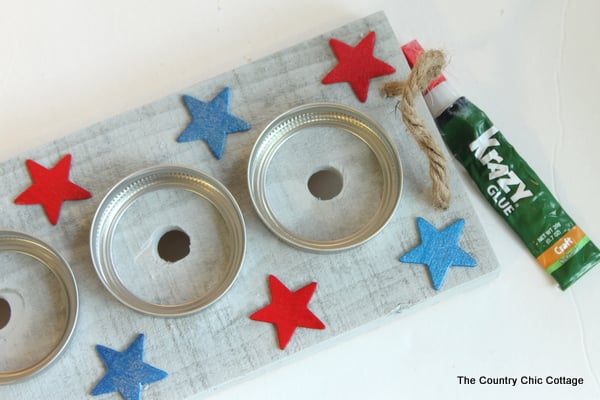 The Krazy Glue dries extremely fast and is strong which is why I chose it for this project. You can add on your little mason jars by screwing them into the bands.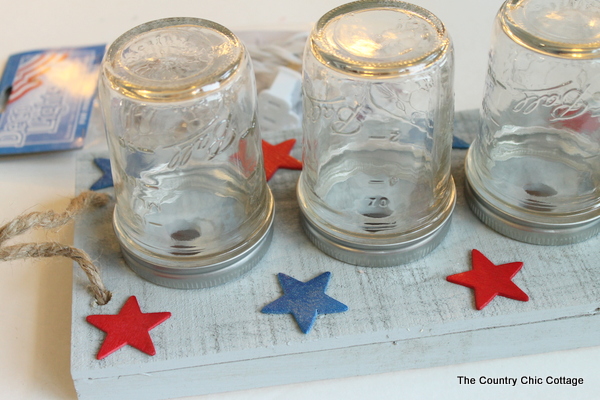 Flip the entire project over to the back by standing it on the mason jars. Divide the lights into 3 equal parts (there are 20 lights on the strand so 7, 7, and 6 makes it about even). Shove the lights through the large drilled holes and into the mason jars. You do not need anything to hold them inside and once you are done the bottom should look like the picture below.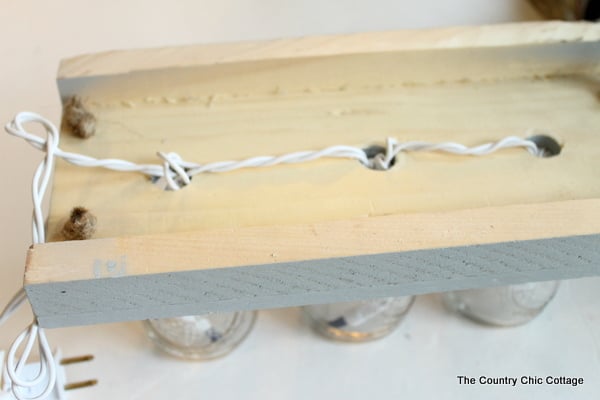 Flip the entire project back over and plug in your lights. You are ready to light up the night with this patriotic mason jar centerpiece.
You could also use this on your porch all summer long to light up family meals instead of using candles. This is just a fun way to add some light and ambiance to the outdoors. Please treat this like a candle and do not leave unattended as your jars may get hot. Use caution when using this around small children as well.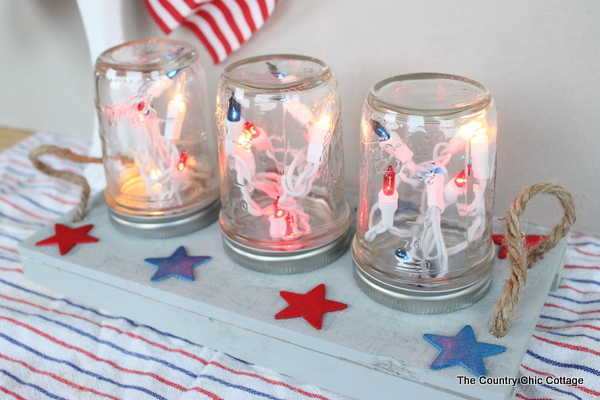 Show your American pride with this adorable patriotic mason jar centerpiece. It doesn't get much better than mason jars combined with red, white, and blue y'all.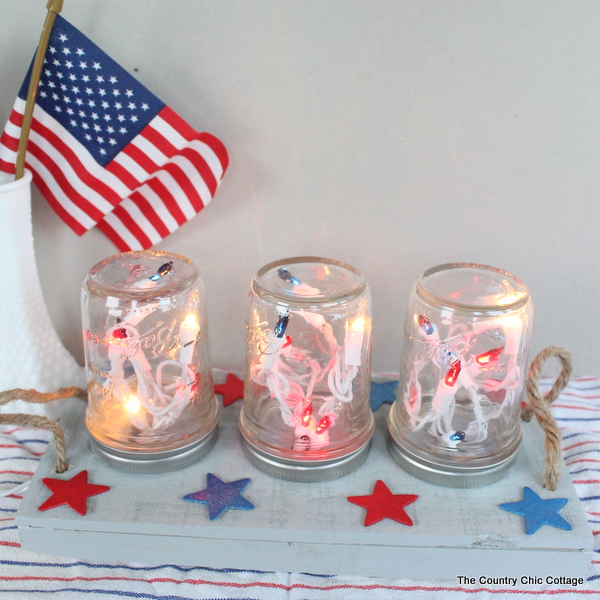 This post was sponsored by Krylon and their blogger mystery box program however all projects and opinions are my own.
A Year of Jar Crafts
Sign up for our email list to get a FREE book with an entire year of jar crafts! 12 months, 12 crafts, tons of fun!