Today I have some printable wall art for you that would make a fabulous Mother's Day gift idea. Just add this one to a frame and you have something super special….and funny! I have asked a blog friend to create this printable for y'all and come over here and share it. So y'all enjoy and be sure to scroll down and get your own free printable wall art.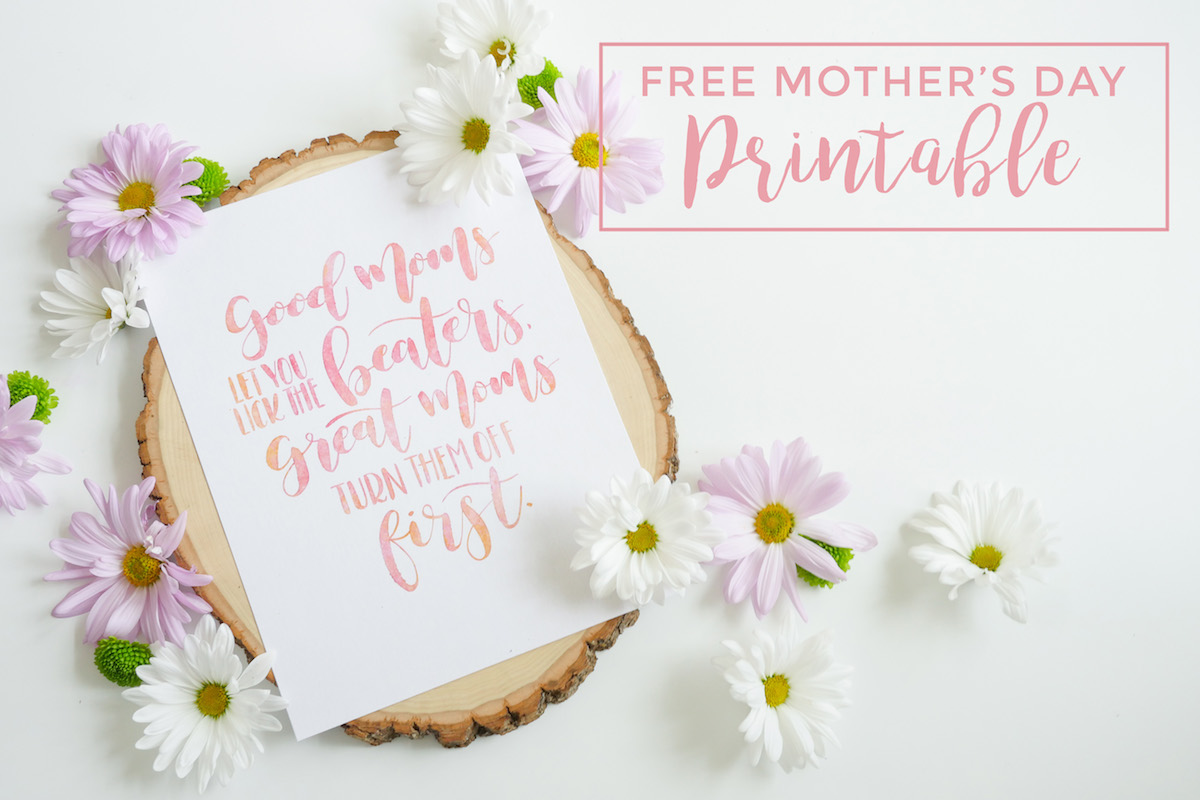 Hi there, Country Chic Cottage friends! My name is Jocie (pronounced jah-see), and I blog over at One Project Closer, a blog dedicated to DIY for the whole family. Angie was sweet enough to invite me to share a FREE Mother's Day Printable with you today. I hand lettered this funny and timely watercolor printable at Angie's request. Isn't it a great quote? But while I'm here, I'd love to share with you a little bit about myself and the mothers in my life.
I live in a suburb of Baltimore, MD with my husband and blog partner, Ethan and our two beautiful (crazy) kids, Isabella and Lucy. I love being a mom! Like, hard-core. You know the crazy mom on the Goldbergs who is constantly trying to snuggle the kids? Yeah, that's me, and I may also enjoy rocking sequins, too. There's nothing I love more than when the kids have a day off school and we can snuggle on the couch and read books together. Give me ALL. THE. SNUGGLES. I can sense that they are getting older and these days are numbered, so I soak it all in…in the most uncool way ever.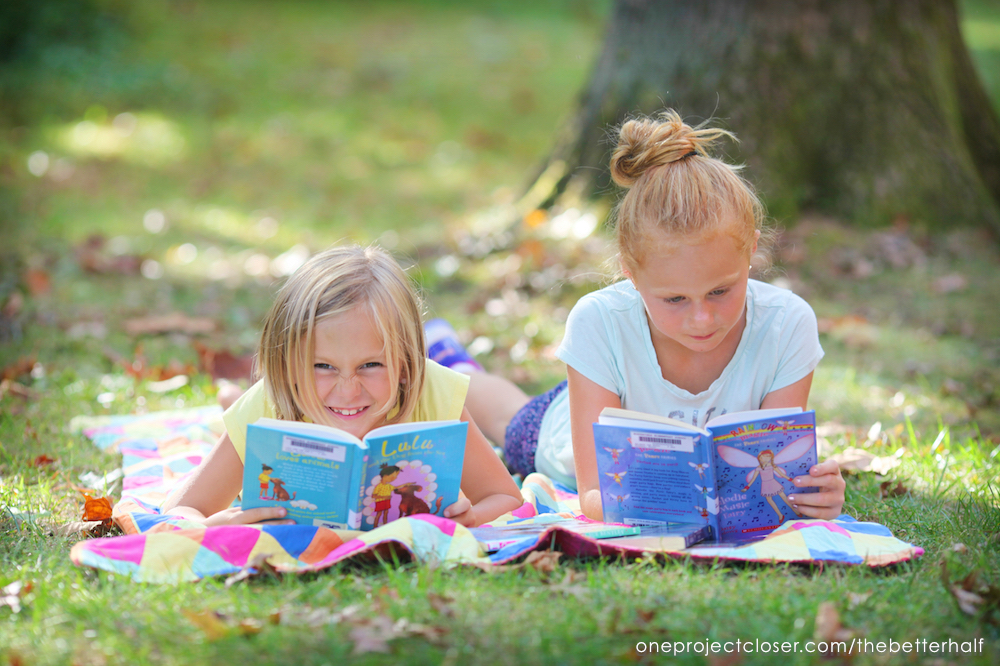 Mother's Day is so much more than just my relationship with my kids (although it is amazing). My mom and grandmothers have been so influential in my life. I laughed when Angie asked me to letter the saying "Good moms let you lick the beaters, great moms turn them off first." I have so many memories with my mom, when I was young, licking the beaters. I'm sure there were many moments I deserved to have them still running. But somehow, she was gracious and calm, Even when I didn't deserve it.
Here are the amazing mothers in my life – my mom and two grandmothers. This was a few years ago, when the four of us went to visit a local winery. The grandmother in the front, Gran, passed away in October. It was soul crushing. She was so much of my life! *I'm not crying. You're crying.* She was a tremendous woman – smart, funny, strong, the life of the party. Cared deeply and loved well. I'll miss the way she laughed with her whole body, throwing her head back and clapping her hands once together. She was ultimate hostess and loved when we were all together. She believed you're only as old as you feel, and she lived like she was young. Sledding, going to amusement parks, walks in the rain, blowing bubbles, playing cards (and usually winning), BINGO, tequila shots, always laughing, flour pies and April fools jokes, yearly beach vacations, playing dress up, fishing in a lake with no fish, stories of sangria and running with the bulls, always armed with lipstick and a smile, and living life fully.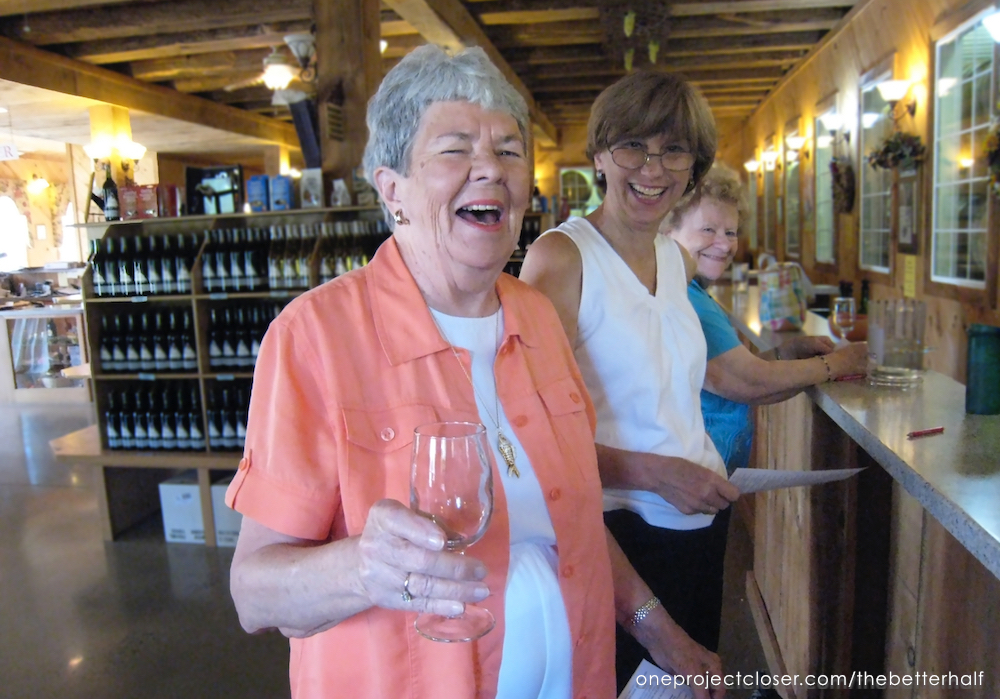 This Mother's Day and every time I look at this printable, I'll be thinking of Gran and her legacy of laughter. She loved jokes, and would have enjoyed this one too!
Okay, okay. enough chit-chat. Let's get to the good stuff. Download your free printable here!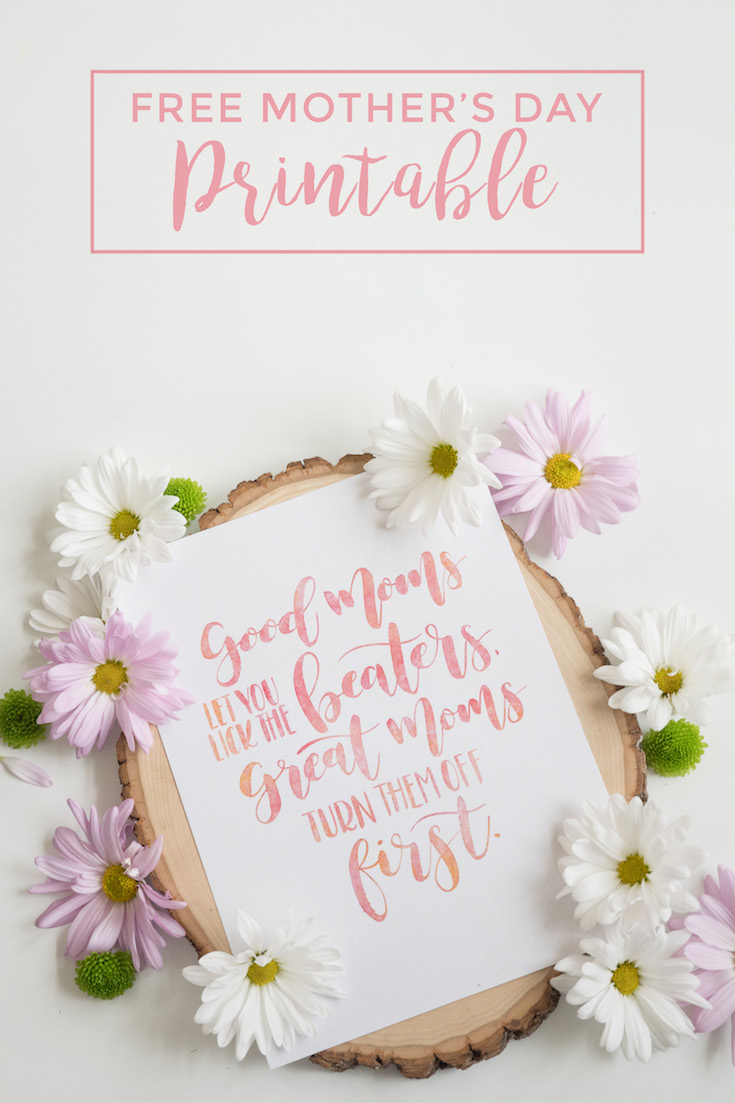 And if you want more Mother's Day fun, hop over to One Project Closer for another free printable.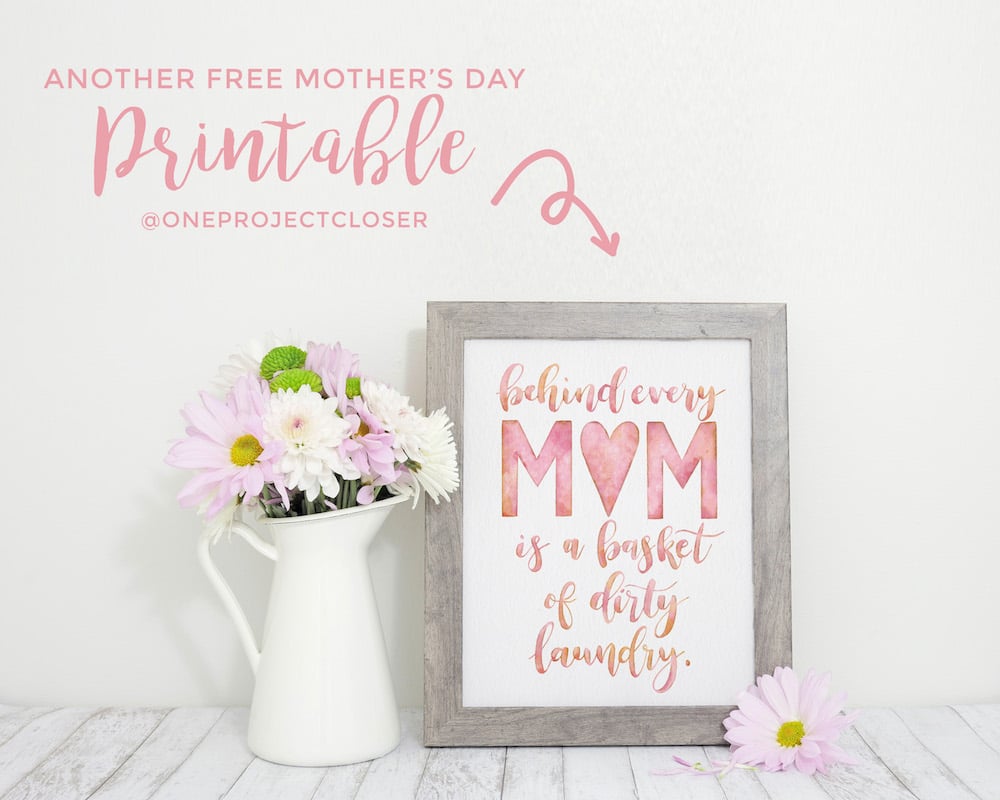 If you love hand lettered art and decor, be sure to check out my hand lettering online course for the DIY girl! And use the code: BUSYGIRL20 for 20% off the price (only good through April 30, 2018).
What about you, what does Mother's Day mean to you? I hope you feel cherished and loved this Mother's Day!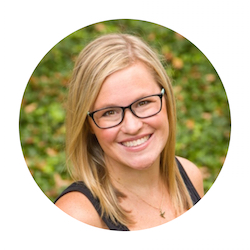 Jocie Hagan
One Project Closer
Jocie is an editor at One Project Closer. A blog almost 10 years strong, OPC is a DIY site for the whole family, sharing everything from how to build a shed, to tons of free printables and Home Depot coupons. Blogger by day, mom by night, she enjoys crafting with the kids, reading a good book in her spare time (which is close to never), and hand lettering to relax.
Don't forget to download your free printable wall art!
Want more ideas for Mother's Day? Try making mom one of these reverse canvases!