I love a great constellation craft. After all, there is nothing better than looking up at the stars on a clear night. So, any craft that reminds me of that feeling is a winner! I thought I would use Cricut Infusible Ink today to make some constellation coasters with the zodiac signs. These are so easy to customize and make a great personalized gift idea.
This post is sponsored by Cricut, however, all projects and opinions are my own.
Constellation Craft
If you love the constellations as well as the zodiac signs, you really need a set of these coasters in your life. My favorite thing to do with this project is to make a set of coasters for a family personalized with the signs of the members of the family. It is an easy way to make a gift that they will never forget.
Supplies needed:
Constellation Coasters Video Tutorial
Want to watch the entire process for making these coasters on video? You can just click play below and I will walk you through the entire process.
Can't watch the video or missed some of the steps? Just follow along with the steps below for making this constellation craft.
How to Make Coasters with Infusible Ink
Coasters are a great way to get introduced to Cricut Infusible Ink Transfer Sheets. I find that they produce great results as long as you follow the instructions. So, grab a set and try this craft soon!
Making Your Designs in Cricut Design Space
You can pull up this file in Design Space and you can make the signs that I have already designed. Want to make other zodiac signs? I have instructions for adding any that you want below.
Click images and search for constellation. You will see the images below that you can choose from. Insert the ones that you want to make.
Resize to 3 inches maximum on the largest dimension.
Ungroup and detach what you have inserted. Then delete the draw layer. Next, you want to get a good idea of what this will look like on a coaster so add a circle 3.6 inches in diameter to your canvas.
Turn the circle white and click arrange to move to the back. Move your design over the coaster to get an idea of what it will look like. Size the design to fit. You want the constellation itself to be as large as possible.
Change the color of both the Infusible Ink and the vinyl pieces to be the same so they cut from the same sheet. Delete the circle you added to the canvas. Now repeat for each sign you would like and move to cutting your constellation craft.
NOTE: If you remove any unneeded small features using the contour button, it will make the Infusible Ink easier to cut and weed. Just look for super small pieces that may not be needed in the design overall and click on them in the screen below.
Cutting Cricut Infusible Ink
Add the Infusible Ink to your mat with the ink side up. Always make sure your hands are clean and dry when handling the transfer sheets. I like to use a brayer to press the sheets down on the mat.
IMPORTANT: Mirror your design when cutting Infusible Ink Transfer Sheets.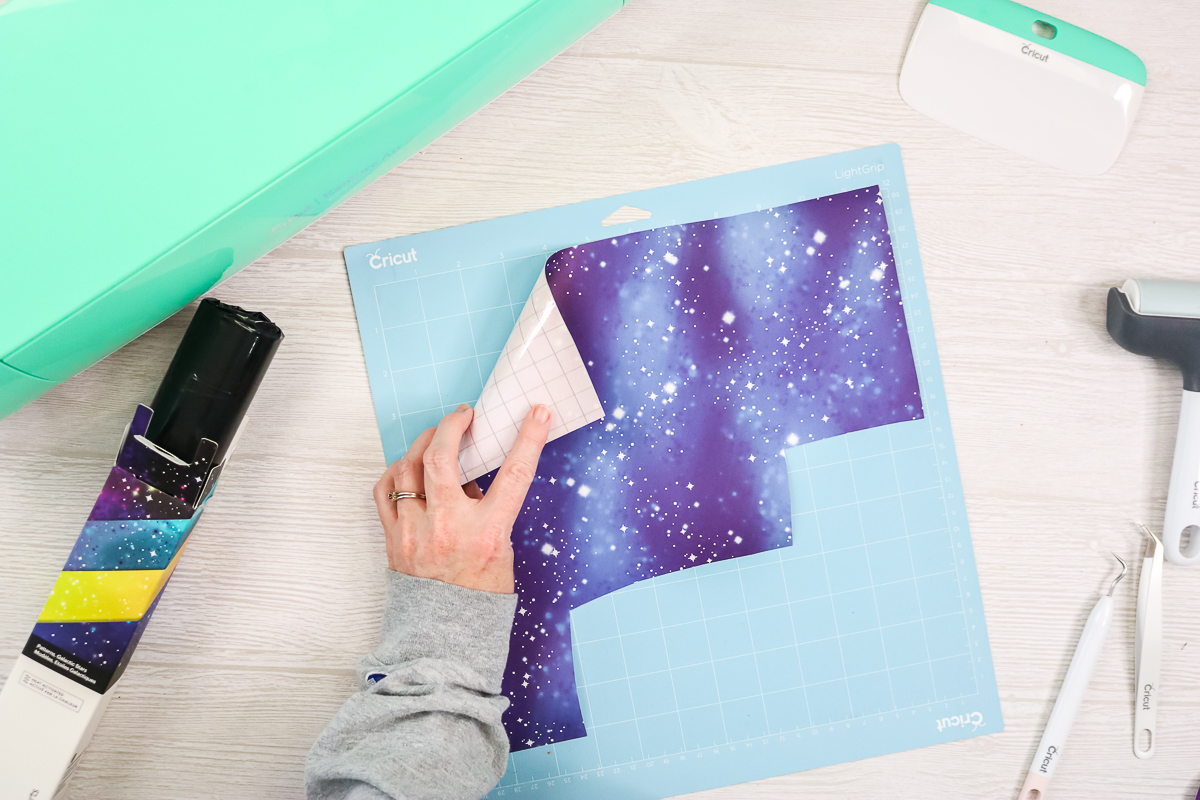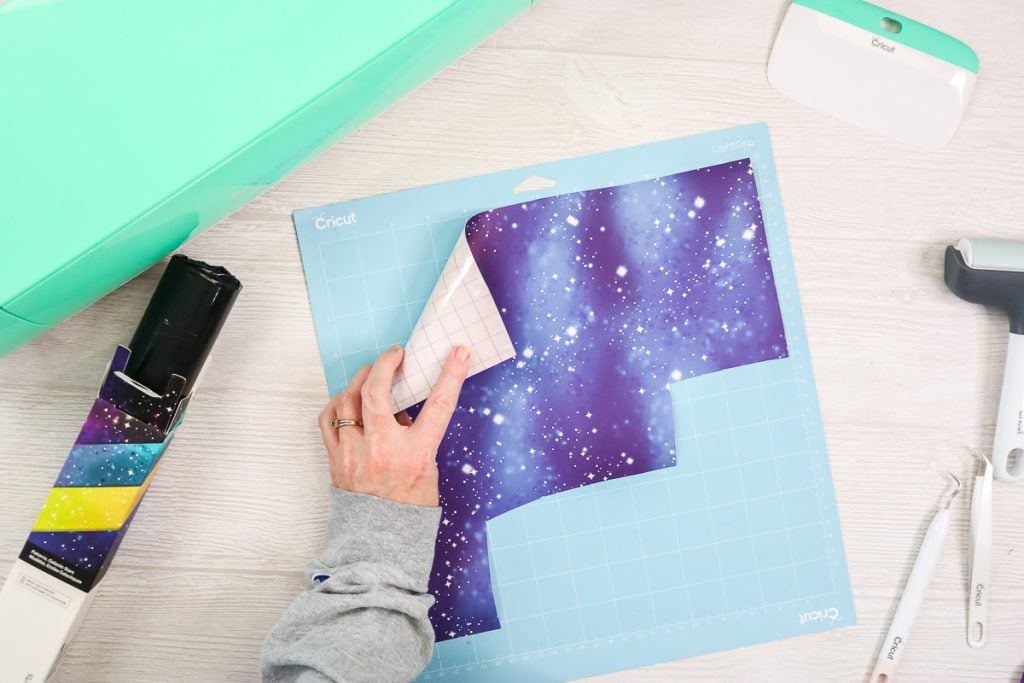 Turn your Explore dial to custom if you are using the Explore machine. Choose Infusible Ink Transfer sheets in Design Space then cut your sheets with the fine point blade.
Load the mat and press the "C" button to cut when prompted. For this project, you will also want to cut your vinyl. This is placed face up on the mat and there is no need to mirror. Be sure to change your material setting to textured vinyl when cutting.
NOTE: For Infusible Ink, I like to check my cut BEFORE removing the sheet from the machine. So, once the cut is complete, check a small piece to ensure it is cut through the sheet and not the transfer sheet underneath. If it is cut through, press the arrow button to unload. If it is not cut through, press the "C" to cut with another pass.
Weeding Cricut Infusible Ink
Now that you have your pieces cut, you will need to weed before completing your constellation craft. For Infusible Ink, you will want to bend the sheet slightly in both directions "cracking" the sheet. Then remove the outside piece as well as any pieces inside with your hands. You can use tweezers if you need to but don't use weeding tools on Infusible Ink.
You will also want to weed your vinyl piece. Use weeding tools to weed around the outside as well as anything that needs to be removed in the center. Repeat for all of your cut designs then move on to pressing.
Adding Infusible Ink to Ceramic Coasters
You will want to make sure your coasters are completely clean before beginning. You can either wipe them with a lint-free cloth or even run a lint roller over each one.
Add the Infusible Ink piece ink side down on the glossy or top of your coaster. Remember that the matte side of the ceramic coasters is the bottom. Press the design down well as the carrier sheet itself is sticky.
You do not want this to move at all while pressing so I like to add about three pieces of tape around the outside edge.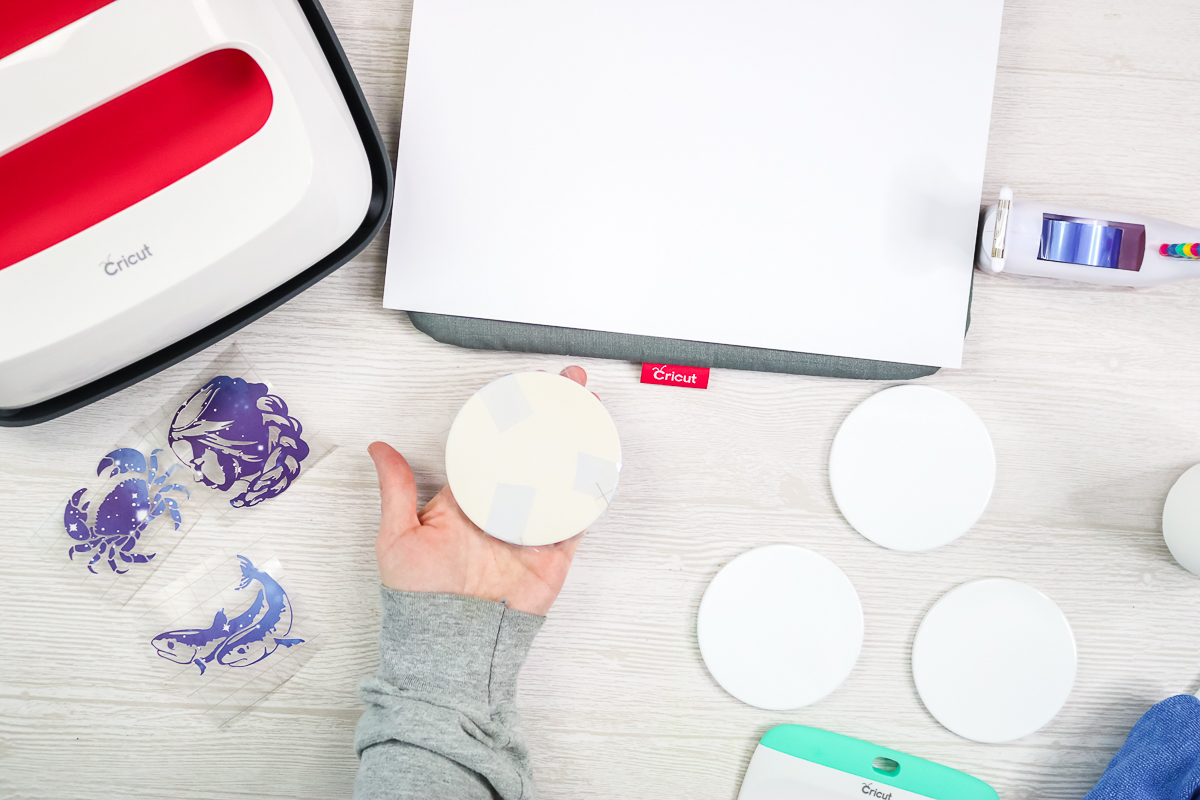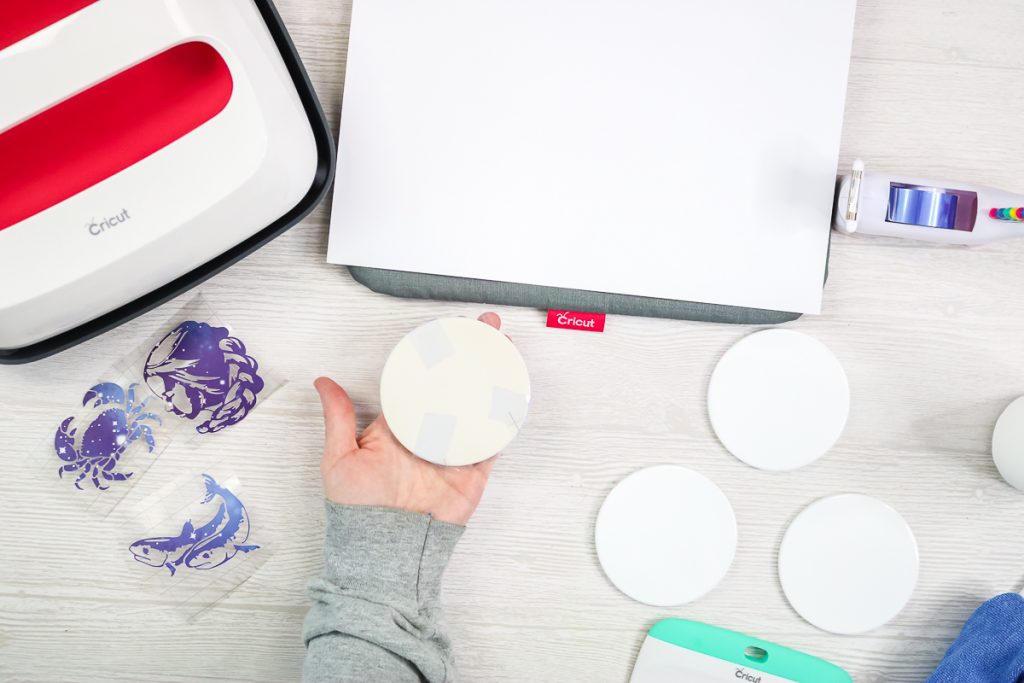 Then place each coaster UPSIDE DOWN on the EasyPress mat covered in white cardstock. If you don't have white cardstock, you can also use 4 sheets of butcher paper.
Repeat for all of your coasters. You can press four of these at one time with the 9×9 EasyPress.
Check the Cricut heat guide for the appropriate time and temperature and heat up your EasyPress. NOTE: Always press Infusible Ink in a well-ventilated area. Then cover the coasters with a piece of butcher paper that is larger than the EasyPress. Add your EasyPress to the top and start the timer. There is no need to press at all. Just allow it to heat for the full time.
Once the time is complete, lift the EasyPress and allow the coasters to cool completely before handling. This is the hardest part of this project, but it is imperative!
Once cool, peel back the carrier sheets to reveal the gorgeous designs underneath!
Adding Vinyl Constellation to Coasters
Now that your Infusible Ink design is on the coasters. you can add some vinyl constellations to the top! Add the transfer tape to the vinyl and burnish well. Peel back leaving the vinyl on the transfer tape. Then add to the coaster in the correct location. Burnish down well and remove the transfer tape.
Use your scraper to make sure that the vinyl is stuck really well. Repeat using the same piece of transfer tape for as many coasters as you have. Remember to allow the vinyl to sit for at least 72 hours before using these coasters.
FAQ
Here are some questions that you may have about this project and my answer to each one. Feel free to drop down to the comment section if you don't see your questions answered here and ask anything that comes to mind!
Do these coasters need to be sealed?
The Infusible Ink is permanent on the Cricut brand of coasters. I used permanent vinyl over the top so it should be fine as well. If you are nervous about the vinyl, you can add something over the top. My favorites include dishwasher-safe Mod Podge, Mod Podge Ultra, and epoxy.
Can I use any other coaster brand?
Infusible Ink needs a poly-coating to work properly. This means that coasters or tiles from a home improvement store will not work with this method. I recommend looking for the Infusible Ink logo when shopping for supplies.
Do I have to have an EasyPress to make these?
You need a press that heats up to 400 degrees. If you have a heat press, that will work as well. I would use a light pressure, however.
Do I need an EasyPress mat?
It is preferable to have a mat when making Infusible Ink coasters. The mat will protect your surface from the extreme heat needed for this project.
Why do you put the coasters face down on the mat?
These directions come directly from the Cricut Heat Guide and it works really well.
Why do you need cardstock and butcher paper?
You need to protect both your mat as well as your EasyPress from any Infusible Ink that may leak out. You do not want this on your surfaces!
I made the zodiac signs for all of the members of my family. You can add whatever signs you would like to your set. You might even make a set with all of the signs!
So, will you make this constellation craft for your home? Grab your supplies and make some Infusible Ink coasters. You will love how they turn out and how great they look in your home.
Need to print the instructions for this zodiac sign craft idea? Just use the card below!
Love this constellation craft idea and want more? Try the links below for more ideas with Cricut Infusible Ink!