Jen Goode is back again this month to show us how to quickly label school supplies with your Cricut.
Did you know that you can quickly create school supplies with your Cricut machine? Let's get children excited for back to school by letting them help pick vinyl colors and fun different fonts.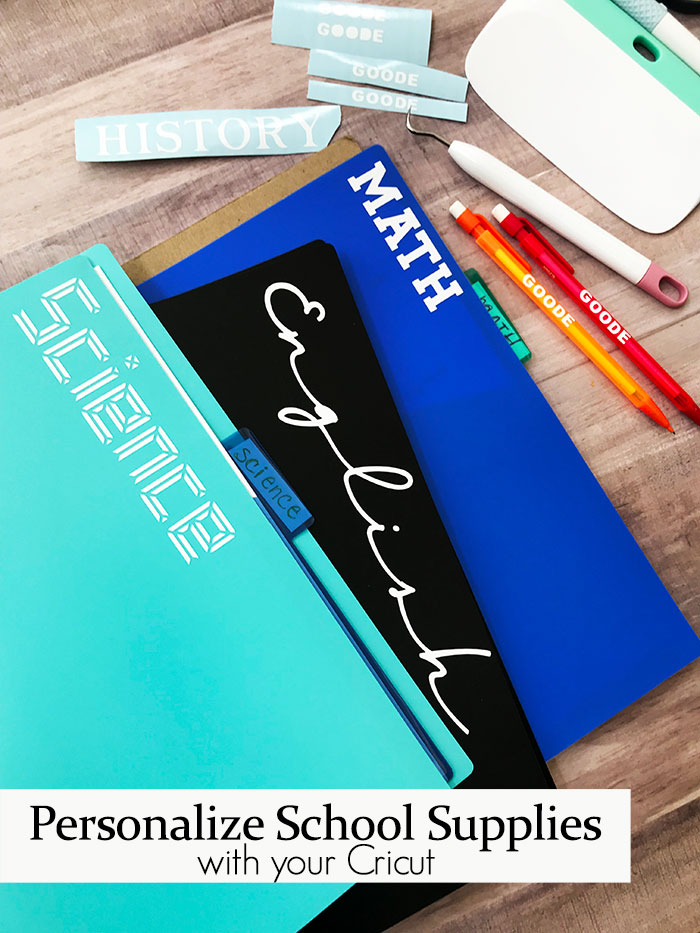 I don't know about you but nothing makes me happier than letting someone or something else do all the hard work. No more hand-writing labels, your Cricut is about to become your best back to school friend.
This was originally posted August 15, 2018, but I have updated the post with new information for you.
Quickly Create Labels for School Supplies with Your Cricut
From binders and folders to pencils and pens and all the supplies in between. You can create word art text cuts with your Cricut to label a wide variety of school supplies. With so many different colors of vinyl you can create the perfect label for every surface.
While you can create these school labels with any Cricut machine they're a great project for Cricut Joy. Since they're all rather small. If you own a Joy I definitely recommend breaking it out for this project.
Materials
Cricut machine (you can cut Vinyl with every Cricut machine from the Joy to the new Maker 3 and Explore 3 machines)
Vinyl (not iron-on)
Items to label – I'm using binders and pencils for this example
Scraping tool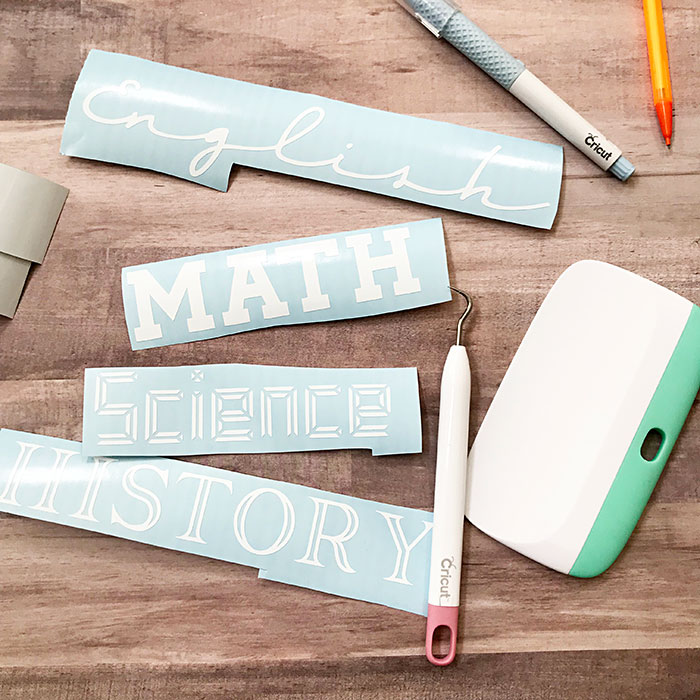 Instructions for creating back to school labels
Figure out all the words you want to cut out of Vinyl and type them into Design Space. I recommend creating a new text box for each new word.
Once you have all your words typed out you can select each word and look at the different fonts and pick your favorite one for each word. You can use fonts from Design Space or any font installed on your computer.
If you're using any script fonts make sure you weld the font so it cuts out as one solid word like "English" in the photo above.
If you're using multiple colors make sure to change your different words to the correct color so your machine knows to cut them on different mats.
If you are using Cricut Premium Vinyl – Permanent and having a hard time getting it to cut cleanly test a cut using the Chalkboard Vinyl setting. It usually works really well for nice clean cuts. Test cut first!
Once your words/images are cut using your weeding tool weed out all the excess.
Apply Standard Grip Transfer Tape to your words and using your scraping tool burnish front and back and pick up the word from the backing.
Wipe down your surface and then apply vinyl to the surface. Use your scraping tool to burnish the vinyl into place and slowly remove the Transfer Tape.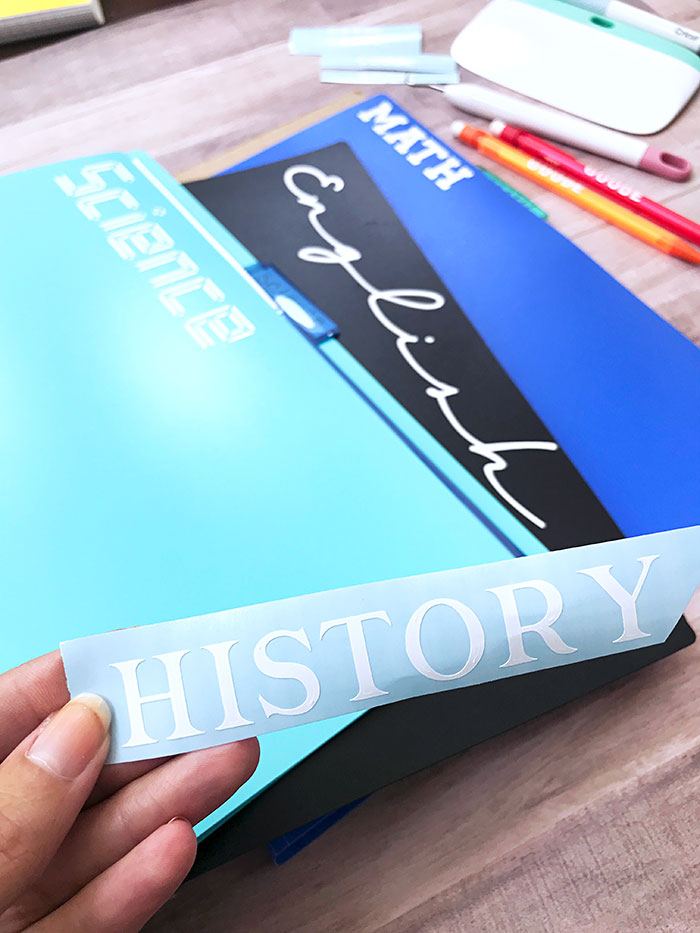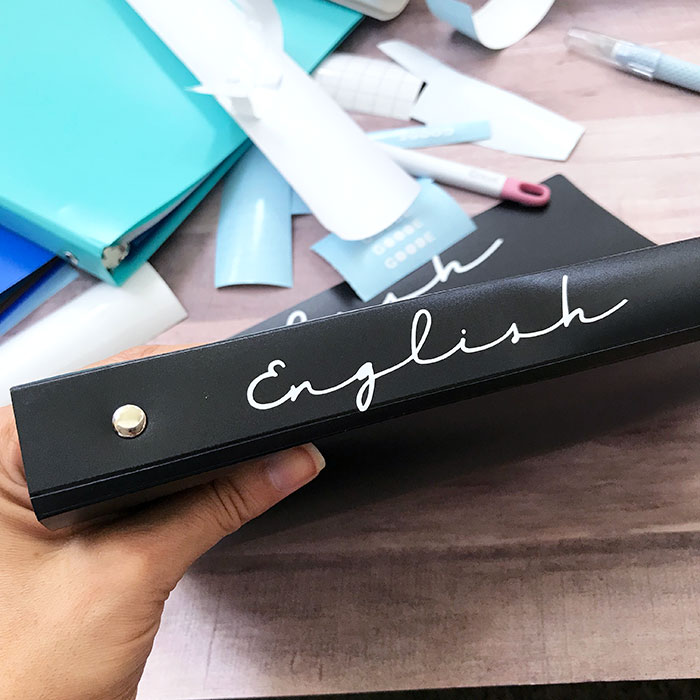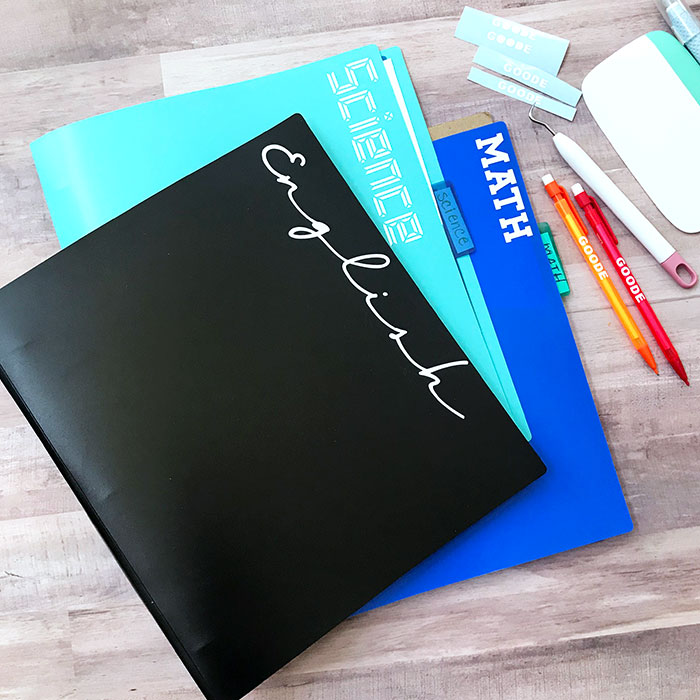 Bonus! If you'd like to add some fun art to the front of a pocket binder, I have a free printable back-to-school coloring page! You can also use this printable to make your own subject dividers or add it as an accent to your assignment notebook. Just print it on cardstock and then color however you'd like.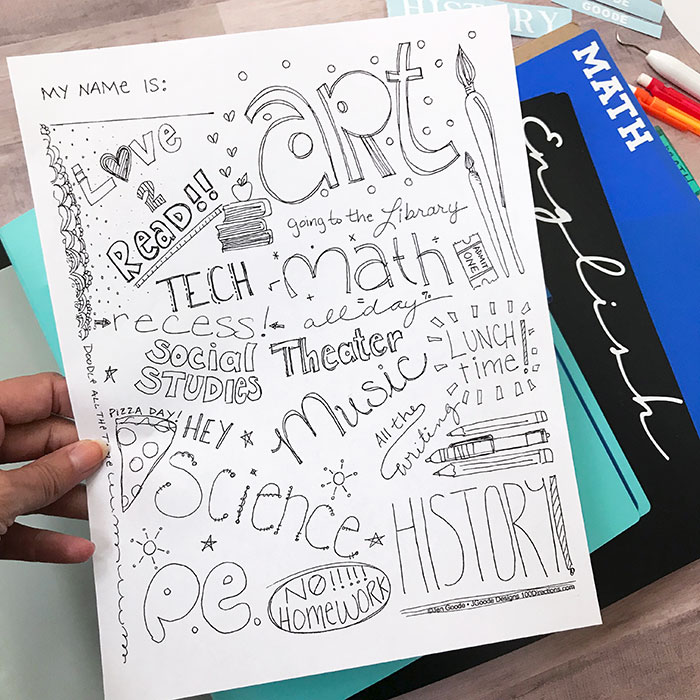 Tips for labeling school supplies with your Cricut
Here are a few tips I've picked up along the way that could help you more easily label all those school supplies.
Choose fonts that are bold or simple lines. Remember that your adhesive is on the back of whatever you cut so really thin lines won't have a lot of adhesive to adhere to your surface. If you choose a font with thinner lines cut it large, like the front of a binder.
Unless you're using Glitter or Shimmer vinyl make sure you're using a Standard Grip Transfer Tape. Strong Grip Transfer Tape won't release regular vinyl and can really stick to the surface. If you are using a glitter vinyl and Strong Grip Transfer Tape try to burnish only over the letters to keep from sticking the transfer tape to the surface.
Make sure you check your surface before cutting the vinyl. You don't want to accidentally cut a black "English" if your English binder is also black! This is a great time to get the kids involved, let them pick the color combinations they like most.
Before weeding cut the words into separate pieces. They're much easier to weed one word at a time than a full sheet at once.
Remember you're using Vinyl – you do not need to mirror your image. Learn from the mistakes of others – haha!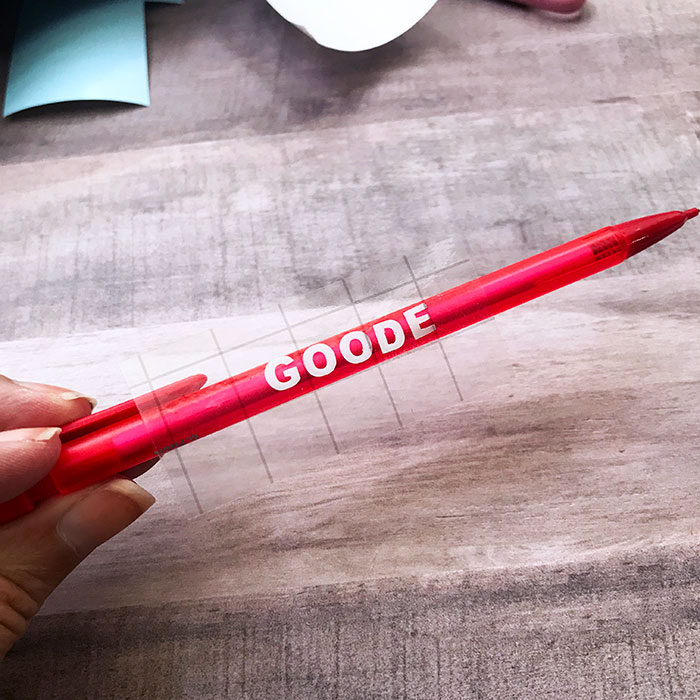 What can I label with Vinyl?
Binders – the front of the binder and the spine of the binder make great spaces to personalize with vinyl.
Pencils – both traditional and mechanical pencils would look great with a vinyl name or word art added to the side.
Assignment notebooks – add the class schedule or maybe a fun quote to your main assignment notebook.
Pencil bags – add a fun art word to the front of a pencil bag to make it your own.
Lunch boxes and bags – iron-on vinyl works great for fabric, but what about all those plastic and metal lunch containers? Use a permanent vinyl to personalize these items.
What type of Vinyl should I use for school supplies?
Permanent Vinyl is perfect for most labels for school supplies. Pencils, pencil boxes, lunch boxes, etc. will all belong to your child for the whole school year so using Permanent Vinyl is the best option for those types of projects.
There are times when Removable Vinyl could come in handy. If you're labeling school supplies for children who's classes will change throughout the year Removable Vinyl is a great option. It's also a fun option if your child is allowed to decorate the inside of their locker. Cricut Removable Vinyl is guaranteed to not leave residue behind if it's removed within 2 years!
I can't wait to see you create labels for school supplies with your Cricut. Make sure you tag us in your posts. You can also see more ideas here for adding iron-on to your notebooks!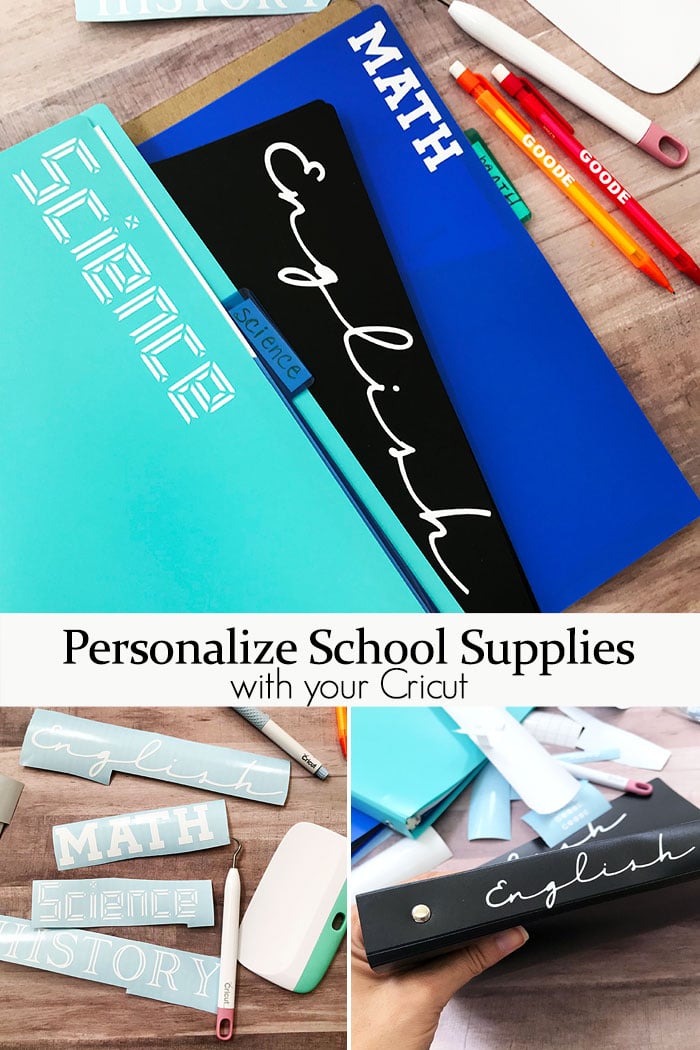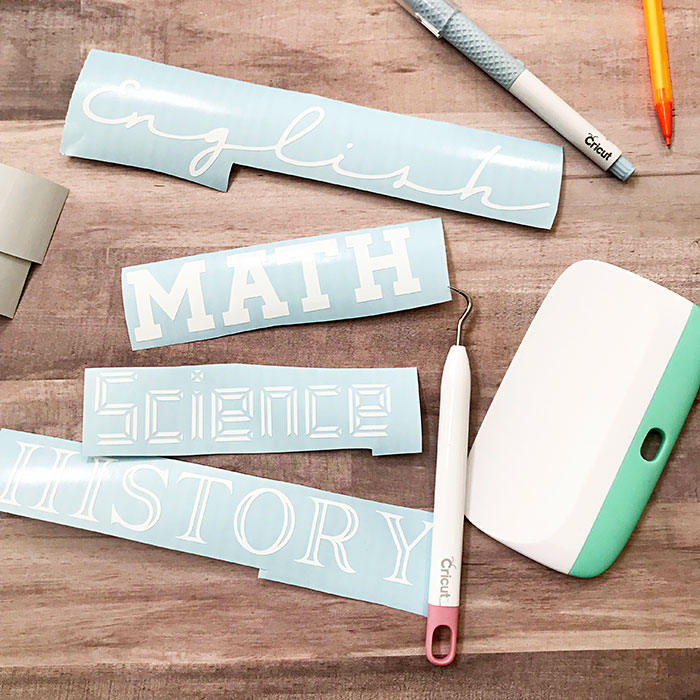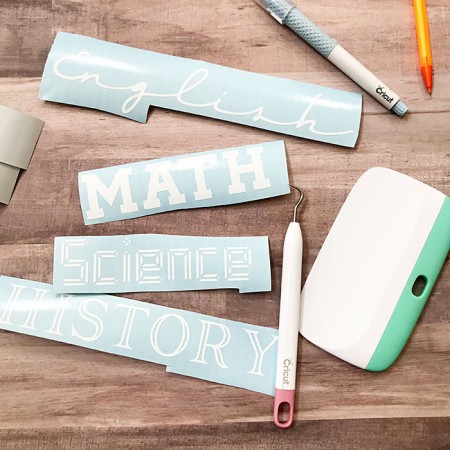 Labels for School Supplies
Grab your Cricut machine and make labels for school supplies using Vinyl.
Supplies
Vinyl

Permanent or Removable in any color

Transfer Tape

Standard Grip for everything except Glitter or Shimmer vinyl.

School supplies to label
Instructions
Choose Vinyl colors by looking at your supplies and coordinating the colors to the supplies.

In Design Space type out all the different words you need for your labels in separate text boxes.

Change each word to desired font and color of vinyl.

Send your design to cut. Do a text cut of one small item first to make sure you're getting a clean cut. *If your cut isn't as clean as you'd like try the Chalkboard Vinyl setting.

If you cut multiple words from one color cut them into individual words before weeding to make it easier to weed.

Cut Transfer Tape to just larger than the size of your image and apply to word.

Using your scraping tool burnish front and back of vinyl to push vinyl onto transfer tape.

Wipe the surface of your school supply clean.

Slowly remove the backer from your vinyl and apply to school supply.

Using your scraping tool burnish on top of the transfer tape to press vinyl onto school supply.

Slowly remove the transfer tape.

Allow vinyl to sit for 72 hours before handling for adhesive to adhere to surface.
Notes
Permanent Vinyl is the best vinyl to use for most school supplies to help ensure your label lasts all year.
Removable Vinyl is a great option if you know you need to change a label throughout the year as classes change.
Removable Vinyl is also a great option to decorate the inside of school lockers as it can be removed for up to 2 years without leaving behind any residue.
Make sure when using a script font you use the weld tool to turn the word into one solid word.
Standard Grip Transfer Tape is used to transfer all vinyl except glitter and shimmer vinyl.
If using glitter or shimmer vinyl use Strong Grip Transfer Tape but be aware that it is very sticky. Be careful when burnishing that you don't rub the transfer tape onto the surface except over the letters.
When removing Transfer Tape go slowly and at an angle to make sure your letters are sticking down so you don't accidentally tear them.
Tried this project?
tag us to show off your work!
New to Cricut?
Sign up for our email list here to download the Beginner's Guide to Cricut Design Space for FREE today!
Sign up to get the guide emailed to you!