I get questions all the time about fonts for a Cricut machine. Where do you find them? How do you install them? Are there any good free fonts I can use? Today I am answering all of your burning questions with one epic blog post all about how to use all the fonts with your Cricut. Please note that all of the information below will apply to any Cricut machine so that includes the Cricut Maker, Cricut Explore series, and Cricut Joy.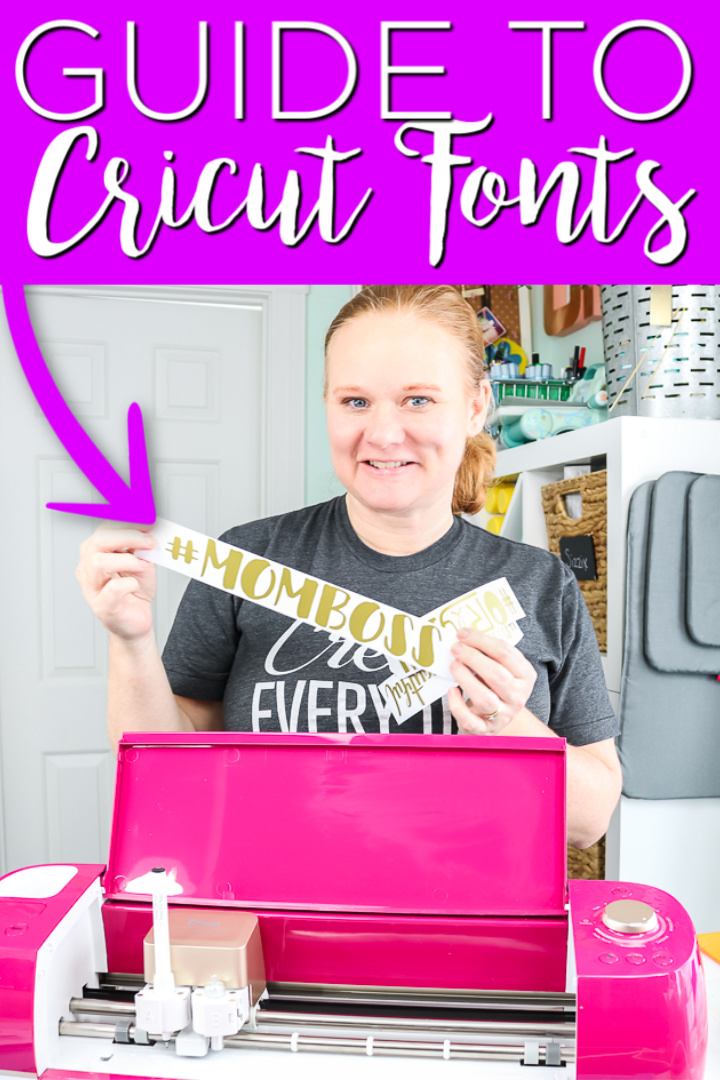 What fonts can you use on your Cricut?
There are two types of fonts that will pull up in Cricut Design Space:
Cricut – these fonts are right in Cricut Design Space. Some are free for all, some are free with an Access subscription, and some you will need to purchase. You can use these without installing anything further.
System – the fonts on your computer or mobile device can also be used on your Cricut. These are called "system" fonts in Cricut Design Space. This means that any font that you can put on your device can be used with your Cricut machine.
The Best Free Cricut Fonts
So, now that you know you can use any font on your Cricut, how do you find the best ones? I have some options for you to get free fonts to use on all of your craft projects. You can actually watch the video below to see all of my sources or just keep reading.
The Best Free Cricut Design Space Fonts
First, I mentioned that there are a few free fonts right in Cricut Design Space. These are my favorites from those options:
Cricut Alphabet
Cricut Alphabet Circle
Dom Casual Std Regular
Cricut Classic Chunky
Cricut Craft Room – Basics
Karley
Cricut Sans
Simple Celebrations
Southwest
Wanderlust
There are a few other options that are free as of this writing. Hunt around and find a few favorites to use! Remember that you don't have to do anything but have Design Space in order to use these fonts.
The Best Free Font Websites
Now, I also mentioned above that you can download fonts and add them to your device to use with your Cricut. Where do you find those fonts? Here are my five favorite sources!
Browse the free selection at those sites and pick a few to install and use on your designs.
How to Install Fonts for a Cricut Machine
Now that you have a few fonts picked out, how do you get them on your device. I am covered installation on both computer, mobile, and tablet in the following video.
It is much easier to show you this process instead of walking you through it with text so I would recommend watching the video. You can ask questions here or over on YouTube if you have issues.
Now you should have some options to start creating with your machine. You might also want to see some of other posts and videos about working with fonts:
I hope this guide helps you to understand fonts for a Cricut machine and just how they work. Now that you know there are so many free options out there, be sure to use them to create all of the things! Please note that you might also want to see our guide to licensing if you are going to use these commercially.
New to Cricut?
Sign up for our email list to download the Beginner's Guide to Cricut Design Space for FREE today!
Sign up to get the guide emailed to you!