Jen Goode is back again this month to show you how to quickly label school supplies with your Cricut. Just in time too!
Did you know you can quickly label school supplies with your Cricut? Yep! Create all kinds of fun text and label all the things. You can pick the font, pick your vinyl colors and even add cute little icons if you want. No more hand-writing all those labels, instead get your Cricut to do all the hard work and you have all the fun.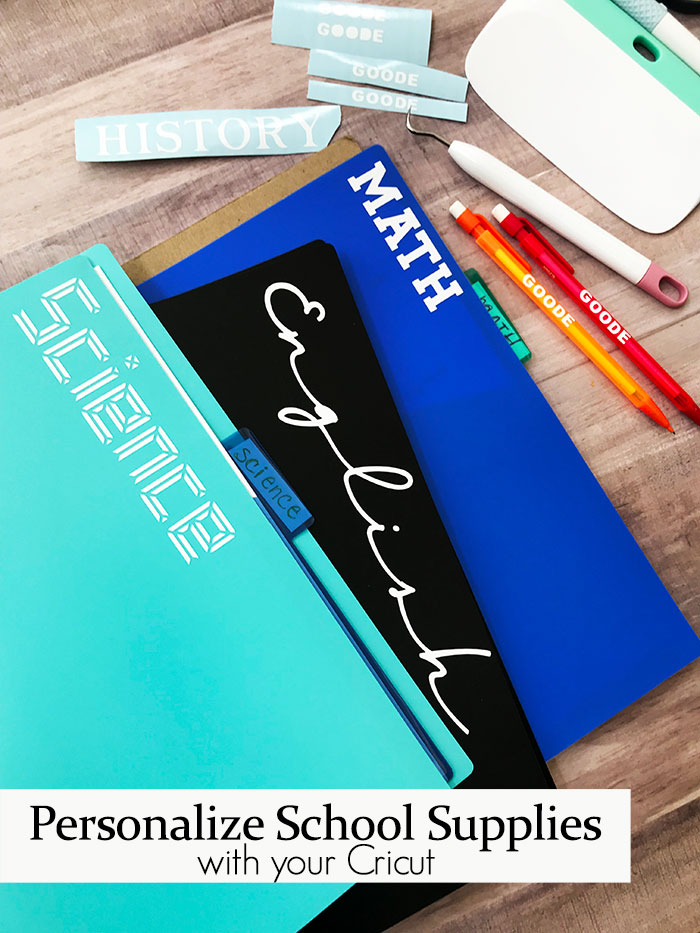 Quickly Label School Supplies with Your Cricut
You can create word art text cuts with your Cricut to label a wide variety of school supplies. From binders and folders to pencils and pens and all the supplies in between. Vinyl is very versatile and the options of where to apply it are are nearly unlimited.
Materials
Vinyl (not iron-on)
Items to label – I'm using binders and pencils for this example
Burnishing tool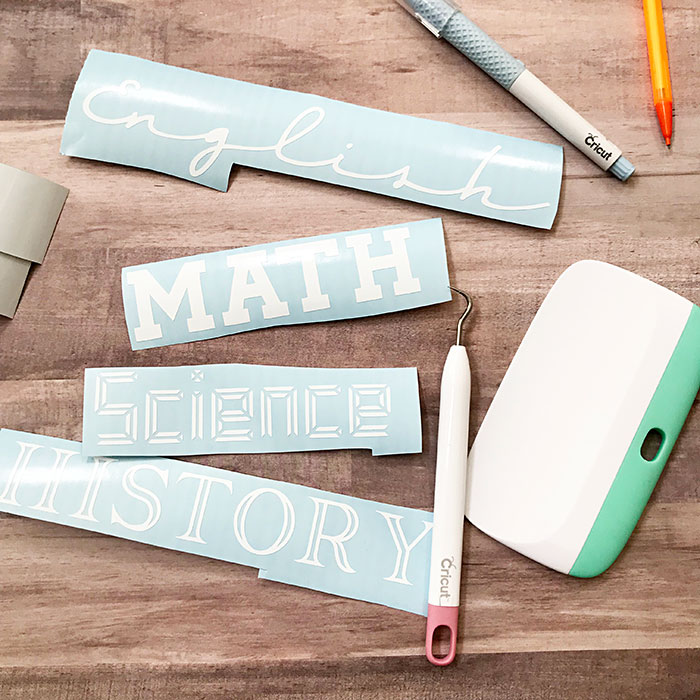 Instructions
Set up the words you want to cut in Cricut Design Space. I suggest "welding" the letters that touch to make for easier labeling.
Weed the cut designs, leaving only the text/word art on the backing paper.
Using transfer, pick up the word design and remove the backing paper.
Transfer the word design to the school item (example, binder). Use the burnishing tool to carefully rub the vinyl into place. Carefully remove the transfer tape.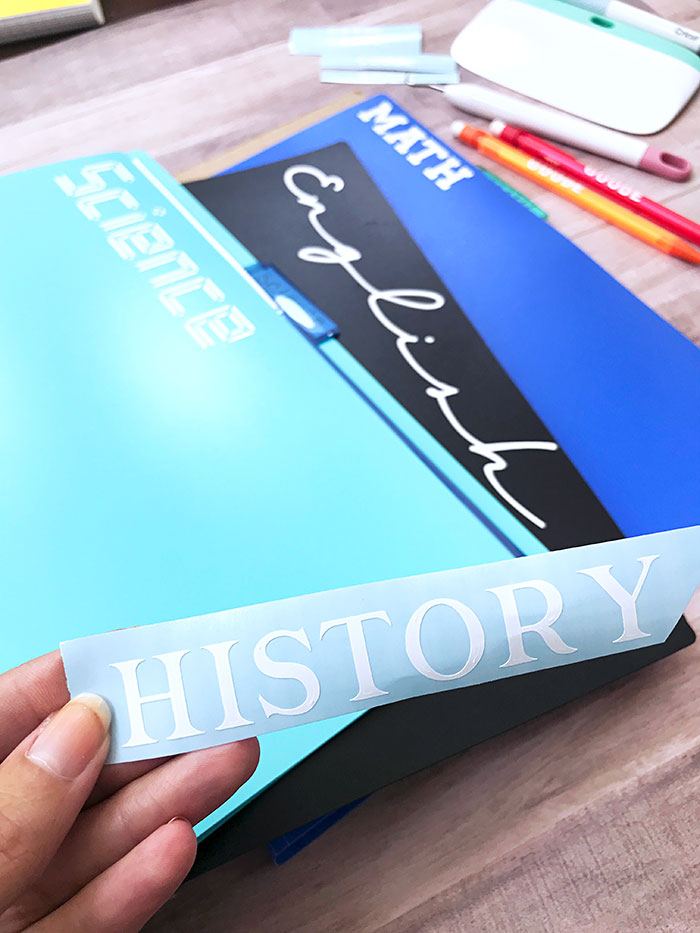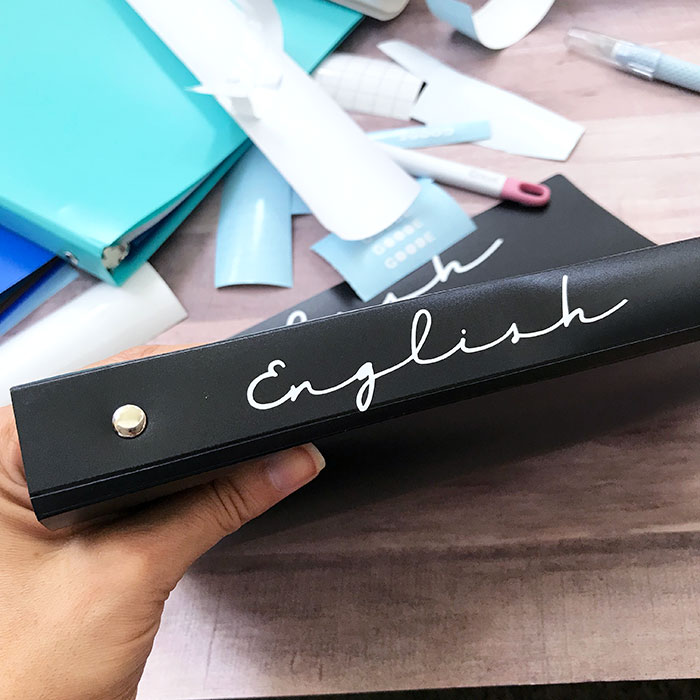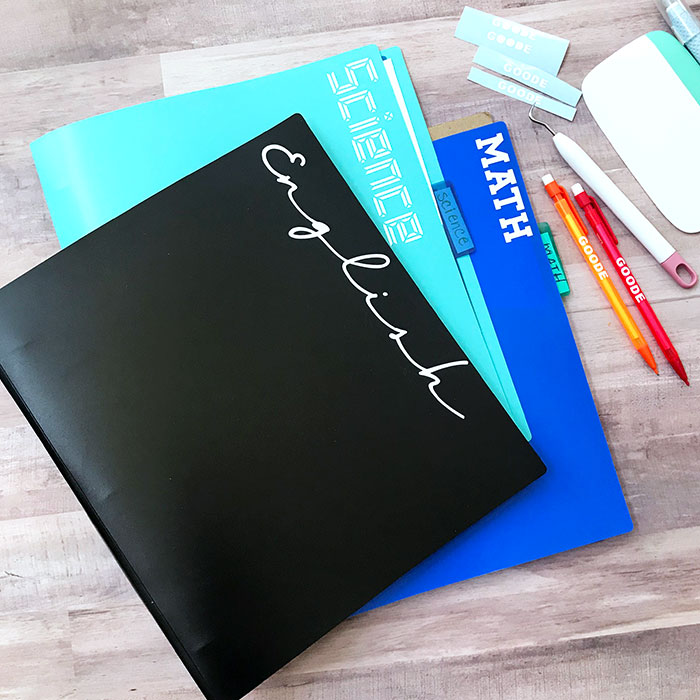 Bonus! If you'd like to add some fun art to the front of a pocket binder, I have a free printable back-to-school coloring page! You can also use this printable to make your own subject dividers or add it as an accent to your assignment notebook. Just print it on cardstock and then color however you'd like.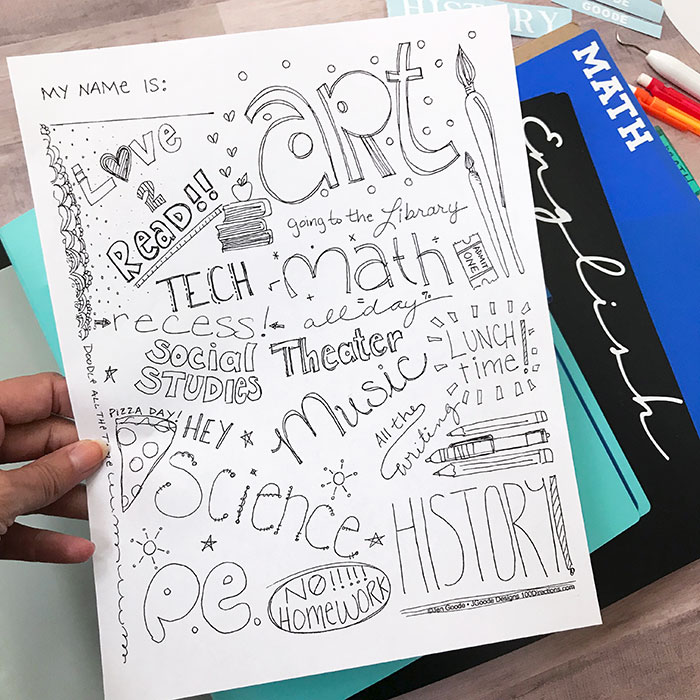 Tips for labeling school supplies with your Cricut
Here are a few tips I've picked up along the way that could help you more easily label all those school supplies.
Choose fonts that are bold, or simple lines. If you choose fancier fonts with more accent lines and cut designs in them, make sure you are cutting larger words. The smaller words can be tricky and take far more time to weed.
Use the standard transfer tape. I started with a strong grip transfer tape because I was trying to transfer intricate word art. Bad idea! The transfer tape stuck to the binders and made it impossible to transfer the vinyl.
Check your vinyl colors with the school supplies before cutting. You can set the vinyl next to all the different school supplies to see which colors will stand out best and give you the look you want before you ever make a cut.
Cut the different words apart and weed separately. I've found it much easier to weed one word at a time instead of a whole sheet of words together.
Make sure you do NOT set the cut to "mirror". Traditional vinyl does not need to be reversed to cut properly. I may have personal experience with this possible mistake – wink.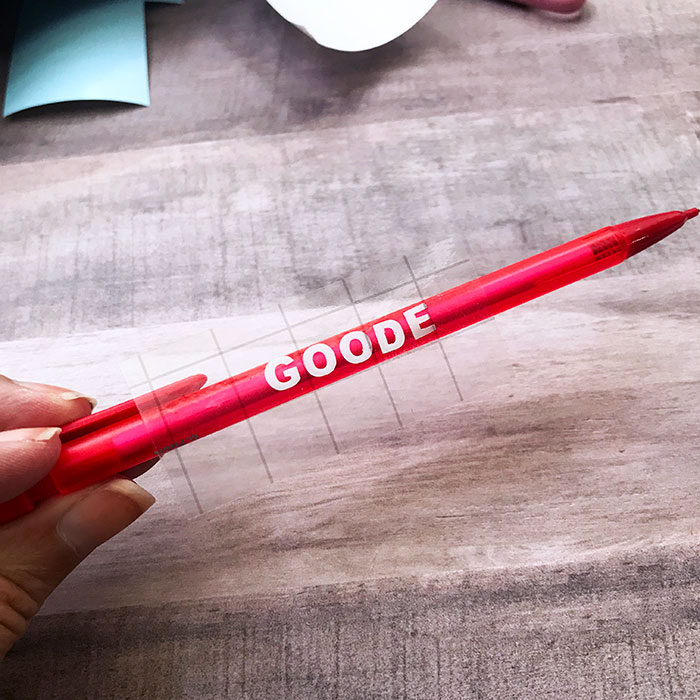 School supplies you can label with word art vinyl
Binders – the front of the binder and the spine of the binder make great spaces to personalize with vinyl.
Pencils – both traditional and mechanical pencils would look great with a vinyl name or word art added to the side.
Assignment notebooks – add the class schedule or maybe a fun quote to your main assignment notebook.
Pencil bags – add a fun art word to the front of a pencil bag to make it your own.
Lunch boxes and bags – iron-on vinyl works great for fabric, but what about all those plastic and metal lunch containers? Use a permanent vinyl to personalize these items.
If you use removable vinyl, it may not last the whole year, but you can personalize your school supplies over and over. Try using a permanent vinyl (or outdoor vinyl) for supplies that get a ton of use. Have fun labeling all the things. I can't wait to hear about all the personalizing you've created with your Cricut! You can also see more ideas here for adding iron-on to your notebooks!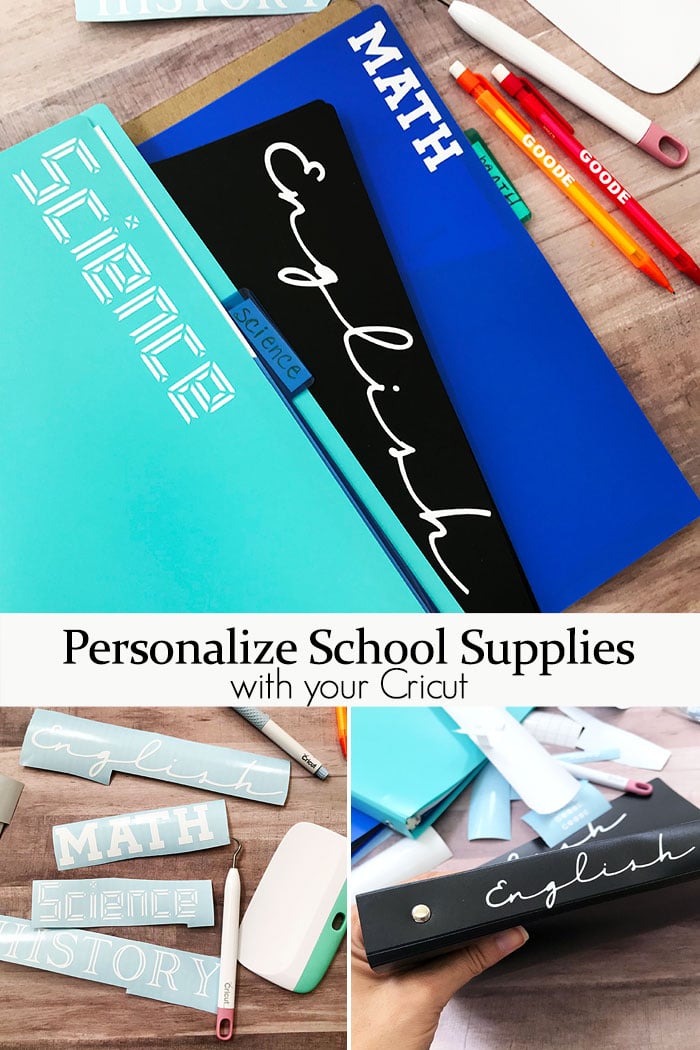 New to Cricut?
Sign up for our email list here to download the Beginner's Guide to Cricut Design Space for FREE today!
Sign up to get the guide emailed to you!