I have some rustic glam wedding decor that you are going to love but first some exciting news. This is my first post as a Dollar General ambassador! Every month I have the pleasure of stalking Dollar General for some fabulous finds and bringing them right here to you. Have you been in a Dollar General lately? They have really stepped up their game y'all! From craft supplies to home decor, there are some amazing deals to be found. For instance, you can find EVERYTHING you need to make this rustic glam wedding decor right at Dollar General. Skeptical?? Then let's get started!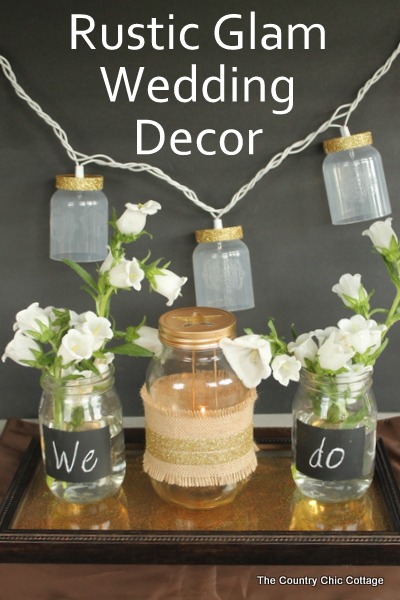 Yep today I am mixing mason jars with gold glitter to give you the rustic yet glamorous wedding of your dreams. To make everything you see, gather the following from your local Dollar General: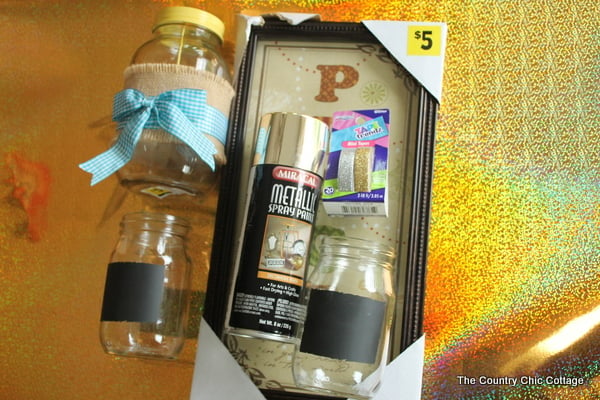 I told you Dollar General had stepped up their game! Want proof I found all of these in my local Dollar General store? I even took pictures INSIDE the store to prove it to you.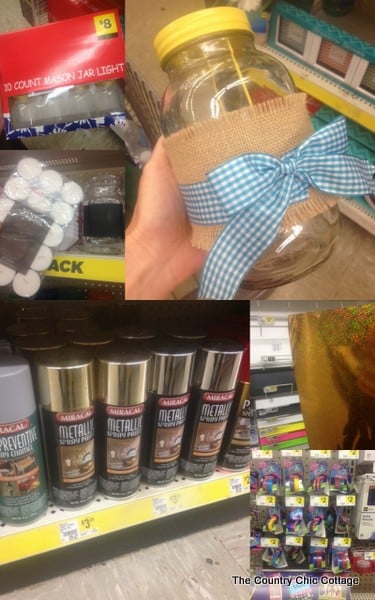 Awesome right? I will pause while you head to Dollar General for your supplies. Then hurry back here to make your own rustic glam wedding decor 'kay? Alright now that you are back, start by stripping that framed picture of all hardware, etc. Remember it is becoming a tray so it will need to sit flat on the table.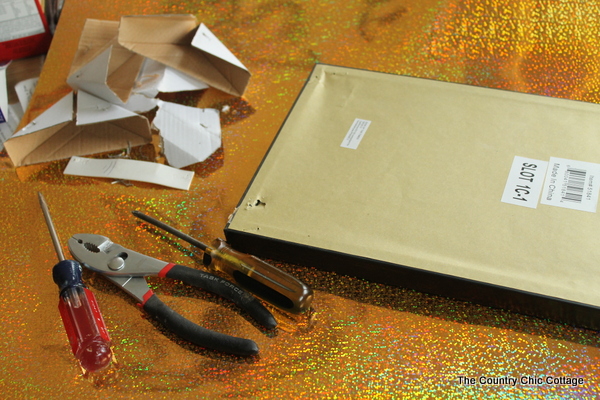 Next we are going to have to get inside of it to add that fabulous gold glitter poster board (yes it is that amazing in person as well).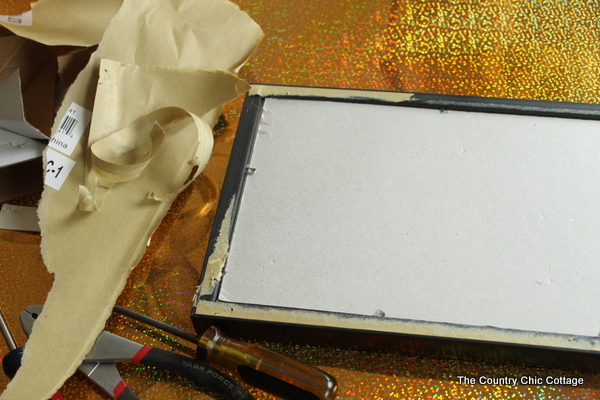 The frame I settled on is sort of a shadow box because the picture has some 3D elements to it.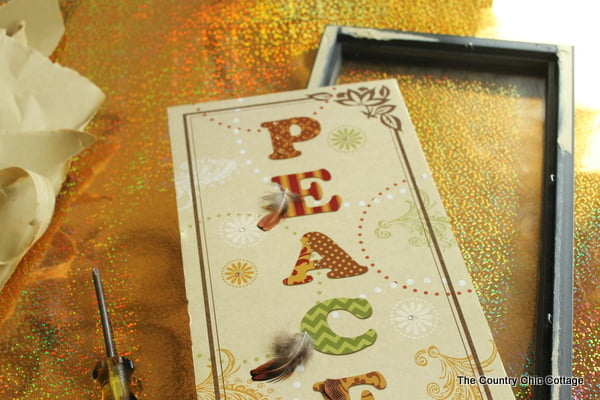 Can you guess what I am going to say? We are going to need to remove all of those as well so the posterboard lays flat. I just pulled all of the elements off the picture.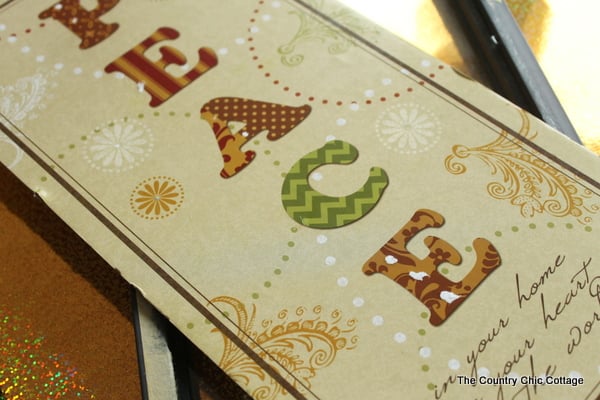 Now use the picture as a template and cut a piece of that fabulous gold glitter poster board the same size.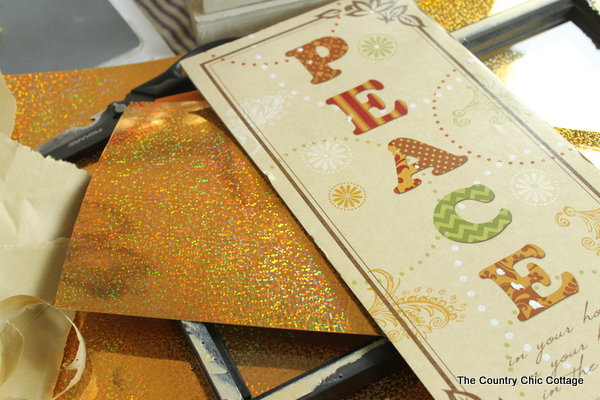 I used glue dots (also available at Dollar General) to put the posterboard onto the picture. You can use hot glue, krazy glue, or any other fabulous glue that you can find at Dollar General.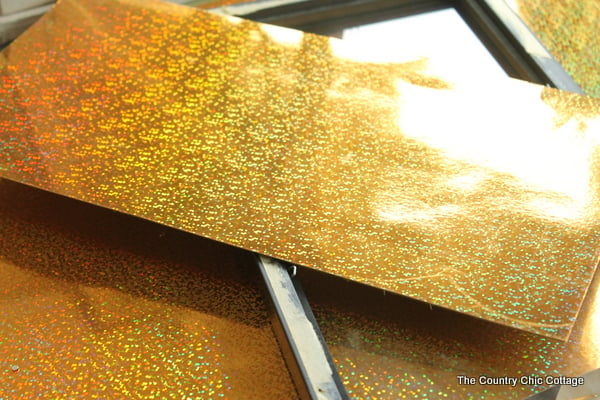 Now reassemble your frame and you have a fabulous tray in just minutes to add to your rustic glam wedding decor. Rustic glam? But what about the colors on that mason jar tea light holder? Have no fear! We are going to fix that as well. Start by disassembling the candle holder.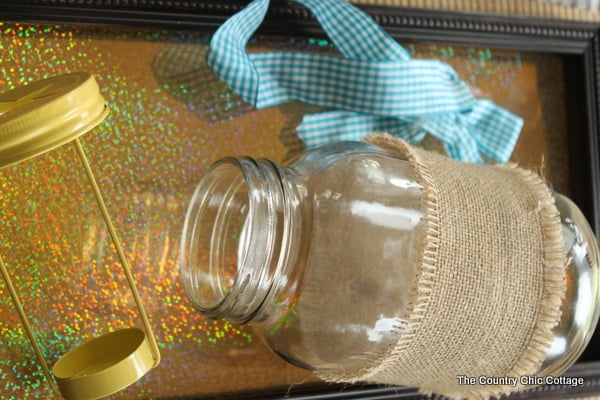 Spray paint the hello top with the metallic gold spray paint. Then wrap the amazing gold glitter tape around the burlap for a glam look that you will love.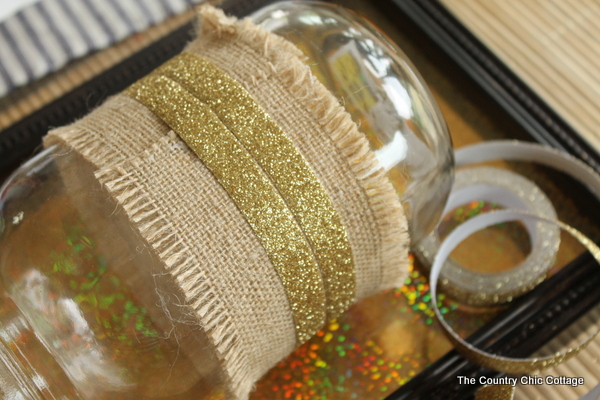 Speaking of amazing gold glitter tape….I had to use it again. These mason jar string lights were screaming at me from the shelf at Dollar General but they needed a little glam.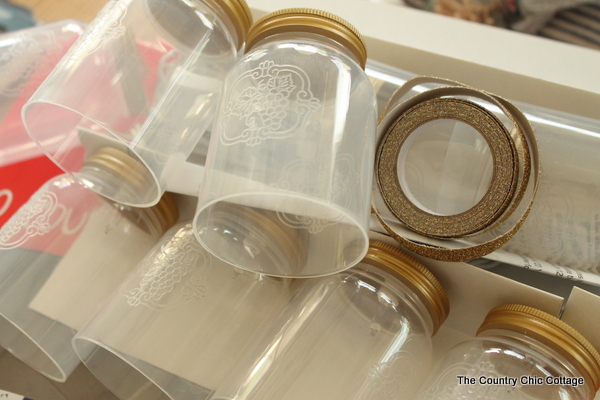 Just wrap the tape around the tops for an extra special touch. I can see these lights strung all around your outdoor summer ceremony.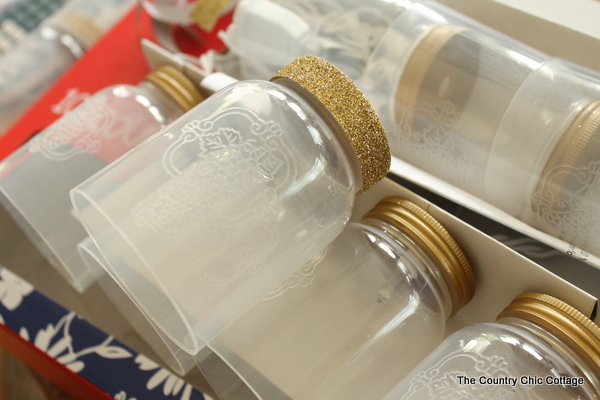 Where did those chalkboard label mason jars end up? A little writing and they are ready for some flowers. Yes these jars are sold at Dollar General with that chalkboard label already on them. Run don't walk y'all. They can't last long.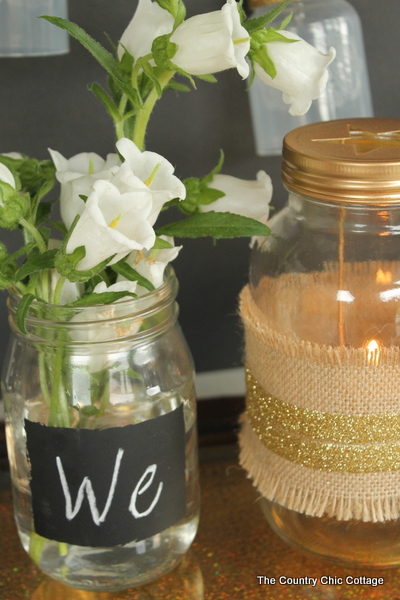 The mason jar tea light holder was reassembled once the paint dried on the top. I added in a tea light from Dollar General as well.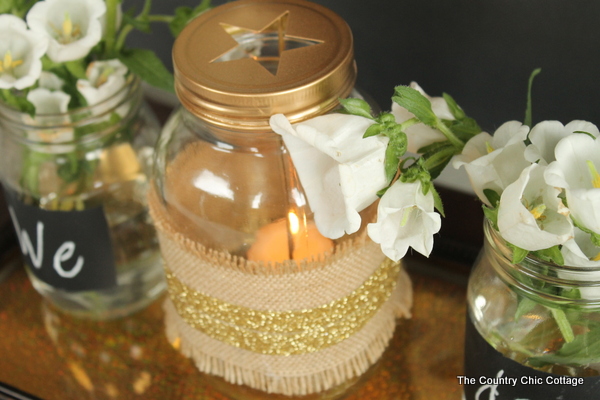 Pulling this rustic glam wedding decor together only takes minutes and purchasing everything from Dollar General is a cost savings for sure. Throw the budget wedding of your dreams by stalking the new finds at Dollar General.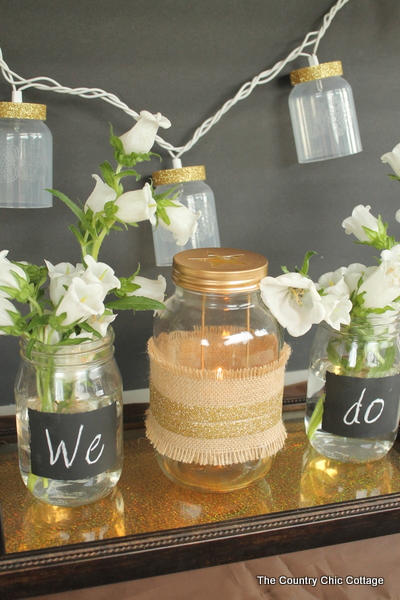 Are you like me and have a mason jar addiction? This centerpiece is definitely for you as well. Change up the chalk writing on the jars to suit any event or party you are hosting. "Happy Birthday" or "Congrats Sue" will work as well as "We do". Turn this rustic glam wedding decor into rustic glam party decor with the swipe of an eraser.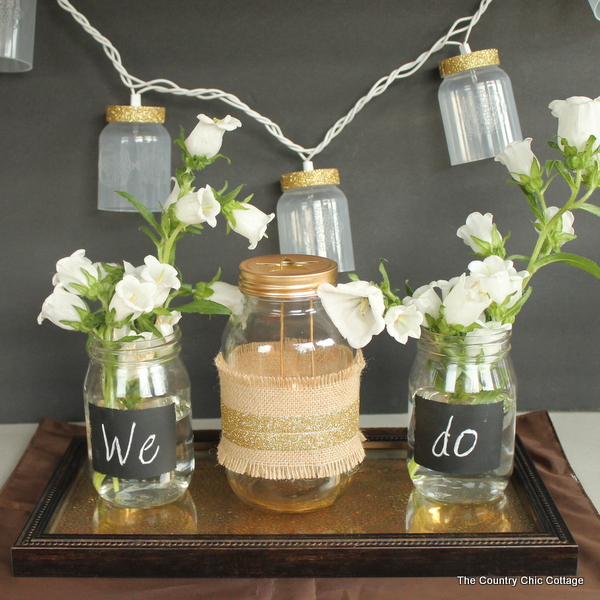 A Year of Jar Crafts
Sign up for our email list to get a FREE book with an entire year of jar crafts! 12 months, 12 crafts, tons of fun!