This post and photos may contain Amazon or other affiliate links. If you purchase something through any link, I may receive a small commission at no extra charge to you. Any supplies used may be given to me free of charge, however, all projects and opinions are my own.
I have an amazing summer craft for you today. My sea glass mason jar is gorgeous and super easy to make. Put that collection of sea glass from the beach to good use by making one or more of these gorgeous candle holders. The bonus part of this project is that you don't have to caulk or grout anything! Plus I am going to show you how to bond all of this without the candle melting any hot glue. How you ask? Read on to find out.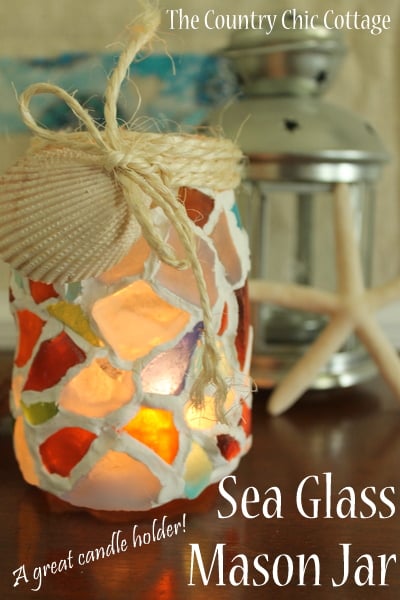 I just need to say that I love mason jars and mason jar crafts. I do them all the time around here. But this is one of my personal favorites of all time. Lighting a candle inside this makes it just glow with vibrant colors! However, if you were to use hot glue on all of those little pieces of sea glass and then light a candle inside the mason jar — can you guess what would happen? Yep. That glue would melt and your sea glass would be laying on the table around your jar in no time flat. So what is my secret for making a sea glass mason jar
? Krazy Glue . Krazy strong, Krazy fast. Amazing. Krazy Glue. This is not your mama's Krazy Glue either. The glue I used is their new craft formula which can stick to a variety of surfaces almost immediately. Worried about your fingers? How about an amazing Skin Guard™ formula that delays skin bonding? Yep that makes me one happy girl.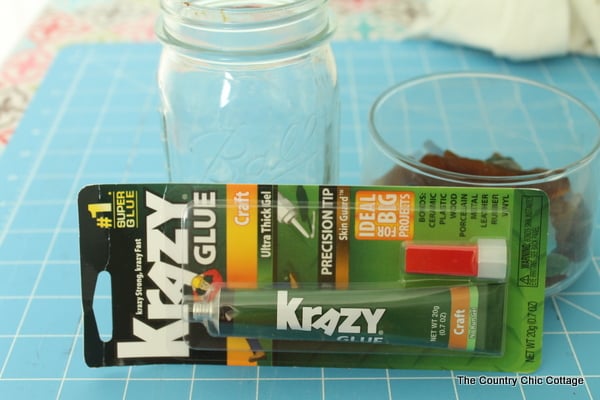 You will also need a pint-sized mason jar and some sea glass of course. Prepping the Krazy Glue from that package is also super easy. You just use the cap to puncture the tip and you are ready to craft. Speaking of that tip, it is super fine and made my project go even better. I literally glued sea glass on an entire mason jar and only got a tiny bit on my skin. Crafter's tip: fingernail polish remover works great for getting any dried glue off of your skin.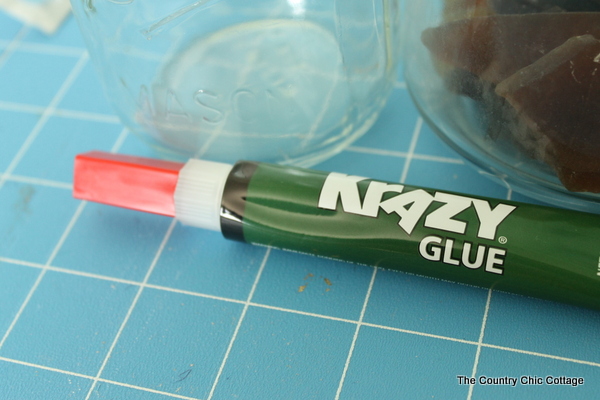 I started with my jar laying flat on my surface and started fitting in my sea glass like puzzle pieces. Krazy Glue is perfect for a variety of surfaces including glass. I held each piece for literally just a few seconds and had no issues with anything moving on me.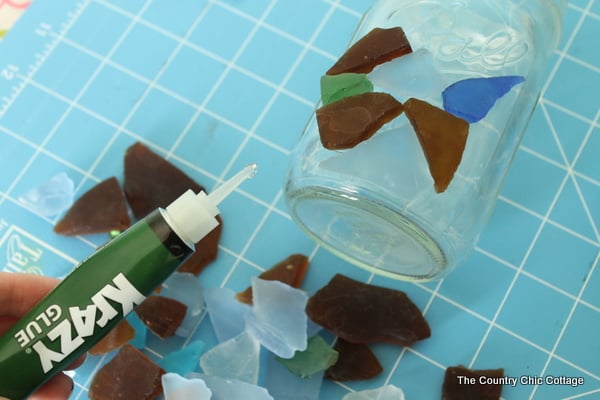 The best part of this project was when I wanted to go to the next side of the jar, I could just roll it right over. The sea glass was already adhered with the Krazy Glue and it was not going anywhere.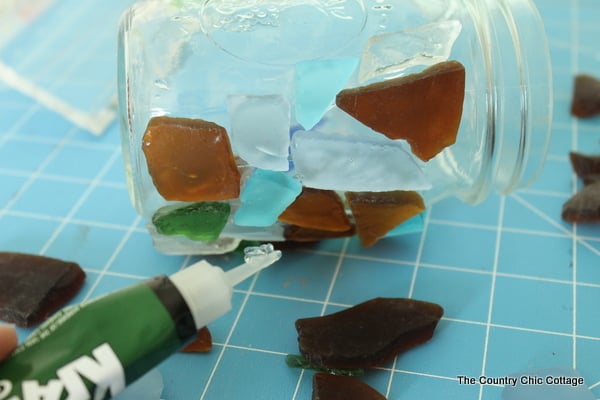 Plus as soon as I had the jar filled with sea glass up to the threaded portion, I was able to sit it up immediately for the next part of my project. I promised y'all no messy caulk or grout on this project right? But my mason jar sure does look like it has a messy and complicated caulk or grout job. My second secret weapon is air dry clay
. Be sure to pick up clay that air dries from your hobby or craft store. I choose white. Start with small pieces of the clay and work them into long skinny "snakes" as shown below. NOTE: I am working on a mat that will not adhere to the clay.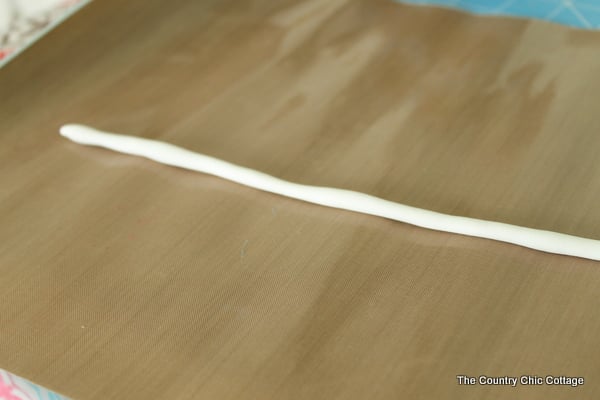 I started at the bottom of the jar (note how I can turn it over and the glass is not moving at all!). Just take pieces of your clay "snake" and start working it around the sea glass pieces as shown below.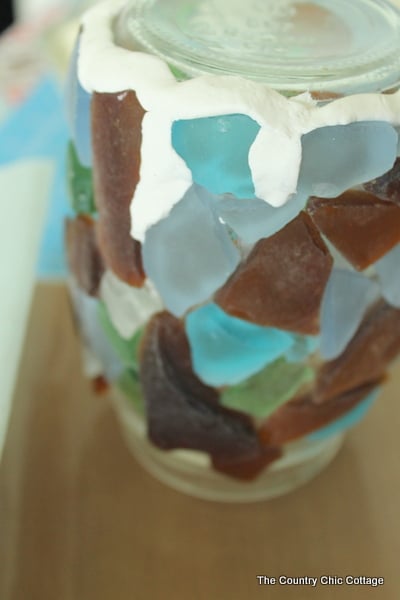 Continue working it until the entire jar is filled in with clay and you have a gorgeous sea glass mason jar. This takes a while but there is literally no mess. It is just tedious getting it around each little piece. I do love the look though and would not change anything about the way I made the jar. I used a clay tool to smooth the clay out some before allowing it to dry. You could use anything with a rounded tip (a pen?).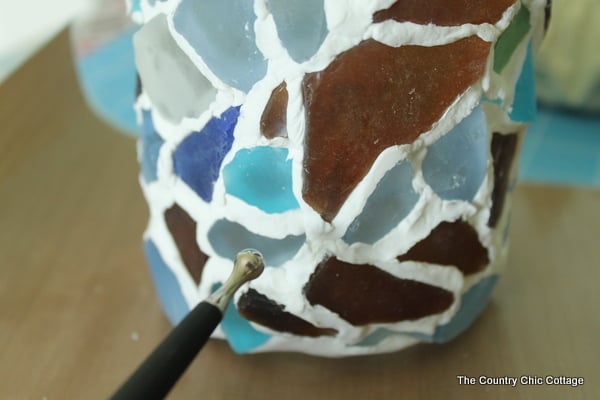 Then just allow your clay to air dry and you are ready to display your sea glass mason jar. You will want to add something about the top to cover the threaded portion of your jar. I just used some white jute twine
and wrapped it around. I also added a seashell with a drilled hole to the front when I tied off the twine. Pop in your candle and light it to get the full effect of this gorgeous show.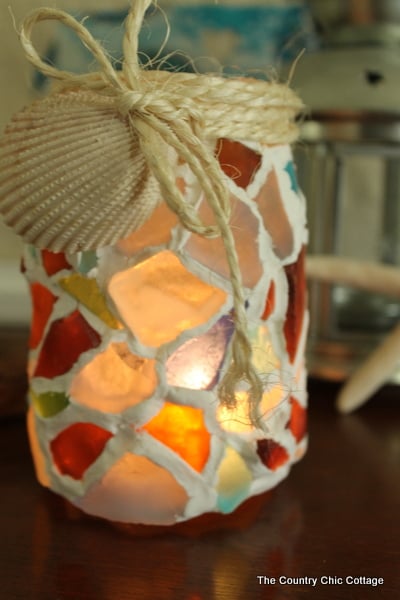 Make just one or two of these for your home or make a bunch for an outdoor beach themed party. I could see them lined up on a deck in a beach house as well. Where will you use your sea glass mason jar? Anywhere you use it don't forget to buy your Krazy Glue to make this project an easy one that will last.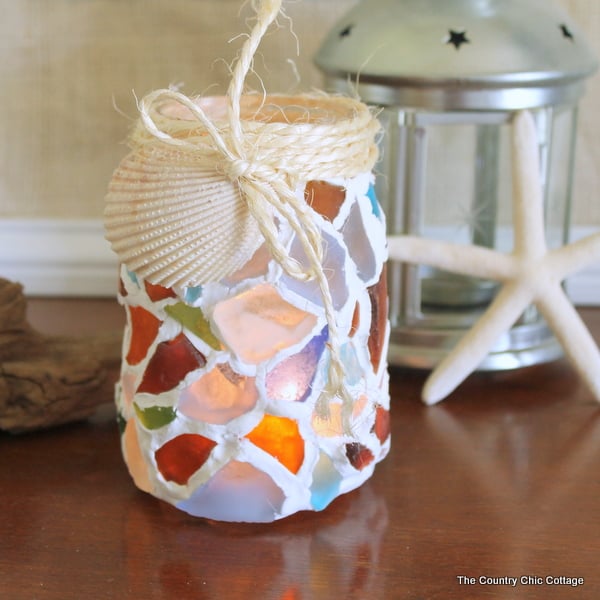 A Year of Jar Crafts
Sign up for our email list to get a FREE book with an entire year of jar crafts! 12 months, 12 crafts, tons of fun!