This is a sponsored post written by me on behalf of At Home for IZEA. All opinions are 100% mine.
Spring mantel decorating ideas are something we can all use! If you are struggling for things to add to your mantel this spring, look no further than our ideas below. We have some great finds for you that will make your mantel the star of your home. When At Home asked me to use products from their store for spring, I knew that my mantel desperately needed a little decor. I still had a very wintery mantel with snow decor up y'all…..yes in May. This is definitely a nice refreshing change and helps bring spring into our home!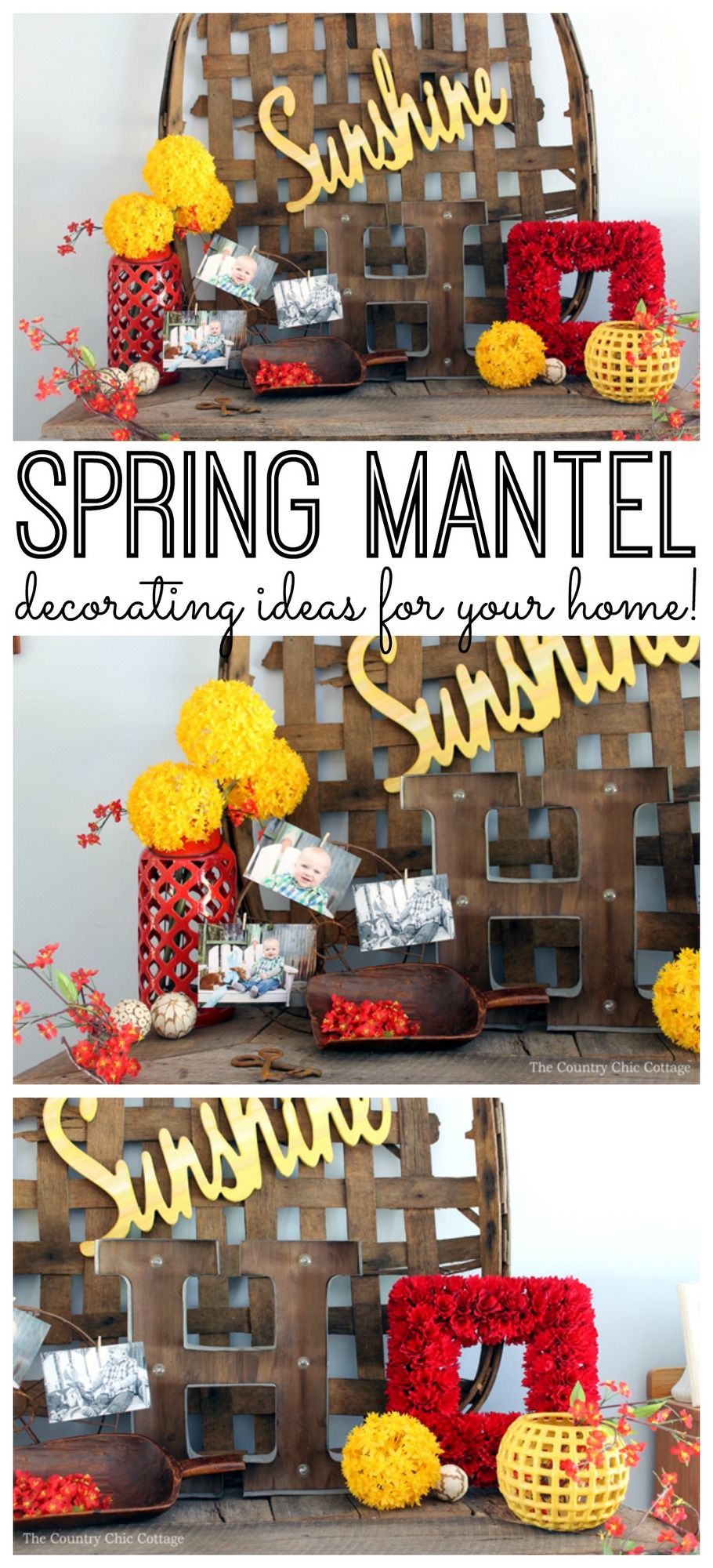 I started my quest with a trip to At Home. I must say the pops of yellow throughout the store really inspired me. I ended up deciding to pair the yellow with red for a little something different. That Sunshine sign really sold me on the yellow idea. As a side note, I love how At Home has displays of rooms and more set up in store. It gave me great ideas for my own home as I walked the aisles. You will also love their Outdoor Decor Collections! Seriously if you have an outdoor space that needs a facelift, head to your local At Home store. They have the essentials for Outdoor Entertaining in their At Home Patio section.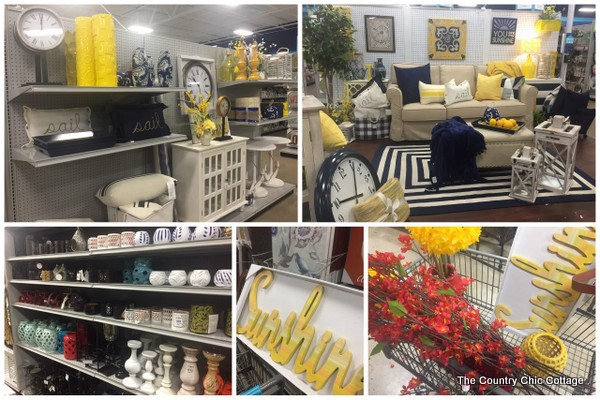 The items I picked up from At Home for my spring mantel decorating ideas were as follows:
Wood Sunshine Sign
Red ceramic lantern
Yellow candle holder
Red floral wreath
Artificial yellow blooms
Artificial red floral sprays
NOTE: I am sure you can find all of the items in store but most are not shown online.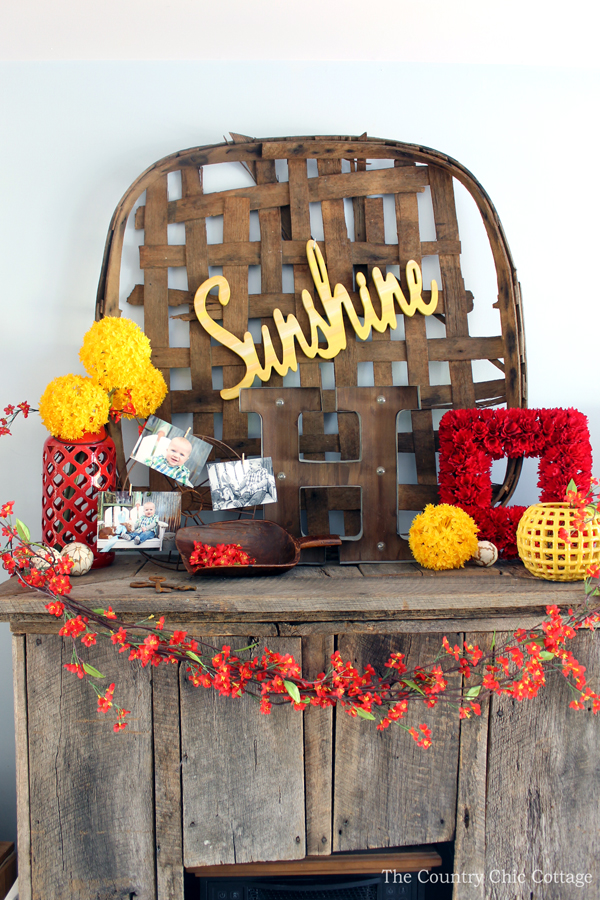 I started the mantel with the vintage tobacco basket that I picked up at a barn sale a few weeks back. I am in love with the rough texture and it really fills up the space above my barn wood mantel (click here to see what it looked like when we first built it). I used an "S" hook to hang the sunshine plaque from the basket so that it can be easily removed after I get tired of it.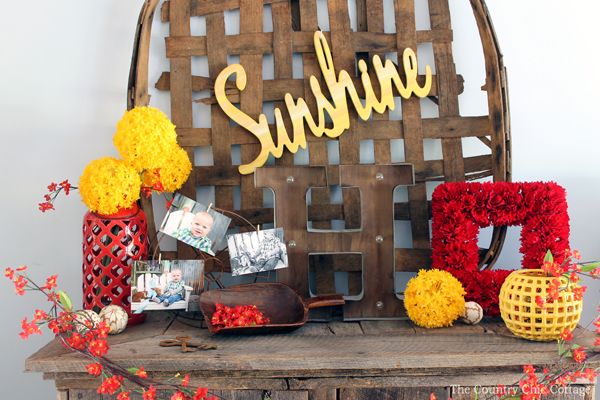 On the right side of the mantel, I found that gorgeous red wreath stalking the aisles of At Home. I love it! The flowers are like thin wood so this one should be able to be used for several seasons in a row. The small yellow candle holder was in a yellow themed display I found exploring the At Home aisles. It was perfect!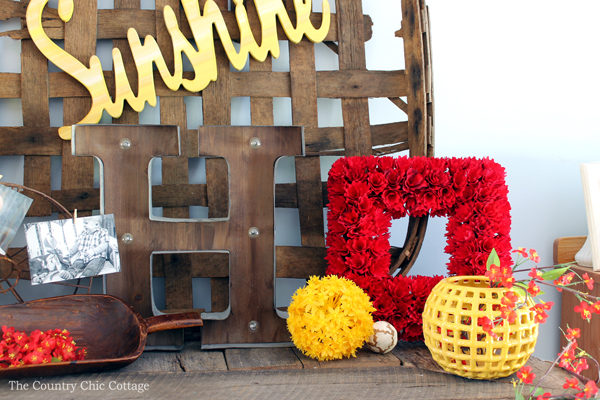 The gorgeous yellow ball is actually the same blooms that are in the vase on the opposite side of the mantel. I fell in love with these large blooms! This one I just took off of the stem completely and set directly on the mantel.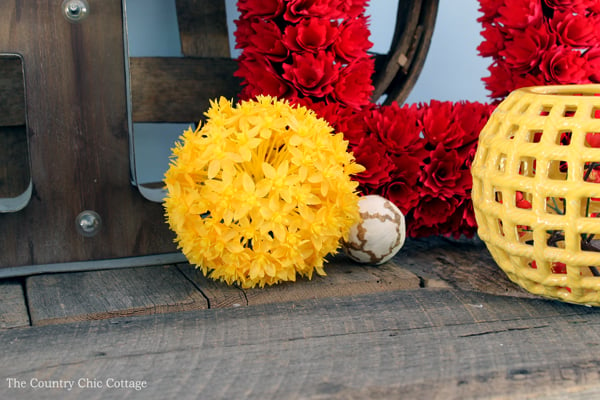 Moving towards the left there is a marquee sign that I have had for a while now along with a vintage wheel that was picked up years ago at a barn sale. I used miniature clothespins to pin up a few grandbaby pictures! You have to love the addition of a smiling face to any mantel.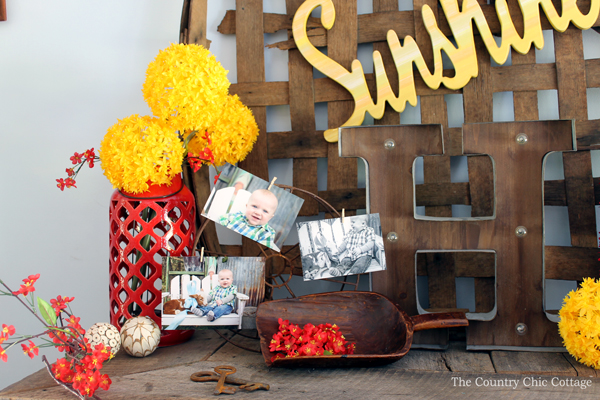 Then that amazing red lantern is actually a candle holder. I used it as a vase and put in some of those yellow blooms along with some of the red sprays. The red flowers that are in my vintage wood scoop are some I removed from the red sprays that are attached to the front of my mantel.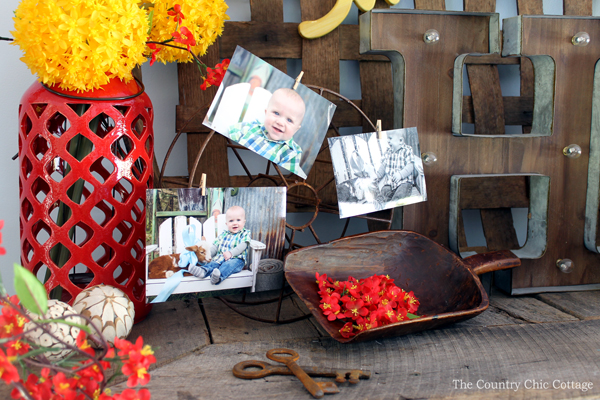 I took five of the red floral sprays and wove them together for a garland that worked great on the front of my spring mantel. If you are looking for spring mantel decorating ideas, this is one that is simple and really inexpensive with the price of artificial flowers.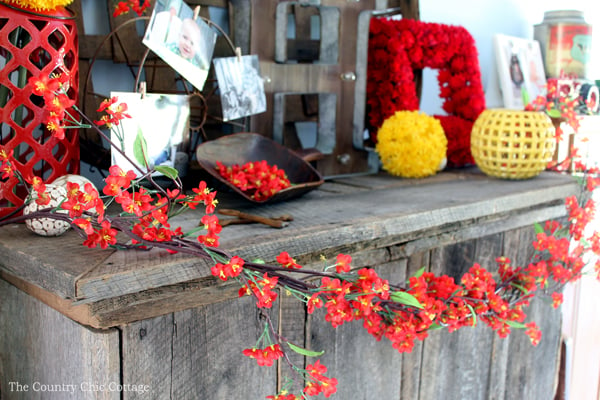 At Home has a wide range of styles in all of their home decor. The items there are a great value for the price. Be sure to head to your local At Home store if you have never been before. Trust me! You will love it as much as I do. If you want to get inspired with spring mantel decorating ideas, At Home definitely inspired me to create this fun and colorful mantel for our home.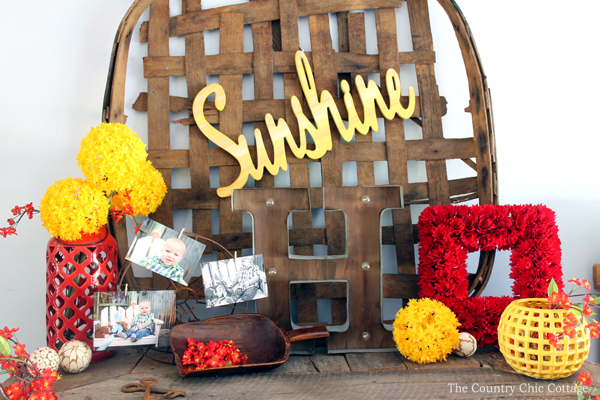 Save
Save