Today, we're going to talk about sublimation spray adhesive. When you're sublimating, you may be using heat-resistant tape to hold down your sublimation print and make sure it doesn't move during the sublimation process.
Why do we do that? Movement during the sublimation process can actually cause what we call "ghosting" or a "double print". You have one print, it moves a little bit, and it actually prints in another area a second time. This can be extreme or just a little bit where you can barely notice it, but it can be super annoying and something that can be a huge sublimation problem.
For soft surfaces like fabrics, you can use a sublimation adhesive spray instead. This is only recommended for soft services or some hard surfaces where tape may damage the actual surface itself. So how do you use this? And does it work any better than the tape you're already using? Let's dive in, take a look at what we're going to use, and do some experiments.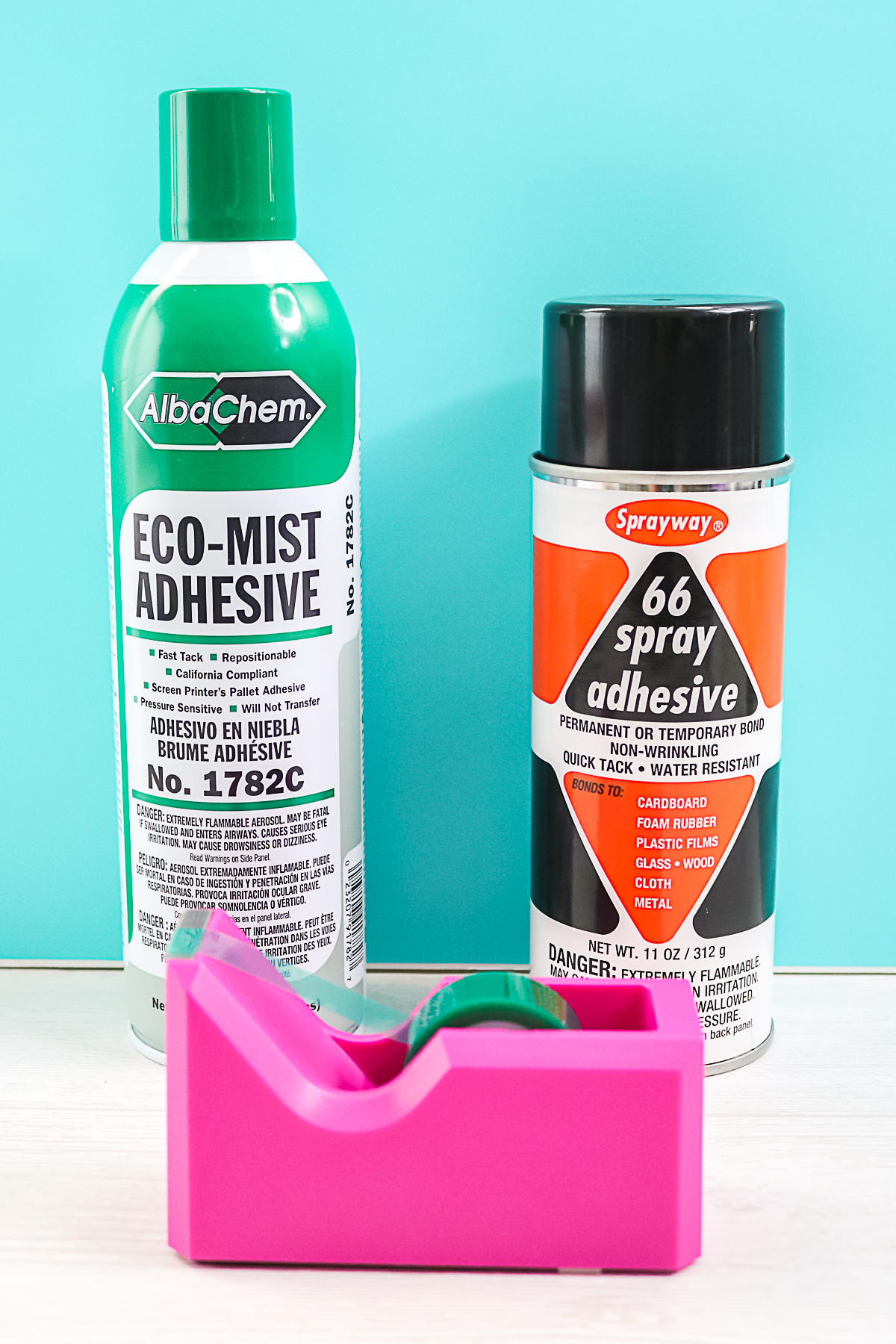 Can't watch the video or missed some of the information? You can also follow along below!
Sublimating Socks
This is actually my first time sublimating socks, so maybe I'll learn a few things along the process. These socks come with an insert on the inside. If yours doesn't, you will need to make a cardboard insert for the inside of them and put it all the way down the length of your socks. I took my sublimation print and printed it on 8 1/2 x 14, so the entire sock would be sublimated and one sheet would do two sides. Just cut the print in half with scissors.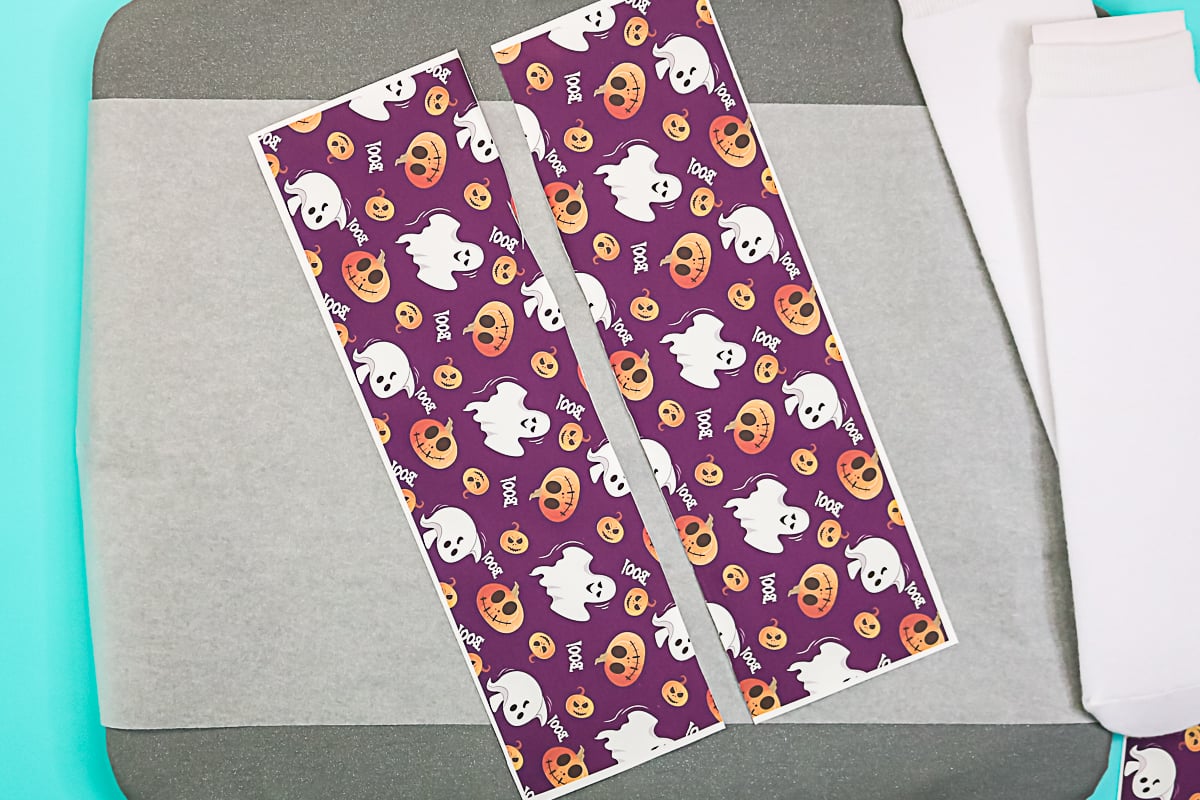 How to Use Sublimation Spray
Let's compare the two adhesive sprays on one sock, and then we'll use tape on the other sock to see if there's a difference. Add your printed sublimation paper to a box to protect your work surface. Shake the can really, really well. Then, spray an even coat over the entire print. Allow it to dry for just a few minutes. It should be tacky to the touch. Because you did an even coating, it should dry consistently across the entire piece of paper. You don't want wet areas and dry areas. You really want it to be consistent across the entire thing.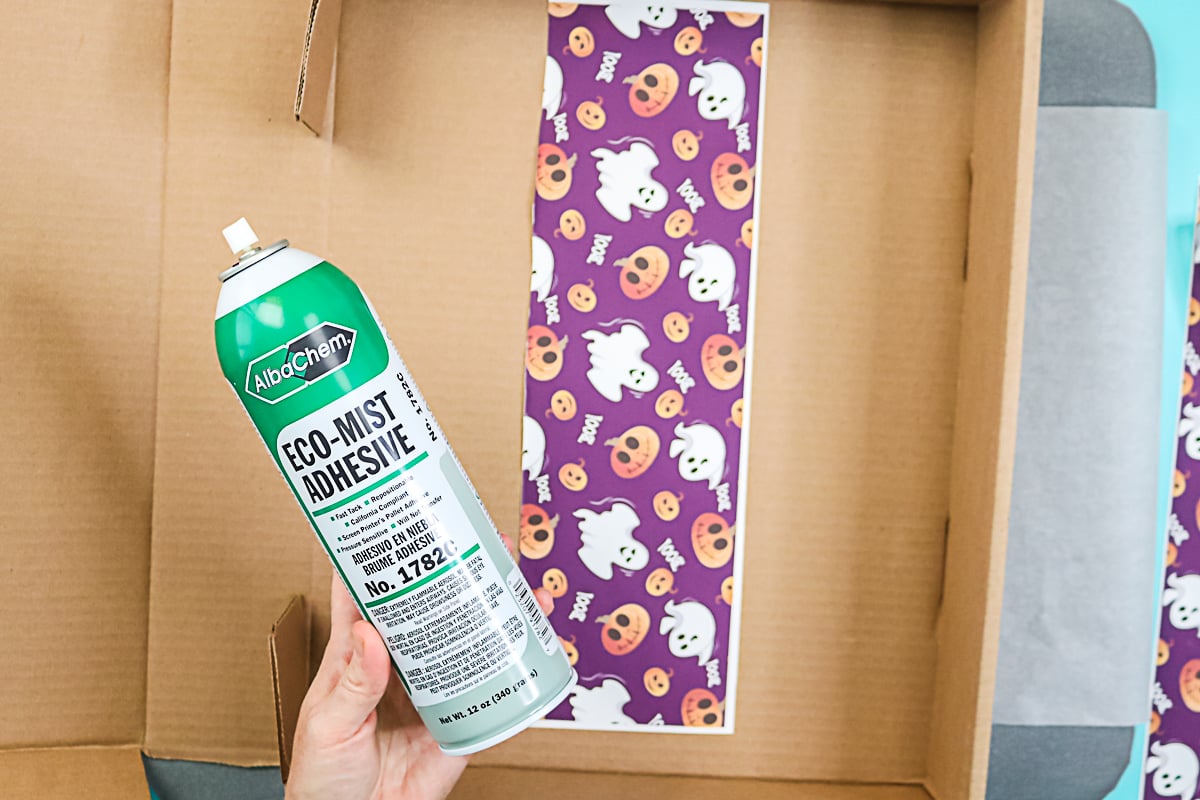 How to Sublimate on Socks
Lint roll everything to remove any debris.
Pre-heat the sock surface.
Put your paper adhesive side down on your sock surface.
To test the adhesive, pick up the paper and make sure the sock comes with it.
Cover with protective paper on both the top and the bottom.
Add the EasyPress and press down as hard as you can. These socks press at 400 degrees for 36 seconds. I couldn't get the entire thing in one press, so I'm just going to move the EasyPress over and press one more time.
When the pressing is done, remove the protective paper and immediately remove the paper from the sock. Heat-resistant gloves work well for this.
Roll the sock slightly around all of the edges and repeat the process on the back of your sock.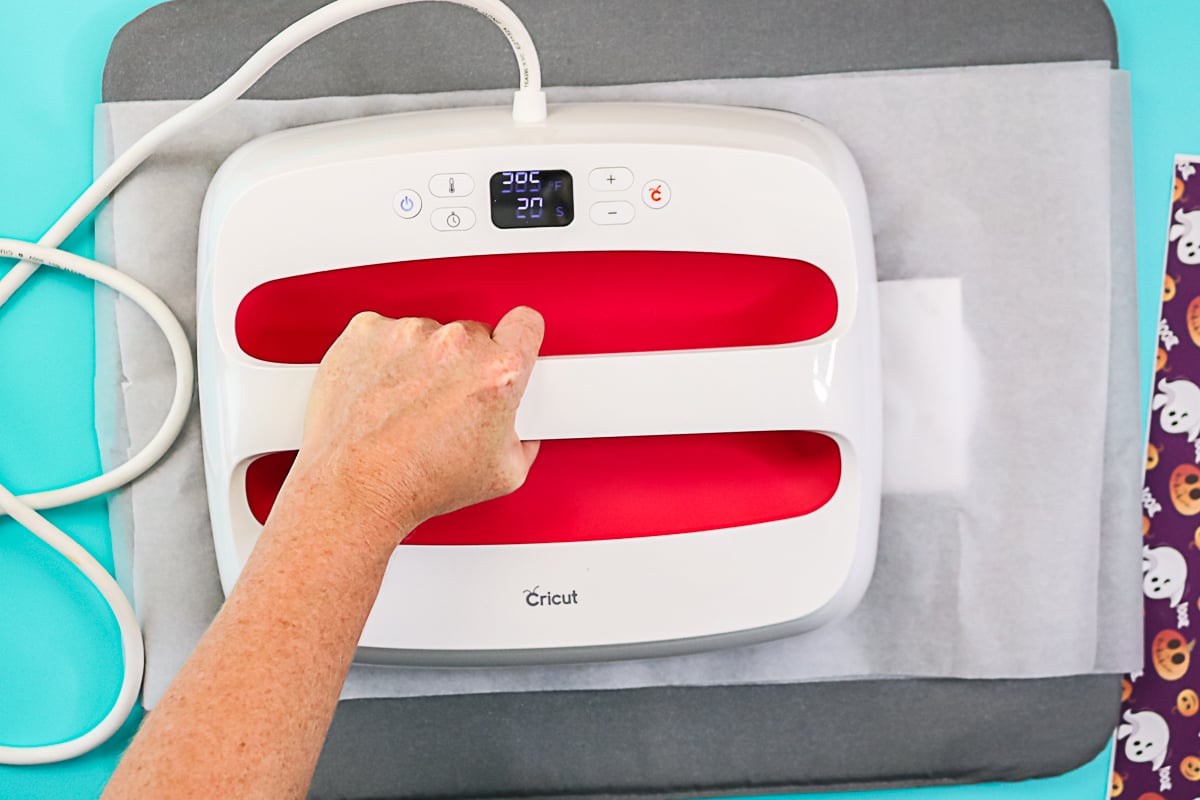 Don't want to use the adhesive spray? I did one sock with heat resistant tape as well. Just be sure to tape down to your print really well and do one side at a time just like the above procedure.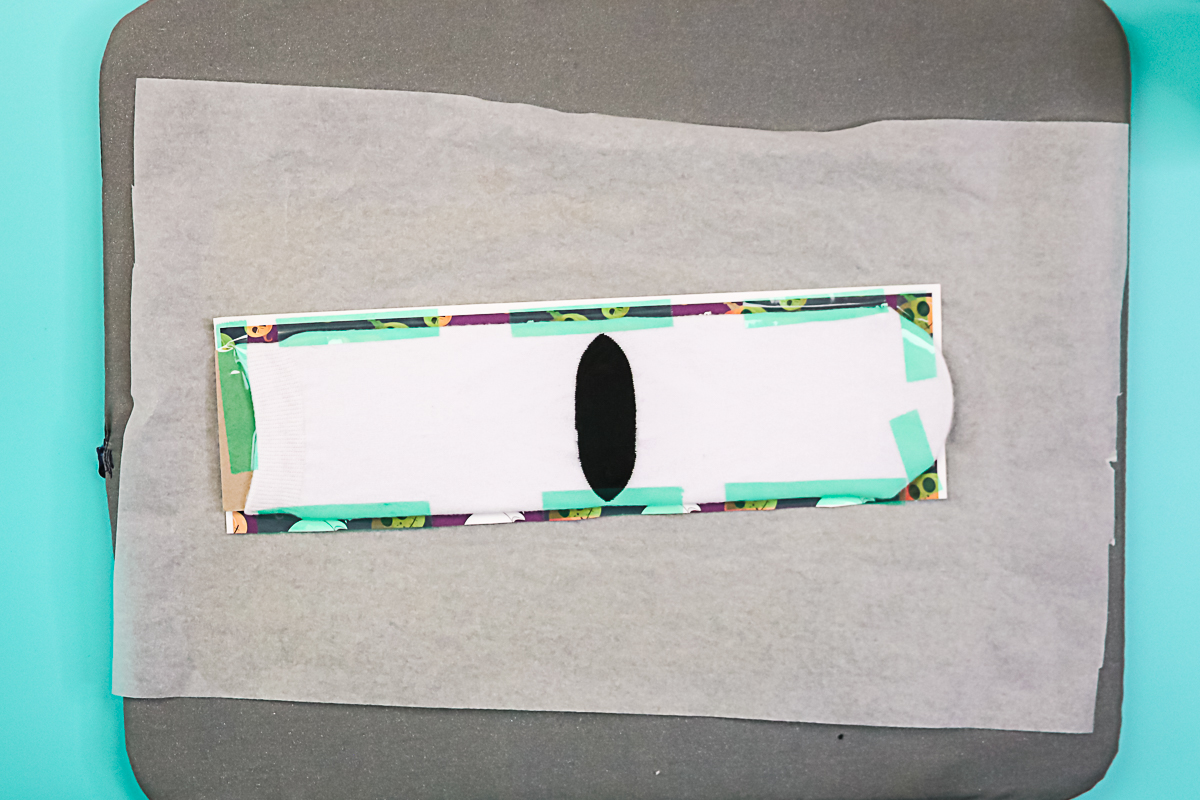 How Well Does Adhesive Spray Work
A few observations from my sock experiment:
The colors did not seem as vibrant when using adhesive spray.
I could still feel a residue on my socks with both sprays.
I didn't see any noticable ghosting on the surface of the socks made with the sublimation spray. There may have been a slight ghosting on the edges on the sock that was made with heat resistant tape.
If you do use the spray, be sure you put the lightest coat possible to minimize the residue left on your surface.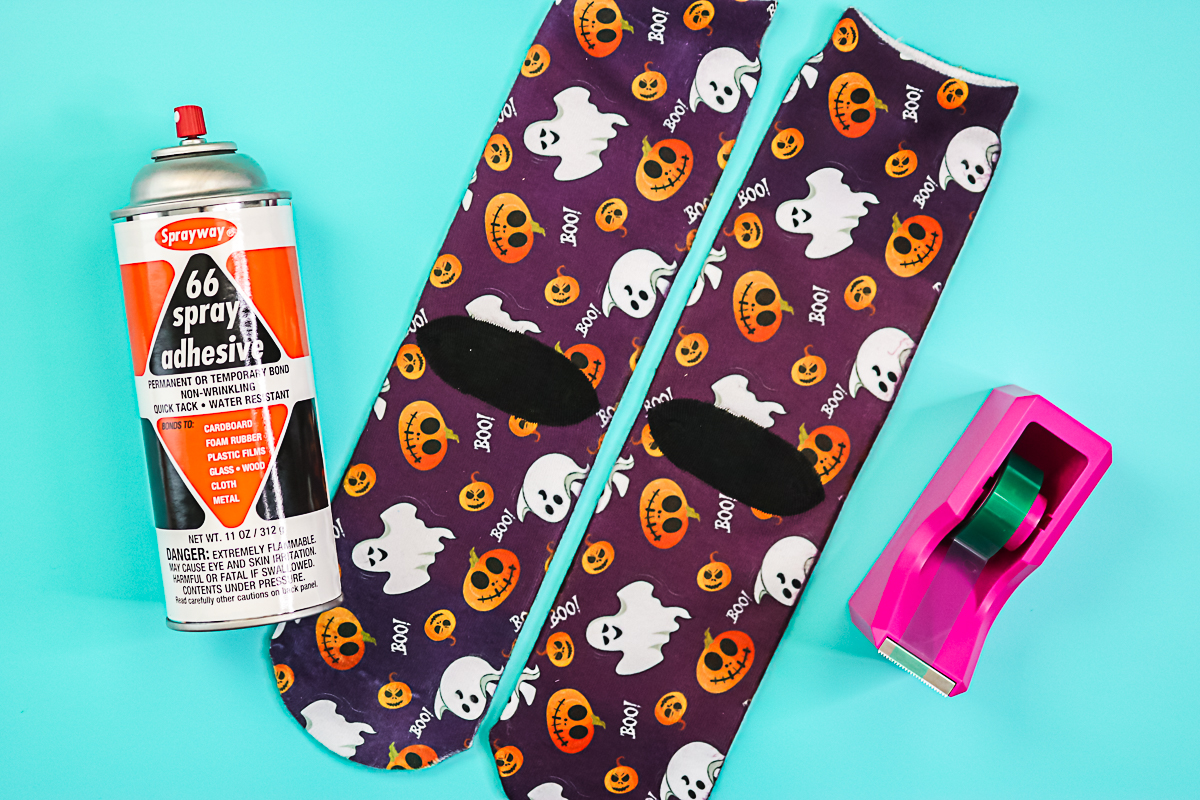 Shirt Made with Sublimation Spray Adhesive
Next up, I'm going to put pineapples on a shirt. I want to do all three adhesives at one time, and see if that makes a difference. I sprayed two pineapple prints with the two different adhesive sprays then secured a third pineapple to the shirt using heat resistant tape. NOTE: the shirt is 100% polyester and I did lint roll and pre-press.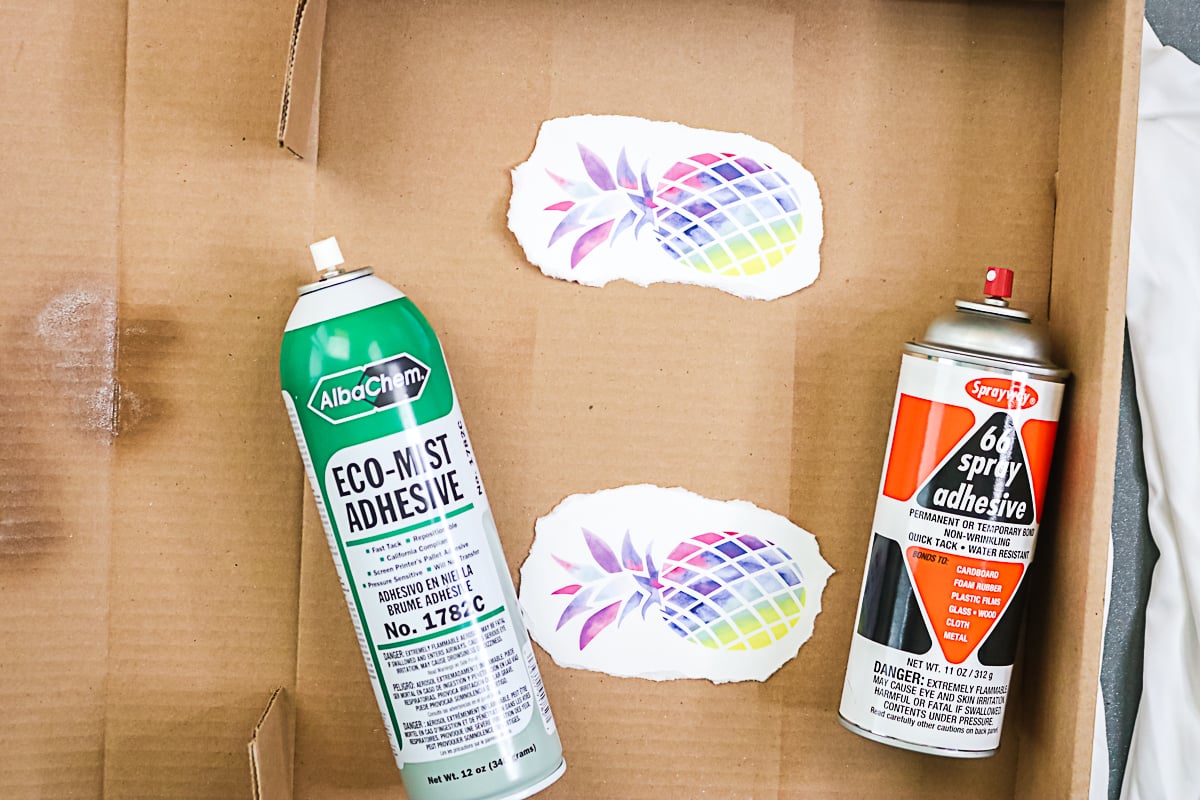 Add protective paper to the inside of the shirt as well as over the top and press at 400 degrees for 30 seconds. I did these prints all at one time.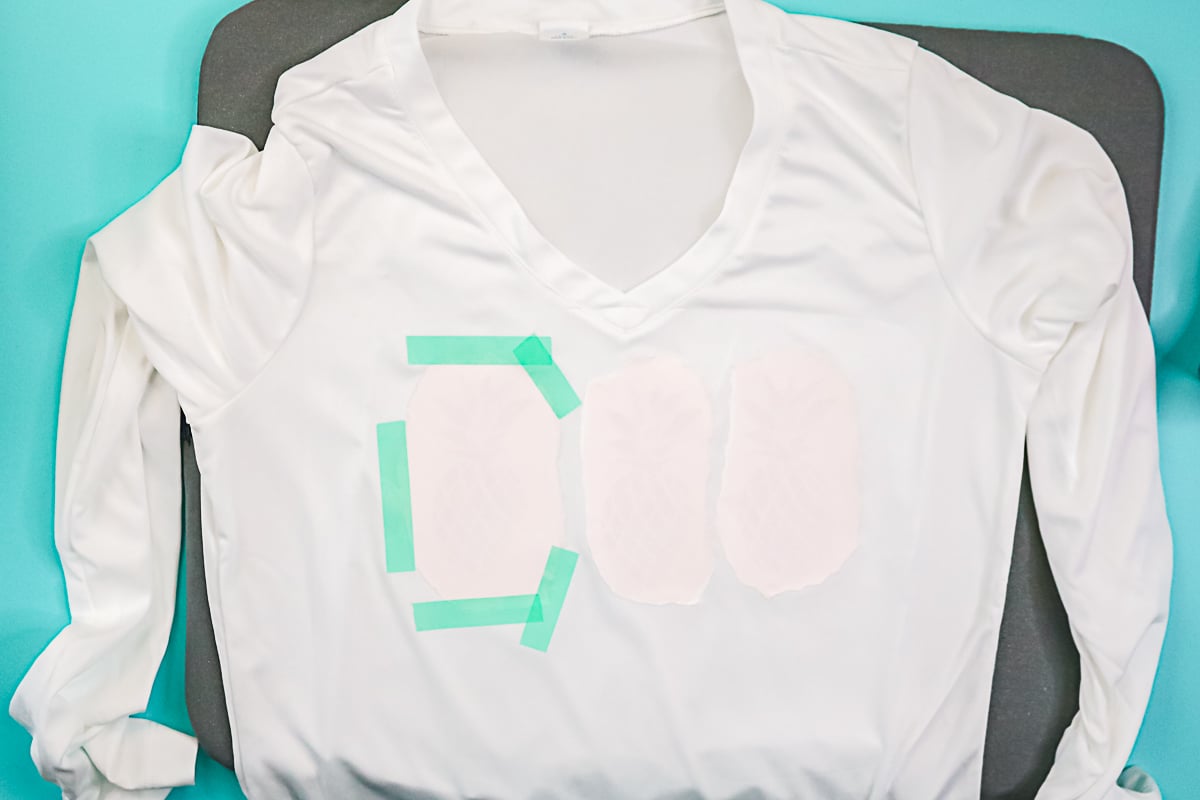 Once the pressing is done, immediately peel back the sublimation prints. While all of the prints sublimated fine, one of the problems I have with the tape is that I can see some of the tape lines left on my shirt. That's one of the reasons I would love to get away from the tape. I do, however, still feel a residue on the shirt. I will say that I can feel more of a residue with the green spray than I can with the orange. Overall, I'm really liking the orange better.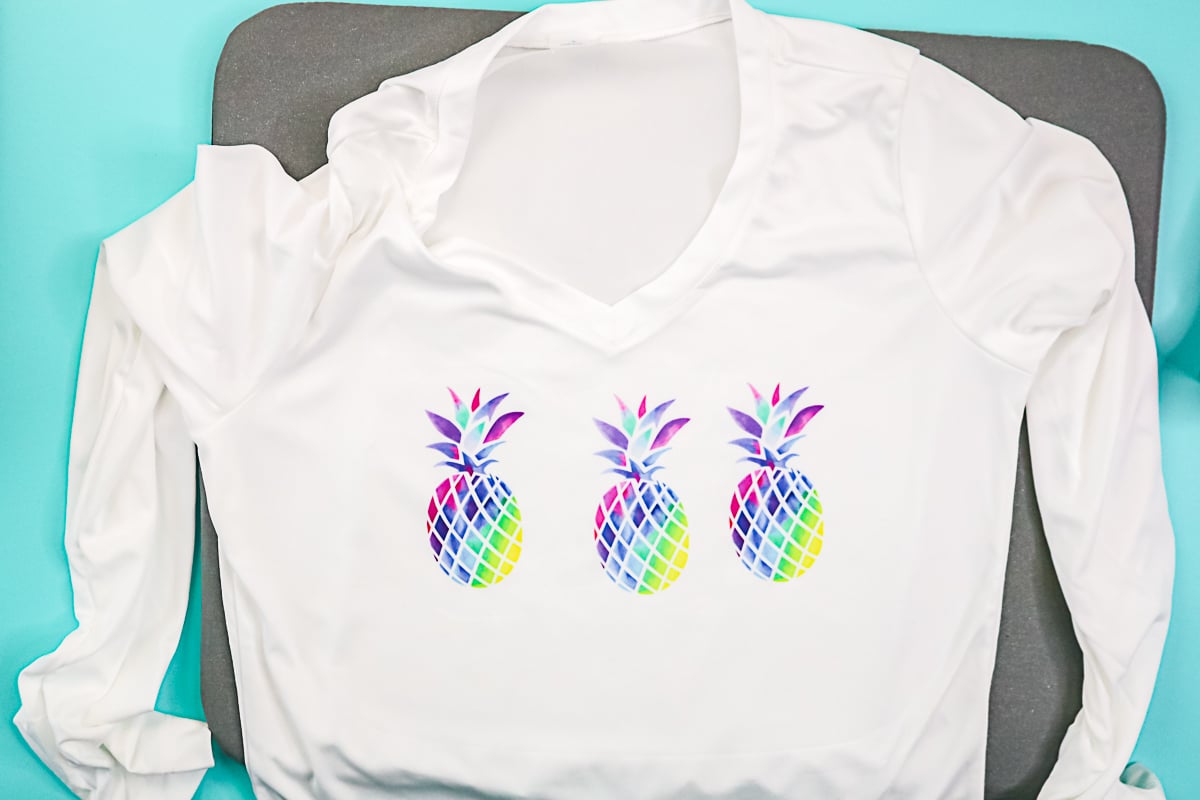 Adhesive Spray with Infusible Ink
So, can you use sublimation spray adhesive with Infusible Ink as well? Let's find out! The problem I have with Infusible Ink is that it's curled in the package. When I cut it, it's all curled up and I have a hard time getting it to lay flat on my surface. I thought this spray might actually be beneficial when it comes to Infusible Ink.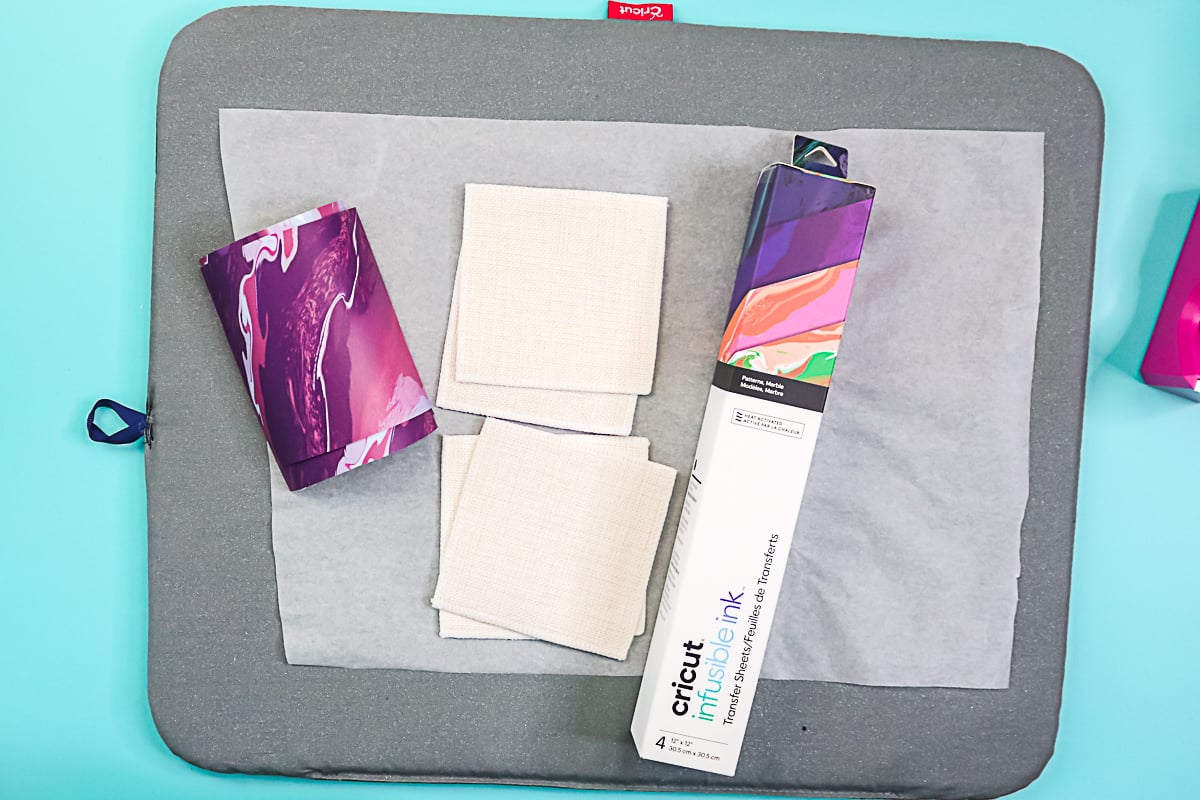 I used the same patterned piece on three fabric coasters. One with each of the spray brands and one with heat resistant tape. Be sure to lint roll and pre-press your fabric the press.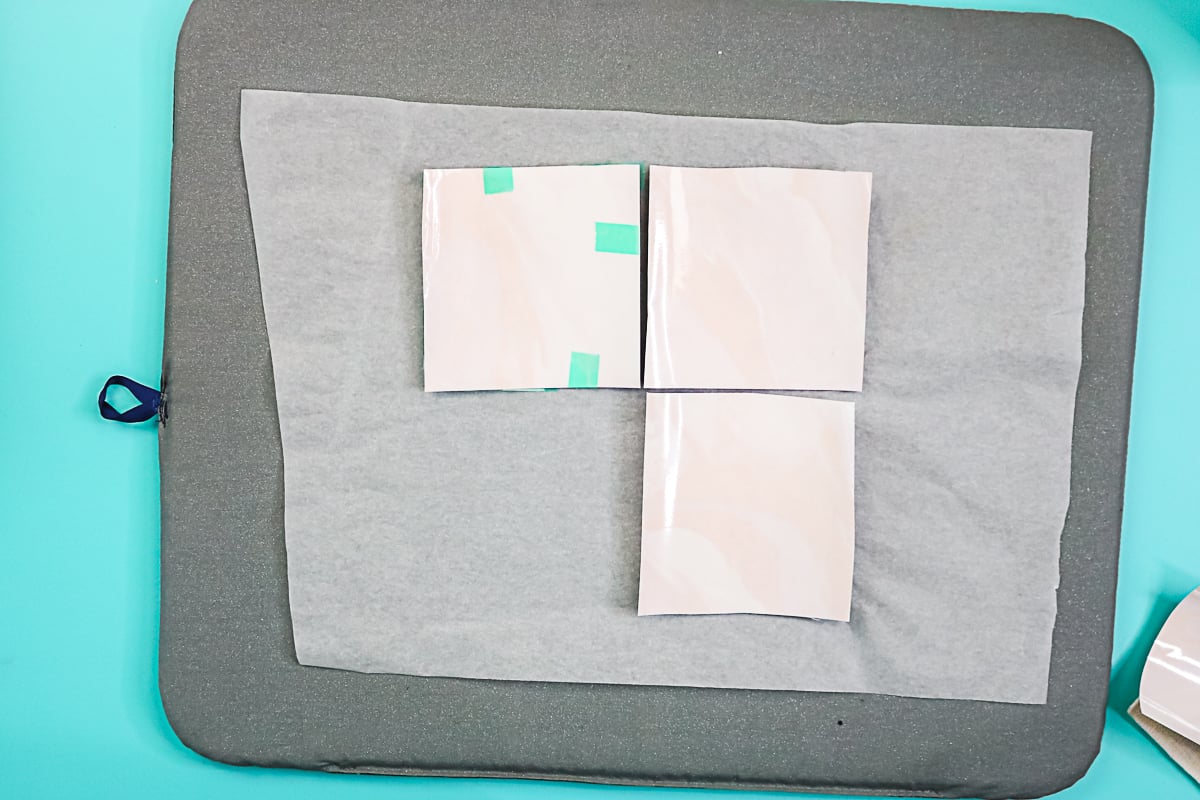 I will say that once again I could feel the residue on the surface. With the Infusible Ink, however, the difference was really notable in the vibrancy of the print. The spray adhesive definitely left the print with a dull appearance. Overall, I didn't really like this method for Infusible Ink.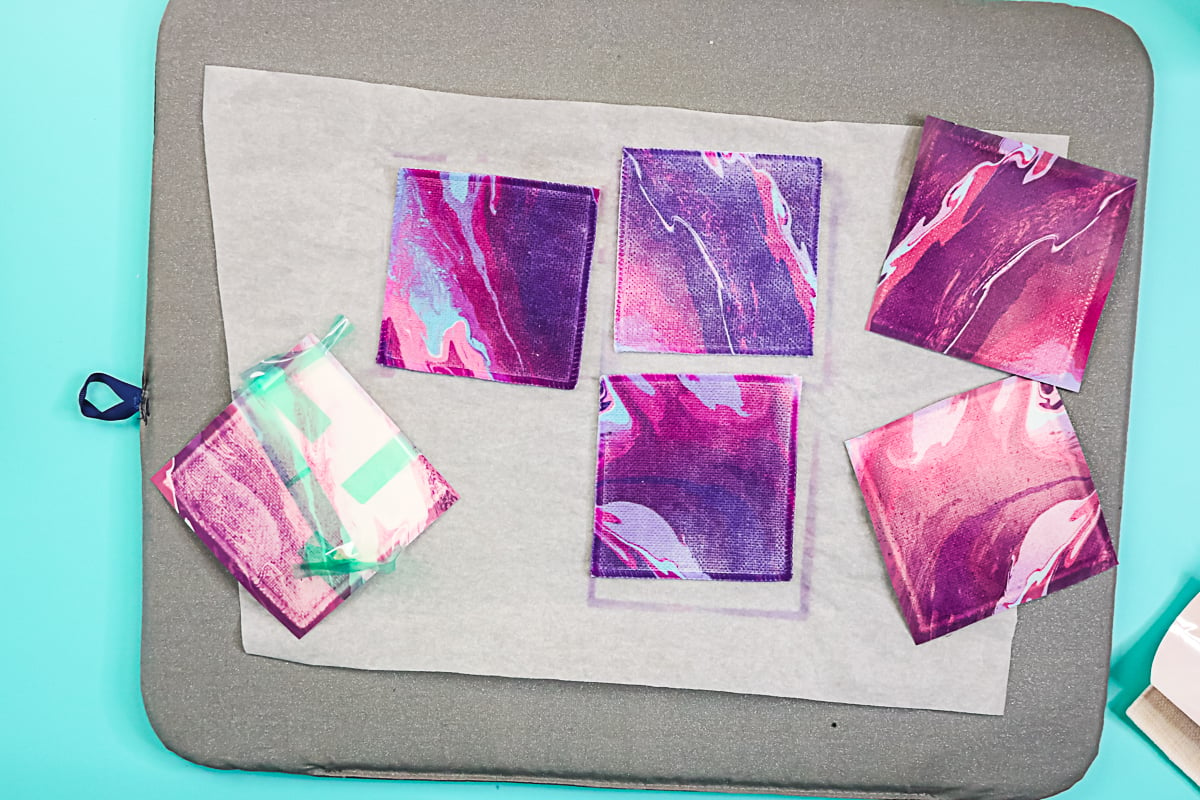 Which Sublimation Adhesive is Best?
Let's talk bottom line, which one do I recommend using? I find that the tape works pretty well for the projects that I'm doing. In general, I'm going to grab my tape. I'm going to use it for my sublimation projects.
The sublimation spray is probably faster, and it may even end up being cheaper by the time it's all said and done because you do use quite a bit of tape. You may find that the cost difference is enough that you may want to experiment with the spray and find something that works for you.
If you do, I found that the 66 Spray Adhesive left less residue. However, the can did clog easier. The Eco-Mist Adhesive left more residue on my surface, but I didn't have the clogging issues that I did with the 66 Spray. You can buy one or the other, try it out for yourself, and see if you like them. I did like the sublimation spray for when I'm trying to avoid lines from my tape. If you don't use tape, you don't get the lines, right? That's where a sublimation adhesive spray would be perfect.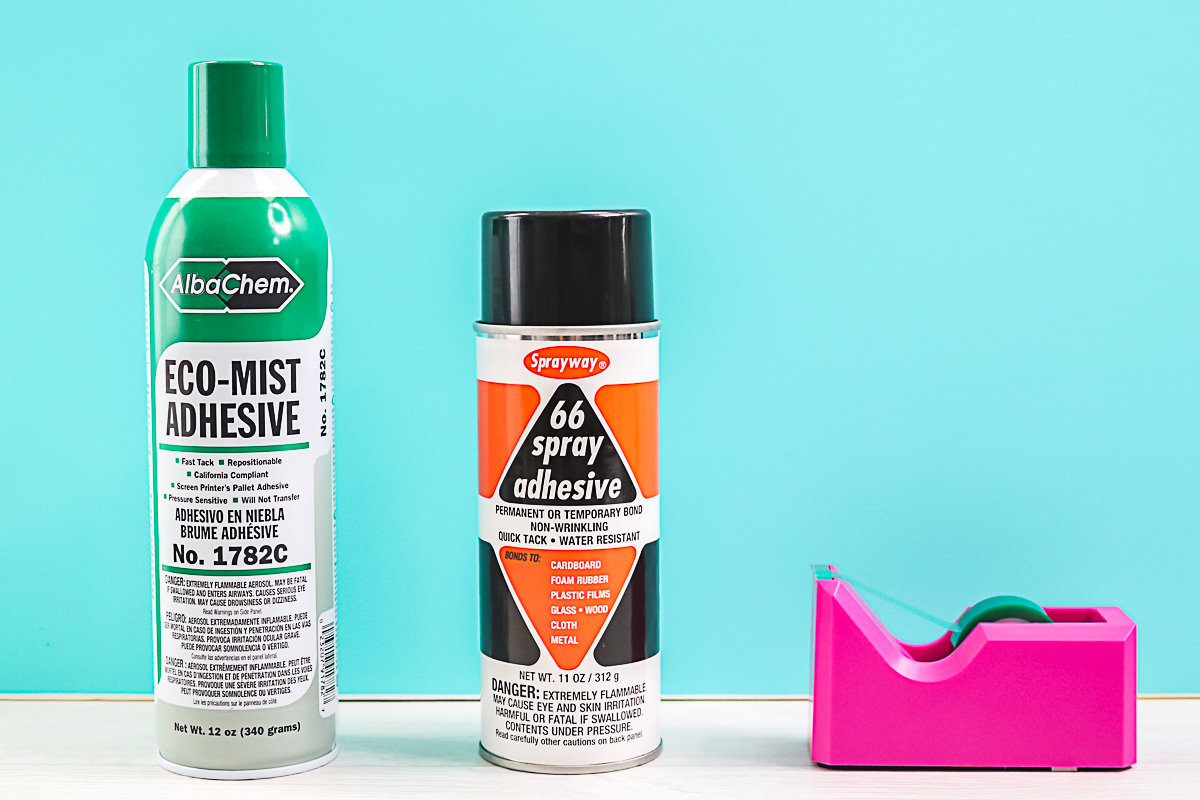 Experiment with really light coats to get less of that residue after you press. Hopefully, you can find a method that works for you and you can eliminate those tape lines. That's one place where I would definitely recommend a sublimation spray.
With Infusible Ink, I think it was a fail for me. I think it's definitely going to have to be the tape for Infusible Ink. I definitely wouldn't recommend the sublimation spray in that case.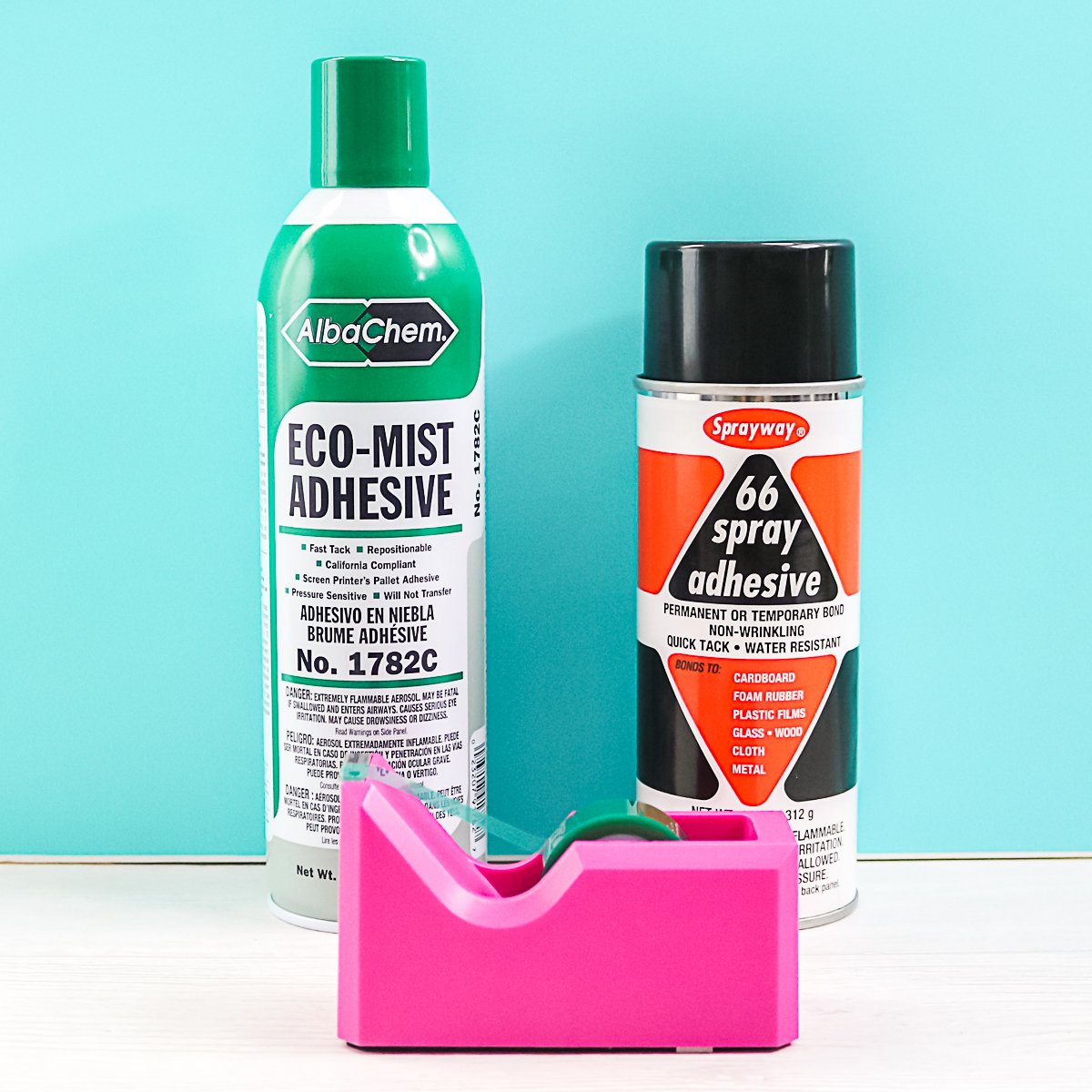 Hopefully, this helped answer all of your questions about sublimation spray adhesive. Maybe you'll try it. Maybe you'll just stick with sublimation heat-resistant tape. I do have a video comparing different brands of tape here if you are interested.