I thought I would share some table decoration ideas for both Thanksgiving and Christmas today. I am going to use the same elements for both tables with just a few additions. That way you can shop once and have the supplies you need to decorate your table for both holidays. Then, as a bonus, you will only have one set of supplies to store at the end of the season! You will also want to scroll to the bottom of this post where I have a gift card giveaway that you can use to purchase your supplies as well. This post is sponsored by Bindle and Brass, however, all projects and opinions are my own.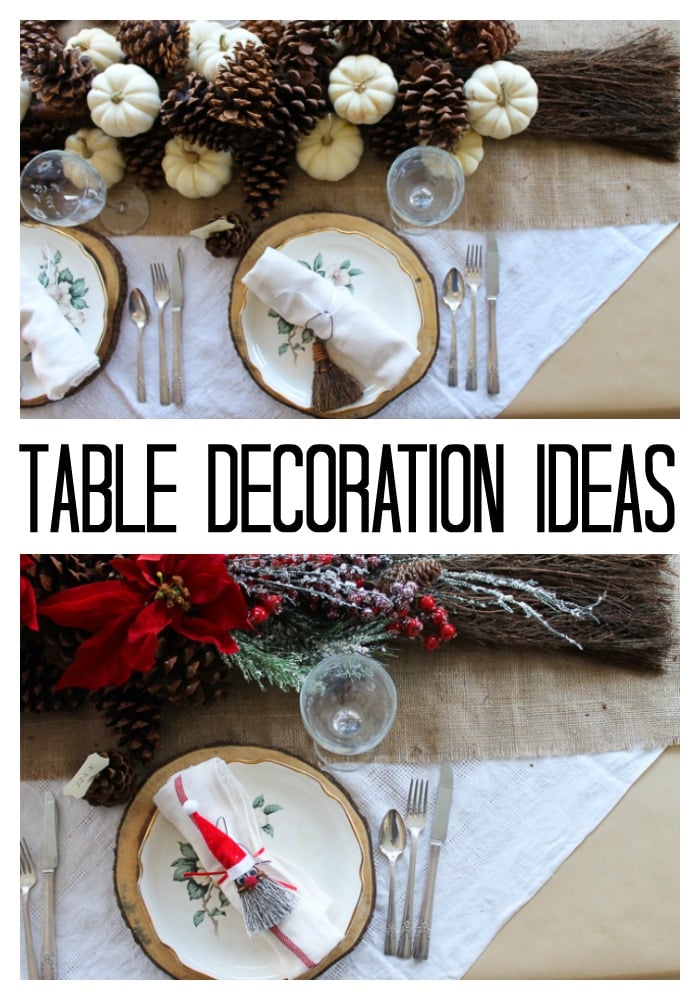 First, who is Bindle and Brass? They make great scented brooms and pine cones in a variety of sizes. I was sent a big box to try to come up with some ideas on using these items for some table decoration ideas. I thought using the same elements for both Thanksgiving and Christmas would both be a good challenge. Plus I love when I can use one thing for multiple holidays! If you love any of these projects, you can find the brooms and pine cones at your local Home Depot store.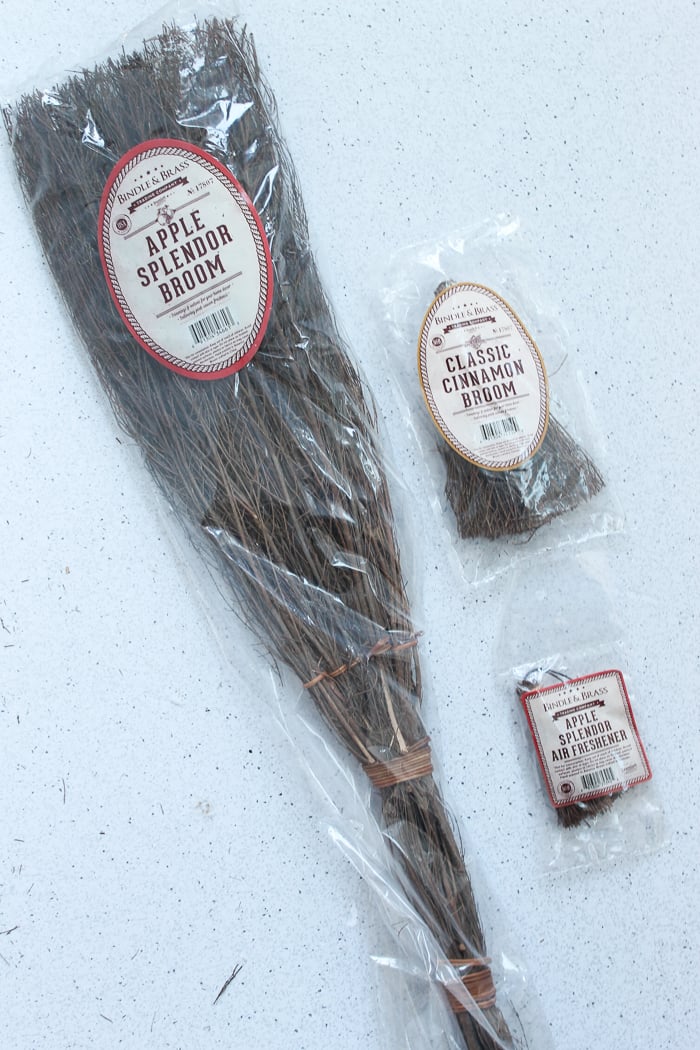 Table Decoration Ideas Video
I thought I would start with a fun video that shows off all of the table decoration ideas along with the projects I did for both tables.
Can't watch the video or want more details on some of the projects? Follow along below!
Thanksgiving Table Decoration Ideas
We are going to start with Thanksgiving because I can't believe it is already next week! I have some simple ideas for you to add some gorgeous decor to your Thanksgiving table. The best part is that you can use all of the supplies you buy for the Thanksgiving version of this table for your Christmas table as well. Buy once and use twice!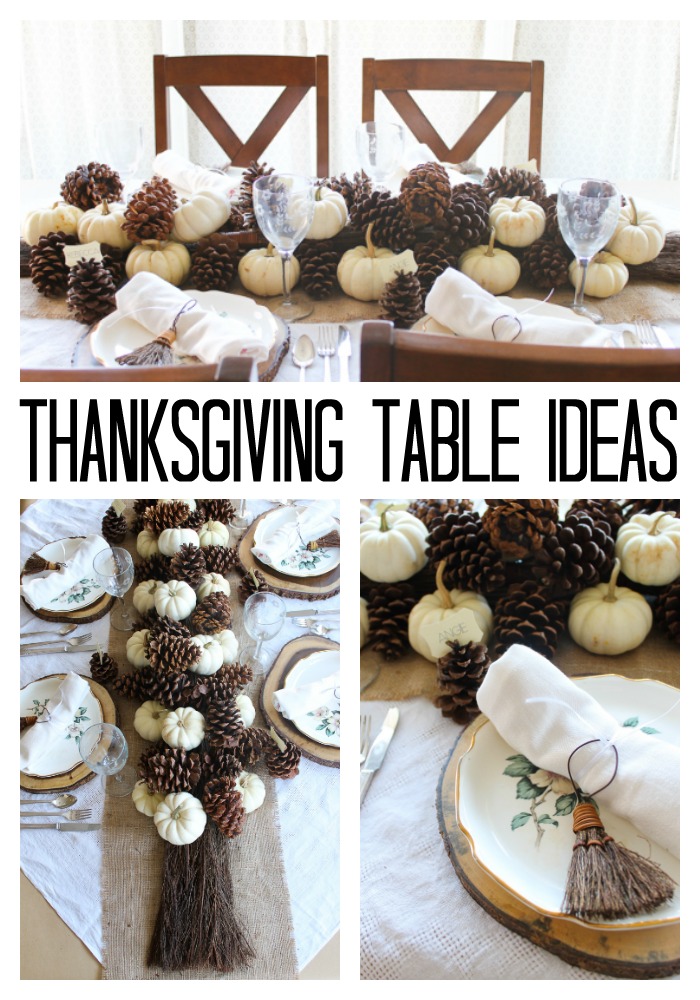 We will start with the star of the show – that centerpiece! Start with two large scented brooms. You can choose from cinnamon, apple splendor, or pumpkin spice scents. You will also want to pick up some scented pine cones as well as a bunch of white pumpkins for this look.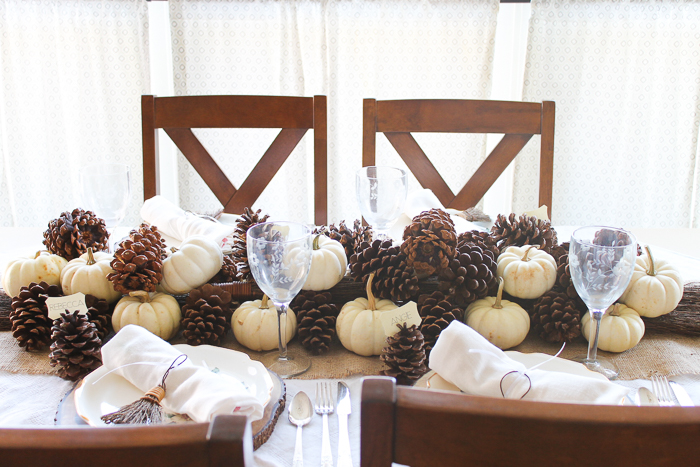 Lay the two brooms with the wide end out at the ends of your table. Then just start piling on pine cones and pumpkins.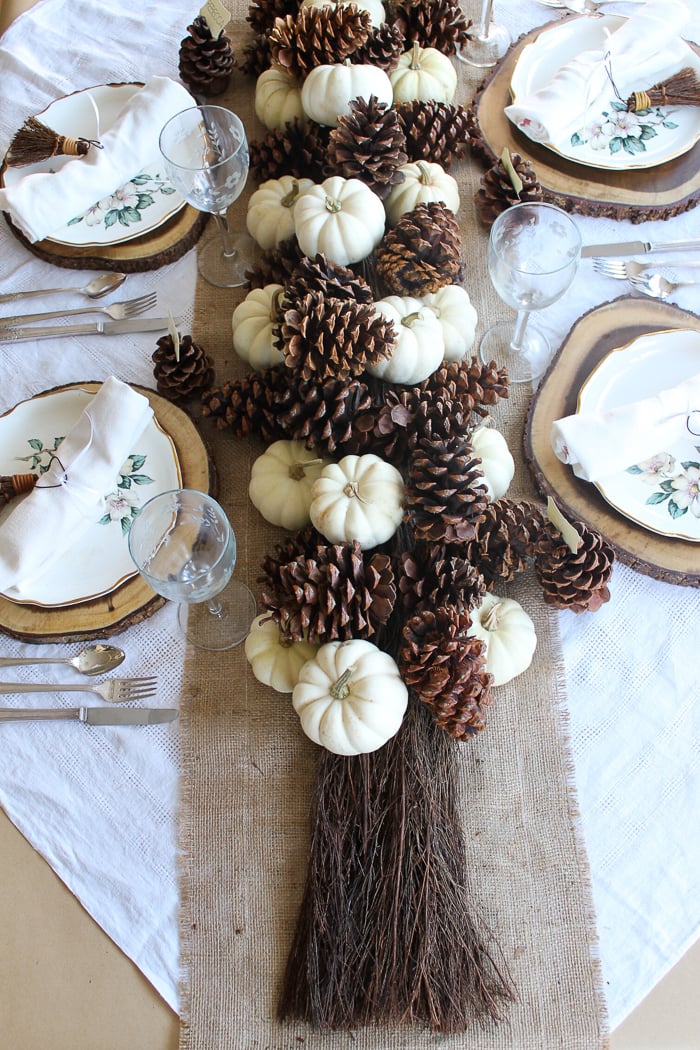 The brooms and pine cones will take care of scenting your tablescape so no additional candles or anything are needed with this one.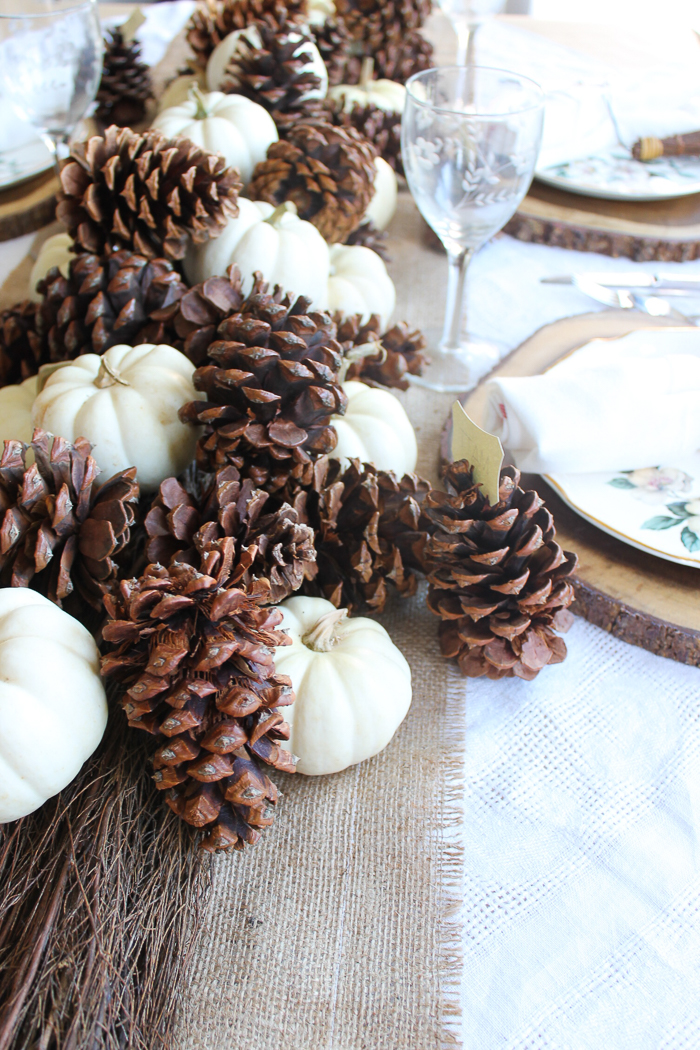 We used just white pumpkins for a more monochromatic look but you can choose more colorful ones as well for your table decoration ideas.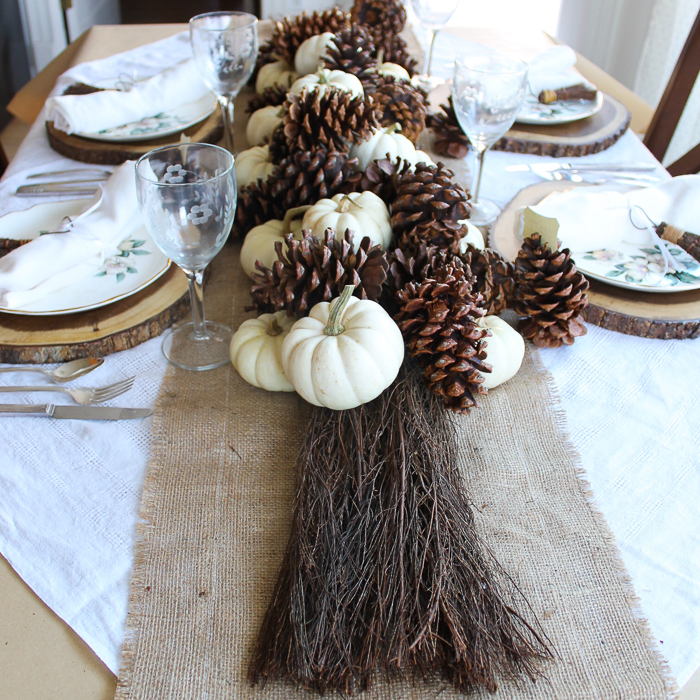 Then you can move on to your place setting. A rustic wood slice charger sets the scene.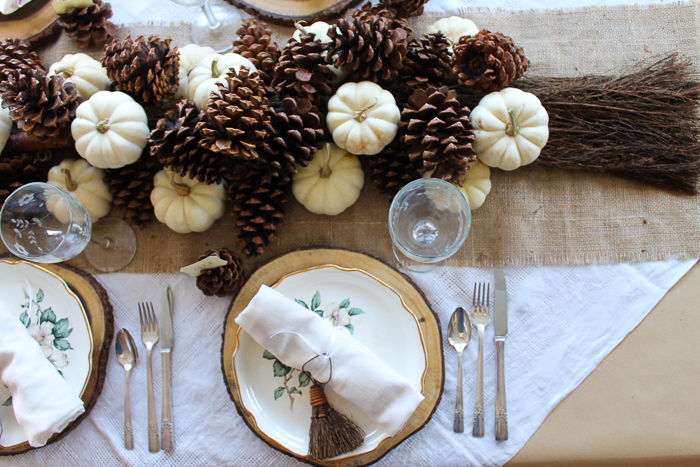 You can add a simple piece of paper with a name to the top of some pine cones and use those as place cards.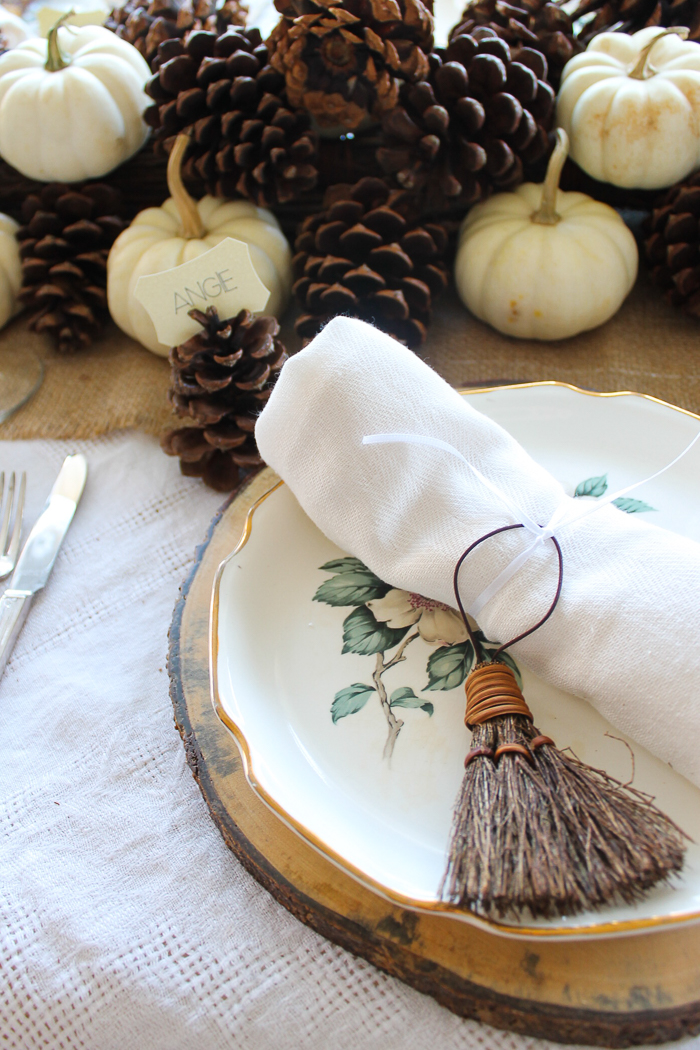 We also tied a mini broom onto ribbons for a rustic napkin ring addition to the table.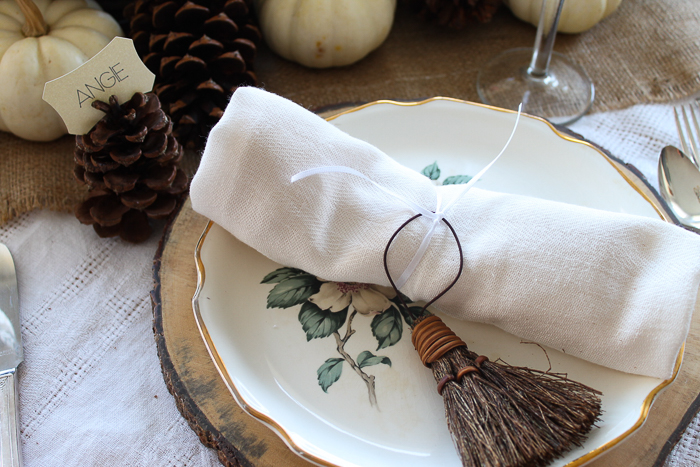 So, now we have used the large and mini brooms but there are actually medium brooms as well. I tied on pieces of paper to create a fun "thanks" banner with a few of those medium brooms. I strung those onto twine on one end of the table to continue the rustic look.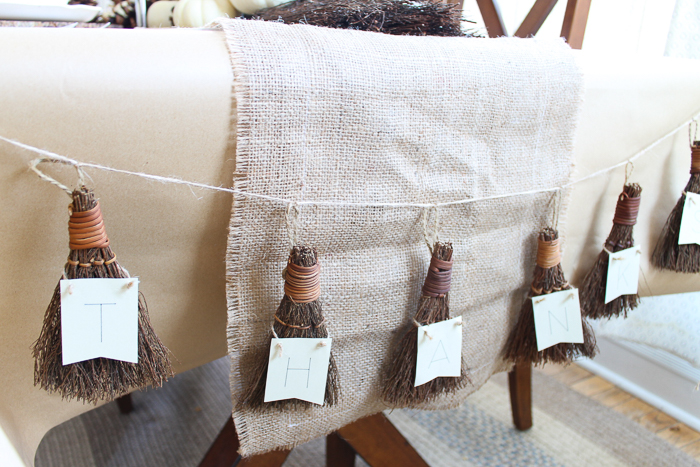 Don't you just love the way this Thanksgiving table turned out? The bonus is that it is so easy to pull together.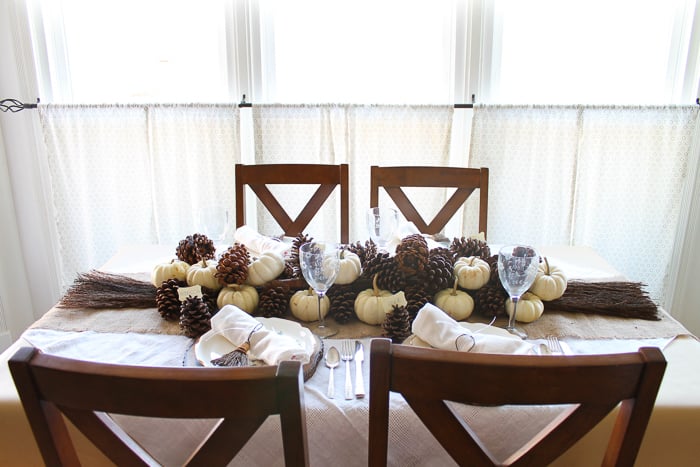 Christmas Table Decoration Ideas
Now we can use all of these same elements for a Christmas look. Just with a few changes, this table goes from fall to holiday so buy once and get two looks that you will love over the holiday season.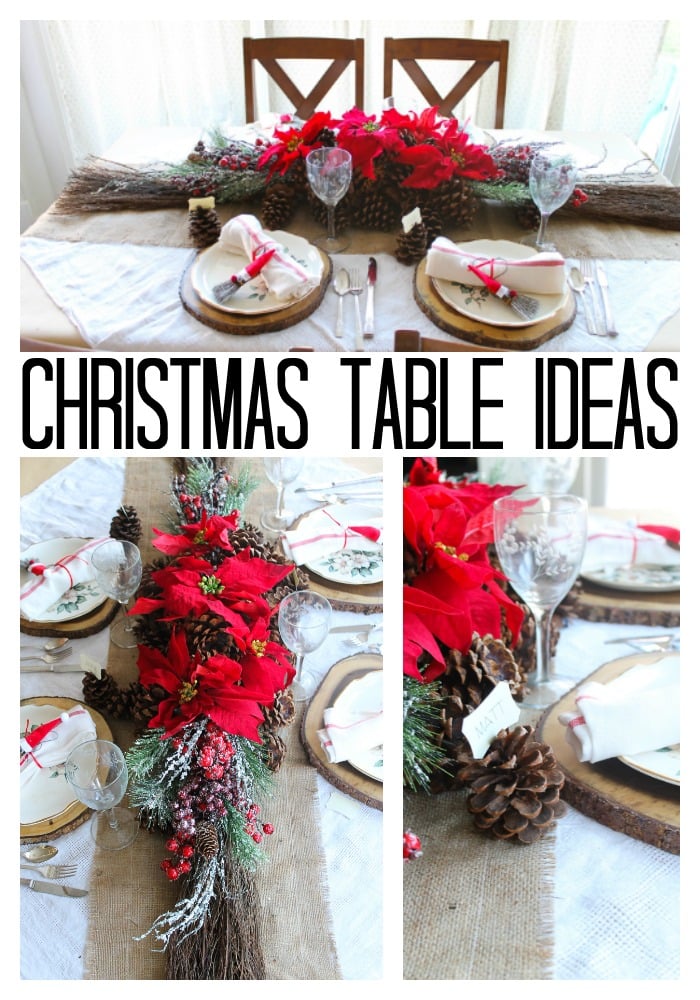 Once again, you can start with that gorgeous centerpiece. We are using the same technique with the large brooms laying on the table and a pile of pine cones added to the center.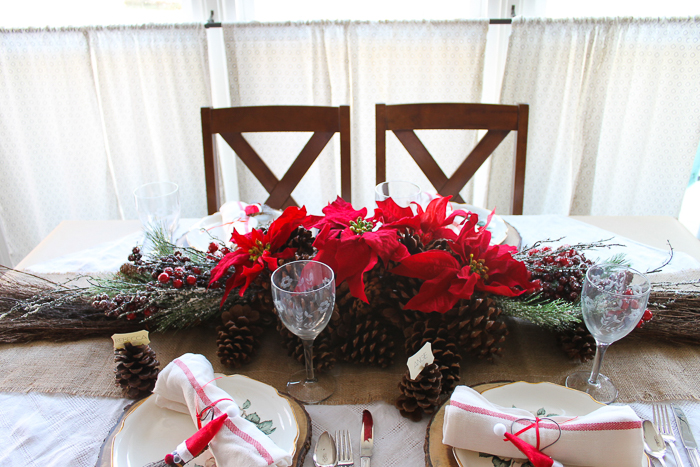 This time I stuck in a few poinsettias and some iced berries and branches.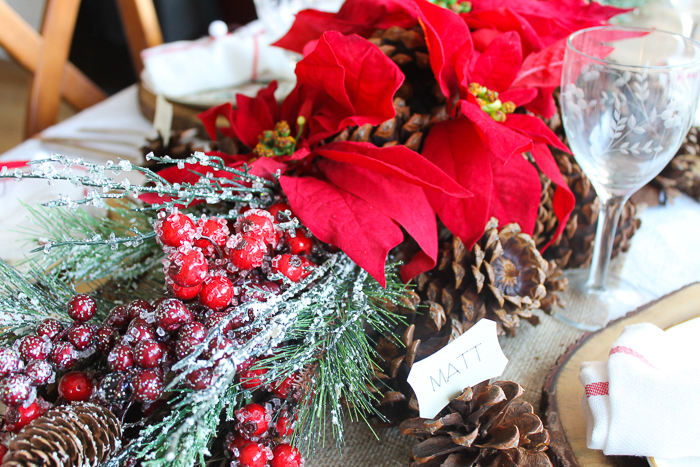 The look is still rustic but the addition of the red to these table decoration ideas makes it feel festive and ready for holiday dinner guests.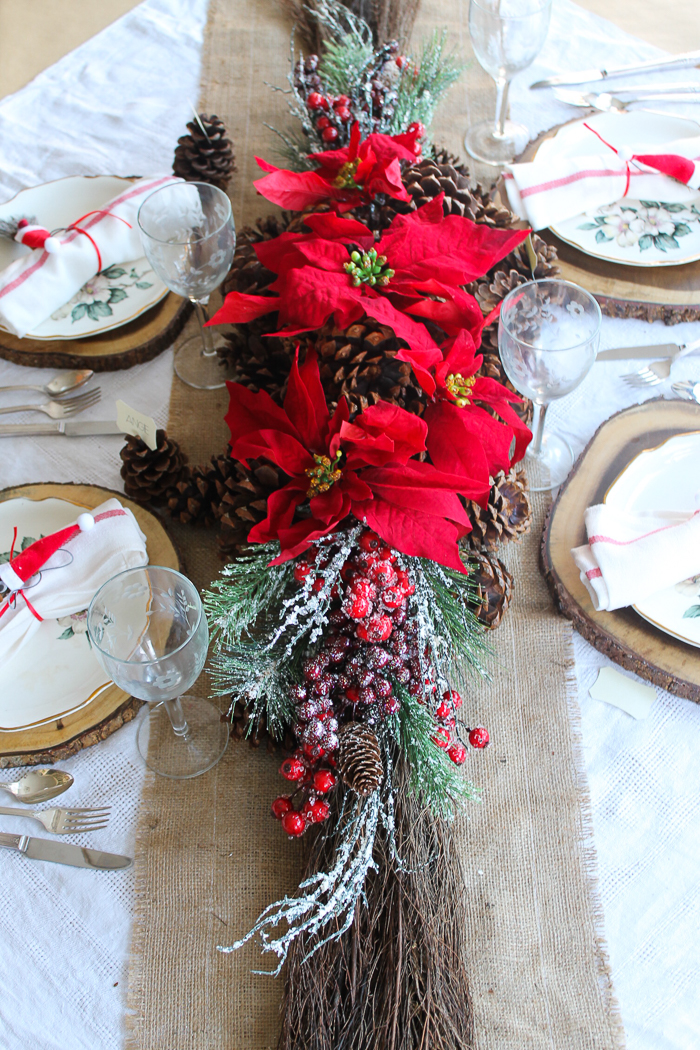 The brooms and pine cones are still scenting the entire table so you can leave off any candles with this one.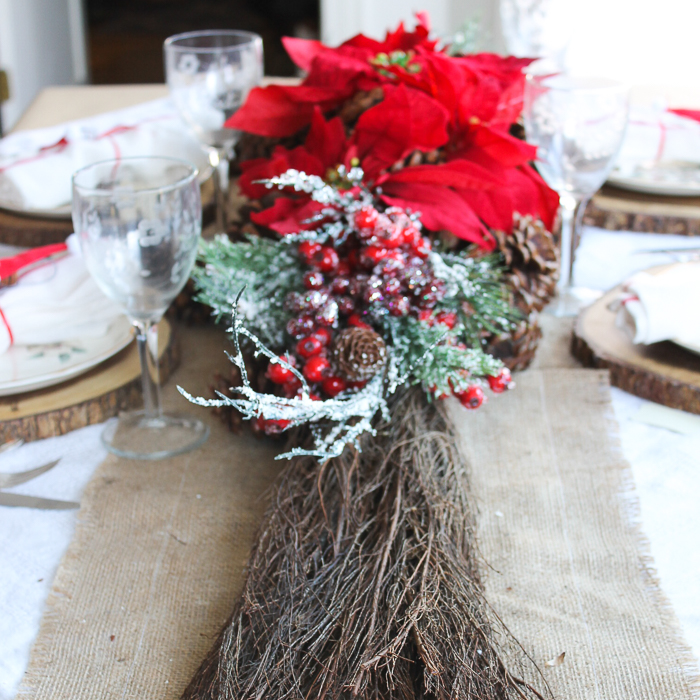 I used the same pine cone place cards for this one but I changed up some of the other elements with some cute craft projects.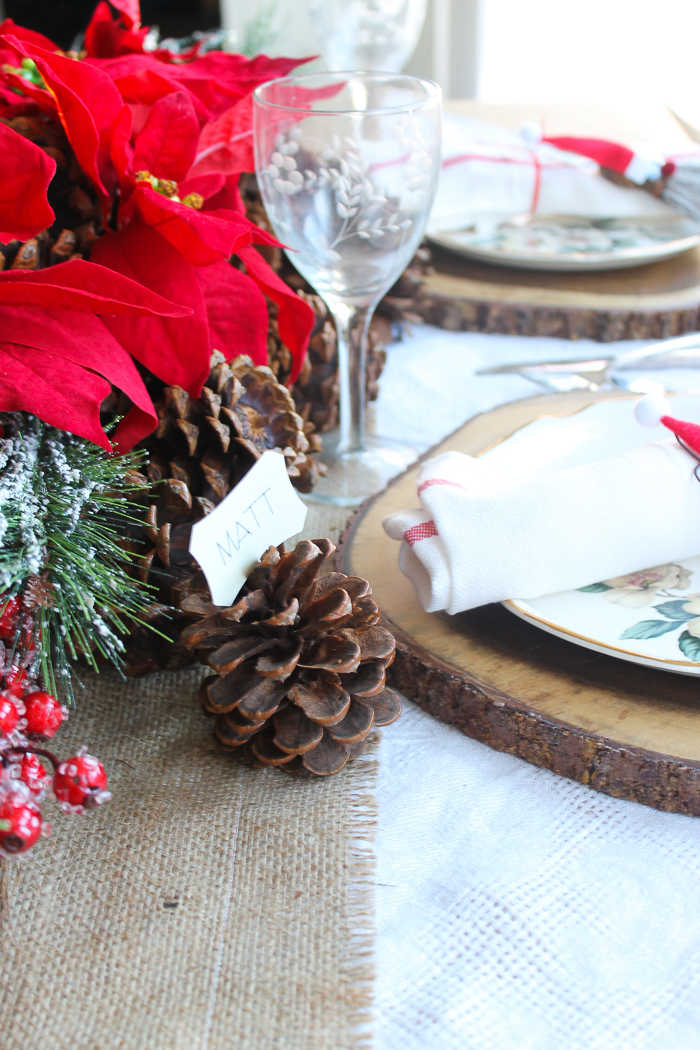 Santa Broom Ornament
So first we have this adorable Santa broom ornament. I used the mini brooms to create these and added to some ribbon on the napkins. These are great for sending home with your dinner guests as a party favor. You could also make a ton of these for your tree!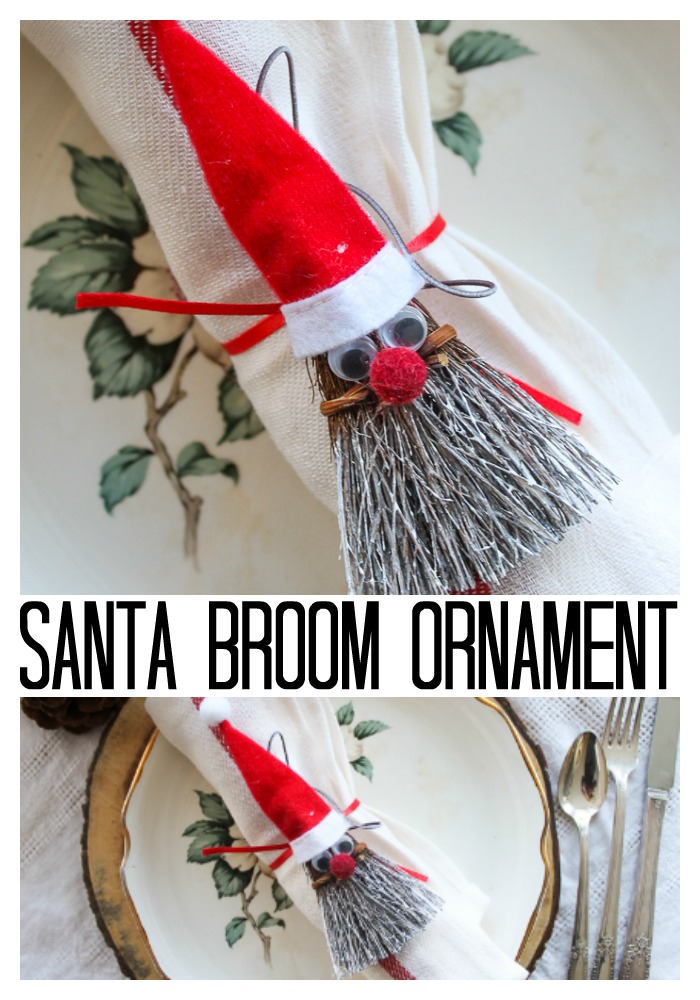 Start by masking off the bottom of the broom and spray painting white. Then add on a mini Santa hat, google eyes, and a pom pom nose with hot glue. That is it! So super simple and simply adorable!
Will you make some Santa brooms for your Christmas decor this year?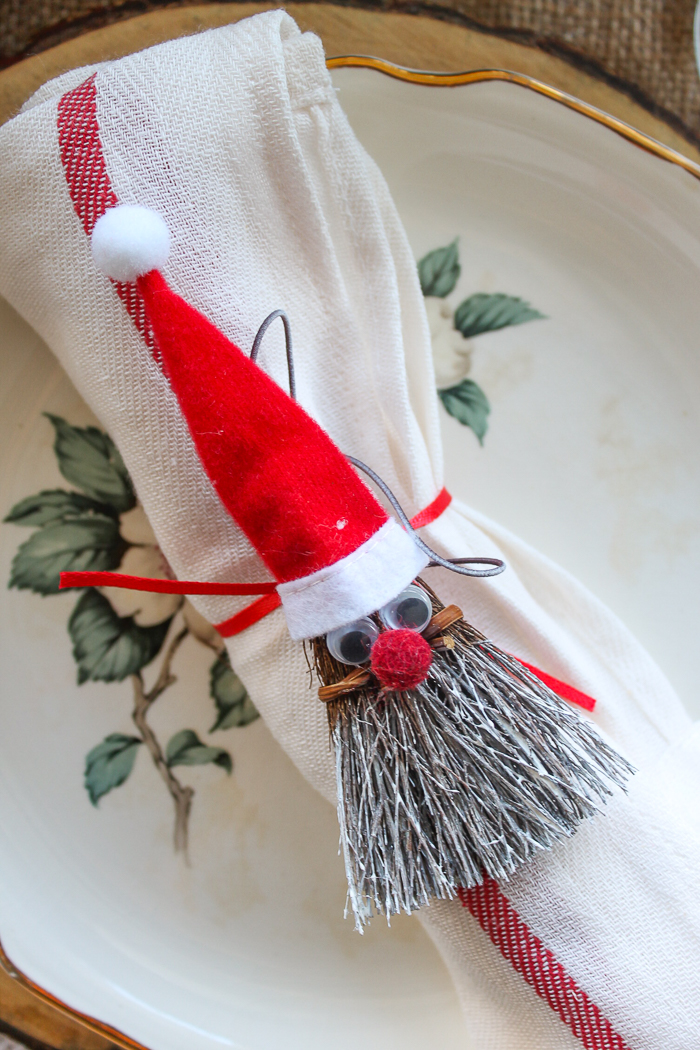 I love the whimsical addition to this holiday tablescape!
With the addition of our little Santa, the place setting on this Christmas table is complete.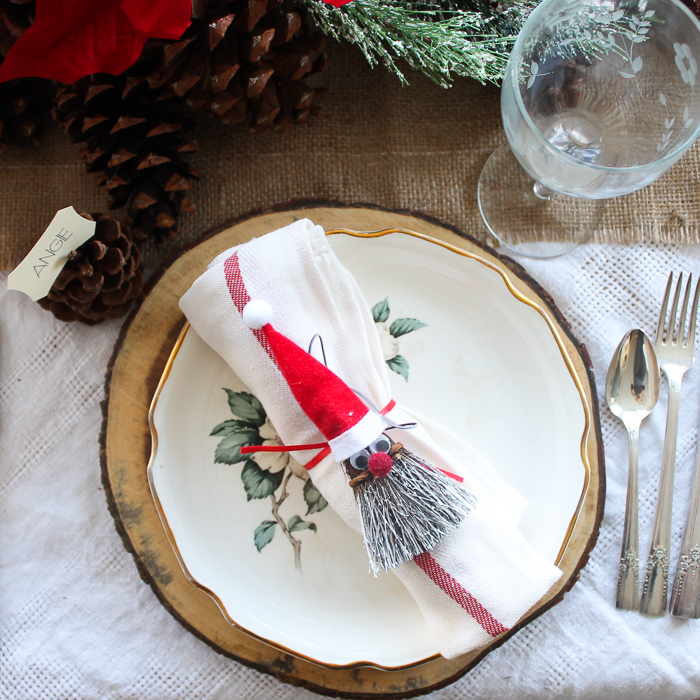 I left the main components of the table the same from the fall version to this version. So the rustic charger and burlap remain. You could change these elements up if you would like.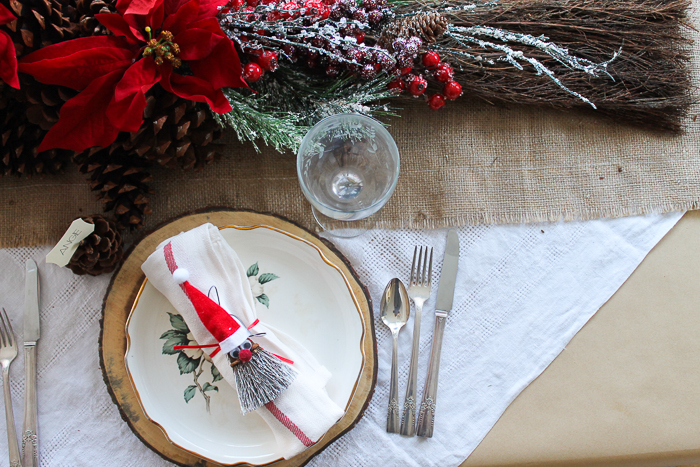 Christmas Tree Broom
But what about those medium brooms? I couldn't leave those out! I created some fun Christmas tree brooms with those and they are perfect for your Christmas table or even hanging on the tree. They are super easy to make as well!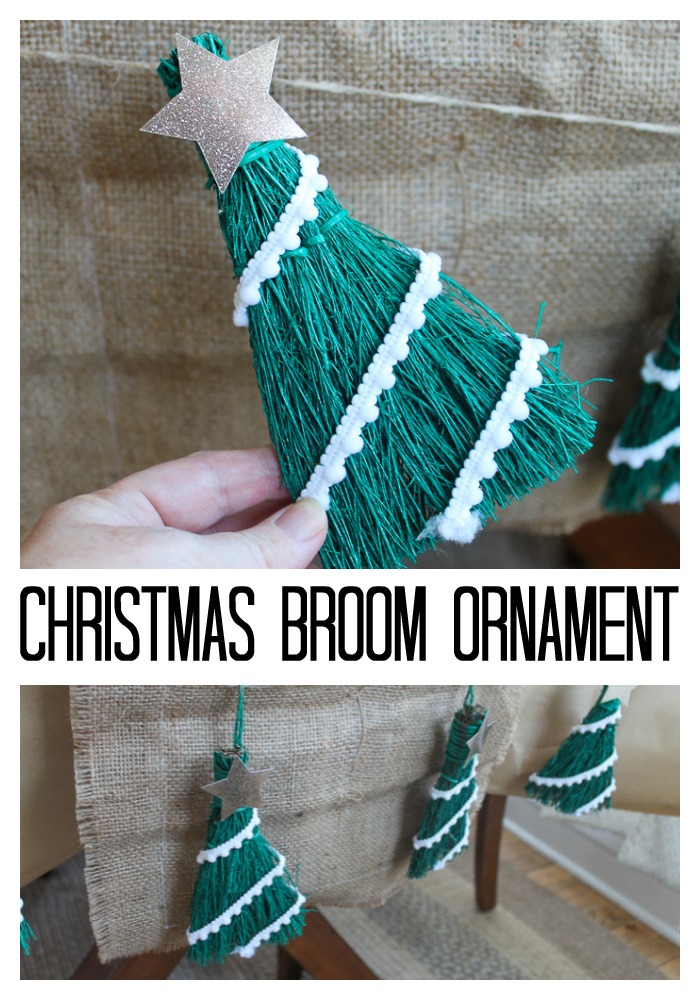 Just spray paint the entire broom green then use hot glue to add a star and some pom pom trim. That is it! You have a cute ornament or you can string a bunch of these onto a piece of twine for a banner.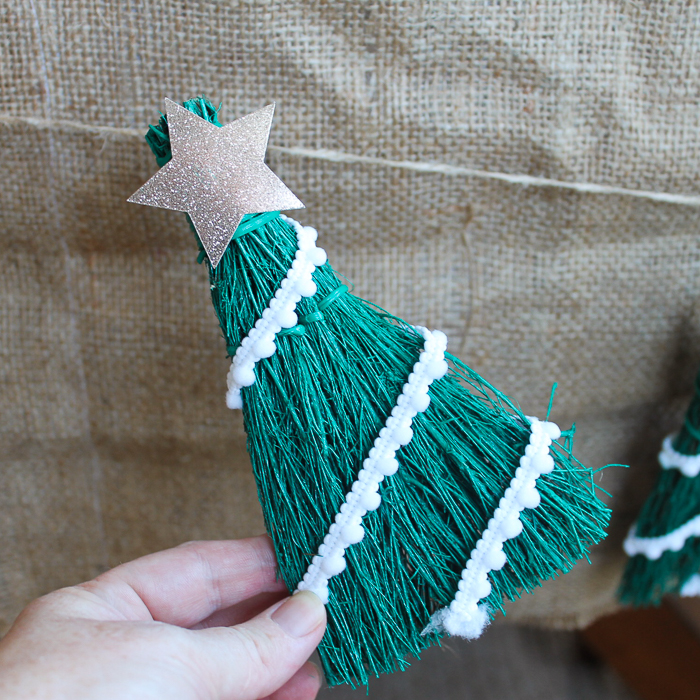 I used them on a banner at the end of the table once again.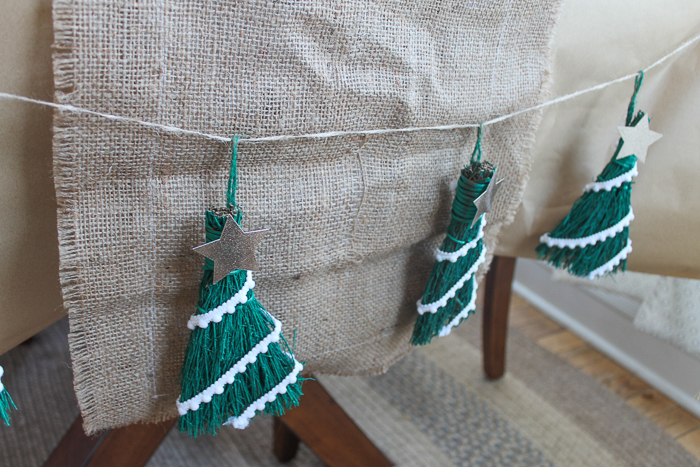 Overall, I love the way my Christmas table turned out and how great the brooms made the entire thing smell. Table decoration ideas like these are simple yet make a big impact.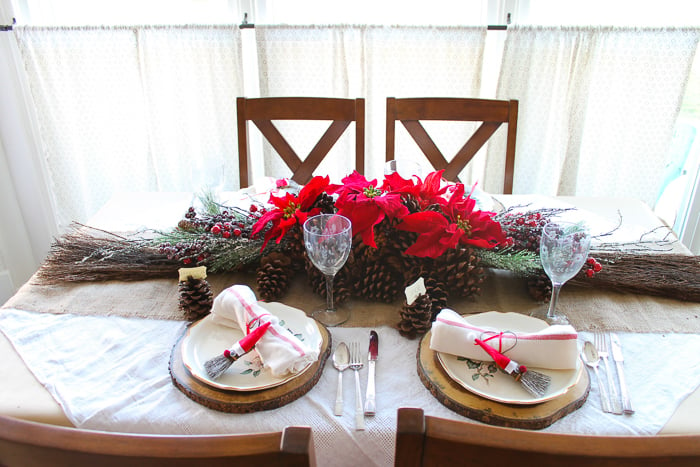 I think the idea of creating two looks with the same elements is a great way to stretch your budget this holiday season. So grab your brooms from Bindle and Brass and other supplies from Home Depot to recreate this look in your own home.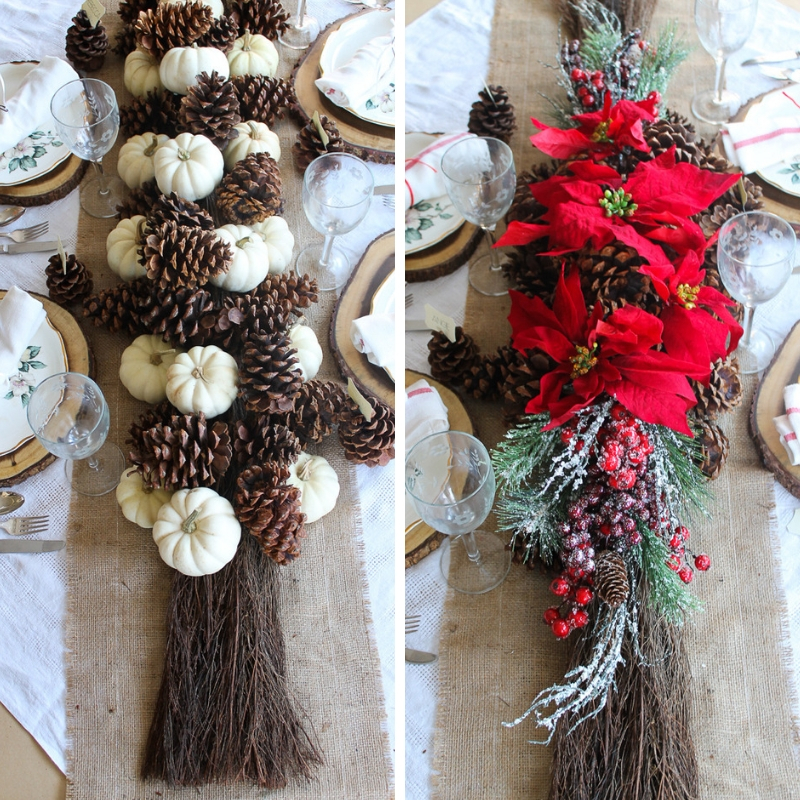 Want to win a $50 gift card to Home Depot to help with purchasing your supplies? Just use the widget below to enter! You must be 18 years or older and a US resident to enter. Void where prohibited. Winner will be announced in the widget below and will have 48 hours to get me their information before another winner is picked. Good luck!
So, do you love these table decoration ideas? Will you be using them in your own home this holiday season?