It's that time of year again and plaid Christmas table decor is the go-to trend for holiday parties. Walmart has a plaid Christmas table set to get you in the plaid party mood! Featuring the Better Homes and Gardens Collection, this festive plaid tablecloth will cover your dining room or kitchen tables while adding a touch of elegance. With great quality at an affordable price, it's easy to get into the spirit of things with these plaided Christmas decorations!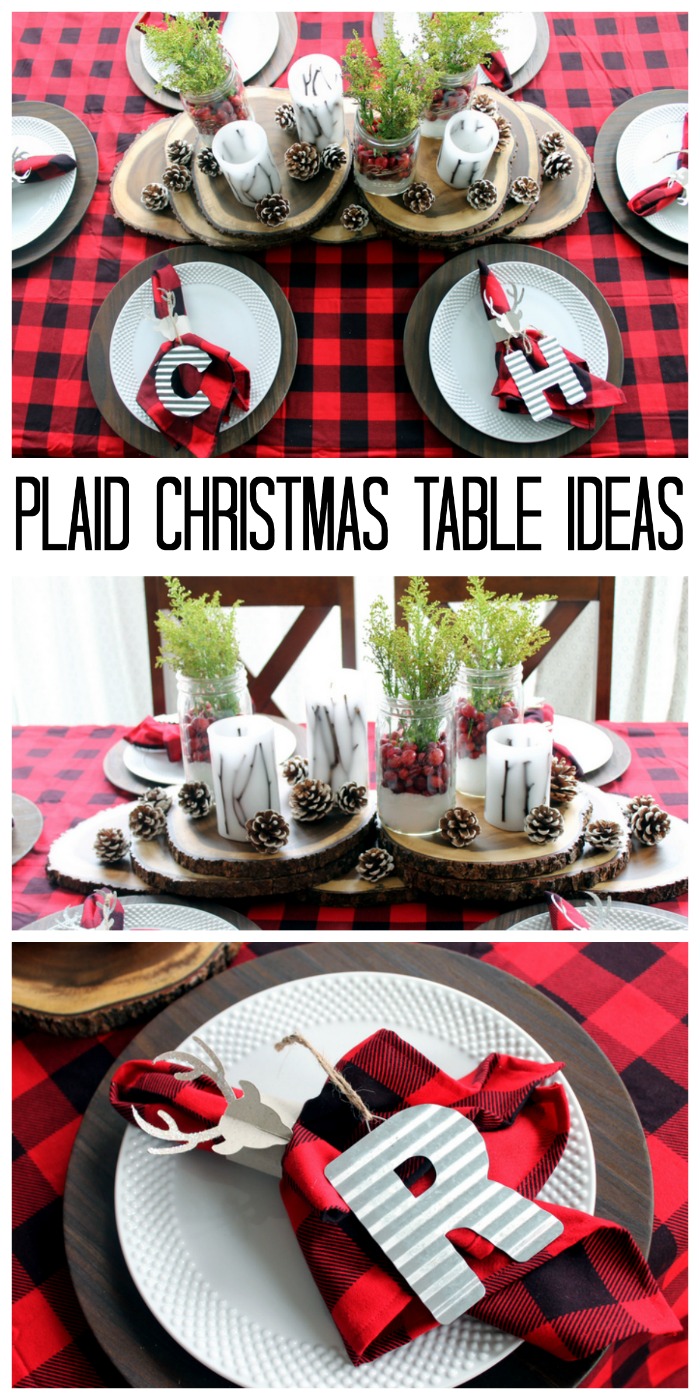 Hello, friends! Christmas is so close and it's time to start decorating. So, let's talk plaid Christmas table decor.
I'm a sucker for plaids and tartans of any kind, so this post is going to be all about how plaid Christmas table decor can help you have a beautiful holiday season that will leave you with warm fuzzy feelings long after the festivities are over.
My plaid Christmas table ideas are inexpensive and perfect for your holiday decor. Add some festive cheer to your table in the form of plaid!
These ideas and items are from Walmart so you know that you can get great value for your money. An inexpensive table that looks amazing? That is my kind of Christmas!
Plaid Christmas Table Decor Ideas: Your Best Holiday Table Yet!
Using the Better Homes and Gardens Collection from Walmart, here is a breakdown of how I used this plaid fabric collection as Christmas table decor.
The Centerpiece
As far as centerpieces go, I wanted to start out with something a bit rustic and yet eyecatching. Simple yet gorgeous. After all, it is the star of the show!
To DIY this beautiful Christmas centerpiece, I started with seven of the Acacia Wood Bark Chargers from the Better Homes and Gardens Collection. I stacked those rustic wood chargers in the center of my table to create a sort of platform for some of the Christmas table decor.
I love the rustic edging and dark color on those wood slices.
Small Christmas Trinkets and Decorations
To decorate the centerpiece, I added a few mason jars that have layers of Epsom salts, cranberries, and some greenery to really tie in the theme together.
Tip: For more Christmas mason jar ideas, take a look at this post filled with fun DIY mason jar ideas to help with your Christmas table decorating.
I also added a three-pack of these Twig Pillar Candles to the centerpiece. I personally love the LED battery-operated candles from BHG for the holidays. This version with the twigs inside fits perfectly with my rustic country theme. Plus, I don't have to worry about candles melting or anything like that. With a push of a button, I can turn them on and off as I please.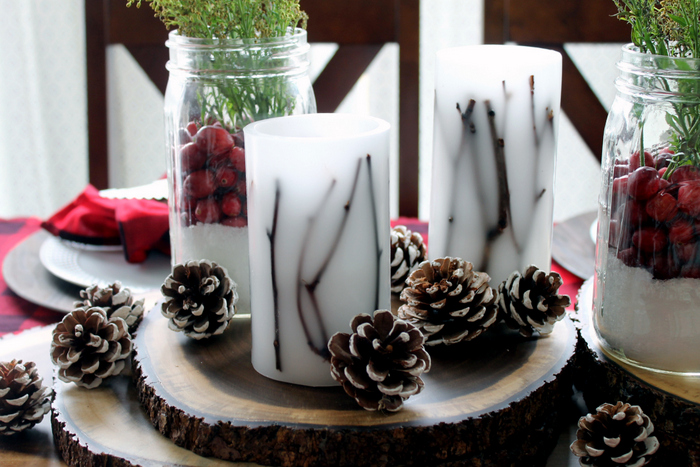 And, for the final touch, I had a few pinecones leftover from a pinecone craft I made with the kids for Thanksgiving and thought it would look nice against the plaid. I simply left a few of them around the table to complete the look.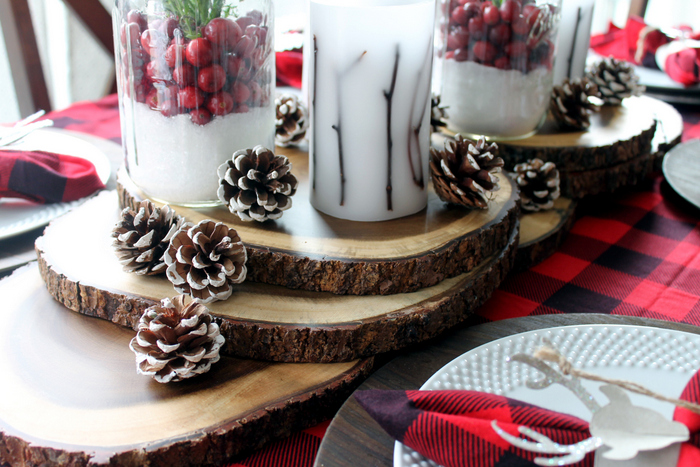 The Table Set
Once I had my centerpiece and other Christmas table decor pieces, I knew that I needed a table cloth to pull the entire look together. I began dreaming of lumberjack plaid and my mind was racing with all sorts of plaid Christmas table decor ideas.
But, where would I find what I needed? Look no further than Walmart!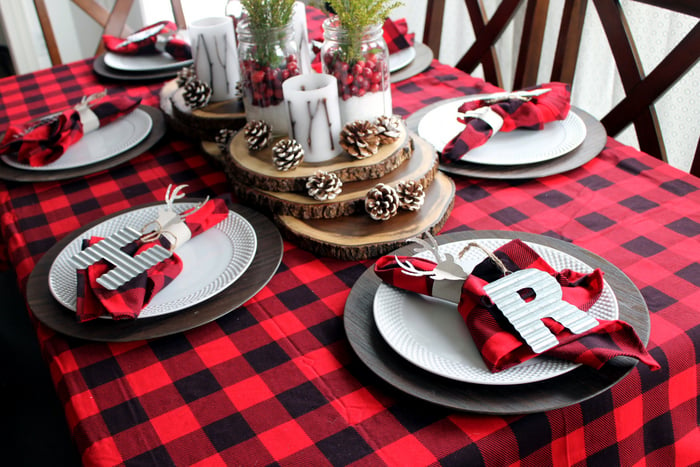 I picked up a twin-sized flannel sheet set and I ended up using the flat sheet to make a tablecloth. Then, the fitted sheet and pillowcase became the napkins.
Each place setting received a napkin with a deer napkin ring I made with my Cricut!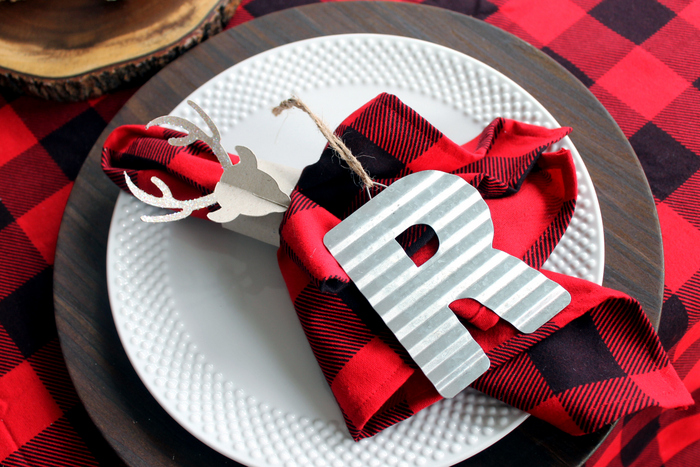 I found the rustic ornaments at Walmart as well and used those as initial place cards.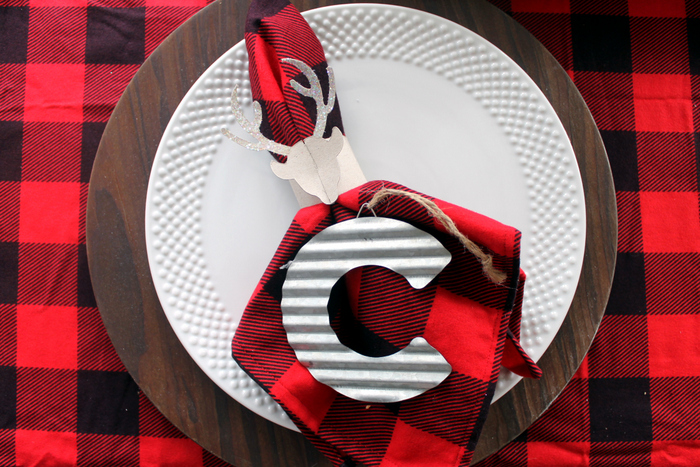 Those gorgeous plates are from Better Homes and Gardens as well. I was torn between two different sets but ended up going with these White Hobnail Dinner Plates. They are absolutely swoon-worthy! I love a good white plate that can be used season after season.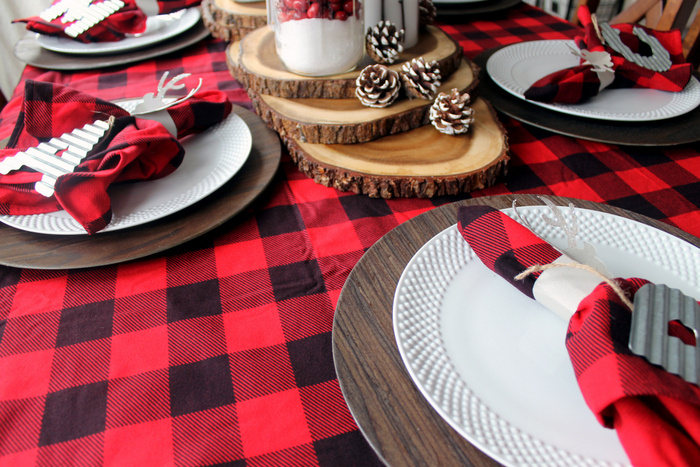 These Faux Wood Chargers underneath the white plates were also a grab from Walmart. Not only did they work perfectly with this rustic table, but they really complement the plaid table cloth.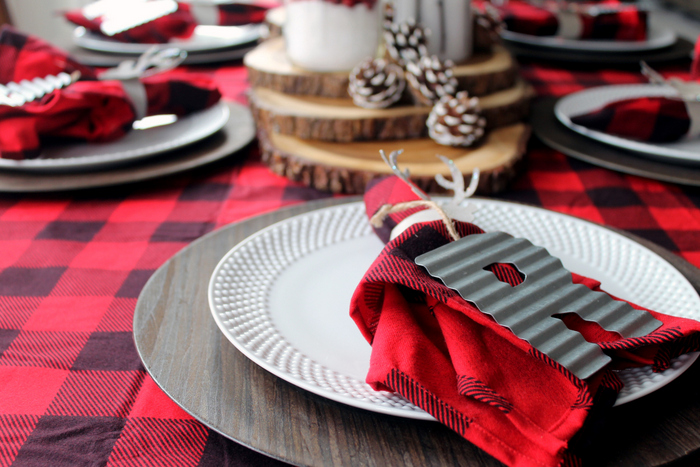 As far as plaid Christmas table decor ideas go, this one is by far my favorite! I am in love with the rustic elements of this Christmas table that I managed to pull off here. I can't wait to recreate this for my family for the holidays.
This was such a fun tablescape to put together. I love the look and it was budget-friendly!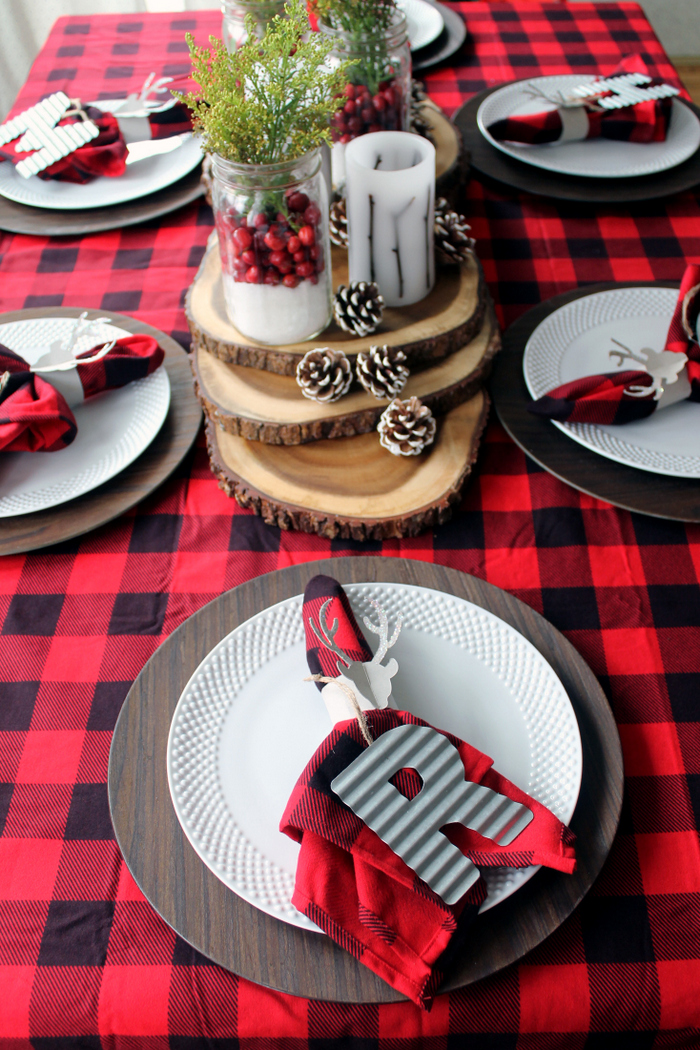 More Christmas Decor Ideas To Try:
If you enjoyed putting together this plaid Christmas table, take a look at some of these other Christmas decor ideas…