Kids will love this cute free printable unicorn cootie catcher. In fact, I have 15 more free unicorn printables at the bottom of this post that you are going to love. Download them all and keep your kids busy for a while. After all, who doesn't love unicorns? In fact, you can use these unicorn SVGs for some crafts to go along with these as well.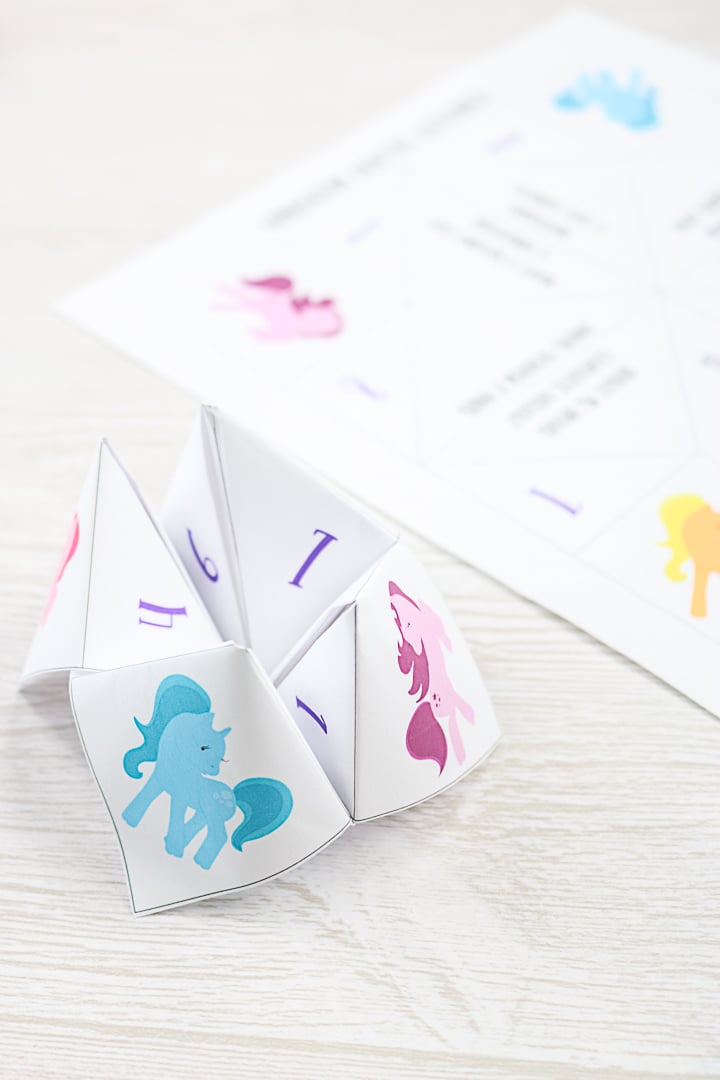 Unicorn Cootie Catcher Free Printable
To get the unicorn fortune teller, just add your information to the form below to sign up for the newsletter. From there, you will get an email with your download. You can download and print as many times as you would like. If you already subscribe to the newsletter, please add your information again as you will not be signed up for anything further.
Please note that this file is for personal use only. You can also email me if there are any issues getting your file.
How to Fold a Cootie Catcher
Once you get your free printable, then you can print and fold. You can even let the kids do the cutting and folding as part of the project. There are instructions for folding at the bottom of your printable. Here is a brief overview in case you need it:
Print and cut around outside of the cootie catcher.
Fold in half and in half again.
Unfold and then turn over so the top is blank and fold each corner into the middle.
Turn over and repeat.
Turn over so you can see the pictures.
Slide your thumb and your finger behind 2 of the pictures and press together so they bend round and touch.
Turn over and repeat with the thumb and finger of the other hand for the other two pictures.
All the pictures should now be at the front with centers touching and you are ready to use your unicorn cootie catcher!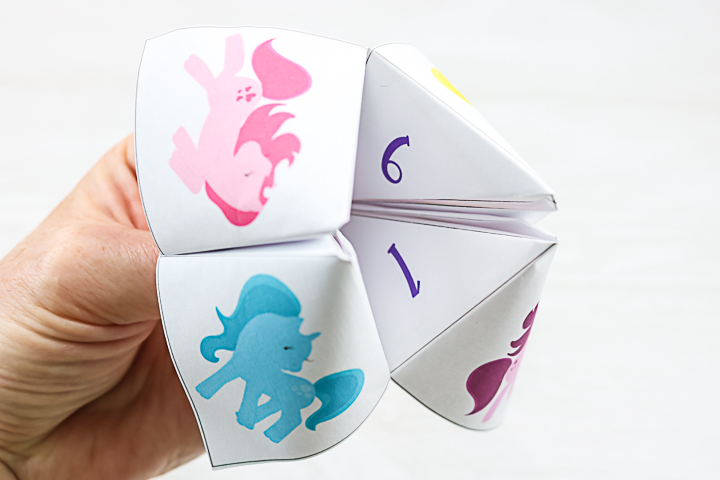 How to Use Your Unicorn Fortune Teller
Now that you have it folded, how do you use it? Here are some quick instructions just in case you have never used a cootie catcher before.
Ask the person you are playing with to pick a unicorn.
Spell the color of the unicorn as you move the cootie catcher back and forth.
On the last letter, leave the fortune teller open.
Ask the person to pick a number.
This time count as you move the cootie catcher back and forth.
Once you get to the number, stop and ask them to pick another number.
This time fold out that number and read what is underneath. Then they have to perform whatever action is under the flap.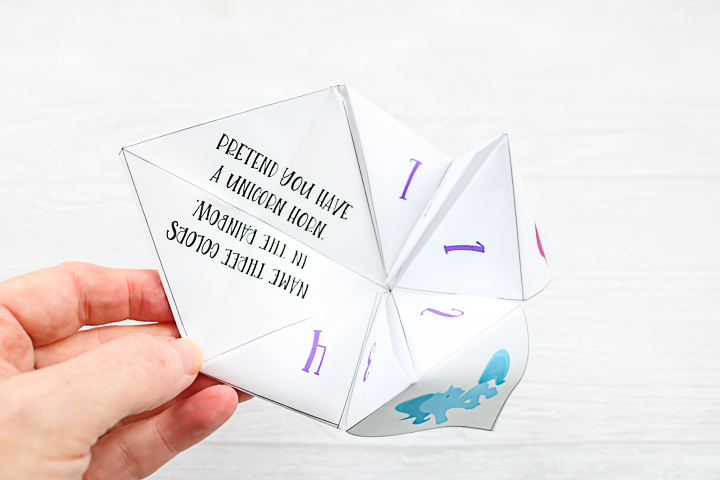 This game can get really silly and fun. Kids love playing with these for hours so it is a super inexpensive way to keep them entertained for a bit.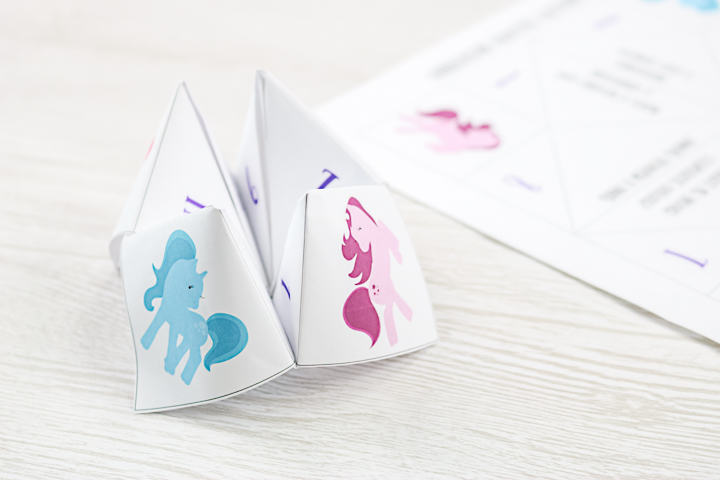 So, will you print this unicorn cootie catcher for your kids? I guarantee they will love it! Don't love the unicorn theme? Try printing our minion cootie catcher here for even more fun.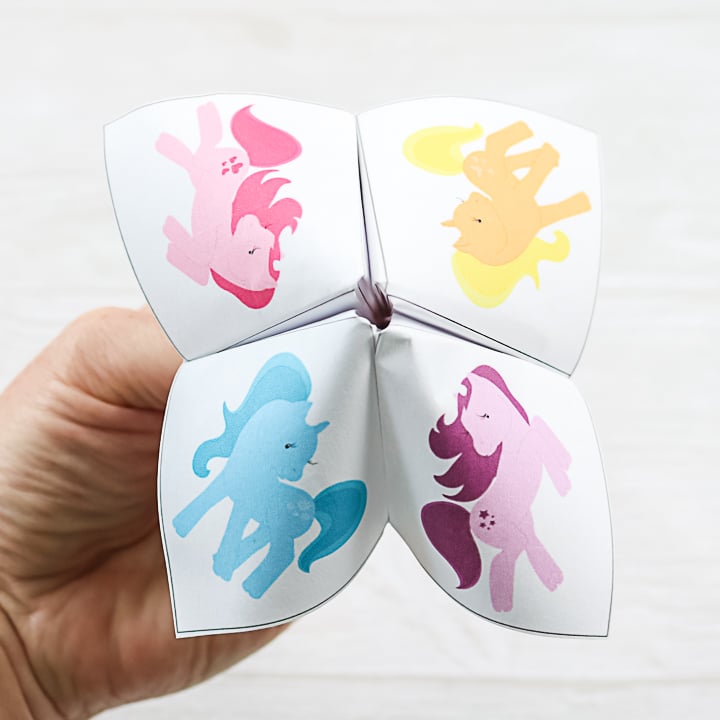 If your child loves unicorns, this is definitely one printable that you will want to download. They will love playing this both with friends and even all alone!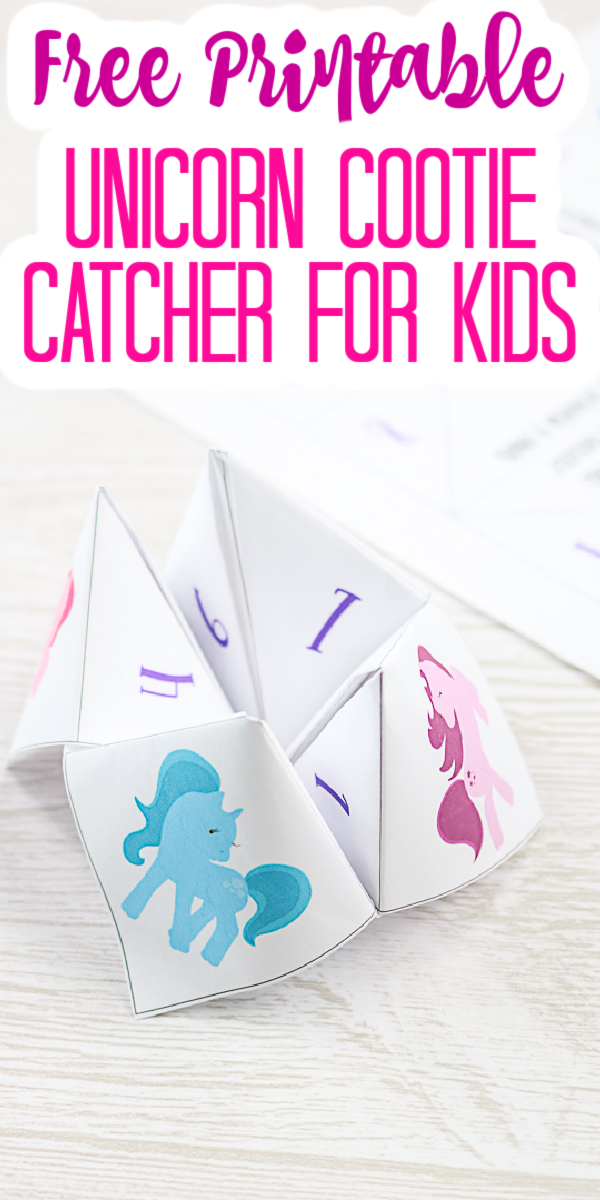 Love this unicorn free printable and want more?
I promised you even more free printables with a unicorn theme and I have them for you!
Just follow the links below to be taken to each of the free printables. You will need to follow the instructions on each page to get your downloads.
Unicorn Free Printables
So, print this unicorn cootie catcher or any of these other free unicorn printables. I know you are going to love them!