Stop searching in the sea of pink and blue baby gift ideas for great unisex baby gifts! Make this adorable (and easy) gender neutral baby gift idea instead.
What are good gender neutral baby gift ideas? When you shop for baby shower gifts, almost all of them are pink or blue – it's hard to find the perfect unisex baby gift!
If you don't know the gender of a friend or loved one's baby, stick with giving unisex baby gifts. We have a terrific gender-neutral gift idea that's as cute as it is thoughtful!
Plus, we have a free printable to go along with it so you can pull this one together in no time at all. In fact, it's probably faster to make this gift than it would be to go to the store to search for a gift!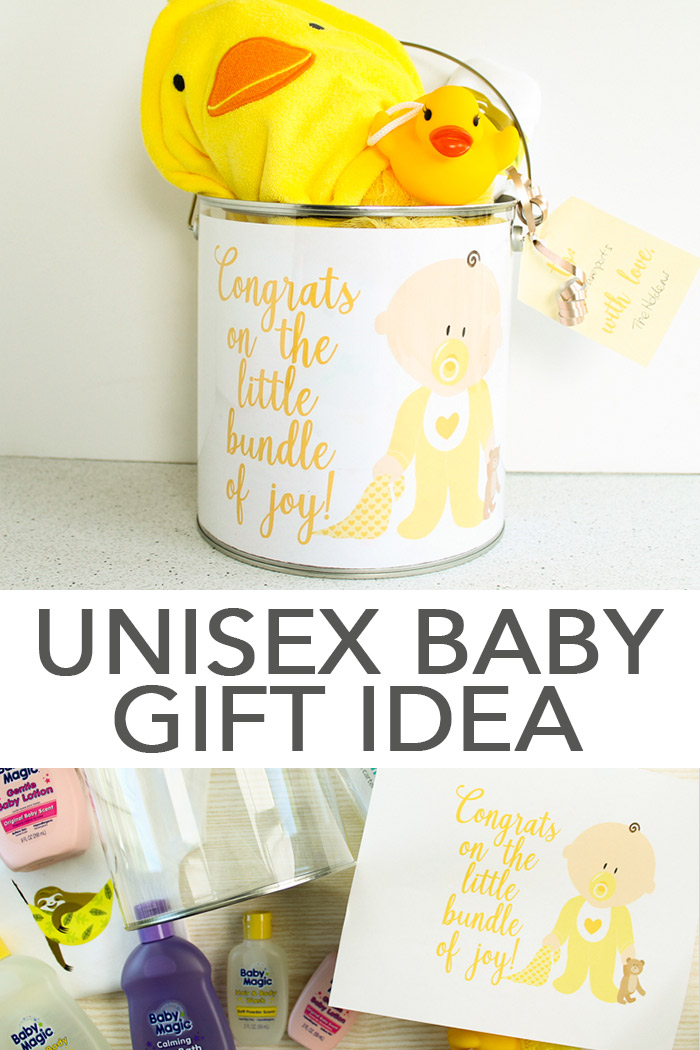 Supplies Needed For This Gender Neutral Baby Gift Idea:
Here is a list of supplies to make this gender-neutral gift! I have included some links below to help you find certain supplies faster and easier.
I also just wanted to share that you can always add in whatever you like. These are just items I used! I'll share a few more ideas down below.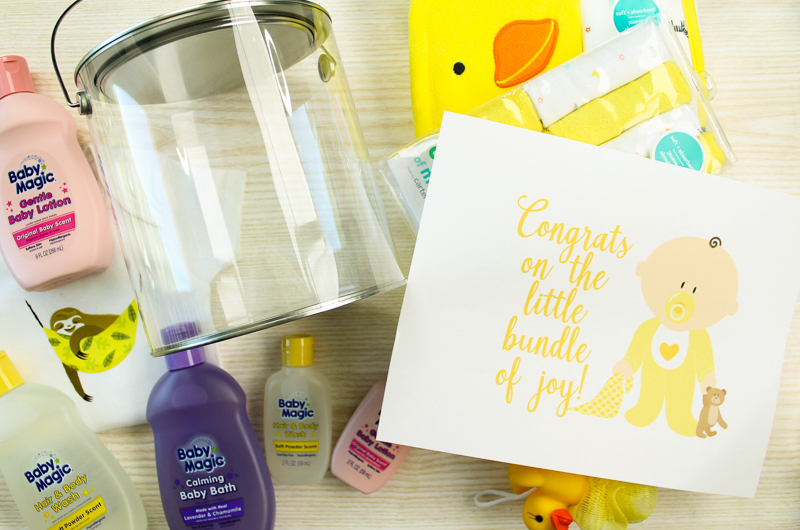 How To Make This Unisex Baby Gift For A Baby Shower
Simply follow the instructions and in just minutes you'll have a festive and adorable baby gift ready to deliver.
Step 1
Download the files for both the gift insert as well as the tag and print on plain copy paper.
Pro Tip: The tags will look better and hold up longer if you print them on heavy white card stock. However, plain paper will work fine.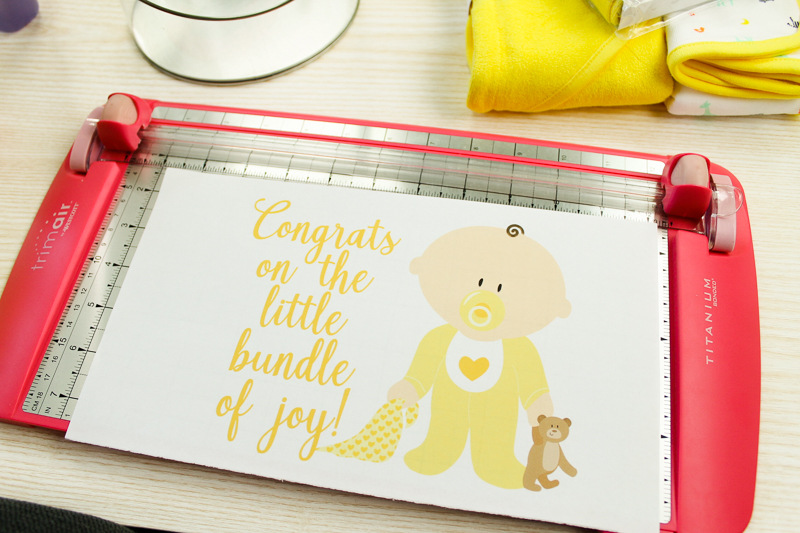 Step 2
Prepare the printable gift label so that it's ready to put into the paint can. You will have to cut a little off of both the top and bottom of the printable gift insert so that it will fit inside the paint can.
Then just put it on the inside of your clear paint can and use clear tape to hold into place.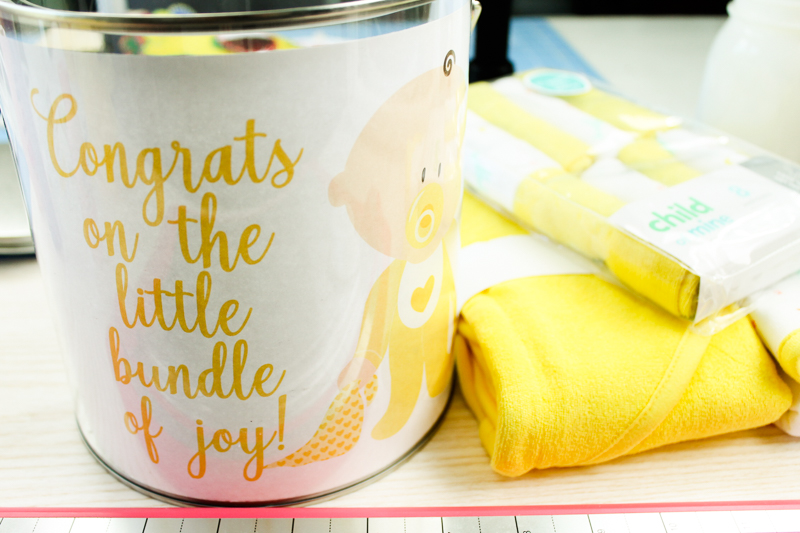 Step 3
Once you print your gift tags, cut them out with a pair of scissors.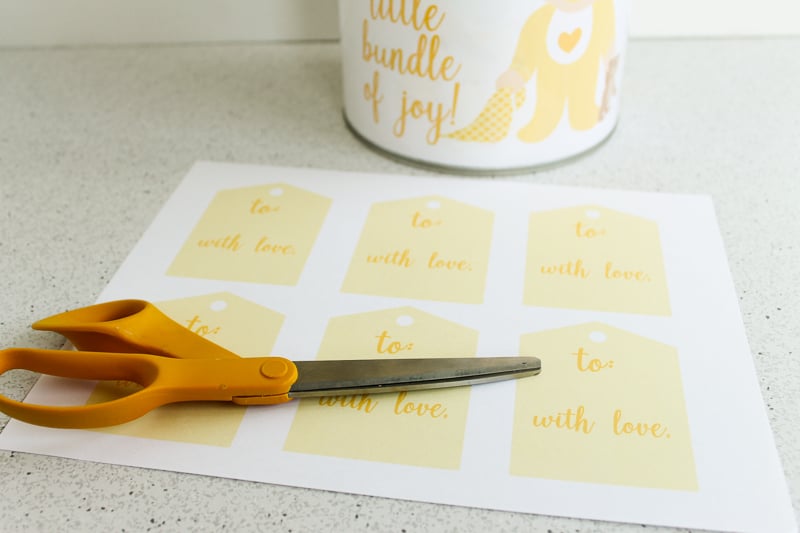 Step 4
Fill out the "to" and "from" lines with a pen then use a hole punch to add a hole to the top of each one.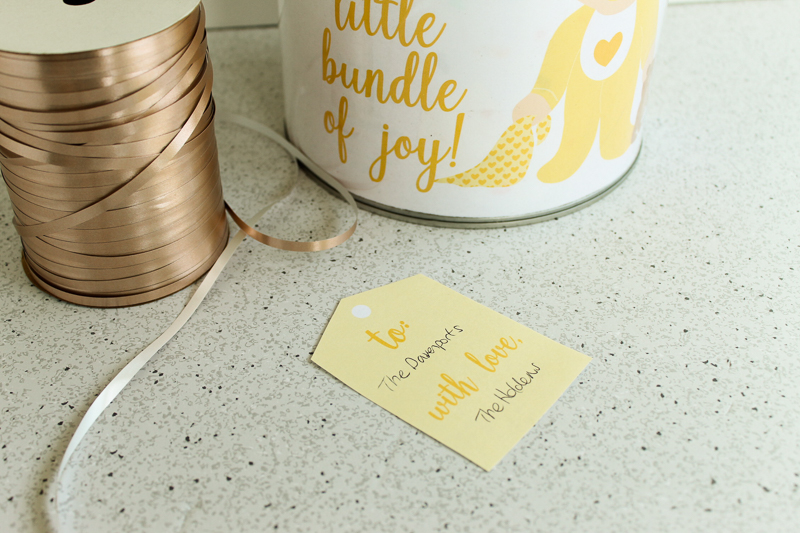 Step 5
Hang it on the side of your pail with some cute curling ribbon.
Step 6
Now it is time for the fun part!
Fill your unisex baby gifts with all sorts of gender-neutral baby stuff! I added a towel, some washcloths, onesies, bath products, and of course a rubber ducky!
All that's left is to take this gender neutral baby gift to the next baby shower you attend!
Additional Supply ideas To Add
Feel free to change out or use completely different items to fill up the paint can. I simply wanted to provide a few ideas of things that you can add as part of this gender-neutral baby gift.
If you need a few more ideas, try including: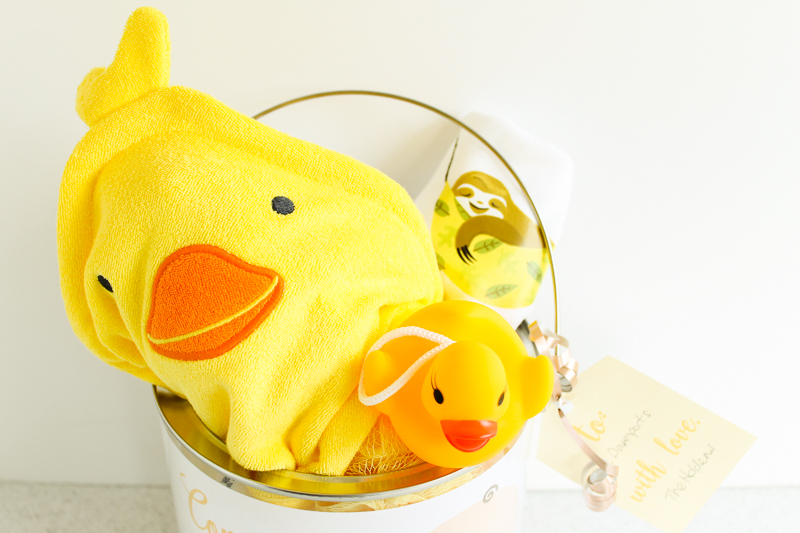 Yellow Gender Neutral Baby Gift: Final Thoughts
A cute insert inside a clear paint can is an easy way to package up a homemade baby gift to welcome any new bundle of joy! I love that it's full of baby items that the new parents can actually use instead of things that look cute but won't be helpful to new parents.
Check Out More Gender Neutral Baby Gift Ideas!