This post and photos may contain Amazon or other affiliate links. If you purchase something through any link, I may receive a small commission at no extra charge to you. Any supplies used may be given to me free of charge, however, all projects and opinions are my own.
We are planning for a little grandchild around here and crafting mode is in full swing. I will share some of the craft tutorials here with y'all. One of the first few things we crafted is a crib mobile.
This whale baby mobile turned out too cute and you can definitely use this same technique to make a mobile in any theme. Grab your paper and glue, and let's get started!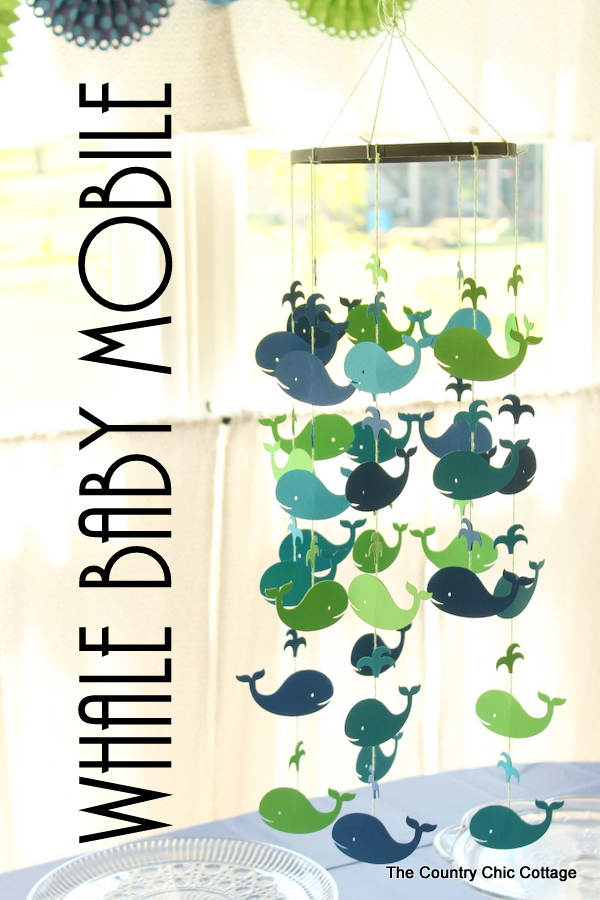 Whale Baby Mobile Materials
Card stock (different colors)

Craft cutter

Twine

Embroidery hoop

Tacky glue

Paint
How to Create A Whale Baby Mobile
Start by cutting out a ton of different color whale and water shapes from card stock. I used my silhouette and traced an image I found online. You can use any craft cutter you have or buy shapes online (try Etsy y'all).
You will also need twine, an embroidery hoop, tacky glue, and paint.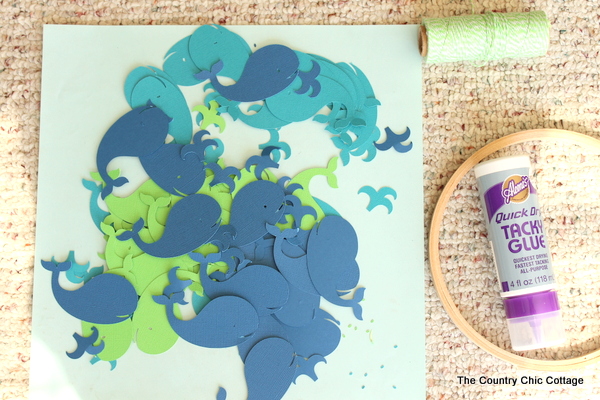 Paint the inside of the hoop the color of your choice and set aside to dry. Cut the twine into long and short strips. I used four of each size. Then sandwich the twine in between two paper pieces using tacky glue to secure.
Lay down one whale, apply glue, lay down twine in the middle, additional glue on top of twine, and lay a whale on top. Wipe away any excess glue.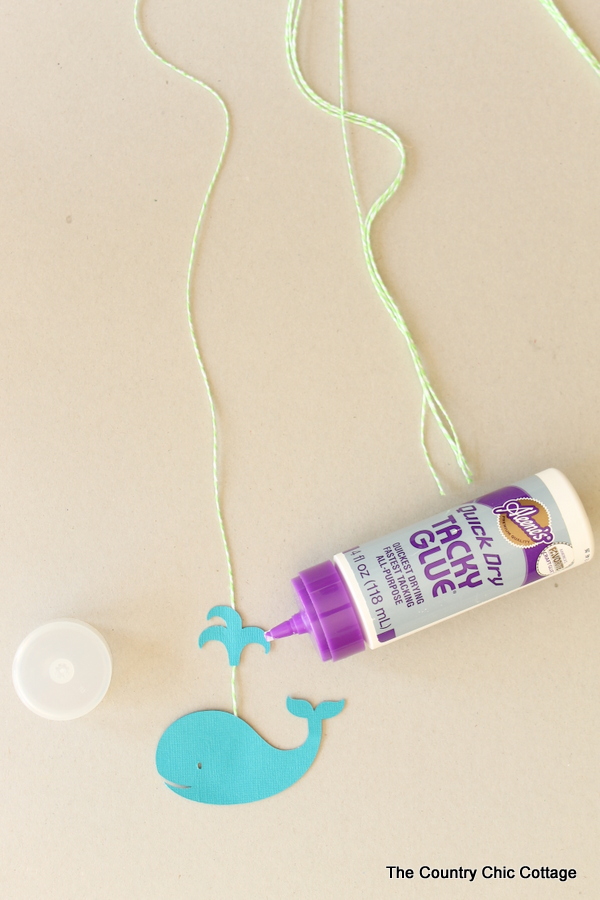 Allow all of your whales on twine to dry before continuing. Tie on each to the hoop spacing equally. I did one long, one short, one long, one short, and so on. I just tied in a triple knot and then trimmed the excess. It was very secure.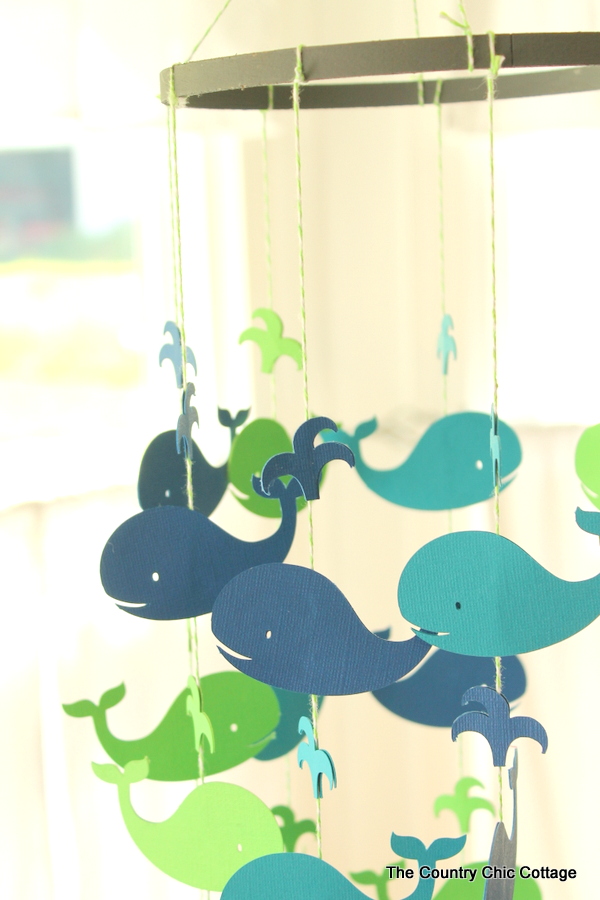 You will also need something to hang it by at the top. I used two strands of twine and tied them on opposite sides of the hoop. I gathered them at the top and tied them in a loop for hanging. Trim any excess and this one is ready to hang.
I actually had this one hanging at the baby shower but it will be in the nursery soon. (Y'all stay tuned for baby shower details!)
I love the way that the whales spin on their strings. This is a fun project that doesn't take too long. If you don't love the whales, change it up to any animal or shape that will work in the nursery you are planning. I am so glad my daughter loved this whale baby mobile!
NOTE: Be sure to keep this mobile out of baby's reach. When hanging, please take into account that baby will get older and stand in the crib.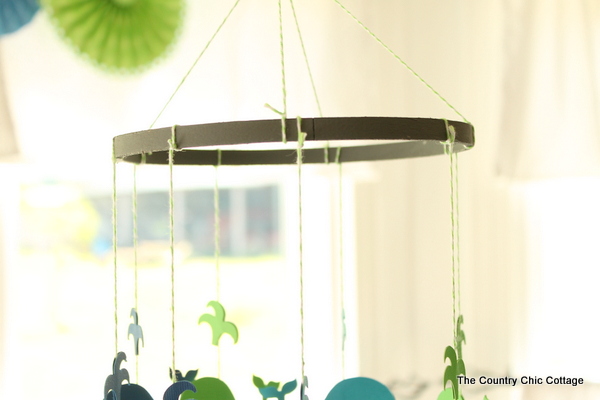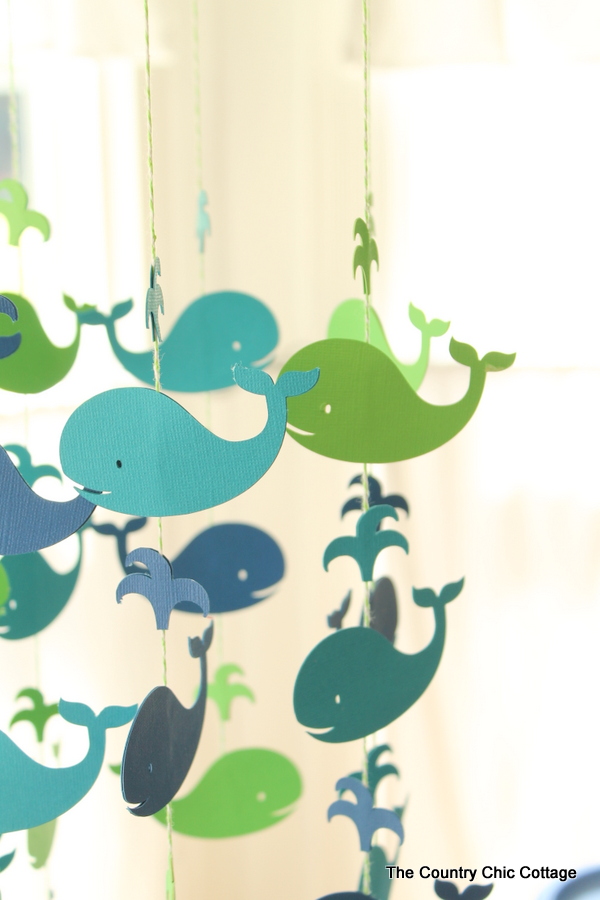 Benefits of Whale Baby Mobile:
Baby mobiles are almost always present in any infant's crib, and there are many good reasons for it. We've listed down the top benefits of baby mobiles:
Improve Focus
Newborns and babies who are too young to roll over usually spend much of their time on their backs. Hanging mobiles will surely catch and hold their interest. Note, however, that the height of which you place the mobile above the crib would depend on the baby's age. For newborns, it's best to position it about a foot away from their faces so they can see it well.
Provide Entertainment
It's a fact that babies tend to get bored easily, but it's also true that they can be distracted by fun, moving objects. Mobiles that turn, are colorful, or have lights will likely hold a baby's interest, for at least a few moments.
Develop Motor skills
As a baby grows, it's natural that he/she will show more interest in what's happening to his/her surroundings. They will begin to reach for the mobile above their crib more and more everyday. Movements, whether big or small, is a big step towards mastering their motor skills.
When a baby is looking up at their crib mobile, they are watching how it turns and moves and follows this movement with their eyes. By doing this, a baby can also start to develop the ability to judge distances and spatial awareness, as the cute whales move towards and away from their eyes.
As your baby grows and their movement develops, reaching up for the mobile toys help them to master hand-eye coordination – or foot-eye coordination!
Supply Visual Stimulation
From a young age, babies are curious and interested in everything they see. The colorful and fun mobiles that are hanging over the crib, especially ones that include animal shapes, flowers, and such, are guaranteed to catch your little ones eyes.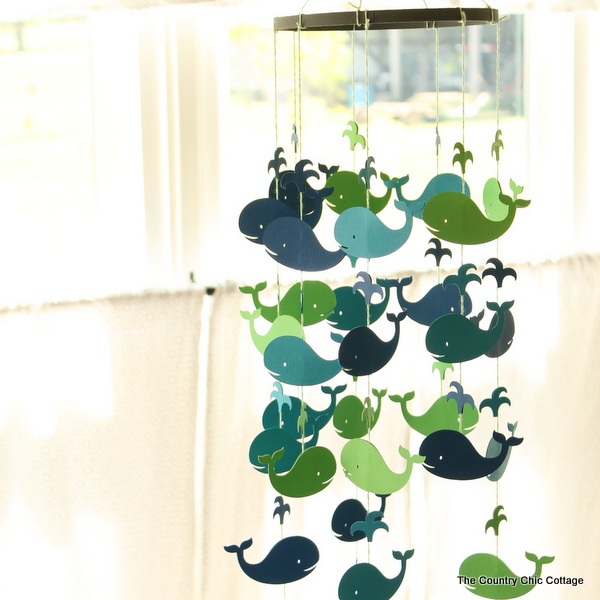 Safety Tips for Baby Mobiles:
You can never be too careful when it comes to your child's safety, especially when it comes to things around or above them. So you have to observe proper safety measures when installing your child's baby mobile.
Length of Mobile Strings
According to the American Academy of Pediatrics, a mobile with strings longer than seven inches could potentially strangle your baby. Store-bought baby mobiles usually meet this requirement, unfortunately, the same cannot be said for homemade mobiles. So before hanging any mobile on or near your baby's crib, make sure you double check the length..
Potential Choking Hazards
Mobile that have small, detachable parts may pose a choking hazard and are not recommended to be used in the nursery. Before installing it on your little one's crib, give it a thorough once-over. Look out for any flimsy parts that could potentially break off and fall into the crib (near your child's head).
Safe Placement
Newborns have a sight range of between 8 to 12 inches, anything outside this distance may not be visible to your baby. However, it's important that the mobile remains out of your baby's reach to ensure his/her safety. Rule of thumb: Never let the strings dangle below the crib rails.
Mobile Installation and Maintenance
It's important that you install mobiles securely and according to the manufacturer's directions. But because mobiles usually move around, it's crucial that you check the hardware to ensure your baby's mobile remains securely fastened.
Age Appropriateness
Mobiles are designed to catch newborns' attention and keep their focus. By the time the baby reaches five months old, or as soon as he or she begins to push up on their hands and knees, you have to get rid of the mobile, because if the baby manages to reach it, he could pull it down on himself, risking injury and even strangulation.
And that's it! A simple guide to help you create a DIY whale baby mobile, as well as reasons why it's a perfect addition to your baby's room.
If you liked this, check out these DIY baby items you can start doing today!
Silhouette Tips and Tricks
Sign up for our email list and we will deliver weekly inspiration with tips and tricks for your machine right to your inbox!