This post and photos may contain Amazon or other affiliate links. If you purchase something through any link, I may receive a small commission at no extra charge to you. Any supplies used may be given to me free of charge, however, all projects and opinions are my own.
Links below may be affiliate links which means that you will not pay anymore, however, a portion of your purchase will go to support this site. Products below may have been given to me free of charge but all projects and opinions are my own!
Mason jar lids make the perfect Christmas ornaments. I grabbed a few packages of lids from Dollar General and got to work turning them into some amazing ornaments for my tree. I am showing you how to make all five mason jar lid ornaments below.
I started with a trip to Dollar General for supplies. I shopped the Christmas section for most of the supplies I picked up but those cute mason jar lids were with the mason jars.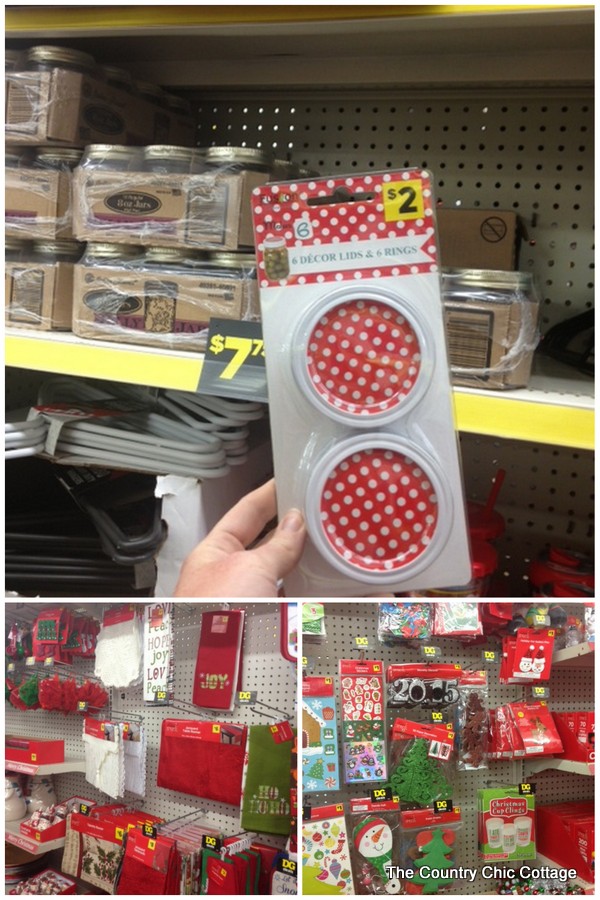 I am going to go through each ornament individually and show you what I used to make each one. Here is my entire haul from Dollar General which I used to make a dozen mason jar lid ornaments. I had plenty of supplies to make more but will have to pick up a few more packages of lids.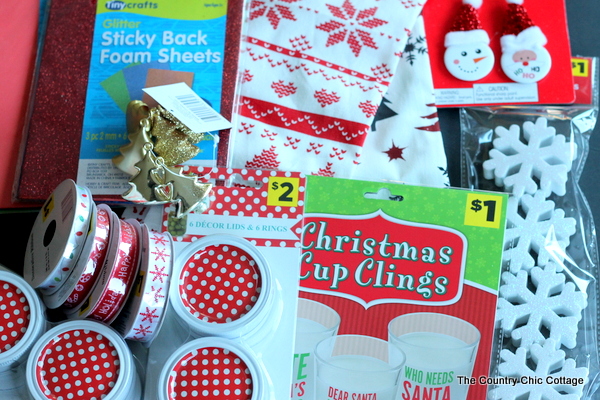 We will start with these snowflake lid ornaments. Those foam snowflakes come in a package at Dollar General and are in the Christmas section. They fit perfectly inside a mason jar lid.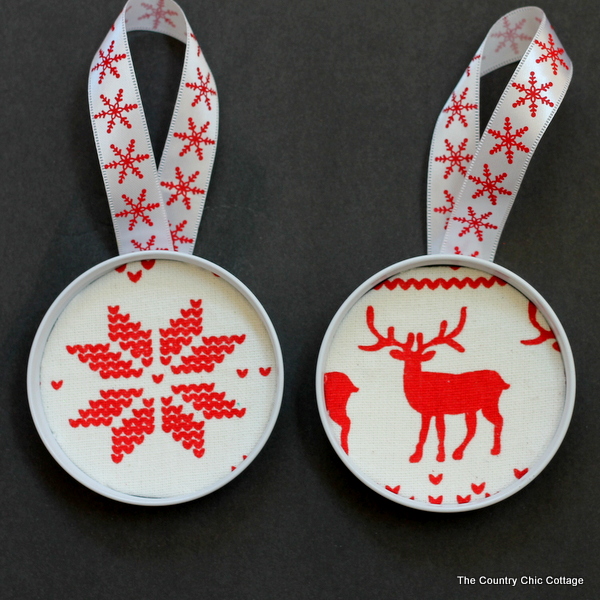 Just use hot glue to secure the lid upside down inside the band.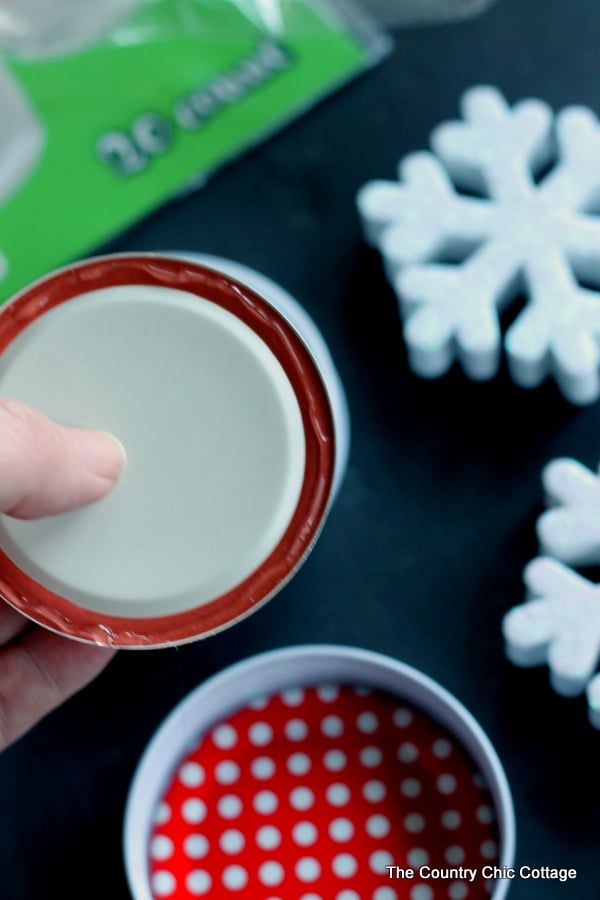 Then add the snowflake with some additional hot glue. I used ribbon from Dollar General to finish this one off. On these, I just used hot glue to secure the ribbon to the back of the ornament.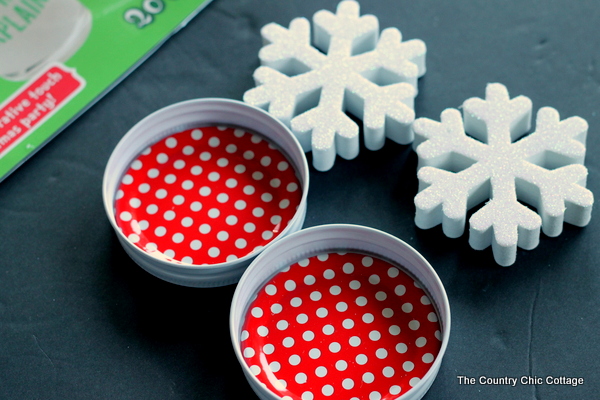 Next up are these fun Christmas character mason jar lid ornaments. These are so much fun and so easy to make.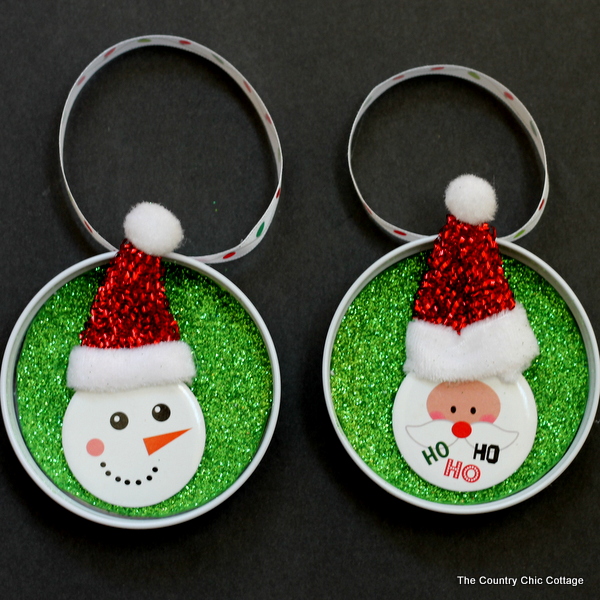 Those characters are actually pins available at Dollar General. They come in a pack of two. You will also need some glitter foam sheets from the craft section of your Dollar General store. Start by tracing your mason jar lid on the back of the glitter sheet.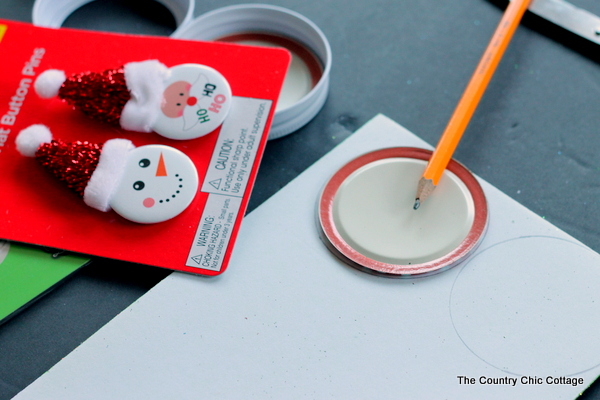 Cut out your circles. The glitter sheets are self adhesive so you can just stick those right to the bottom of the mason jar lid.
Use hot glue to add the lid to the band and then secure the character pin to the center with additional hot glue. On this version. I wrapped the ribbon all the way around and made a loop at the top. This is the second way to add a hanger to your mason jar lid ornaments.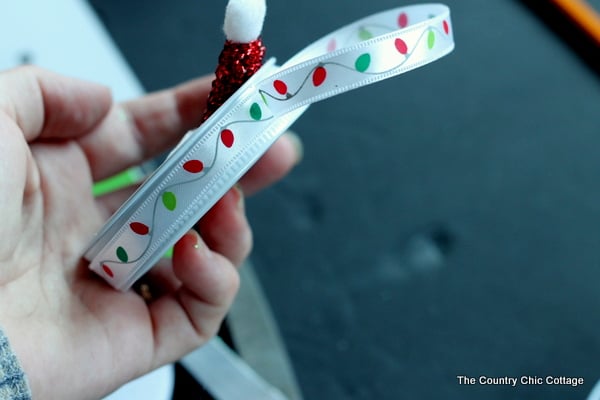 How about a version that is a bit funny? Dollar General has some great stick on clings for mugs with funny sayings. Most of the ones in the package will actually fit inside a mason jar lid. I thought they were just adorable!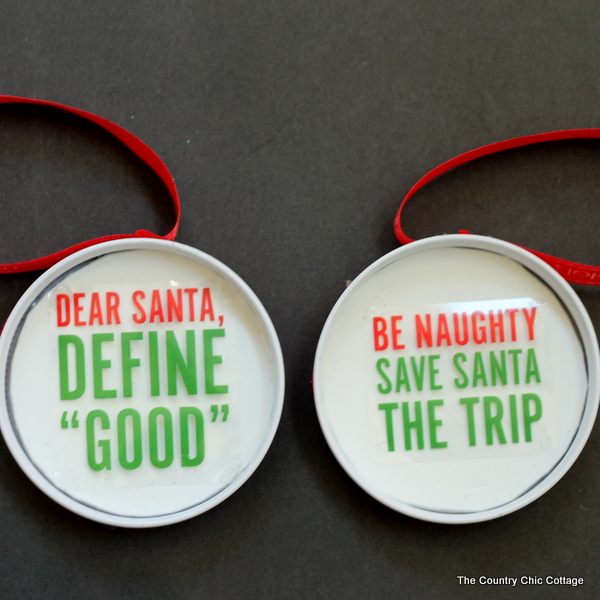 Just use hot glue to secure the band and lid together. Then add a white foam sheet to the inside similar to the ornament above this one. Secure the cling with hot glue in each of the four corners (just a small amount will work). I wrapped the band with ribbon on this one as well.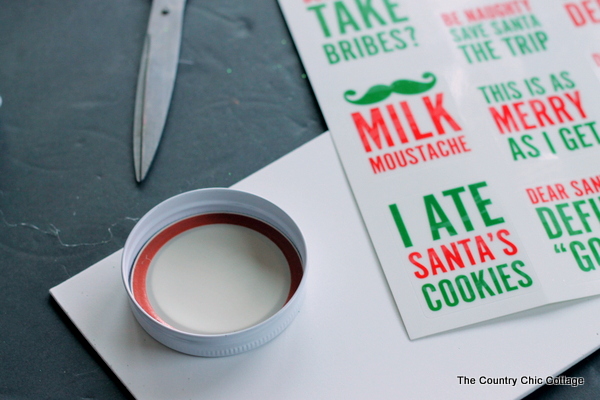 Add a smaller ornament inside the mason jar lid is a great way to add some sparkle to your tree.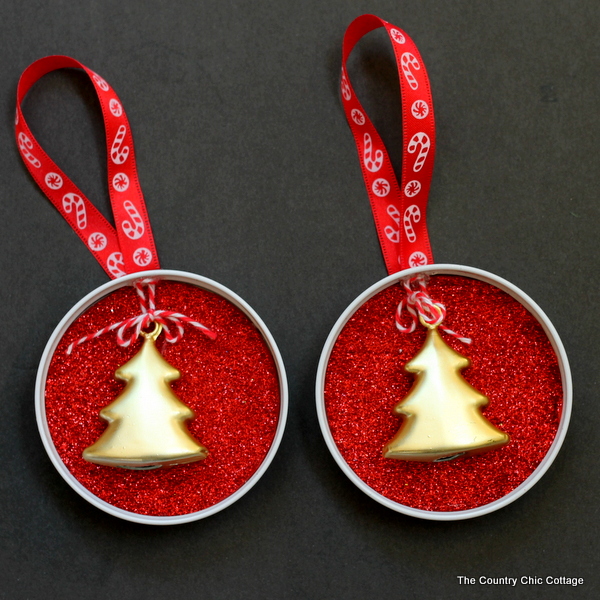 Find some ornaments that are small enough to fit inside the lid that you love and also grab some of those foam glitter sheets.
Again cut the foam sheet to fit inside the lid. Use the adhesive on the sheet to attach. Secure the lid together with hot glue. I used a piece of twine to tie a small bow and loop on each ornament.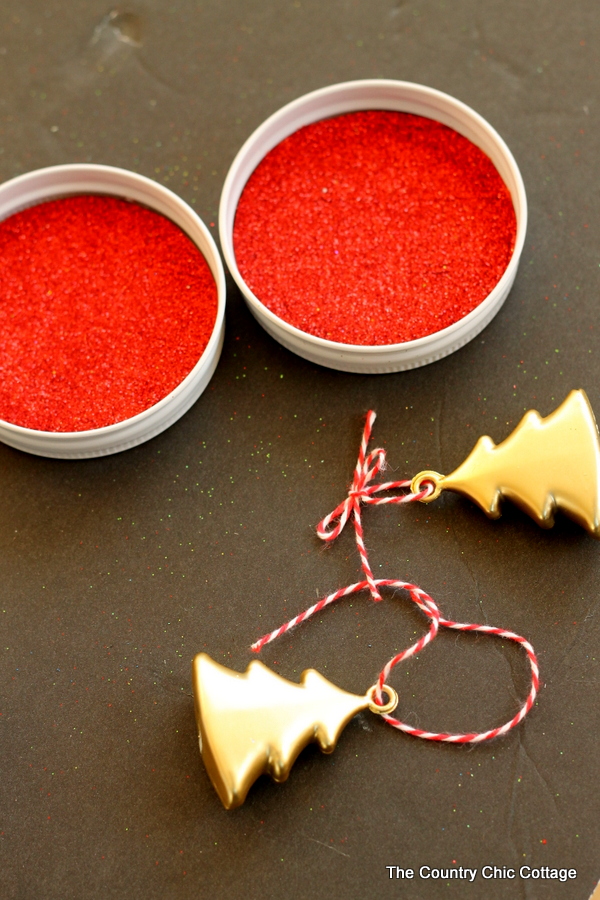 Add those to the inside of your ornaments with hot glue. Then add the ribbon to hang by either method mentioned above.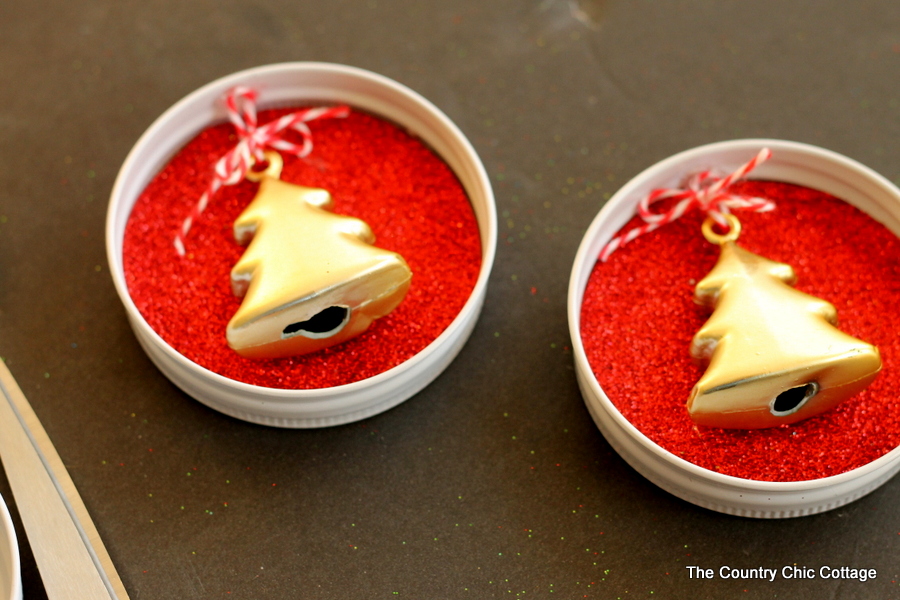 The last version of the mason jar lid ornament uses Christmas themed tea towels from Dollar General.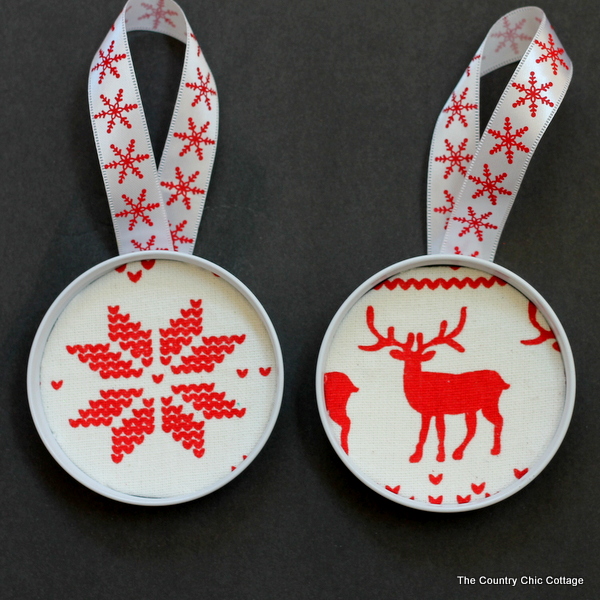 Trace the lid onto your towel with a pencil then cut out slightly larger. Also cut two pieces of white foam to the size of the mason jar lid.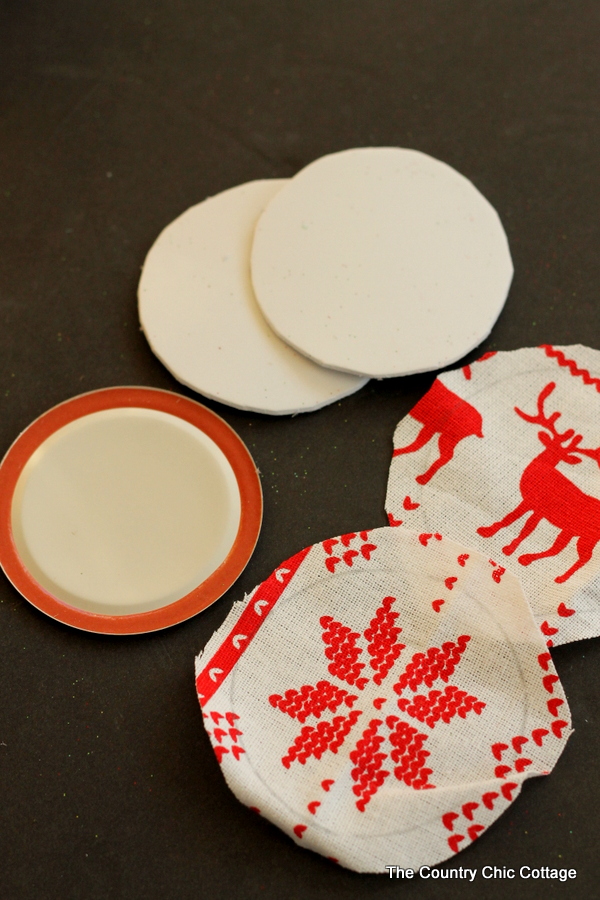 Smooth out the fabric over the adhesive side of your foam circle.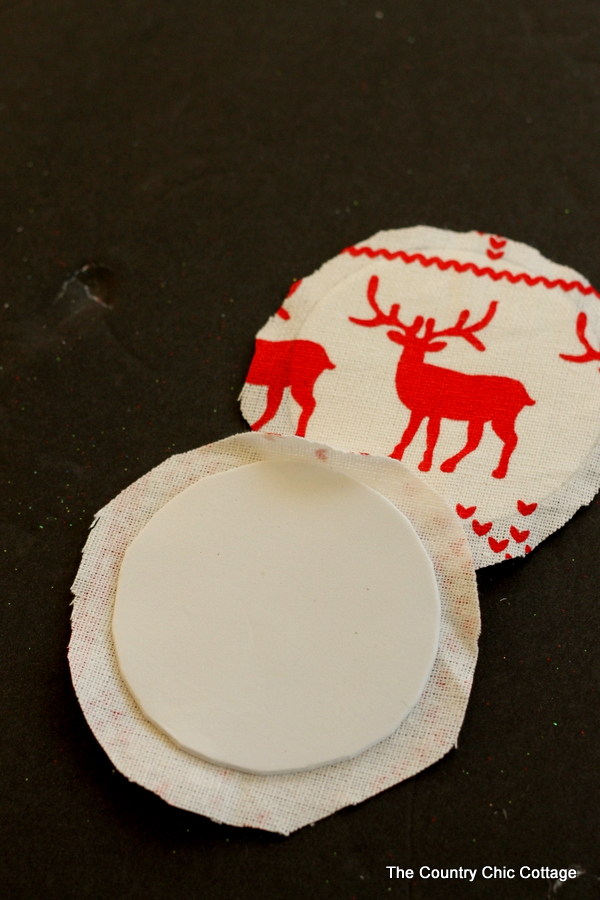 Clip the fabric every inch or two. Start folding over and securing with hot glue on the back. Once completed, use hot glue to add this to your mason jar lid. Secure the lid to the band and add a ribbon for hanging.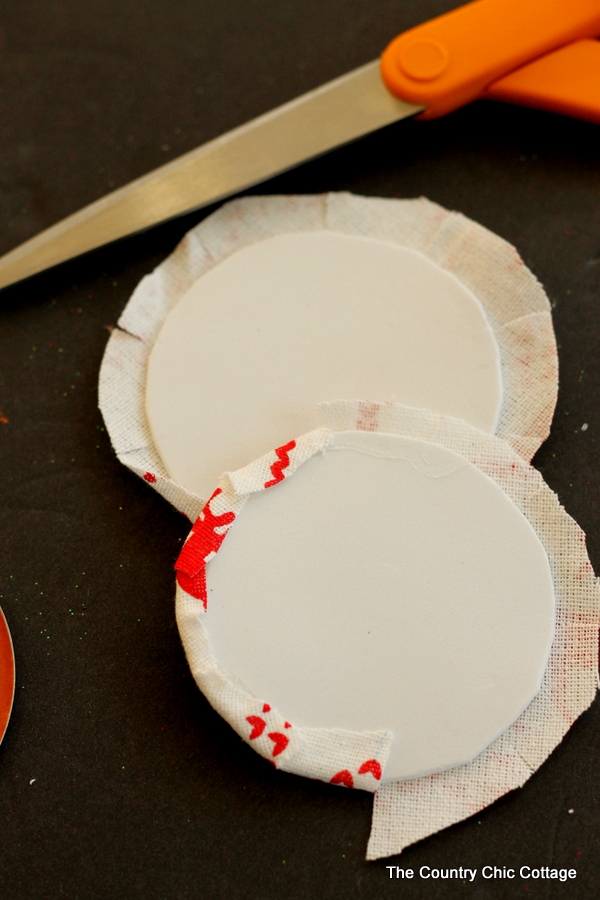 Now you too can make five different mason jar lid ornaments. These adorable ornaments can adorn your tree this holiday season. You can change them up with the great products available at Dollar General to match any theme or color you would like for your tree. Which one is your favorite?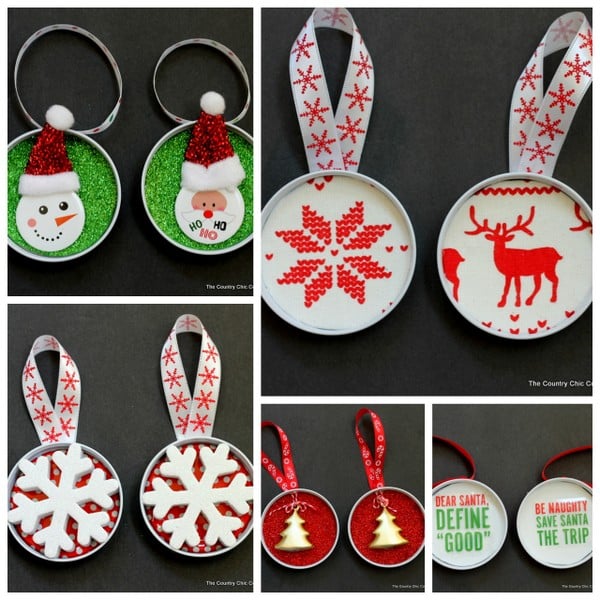 A Year of Jar Crafts
Sign up for our email list to get a FREE book with an entire year of jar crafts! 12 months, 12 crafts, tons of fun!