I always like to throw in a few projects in the summer that my kids will enjoy. This backyard teepee idea was one of those. My son loved helping with this project. He is nine and loves to build things so this one was perfect. You can assemble this entire teepee in less than 30 minutes with no tools and all with items from Dollar General. You think that is impossible? Let me show you that it is in fact possible!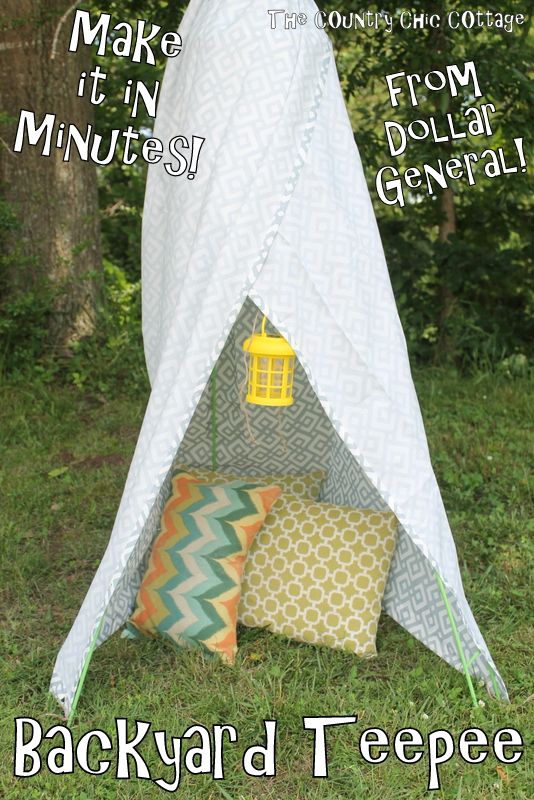 You first need to make your trip to Dollar General for supplies. This post is a part of my brand ambassadorship with them for this year. I must say however that their stores here have changed so much and I love going in regularly just to see what new items I can find. When I find something really awesome, I always let y'all know via Instagram. So be sure to follow along via Instagram as well. For now, check out the collage below for pictures from inside Dollar General and the items for this project.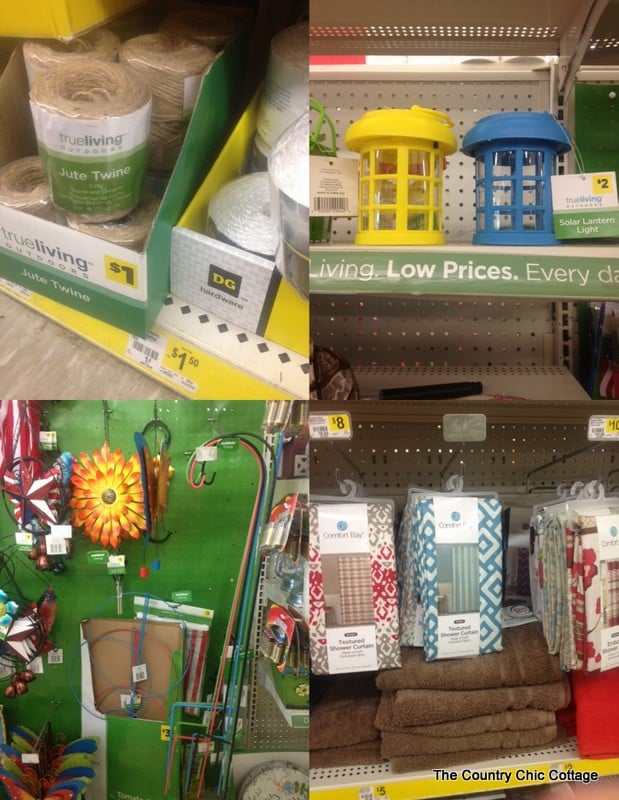 I used three shepherd hooks (for the garden), one tomato cage, jute twine, a shower curtain, and a solar-powered lantern. That is it y'all! Drop those supplies into your cart and you are ready to create a little teepee for your little one to play in.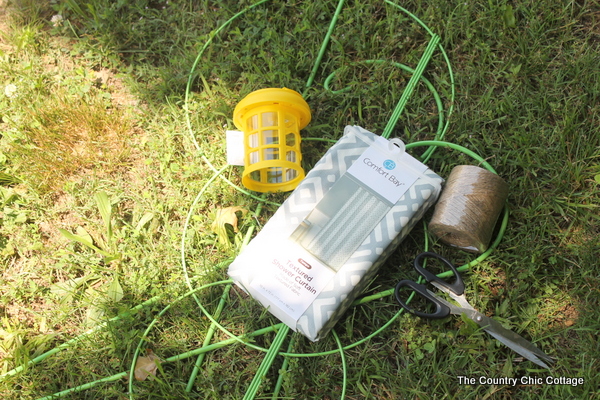 Start by putting the shepherd's hooks in the ground in somewhat of a circle like shape. Angle them in so that the top of the tomato cage will fit on top of the hooks. I put the shepherd's hooks at an angle so that the tomato cage top would fit into each "hook" and be secure. Now the tomato cage was not designed to be upside down like this so it won't stand up on its own. I just used some twine to tie each intersection together until everything felt sturdy. My son helped with this portion. Between the two of us, there may have been a little TOO MUCH twine. But heck that is the fun of this right? Making something together that may or may not look crazy in the process….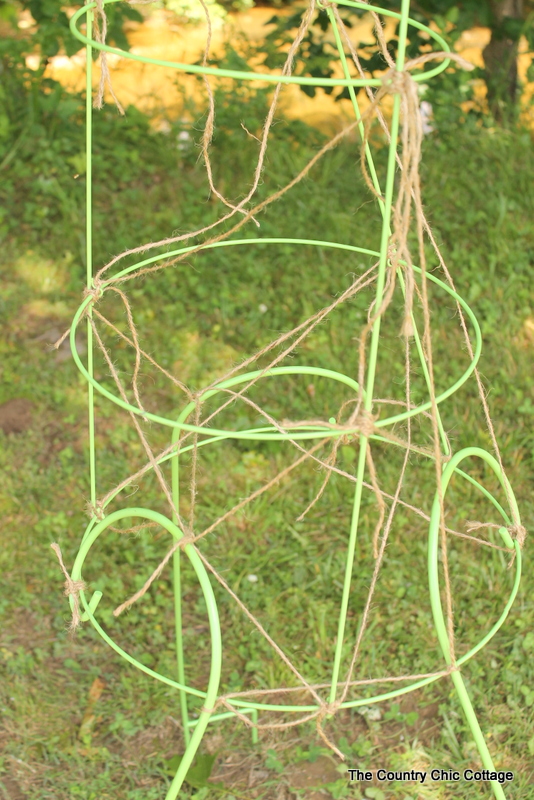 Seriously if you are doing this at home and don't have an overzealous helper, just go from one intersection to the next and tie some knots. After a round or two everything will feel secure enough for a teepee. Now it is time to wrap this project (literally). Wrap your shower curtain around the teepee bottom. I put the portion with the holes for hooks at the bottom and secured the ends to those front shepherd hooks at the ground with twine. Then pull up and wrap in a teepee like fashion. Just use a few rounds of twine at the top to hold everything in place.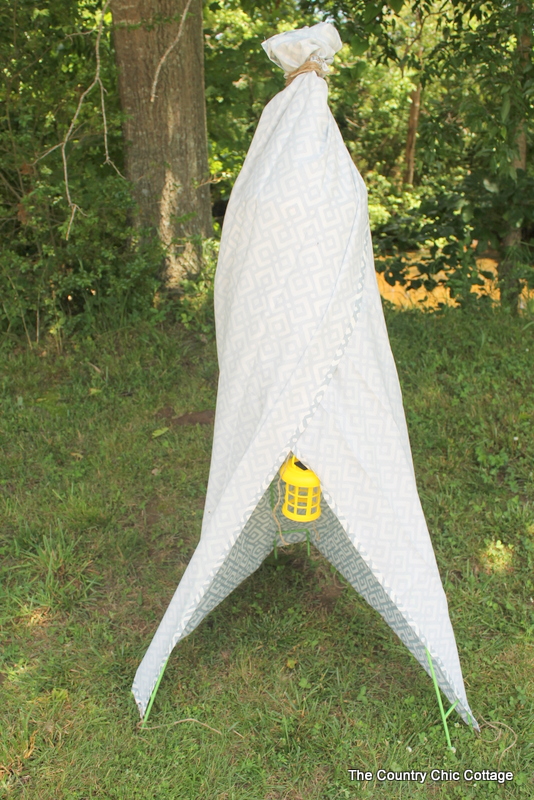 My son asked for the patterned portion to be towards the inside so that is how we made ours. I will leave that decision up to you and your creative child. I tied our little solar lantern at the entrance so if he wanted to climb in at night he would have a light. You can also throw in a few colorful pillows to make this one hangout area they won't want to leave.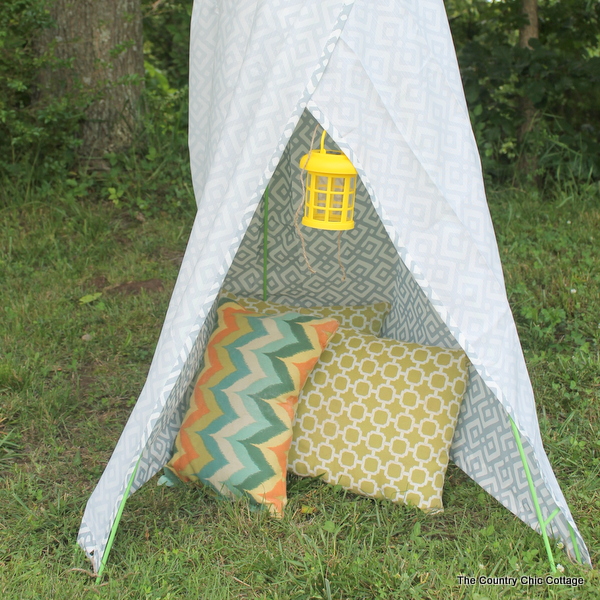 Mine was playing hard this day but I managed to snag a few pictures of him anyway. Why yes the bottom of his pants are wet. The joys of having a boy and a creek that runs by your home.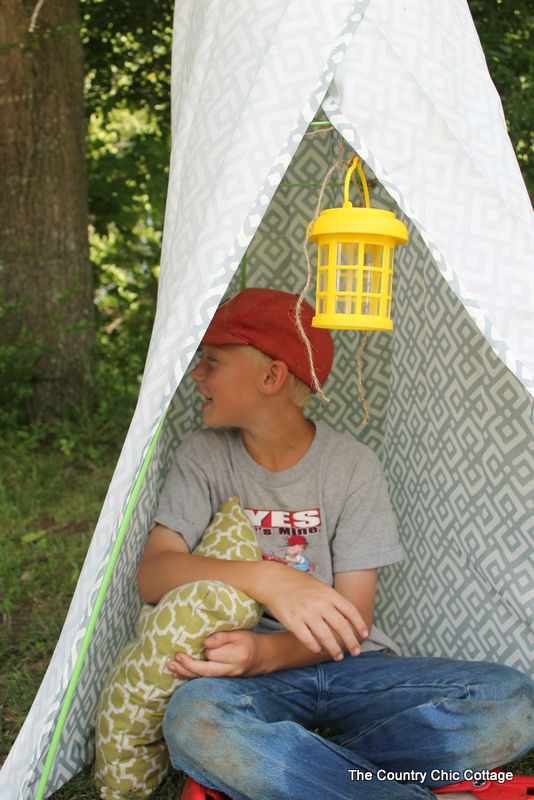 We built this on a fairly windy day and it wasn't until overnight that the shower curtain blew off. The rest was still fine but the twine at the top had apparently come undone in the wind. So while I don't think this is a permanent fixture in your backyard it is a fun project to complete for a weekend hangout. Take 30 minutes to build this little backyard teepee with items from Dollar General and let your child enjoy a few hours of fun.