I thought I would tackle finding the best sticker paper for a Cricut. So, today I am comparing 14 different sticker papers to see which work and which do not. Which are waterproof? Which print the best? I am going to find out so keep reading below and use the materials to make stickers with your Cricut.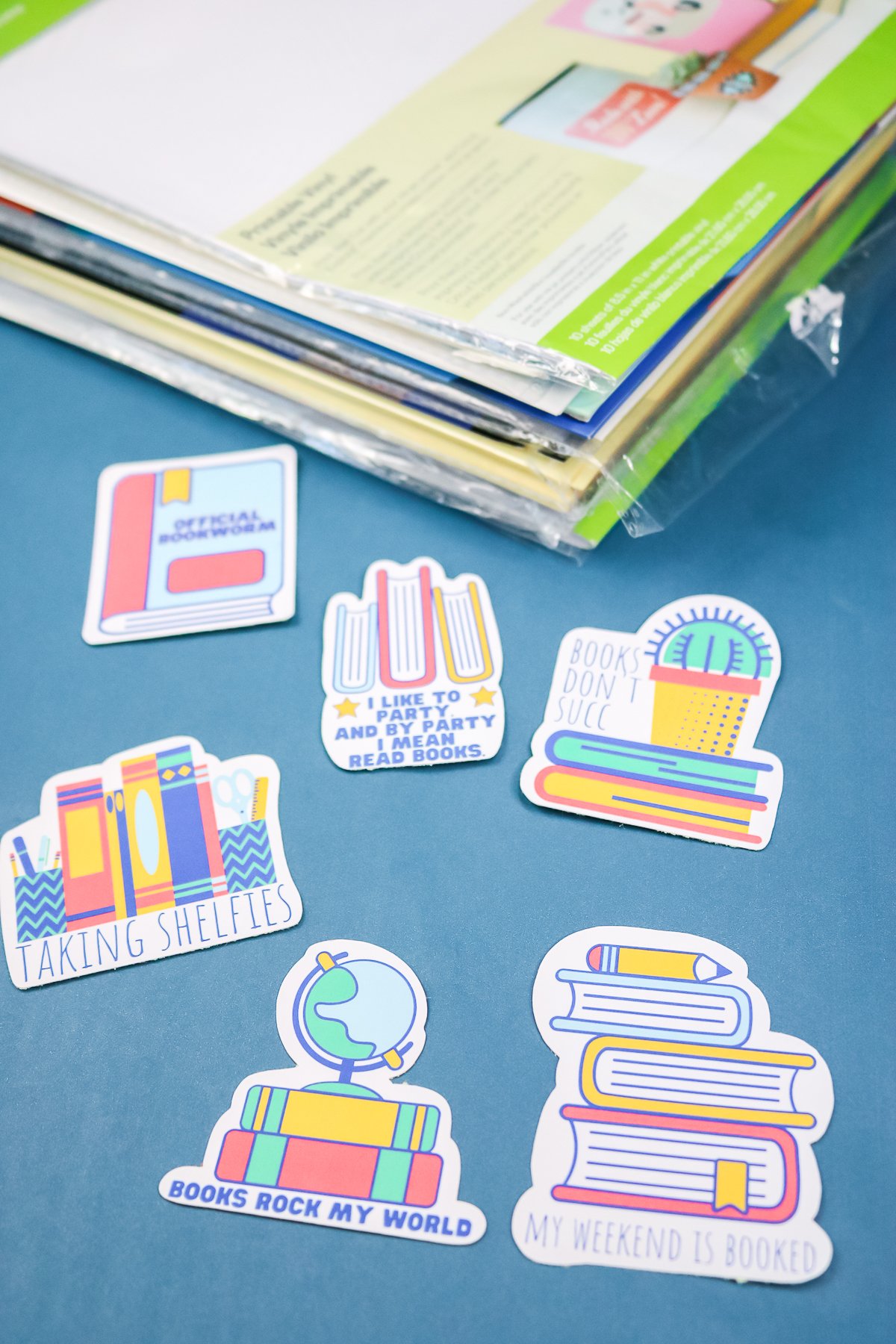 Best Sticker Paper for a Cricut
I collected various types of sticker paper and printed the same sticker sheet on each then cut on a Cricut Explore Air 2. You can get this sticker sheet for free here if you want to print the same stickers as I did. You can watch my entire comparison in the video below.
Can't watch the video or missed some of the information? You can also keep reading as I rundown the sticker papers I tested and the results.
Sticker Paper Brands Tested
Here are all of the brands that I tested in the video above broken down by type. You can also see the printer that I used here.
Clear Sticker Paper:
Matte Sticker Paper:
Glossy Sticker Paper:
Kraft Paper:
Printable Vinyl with Laminate
Sticker Paper that DID NOT work with my HP Printer: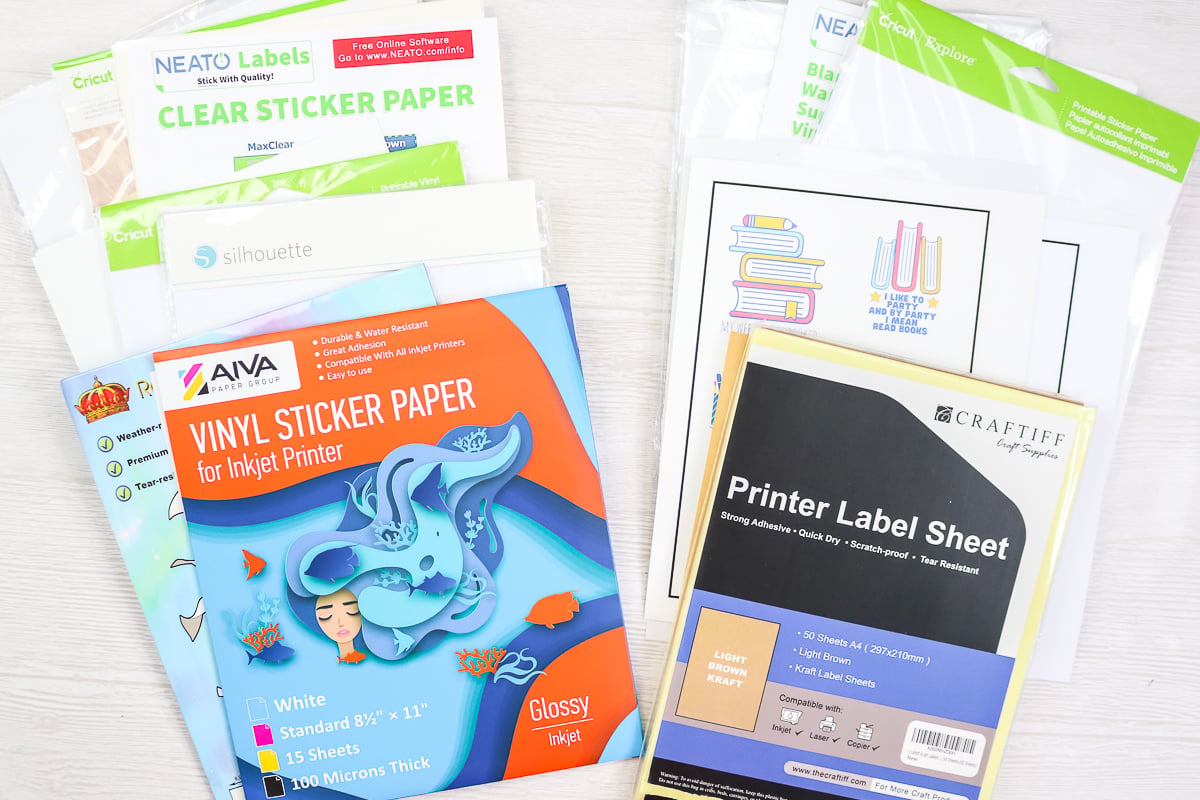 The Best Sticker Paper
Let's start with just regular sticker paper. These are all just regular white sticker paper that is fairly standard for stickers. They are all a matte finish.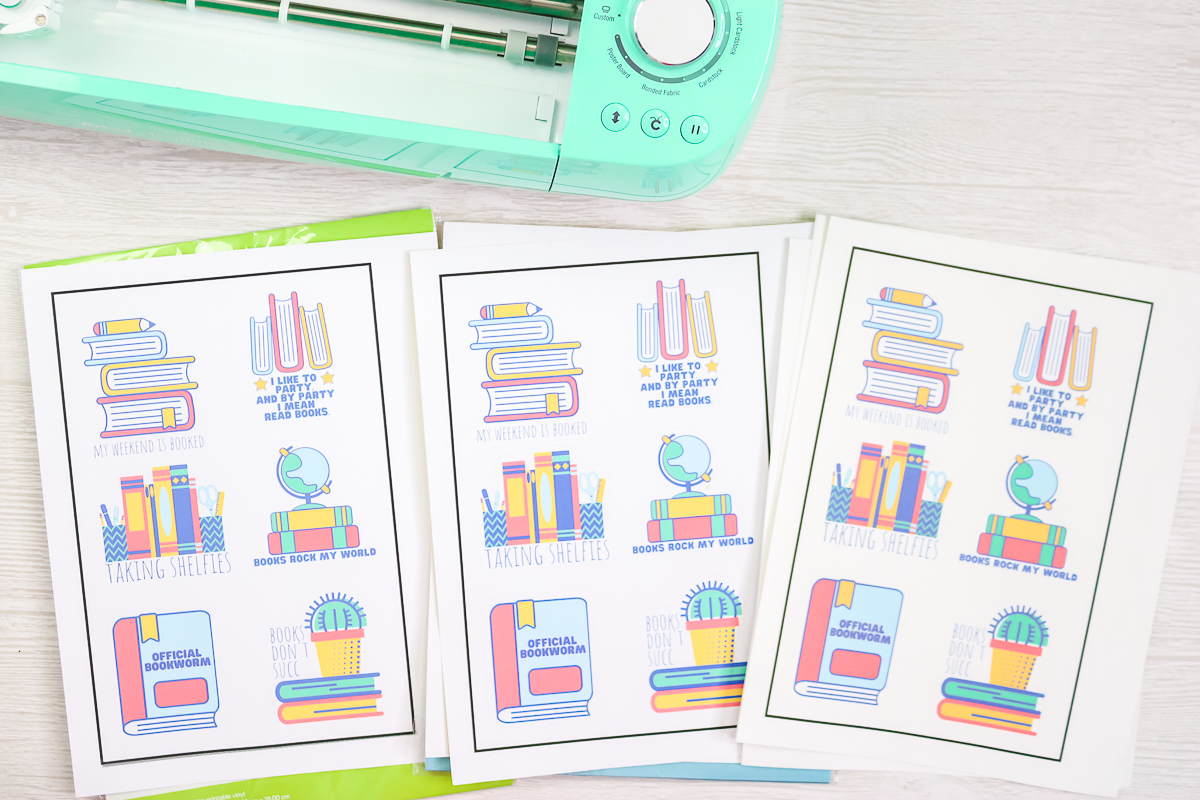 I used my Explore and moved the dial to one notch past vinyl. With a Maker, you would pick vinyl then choose more pressure before cutting. All three materials cut on this setting with a kiss cut which means it cut through the top sheet but not the backing paper. As far as printing and cutting, I would say that the Silhouette, Cricut Printable Vinyl, and Online Labels Full-Sized Label Sheet are all very similar. You can scroll to the bottom of this post to see the results from my waterproof test if that is of concern for you. Otherwise, I would just price compare the labels when you are purchasing and pick one that works for you.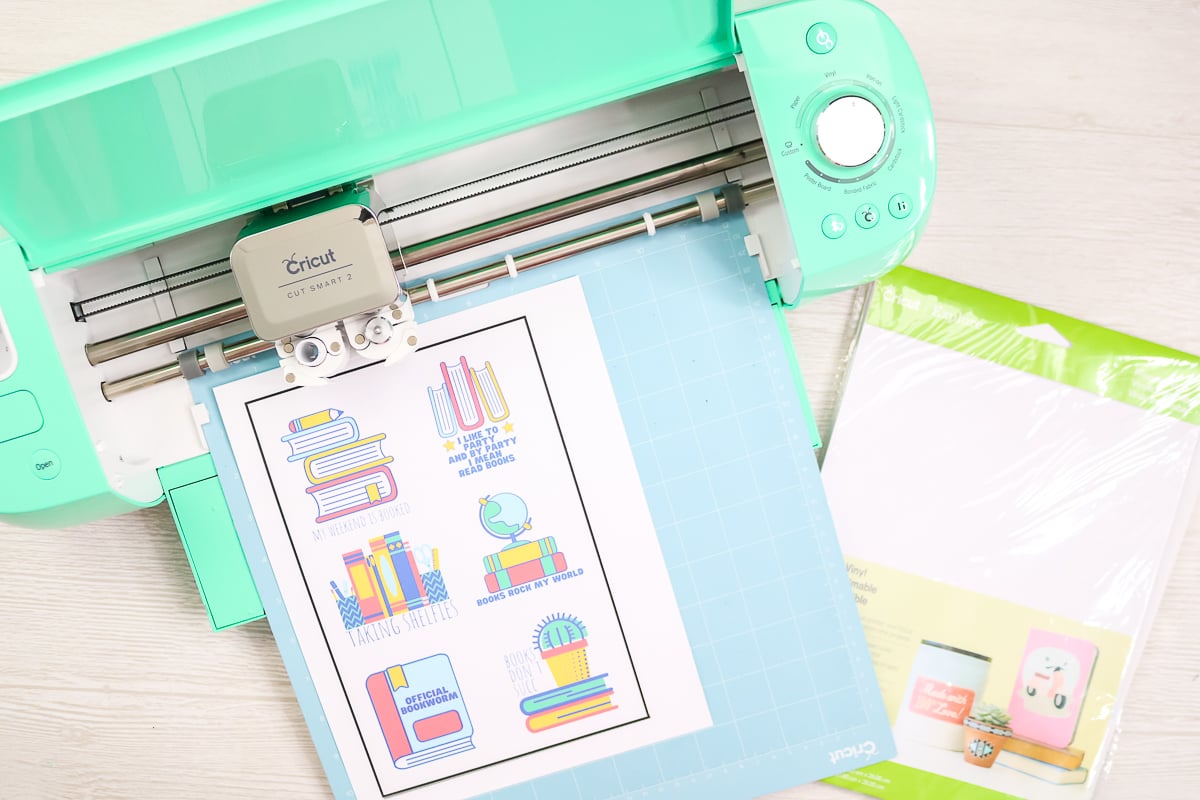 The Best Clear Sticker Paper
All of the clear sticker papers printed fine but some did look more yellow against the backing paper than others. I did feel it was probably the backing of the sticker paper causing the yellow tint so I continued with cutting them.
For the Cricut Brand and Printable Transparent Sticker Paper (Amazon brand), I had to do the clear sticker paper setting and hit the C again before unloading to cut twice. The Neato Labels is thinner so it worked with the vinyl setting on more pressure as I did above. I also stuck each of these to a white piece of cardstock to check to see how clear they really are. I felt that they were all equal when in use so I would go with whatever brand is cheapest at the time of purchase.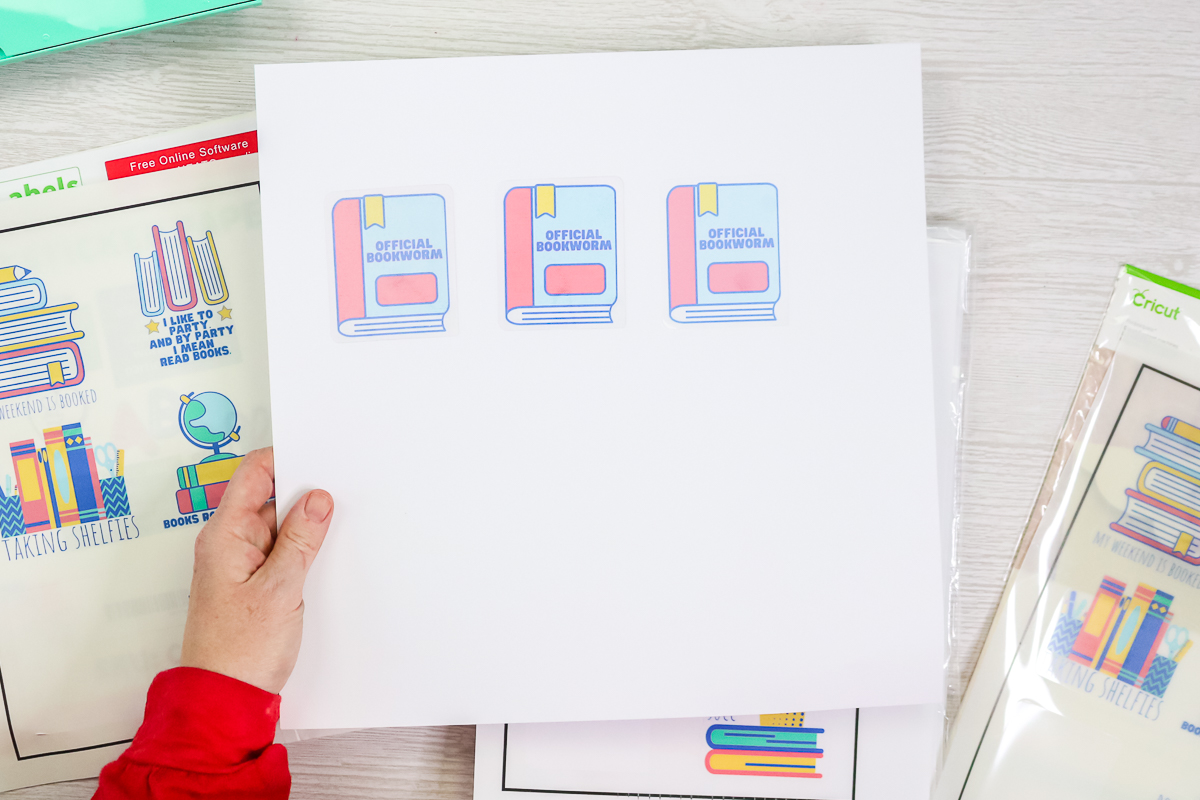 The Best Kraft Sticker Paper
Kraft paper can be great for labels especially if you love things a little more rustic. However, it is NOT great for cutting on a Cricut Explore. The Explore can only do print then cut on white or very light paper. You will get an error if you try to cut on an Explore. I ended up cutting my labels on a Maker as it will cut colored paper with print then cut as well as white.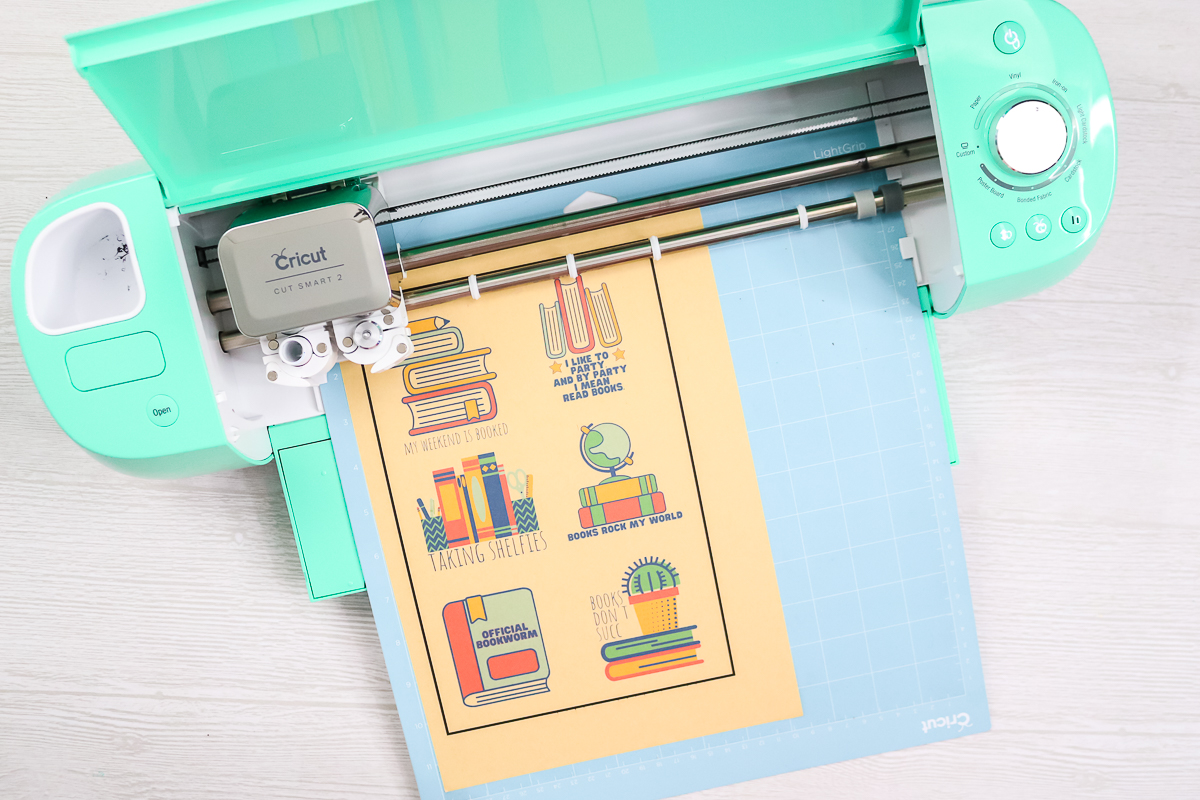 The sticker paper pictured is from Craft Tiff and I am not wild about the color. It is way too yellow for me. I have used the Online Labels Kraft paper material for years and I highly recommend it!
The Best Glossy Sticker Paper
With glossy sticker paper, the Cricut machines often can't see the registration marks because of the glare off of the material. The trick to getting these materials to cut is to add matte tape to just the black box around the stickers. Then try to cut and it should work fine.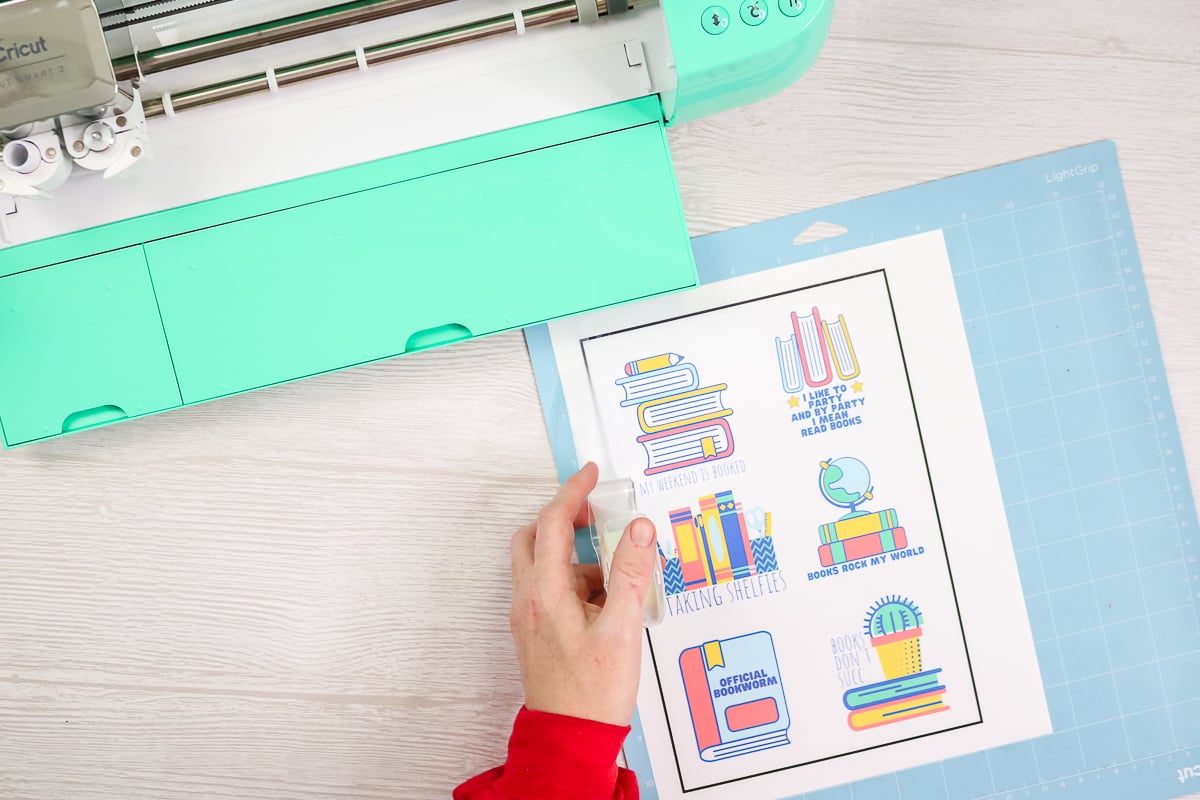 Both the Royal Elements and Aiva cut on the vinyl setting with more pressure. Both of these say they are water resistant on the package and we will be testing that below. But I did want to note that they are NOT UV resistant. They will fade in the sun so be aware of that depending on where you plan to place them.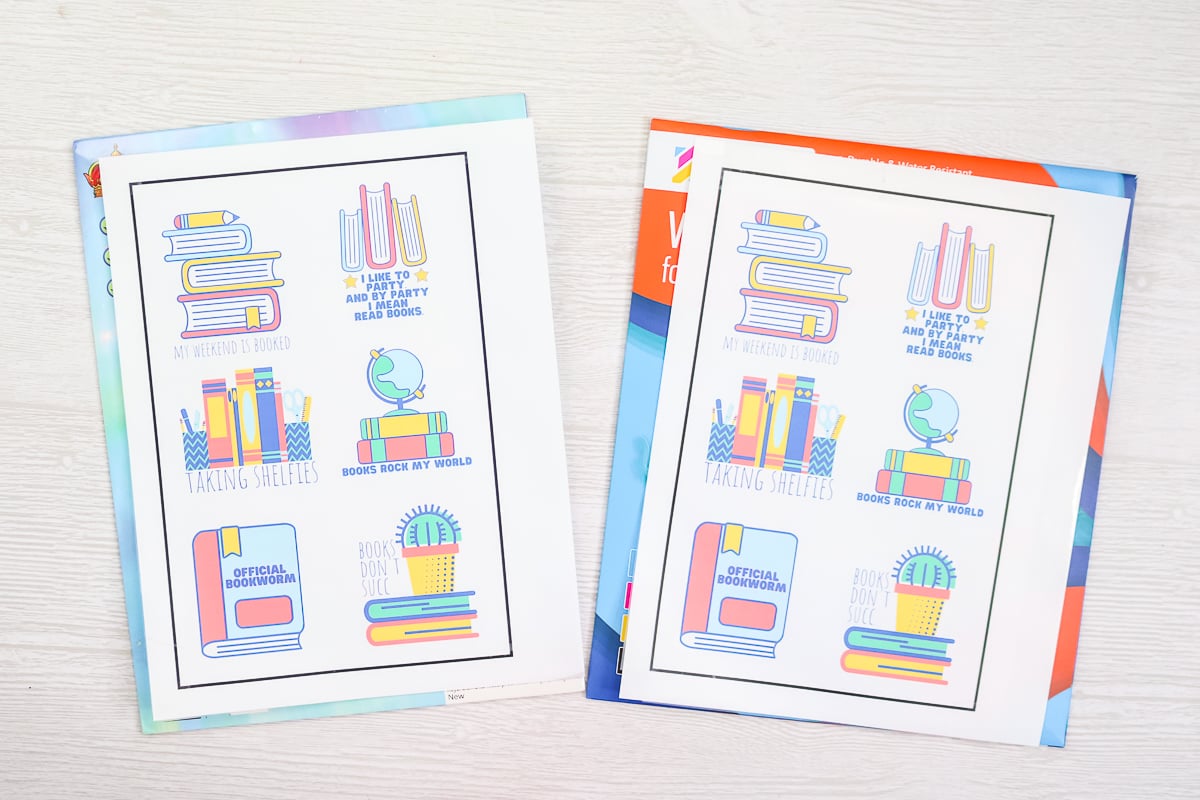 The Best Laminate Sticker Paper
To get a UV resistance, you need a laminate over the top. I tested two versions of this type of sticker paper. I like to cut the laminate to fit inside of the black box and apply to just that area before cutting. Apply with a scraper to ensure it is stuck all the way down with no bubbles.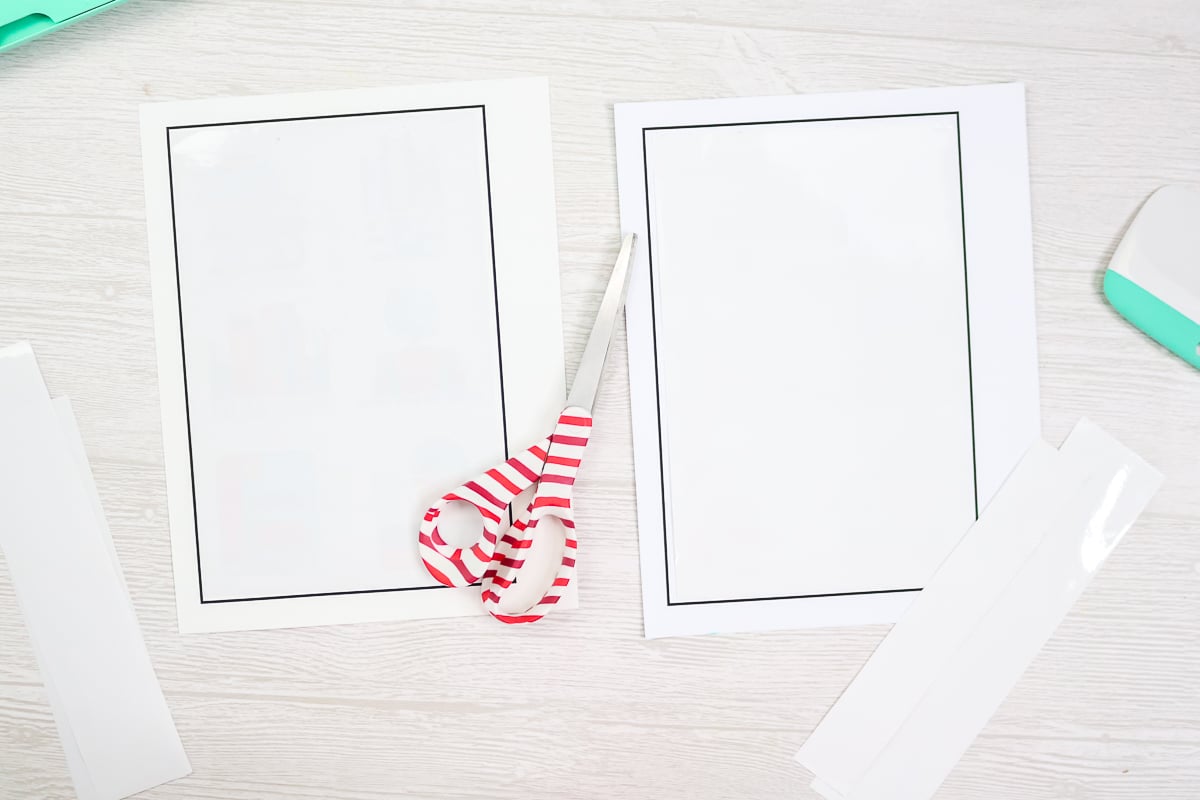 I cut both the Orajet version and the StarCraft version on the printable sticker paper setting. The Orajet took 2 passes and the StarCraft took 3 passes. The StarCraft is REALLY thick once you add the laminate to the top. You can see extensive tests for both of these when used as car decals here. They are waterproof and UV resistant but I did find the Orajet Printable Vinyl with Oraguard Laminate worked better long term over the Starcraft Printable Vinyl with Starcraft UV Laminate.
Sticker Papers That Do NOT Work
The following sticker papers I could not get to print with my printer as I only have a bottom feed tray. They would probably work with a rear or manual feed tray but I didn't have one available. I personally would not recommend them as the best sticker paper for a Cricut.
The Best Waterproof Sticker Paper
Let's find out which of these are ACTUALLY water-resistant. Which are best if you want waterproof stickers? I would say wait 24 hours before you get your stickers wet in any case. For each of the stickers, I dunked them in water and tried to rub off the ink to see what would happen. All of the stickers failed except for the Royal Elements, Aiva, Orajet Printable Vinyl with Oraguard Laminate, and Starcraft Printable Vinyl with Starcraft UV Laminate. Those were all, in fact, water proof in my tests. Remember that the first two will NOT be UV resistant, however. Also, I prefer the Orajet for all of my stickers that will be outdoors.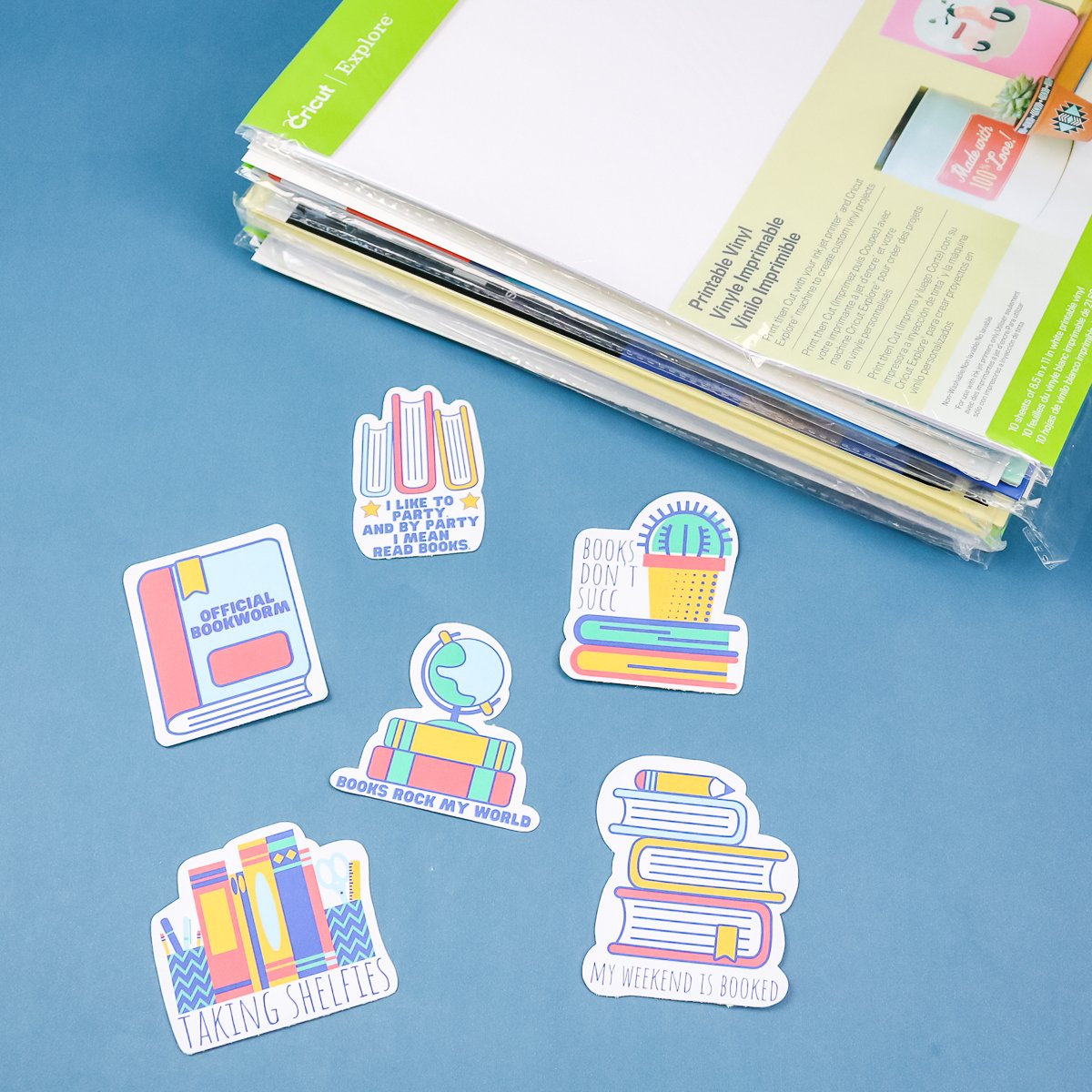 FAQ
Here a few of the questions that I get about sticker papers often.
Why doesn't my sticker paper print?
Some printers will not feed in thicker sticker papers. Cricut Sticker Paper is one that a ton of people have issues with. If your printer won't feed the sheet, you will need to get a thinner sticker paper.
Why is there only a partial print on my sticker paper?
This is caused by the sticker paper mis-feeding in the printer. Most likely you need a thinner sticker paper in order to get it to work.
What type of printer is best for stickers?
If you want to print thicker sticker papers, you will need a printer with a rear or manual feed tray. Printers with just a bottom feed tray do not work great for thick paper.
What is a kiss cut?
A kiss cut is where the material is only cut through the top layer and the bottom backing paper is left in tact.
Why did my stickers cut all the way through the backing paper?
Your setting is cutting the material too thick. Try a setting for a thinner material.
Why didn't my stickers cut all the way through?
You may need to pick a setting for a thicker material. Alternatively, you can press the C button a second time before unloading the mat when the cut is complete. This will cut over the same area a second time.
What are registration marks?
Registration marks are the box that prints around the outer edge of a Cricut print then cut. It is used to locate the cuts on your Cricut machine.
Why isn't my Cricut cutting correctly around the outside of my stickers?
If your cut is off, you may need to calibrate your machine to get a closer cut.
How do I calibrate my Cricut for print then cut?
You can click here to see more about calibrating print then cut.
Which Cricut machines work for making stickers?
You will want to use an Explore or Maker as the Cricut Joy does not do print then cut.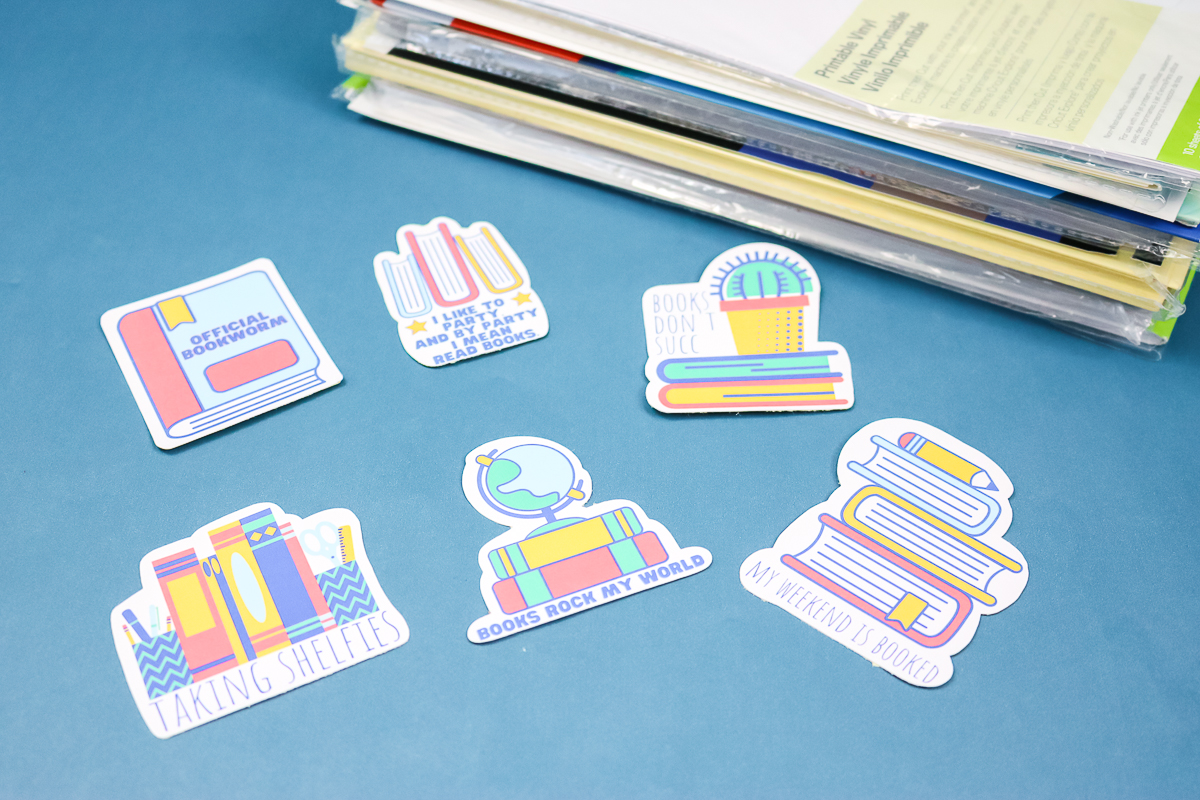 Hopefully, this helped you decide what kind of sticker paper you need for your stickers and gives you some tips and tricks for cutting with your Cricut machine. Now that you know the best sticker paper for a Cricut, you can use these brands to make stickers with your machine!