Move over tie dye! Bleach shirts are the new hot trend! Did you know that making a bleach spray shirt is super simple and requires very little work to complete? I didn't either! But now. Look out world. I am bleaching all the things! This started when I had some misprinted labels and hated throwing them out. Guess what? Extra labels? Misprinted labels? They are perfect for this project! This post is sponsored by Online Labels however all projects and opinions are my own.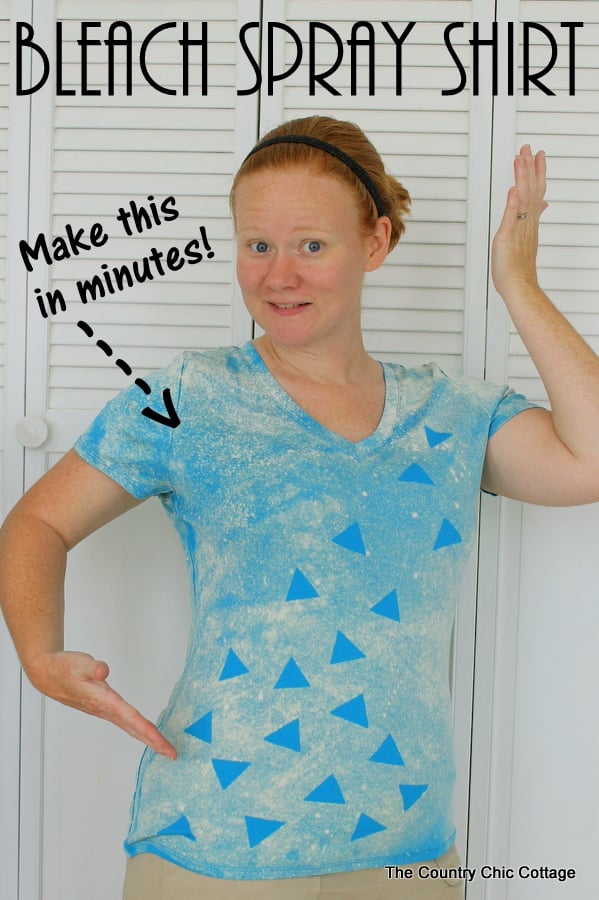 What You WIll Need to Make This Simple Bleach Spray Shirt
There are very few supplies needed to make a bleached shirt! Start with a plain t-shirt you love (I washed mine first just to be safe). You will also need a spray bottle and some bleach. One with a fine mist setting works best. Plus your labels in a shape that you love. You can use your Cricut or other cutting machine for these. I used extra triangle labels from a project. Some were misprinted and some were just extra. Online Labels has labels in every shape you can imagine so let your imagination run wild with this project and make a dozen or so shirts. You can also use any leftover adhesive vinyl, transfer tape or a stencil to make your design.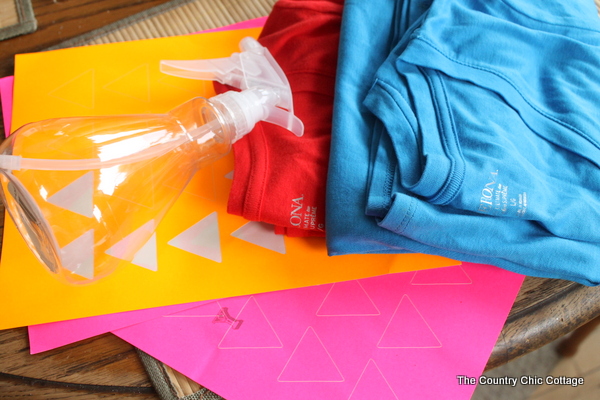 How to Make This Simple Bleach Spray Shirt
Start by sticking your labels right to the shirt in any pattern that you choose. I did a "falling" pattern with my triangles. Note that I also added cardboard inside between the front and back of my shirt. I would highly recommend you do this as well. NOTE: You can do this project with kids however they need to be older. This is BLEACH! Wear old clothes and always use caution.
Now it is time to fill your spray bottle with straight bleach and get to spraying. I followed the tutorial over at Practically Functional for the spraying technique including her tips for blotting with paper towels. I found it super easy and helpful to follow so I decided to just link y'all to that for the tips and tricks and this stage of the project.Click here to get the instructions on spraying your shirt with bleach. I obviously sprayed my entire shirt with bleach and just left the label areas alone. You can do this method or something like Jessi's where just around your mask is bleached. This shirt is YOUR creation so do it however you would like! For the last step I would let your shirt completely dry and then wash it separately in cold water.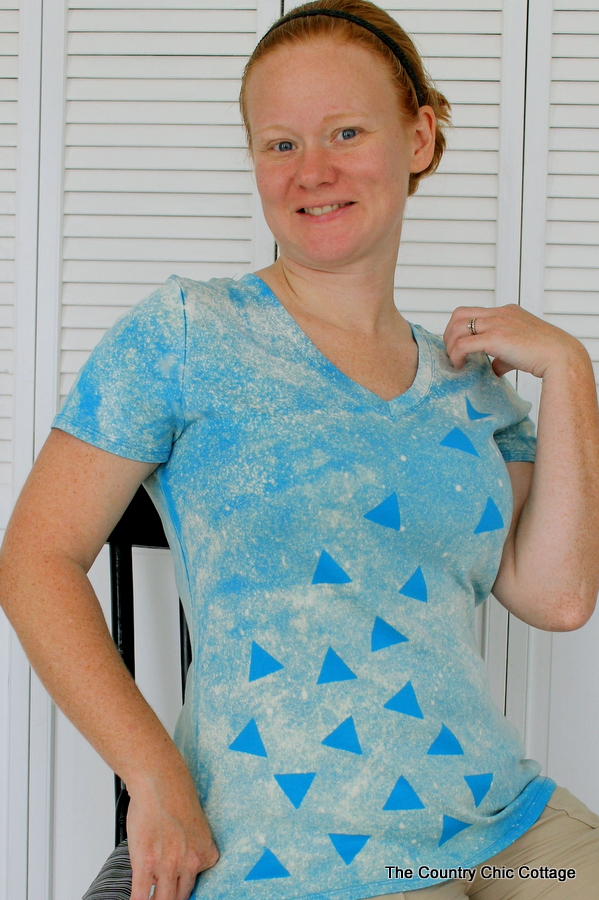 Once you follow those amazing instructions, you are left with a one of a kind amazing creation to wear out and about. Which size and shape of labels will you use to make your own bleach spray shirt? Be sure to order your labels from Online Labels for this project or place an order for another project and use the extras for this one! This post is sponsored by Online Labels however all projects and opinions are my own.