When many crafters get their first Cricut machine, they often feel confused about how to work with Cricut vinyl. There is a small learning curve, but after you read this post on how to use Cricut vinyl, you'll know everything you need to know!
Did you recently get a new Cricut machine? Congratulations! If you need help learning how to use what will become your new favorite machine, check out my Cricut Beginner's Guide. It covers everything you need to know to go from being a Cricut newbie to an experienced and confident Cricut crafter.
I have many other Cricut guides and crafts on this site, too, that you can find with a quick search. Go grab a cup of coffee (or your favorite hot drink) and get comfortable while you poke around!
Today we're taking a bit of a deep dive into the basics of how to use Cricut vinyl. This tutorial covers how to use adhesive vinyl with your Cricut machine. If you are looking for instructions on how to use heat transfer vinyl or iron-on, you can head here to see those directions.
Even if you've never used your machine before, we have you covered with step-by-step instructions as well as a video tutorial. Just keep reading to see how to use vinyl with your Cricut machine.
Note: If you want more Cricut tutorials, check out my Beginner's Guide To Design Space, Complete Cricut Machine Handbook Supply List, and 10 Cricut Tools You Need.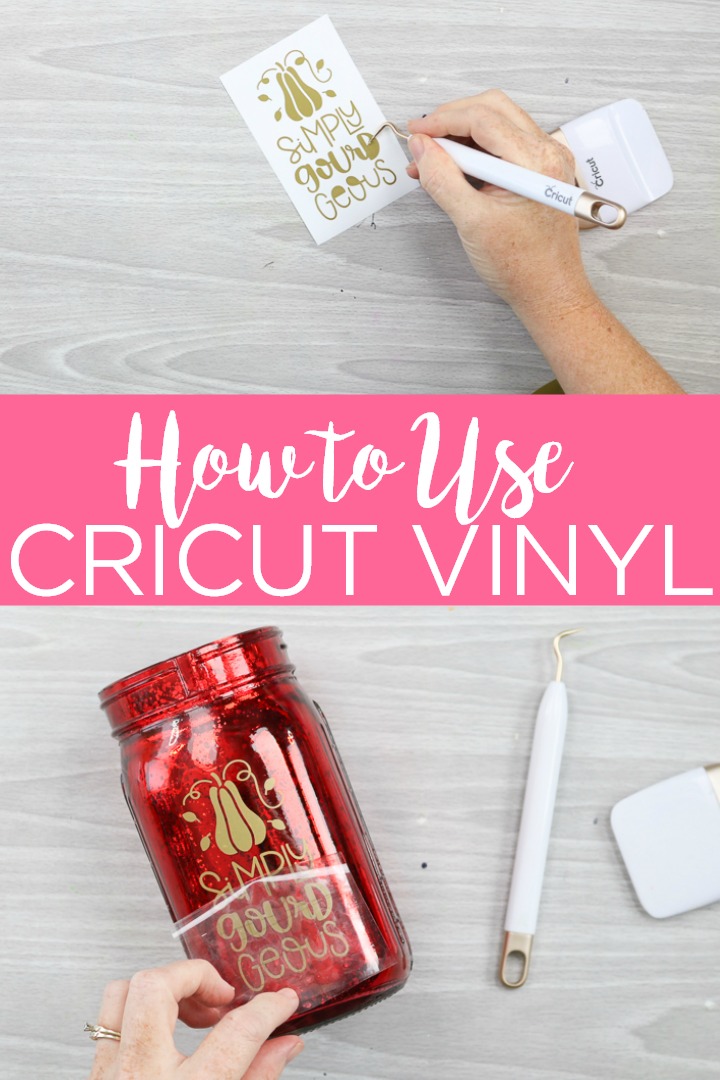 Using Cricut Vinyl: Video Tutorial
I know a lot of you love your Cricut how-to videos! Well, if you are "Team Video", I have everything you need to know about using vinyl below.
How To Use Cricut Vinyl
And if you're "Team Written Instructions," we have the details and step-by-step instructions below for you as well!
Types Of Adhesive Vinyl For Cricut Projects
There are so many types and brands of adhesive vinyl that it is hard to keep them all straight! You can find these types of Cricut vinyl:
Plain colors
Holographic
Patterned
Foil
Mosaic
Metallic
Printable
And so much more!
When picking vinyl, you also want to consider whether you need permanent or temporary.
Why are there two versions? They're useful for different types of products!
Use permanent Cricut vinyl anywhere you don't want your design to come off or on outdoor projects where they will be subject to extreme conditions. A good example would be an outdoor sign.
Temporary vinyl is good for indoor applications where you might want to change your decor later. A great place to use temporary vinyl could be a wall decal in a bedroom.
With so many brands out there, it might seem overwhelming to choose one. I generally use and recommend the Cricut brand. Check out the entire line from Cricut.
Note: I have had the best results and success with the Cricut brand, but that may not be the same for everyone. I do recommend shopping around and seeing which brand is your favorite. Try a few different ones, compare the quality and the price, and I am sure you will come away with a winner.
Recommended Mat To Use With Vinyl
In addition to your vinyl, you will need a mat to cut your vinyl using your Cricut.
I like to use the blue mat as a general rule, but a green mat will work as well. If you have any issues getting your vinyl to stick to the mat, try a stronger grip. You can also use a brayer to roll the material onto the mat for more adhesion.
Note: Try our mat washing instructions if your mat has seen better days (it'll help improve its grip).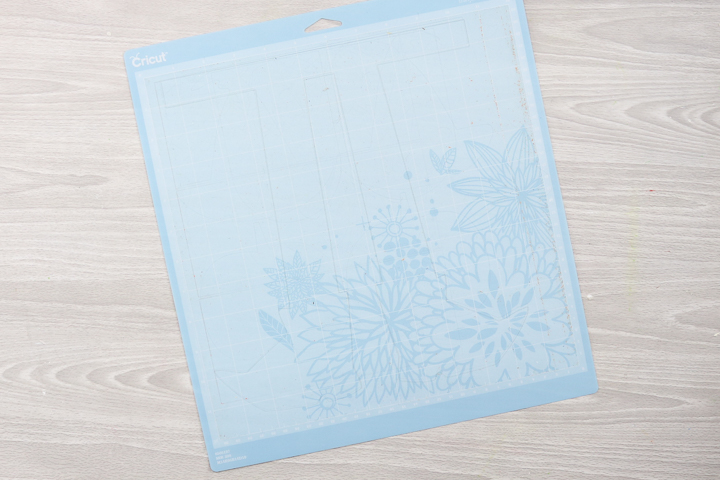 How To Put Adhesive Vinyl On The Mat
Place the vinyl face up on your mat and press it down firmly.
In the image below, I am using a piece that is 12 x 24, along with a 12 x 12 mat. If you have a roll of vinyl, it's ok to adhere to just the 12×12 area and leave the rest hanging off the edge of your mat.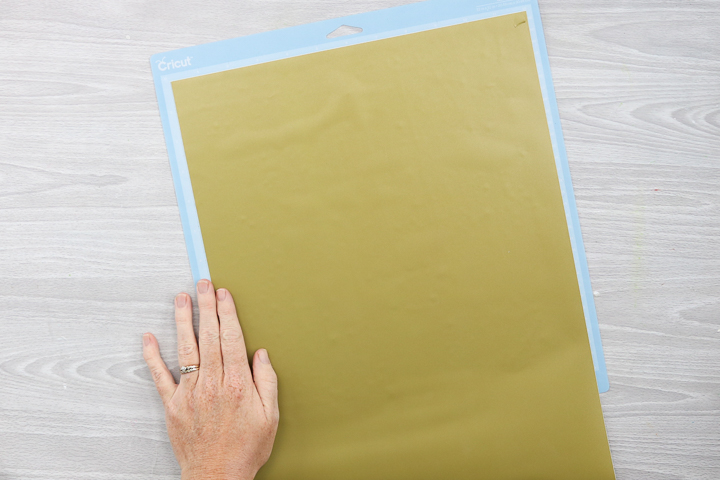 Cutting Cricut Vinyl
You can cut vinyl with either a Cricut Maker or any of the Cricut Explore series machines.
The fine point blade is the ideal tool to use when cutting. There's just a small difference in how to use the different machine series when cutting vinyl.
On the Explore series, you can set your dial to "vinyl" for cutting or to "custom" and pick from the list in Cricut Design Space.
For the Maker, you will pick from the list automatically. Just pick the type of adhesive vinyl you are using and follow the prompts to cut your mat.
Note: Always use the "custom" setting on the Explore series for specialty vinyl, such as glitter, because the "vinyl" setting will not cut all the way through.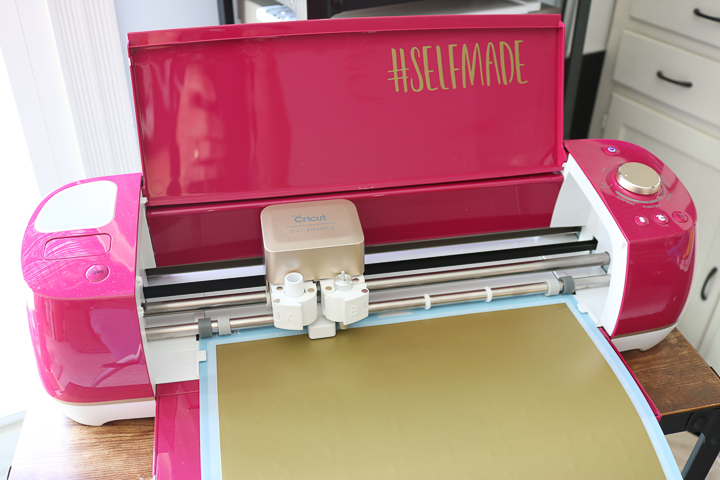 How To Weed Cricut Vinyl
Now that you have cut your vinyl, it is time to learn how to apply Cricut vinyl.
Use your tools to start weeding away the parts you do not want from your design. Pull away the outside pieces as well as the centers of letters.
I recommend this weeding kit to get you started. They really help you pick and lift all of those small bits!
There are a wide variety of hooks and tweezers available for this task. You will just need to find your favorite tools and work with them, as there is no right or wrong way to do it.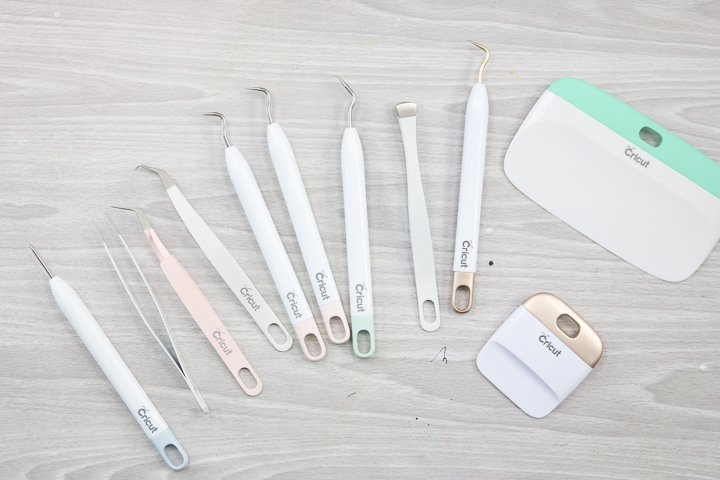 Have trouble with weeding and seeing those lines? Our post on the Cricut BrightPad will help!
Note: I also like to use a scraper when working with all types of vinyl. This helps get the vinyl to adhere to your surface as well as the transfer tape. What is transfer tape? We'll cover that next.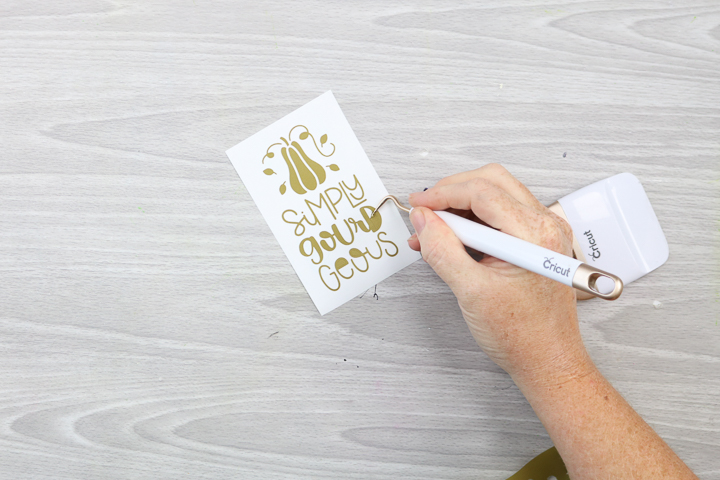 What is Transfer Tape?
Transfer tape will help you lift your design from the backing paper and apply it exactly as it is laid out to your surface. You might also hear it referenced as a transfer paper. There are actually two different types:
Regular – use this for most applications
Strong grip – use this type for glitter vinyl and any other vinyl that is hard to lift
Ok, those are the types, but which brand is best? This is a tough question to answer because there are so many opinions available.
I generally default to Cricut transfer tape because it works well for me, but some people do not like it at all. Again, I recommend playing around with a few brands to find the one that works well for you. I personally think this is one of those things where every crafter will have a different opinion.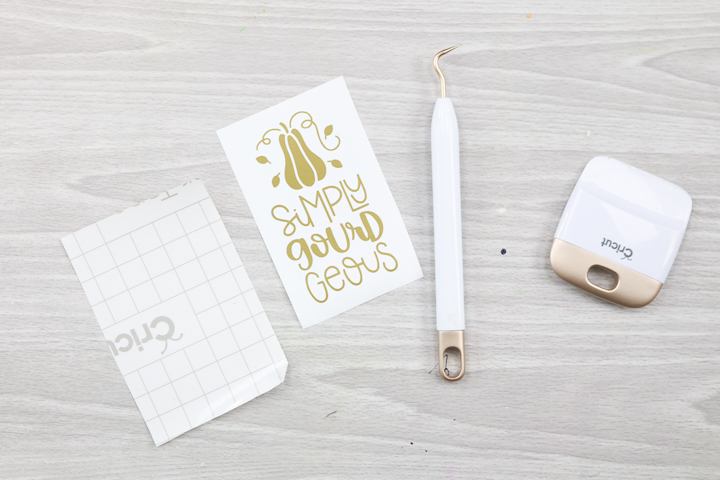 How To Use Transfer Tape
You can't really learn how to use Cricut vinyl without learning how to use transfer tape. Now that you have your design weeded and your transfer tape ready, it is time to make the magic happen! Here's how.
Step 1
Cut a piece of transfer tape a little larger than your design.
Step 2
Peel the tape back from the backing paper.
Note: Transfer tape is reusable, so save this backing paper and apply the tape to it when you're done. Keep the tape for a few more uses before discarding it.
Step 3
Press the transfer tape to the front of your design. Use the scraper to go over this a few times and make sure it adheres well.
Pro Tip: I like to turn my piece over and remove the backing paper, but you can lift the transfer tape if you would like. You want your design to stay on the tape cleanly. If it is not, press down again and go over with the scraper. Then try to lift again.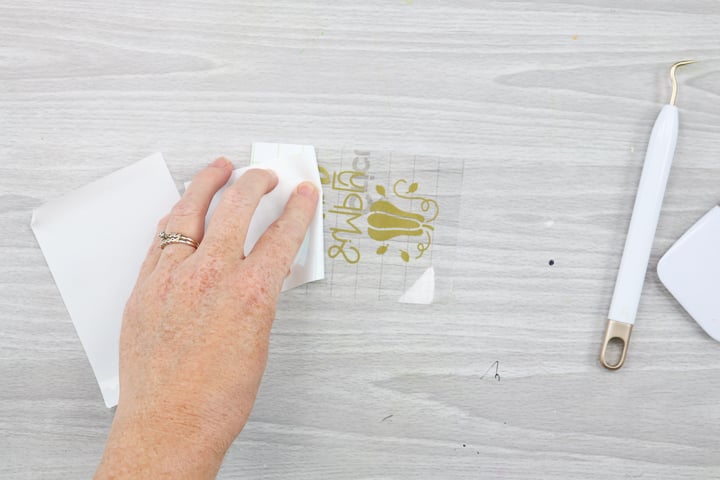 Step 4
Take the tape (with the vinyl adhered) to your project and position it as desired. Take your time with this part (especially if it's permanent vinyl!).
Step 5
Then press the vinyl down well. Once again, go over it with your scraper to make sure it adheres well.
Step 6
Peel back the transfer tape, and your design should stay on your surface. If it does not stay, replace the tape and use the scraper again. Then peel back once more to reveal your finished creation.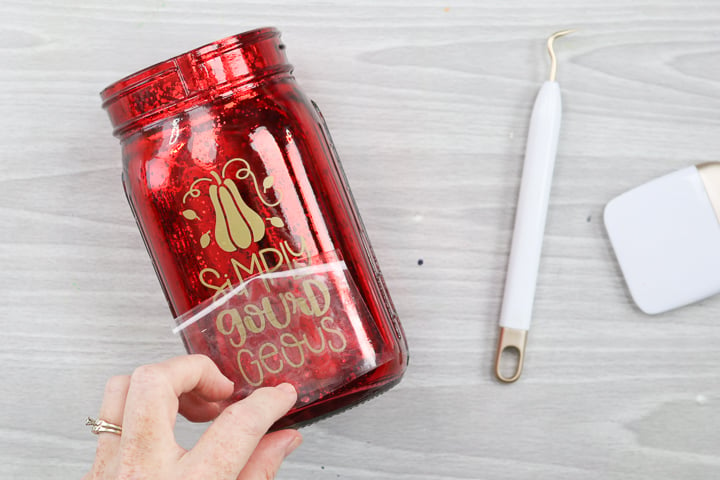 The Next Level Of Using Cricut Vinyl: How To Layer Vinyl
So, now that you have mastered the process when working with one color, what about more? Once you are ready to take your projects to the next level, you will want to start layering and adding all of the colors to your designs.
I have a post about how to layer vinyl with a super-easy trick that you don't want to miss!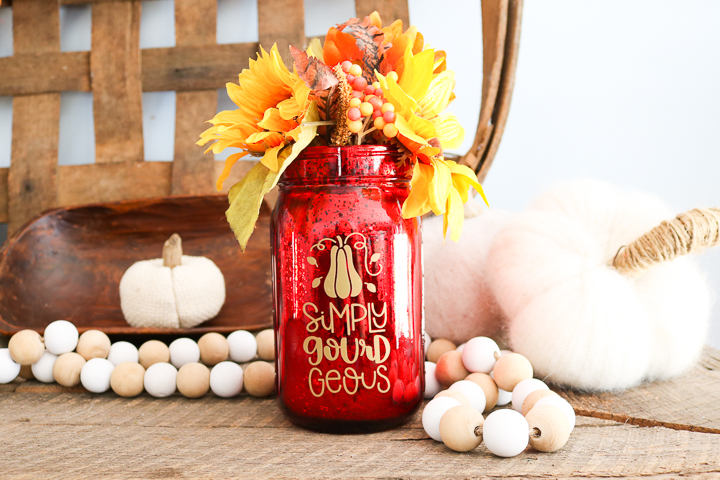 Surfaces You Can Use When Working With Adhesive Vinyl
You have to put your vinyl on something, right? But which surfaces work with vinyl?
The good news is that there are so many! You can find a few of those listed below, and I am linking to a few posts that share tips and tricks for working with each of those materials.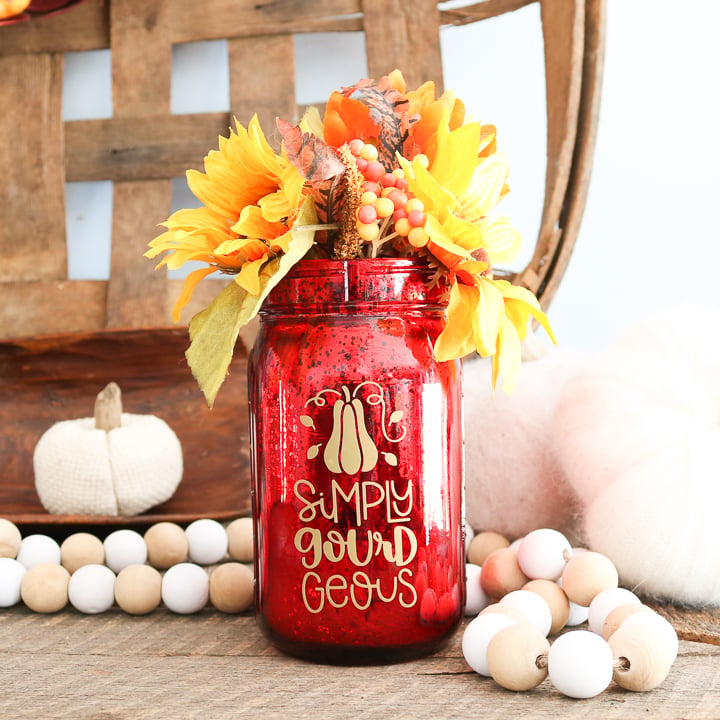 FAQs
Here are a couple of questions that I see readers ask about using vinyl with their Cricut machine. If you have a question, please check to see if I've already answered it below. Don't see your question? Leave it for me in the comments!
Is a mat required with a Cricut?
When cutting vinyl with some other machines, you do not have to use a cutting mat at all. That is not the case with Cricut. You always need to use a cutting mat when cutting vinyl or any material with your Cricut machine.
Note: That does mean that you are limited to a 12 x 24 area, as that is currently the largest mat.
What can Cricut vinyl be used for?
You can do so many projects with this material!
Cricut vinyl lets you create easily removable labels, decals, and so more to create personalized gifts, storage containers, home decor, games, and much more. With tons of colors available, you're sure to find the perfect one for every project you want to make.
Projects Using Cricut Vinyl
Now that you know how to use Cricut vinyl, it is time to get started on some projects. I have a few ideas that you can start with!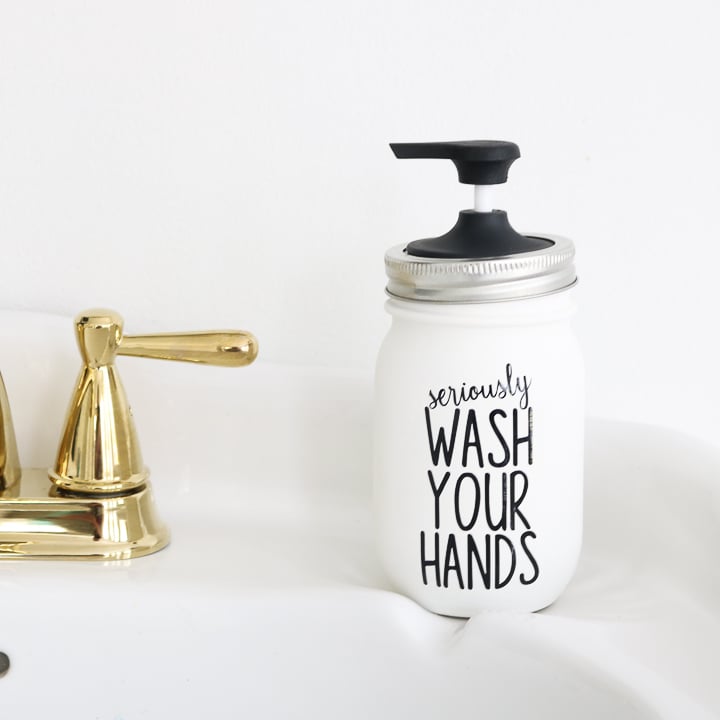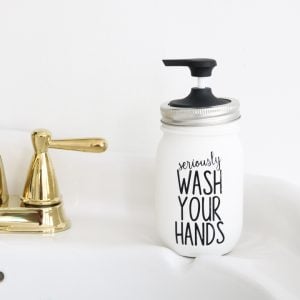 DIY Mason Jar Soap Dispenser
Seriously folks… wash your hands! Remind guests to wash up with this easy DIY mason jar soap dispenser. This tutorial even includes a free Rae Dunn inspired SVG file to add to your project.
Read More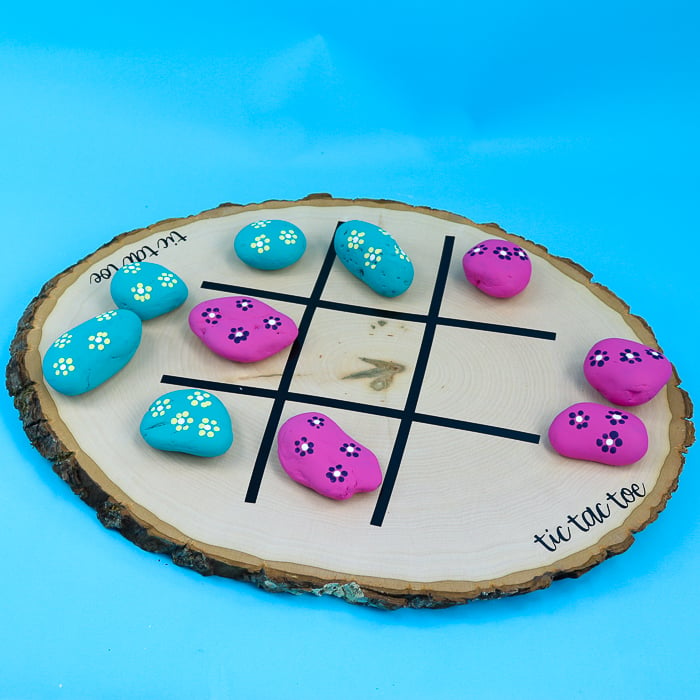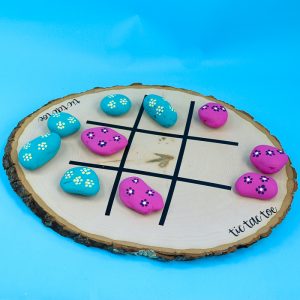 Tic Tac Toe Board Game with Rocks
Make your own tic tac toe board game with a Cricut machine and some painted rocks! A quick and easy project perfect for kids to make for summer fun!
Read More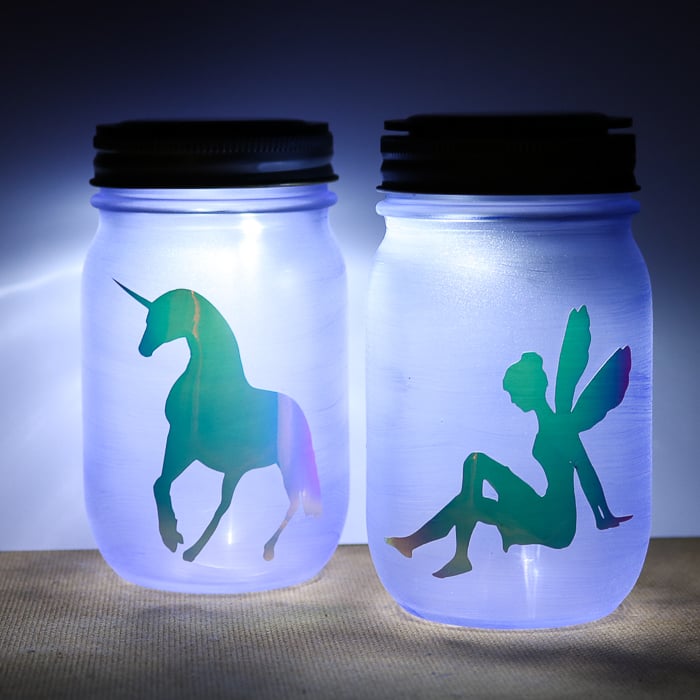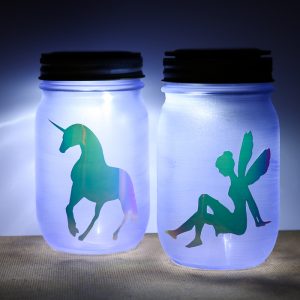 Fairy Cricut Nightlight In A Mason Jar
Looking for a fun and easy project that you can do with your Cricut? This blog post will show you how to make a fairy Cricut nightlight using a mason jar! This is a great project for kids of all ages, and it only takes a few simple steps to complete.
Read More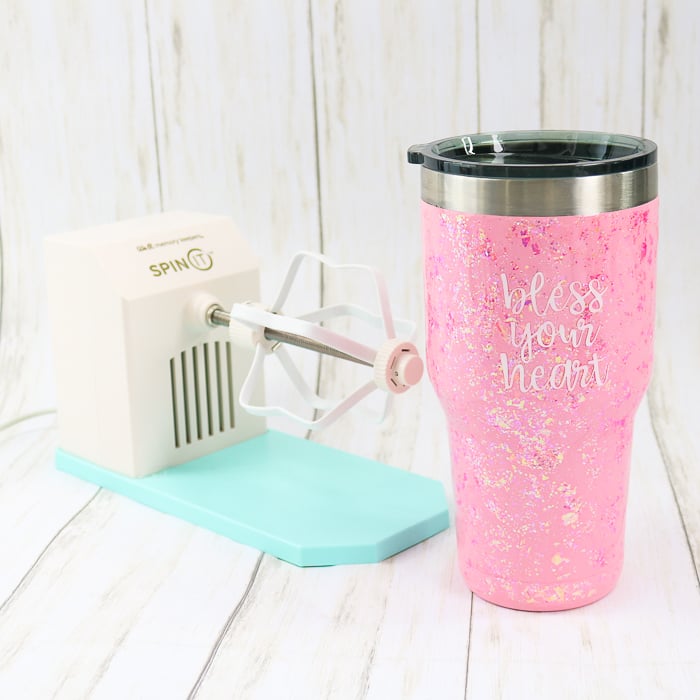 DIY Epoxy Tumbler
Use this tutorial to make DIY resin tumblers that you can use or give as personalized DIY gifts!
Read More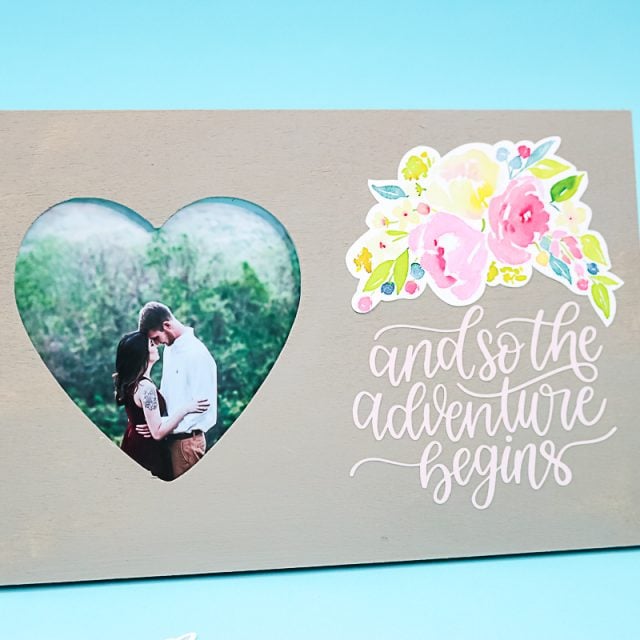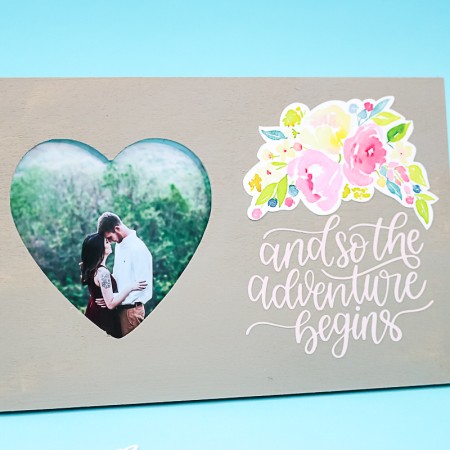 Wedding Picture Frame
Add special details to a wedding picture frame using your Cricut machine and a dollar store frame.
Read More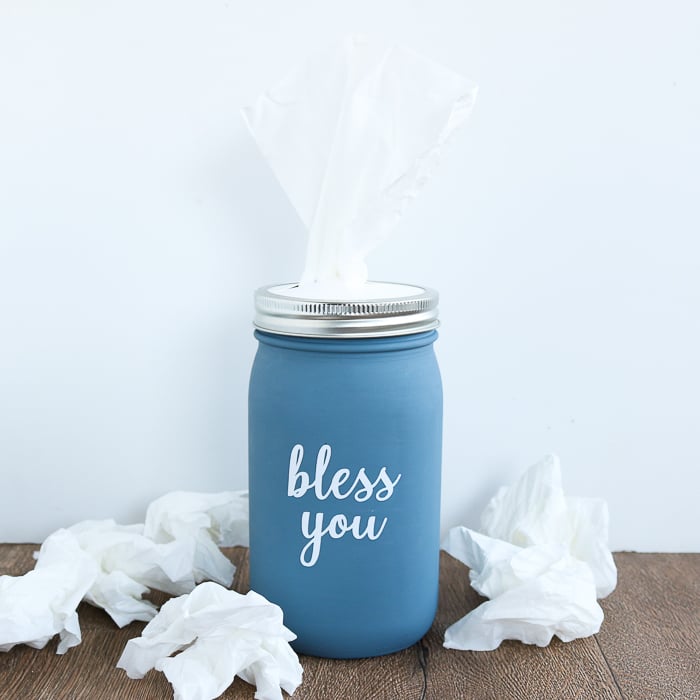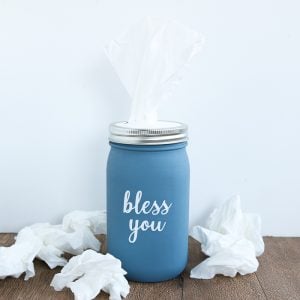 How to Make a Mason Jar Tissue Holder
This simple mason jar tissue holder is a quick craft that's great as a gift, or make it for your own home! With just a few supplies, you have a cute customizable tissue holder for the bathroom, kitchen, or your office!
Read More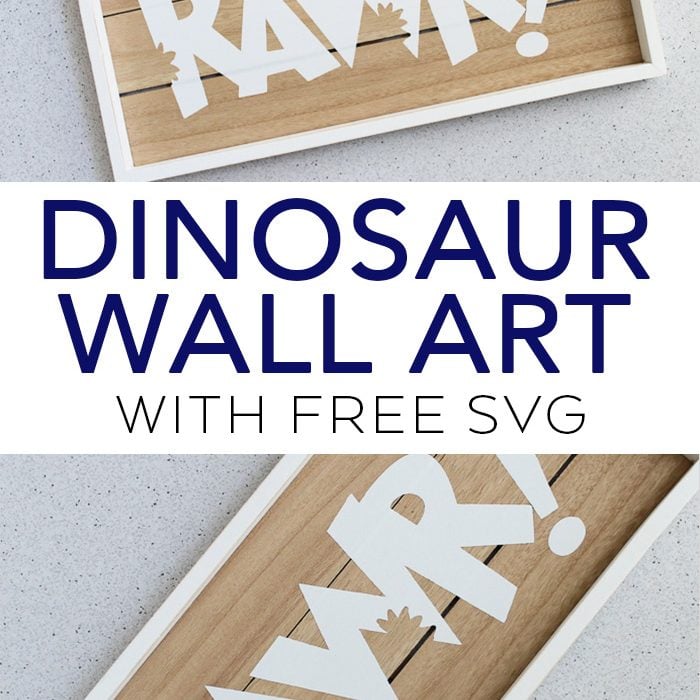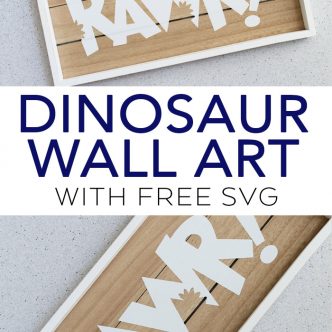 Dinosaur Wall Art Decals
This month I am offering up this free printable SVG file to make these dinosaur wall decal stickers! These printables are perfect for both the nursery and toddler bedrooms and are a part of our free SVG monthly series. This is our second in the series and you can download the first one here. For now, let's take a look at how to make this dinosaur wall art decor!
Read More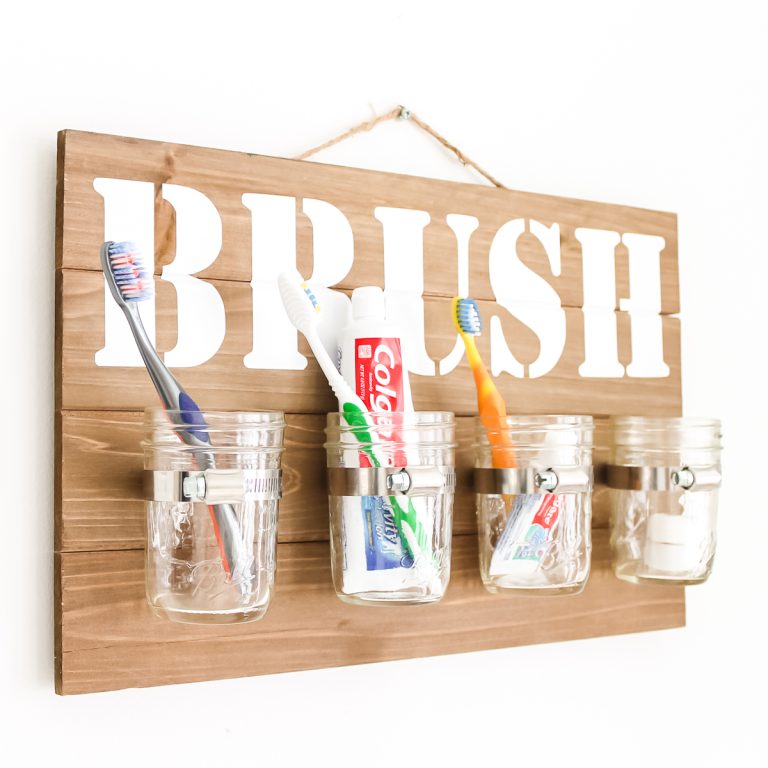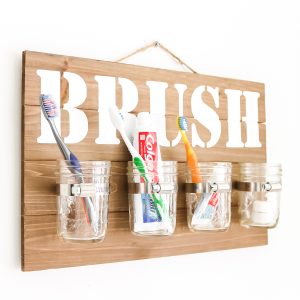 Mason Jar Bathroom Organizer
Make this fun and functional Mason Jar Bathroom Organizer in just a few simple steps! Use your Cricut and vinyl to add some creative mason jar wall decor to your bathroom.
Read More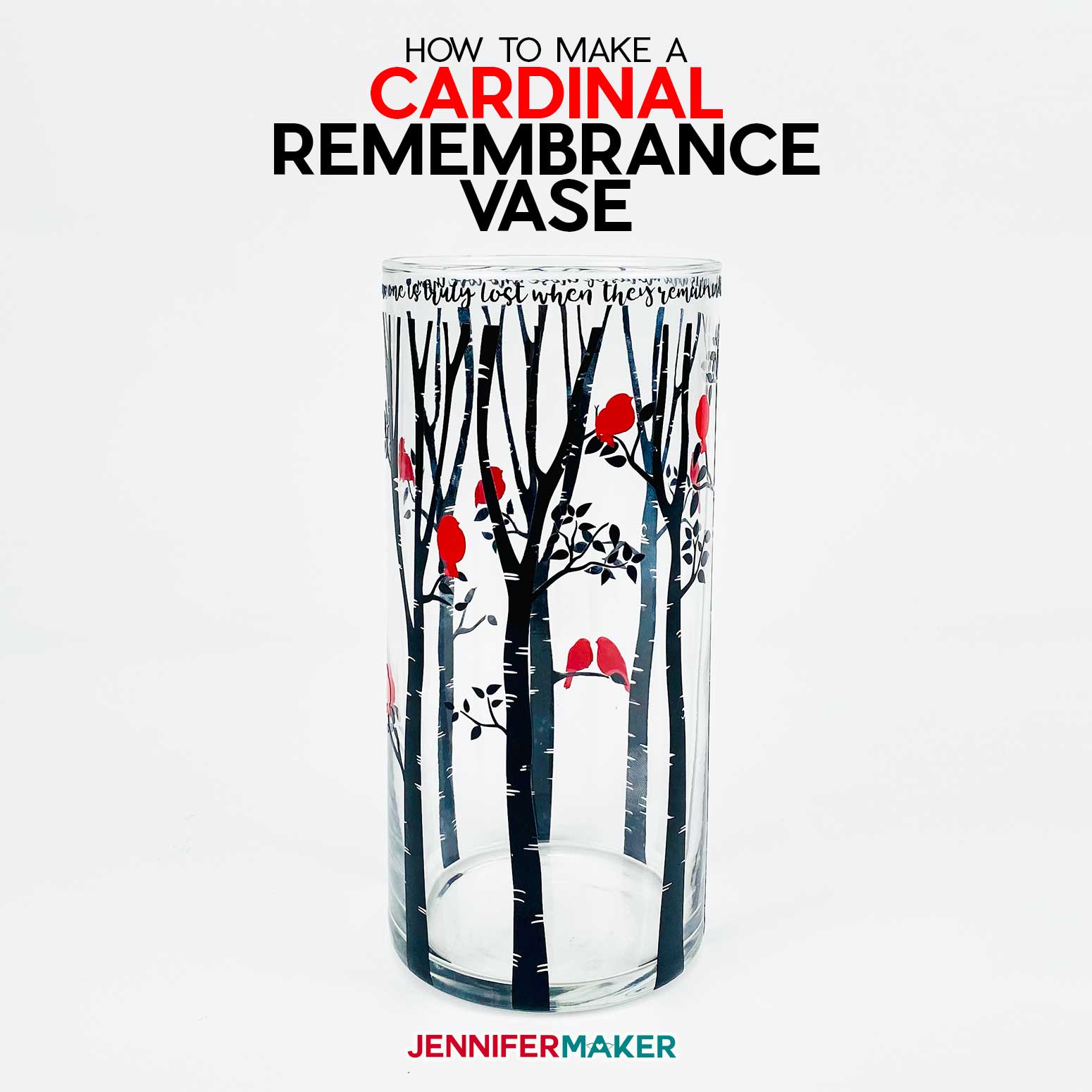 Cardinal Remembrance Vase: Dollar Tree Craft Idea
Learn how to decorate a glass vase with vinyl to make this beautiful cardinal remembrance vase.
Read More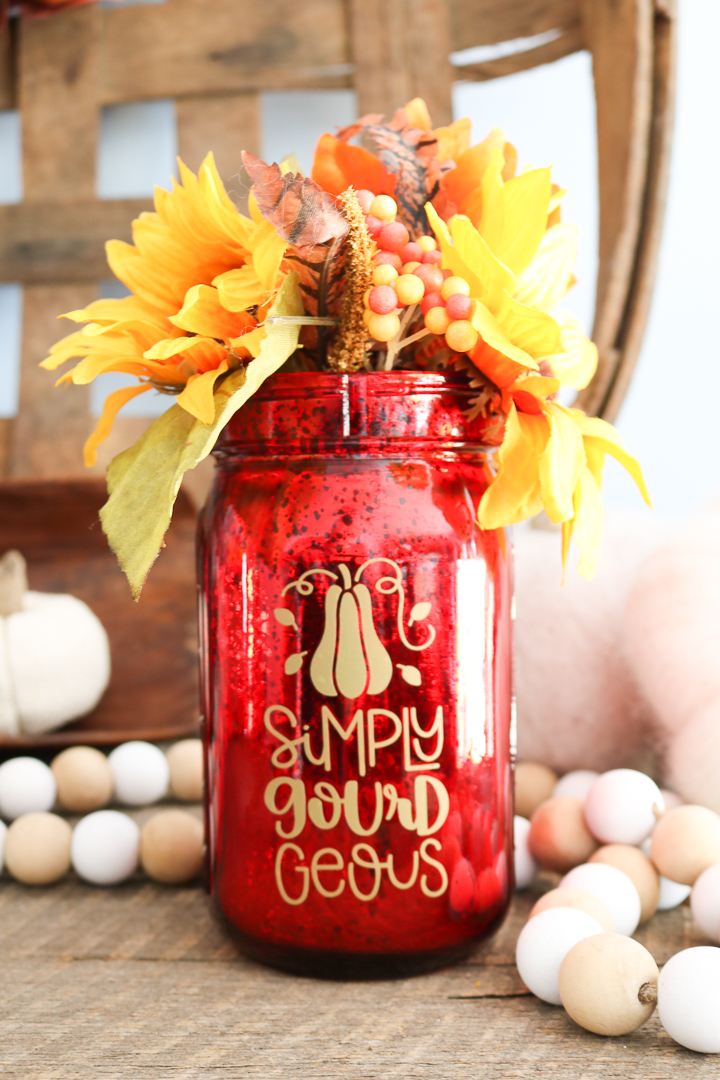 New to Cricut?
Sign up for our email list to download the Beginner's Guide to Cricut Design Space for FREE today!
Sign up to get the guide emailed to you!