Turn your ordinary mason jars into spooky-good Halloween works of art with this simple project. Make a few bloody Halloween mason jars to add to your holiday decor!
I love a great project that takes five minutes (or less) to make! There are plenty of Halloween crafts that can take some time to put together, but here is one that might take you two minutes to complete.
These bloody mason jars are perfect for your scary Halloween decorations. They're a quick and easy, eye-catching addition that can work with any Halloween decor theme.
I originally made this project for Halloween mason jar week and paired it with these fun Bone Party Straws!
Note: If you're nearly as obsessed with Halloween-themed mason jar crafts as I am, you won't want to leave without also checking out our Halloween Lanterns, Scarecrow Mason Jar, and DIY Ghost In A Jar Halloween craft ideas!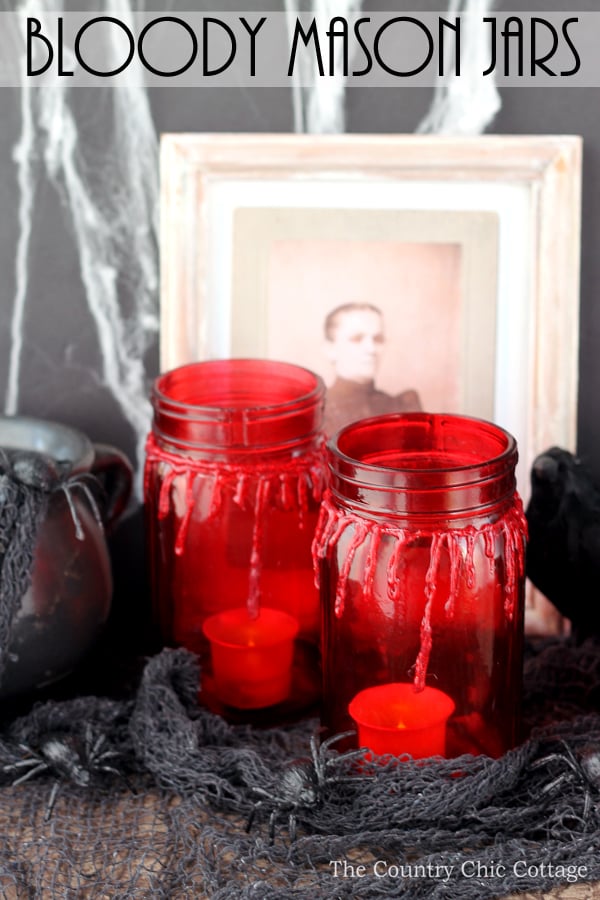 How To Make Bloody Halloween Mason Jars
Instead of creating "blood" on normal mason jars (which can be time-consuming), I decided to use an optical illusion to trick the eyes into thinking what they see is blood.
Sound interesting? Check out how to do this quick and easy process yourself below!
Supplies Needed
You will only need two supplies to make your own version…oh and your glue gun…but you already have one of those, right?
Bloody Mason Jars Video Tutorial
You can see how to put this craft together in about three minutes in the video below. Yes, it is that easy y'all!
Project Instructions
If you can't watch the video or just prefer written directions, here is the process for making these Halloween mason jars.
Step 1
Insert a red glitter glue stick into your hot glue gun and let it begin to heat up.
If you currently have a short regular glue gun stick in there, you'll need to push it through until you see red glue begin to come out before beginning this project.
Step 2
Holding your mason jar in one hand, use your other hand to add hot glue around the top of the mason jar. You'll want to add in "drips of blood" by bringing the glue gun down 1-2 inches randomly as you make your way around the jar.
Step 3
Grab a battery-operated tea light candle and put it inside your Halloween mason jar, and it's ready to add to your decorations.
So super simple! I personally love the battery-operated candles in these, but you can use any that you have on hand. I add these jars as part of a fun scary display since I love a little fright with my Halloween decorations.
If you do too, these bloody mason jars are the perfect craft for you. Besides, any craft that can be made in just two minutes is a winner in my book!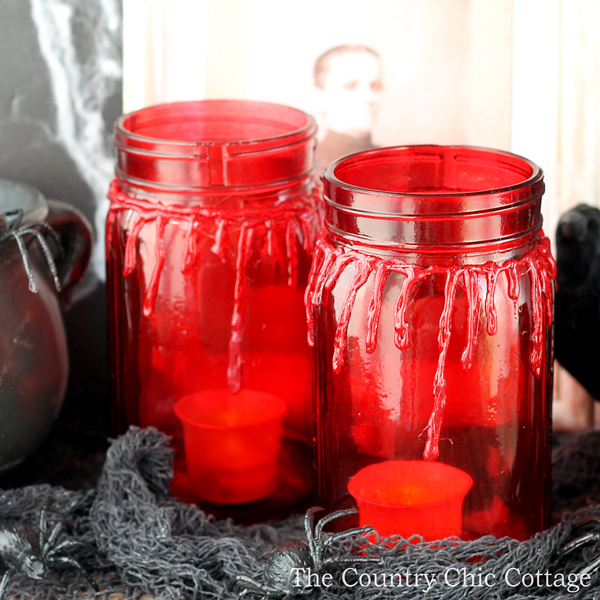 FAQs
Here are a couple of questions that I see readers ask about making this "bloody" project. If you have a question, please check to see if I've already answered it below. Don't see your question? Leave it for me in the comments!
I can't find red jars. What should I do?
No problem! If you can't find mason jars that are already red, all you have to do is take a normal mason jar and paint it with translucent red glass paint. It'll add an extra step plus drying time, but your jars will still look amazing!
What size mason jars are good for making these Halloween mason jars?
You can use any size of jars that you want. I have seen red mason jars in several sizes, but finding some available in the size you want may be a challenge.
If you can't find the size you want in red jars, just get regular jars and paint them with red translucent glass paint!
The red mason jars I found aren't see-through. Can I use them?
Unfortunately, no, not if you want to be able to see the candle through the sides of your mason jar. If that's the only red mason jar you can find, I recommend getting some normal mason jars and painting them with translucent glass paint.
More Halloween Crafting Inspiration
I hope you love this bloody Halloween mason jar project as much as I do!
If you love Halloween mason jar ideas, here are even more crafts you'll want to check out:
Homemade Ecto Cooler – The Cottage Market
Looking for a Blast from the Past…try making some of this Yummy Homemade Ecto Cooler…Perfect for your Halloween Parties! Kids of all ages love it!!!
Read More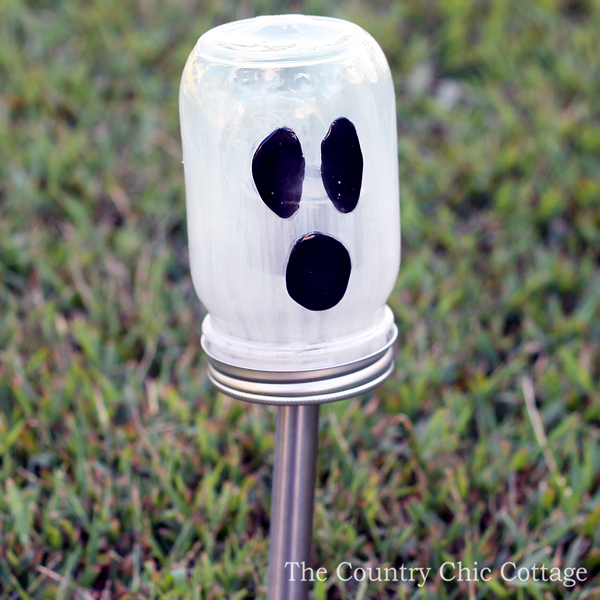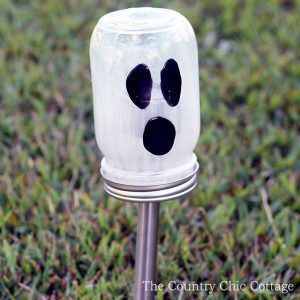 DIY Ghost Mason Jars
Make these Halloween mason jar crafts in minutes and use them to light up the path on Halloween night.
Read More
Halloween Cocktail Idea: Black Widow Venom
Looking for a fun & delicious Halloween Cocktail? These yummy Black Widow Venom shots are perfect for a party, but they're easy to make by the pitcher, too!
Read More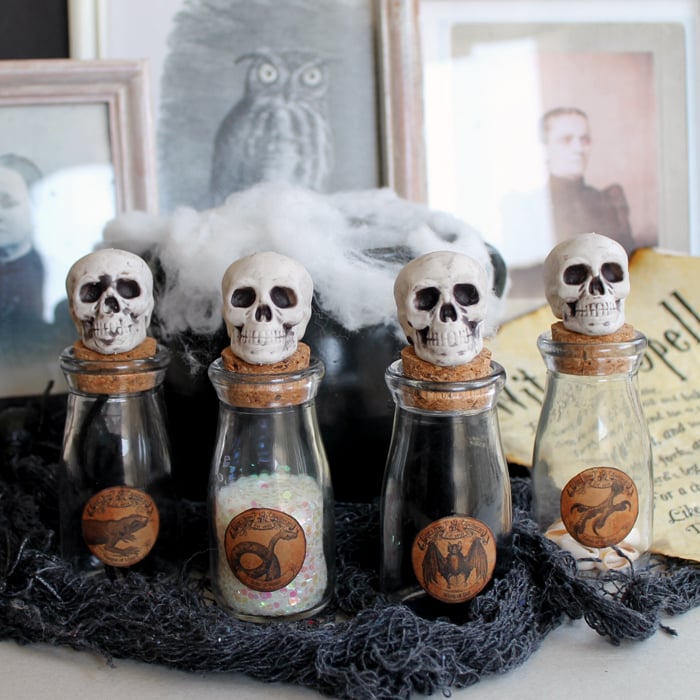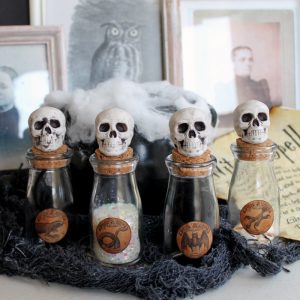 Spooky Halloween Jars
Use your printable Halloween potion labels to make these cute jars in minutes!
Read More
DIY Pumpkin Spice Diffuser | Halloween In A Jar – A Little Claireification
This DIY Pumpkin Spice Diffuser is so easy to make and perfect for a little Halloween decor.
Read More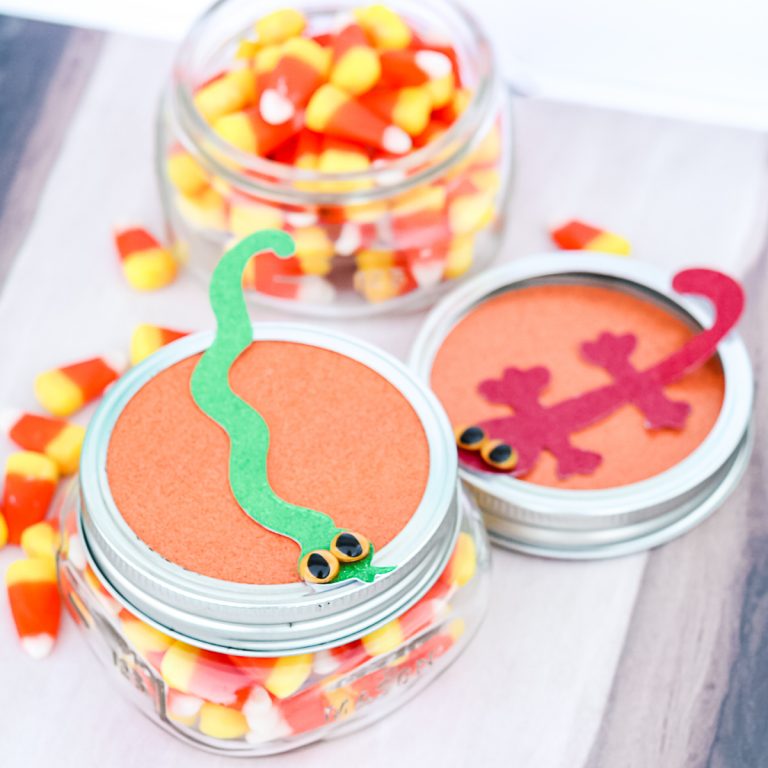 Halloween Mason Jar
Make these cute jars with your Cricut machine and some paper! Everyone will love getting these as a gift this fall.
Read More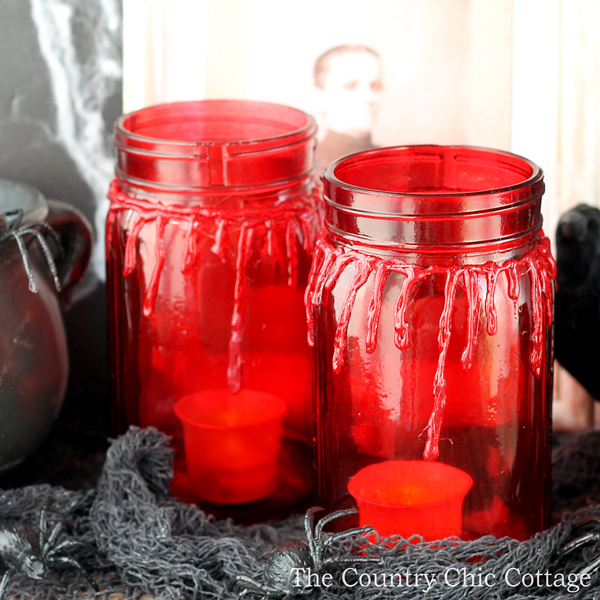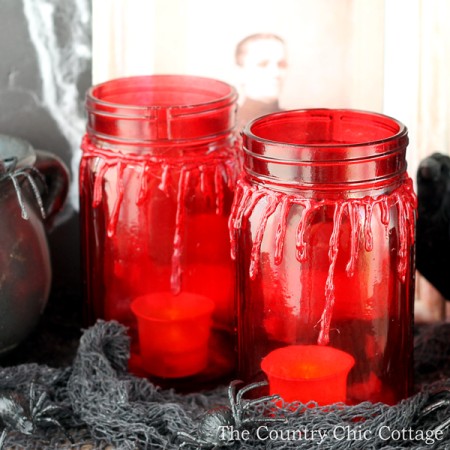 DIY Bloody Halloween Mason Jars
Easily create these eye-catching Halloween-themed mason jars that will look incredible among your other Halloween decorations.
Instructions
Begin adding hot glue around the top of the mason jar. Include randomly-spaced "drips of blood" by bringing hot glue down around the jar.

Add a battery-operated tea light candle inside your jar. Now it's complete!
Tried this project?
tag us to show off your work!
A Year of Jar Crafts
Sign up for our email list to get a FREE book with an entire year of jar crafts! 12 months, 12 crafts, tons of fun!