I have an amazing burlap garland for you today and a way for you to cut burlap snowflakes on your Cricut Maker. Yes these were all cut with the Maker and they turned out awesome! How do I get the burlap to actually hold together? Read on to find out about my method and use it to make all the things with burlap! So are you thinking…I don't have a Cricut Maker? Be sure to scroll to the bottom of this post to win one as well! This post is sponsored by Cricut however all projects and opinions are my own.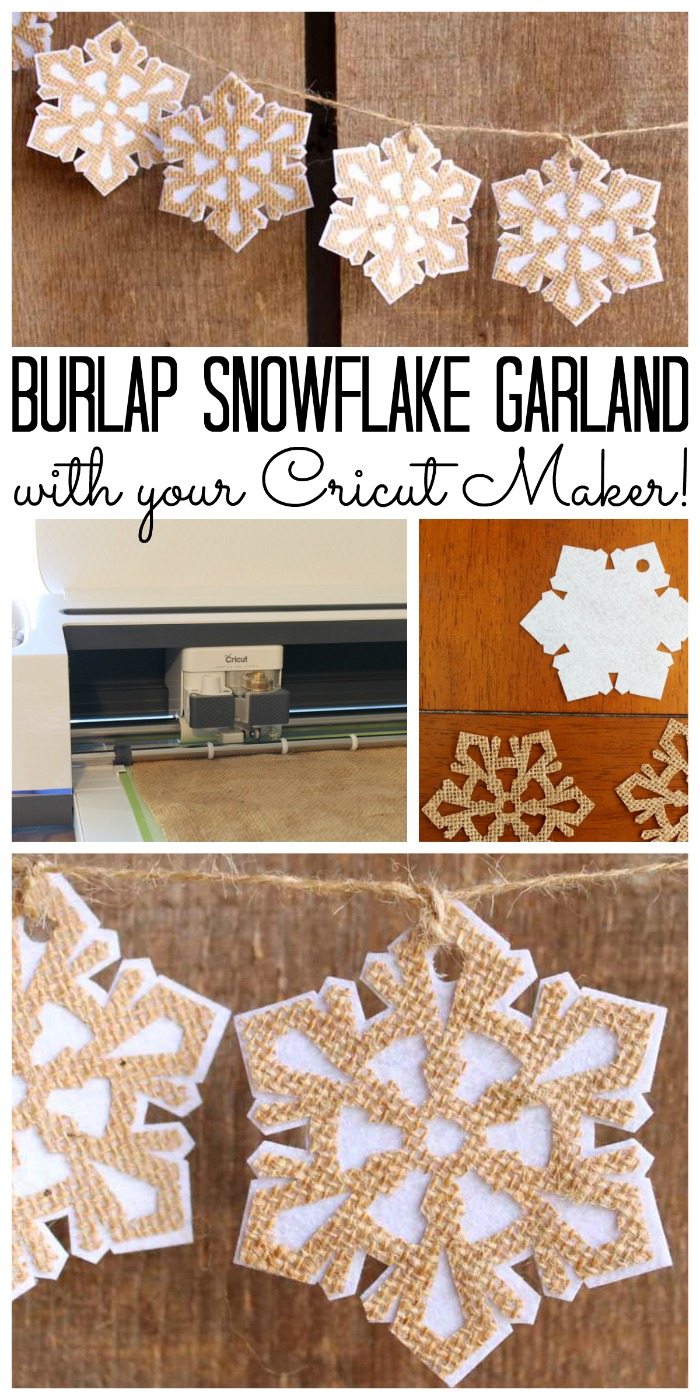 Supplies needed to make this burlap garland:
Some links below may be affiliate links which means that you do not pay anymore however a portion of your purchase will go to support this site.
How to make this burlap garland:
You can see just how to make this project in the video below!

Instructions:
Can't watch the video or missed some of the steps? You can also follow along below!
Start by preparing your burlap. You can see my full method for cutting stiff burlap on the Maker here.
Mix tacky glue and water half and half in a disposable cup.
You will also need to protect your work surface with parchment paper.
Then lay 12 x 12 squares of burlap on the parchment paper.
Then use a pouncer brush to apply glue/water mixture to one side of burlap.
Allow to dry overnight.
You now have stiff burlap for your cutting projects. This method will ensure that it holds together well when cutting intricate cuts like these snowflakes. I would not attempt this particular project without stiffening the burlap first.
Then cut your snowflakes from the felt and burlap.
To cut from the felt, place your felt on the fabric mat and press down well.
Change your blade to the rotary blade when prompted in design space.
Then cut the snowflakes from the felt.
Then you need to cut the burlap. You will need two burlap pieces for every one felt piece.
Place strong grip transfer tape on the back of your stiffened burlap piece.
Place this transfer tape side down onto a Cricut mat (I find that either the medium or strong grip mat works best.)
Then cut your burlap snowflakes using your Cricut Maker and the rotary blade. Use the burlap or heavy fabric setting (but set to less pressure). So are you confused about cutting the burlap with this method? Click here for more explanation!
You should now have one felt piece and two burlap pieces for every snowflake you want on your burlap garland. TIP: This spatula works great for helping to remove the burlap pieces. Just work it between the burlap and the transfer tape. You will need to be extremely careful as the parts are still fragile even though they are stiffened.
Then just use tacky glue to add the burlap pieces to both sides of the felt pieces and allow to dry completely.
Then you just need to string the snowflakes using twine to create a burlap garland for your home!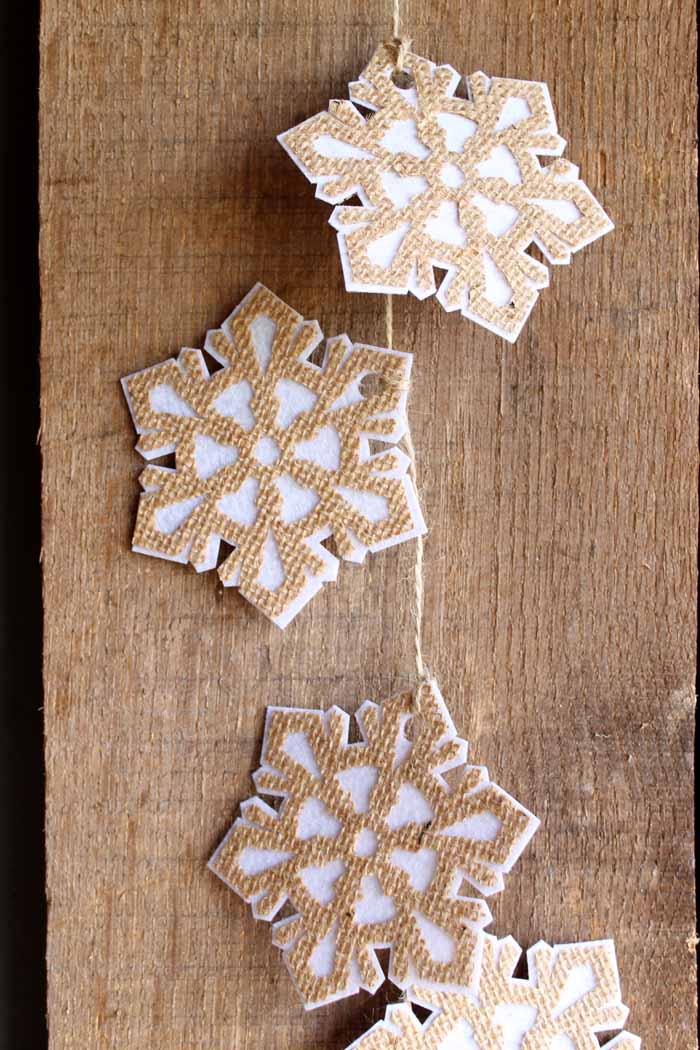 This project is perfect for displaying in your home all winter long. These cheerful snowflakes will light up any room.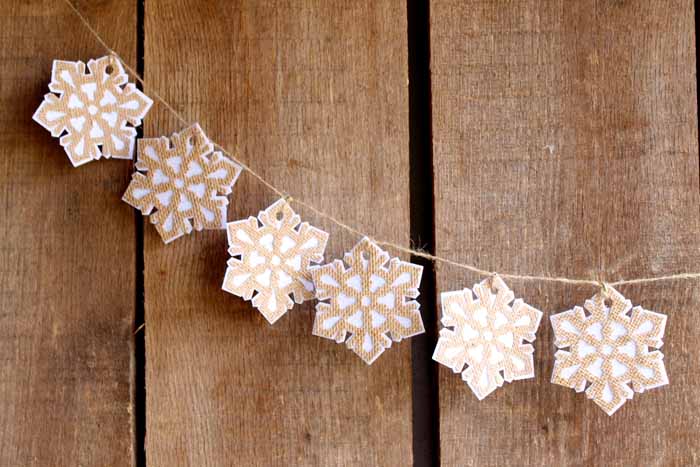 Now I just had you use your Cricut fabric mat for cutting felt. Chances are you are left with a mat with tons of fuzzies on it! I get tons of questions on cleaning the Cricut fabric mat and thought I would take a moment to show you just how to care for it…without ruining it!
Caring for the Cricut Fabric Mat
Leave the threads alone! The rotary blade is designed to cut through these as well as your project. I know you want to remove them but resist the urge.
If you just have the remove some of them, the only good way is the use of strong grip transfer tape. Apply it to the entire mat sticky side down. Press down really well and remove slowly.
Do not touch your mat! The oils in your fingers will break down the adhesive. Use tweezers to pick up the items from your mat.
Do not use your scraper!! This is the worst thing you can do for your mat!
Don't try to restick. No matter what you read and googled it just simply will not work. The fabric mat is a special adhesive and there is no substitute.
Want to extend the life of your mat? Don't cut anything where the circle is less than 3/4 inch in diameter. And yes I broke this rule on this project. I was willing to sacrifice the mat, however.
You can also try using transfer tape on the back of fuzzy materials like felt. We did something similar above for the burlap and it will work for other materials as well.
You can also use older green or purple mats that have lost some of their sticky for fabric. They will work great and you get an extended life from the mat.
I hope that helps a bit! I even made you a handy guide below so you can pin this and never forget!

Now that you know everything there is to know about the fabric mat, use it to make this burlap garland and tons of other projects!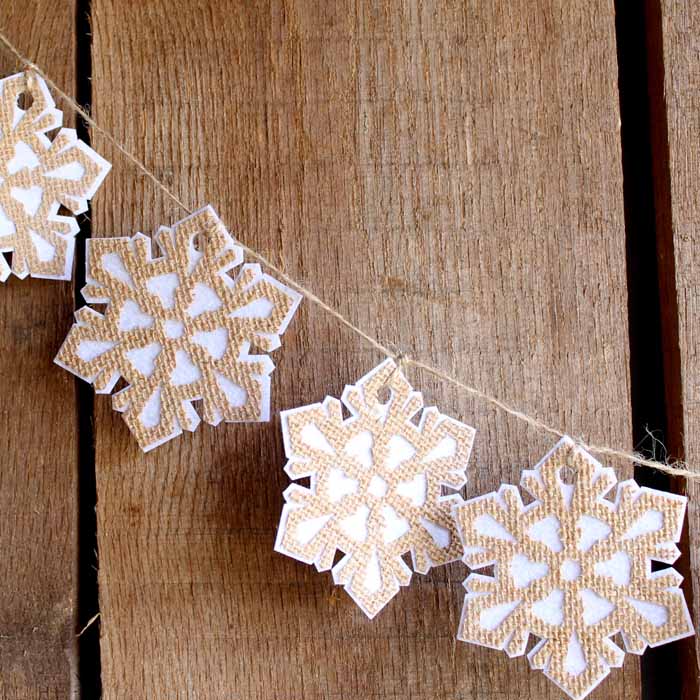 Just look at the intricate detail you can get with this method for cutting burlap on the Cricut Maker. This is one of my favorite things to cut with the Maker. I have never been able to do burlap projects like this before!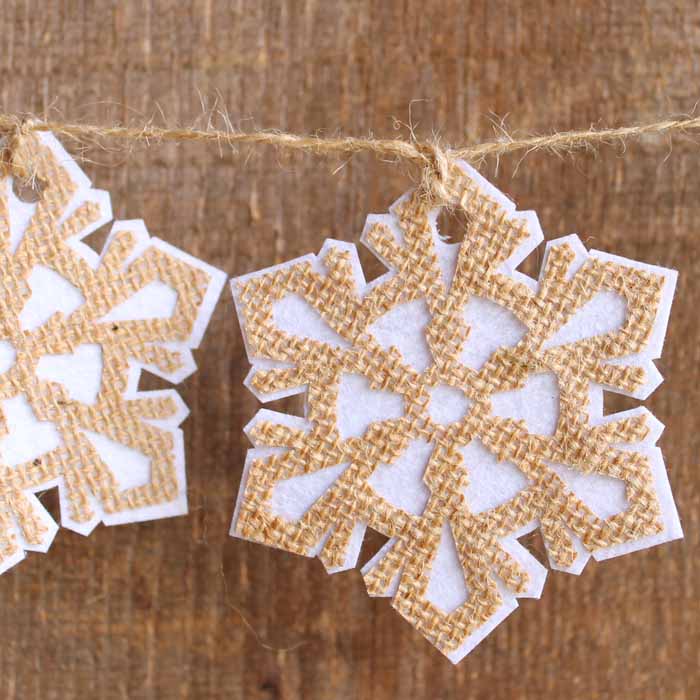 I will note that you can cut burlap on the Maker without stiffening it like I did above. You just have to use cut files that are not as intricate and also be really careful when removing your pieces from the mat.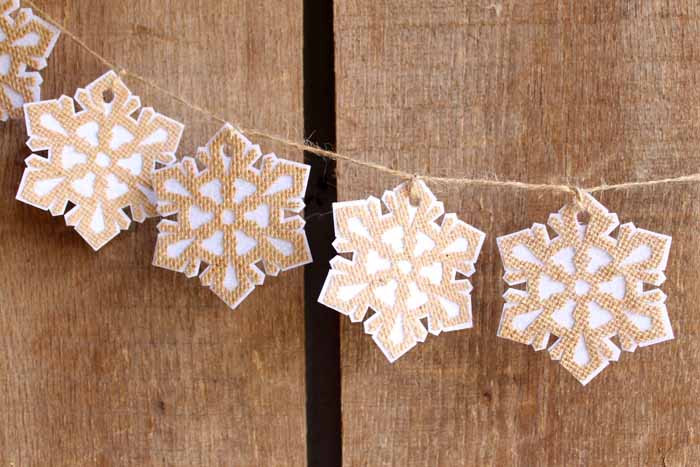 So whether you want to make this burlap garland or another burlap project, the Cricut Maker has you covered!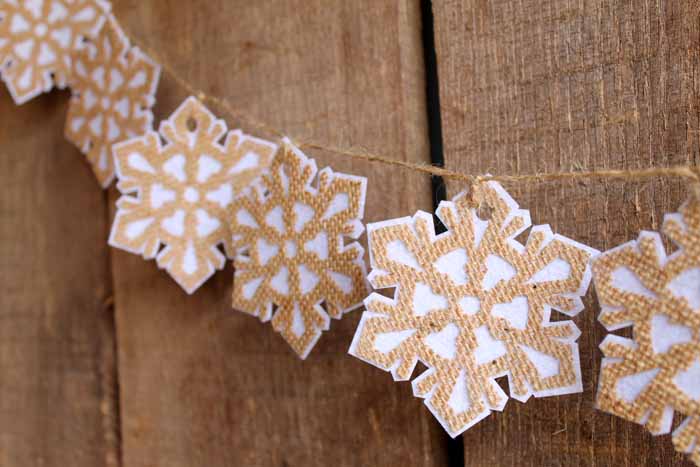 Win a Cricut Maker!
Now are you ready to enter to win a Cricut Maker of your very own? Use it to make this burlap garland or any other Maker project! Enter to win using the widget below and good luck!
a Rafflecopter giveaway

This is a sponsored conversation written by me on behalf of Cricut. The opinions and text are all mine.
New to Cricut?
Sign up for our email list here to download the Beginner's Guide to Cricut Design Space for FREE today!
Sign up to get the guide emailed to you!