Today I am going to do an in depth comparison of the Cricut Maker versus the Cricut Explore Air 2. Which one do you need? Which will be the best machine for your home? I have all of those answers and more. I compared both machines in my home and ran them through a ton of tests. They are both great machines however it is just going to depend on your personal cutting needs as to which one will work best for you. Just so you are aware, I was sent both machines from Cricut and this post is in partnership with them. All opinions and projects are my own however.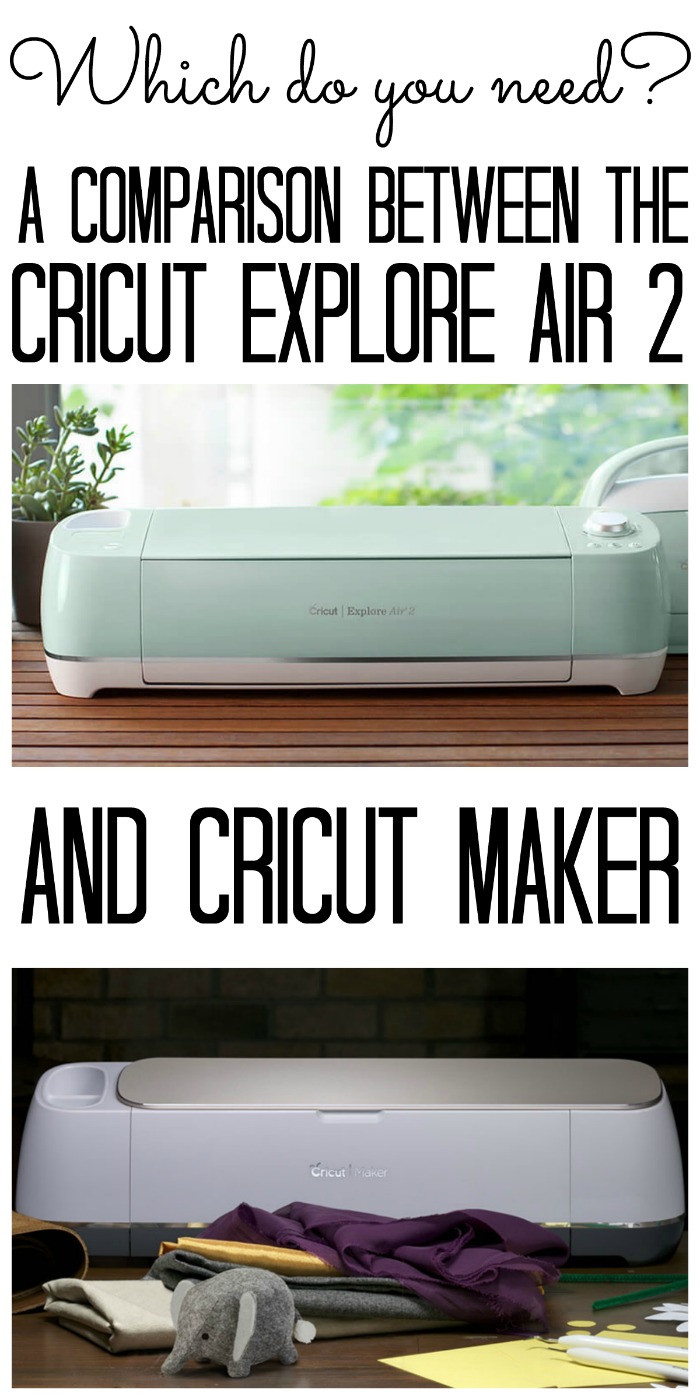 Some links below may be affiliate links which means that you do not pay anymore however a portion of your purchase will go to support this site.
What's the Difference Between the Cricut Maker and Cricut Explore Air 2?
First lets talk about the machines we will be comparing.
Cricut Explore Air 2 – it has been on the market for a while. This machine features everything you want from Cricut along with a faster cutting speed setting and the ability to send your designs via Bluetooth. You can read a quick list of features here.
Cricut Maker – As of this writing, this is the newest machine in the Cricut family. You get all of the features of the Explore Air 2 along with the ability to use advanced Rotary and Knife blades that expand your crafting significantly. This machine cuts hundreds of materials, from the most delicate fabric and paper to matboard and leather. With a significant increase in cutting force, this machine is a heavy duty cutting machine that is easy to use in your home. You can read a list of the features here.
Cricut Maker vs Explore Air 2: Cutting Simple Card Stock
I sat these machines side by side for a one on one comparison. I started with new blades and mats on each so it was as close as possible to be the same cutting conditions. The variety of shapes used is to simulate simple to more intricate cutting. I started out simple with card stock. Both machines used the fine point blade for these cuts and performed equally well. The blue paper on the left is the Explore while the green paper on the right is the Maker.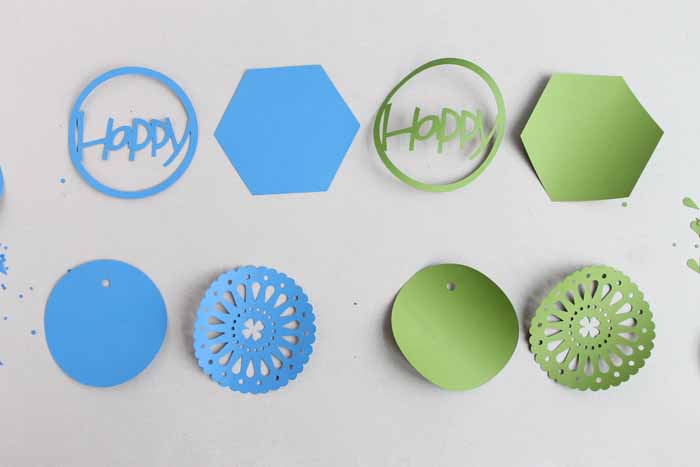 Cricut Maker vs Explore Air 2: Cutting Vinyl
Everyone loves their vinyl projects! So how would the two compare when cutting this material? Again the blue on the left is the Explore while the green on the right is the Maker. Perfect cuts with both! These both used the fine point blade as well.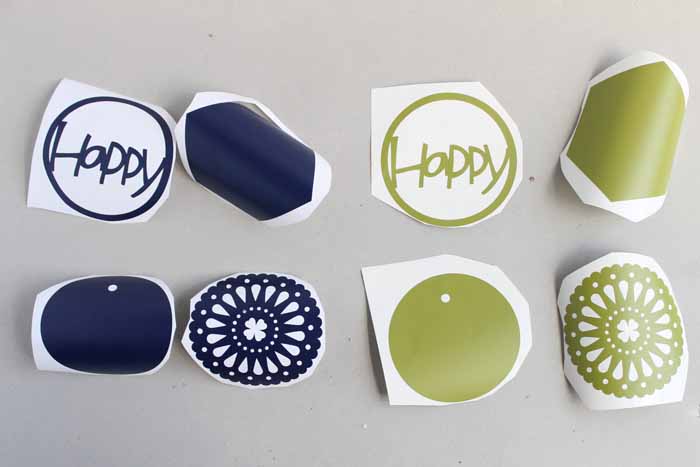 Cricut Maker vs Explore Air 2: Cutting Tougher Materials (Faux Leather)
How about some odd ball materials? I gave faux leather a try. The cuts were great with the fine point blade on both machines once again. So far so good with both the Cricut Explore Air 2 and the Cricut Maker. Note that this material is thinner than real leather and made to cut on the Explore as well as the Maker.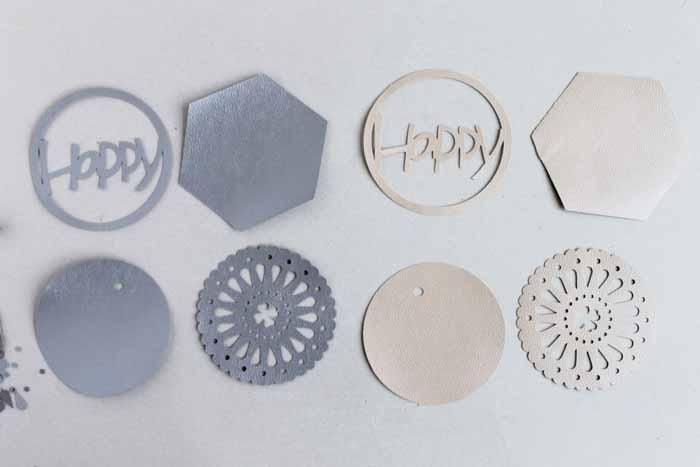 Cricut Maker vs Explore Air 2: Cutting Corrugated Cardboard with a Fine Point Blade
But I was far from done giving these two machines a workout. I went for a corrugated cardboard product next and the fine point blade in both machines. Again the Explore cuts are on the left while the Maker cuts are on the right.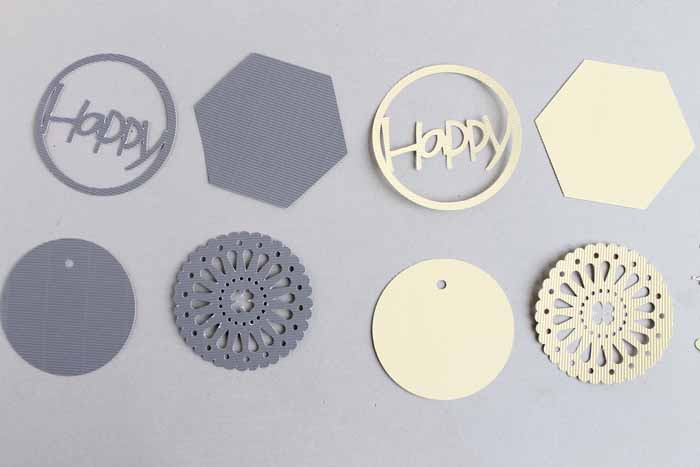 This time I saw a slight difference. I felt like the Maker did a slightly better job on this material. There were less "torn" places with the Maker.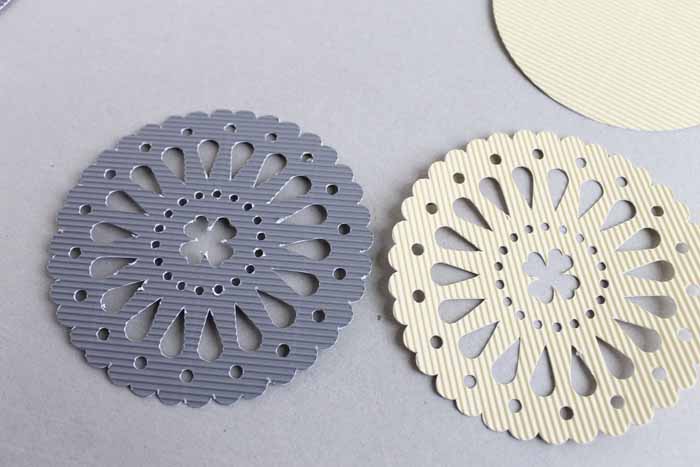 Cricut Maker vs Explore Air 2: Cutting Cork (with Different Blades)
Then I decided to push both even further. I went with materials that I have had trouble cutting with my Explore in the past. My number one culprit was cork. I have never had any luck cutting cork on the Explore. I ran a sheet through both machines. This time I used the fine point blade with the Explore but I added the Rotary Blade to the Maker. The Rotary Blade can only be used on the Maker so that is where I felt this machine was really going to stand out.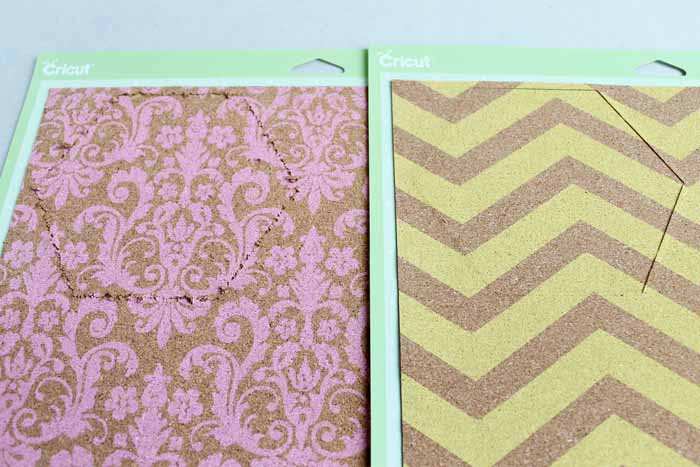 And boy did it ever! I got a really rough cut with the Explore on the left. However, the cut with the Maker on the right was nice and smooth.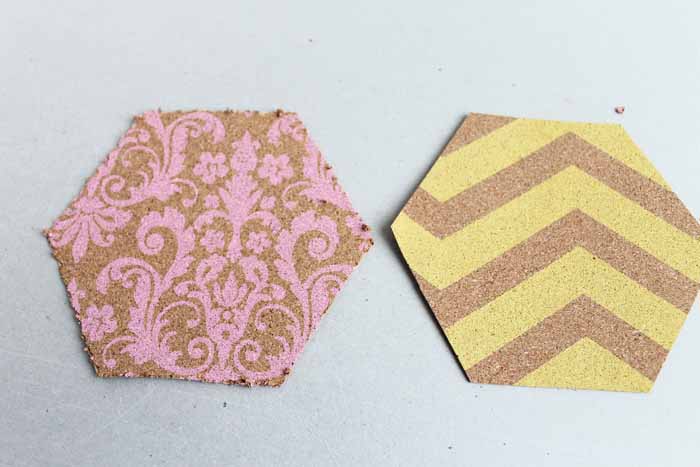 The dragging action of the fine point blade really pulls up the cork bits and leaves the cut looking messy. I was ecstatic with the Rotary blade cut from the Maker however.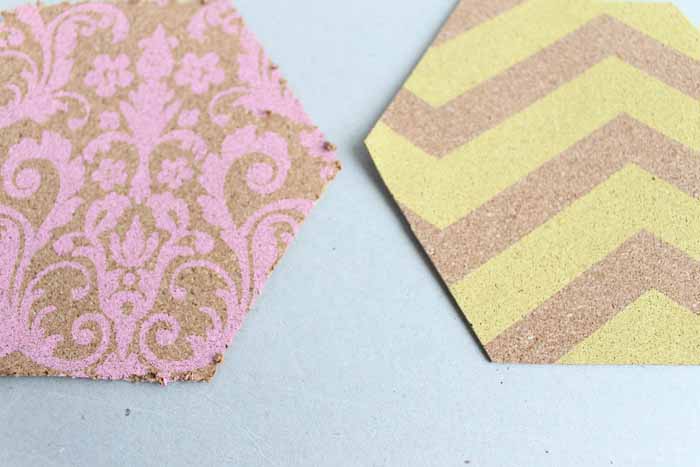 Cricut Maker vs Explore Air 2: Cutting Felt Fabric
Next on my list of difficult to cut materials was felt. On the Explore, all fabric materials including felt have to be bonded before you can cut them. On the Maker, no bonding is needed. There is actually a special fabric mat that comes with your Maker. The Explore cuts below are on blue felt with the fine point blade and bonded felt. The Maker cuts are white felt directly on the fabric mat with the Rotary blade. Note that in both cases I used the really inexpensive felt to make this a fair comparison.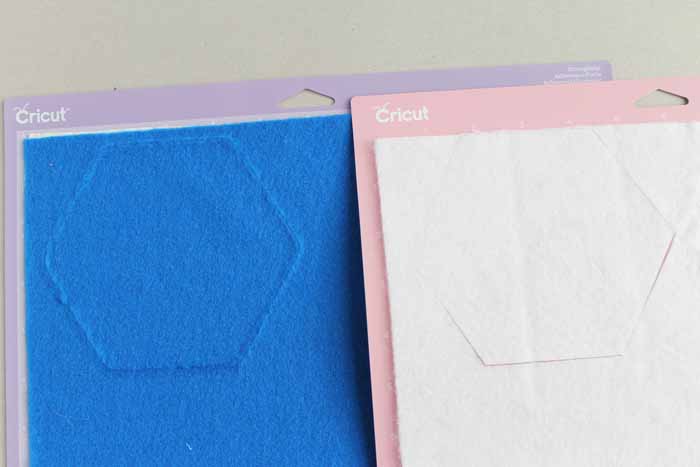 The difference is night and day. I could not even get the blue piece off without using a pair of scissors to finish the cuts. The cuts that are complete are ragged. The Maker felt piece however is as close to perfect as you can get.
That led me to wonder how intricate I could get with the Maker. No Explore test was done on this one as I didn't deem it necessary. I actually never thought this cut would work. I did it on a whim and was so impressed when this little guy came off! This felt piece is perfect and came right off of my Maker!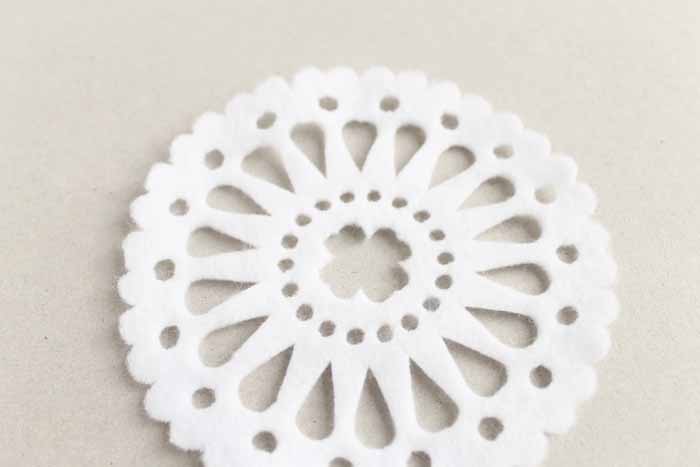 Even the little scraps still on the mat are perfect! I was hooked after this test. Absolutely hooked!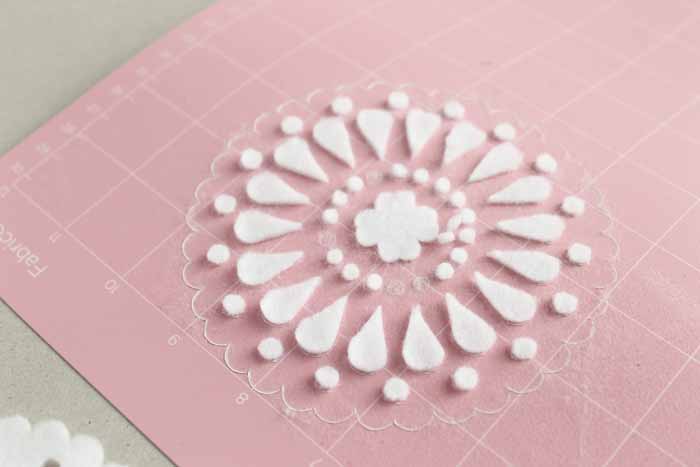 Cricut Maker vs Explore Air 2: Cutting a Regular Fabric
Next I wanted to try fabrics. Again, the Explore requires that you use bonded material while I put the Maker material directly on the special mat. I started with a simple cut and the fine point blade in the Explore and Rotary blade in the Maker. For simple cuts, both seemed equal. Again the Explore cuts are on your left and Maker cuts on the right.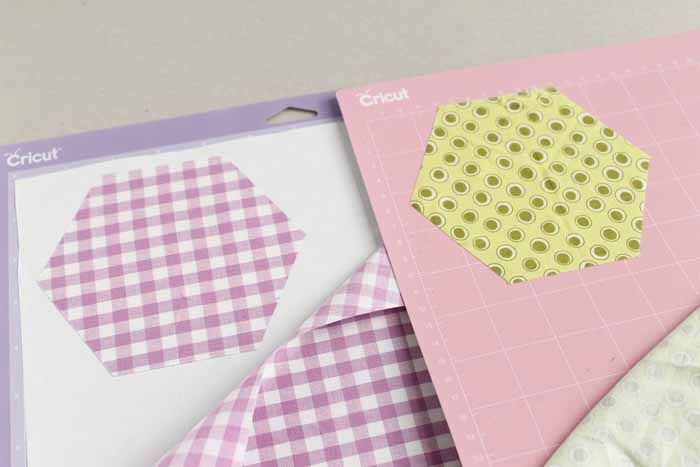 What would happen for a more intricate cut? I couldn't even get the elephant out of the material when cut by the Explore. The cuts were simply not complete. The Maker elephant came out fine however with perfect legs and even a trunk! There are stray threads as the material is cotton and definitely not appropriate for no sew projects. I was just testing an intricate cut versus a non intricate cut with this one.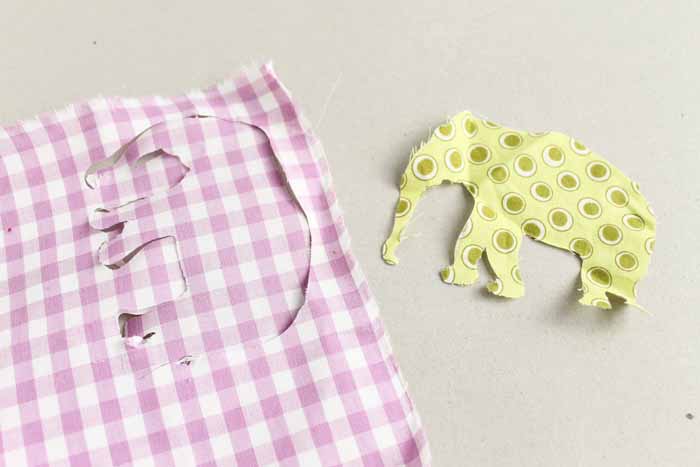 So how many more materials could I cut with my Maker? The list is endless it seems in the Design Space software from Cricut. So I grabbed a few and put the Maker to work. These cuts were ONLY done on the Maker as I felt my comparison was complete. There were all done with the Rotary blade and the special fabric mat. I cut a leaf shape as it was a fairly intricate cut but a quick cut as well. I started with a delicate lace and was impressed by the cut. Then I moved onto fleece and again the cut was perfect. What about an old sweater? A perfect cut! What about demin? Surely it would be difficult to cut? Nope! Perfect once again!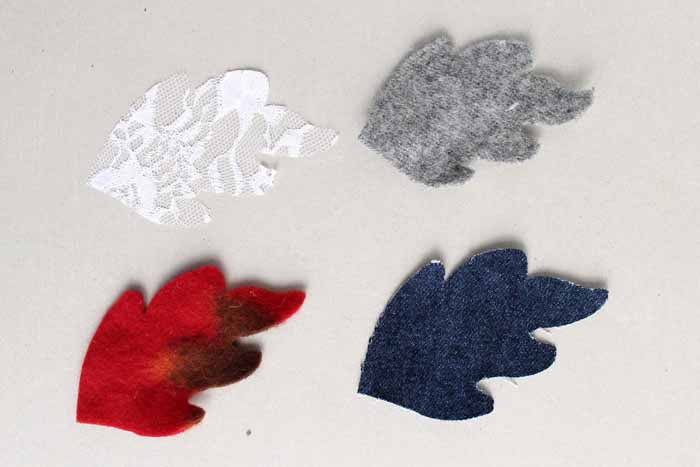 The list of materials that the Cricut Maker can cut is too much to put in this post. The Cricut Maker can actually cut materials up to 2.4 mm (3/32") thick thick. Now that in itself is amazing! Those thicker materials will use a knife blade that will be out later this year. I will definitely keep you informed of my testing when that one hits my mailbox!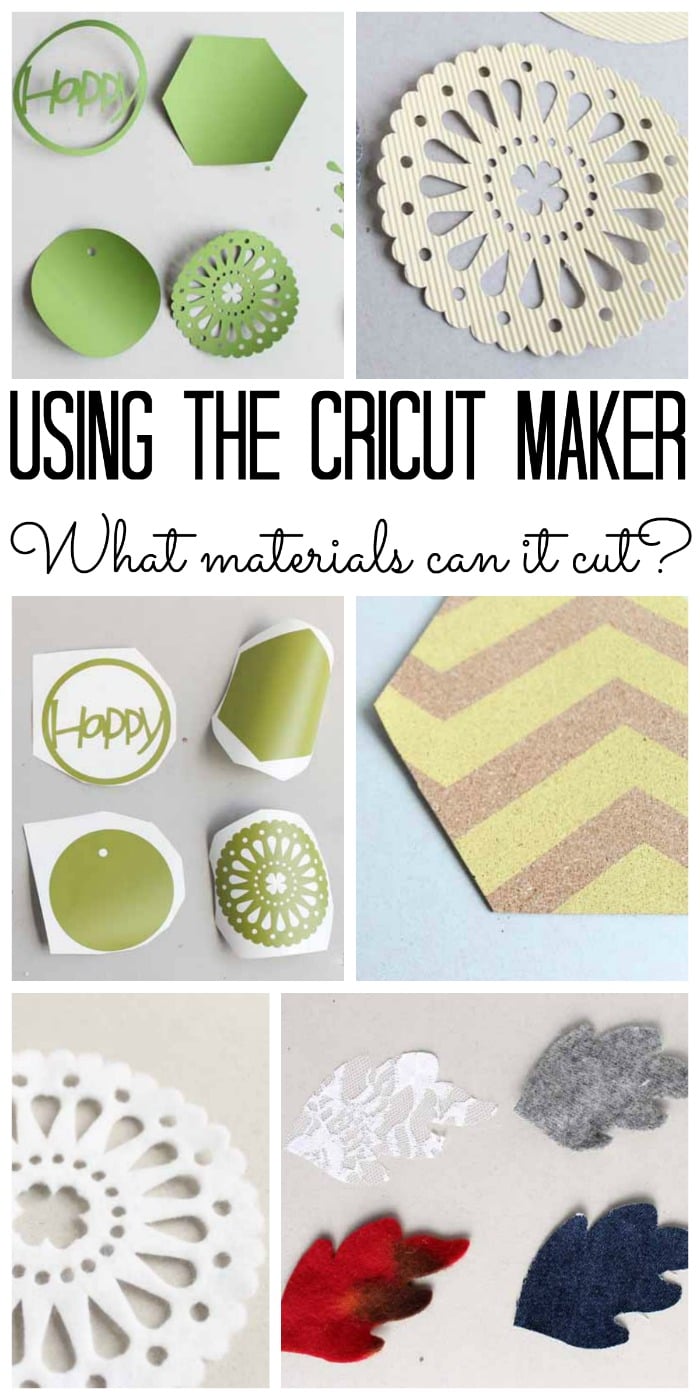 Want to see more of my take on the Maker and the materials it can cut? Watch the video below!
The Final Verdict:
Cricut Maker vs Explore Air 2
So, bottom line, which machine is right for you? The Cricut Explore Air 2 or the Cricut Maker?
Consider what you will be using your machine for first. What materials do you plan to cut? If you only want to cut thinner materials like paper and vinyl, you can probably save some money and stick with the Explore.
Do you ever want to branch into more intricate cuts on materials like fabric? The Maker is hands down the only machine I would recommend for fabric. The Rotary blade changes fabric cutting as we know it.
Are thicker materials something you would like to cut? Want to cut wood? The Maker hands down. The increased cutting pressure in combination with the Knife blade will have you cutting materials you never dreamed possible.
Overall, I hope this post gives you all of the ammunition that you need to make an informed decision. I don't think you can go wrong with either machine, however, you don't want buyer's remorse when everyone else is cutting those cool wood projects. Weigh your options and think about what you will do with the machine in the future. What projects will you make? What projects will your family members want to complete? Which will do all of the jobs that you need? Good luck and happy shopping! I know you will love your Cricut – whichever you choose!
Want to see more?
This is a sponsored conversation written by me on behalf of Cricut. The opinions and text are all mine.
New to Cricut?
Sign up for our email list here to download the Beginner's Guide to Cricut Design Space for FREE today!
Sign up to get the guide emailed to you!