Better late than never y'all. I am bringing you my Christmas home tour 2013 today. First of all if you love Christmas home tours you can see my home from 2012, 2011, and 2010 as well. Every year I change things up a bit but some things you will see remain the same year after year. Also I am joining in with an everything Christmas tour this week. You can check out Denise Designed for the full line up of home tours this week and to follow along. Now come on in to my country home.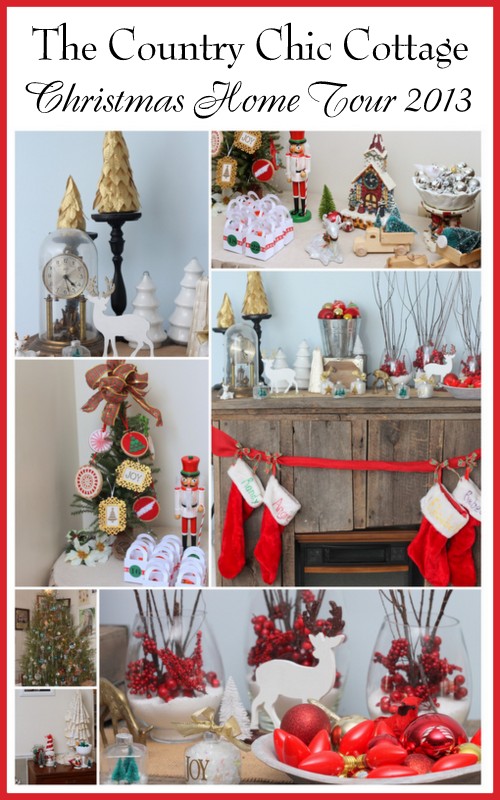 I will start with
my barnwood mantel
which hubby made me around this time last year. I still love filling it with seasonal goodies and of course hanging our stockings this time of year.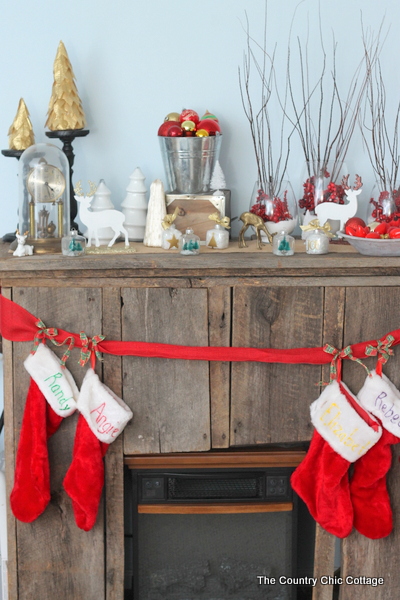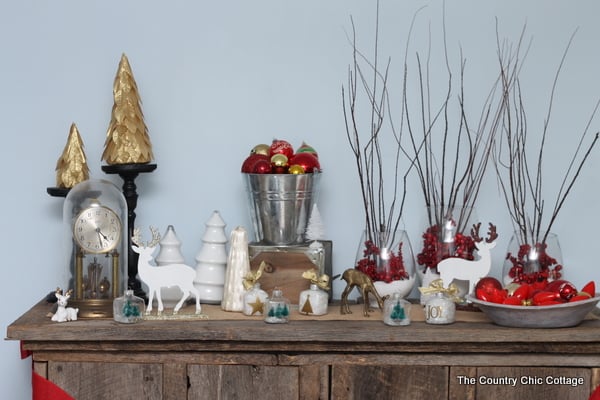 I have lots of dear on the mantel including my glitter dipped deer silhouettes.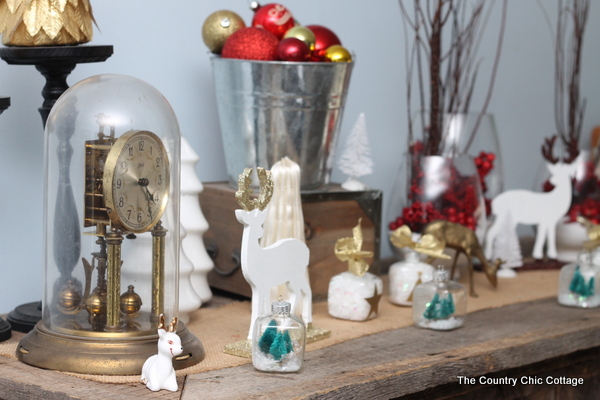 I love throwing ornaments and vintage bulbs in a container for quick and easy vintage decor. I put my gold silhouette and mini snow globe ornaments on the mantel as well.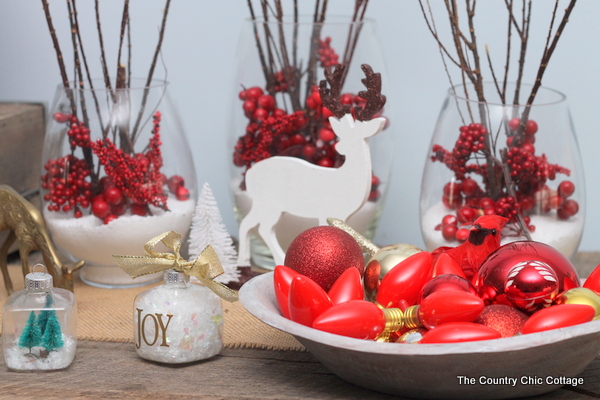 A galvanized bucket piled high with ornaments also adorns the mantel.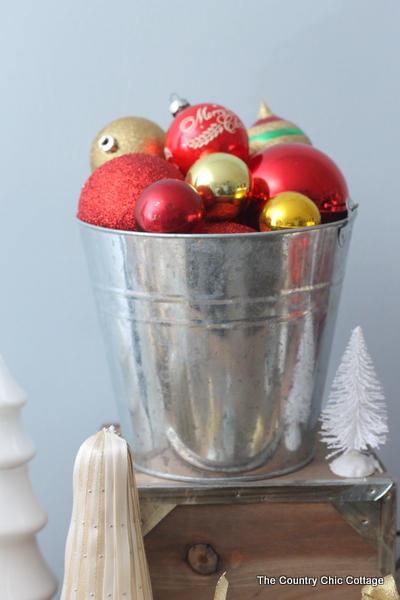 I had to add some trees of course. This tree trio includes my gold leaf trees, painted milk glass trees, and faux nailhead trees.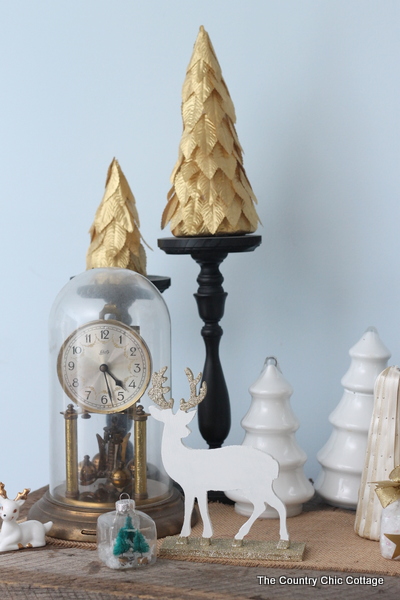 Next stop on the tour is our tree. If you have not been around here long let me tell you about our tree tradition. Every year we load up in the truck and go hunt a cedar tree on our farm. We cut it down, load it up, and that is our Christmas tree. It is a fun tradition that we all cherish.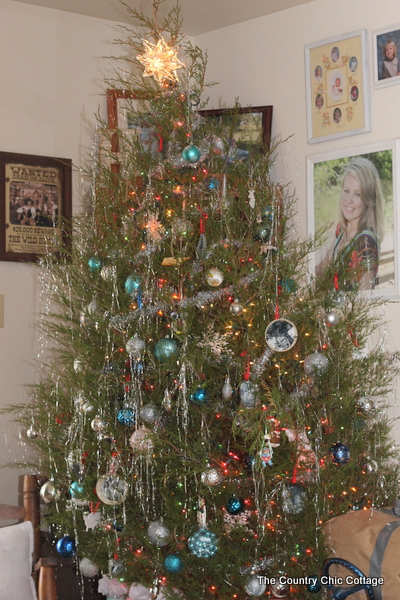 This year we added blue and silver ornaments to our rustic cedar tree. Under the tree is a train, vintage car, and of course presents. The tree skirt (which actually is not even visible anymore) is a collection of vintage grain sacks.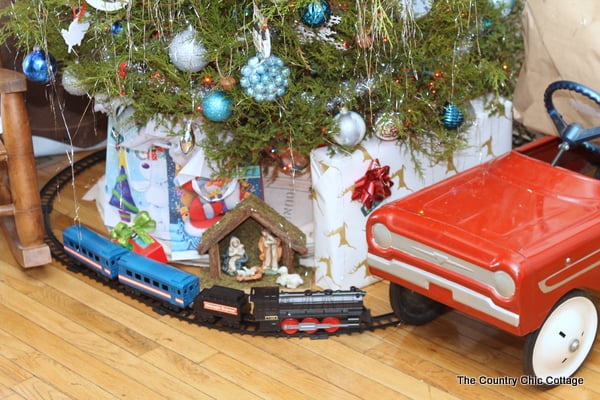 I also have a few surfaces in my home where I create Christmas vignettes. I love to add in my son's toys to the decor. On the left is a little advent calendar I made for the kids last minute.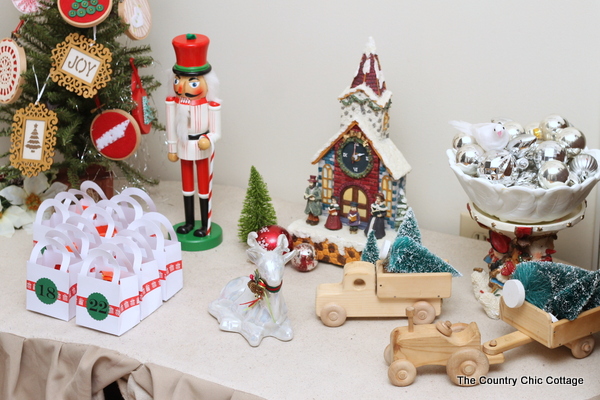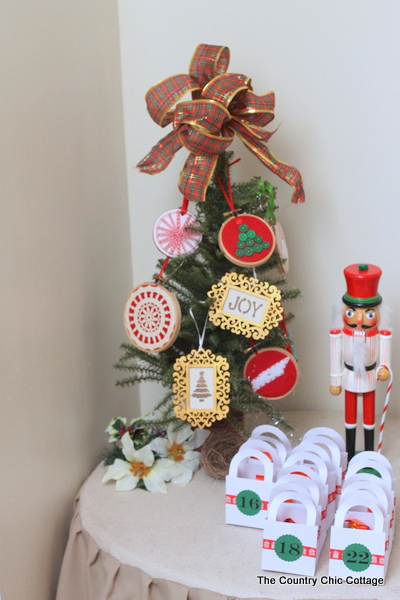 Under that little tree is a something very special. We found that little bird nest in the Christmas tree once we had it in the house. I love that extra treasure that comes with our tree tradition.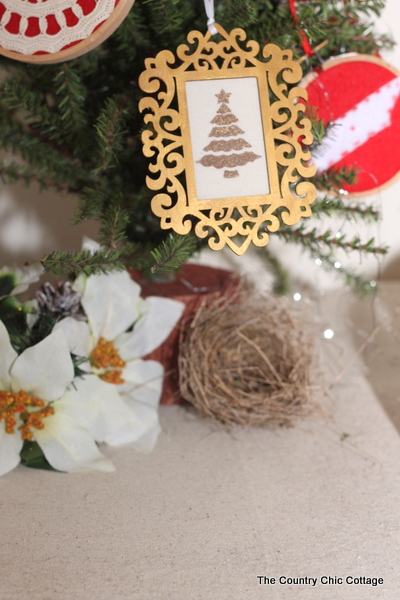 This is another surface that I dress up a bit for Christmas. I started with my
sheet music tree
here.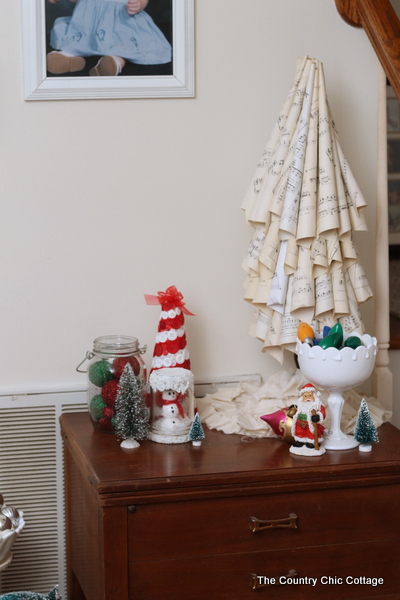 I added in my candy cane button tree and glitter mason jar luminary. You have yet to see that snow globe project but y'all stay tuned.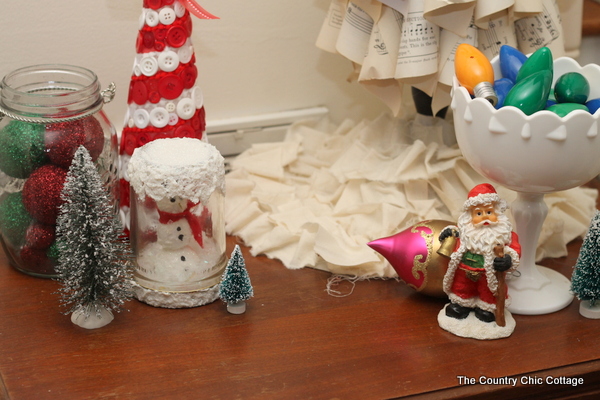 I hope y'all enjoyed our rustic farmhouse Christmas tour. If you want to continue to get inspired all week, be sure to join us for our Everything Christmas Tour over at Denise Designed. I will also wrap the entire week's events up for y'all sometime this weekend.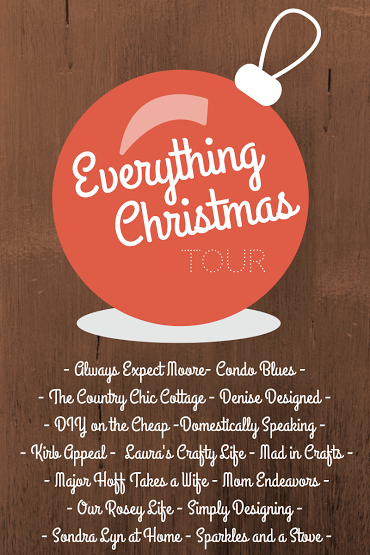 Thank y'all for coming to the cottage today for my Christmas home tour!
Linking this up to The Nester and Thrifty Decor Chick.