I am continuing with my handmade gift series and sharing eight hoop ornament ideas today. These are perfect for anyone on your gift giving list. I have ideas for everyone from grandma to teens to little boys to teachers. Seriously grab one of the craft tutorials below and make a fabulous handmade gift this year. This tutorial was actually on Crafts Unleashed last year but I wanted to share it here this year because it is one of my favorites.
State Love Hoop Ornament Tutorial
These are very simple to make. I used red and white felt but the colors could of course be customized to your gift recipient. Place your hoop on the sheet of felt and tighten.
Cut away most of the excess with a pair of scissors.
Then use a craft knife to trim the felt neatly.
I then printed my state (Tennessee) on the computer in approximately the size I would need to fill the hoop. I cut the state out from the paper. I then laid that on white felt and trimmed around with my craft knife. Please place an old magazine or something under your work area.
Then place your cutout state on the hoop in the approximate location. Stitch around with red embroidery thread and stitch a heart in the middle or the approximate location of the town where you live. First ornament done!
Tree of Love Hoop Ornament Tutorial
Next up is the Tree of Love Ornament for newlyweds or those that still think they are! Perfect for any couple.
You will need a scrap piece of fabric for this one as well as a marker. I used a scrap piece of an off white canvas material. The marker is from my scrapbook supplies. I think any thin line marker would do fine
Draw a faux bois or wood grain pattern on your scrap piece of fabric with your thin line marker.
Place the fabric in your embroidery hoop. Again repeat the steps that are above in the state love ornament. Trimming any excess with your craft knife.
Then cut out a heart from felt (I used white). I embroidered an arrow and "R + A" on my heart. This is supposed to be reminiscent of a carving on a tree. Fall in love all over again with this ornament. We have our second handmade gift complete.
Button Tree Hoop Ornament Tutorial
I just had to make one using buttons. I love working with buttons in my craft projects. My button tree ornament would be perfect to give as a gift or keep for your own tree.
I laid out the buttons I wanted to use before I even started. Making sure I had the correct placement and number of buttons that I wanted. I then followed the State Love Ornament tutorial above as far as putting my felt in the hoop. The buttons were stitched on with embroidery thread. Simple and easy don't ya think.
Teacher Gift Hoop Ornament Tutorial
One of my absolute faves is the Teacher Gift Ornament! I love this idea.
Again you follow the instructions in the State Love section above for inserting your felt into the hoop. I then drew on the felt with a disappearing ink marker to lay out my stitches. It is very hard to see the writing in pictures but it was enough for my to use as a guide. I did the stitching for the "paper lines" first then the stitching for the name. I love how it turned out.
Rainbow Name Hoop Ornament Tutorial
The exact same methods apply to my Rainbow Name Ornament. This one is perfect for any little girl from newborn to teen. Again use a disappearing ink marker to layout your design. Then put their name in a rainbow!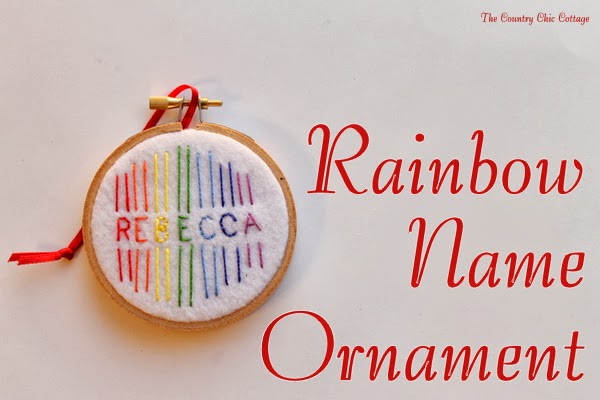 Goth Skull Hoop Ornament Tutorial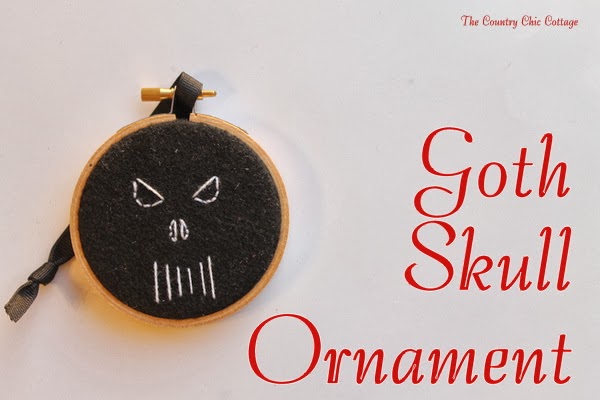 Doily Hoop Ornament Tutorial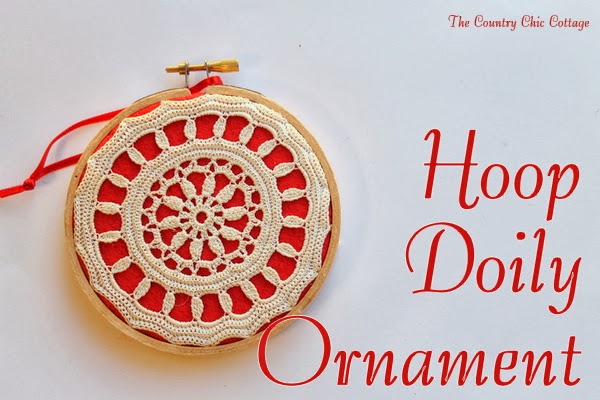 Team Spirit Hoop Ornament Tutorial
Last but not least, are you ready for some team spirit? The Team Spirit Ornament is perfect for sports fans, college students, or even high school students.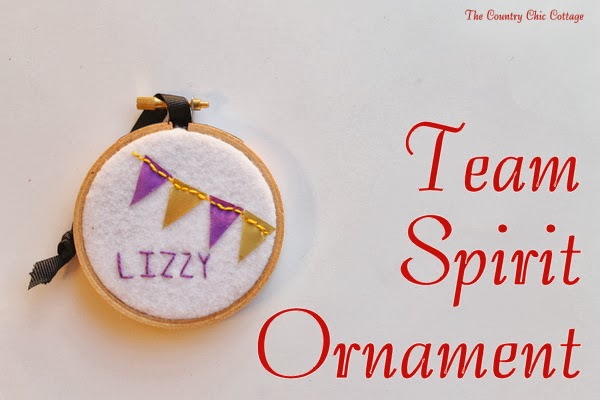 Each of the ornaments got a ribbon to hang by. I actually just threaded the ribbon through the screw portion of the hoop and tied it.
Show everyone on your gift list a little extra love by adding a hoop ornament to their present this year. These are also the perfect small and personalized gift for those in your office or friends that deserve a meaningful but small gift. My hoop ornament ideas are for everyone on your list. I hope you have enjoyed this installment of our handmade gift series.
Have you missed any of our handmade gift series? Visit all of the links so far:
Stay tuned for even more handmade gifts!