Okay to me a courdoroy pillow SCREAMS fall!! So I just had to try one out. Then I saw this courdoroy jacket for $2.50 at the thrift store. Deep dark chocolate brown!! Oh yes…my victim was choosen. I turned that jacket into a courdoroy throw pillow..with a pocket and buttons I might add…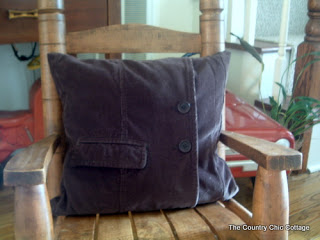 I snapped a few pics for a tutorial but there is a major flaw. The directions totally depend on your jacket. So I scrapped the tutorial. Instead I am going to give some hints to get you started. I wanted to keep one pocket and the two buttons. Decide FIRST what you want to keep.
My jacket was flaired — the waist was smaller than the rest. I found it easiest to make those seams straight fromthe very beginning. I literally went one seam at a time. Starting with the left, then the bottom, then the right, and finally the top. I worked with the pillow form I was going to use. Use lots of pins to mark where you are going to sew. The last seam I sewed the pillow INSIDE…how you ask?? Those magic buttons…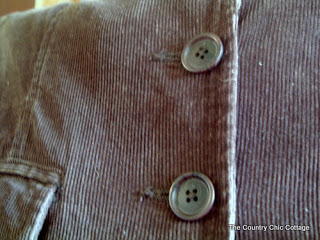 Oh yes they still open up! They are the opening to get my form in and out. Now isn't that clever?? So after I sewed my last seam. I unbuttoned my coat, took the form back out, turned the cover right side out, and put the form back in!!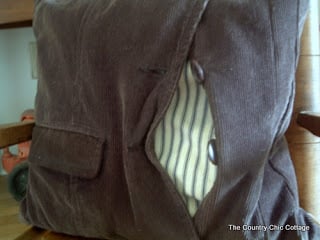 The back is not near as fancy. Just some straight seams that were already on the jacket…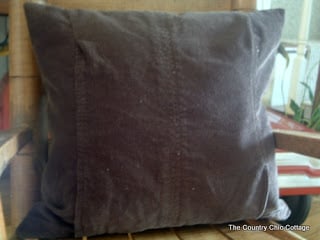 I heart my new little pillow!! This one is definitely NOT a no sew project. And might give a beginning sewer hives. But I know y'all can do this!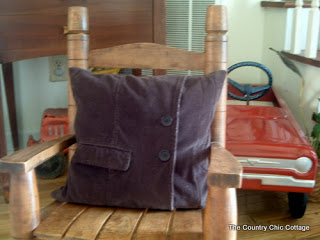 But I bet you will never look at a jacket the same way again!!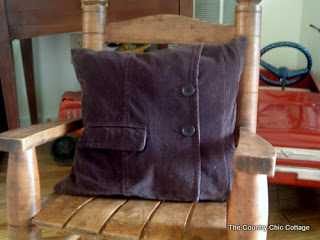 Posted at Take a Look Tuesday on Sugar Bee Craft Edition.