You can make this cute snowman for your Christmas and winter decor in no time at all. What makes this sewing project so simple? The Cricut Maker! I am actually joining in with 50 bloggers to bring you projects today that come free when you purchase the Maker. These projects are all as simple as pulling them up in Design Space and clicking Make It. Then you just follow the instructions for a perfect project that you will be proud to display. No Maker? Well read on because you can win one below plus there is an amazing deal on HSN if you just want to pick one up.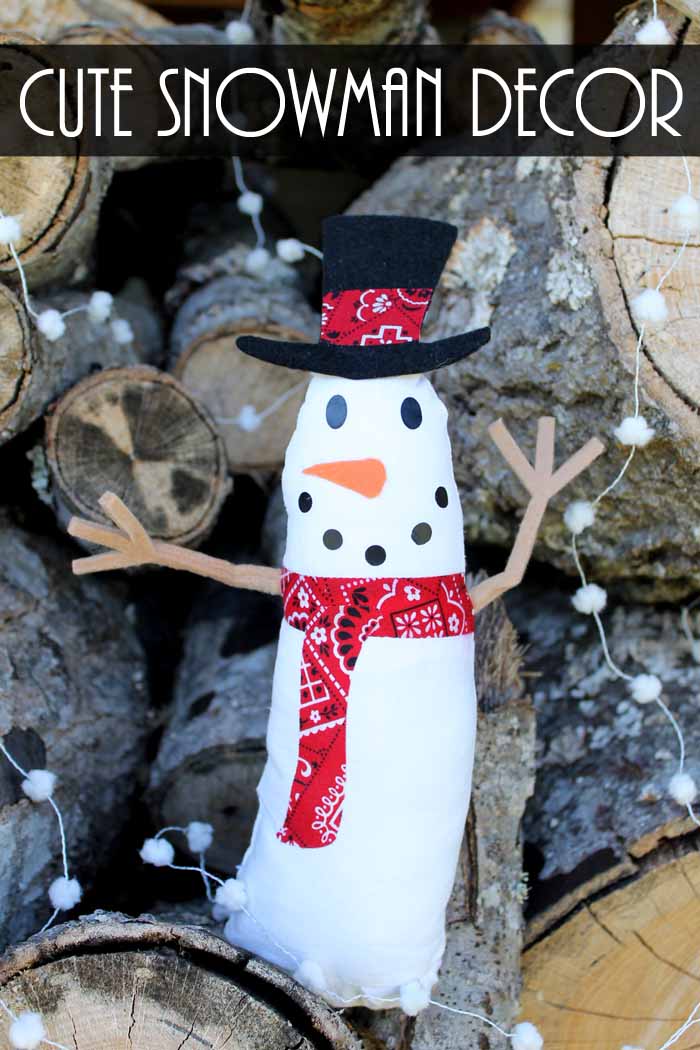 Supplies needed to make this cute snowman:
How to make a cute snowman
When you purchase and setup your Cricut Maker, you gain access to 50 free projects. You can actually see all of those by choosing the "free for Cricut Maker" option as shown below.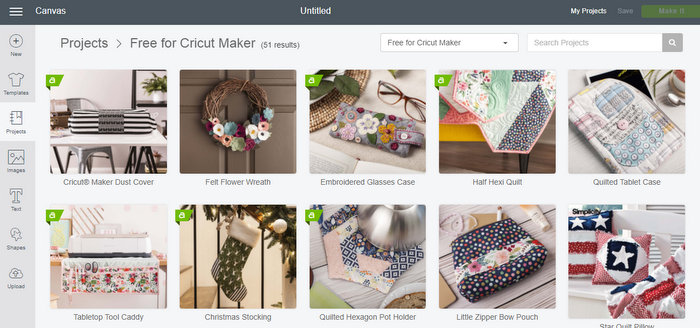 This snowman is a part of that bundle so the pattern is completely free. Just search snowman and you will find the pattern.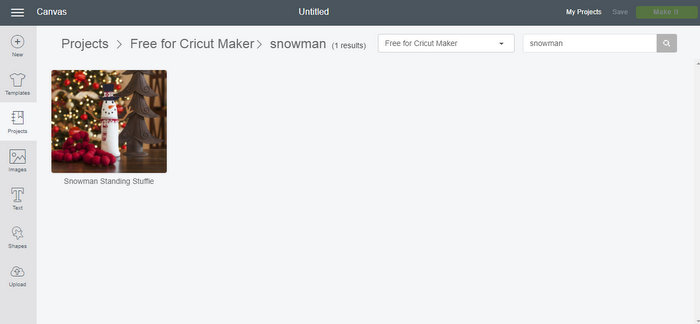 Click the picture of the snowman and you will be brought to a screen with everything you need to make the project. You will find materials needed and also instructions.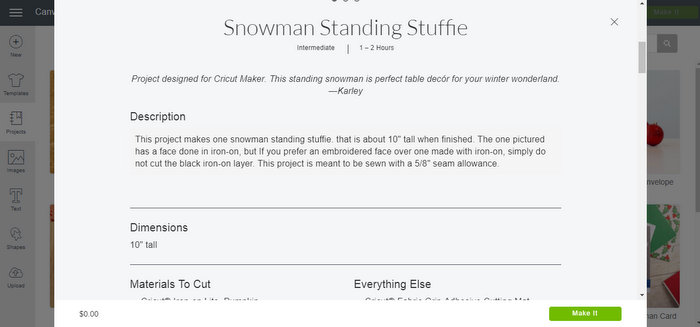 I will give brief instructions below on making the snowman stuffie, however, you can find detailed instructions with images when you pull up the project in design space.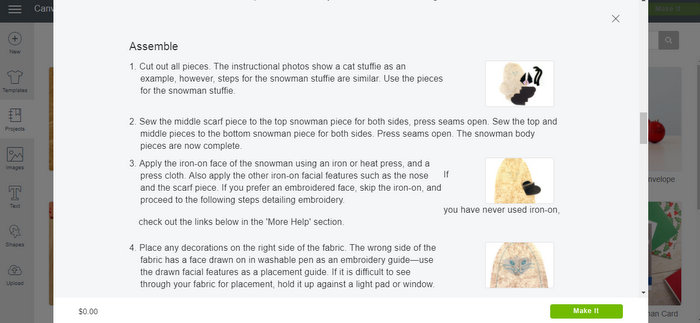 Start by clicking "make it" in design space and pulling up your mats for cutting. Load each mat, blade, and even the washable pen when prompted to cut all of the pieces needed to make this cute snowman.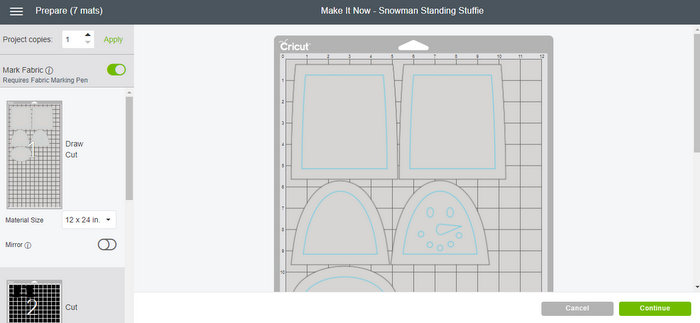 Design space will walk you through each mat and you will be left with all of your pieces perfectly cut and ready to make your project. Notice that the washable fabric pen makes lines on some of the pieces. It will mark the area so you know where to place your face and it also is marking your seam lines. I love that I know exactly where to sew! You will have to remove those later, however, it is not hard to do.
Also, note that I applied heat n' bond to the back of the long scarf piece of the front, the hat band, the hat pieces, the arms, and the nose. It is not required that you use heat n' bond for fabric when cutting with the Maker so the other pieces can be put directly on the Fabric Mat and cut with the Rotary Blade (both of which come with the Maker).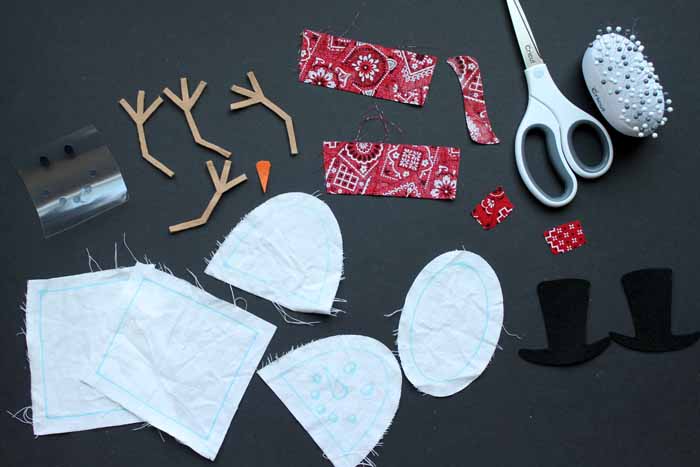 Once your pieces are cut, you can begin to sew them together. And yes that is a pin cushion shaped like a Cricut machine! I love my Cricut Sewing Kit and it really is the perfect accessory when making sewing patterns with your Cricut Machine.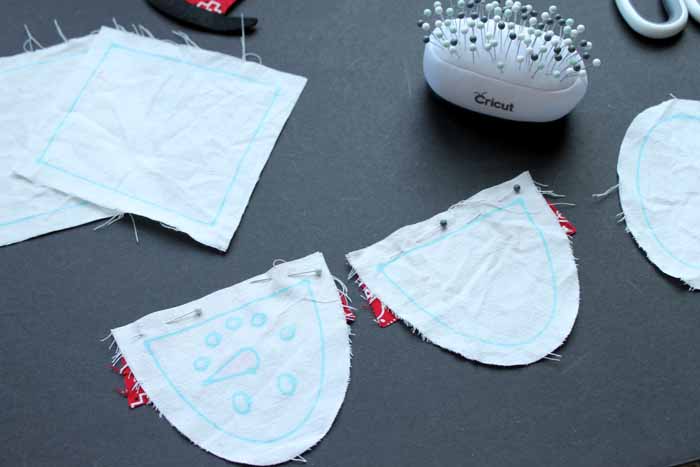 Sew the front and back of the snowman together as per the instructions. Then add your face and scarf piece to the front of the snowman with an iron or heat press. You can opt to embroider the face but I love the ease of the iron on. Add the arms as shown below and pin the right sides of your two pieces together to prepare for sewing. Note that the washable fabric pen bled through my thin white cotton. I had to wash it away after completing my project.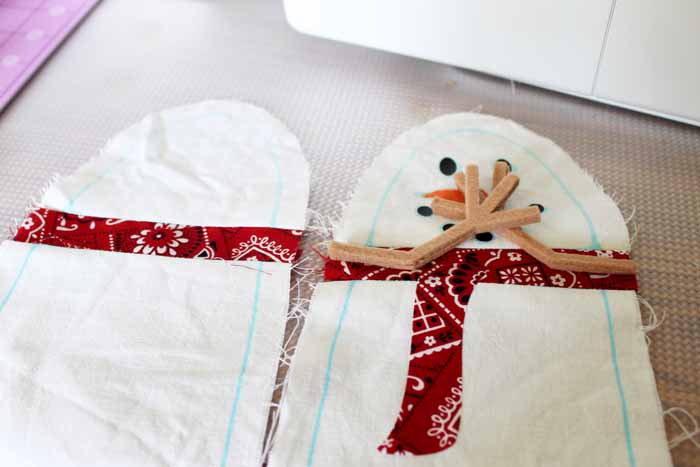 You will need to gather the bottom to fit it into place when sewing everything closed. Be sure to follow the instructions carefully in Design Space here. I left my opening for turning on the left side of the snowman. Don't forget to do this or you will not be able to turn him right side out. I then used hot glue to secure my hat to the top. Note that the pattern calls for regular felt for the arms. I found that the cheap felt did not stand up at all. This version uses a higher quality felt and it did work okay. I think I would use a stiff felt if I was to make this project again. Also note that in the image below I had removed the washable fabric pen with some water.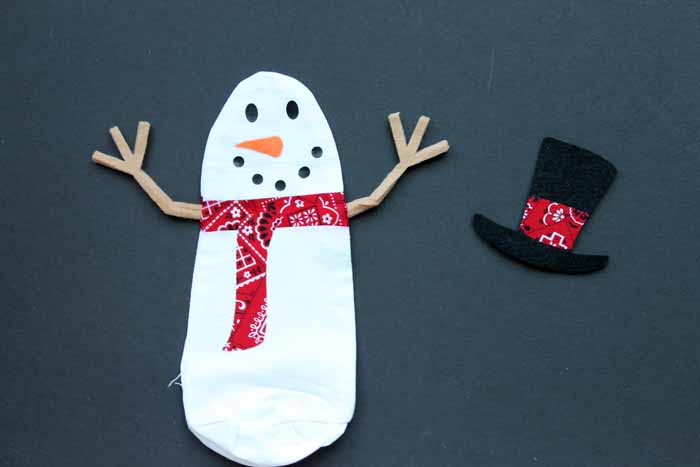 Then just stuff your cute snowman and hand sew your opening closed to complete your project. I used a few marbles in the bottom of my stuffie to help him stand up.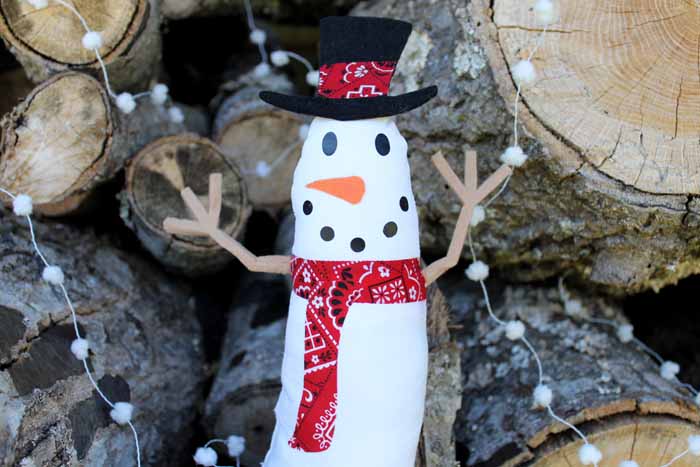 Now, maybe you don't have a Cricut Maker and this post is making you want one. Check out HSN for the Cricut Maker launch tonight! There is rumor of a huge deal and package that you don't want to miss! If you have been waiting to buy the Maker, this is a deal you don't want to pass up.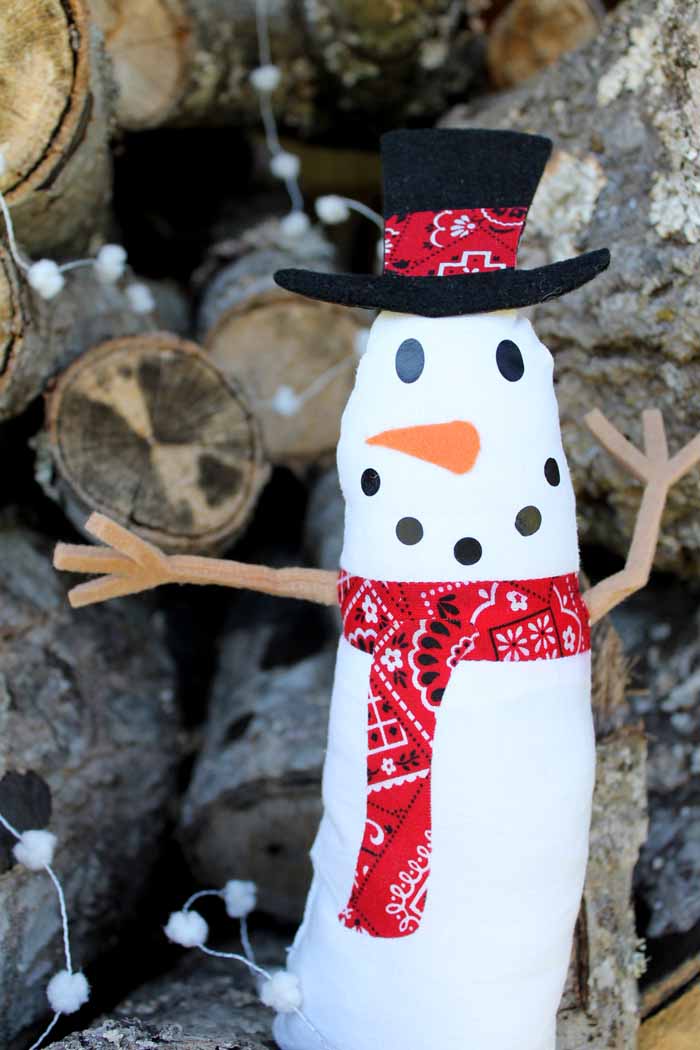 I am loving my Cricut Maker and I have already used it for several projects. If you are on the fence about purchasing your own, be sure to check out my ultimate guide to the Cricut Maker here. It is sure to provide all of the information you need.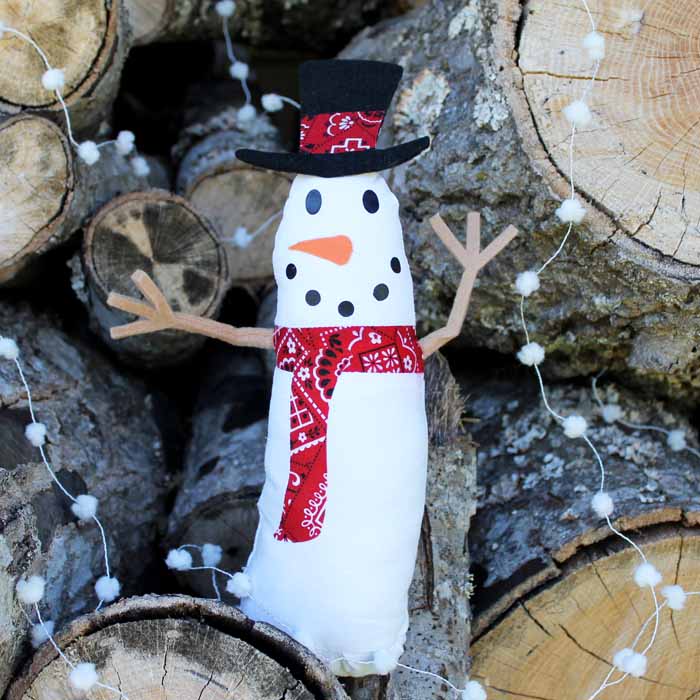 More free projects and a giveaway!
Now if you loved this cute snowman, you are sure to love the other free projects that come with your Maker. Want to check out the other 49 FREE projects included?! Click the pictures below to see how some of my blog buddies created these projects with their Maker!
Want to make these projects but don't have a Maker yet? Enter through the widget below to not only win the new Cricut Maker but also the HSN bundle being released tonight at midnight!
Giveaway open to residents in the US and Canada ages 18 years and older. Giveaway runs from 10/2/17-10/9/17 and winner will be notified by email no later than 10/10/17. Winner will have 48 hours to respond or a new winner will be chosen.
Now be sure to use your Cricut Maker to make your own cute snowman! I would love to see pictures if you make your own version. Be sure to show off your creations on our Facebook page.
New to Cricut?
Sign up for our email list here to download the Beginner's Guide to Cricut Design Space for FREE today!
Sign up to get the guide emailed to you!