Did you know that cutting with no mat using Cricut Joy is possible? Well, it is and I'm here to show you just how to do that. This tutorial will show you one project with matless cutting but you can make a wide variety of projects up to 20 feet long with your Cricut Joy. You can actually see another project that I made using matless cutting here. So now let's look at how to customize a gift-wrapped package with the Cricut Joy and their Smart Vinyl.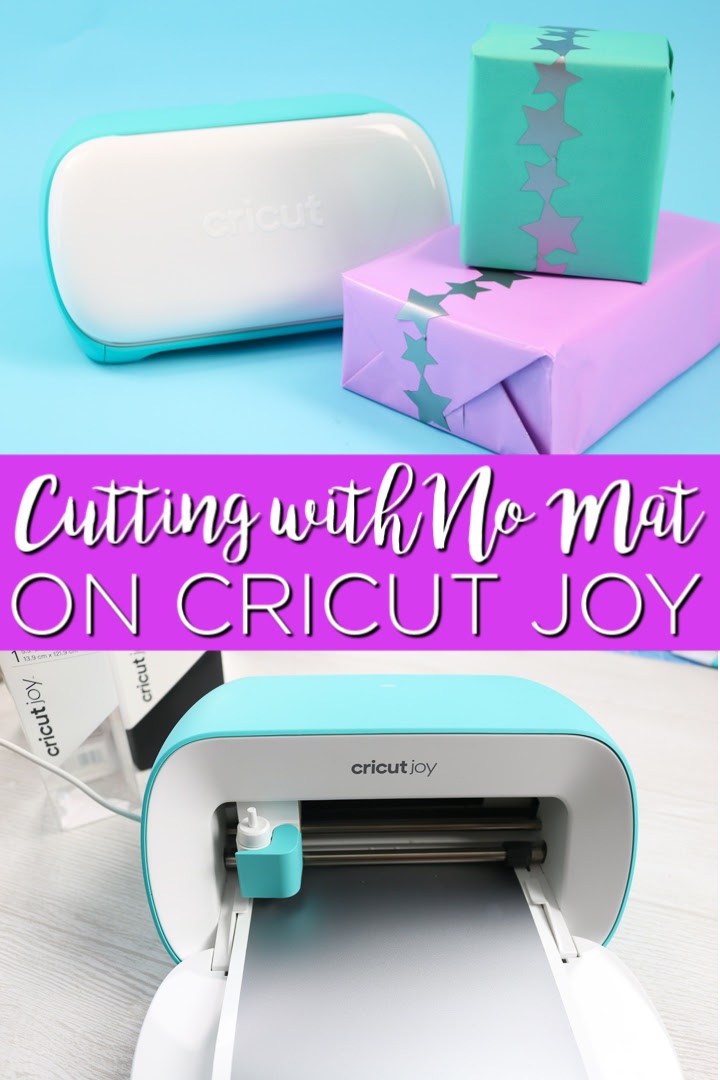 Supplies needed for Cricut matless cutting: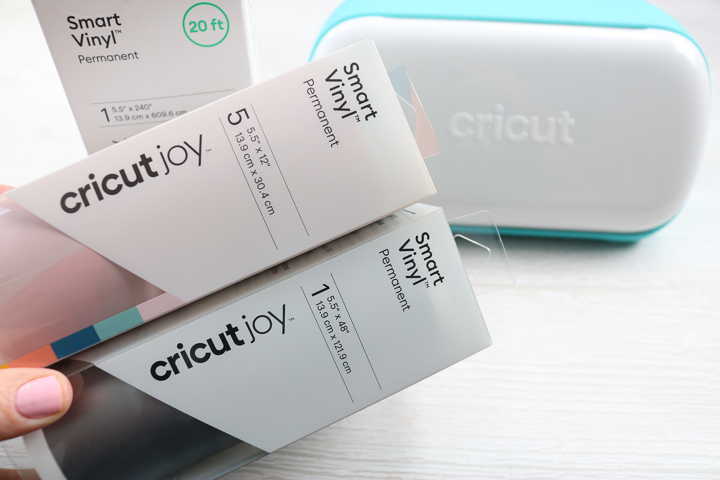 Types of vinyl to cut with no mat on a Cricut:
When cutting matless on the Cricut joy you will need a special vinyl. This vinyl is specially engineered to cut matless on your small Cricut machine. It actually has a thicker backing paper to allow it to be used with matless cutting.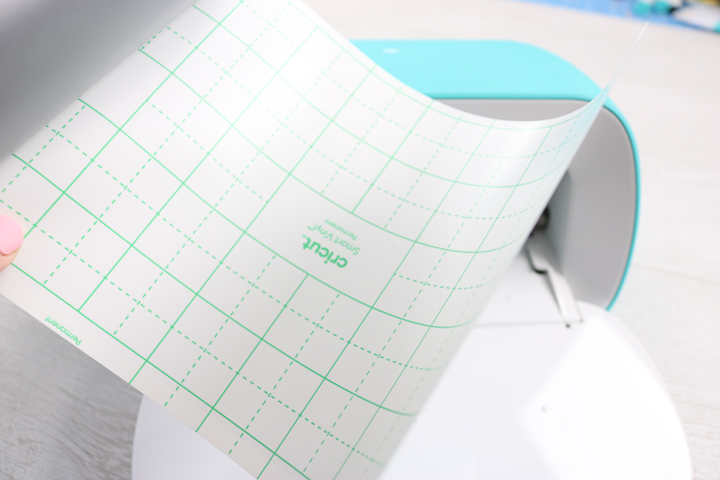 It also is inset from the side slightly so that the Cricut Joy can actually self-correct the alignment as it moves through the machine. This means that even if you get your vinyl slightly crooked when putting it into your Cricut Joy, the machine will actually straighten the Smart Vinyl back out and cut straight.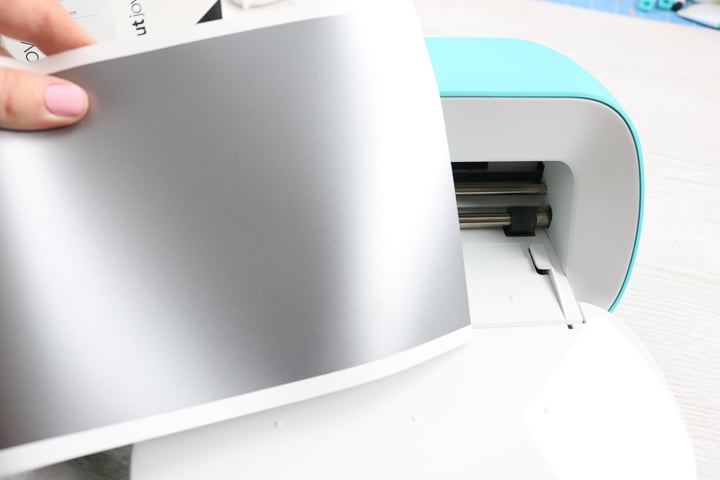 Also, it is specially sized to be a perfect fit for Joy. You can pick up the Smart Vinyl here. Want more options? There is also a smart iron-on as well as a smart label material. All of these smart materials can be cut with no mat required.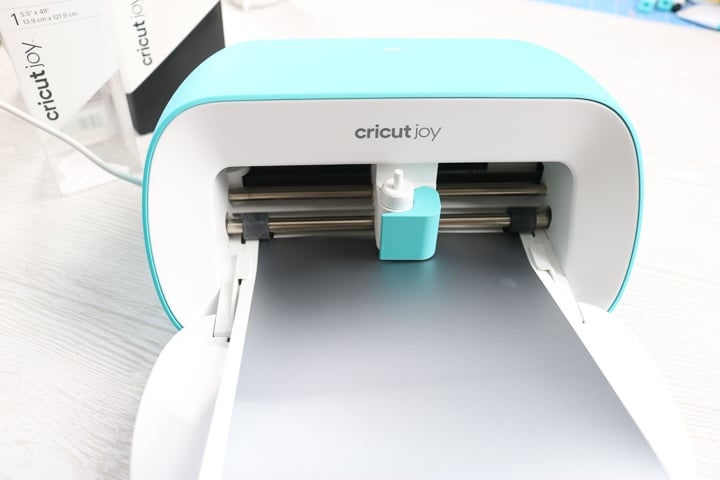 Cutting with No Mat Using Cricut Joy
Start by choosing a cut file in Cricut Design Space or designing your own project. You can cut the stars that I cut by clicking here.
How to Cut Smart Vinyl Video
Want to watch my entire process for cutting Smart Vinyl on my Cricut Joy? You can just watch the video below.
Can't watch the video or missed some of the steps? Follow along with the instructions below as well.
Cricut Joy Matless Cutting Instructions
Load the Smart Vinyl material into your Cricut Joy. You do this by pulling up the design in Cricut Design Space and clicking make it. You will need to pick "matless" from the options that come up for Cricut Joy. Pick your machine and material type. Then, when the machine is ready, you just need to feed in the Smart Vinyl material into Cricut Joy. The machine will sense when it is close and pull it in.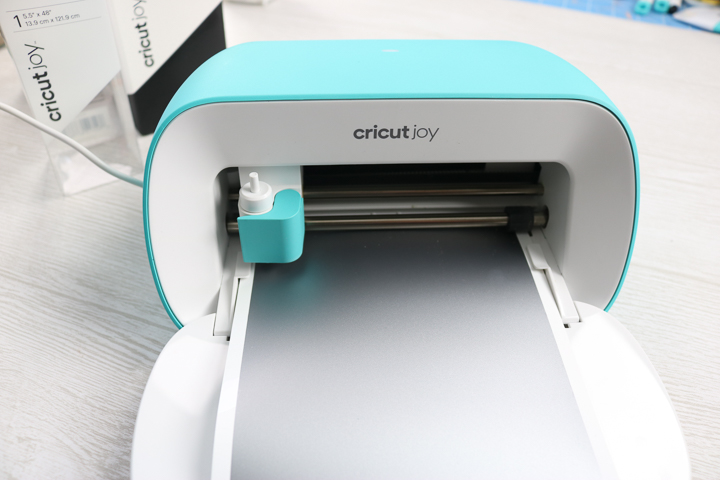 The smallest Cricut machine will then measure the Smart Vinyl material to make sure you have enough to complete your project. Once it is measured, you will need to press go in Cricut Design Space to start cutting. The Cricut Joy will then work all on its own to cut your design.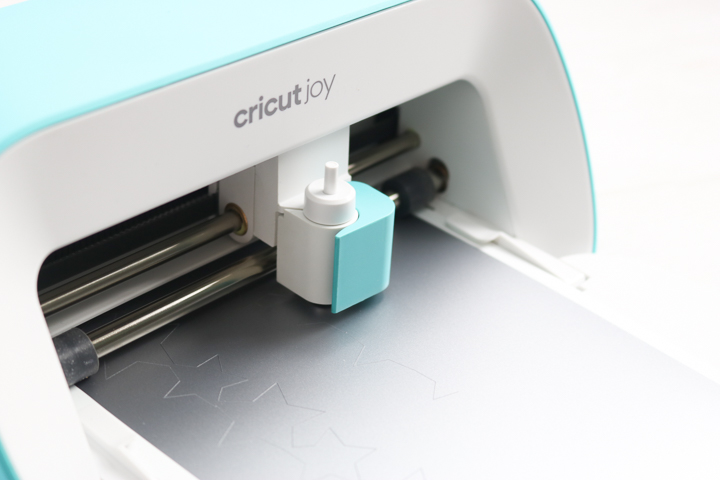 This means that you can cut even long designs without unloading and loading multiple mats. Once the Joy is done, press unload in Design Space to remove the material from the machine.
Then, in this case, I weeded away all the excess.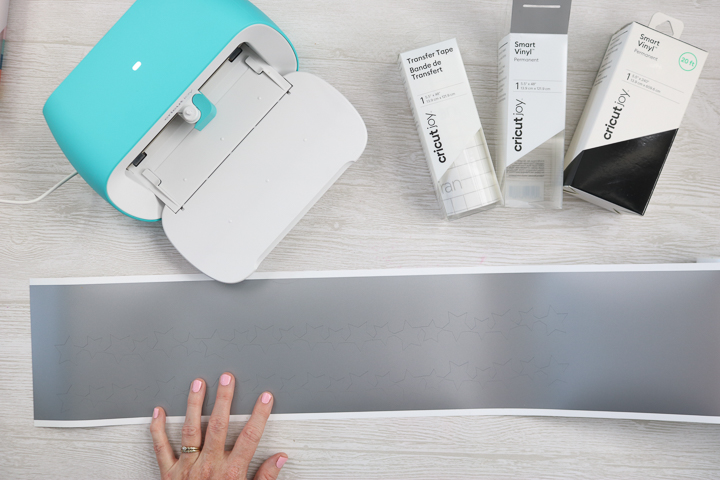 You want to be left with strips of stars to decorate your packages.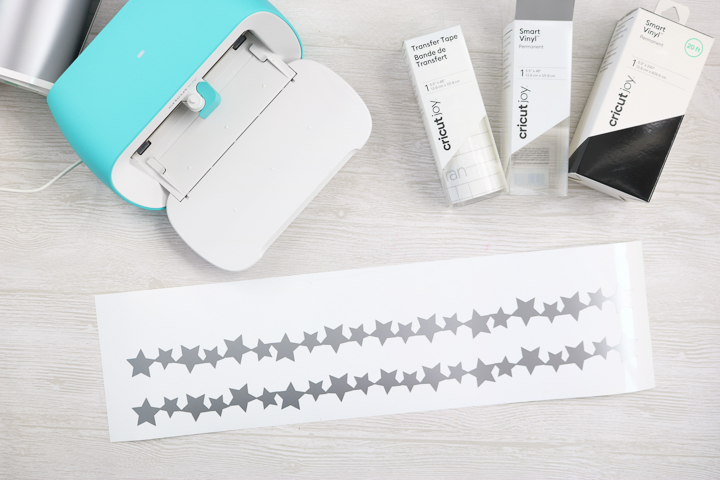 To add a special touch to any wrapped package, just peel away the strip of stars from the backing paper and wrap it around the wrapping paper. You could do this with any shape.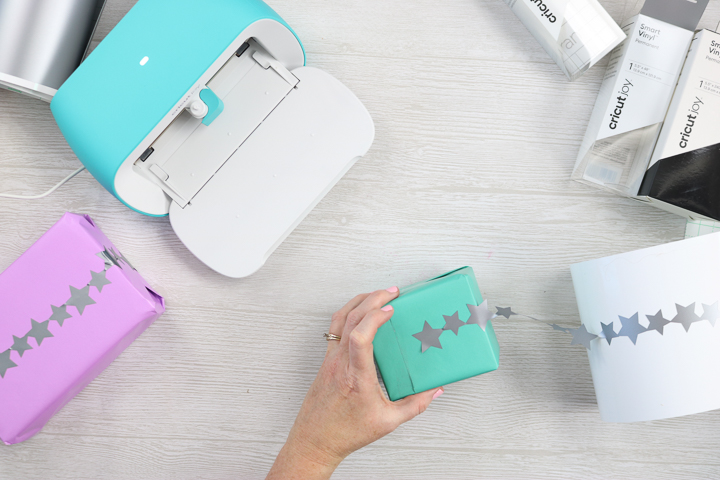 Add a special touch to a birthday package or any other occasion. It is so easy with Cricut Joy! Decorating a package can be completed in minutes.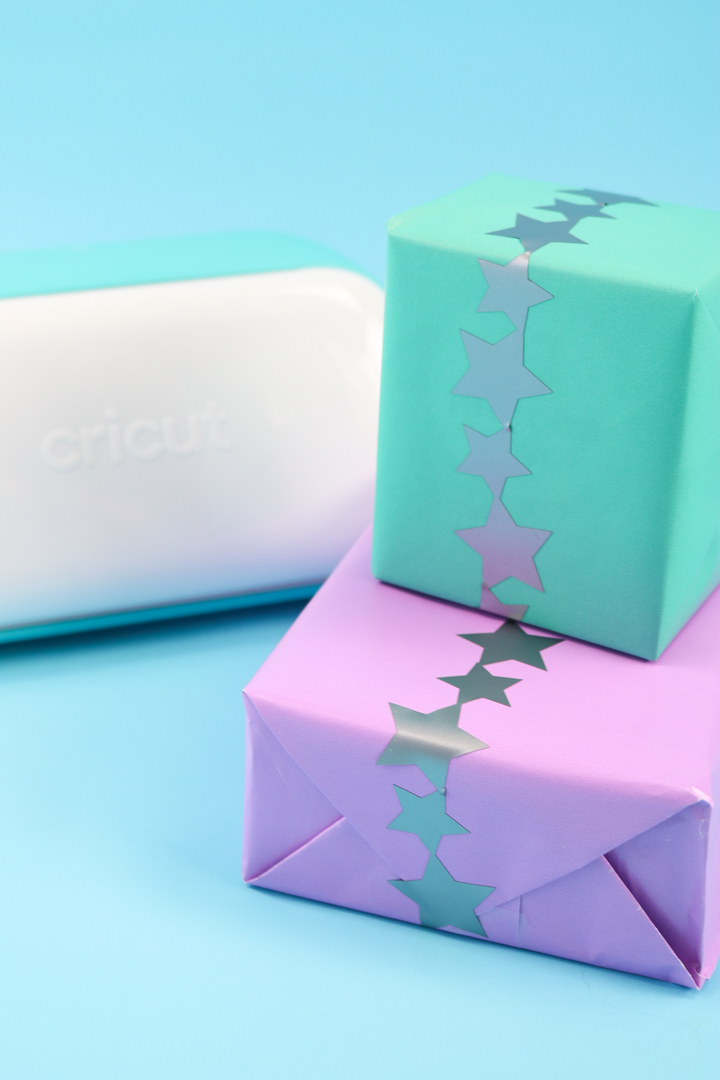 So will you be cutting with no mat using Cricut Joy? Trust me. Once you start cutting matless with Cricut, you will never want to go back!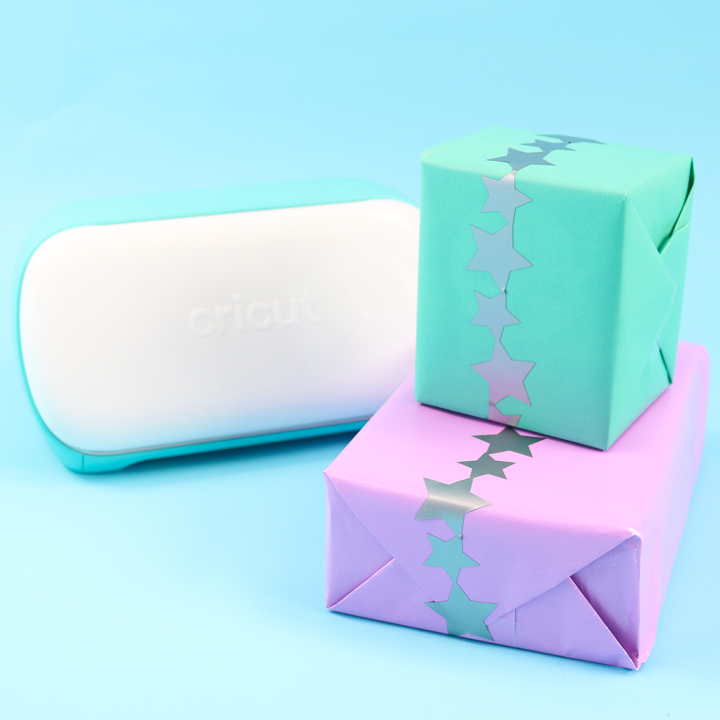 FAQ
Can you use Smart Materials with the Cricut Explore or Cricut Maker? I am not aware of the ability to do so but I will report back if I find out differently. With these machines, you can only do 24 inches anyway. You could cut the Smart Vinyl when attached to the mat I guess.
Why is this ability only with the Cricut Joy? The Joy has been engineered with several additional features including sensors that make matless cutting possible. These innovations were not available when the Explore and Maker were launched.
Can you cut regular vinyl matless? I have not been successful yet. The addition of the thicker backer makes the Smart Vinyl a great choice here. Plus, you would need to cut your regular vinyl to the right width and get it perfectly straight.
Can I use regular vinyl with the Cricut Joy? Yes! You will just need a mat to do so just like the other machines.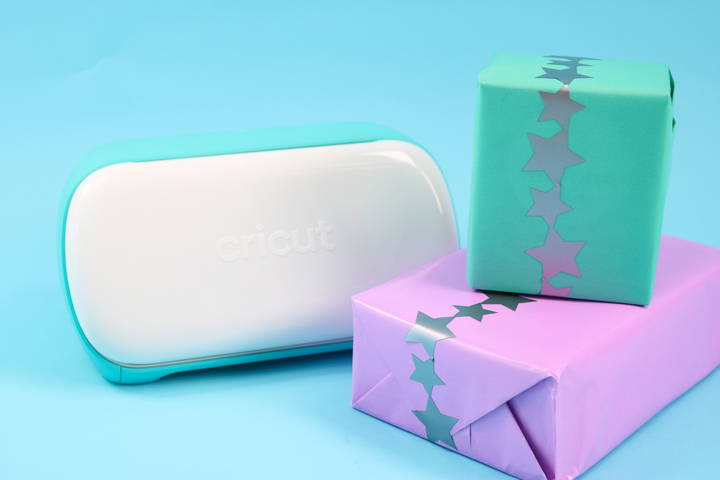 Now that you know cutting with no mat using Cricut Joy is possible, you have so many things that you need to make!
Love this matless cutting project and want more ideas? Try the links below as well!
Want even more Cricut party ideas?
Just click on each of the images below to get to the instructions for each of the Cricut crafts.
New to Cricut?
Sign up for our email list here to download the Beginner's Guide to Cricut Design Space for FREE today!
Sign up to get the guide emailed to you!