The holiday season is approaching and you may be ready to put your Cricut machine to work. What kind of handmade gift ideas can you make? Today I'm going to go over ten Cricut personalized gift ideas that everyone will love. Trust me when I say that you can find something for everyone on this list!
This post is sponsored by Cricut, however, all projects and opinions are my own.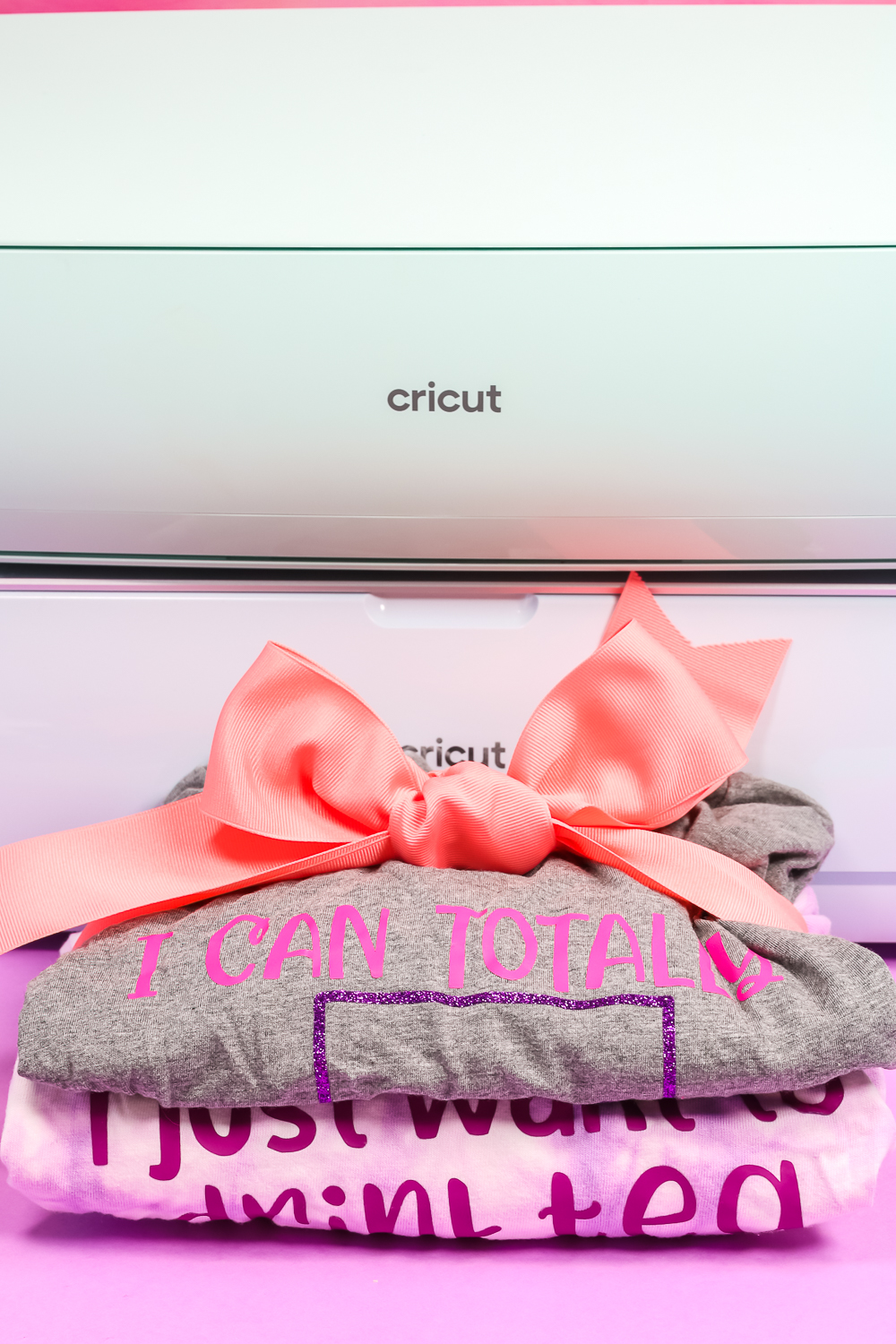 Cricut Personalized Gifts
You can click play on the video below to see these gift ideas are in no particular order. They are my ten favorite personalized, handmade gifts to give any time of the year, but especially during the holiday season. However, there are so many more ideas that you can come up with for making handmade with your Cricut machine. Don't let my ideas put a damper on your creativity!
How to Choose the Perfect Handmade Gift
I would encourage you before you even get started on this list of ten Cricut personalized gift ideas to think about your gift recipient. Try going through the list of questions below to narrow down your options and make your choice specific to that person.
What do they enjoy?
What types of things do they love?
What do they have in their home?
What gifts have they enjoyed in the past?
Think about your gift recipient and the questions above as you're going through this list so you can find the perfect handmade gift. After all, you want the gift to be personalized to the person you are gifting it to and something that they will cherish for years.
Cricut Handmade Gift Ideas
Now let's dive into that list of gifts. These are in no particular order and you can even choose a few items from this list for a combination gift that is custom for your friend or family member.
#1 Shirts
My first gift idea is shirts because they're easy to make and personalize. Grab your HTV, Iron-on, or even Infusible Ink then start cutting with your Cricut Machine. All that's left is to decide what type of shirt to make. What does your gift recipient love? Do you want to put a monogram or name on the shirt? Do they love superheroes? Do they love certain colors? Think about what they would like on that shirt and personalize it for them.
#2 Coasters
The next gift idea is coasters. I personally love getting coasters as gifts, so I always assume everyone does. However, Cricut coasters are a great way to use Infusible Ink to make permanent designs on coasters that you can give as gifts. Try a design, name, monogram, or even a zodiac symbol that represents their family. This a unique idea that you might just implement for your holiday gift giving.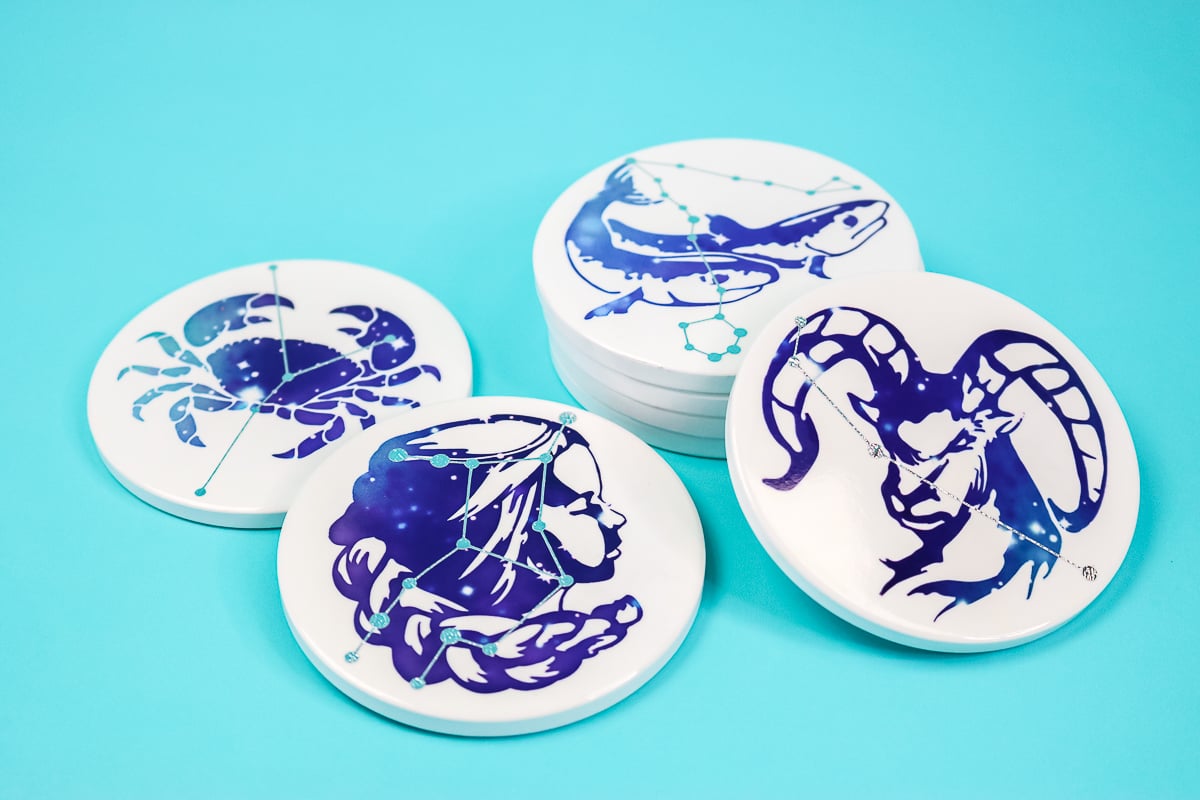 #3 and 4 Mugs and Tumblers
I am putting mugs and tumblers together as they are different but both drinkware. I love making mugs with Infusible Ink and the Cricut Mug press. However, you could add permanent vinyl to mugs or tumblers as well and personalize them that way. Just add things to the surface that are personal to the person. Initials, names, even, a mug for mom with the "Mom" on it, etc. Whatever you think that your gift recipient will love can be added to something that they use daily!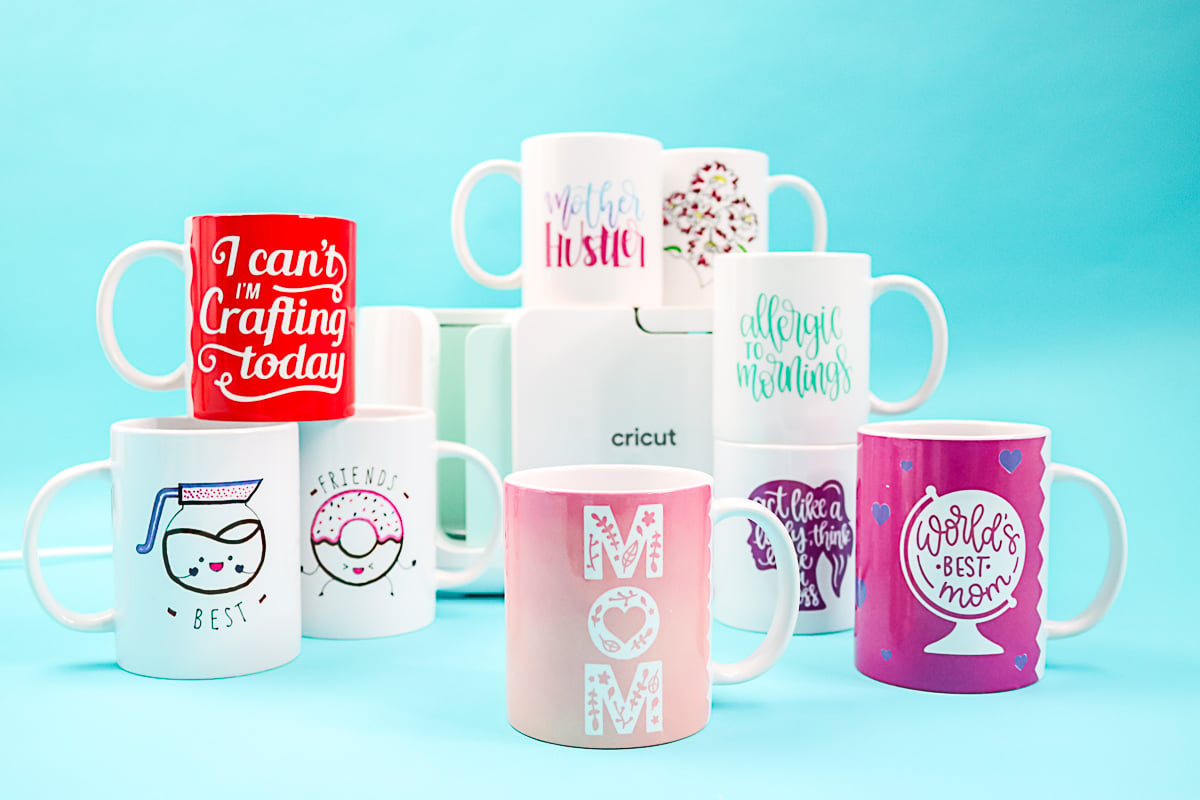 #5 Tote Bags
You can also use HTV or Infusible Ink to make custom tote bags. In my opinion, the Cricut Monogram Maker really is a great way to personalize both tote bags as well as shirts. You can add your monogram easily, come out with a monogram that looks amazing, and then add it to your tote If you don't love monograms, then just add something to the front that your gift recipient will appreciate.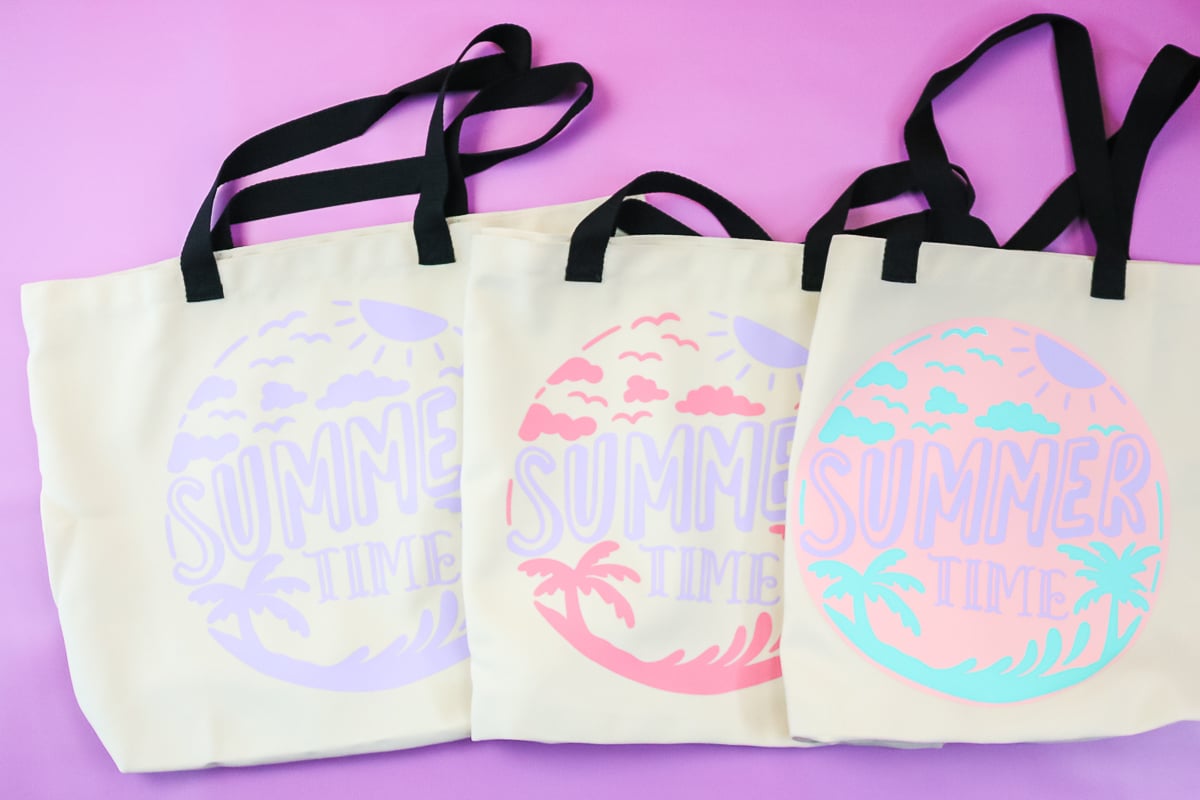 #6 Tea Towels
Next up is tea towels. Again, you can make them any way you would like. Have a polyester tea towel? Then why not add Infusible Ink? You can also opt to add HTV or even stencil your design. Again think about your gift recipient. Do they like funny things? Then add a funny quote to the dish towel. Maybe they really are the queen of the kitchen? Then be sure to add that to a dish towel. Everyone literally can use a tea towel in their kitchen at any point in time.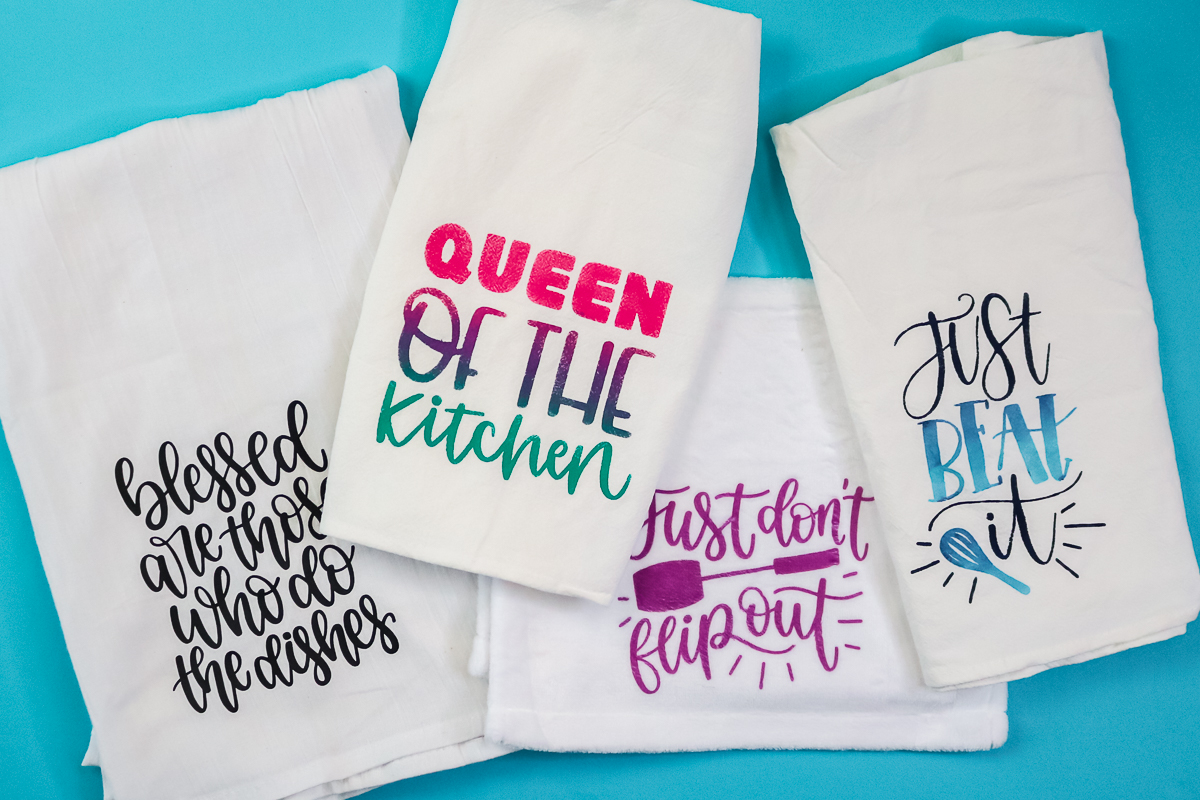 #7 Signs
I love adding vinyl to a variety of signs for just about every occasion, and gift giving is no exception. My favorite one that I've ever made is a grandma sign. I added the words Great Grandma, and then the names of each of the great-grandkids to the sign with vinyl. This ended up being a fantastic gift idea and it was super easy. And the best part of this is you can make signs inexpensively. If you have some wood at home, cut it, stain it, and all of a sudden you're well on your way to a gift idea for very, very little cost.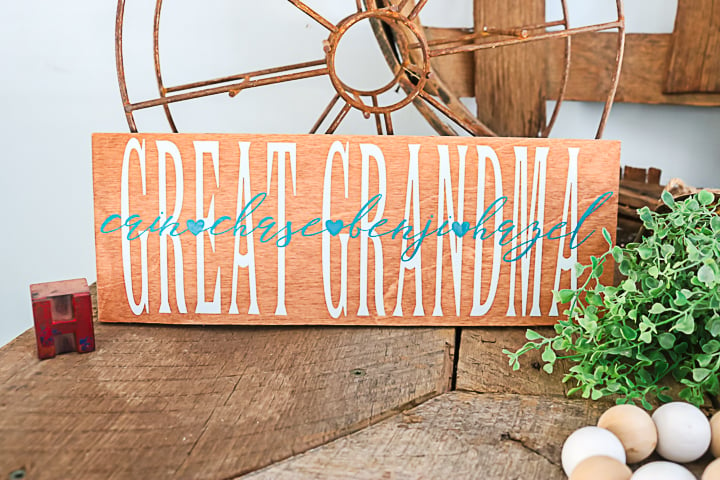 #8 Keychains
Grab that vinyl, cut it with your Cricut machine, and add it to an acrylic keychain. Now, again, you can go with a theme like a cactus or something like that that your gift recipient loves. However, this is another place where I run for the Cricut Monogram Maker because I love that new feature. You can skip the monogram portion, just add a name, perhaps a quote that's meaningful to the person you're giving the gift to. However, monograms for me are the ultimate in personalized gift giving.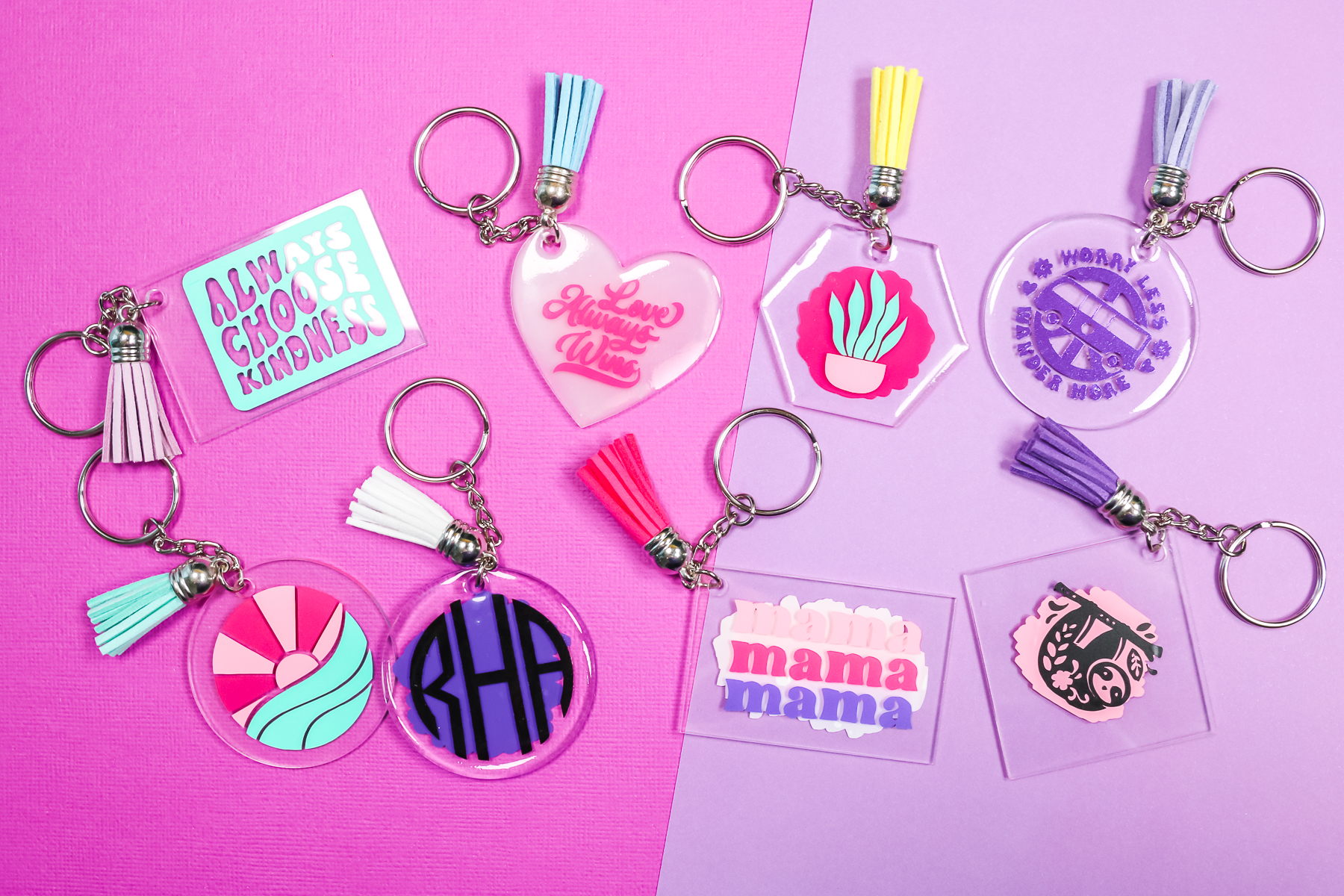 #9 Shadowboxes
I couldn't have a post on Cricut personalized gifts without talking about shadow boxes. Now, this is a more time-consuming gift, especially if you make paper flowers for the inside. However, the thought behind it will really stand out when you give it to your gift recipient. If you want something super thoughtful and meaningful, a shadow box might be the way to go. So, personalize the front with their name and then personalize the inside with paper flowers in their favorite color. And you'll end up with a gift that is 100% completely personalized for your gift recipient and something they will treasure for a very long time.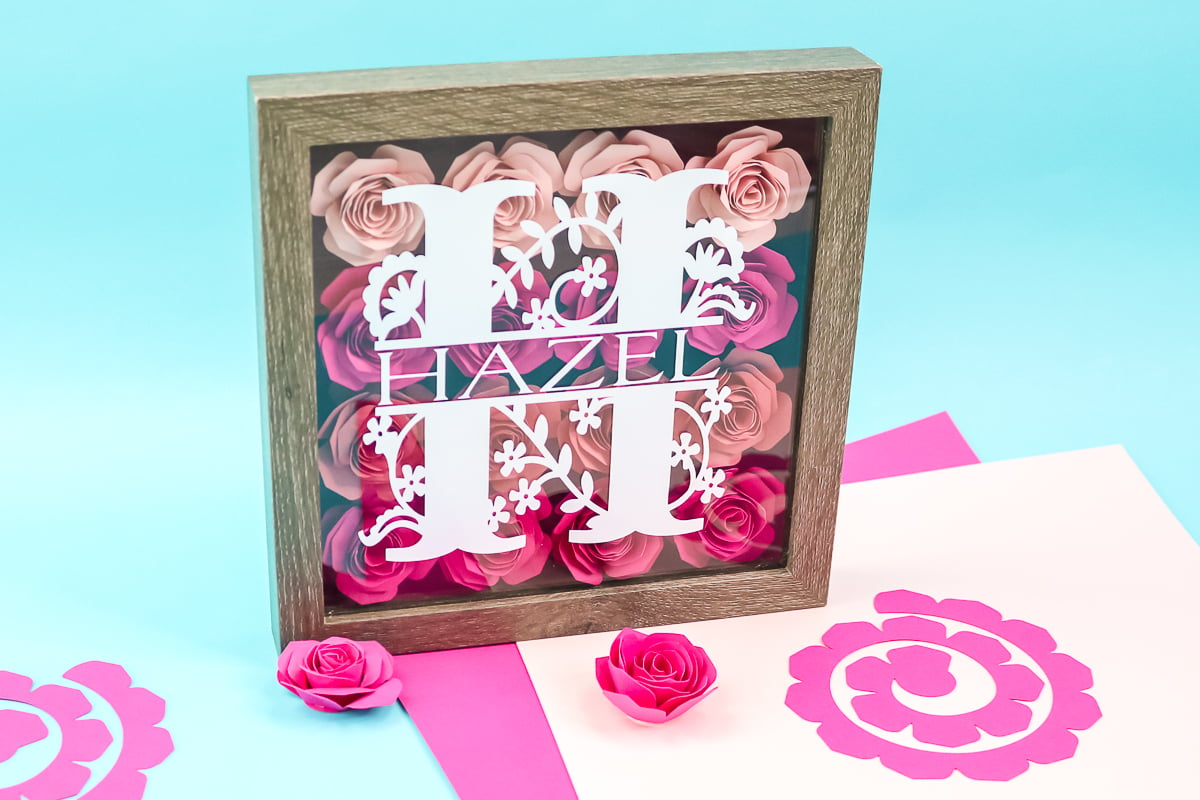 #10 Jewelry
And finally, number ten is jewelry. I love making jewelry with my Cricut machine. I personally love using my Cricut Maker and the engraving tip to make jewelry. I've made everything from bracelets to necklaces and more with this technique. Just grab those blanks, and engrave them. And then, in the case of something like the bracelet, you form it to be a bracelet with some special forming tools. And all of a sudden, you have an amazing handmade gift with a quote on it that's specific to your gift recipient. You can even engrave their kids' names or add a birthstone if you would like. There are so many options with personalizing jewelry and your Cricut.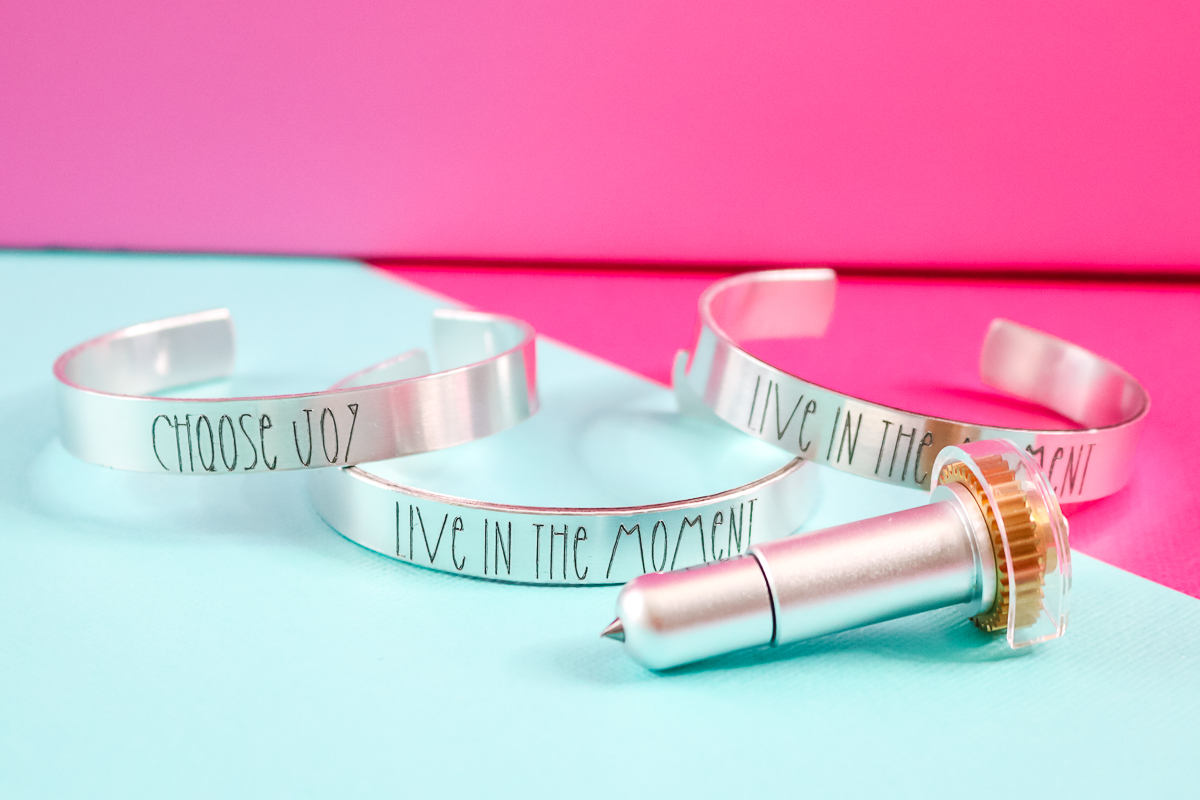 How to Make These Cricut Personalized Gifts
So now perhaps you saw something in the ten Cricut personalized gift ideas above and you are ready to start making. Well, you're in luck. I have tutorials for each of the gift ideas just for you! Just click the links below to start creating!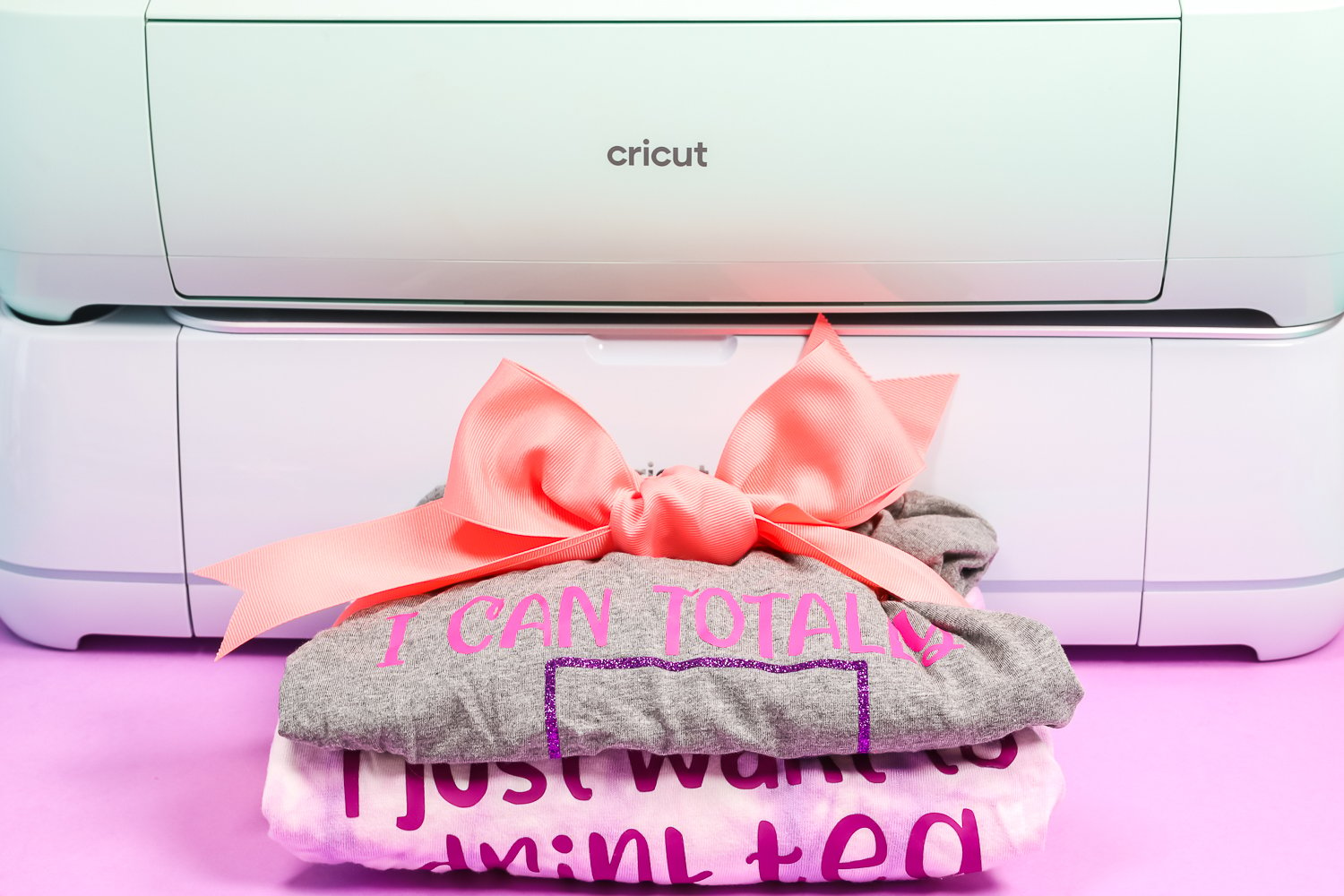 Which Gift Would I Choose?
Now, if I had to choose, which of these ten gift ideas would I personally choose to make and give? I feel like the first one I mentioned, which was shirts, is a universal thing that basically anyone would want. When you customize a shirt for your gift recipient, you can't go wrong. Everyone always needs a shirt.
So for whatever occasion, whatever age, you could personalize a shirt. Onesies, shirts, sweatshirts, hoodies, toddler shirts, and more! There are so many different ideas for wearable things that you can make with your Cricut machine. If you want to branch out from that, you can make a matching pair of sweatpants with HTV on them to match the shirts you made.
However, any of these Cricut personalized gift ideas would be great for the gift recipient that you have in mind. Again, keep in mind who you're going to give this gift to, what they like, their favorite things, their favorite colors, their favorite sports teams, etc. Then put that into a personalized gift that you make with your Cricut machine. I know they're going to love it.
When to Start Making Handmade Gifts for the Holidays
So if you're giving Handmade this holiday season, be sure to break out your Cricut machine and get started early. I always get started too late and then I don't get to finish all the handmade gifts that I have in mind. Use the guide above to make a gift-giving list and plan each of your gifts. Then come up with a schedule for completing your gifts before the holiday rush. You will be so glad that you did!
I hope you find the perfect idea for Cricut personalized gifts for your friends and family in this post. I really think they will love anything on this list and you will love giving handmade this holiday season.